The Decanter Mediterranean Fine Wine Encounter - London
It was a daunting task, but somebody had to do it. With some 60 plus wine producers from all around the Mediterranean, tackling the event took some preparation on the day. The individual wine count was over five hundred with offerings between two and twelve per winemaker. So, first we could not try all of the wines, our time window extended to a maximum of five hours. Second, the countries represented were Croatia, France, Greece, Israel, Italy, Lebanon, Slovenia, Spain and Turkey, an eclectic bunch to say the least. Third, from previous experience the more full bodied wines have tended to be a bit young, rich with tannin, masking some of the flavour that should become apparent as the wine matures. So, fourth, as a consequence of the last point we were very conscious of quickly coating our relatively inexperienced palettes with a heavy hit of tannin and grape skin early in the proceedings.
So here was the strategy, taste the white and lighter wines first, being very aware that we could strike out winemakers or even countries should the first one or two tastings be unspectacular. Then after a pause for food, mouthwash and water, carry on until the taste buds gave out. Now I know that my mouth takes a few "slurps" to warm up. "Slurps" is an old English word made famous by cook, gourmet and bon-viveur of the 80s and 90s, Keith Floyd, who had a series of very popular cooking programmes and always had a glass of wine on hand to "slurp" whilst he was preparing food. Floyd died aged 65 looking 150, after 4 wives and a number of failed businesses, but remains a popular landmark figure to this day. Nevertheless I am watchful of the clock ticking to 65.
First on the left in Ballroom 1 was Greece, an ideal country in which to warm up. At ten past 11 the first desk was empty, the second was serving a frothy pink sparkling wine, which actually was very refreshing, like a strawberry Bellini. On a return to this booth the red wines were thick with tannin and tasted of what I suspect would be old shoe leather. We did encounter one exceptional wine from Greece. The Alba Vissa, Megaplatanos Atalanti, Plagion Knimidos 2012 which was remarkable for the fact that it tasted like it had been bottled with a whole lemon inside. Nose, taste and aftertaste was lemon layer on a Chenin Blanc. Unusual, not unpleasant. (the return for reds did not fulfil the promise) The rest of white Greece was unmemorable.
To Italy and our first 'hit' of the day from Sicily (in the Greece section?), Zonin 1821. Their Masseria Altemeria, Sasseo PrimitivoSalento IGT 2013, was deep coloured, rich in dark fruit, medium tannins and scored 85% rating meaning it was worth buying at $15 a bottle in Italy. I should point out that my guess that equivalent quality US wines would be around $45 in the US. Other notables were the Montechiari, Cabernet 2010 from Fattoria di Montechiari, Inky dark, rich fruit and moderate tannins. Tenuta di Valgiano 2011, 70% Sangiovese, 15% Syrah, 15% Merlot made from old vines resulting in a very soft, but full tasting wine fairly representing Sangiovese. The same wine from younger vines did not fair so well either flavour or drinkability. The highlight of Italy were the wines from Maso Grener in Trentino. The 2013 Vigna Tratta, Sauvignon Blanc (fresh, distinctive), Chardonay (smokey, rubbery, well balanced, drinkable) and the Vigna Bidesi, 2013 ( light, smooth, cherry fruit) were exceptional. There is no UK distributor for this and when I heard the local price (7/8€, $12) I almost hired a van. But I don't know enough about wine distribution so I calmed down, but certainly wines to track down.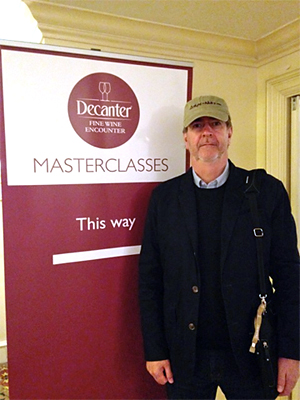 Mr. Seaman, in full tasting regalia
Moving further east and south to Israel. My previous experience of Israeli wine has not been good. The expression "mutton dressed up as lamb" comes to mind. However the Israeli 'find' was Tzora Vineyards from the Judean Hills. I highlight the Tzora Vineyards Shoresh Blanc, Judaen Hills 2013, 100% Sauvignon Blanc ($25). If I had not known I would have sworn that this had come from South Africa. Bright, fresh but subtler than a NZ SB. On return to the reds the Tzora Vineyards 2012 Cab blend (60%, 25%Syrah,15% Merlot) stood out as full of dark berry fruit, light tannins and no harshness for a wine of its age.
Spain, highlights. Albet i Noya, Penedes. These are organic wines and the 50/50% Cardonnay/Parella, 100% Xarel-lo, Viognier (scratch that, you don't like Viognier), 45 and 55% tempranillos all scored 85% upwards. It was the only winemaker where 7/8 wines were tasted. Interesting, they claim to be stocked by Whole Foods but that may just be Europe, if not you might like to check out Albet i Noya. I am not, generally a great advocate of Spanish wines, often finding them a bit harsh but these were not. 4Kilos from the island of Mallorca produced an interesting 90% Callet, 10% Manto Negro, light tannins, pinot-ish in flavour.
You may wish to pause or abandon the commentary at this point as you, like me, may never have heard or these grape varieties and I am not writing a text book. Turkey, Croatia and the Lebanon come next.
I am familiar with Kavaklidere and Kayra wines from Turkey. All perfectly drinkable whilst staring over the Med or Aegean in 90 degree heat but not something I would chase down for the cellar.
Croatian wine is weird, comparatively with observations like honey flavoured Sauvignon Blanc, or a Cattunar, Terran Barrique, Istria, smelling and tasting of Gentian Violet a chemical antibacterial, mixed with candies your grandmother might give you! We also had a Pinot Grigio tasting of beetroot. I won't be rushing to Croatia for the wine.
Now, over the years I have grown to have an aversion to Lebanese wine. I was served the famous Chateau Musar some years ago and for some reason the nose reminded me, and me alone, of airplane glue. I was advised by those more knowledgeable than I that there must have been something wrong, but each subsequent occasion even Michelin starred sommeliers have failed to convince me that Chateau Musar had not an all pervading smell of polystyrene. So I went to the lebanese wine booths with my accomplice only for him to mutter, "A bit chemically". Inevitably, I was not won over and we did not tarry long.
We did not dwell too much on French wines as they principally offered only red wines, generally presented with an elitist air ( Don't tell me how good the wine is, let me taste it for myself and make the decision, and if I decide not to taste a subsequent wine it does not mean that I am a Philistine) and my notes do not show anything more enjoyable (85%+) than the aforesaid from elsewhere and I suspect, but do not know, were premium priced. The light did shine on Villa Baulieu in Provence. The three of six we tasted, Rolle/Sauvignon Blanc, Rolle/Semillon and Syrah blend were all very drinkable with plenty of fruit ( You can tell this was near the end when the only constructive comment is 'drinkable', when earlier in the day I would think of cherries, plums, pears, apples and deep berries along with smoky, tannic and leathery). Also the Chateau D'Esclan - Whispering Angel wines - grenache, Cinsault, syrah, Rolle blend indicated that they know what they are doing. By the way Rolle is Vermentino, which enlightened me.
In total we tasted a shade under 60 wines, only 10% of that on display in 5.5 hours. I suspect looking back that most reds were unfairly considered as they were the second tier of tasting. The alcohol absorption factor had kicked in. We were spoilt for choice, and as a famous up-market gourmet would say "The Food Won".