Sonoma and Napa Visits - February 2016

And it came to pass…..
My first visit to Napa. As an Englishman and, currently, a European, when asked what I would like to taste, I responded, strictly American, not from winemakers trying to make "European style" wines, and "can we have some whites this time?". So, off we trekked. I was not disappointed.
I know it is difficult to make me happy. I drink 70% white wines at home and choose wines on the basis on matching with food, rather than to drink alone. #1 criteria, do I like it?, #2 does it complement the food? #3 is it interesting?, and only then, where does it come from, what are the grapes and how was it made.
Thursday - February 18, 2016
Our first stop was Chateau St Jean (pronounced 'John'). We tried three whites, the 2013 Fumé Blanc, fresh green apple on the nose, mildly sweet and citrusy in the mouth. I would have liked it a little cooler, but that is personal preference. Then on to two Chardonnays, the 2012 Belle Terre Vineyard rich with melon and lemons, and the 2013 Le Seul - reputedly the #2 wine in the world 1998 - initially providing toast, vanilla and sawed pine, followed by a confident blend of lemons, tomatoes and nettles with a long finish. Interestingly all three were at different temperatures. Were they the benchmark for the California whites I was looking for? I'm not sure, but it was a good start. There were three reds on offer, a 2012 Cab., a 2012 Malbec and a 2010 Cab. blend. Initial aromas were pleasant enough and quite typical but they were either too subtle, or punched below their weight in the flavour department. Nice, but I was looking to be bowled over, by such a grand establishment. The first stop is always the hardest for me and unfair to the first winery. Nothing to measure against.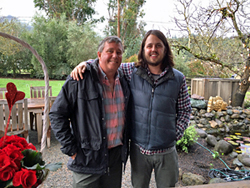 Next port of call, and remember this was still the first day, was La Rochelle. Chuck Easley and son take their grapes from all over the region and turn them into characteristic wines. This was the ticket. Tasting outside, in the rain, the gas heater melting the back of my jacket. Wine tasting 'out west'. From the reds tasted, all were balanced, with a variety of subtle flavours and aromas which evidenced that the winemakers were really trying to get the best from their grapes. The standout, purely for eccentricity was the 2014, Pinot Meunier which shouted "it's Christmas". I recognized Christmas tree, candy canes, cloves and orange peel on the nose and a flavor reminiscent of spicey puddings. Perfect after the Turkey, in front of the fire with mince pies and Christmas pudding.

Friday - February 19, 2016
On day 2, at the Dry River Creek Winery we were spoilt for choice and this was a portent of things to come. Running by the palatable Chenin Blanc and Fume Blanc, somewhat softer than offerings from say South Africa or New Zealand. After all Fume Blanc is only a Sauvignon Blanc by another name, these wines were lacking the crispness I have come to expect. I picked out two wines from the range of reds, the 2013 Old Vine Zinfandel and the 2012 The Mariner Cab/Merlot blend. The Old Vine was a gnarly mix of black plums, leather and smokey burnt wood, interesting and dark while the 55/45 blend exudes redcurrants (sharpness), cherry fruit and softwood, but the tannins suggest it would be best held back for a couple of years before serving it with a plate of dry aged roast beef and Yorkshire pudding.
Unti Winery was a mistake for me. They make Italian wines. There is nothing wrong with that, but I live much closer to Italy than California. Very hospitable, helpful and nice wines but not what I was looking for on this trip.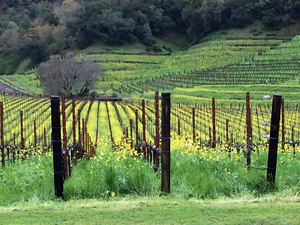 Skipstone - wine making paradise. This was a special visit. It is a beautiful location. From the main buildings you look down into an amphitheatre of vines. Each section of the bowl is planted with its own grape, the water and drainage is more or less natural and everywhere you can tell there is care and attention. We tasted three wines with a small tasting lunch with each course complementing the wine. The first a Viognier, which to my delight did not smell or taste like it had be brought out from a boudoir. Overpowering floral aromas were not present, but replaced by peaches, apples, and even a little grapefruit, and an underlying pleasant herbiness. This was served with a winter salad of palm hearts, yellow peppers and pear, an excellent combination. On these trips I tend to give a score of 1-10 for personal enjoyment of the beverage taken. However there is one more level which is reached very rarely, WOW!. You can hear it muttered, quite clearly, very rarely, but it is unmistakable. I have this grade available in fine dining establishments around the world. You sense it is there even before you taste, which serves only as confirmation. The 2012, Oliver's Blend is one such wine. Complex, everchanging, but first and foremost unqualified delicious. It was served with lamb, but that did not matter. The problem is that Olivers Blend is rare and hard to track done. The Skipstone websites lists the Calfiornia restaurants where it is available. Take a pilgrimage, imagine you are Indiana Jones in search for the Holy Grail, or one of them.
Saturday - February 20, 2016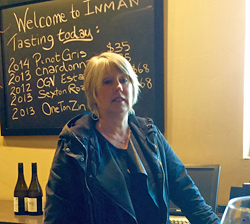 The next day we had three, meeting the wine maker, sessions arranged. The first was at Inman Family Winery in Santa Rosa. Kathleen Inman, took the time to talk us through her wines and her philosophy for wine making which was interesting. She has spent a lot of time in England so she may not thank me for saying that her Pinot Gris and Russian River Chardonnay were 'nice'. I say this because this degree of complement varies significantly between UK and USA. For example we may say "not bad" and more often than not this equates to very good, whereas extreme complements such as "excellent" or "marvelous" in truth convey not the impression of a memorable, but average experience which should not be repeated. Cultural "Ho, Hum". Nice is good but not great. Of the bunch of reds, those that stood out, better than 'nice', were the 2012 Pratt Vine Hill, Pinot Noir and the Sexton Road 2013 Pinot Noir. Quite different, but exhibited pleasant, clean, typical California Pinot characteristics, maybe a little pricey at $68 per bottle.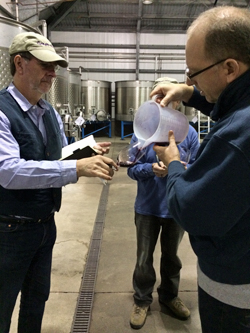 A quite different experience was had at Carlisle, in Sonoma County. We saw wine in the making, and barrel tasted wines that were due to be bottled in the following weeks. Primarily Carlisle makes Zinfandels, Syrah, Petit Syrah with grapes from various vineyards which Mike, the winemaker, knows will make interesting wines with character. These were all 2014 wines, already strong, measured by how difficult it would be to get the stain out after spillage. Unquestionably the Sonoma County Petit Syrah won that battle, plus a deep black grape, blackberry and oily flavour and lower tannins than I would have expected. The pick of the bunch in preferred taste, for future reference, were the 2014 Sierra Marr Syrah and the Bedrock Zinfandel ( 10% Mouvedre) . Fred Flintstone's House wine, would comfortably stand up to that medium rare brontosaurus steak. Carlisle also produces the "best Grunerweltliner in California". I had thought that this was exclusive to Austria. I am very familiar with this wine and it matches well with many types of food. Mike has a source of the grape and makes the wine because he likes it, and an admirable job he does. Slightly sweeter that I am used too, as GW can be bone dry, but this is well suited to the Californian palate and I hope he continues with to make it.
At which point, three days in I was becoming anxious to find the California which I was looking for. Due to some appointment rescheduling, late in the day we were able to pop into a couple of tasting rooms of note, but we found nothing to improve or differ from what we had tasted, and by now we were approaching closing time on a Saturday. After a long day we felt the wineries were keener to clean up and close up than to accommodate three tired, grumpy pilgrims ready to go home.
Sunday - February 21, 2016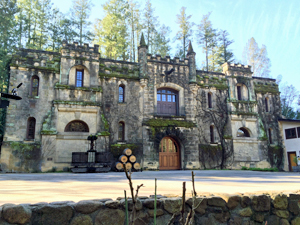 Day 4. Two pilgrims still standing, the third now "hors de combat". Bearing in mind that pilgrim 2 is a red wine afficiando, it looked like I was on my own. But they had lined up Chateau Montelena. I should have woken up to the fact that this was the game changer for California Chardonnay and it wasn't until we had encountered the imposing building and observed the 1976 trophy that I realized that the California white was within reach. Both the 2014 Sauvignon Blanc, peach, lime, peach flowers, grapefruit and the 2013 Chardonnay, melon, lemon, orange peel were better than nice. The chardonnay being "Chablis like", whilst retaining its own style rather than imitating the French classic. The reds, mainly Cabernet sauvignon were rich in dark fruit, but each had individual subtle spiciness differentiating it from its sibling. All were quite heavy in tannin and will reach their prime in "5-10 years" from now. The 08 Napa Cab was more approachable now, but I doubt will provide the rewards given for patience towards the classic Montelena Estate vintages.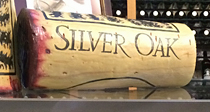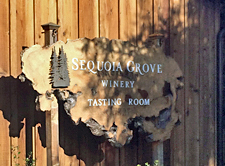 We had attained the heights of WOW, and encountered true Californian wine heritage, whilst only scratching he surface of what was on offer. During wind down we visited Silver Oaks and tasted some more memorable Cabernet Sauvignon and finally we relaxed with a glass of Chardonnay at the Sequoia Grove Winery. The wine was cold enough, there was condensation on the glass, the sun was shining highlighting the lemon/peach colour. I realised during the half hour of repose that maybe this was what I had been looking for, smooth semi-dry, fruity, refreshing drinkable white wine, without pretention.
Or had I?
"I'll be back".
Tour sponsored by Eric P. Noir and Michael Z. Findell, to whom I give unreserved thanks for their time, expertise and patience.