Vol. 10 No.1 February '02
Arizona

Vineyards & Wineries Visited -
Journal and some tasting notes from visits to four Arizona wineries.
(The Southern Arizona winegrowing area is located in and around an area called Soniota, about an hour or so Southeast of Tucson. Although Arizona isn't exactly the first place one thinks of when considering vineyards and winemaking, with altitudes as high as 4,800 ft., the temperatures are actually more similar to Paso Robles, than to the Sonoran desert. The Arizona Wine Growers Association lists 10 member wineries, most in the Southern part of the state. This time of year (February), it's usually crisp and clear, with temperatures ranging from the 30s at night to a high in the 60s during the day.)
Saturday, February 9, 2002
'It was the best of wines, it was the worst of wines'
Dark Mountain winery/brewery sits on a frontage road on the north side of I-10 in a small area named Vail. We weren't quite sure what to expect, but there seemed to be some other visitors here - which was a sign of encouragement. Billed as Arizona's first winery, Dark Mountain is very mission-like in architecture, with a small courtyard and fountain between the front gate and winery entrance. There didn't appear to be anyone in the large tasting room, but we could see and hear some folks talking with each other in a back storage area. It looked as though a small tour was already in progress. A lady stuck her head out from the back room and asked if we'd like to join them for the rest of the tour. Well, since she appeared to be the only staff in attendance, we said, sure, why not, and joined the other 4-5 people on the tour.
Immediately upon walking into the back room, we were hit by a blast of hot air - the room must've been 80 degrees or so. "Aren't wines supposed to be kept cold," my sister-in-law confided to me. "Uh…yeah," I muttered in astonishment, as I looked around to see if this was in fact a wine storage or holding room. There wasn't a lot of stock around, but there were indeed several cases of wine stacked on the few pallets around the room. And yet, overhead, there was an A/C-heater compressor vigorously pumping out hot air into the room. Maybe the thing was broken, I thought to myself. The lady led us past a few stainless steel fermenting tanks and into what was a barrel room - except there were very few barrels, and the ones there were looked as if they were ready for their afterlife as plant containers. Over in the corner was a funny-looking donkey cart-of-a-thing, that held a large wine shipping box. Inside the box were some inverted wine bottles separated by the usual cardboard dividers. Obviously curious, one of the other folks on the tour wandered over to the box and started to pick up a bottle. Eyeing this, the tour guide got very animated, cautioned him not to disturb the bottles - explaining that these were capped bottles of sparkling wine that were waiting to be disgorged. Ahh, in other words, THIS was their riddling rack! The place was quickly going from rustic to primitive, and I was beginning to wonder what the heck was going on.
Since we'd picked up the tour at midstream, we had apparently missed out on a key piece of information - the tour guide had informed everyone that Dark Mountain was going out of business. Well, that certainly filled in some of the blanks about the heat and Spartan surroundings. Apparently, the owners were getting out of the business and most of the equipment had been sold to another winery located up near Phoenix (Kokopelli, I'm guessing). All of this left our hostess in charge of selling the remaining stock out of the tasting room. (I can almost see the signage now - Get Your Hot Wine Here.) But, I also started thinking that this might be a good place to pick up some real close-out deals, although I hadn't tasted any wine as yet.
Tour finished, we all headed back to the tasting room, where one of the other two groups departed (either they'd tasted beforehand, or they were a lot wiser than us), and the other group of two gentlemen stayed to try out the brew. The tour-lady asked us what we'd like to try. "We'll try some wine," and I gave her $10 to cover the $2/person tasting fee for the four of us. We looked at the list of wines, which were categorized on the tasting list by their level of sweetness. "I'll start with the '96 Fume Blanc," I said, and the rest of our party agreed to start with this as well. The golden color certainly betrayed the wine's age, 4-5 years old by now, but that's not necessarily a bad thing. We all seemed to raise our glasses at the same time for a sniff. HOLY COW! The smell of this wine took "oxidized" to a whole new level. It was a cooked, paint thinner/turpentine kind of thing. The four of us looked at each other simultaneously. "O-mi-god" was our shared thought, as we huddled together a bit to quietly verbalize what we could hardly believe. After looking around to see if she was watching all of this, I hesitantly took a small sip. I immediately confirmed that it was definitely bad, if not worse, in the mouth. I looked for a dump bucket, wanting desperately to spit. Judgmental as it may sound, I could see that tour-lady would take my spitting at this point for exactly what it was - trying to get this vile stuff out of my mouth. So, I hesitantly swallowed the stuff, praying that I wouldn't go blind. Arrrggghh! (Checking vitals now - my eyesight seemed okay - maybe a little blurry - but still okay.) Hmmm, at $9/bottle this is a no-brainer. In fact, they should be paying us to drink this stuff! Bravely, we moved on to the next item on the list, "Desert Flame - white Zinfandel style. A blend of French Colombard, Sultana, and red wine." And red wine, I thought aloud to myself. Hey, this wasn't too bad; lightly sweet (semi-dry on their list), with some actual fruity flavors. Maybe the Fume was an aberration, I thought - maybe it was just something old they had hanging around. So, we went on to the "Tombstone Flame - a blend of white and red wines." Yikes - now we were back to the horrid stuff. Gee, maybe it was the Desert Flame that was unusual, and rest of the wines were WAY over the hill. Pushing forward, we tried the NV Pinot Noir. Well, this too was mostly oxidized red, so who could tell it was Pinot. It certainly didn't smell or taste like Pinot.
These wines had me thinking paint brush, rather than palate. Nearly all of them smelled and tasted as if they were prepared at Sherwin-Williams, not a winery. Doesn't anyone here know about vinification techniques, I thought to myself. Then, my eyes caught something, one of the last lines on the tasting sheet. "NOTICE: Wine that is allowed to exceed 80 deg. Fahrenheit may change in appearance and taste." Now, there's a disclaimer for you! Was this was just an alibi, or were they extolling their own winemaking techniques.
Finally, we'd had enough. Picking through a bunch of 'coyote ugly' wines looking for one with some redeeming value was not what we had in mind. As we were leaving, the lady reminded me that she owed me change for the tasting fees. Picking up the $2 change from the cash register shelf, she placed a single dollar on the counter and counted back to me, "...okay, that's Nine and Ten," as she kept the remaining dollar! A self-imposed tip? A donation? Who knows. Either way, it was worth a Buck to get out of the place.
Interestingly, my brother-in-law had picked up some CornNuts at a gas stop on the way out of Tucson. And although CornNuts isn't the first thing you think of to have with wine, it certainly did the trick at helping to get that horrible taste out of our mouths. On the other hand, once someone starts eating CornNuts, everybody has to eat CornNuts.
We headed toward Sonoita, where our next three visits were clustered near the town of Elgin. First stop was the Village of Elgin Winery, which is also home to the Domaines of Ellam and Regalo Estate labels. From the road, the place resembled a fort or trading post. Entering through a large open courtyard, we walked up a ramp to the tasting room. Proprietor Gary Reeves welcomed us, and offered 4 wines from his large diverse list. In contrast to our last stop, Gary appeared to actually know something about wine. In fact,
both he and his wife are the winemaking/cellarmaster team, in addition to doing all the bottling and labeling themselves for their stated 5,000 case production. Unfortunately, they seem to have made a conscious decision to create several different labels for their wines. This seems not only unnecessary, but also potentially very confusing to consumers. There's the Village of Elgin "Terroir Series", the Village of Elgin "Artist Series," and the Village of Elgin inexpensive series. Then there's the Domaines Ellam wines, with two variations on its labeling. It's difficult for the consumer to determine which label is which, and where they stand amongst each other.
Gary poured us a Sauvignon Blanc, followed by three red blends. (This is a fairly common theme - red blends.) The white was okay - certainly head-and-shoulders above the last stop. Of the reds, the Reserve Elgin Claret, a Cab Franc Merlot blend, seemed to be the best. Gary then asked if we'd ever tried Amarone, telling us that he has come up with own rendition, a blend called Regalo Reccioto. He went out the door to fetch us a sample of the 2001 from the winery. Apparently, he's out of previous vintages of this blend, and the 2001 won't be released for quite some time. The release price will be $99 per bottle! Yet, Gary says he has lots of international buyers snapping it up. After tasting this blend, I thought - yeah, pretty good. But, $99? Not in my neighborhood.
We moved on to Sonoita Vineyards. Housed in a fairly new tasting room that fronts the winery, it seemed as though we were stepping back into something a bit more familiar. I noticed some bags of pistachios for sale on the way in. I need to pick up some of these on the way out, I thought. A couple of ladies were handling the room, and were pouring some wines for a few folks at the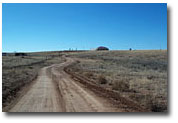 tasting bar. We were offered a choice of "dry" or "semi-sweet" wine, and they had setup separate flights for pouring. We selected the dry wines, and proceeded to taste the first, a Sauvignon Blanc. Oxidized! Maybe not on the scale of the Dark Mtn stuff, but definitely another entry in the paint thinner category. I looked for a dump bucket. "It's on the floor," I was told. The floor? Makes sense, I suppose, since spitoons are kept on the floor, why not dump buckets. Seemed like a long way to spit though, so it looked like I was going to have to do some more swallowing. The Sauvignon Blanc was poor, but in tasting through the rest of the lineup, it did seem that most of the wines were lightly fruity in taste, with decent structure and balance - although definitely dry and often austere. So, it didn't seem that we weren't going to find much to our liking. In addition, the Cab-based wines were largely vegetal in both smell and taste.
As seems common with many smaller wineries, Sonita Winery likes to display any "awards" or "medals" achieved at fairs, shows, and the like. On closer inspection, however, these awards displayed seemed to be largely for past efforts - and the not too recent past at that. I can't speak to the quality of their wines from their award years of 1989-97, but the current vintages did little to impress. So, selecting a couple bags of pistachios as a purchase, we departed.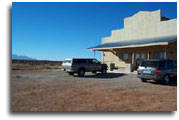 Last stop, Callaghan Vineyards. The saloon-like facade of Callaghan's new building seems to lend an appropriate Old West quality to the winery's appearance. Even though surrounded by vineyards on three sides, a winery seems a little out of place out here on this high desert plateau.
1999 Callaghan Vineyards Chardonnay - Sonoita. $18. Buttery lemon and pineapple nose, good palate coverage and tropical flavors in the mouth, very good balance, long finish. Aroma/Taste: B+/B+
1999 Callaghan Vineyards Matthew's Cuvee - Sonoita. $18. Interesting nose of ginger, floral notes, and touches of raisin and hazelnut. Crisp mouthfeel, long finish. 50% Riesling, 30% Sauvignon Blanc, 20% Malvasia. 15.1% alc. Aroma/Taste: B+/B+
2000 Callaghan Vineyards Lisa's Selection - Sonoita. $25. Nose of rum-scented peach, with a nice toasty quality. Big, chewy mouthfeel, and rich - even heavy on the palate, with long well-balanced finish. 55% Viognier, 45% Riesling. 15.5% alc. Aroma/Taste: B+/B
2000 Callaghan Vineyards Little Red - Sonoita. $12. Medium fruity aromas of spice and raspberry. Moderate mouthfeel, kind of lighter Zin-style flavors and picks up a little beet toward the medium-long finish. This wine is primarily declassified Cabernet, with a small percentage of Zin added. Apparently 6" of rain near harvest time diluted the Cab significantly; but the Zin definitely helps round it out. Aroma/Taste: B/B
2000 Callaghan Vineyards Syrah - Sonoita. $18. Slightly restrained nose of blackberry and herbs. Tight and somewhat austere on the palate, with good balance, and long finish. Aroma/Taste: B/B
2000 Callaghan Vineyards Caitlin's Selection - Sonoita. $25. Nice integration of fruit and slightly earthy spices, with hints of leather and bittersweet chocolate. Tasty mouthfeel, with quite a bit of cocoa mixed with cassis on the palate, and a long toasty finish.. 67% Cab Franc, 33% Merlot. Aroma/Taste: B+/B+
1999 Callaghan Vineyards Buena Suerte Cuvee - Sonoita. $25. Slightly tight and tannic in mouthfeel at present, with a nice core of black cherry and raspberry fruit, and a touch of beet on the long toasty tannic finish. 40% Cabernet Sauvignon, 33% Merlot, 14% Syrah, 13% Zinfandel. Aroma/Taste: B+/B
1998 Callaghan Vineyards Zinfandel Late Picked - Sonoita. $18. Nose of raspberry, currant and anise. Smooth mouthfeel, semi-sweet fruit, long finish. 17% alc. Aroma/Taste: B/B
1999 Callaghan Vineyards Claire's Spirited Selection - Sonoita. $15. 75% Zinfandel, 25% Cabernet Sauvignon. Nose of very ripe raspberry and spice cake. Smooth mouthfeel, nice ripe fruit flavors, long smooth finish. Fortified. Aroma/Taste: B+/B+
1998 Callaghan Vineyards Syrah Select Spirited Cuvee - Sonoita. $15. Nose of ripe earthy blackberry scents, brown sugar, and a touch of roasted grain. Somewhat chewy mouthfeel, good fruit and balance, long finish. Fortified. Aroma/Taste: B/B
Yet, once inside, it looks like nearly many Central Coast California wineries. By this point in the day, we'd resigned ourselves to the fact that we probably had already seen the day's best wines. Boy were we wrong. In fact, Callaghan turned out to be an extremely pleasant surprise - practically an oasis of good wine. Winemaker Kent Callaghan was working the family tasting room, pouring 10 wines for a $3 tasting fee. No tasting bar here; Kent just takes up position behind several upright oak barrels, and pours everything from Chardonnay to dessert wines - all very well made.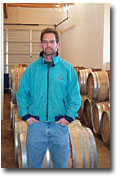 I found the Cab Franc/Merlot blend, Caitlin's Selection, the best of the bunch, but the whites were quite interesting as well. Again, blended wines rather than varietals seemed to be the standard here, and this extended to whites, as well as reds. Founded in 1990, production is about 3,000 cases, from the 17 acres of Estate plantings that include Cabernet Sauvignon, Mourvedre, Zinfandel, Merlot, Viognier, Riesling, Petit Verdot, Malvasia, Cabernet Franc, Petite Sirah, and recently planted Syrah. Other varieties are purchased from the Wilcox area, further East. Some very nice wines, and a complete surprise. What a perfect way to end a day of wine-tasting.
As we were leaving, a young couple arrived and told Kent they would like to try his "...award-winning wines." Sure, said Kent, and he started to take them through the lineup. "No, no," chimed in the more assertive of the pair, "we've been here before and tasted the wines. We just want to taste the award-winning wines this time." Funny how a marketing concept can be interpreted.
Overall impressions: this visit to Arizona wineries was a real eye-opener - both in terms of how bad some wines can be, as well as how surprisingly good some of its wines can be. From my perspective, Callaghan is clearly the quality leader in these parts. And, aside from Dark Mtn, which appears to be ceasing operations, many of the other wineries have apparently made good wines in the past, and probably ought to be able to do so in the future.
---
---
Copyright © 1993 - 2004, Eric Anderson -
All rights reserved
No original material may be reproduced without written consent
Mail & Comments - Eric Anderson