Clos Pepe Vineyards
by Eric Anderson
(excerpted from Vol.10 No.4, Journal du Vin, May 2002. …a visit on 5/29/02 to Clos Pepe in the Santa Rita Hills for a tour and tasting.)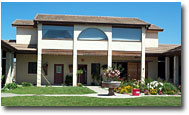 Clos Pepe Vineyards
Leaving SoCal about 7:00am, our first stop was scheduled for Clos Pepe Vineyard, a small artisan operation in Santa Barbara County. From there, we would head on to Paso for the Hospice du Rhone festivities -- all 4 days of it!
Selected Tasting Notes:
...from barrel...
2001 Clos Pepe Chardonnay - (stainless steel). Slightly funky nose of lees and swamp water. Nice undercurrent of pure crisp fruit. Nice balance, very crisp mouthfeel, lots of solid fruit through long finish. Aroma/Taste: B+/B+
2001 Clos Pepe Chardonnay - (Latour barrel). Lemon-scented nose, with a touch of toast and roasted grains. Very nice mouthfeel, excellent balance, mostly lemon and lime fruit, with a toasty long finish. Aroma/Taste: B+/B+
2001 Clos Pepe Pinot Noir - (115 clone). Nose of bing and black cherry, with nice spicy aroma. Full mouthfeel, almost crisp cherry and strawberry fruit, nutmeg and clove spices, and a lightly toasty long finish. Aroma/Taste: B+/B+
2001 Clos Pepe Pinot Noir - (stainless steel). Interesting, almost stark nose of pure cherry fruit - similar to smell of processing grapes for jelly. Primal fruit, with a light spicy grapeskin quality, and somewhat bitter long finish. Aroma/Taste: B/B
2001 Clos Pepe Pinot Noir - (Vigneron Select). Fabulous nose of spiced cherry and cola, with lots of sauvage and a forest floor background note. Full, rich mouthfeel, excellent balance, lots of dense cherry fruit, and very long finish. Aroma/Taste: A-/B+
2001 Clos Pepe Pinot Noir - (new oak). Fully oaked nose of black cherry with light touch of spice and licorice. Big chewy mouthfeel, concentrated oaky and slightly bitter fruit, with a very long somewat tannic finish. Aroma/Taste: B+/B+
2002 Clos Pepe Botrytus Chardonnay - (stainless steel) $28. Cloudy swampwater appearance, with a nice apricot and pear aroma. Very fruity mouthfeel and sweet taste, with fabulous balance and long finish. Aroma/Taste: B+/B+
2002 Clos Pepe Botrytus Chardonnay - (Croatian oak) $28. Cloudy swampwater appearance, with a toasty and spicy pear and nectarine aroma. Full mouthfeel, sweet and lightly toasty fruit, with excellent balance and long finish. Aroma/Taste: B+/B+
Arriving at Clos Pepe about 10:00, we met up with vineyard manager and winemaker Wes Hagen and his wife Chanda. Thanks to Tom Hill, a visit had been arranged with Wes to show us the Clos Pepe vineyard, as well as barrel taste through a few of his new wines. Along for the tour was Tom, Larry Archibald, Brian Loring, Bob Summers, and Mike Mooney.
Located just West of the Babcock and Melville wineries on Hwy 246, Clos Pepe is situated smack in the middle of what will be the new Santa Rita Hills appellation ... well, maybe. These wineries, along with Sanford, Lafond and Longoria applied for AVA status through the usual channels. However, as It turns out, the Chilean winery, Santa Rita, has taken some exception to the chosen name. This all seems more than a little ironic, considering this particular Santa Barbara County appellation would probably serve to enhance the Chilean winery's name, rather than detract from it. A deal is supposed to be eventually struck that would allow the AVA name on the label, along with a slight caveat.
Like most Santa Barbara County wineries, Clos Pepe is a family operation. The former 40-acre horse ranch was purchased several years ago by Cathy and Steve Pepe, Wes' mother and stepfather. Before setting up the 28-acre vineyard, the family consulted with Jeff Newton and Larry Finkle of Coastal Vineyard Care to site and plant the vineyards. Burgundian varietals are Wes' passion, and that's all that's grown here - with Pinot Noir claiming the vast majority of acreage.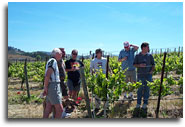 After trying a few wines in the cellar/lab, we went for a walk into the vineyard. Wes explained that his own preference leans toward the 115 clone. Often subjected to morning fog and cool windy afternoons, this area is ideal for growing Pinot and Chardonnay. In fact, nearly everything between the Santa Ynez Valley and Lompoc, is exceptionally cool - some 15-20 degrees cooler than most areas barely 10 miles away to the East.
Although Clos Pepe sells about 90% of its fruit to the likes of Siduri, Ojai, Babcock, Loring, Clifton-Brewer and Hitching Post, they keep 3.5 acres (about 250 cases) of Pinot Noir to bottle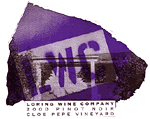 under their own label. Commenting on the current upswing of vineyard-specific bottlings, Wes seemed very passionate about his desire to have those who purchase his fruit, also bottle it as a Clos Pepe vineyard designated bottling. The point is obviously not lost on his clients, either. Wes related a story of how Brian Babcock couldn't guarantee that the Clos Pepe fruit he'd contracted for would become a vineyard designate bottling, but rather might end up in a Santa Barbara County blend. Since Babcock felt he'd rather stick with the blending concept, he offered to tear up his contract with Clos Pepe, offering the fruit back to Wes. Wes was initially surprised by the his gesture. But with buyers practically waiting in line for his fruit, it didn't present any problems for him.
Wes had us carpool over to Buellton to the crush facility where he makes his wine. Grabbing a thief, Wes set about providing us with samples of a few more things, including a 2002 Botrytus Chardonnay - picked in January! Wes and Chanda were gracious hosts, and we had a great time.
---
---
Copyright © 1993 - 2004, Eric Anderson -
All rights reserved
No original material may be reproduced without written consent
Mail & Comments - Eric Anderson