Vol. 11 No.2 - May '03

Journal and tasting notes from visits to several California wineries and vineyards. The final destination of the trip was the 2003 Hospice du Rhône, (Friday and Saturday May 30th and 31st in Paso Robles), and I'd left a couple of days early to make some winery visits along the way.
Barrel Tasting: even though barrel tasting is one of the most instructive ways to sample wine, it is also something that causes more than a little angst among winemakers. The fact is that the wines being sampled from barrel haven't finished their infancy yet - they are still going through growth and development in the barrel, and haven't reached the point of bottling. Therefore, winemakers are often reluctant to expose their barrel samples to the public - concerned the wines may be misjudged or unappreciated by tasters during this growth stage. Since the tasting notes in this report contain many barrel samples, please note that my impressions relate only to the wine at its current stage of development.
Wednesday, May 28, 2003
You Are Here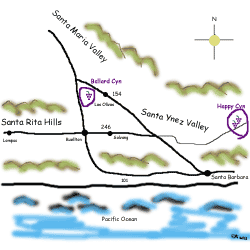 Santa Barbara County appellations are unique, and one of the few places on the west coast of North America with transverse (east-west) coastal valleys
After trying a few of Jason Drew's wines at the Wine Cask's Santa Barbara Futures tasting last March, I was impressed with this relatively new small producer, and wanted to taste more of his wines. The Wednesday before HdR seemed like an ideal opportunity - the afternoon was already planned (were meeting with a large group to tour some Santa Rita Hills vineyards and taste some wine), but I thought if Jason were available Wednesday morning, it might be the perfect chance.
E-mailing Jason some days later, I asked if it would be convenient to pay him a visit and taste what he had in barrel. He said "sure," and suggested we meet at his winery in Buellton - unless I wanted to see some vineyards in Happy Canyon. Well, I never turn down a chance to see and/or walk through vineyards - to me, there's just no better way to get a sense of terroir or place of a wine than to visit the source of the fruit. I knew that both Westerly and Vogelzang Vineyards were located in Happy Canyon, but really didn't know much else about the area.
Since Happy Canyon was over on the east side of the valley, I'd arranged to meet Jason at 10:00am off Hwys 154 and 246, near the Santa Ynez Valley airport. Meanwhile, we headed over to Los Olivos Grocery to pick up some sandwiches for later on. Great place - just tell them what you want, or choose from some specialties (I like the "Valley Veggie.")
As we were leaving, I got a call Brad Harrington - he and wife Maureen were going to join us for the tour and were in the vacinity of the airport -- where should they be? Hang on, I told him, we'll be right there, adding that he should keep his eye out for another guy hanging around, because it was probably Jason Drew. We all managed to connnect, and parking one of the cars, headed off to check out the vineyards. Jason has contracted for an acre of Cabernet Franc from Volgelzang Vineyards. He previously made a Westerly Cabernet Franc from the 2000 vintage that we tasted at his place in Buellton.
View looking east into Happy Canyon, a box canyon on the valley's east side. The far reaches of this canyon comprise the massive Star Lane Vineyards, owned by James Dierberg.

The Star Lane Vineyard is the eastern-most vineyard in this canyon. Owned by James Dierberg of St. Louis, it produces primarily Bordeaux varietals, along with a smaller amount of Syrah. At 180 acres, it is the largest non-winery owned vineyard in the valley - though, wine production may be in its future. First vintage was 2001.
A beautiful patchwork quilt of vines extend up the rolling hills of Star Lane Vineyard




The 180 acre Star Lane Vineyard is owned by James Dierberg of St. Louis. Probably best known (at least for now) for a 270 acre Chardonnay and Pinot vineyard in Santa Maria Valley sourced by Foxen, Flying Goat, and Foley among others, Dierberg may soon be a force to be reckoned with on Bordeaux varietals. The eastern area of Santa Ynez Valley is just too hot for Pinot, but Cab, Merlot, and Sauvignon Blanc do quite well. And then there are the Rhône varietals....

We piled into two cars and headed east toward Happy Canyon. Driving past Westerly and Vogelzang vineyards, we turned up a dirt road and passed through a gate marked Star Lane. A quick right turn, and there, before us, was the view you see on the left - a gorgeous canyon that seemed to be packed with grapevines. We drove along the road that borders the south side of the canyon, (center of the picture at left) and even more vineyards - plus, what looked suspiciously like a winery.

As we doubled back and headed out of Star Lane vineyards, it occurred to me that this was only "Day #1" of a four-day extravaganza, and I was already having a blast.
Next stop - Vogelzang Vineyards. I think I fell in love with this place before I ever saw it. The name sounded so cool...V-o-o-gel-Z-A-A-n-n-n-g! Sounds like a hot new sports car. Instead, it's a hot new vineyard - one that's already made a name for itself. The first time I'd heard of it, was while tasting a Garretson Viognier made from Vogelzang fruit.

Planted in 1996, the Vogelzang vineyard is a melange of both Bordeaux and Rhône varietals - all of which seem to be knockouts, based on tasting early samples of wines made from fruit grown here! Owned by Mary Beth Vogelzang, this property will undoubtedly prove what the eastern Santa Ynez Valley can do.

We pulled in through the deserted equipment yard, then around the corner, and up a dirt road into the vineyard. Stopping, we got out to stroll through the vineyard, stopping to check out the recently flowered fruit.


Jason really likes this vineyard. He just started getting some fruit from Vogelzang this year, and he obviously respects what they are doing here. Farmed by Jeff Newton and crew (what isn't, these days?), the place looks immaculate.

We needed to get moving toward Buellton, but Jason wanted to take us by a few more vineyards. We paused momentarily on the way out of Happy Canyon to take in the site of Vogelzang's neighbor, Westerly Vineyards.




Although the Vogelzang Vineyard has already made a name for itself, the best seems yet to come.

"...hey come on Brad, stop messing with the vines."

Planted 1996, the Vogelzang vineyard covers about 105 acres of Roussanne, Viognier, Grenache, Syrah, and Sauvignon Blanc, Cabernet Franc, and Cabernet Sauvignon. Managed by Jeff Newton's Coastal Vineyard Care, Vogelzang produced its first vintage in 1999, selling fruit to wineries like Babcock, Garretson, Longoria, Foxen, and Drew Family. Fruit from the 2001 vintage went into wines from Curtis, Foxen, and Ojai that were tasted at the recent Santa Barbara Futures tasting.
Heading back toward Solvang, we took a few side roads just east of town in order to head north, then skirted Los Olivos and started down Ballard Canyon Road from the north. This is a scenic drive that travels past many known, and a few not-so-known vineyards. Winding up a narrow road, we rounded a corner and started down a hill that forms a backdrop for the steep Saarloos Vineyards. These vineyards have produced some nice Syrah fruit in the past, and it looks like they're undergoing some replanting. We stopped momentarily to discuss where we ought to go next. Jason had spoken to Steve Beckmen on his cell phone and Steve was up for visitors. But it was around 11:45 and we had to meet up with the Santa Rita Hills bunch at 1:00 in Buellton, plus, we still needed to taste Jason's wines. Regrettably, we had to pass on Steve's kind invitation, and pressed on toward our scheduled rendezvous in Buellton.

The Larner Vineyard is home to some juicy Syrah, Grenache, Mourvedre and Viognier, along with just over an acre of Malvasia Bianca.

A block of 877 Syrah on 110R rootstock, basking in the sun.

Getting back into our cars, we started down Ballard Canyon Road. We passed the Stolpman Vineyards on the left. Stoplman is home to a cornucopia of varietals, producing some of the smoothest, most succulent wines in these parts. They've been doing Sangiovese for some time now, but I hear they're getting into an Italian varietal program in a big way. Moving on, we saw Beckmen's Purisima Mountain vineyards spread out over the rolling hills to the right. Purisima is planted to some of the most fabulous Syrah and Grenache in the area.

Rounding a corner, we pulled up a dirt road to take a closer look at Larner Vineyards. The Syrah and Viognier from Larner has been showing up as a vineyard designation on labels like Drew, Tensley, Kunin, Jaffurs, Bonaccorsi, and a few others. Lots of clones here, and with irrigation deficit management (very little water), they pull about 2.5 tons/acre.

Pushing on toward Jason's winery in Buellton, we drove past Rusack, which has undergone a complete replanting and is poised to do some big things (see reports from 3/02;and 3/03).
Arriving at Jason Drew's winery on the westside of Buellton was welcome relief from the heat. Jason used to make his wine on the other side of town at the larger Kahn winery, along with Wes Hagen, Brian Loring, Peter Cargasacchi and others. But, he recently moved into these new digs, and only sharing space with Kenneth Crawford (Mark Horvath and Kenneth Gummere's joint venture). Jason showed us in, introduced us to his brother Mark, who is part of the family operation, and we dug into some wine.
Selected Tasting Notes:
...from bottle...
2001 Drew Grenache - Purisima Mtn. Very candied and lush, excellent balance and ripeness, almost a LifeSaver fruit quality and long off-sweet finish. Alban clone. 100% neutral oak.
...from barrel...
2002 Drew Pinot Noir - "Gatekeepers". Blend of vnyds that "bookend" the Santa Rita Hills. Somewhat smoky cherry nose, with touch of cola. Very nice balance and flavor; long finish. From new barrel.
2002 Drew Pinot Noir - Julia's Vnyd. Very new world fleshiness, with a slightly sweet, and minerally flavor, with just a touch of mint.
2002 Drew Cabernet Franc - Vogelzang. Dense cassis and leaf in the nose, with a full, rich palate and firm tannins through long finish. A bit tight right now, but everything's there.
2002 Drew Syrah - Alisos Vnyd. Lots of tar and mineral in the nose and mouth; slightly more black peppery quality in the long finish.
2002 Drew Syrah - Thompson Vnyd. A vein of chocolate accents the rich licorice and tar flavors, full ripe texture, and long smooth finish.
2002 Drew Syrah- Rodney's/Larner Vnyd. Very nice blend of ripe fruit (Rodney's) and hi-toned fruit (Larner) make this Syrah really sing.
Jason has been in the wine business since 1992, serving stints at Joseph Phelps, Carmenet, Luna, Corison, and St. Supery. He also spent 1997-98 in Australia, getting his degree in winemaking. Relocating to Santa Barbara County, he worked for Babcock before starting Drew Family Cellars and producing 380 cases as their first vintage in 2001. Drew will produce about 800 cases of the '02 vintage.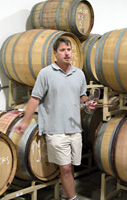 Jason Drew
As we tasted through the barrel samples, it occurred to me that Santa Barbara county had come what seemed to be full circle. I recall tasting Bordeaux varietals here over twenty years ago, and they absolutely pale by comparison. So much has changed in the vineyard and vinification techniques that it's hard to believe it's the same place.
With the clock ticking, we left Jason and Mark Drew and headed over to the Kahn place on the other side of 101 to join up with a large contingent of [other] wine geeks for sort of a Santa Rita Hills pilgrimage. The other group had started from Paso Robles and began their morning in Edna Valley (Hug and Alban), before heading south to Buellton. While on the other hand, were working our way north - intending to hit Hug and Alban tomorrow.
Clos Pepe, Loring, Cargasacchi, Casa Cassara
On to the day's main event. We arrived at the Kahn facility and joined the others at 1:00 - altogether about twenty of us. After introductions or re-introductions all around (many of the people knew each other already, and most of us were going to be attending Hospice du Rhône, so this was like an annual family gathering), we took up positions in the barrel room. This was quite a group of tasters. In addition to all of the geeks on this journey, several winery owners and/or growers were there as well - including Norman Huber, Steve Pepe, Randy Rozak and Mike Larner to name a few.
Selected Tasting Notes:
...from barrel...
2002 Clos Pepe Homage du Chablis. A smorgasbord of aromas, with toast, yeast, and touches of banana and pineapple. Wes mentioned most of the tropical qualities should drop off after the wine finishes malolactic.
2002 Clos Pepe Pinot Noir - Clones 115/667. Lots of espresso in the nose here from the Freres cooperage. Rich dark cherry fruit, chew mouthfeel, long fruit-filled finish.
2002 Clos Pepe Pinot Noir - Clones 115/66. Subtle and substantially more sculptured than the previous wine.
2002 Clos Pepe Pinot Noir - Clone Blend. Very nice combination of the two previous wines, with rich nose and mouth, excellent balance, tasty long finish.
2002 Waltzing Bear Pinot Noir - Cargasacchi Vnyd, Mt. Eden clone. Stemmy and hi-toned in the nose, with hints of forest floor and a long finish.
2002 Loring Pinot Noir - Brousseau. Big, almost chewy on the front end, with a nice core of strawberry fruit, and a lush slightly spritzy finish. This vnyd is near the Chalone area, on the eastern hills overlooking the Salinas Valley.
2002 Loring Pinot Noir - Ontiveras, 113 clone. Lovely, almost perfumed nose of spice and cola. Full mouthfeel, long fruity finish.
2002 Loring Pinot Noir - Ontiveras, 114 clone. Silky and seductive, with a smooth long finish.
2002 Loring Pinot Noir - Ontiveras, 115 clone. Almost Grenache-like raspberry nose, with a nice black cherry core, and chewy texture.
2002 Loring Pinot Noir - Ontiveras, Blend of 3 previous clones. Terrific, rich, dark fruit nose. Very tasty on the palate, chewy mouthfeel, excellent balance and long finish.
2002 Loring Pinot Noir - Garys'. Big spiced black cherry nose, lots of concentration, long finish. New World all the way!
2002 Loring Pinot Noir - Rosella's, 667 clone. Fabulous! Big, rich espresso-laced black cherry nose, full mouthfeel, long finish.
2002 Loring Pinot Noir - Clos Pepe, 667 clone. Absolutely stunning! Big, rich dense nose, chewy mouthfeel, very long finish - double wow! From very, very low yields.
2002 Casa Cassara Pinot Noir - Estate, 777 clone. Huge and dense in both nose and mouth, with lots of muscle to go with the big fleshy body.
2002 Cargasacchi Pinot Noir - Palama Vnyd. Luscious, rich nose and mouth, interesting anise/herb component mingling with the dark cherry and light cola flavor. Chewy mouthfeel, great balance, long finish.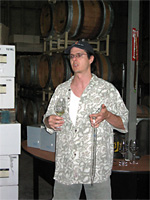 Wes Hagen
Peter Cargasacchi had arranged an itinerary to more or less showcase Santa Rita Hills producers. Peter had set up barrel tastings of Clos Pepe (Wes Hagen) and Loring (Brian Loring), plus a few other wines, before heading out to Babcock to try some barrel samples with Bryan Babcock. He was also trying arrange a visit to the latest hot SRH Pinot producer, Sea Smoke, to try some samples with winemaker Kris Curran.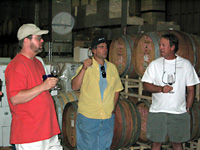 Brad Harrington, Peter Cargasacchi, Randy Rozak
Wes sampled us on his Homage du Chablis, as well as a few Pinot clones and a tasty final blend of of the three clones. Wes described his winemaking as a non-intervention style. He leaves the Pinot on the lees rather than racking it. Wes is also a big proponent of "irrigation deficit management" before veraison (I love that phrase). Actually, the whole grape growing thing's a funny concept - sort of a reverse farming, if you will - with wine growing, you want to deprive the vines of nutrients, in order to get a reduced crop and more intense fruit, rather than get an abundant crop.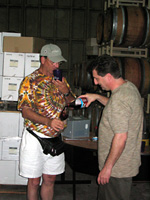 Bob Summers, Brian Loring
After Wes stepped off-stage, Brian then ran us through each of his Pinots (big lineup here), all fabulous, but I like the Clos Pepe best. Brian's also gotten into screw tops big time. No, he's not using them for bottle closures; he's now using bottled water empties to pour his barrel samples. We also tried the Waltzing Bear Pinot from Brad Lowman, and a huge muscular Casa Cassara Pinot made by John Kirska, and finally, one of Peter Cargasacchi's own Pinots.
There was something surreal about this whole setting - here were all of these wine enthusiasts (aka, wine geeks) mixing with all of these producers, winemakers and growers - plus, it seemed to be a mutual admiration society. With all these great wines and great people...well, it just doesn't get much better than this. It was sad to break it up. But, Peter told us we were due at Babcock at 2:30, so we had to get moving.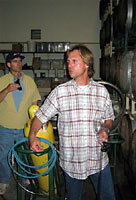 Bryan Babcock (r), Peter Cargasacchi
Selected Tasting Notes:
...from barrel...
2002 Babcock Pinot Noir - Tri Counties. A blend of fruit from Santa Barbara, Monterey, and Sonoma counties. Quite nice, actually, with nice cherry fruit, a touch of stemmy quality, and a tasty finish.
2002 Babcock Pinot Noir - Estate. This is the "reserve" Pinot, made from 80% estate fruit and 20% Cargasacchi fruit. Lush and pretty in the nose, and tastes the same way.
2002 Babcock Pinot Noir - Cargasacchi Vnyd. The medium+ toast on the Mercier barrel really comes through on this baby. Major structure, light roasted coffee and espresso notes, excellent balance, and very long finish. Stellar!
2002 Babcock Syrah - "Black Label". Blend of fruit from the Thompson, Alisos Creek, and Larner Vnyds. Rich texture, with a licorice/tar quality to the blackberry fruit. Nice, as always.
2002 Babcock Fathom. A Cab, Merlot, Cab Franc blend of fruit from Westerly and Vogelzang Vnyds. This is a really nice effort, with lots of cassis and mocha flavors, along with a touch of vanilla and herb. Nearly chewy mouthfeel, excellent balance, long finish. Previously a 'winery only' or restaurant label, the "Fathom" can now compete on its own terms.
2002 Babcock Cabernet Sauvignon - Vogelzang Vnyd. Intense nose of cherry/black cherry and cranberry. Stiff backbone, with a 'young vine' quality to the texture and mouthfeel. This will go into the "Fathom" blend.
Everyone piled into their cars and headed west on Hwy 246 to the Babcock winery - in the Santa Rita Hills AVA. We weren't there but a few minutes before Bryan Babcock invited us all into the barrel storage room to do some tasting.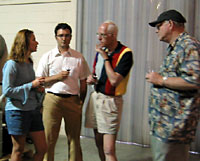 Valerie Wood, Mike Larner, Tom Hill, Larry Archibald
Joined by Babcock's associate winemaker, Mark Horvath (Kenneth-Crawford) and a few of the cellar crew, Bryan set about tasting us through some barrels. Sizing up his audience, Bryan seemed a little amazed, remarking something like: wow, I haven't seen quite this many wine geeks in one place (it was a compliment - well, at least we all took it as one, anyway). And, I do have to admit, there was sort of a "Trekkie Convention" quality to the group, with pencils poised, copious notetaking, lots of understanding nods, detailed questions flying, etc. Naw, you weren't going to hear any "what are 'legs'" questions around here today.
The tasting seemed to go by remarkably fast. This was a really nice cross-section of Babcock's wines, and it was a special treat to have Bryan there to answer questions and discuss each of the wines.
Everyone seemed to want to linger a bit more in the coolness of the winery, but Peter was being an excellent tour guide by trying to stay on schedule. After chatting a bit, Peter suggested we all go out to the vineyards behind the winery to check out the experimental section. He led - we followed. In this vineyard, Babcock is researching several different clones, as well as experimenting with some east/west facing rows.
After we got back in from the vineyards, Peter made a call to Kris Curran, winemaker at Sea Smoke. The word was, if we could get there right away, she'd take us through some of the wines. A few folks wanted to get a jump on the 1-1/2 hour drive from here to Paso, so part of the entourage left, and the rest of us diehards piled into our cars and headed out to Lompoc.
Selected Tasting Notes:
...from bottle...
2001 Sea Smoke Chardonnay - Estate. Three acres yielded 4 barrels of this caramel, tropical, smoky scented and flavored wine. 100% new oak, which is nicely integrated. (Rather than sell this wine separately, Sea Smoke has decided to "include" it along with purchases from their top Pinot program.)
...from barrel...
2002 Sea Smoke Pinot Noir - 777 clone. Largely floral nose, with black cherry, strawberry and clove. Very front loaded on the palate, with lots of initially chewy fruit that seems to quit just a bit by mid-palate and gets soft on finish. Ripe flavors of prune, persimmon, and a touch of leaf. Coopered in 100% new oak, this barrel will probably be split between all three of the '02 Pinots.
2002 Sea Smoke Pinot Noir - 2A clone. Dense and beautiful nose, with a moderate amount of toast mingling with the black cherry fruit. Big structure, very good balance, lots of coverage, and a long finish. Touches of meat and brown sugar accent the black cherry fruit. Whoa!
2002 Sea Smoke Pinot Noir - 667/115 clones. This will be the major portion of the "Ten" bottling. Full and rich, with excellent balance and structure, slightly grippy palate, and a long smooth finish.
2002 Sea Smoke Syrah - Oak Trail Estates. Huge nose of brandied blackberry and tar. Big and chewy, with a structured feel throughout, slightly drying long finish.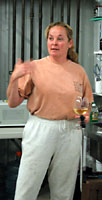 Kris Curran
Arriving at what the local winemakers refer to as the "wine ghetto" on the eastern outskirts Lompoc, we found the Sea Smoke winemaking facility tucked into a light industrial park - similar to the Siduri/Novy facility. A few years ago, local talent Kris Curran was asked to start up a winery for Koehler, a Santa Ynez Valley grower (next to Fess Parker) who was interested in producing wine. About a year or so into the project, she was asked by Bob Davids, proprietor of Sea Smoke, to start up yet another winery, and the rest is history. Well, if not history, at least legend - since Sea Smoke hasn't released any wine as yet. However, at the recent SB Futures Tasting, Sea Smoke was one of the stars, and those who found out about it were quick to spread the word. It seemed everyone wanted in on the latest hot SRH Pinot. The name Sea Smoke is a metaphor for the ocean fog, the unique natural air conditioner for these coastal vineyards.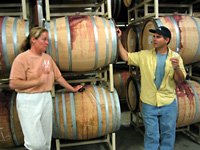 Kris Curran, Peter Cargasacchi
Just like the rest of us, winemakers' personalities vary quite a bit - all the way from worrywart to highly confident. Kris was more the latter. Charming, self-assured, and nearly inexhaustible in talking about wine, she didn't seem particularly timid, either. For instance, I can't recall whether Kris originated this or was quoting someone else, but one of her descriptions of a particular wine especially rang a bell with the crowd. On describing a lack of finish or back end to the 777 clone, she referred to it as "beautiful up front...but, has no ass." Colorful? Sure, but what a great analogy! Kris also considers whole cluster fermentation to be "voodoo winemaking," eschews inclusion of stems in the crushing, and believes that all the bitter elements should be removed from the final wine.
The estate vineyards were planted in 1999. Sea Smoke intends to focus only on Pinot Noir, although they've had one brief flirtation with Chardonnay. A 2001 Chard was bottled but not released. The winery has decided to give it away - with purchases from their top Pinot program. For the 2001 vintage (750 cases), Sea Smoke will produce two different Pinots: the Botella (low $20s) and the Southing (high $30s). Production for 2002 (3,500 cases) will include three different Pinots, the Botella, the Southing, and the top of the line Ten, a reserve blend of the best fruit.
Finally departed about 5:45, and headed up to Paso. A WCWN offline dinner was scheduled for 8:00 at Villa Creek restaurant. The wine theme certainly seemed appropriate - Pinot Noir.
---
Thursday, May 29, 2003
After grabbing a couple of sandwiches for lunch from the local market, we hit the road for Day-2, starting with a visit to Hug and Alban in the Edna Valley, south of San Luis Obispo.
Selected Tasting Notes:
...from barrel...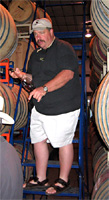 Augie Hug
2002 Hug Chardonnay - Dos Cruces Vnyd. (Neutral barrel.) Aromas of apple, tropical fruits and light grapefruit. The substantial fruit is fairly sweet right now (still undergoing ML), with a big chewy mid-palate, and a grippy finish.
2002 Hug Chardonnay - Dos Cruces Vnyd. (New barrel.) Lots of smoky nuances from the Allier oak in this sample. Still very tasty fruit, great balance, and long finish, but probably not for oakaphobes. Final Chard will be a blend of the two.
2002 Hug Chardonnay - Dos Cruces Vnyd. (Blend of the two previous wines.) Nice nose and mouthfeel, excellent balance. Aromas of toast, clover, and a touch of kiwi and boxwood. Rich and very fruity on the palate, nice long finish.
2002 Hug Pinot Noir - Dos Cruces/Laetitia Vnyds. (New barrel.) Slightly reduced nose, with zingy black cherry and leather. Smoky and rich on the palate, with flavors of black cherry and portobella mushroom, nice balance, and long finish.
2002 Hug Syrah - Bassetti Vnyd. (Neutral barrel.) Slightly hi-toned blueberry/blackberry, pepper, tar, and licorice. Dark fruit flavors, very nice balance, tasty long finish.
2002 Hug Syrah - Bassetti Vnyd. (New barrel.) Loads of smoky blackberry tar and licorice. Cool black/blueberry flavor, tarry, slightly oaky on the palate, with a hint of dark chocolate. Dark and brooding, this should be a real winner.
We arrived at 10:00 at the Alban winery, just east of Arroyo Grande. Hug Cellars was founded in 1994 by Augie Hug and Raquel Rodriguez, and Augie's been making his wine here at Alban since then - though he'll be moving into the Garretson facility in Paso for future vintages (it's starting to get a little crowded at Alban).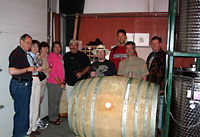 Charlie and Pat Chadwick, Maureen Harrington, Raquel Rodriguez, Augie Hug, Paul Young, Jock Harvey, Jonathan Lachs, Paul Wilkins
Augie had generously offered barrel tasting of his wines for two days in a row, having started the day before with another group - the very same group we met at the Kahn winery. Augie makes a Chardonnay, Pinot, and Syrah from a couple of select Coastal vineyards near Cambria, the Dos Cruces and Bassetti vineyards. He started us off with a Chardonnay from Dos Cruces Vnyd, trying a couple of different barrels, and then a blend of the two.
We moved on next to the Pinot from Dos Cruces. Apparently, birds ate too much fruit from the Dos Cruces vineyard in '02, requiring the addition of 30% Laetitia fruit. It would have been interesting to try a 100% Dos Cruces along side this, just to see what effect the Laetitia fruit had on this sample.
Both barrels of Syrah we tried were from Bassetti, and were flat out delicious. This is a great coastal site, and one of the coolest Syrah vineyards in California - which does present some difficulties. Getting the fruit ripe enough is a sometimes problem. And, several vineyard-related issues prevented Augie from getting a 2001 Syrah from this vineyard.
Though Augie is quite accomplished in his winemaking skills, he credits both John Alban and Mat Garretson for their friendship, advice, and encouragement in pursuing winemaking and Hug Cellars. Now there's a couple of gentlemen to have on your side. Production on Hug wines have usually been around the 350 to 700 cases, with 1,000 set as an upper limit.
Well, with our time tasting Augie's wines now at an end, we had a long journey to get to the Alban barrel tasting. So, we started walking....
Selected Tasting Notes:
...from barrel...
2001 Alban Roussanne - Estate. Contains 5-10% botrytis fruit fruit, which undoubtedly contributes to the seductive scents and off-dry mouthfeel. Aromas of honeysuckle, clover, jasmine, and butter rum. Lip-smacking flavors of honey, pear, and lemon grass, nice thick mouthfeel, and long finish. About 50% new oak.
2002 Alban Viognier - Estate. (New barrel.) Slightly sweet scents of honey, white peach, and clover. Excellent balance, lightly crisp throughout, and a very long finish.
2002 Alban Viognier - Estate. (Neutral barrel.) Much more hay, alfalfa, grassy scents in this sample -almost like a honeyed Sauvignon Blanc. Lovely combination of fruit and toast - not unlike the marmalade on dry toast. The final blend will be about 5% new oak. Whoa!
"Personalizing" the Barrels - instead of a number, they each get a name.
2002 Alban Syrah "Reva". This bottling has been made since '92, and comes from the flat portion of the vineyard with a north-south facing, and includes about 3-4% Viognier. Very toasty nose, with smoky espresso, coffee, tar, touch of iodine, and lots of black licorice. Fabulous nose! Dark, brooding and tarry on the palate. Yes, it'll resolve - just not tomorrow. Be-u-ti-full!
2001 Alban Syrah "Lorraine". The Lorraine bottling also comes from the flatter portion of the vineyard, but these rows ripen better - in fact they're picked earlier that the Reva. About 75 case production, this bottling was first introduced at John & Lorraine's wedding, as a present to the bride. Lots of finesse and texture to this bottling. Big smooth mass of blackberry fruit, slightly less tarry than Reva - but, just smooth and lovely. 80% new oak.
2001 Alban Syrah "Seymour's". First released in '98, the fruit for this bottling comes only from hillside blocks - those with shallow soils. Slightly sweet, smooth and succulent, this wine has touches of red and black berry, toast, herbs, leather, and tarry qualities. This is a stunning effort.
2001 Alban Grenache - Estate. Smoky and slightly reductive - classic for this bottling. The espresso/roasted coffee nuances don't disguise that fact that this baby is absolutely loaded with fruit. Dense tasty mouthfeel, with a grippy finish. Best consumed 7 yrs from vintage. Characteristically, Alban Grenache's are tightly wound, and less likely to reveal the in-your-face fruit that other California Grenaches display.
2001 Alban Syrah "Reva". Huge, smooth and succulent, with lots of black fruit, tar, asphalt, licorice and anise. Smooth on the palate, almost wants a spoon. Double wow!
2001 Alban Viognier - Botrytis. Here was a special treat. Paul pulled a sample of this nectar from a separate room in the winery (wonder what else is in there). Very, very thick and chewy, this was a big succulent tasty mouthfull of French Toast with apricot compote. If that doesn't do it for you, imagine a pear-infused creme brulee. The 22% RS and only 9% alcohol mean that this will go down fast... very fast!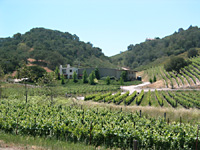 ...and arrived at our location about 10 seconds later - at the other end of the Alban barrel room. All of us there were very pleased that Paul Wilkins had also consented to do double duty, by agreeing to barrel taste with groups of wine geeks on consecutive days (although, I'm sure our group was the most well-behaved). Paul is Alban Vineyards' General Manager (or Director Effectivo, per his business card), and seems astutely aware of everything, from vineyards to winemaking to the business end of things here at Alban - well, no question about it, that does indeed make him effectivo.
Anyone who is into Rhône varietals to any degree will acknowledge that Alban Vineyards is world class. And, this visit merely punctuated that for me.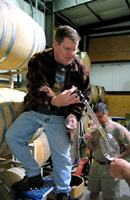 Paul Wilkins
Paul took us through various parts of the barrel room to taste a total of 9 wines, each of which were fabulous. First, the Viogniers were amazing. I am not the most ardent fan of this varietal, but I have to admit these are gorgeous. Eschewing the voluptuous (yet without structure) style of Viognier that I have seen so much, this bottling is a revelation. There's nothing cloying about this wine - it's full of gorgeous fruit.
Next, we went on to the Syrahs. Alban has three bottlings of Syrah, each with increasingly finer textures and nuances. The Reva really delivers for tasty Syrah. The Seymour's has a gutsy fully structured framework, but exquisite fruit and balance. The Lorraine seems to have the best of both worlds - fabulously smooth fruit, balance and structure, and a creamy texture. No slouches here.
Indigenous yeast is used on all Syrah and the Estate Grenache - a Grenache like no other in California. Huge, somewhat reduced and tannic, this is a monster that grows more polite with years in the bottle. The Syrahs and Grenache go through a cold soak and finish ML in the barrel. And finally, Paul thiefed a sample of an '01 botrytised Viognier that was mouthwatering. A combination of creme brulee and apricot French Toast would be an apt description. Please sir, may I have another.
Selected Tasting Notes:
...from bottle...
2001 Domaine Alfred Chardonnay - Estate. Lightly sweet mouthfeel, very tasty citrusy fruit, long finish.
2001 Domaine Alfred "Califa" Chardonnay. This reserve bottling seems more "Burgundian" in nature, with crisp, clean lemon/melon fruit, and a nice crisp long finish.
2002 Domaine Alfred Vin Gris. Nice dry nose, light fruit in nose. Very tasty mouthfeel and flavors - lots of fruit.
2000 Domaine Alfred Pinot Noir - Estate. Slightly pungent nose, licorice and violet aromas push the front end of this wine, tasty nice strawberry flavors
2000 Domaine Alfred "Califa" Pinot Noir. More refined that the Estate bottling, with a slight stemmy quality
2002 Domaine Alfred Rose of Syrah. Very interesting wine. Somewhat closed in the nose, the grippy mouthfeel has lots of tasty fruit - nearly chewy texture, and very long finish.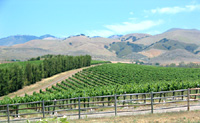 The first Domain Alfred vintage was 1998, so it might seem to be a recent resident of the Edna Valley. But actually, the vineyards have been here for some time.
Beginning life in 1972 as the Chamisal Vineyard, the winery and vineyards were purchased by Terry Speizer in 1994. Terry began a replanting effort in 1996 with several clones of Pinot Noir and Chardonnay on 60 acres. Additional plantings were made in 1999 and grafting in 2000 to add Pinot Gris, Grenache and Syrah. Domaine Alfred now has about 80 acres under vine.
We met with Will Cavanagh at the tasting room, and he took us through the current selections. Nice lineup, with an Estate bottling and a Califa, or reserve bottling. The Rose of Syrah was a nice surprise, and the Califa Pinot was as good as I've heard it was.
Will told us that Domaine Alfred de-stems all the fruit, and that each vineyeard block is vinified separately, then blended together after tasting trials - all fairly standard procedure. On the other hand, several vintners prefer anything from partial to full stem contact (Brewer-Clifton, Melville) for the added complexity.
Selected Tasting Notes:
...from bottle...
2001 Talley Sauvignon Blanc - Estate. Smoky nose of hay and grass, with obvious oak background notes. Very tasty on the palate, grippy mouthfeel, excellent balance, and very long finish. Really nice SB for the $14.
2000 Bishop's Peak Chardonnay - 777 clone. Made from mostly purchased fruit from Paragon and Edna Ranch for Talley's 2nd label - or what they call their "grower's label." Very ripe nose, slightly bitter and thin mouthfeel, medium-long finish. Seems underfilled, but at $13....
2001 Talley Chardonnay - Estate. Nose of smoked maplewood, light oak, lemon-lime and melon. Nice fruity mouthfeel, good balance, but seems a bit thin on the palate and through the finish.
2000 Talley Chardonnay - Rincon Vnyd. Moderately fruity in nose and mouthfeel, nicely balanced, but the fruit seems to finish significantly ahead of the acids on this wine.
2000 Talley Pinot Noir - Estate. Nose of violets, rose petal and light vanilla. Nice enough nose, but where's the fruit on the mid and back palate?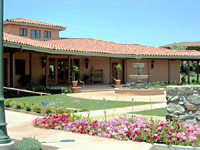 Here's a place I haven't visited in some time (3/00). At that time, a new tasting room with a "vineyard view" was under construction. Sounded nice. I'd seen how impressive the Edna Valley Vineyards tasting room turned out, and figured this might be similar. Well, close, but no cigar.
The exterior is beautiful, as is the tasting room, which is attractive and well organized with its wine-related foods and gifts. The view, however, left something to be desired - it was a barren field. I asked if they were replanting. Yes, bell peppers. Bell peppers!? Gee, aside from asparagus, I couldn't think of anything so removed from wine grapes. Why, I wondered aloud. Well, we are Talley Farms, after all - was the answer. This couldn't have been planned on purpose, so my guess is the current grape glut is keeping this from being a thriving vineyard.
Well, onto the wines. A very pleasant lady named Lucy was working the tasting bar, and poured us through the regular offerings of the day, in addition to a '00 Rincon Chardonnay. For me, the best of the visit was the Sauvignon Blanc, seemingly an odd sentiment to have in San Luis Obispo County, much less Edna Valley. The fact is, none of the other wines seemed to be up to par - or, what I expected from them. Mostly, they seemed underfilled from mid through latter-palate. It would have been easy chalk this off to having had some huge wines at the previous stop. But, Domaine Alfred was serving Chard and Pinot as well, so I have to say that the wines we tasted here paled by comparison.
I contacted Stephan Asseo to see if I could stop by L'Aventure, while in the Paso Robles area for Hospice du Rhône. For some time now, I'd wanted to visit this former Bordeaux resident who had started building a vineyard and winery from scratch in Paso Robles, but Stephan and his aptly named wine venture, L'Aventure had already been featured in the Wine Spectator and several other wine publications, so I thought he might have had his fill with visits from the press or the curious, and thus probably wouldn't be interested in taking in visitors. Happily, I was wrong.
I suggested a date for coming by, and he replied with an upbeat 'sure,' and said to give him a phone call as we got closer to the date, and we could set up a particular time. So, I gave him a call one afternoon, as we got closer to the date. Gracious and very outgoing, he agreed to a time of my choosing and we were all set.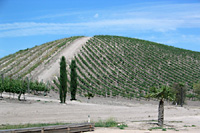 We arrived for our 3:00 appointment, just as the vineyard manager was just pulling in on his ATV. Hi, are you looking for Stephan (correctly pronouncing it as Stef-FAWN). I'll let him know you're here, he told us. We stood there a moment looking around at the vineyards, and said "hi" to a teenager trimming what appeared to be an ornamental vine, growing up a trellis in front of the winery. Stephan came out from inside the winery greeting us warmly, and called out to the teenager in French, with something that may nave meant 'stop fooling around and get to work.' Ahh, probably Stephan's son, we thought. Stephan had literally just returned from a round trip drive to Los Angeles to meet with distributors, restaurants, etc. (and we think this is an easy business - 3 hrs one-way). He still seemed filled with energy - even after the drive, and asked us to hold on for just a few minutes while he greeted his wife who had just pulled up after picking up the kids from school. No problem, I said - we're on Paso time.
Selected Tasting Notes:
...from bottle...
2002 Stephan Ridge Roussanne - appealing yellow-gold color, lovely floral/fruity nose, very rich mouthfeel, big, tasty and rich, with a nice crispness to the long finish.
2000 Stephan Ridge Red Wine - 52% Syrah, 48% Cab. Loads of fruit - almost Zin-like in its effusive boysenberries fruit. Ripe and rich on the palate, with a long, if slightly warm finish. Very tasty!
2000 L'Aventure Zinfandel - (from Zenaida fruit) More medium, than full-throttle mouthfeel and texture on the palate, with touches of chocolate and black cherry accenting the raspberry and boysenberry fruit. The meaty flavor really adds to the tasty quality of this wine. 100% new oak (when I seemed surprised about the smoothness or imperceptible new-oak qualities, Stephan informed me this was a special toast). Stephan intends to sell off 80% of this wine, keeping only 1 barrel for his own Stephan Ridge program. So, the last L'Aventure Zin will be the '02.
2000 L'Aventure Optimus - 50% Cab, 40% Syrah, 5% Petite Verdot, 5% Zin. Hint of beet and/or iodine hiding behind the cassis and toast scents, but the Cab qualities seem to predominate here. Mouthfeel is slightly steely and firm, yet beautifully fruit driven. Nice use of oak - nothing obtrusive, just smooth toasty aroma and flavor. Fascinated about the inclusion of Petite Verdot, Stephan told me that use of this grape was originally suggested to him by Michel Rolland.
2001 L'Aventure Syrah - Delicious, though slightly pinched on the back end, where it seems to fade out smoothly. Blackberry, both red and black licorice flavors, long finish. Blend of 60% westside, 20% estate, 20% eastside.
2001 L'Aventure Estate Cuvee - 50% Cab, 30% Petite Verdot, 20% Syrah. Complex, seductive scents of red and black fruit, lots of mocha, and a touch of herbs. What a treat on the palate. Just flat out delicious! Chewy and rich, smooth texture, very long finish. Excellent!
...from barrel...
2002 L'Aventure Syrah - Fascinating floral, blueberry, and light tarry aromas. Smooth and rich in mouthfeel, very concentrated, tasty long finish.
2002 L'Aventure Optimus - Somewhat floral scent to the thick fruit. Thick and rich on the palate, this seems more intense and concentrated than the '01 was from bottle.
2002 L'Aventure Estate Cuvee - 50% Syrah, 45% Cab, 5% Petite Verdot. Dense and concentrated in the nose, with lots of dark fruit, tar and toasty aromas. Quite chewy, and though well balanced, this was definitely an in-your-face wine, that is currently at 17% alcohol. Production: 30 barrels.
2002 L'Aventure Cabernet Sauvignon - Very toasty nose of cassis and herbs. Very rich and smooth on the palate, with a touch of mocha/toffee adding to the dark cherry. Tannic in mouthfeel, but the oak seems very well-managed.
2002 L'Aventure Estate Syrah -Sweet, ripe, and massively fruity in the nose. Mouthfeel is dense and largely monolithic right now - almost more Petite Sirah-like. Given the rest of his '02s, this ought to be killer stuff.
We were standing there admiring the view of the hilly terrain, when Stephan returned and asked if we minded if he gave us his "blah, blah, blah" speech before we went to taste some wines. Sure, we said. Not only did we expect to get whole story - we actually wanted it. Stephan recalled how he'd spent 17 years establishing himself with his family vineyards in Bordeaux, but felt the urge to create something in the New World, something without all the constraints of bureaucratic tradition, things like Appelation Controlle.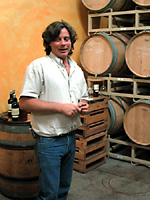 Stephan Asseo
Arriving in Paso in 1998, he began looking for a place to start anew with his family. He found his L'Aventure in the last parcel he visited. Using a backhoe to examine the limestone soil composition, he confirmed that this was indeed the place he wanted. Despite the absence of vines, and only a house on the property, after Stephan saw the terroir he easily visualized the potential.
After purchasing the parcel on Live Oak Road, Stephan planted vines - lots of vines. He put in about 2,100 vines per acre - probably three times more density than usual. He planted most vines with a north-south facing, and was intent on striking a balance between ripeness and brix. On the steep hillsides, he planted Cabernet with southwest facing rows, and other varieties facing to the east in order to get what he felt would be more "elegant" qualities. Stephan's vision of "Rhône meets Bordeaux" was beginning to take hold, although he still had to actually build a winery.
Stephan feels that 80% of the winemaking effort takes place in the vineyard, considering himself a vigneron, rather than merely a winemaker. On the 126 acre parcel, Asseo currently has 30 acres under vine, with near-term plans to plant up to 55 acres. About 40% is Cabernet, with 30% Syrah, and 15% each Mourvedre and Petite Verdot, as well as a very small amount (1 acre) of Grenache. Curious about the Petite Verdot, I asked where he got the idea. He explained that he had written the renown Michel Rolland, explaining that he was going to be planting in Paso, and asked for recommendations. Petite Verdot was the answer. I couldn't agree more. I've tried 100% Petite Verdots that mesmerized me, and I was glad to see someone validate their usage here.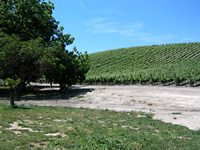 Stephan Asseo's goal is to be 100% Estate, figuring this will take from 6-7 years to achieve. As part of that plan, he has started to produce a high-end Estate Cuvee ($75), a blend of Cabernet, Syrah and Petite Verdot. In further refining his estate wine program, Stephan doesn't intend to bottle any vineyard designations, and will ultimately be abandoning both Chardonnay and Zinfandel - although abandoning Zin is tantamount to heresy in these parts. The last L'Aventure Zinfandel will be the '02.
We had continued chatting as we made our way back to the barrel room, and even as Stephan started opening up a half-dozen wine bottles. Starting with the Stephan Ridge Roussanne and Red blend, and then segued into the L'Aventure wines. All very nice, especially the new Estate Cuvee. Moving from bottles to barrels, Stephan explained that he picks the final blends for both the Optimus and the Cuvee about 10 months before bottling. He uses only new oak for the L'Aventure label (80% of his 1-yr old barrels are sold off - 20% are kept for the Stephan Ridge line). I was surprised to hear that this was all new oak, because the wine's smoothness didn't seem to show any perceptible new-oak qualities. Stephan explained that this was a special toast, one that was very light - but done over an extended period of time.
As we were chatting about the barrels, something about them caught my eye. Looking closer, I noticed that there appeared to be small pinholes drilled into the heads and stave ends of some of the barrels. In some cases, they were plugs fitted into the holes. And, in a few instances, it appeared that the tiny hole may have caused a wine leak. Curious, I asked what was going on here. Stephan said that some sort of wood-loving bug was boring into the oak - indicating it was pretty common in here in Paso. Seemed like an annoying little pest to have around.
Stephan very graciously credits the friendship of his neighbor Marc Goldberg of Windward Vineyards, with easing the transition to Paso Robles. Marc's the primary (and maybe the only) Pinot producer in Paso, and he makes a very nice wine. It seems apparent that nearly all growers/winemakers have a common bond with each other, a bond that allows them to ignore that they are essentially competitors. In fact, Marc continues to pour Asseo's wines at the Windward tasting room. As we chatted about how Paso's reputation was becoming very well known, Stephan asked if we'd heard about the efforts of a select group of 9 westside growers/wineries that had banded together to form a group called the 'Grand Crew.' I hadn't, so he gave me a classy brochure that they'd produced. It's largely a trade group, but this type of association can often lead to something much bigger. Either way, Paso has arrived!
We had a great visit. Unfortunately, all good things must end, and we had to be moving along - we still had one more stop to make, and Stephan and family were going bowling! Yes, HdR's infamous Rhône n' Bowl. Meanwhile, we had to beat a hasty path to our next stop.
Selected Tasting Notes:
...from bottle...
2002 Tablas Creek Cotes de Tablas Blanc. A blend of Viognier, Marsanne, Grenache Blanc, and Roussanne. Lovely floral-scented nose, with a bit of dried pasta, easy mouthfeel, yet very voluptuous on the palate.
2002 Tablas Creek Grenache Blanc. Hints of stemminess in this fleshy, tasty and lightly spicy wine. Packed with fruit, it seems almost to have a bit of residual sweetness around mid-palate, but develops a nice light crispness through the long finish. Very nice! About $26. 250 cases.
2002 Tablas Creek Roussanne. Fermented in both stainless steel and oak. Big floral honeyed nose. Touches of light citrus notes, along with honeysuckle and a bit of stem on the palate. Almost chewy in texture, with a long finish.
2002 Tablas Creek Esprit de Beaucastel Blanc. Blend of 70% Roussanne, 25% Grenache Blanc, and 5% Viognier. Nose of honey, toast, touch of floral and mineral. Flavors of lemon pie and crust, with a nice sweet hit on the very long finish. Really nice blend!
2002 Tablas Creek Rose. Blend of 60% Mourvedre, 25% Grenache, 15% Counoise. Lightly fruity and floral nose,with just a touch of toast. Very fruit-driven on the palate, with a very nice toasty quality, and a long finish. Fruit is from an older section of the vineyard, and co-fermented. 300 cases.
2000 Tablas Creek Cotes de Tablas. A Gigondas-like blend of 84% Grenache, and 16% Syrah. Lots of fruity aromas, with lighter scents of toast and leather. Raspberry and pomegranate flavors, nice texture and finish.
2000 Tablas Creek Esprit de Beaucastel. Mourvedre-based. Earthy, very pungent, with aromas of blackberry, raspberry, damp leather, tobacco, and toast. Initially big mouthfeel, seems rather tight at mid-palate, with a long grippy finish. This will take some time open up, but has lots of fruit.
...blending trial bottles...
2002 Tablas Creek Counoise. Bright, Syrah-like blueberry nose. Sweet mouthfeel, somewhat Grenache-like in its juicy qualities, but with more of a black/blueberry taste.
2002 Tablas Creek Grenache Noir. Deep raspberry nose, very juicy and sweet, just flat-out delicious.
2002 Tablas Creek Mourvedre. Has a sweet ripeness like the Grenache, with lots of spicy black and red fruit flavors, along with a touch of pepper.
2002 Tablas Creek Syrah. Nose of full of tar and licorice-scented blackberry, just a touch of asphalt. Excellent structure and body, with a very long finish.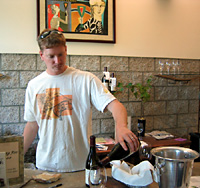 Jason Haas
For the past few years, Tablas Creek has sent out invitations to attend some fascinating events, usually held the day before HdR. Last year was a nursery tour and barrel tasting, and this year, in addition to the tour, they had planned a blending trial. Since Tablas Creek never bottles single varietals, this represented a chance to dig into individual samples of Syrah, Grenache Noir, Mourvedre, and Counoise.
We arrived at Tablas Creek just as the vineyard and nursery tour had ended. Fortunately, we'd already been on the vineyard tour and had an in-depth look at the nursery last year (5/02), both of which were excellent and highly recommended. So, since we arrived just in time for the tasting, you might say we timed the visit quite well.
Marketing Director Jason Haas led us into the winery/tasting room/offices and over to the new tasting bar to try out the current lineup of wines. This time, there were a couple of standout whites and a rose that got my attention: the Grenache Blanc, and Espirit de Beaucastel Blanc, as well as the Rose.
We chatted about the wines, and admired the new tasting bar, and clever use barrel staves for stemware shelves. Afterward, we adjourned to the large conference room for appetizers and a blending trial.
Working with a graduate and bottles of Counoise, Grenache Noir, Mourvedre, and Syrah, we experimented back and forth with various percentages, trying to find the ideal blend. Amazingly, nearly every blend I tried tasted great! Okay, some of the blends were better than others, but this was definitely both fun and an instructional exercise. Great idea! Good wines, good company, good food, and a very enjoyable time. Now, it was time to head for the bowling alley.
---
---
Copyright © 1993 - 2004, Eric Anderson -
All rights reserved
No original material may be reproduced without written consent
Mail & Comments - Eric Anderson