Linne Calodo
Saturday, July 26, 2003
(I arrived at 8:30am in Paso Robles, and pulled into Mat Garretson's winery just off Hwy 46 East. The plan was to help out with some bottling, scheduled for Saturday and Sunday for Garretson, Saxum, and Villa Creek. Unfortunately, it sounded as though the bottling truck had run into some problems and wasn't expected until somewhere between 11:00 and Noon. So, I met up with Dave Chan, another SoCal guy, and we went for a little [more] breakfast, before heading back to the Garretson to see what was new. By 10:00am or so, eight volunteers had arrived to help with the bottling, and were all just cooling our heels waiting for the bottling rig to arrive. Meanwhile, Mat Garretson sensing that having a bunch of idle hands constituted a misuse of volunteer labor, decided that since there were always things to do around a winery, he could find a project or two to keep us busy.
About 11:30, Mat spoke with the bottler again. They weren't going to be able to get there until later in the afternoon. Mat decided to scuttle the day's run, and decided to spend the afternoon getting the bottling line set up for an early run the following day. Suddenly released from our chores for the day, we had to decide what to do with ourselves. Let's see, we're in Paso Robles with a free afternoon. We could either go to the Mid-State Fair, or go wine tasting. Seemed like a no-brainer! So, off to a visit or two, and we'd try the bottling thing again tomorrow.)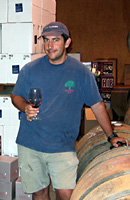 Since I hadn't been able to visit Linne Calodo for a couple of years now, it seemed like the natural 1st choice. Original partners Justin Smith and Matt Trevisan now have separate ventures, with Justin starting up Saxum, and Matt continuing with the Linne Calodo label. Matt completed a new winery on Oakdale Road in time for the '02 crush. We hadn't called ahead to make sure someone was there, but fortunately LC is open weekends, and both Matt and his wife Maureen were there pouring for a few guests.
The day's heat was starting to prey on us, and we were getting thirsty. Hey guys, how've you been - want to taste some wine, Matt asked. You bet we did. Maureen started us off with the '00 Cherry Red and we chatted with her a bit while Matt finished describing his wines to an interested couple. Next, Maureen poured a couple of the '01s, the Cherry Red and Problem Child. As the other visitors departed, Matt asked if we'd like to check out some of the '02 barrel samples. Naturally, we were very interested.
Selected Tasting Notes:
...from bottle...
2000 Linne Calodo Cherry Red. Aromas of bramble, pipe tobacco and sweet baking spices. Mouthfeel is ripe and smooth, with a chewy consistency and long finish. The Cherry Red is usually about 60% Zinfandel from the Cherry vnyd on Paso's Westside; this one is blended with about 20% each of Syrah and Mourvedre.
2001 Linne Calodo Cherry Red. Nose of boysenberry with a hint of sage/rosemary and toast. Meaty mouthfeel, with a nice grip at midpalate and very long finish. 60% Zin, with %25 Syrah and 15% Mourvedre.
2001 Linne Calodo Problem Child. 78% Zin, but the 22% of co-fermented Mourvedre seems to both cut the Zin's acids and heavy boysenberry scents, making for a beautiful balance of aromas and flavors. Surprisingly complex to me, because I don't usually expect this of Zin. Very nice.
2000 Linne Calodo LC Red. This GSM blend has a very seductive nose of mixed berry and cherry, with a nice vein of smoky vanilla. Grippy mouthfeel, plenty of fruit , long finish.
...from barrel...
2002 Linne Calodo Cherry Red. New barrel. Lots of vanilla-infused aromas in this 60% Zin/40% Syrah blend. The obvious licorice/tar of the Syrah comes through the rich boysenberry of the Zin. Great mouthfeel, delicious taste, long finish.
2002 Linne Calodo Cherry Red. Neutral barrel. Much more pure fruit seems evident from this neutral barrel. Lots of tangy fruit on the palate, and tasty finish.
2002 Linne Calodo Problem Child. The '02 version of the Zin/Mourvedre blend that gave Matt fits in '01 (hence the name). Warm red and black fruits in the nose, interesting wild/gamey quality in the background, with touches of blackberry/blueberry throughout. Excellent balance, long finish. No problem for me.
2002 Linne Calodo (Syrah, Grenache). This yet-to-be-named 70/30 blend of Syrah/Grenache is all Denner Vnyd fruit. Slightly reductive nose, lots of boysenberry, blackberry, and touches of raspberry abound.
2002 Linne Calodo (Syrah, Grenache, Mourvedre). An 60/30/10 SGM blend from Denner, Halter and Lock Vnyds. Somewhat reductive/funky nose that seems to blow off with a bit of air. Rich and round on the palate, with a tasty long finish.
2002 Linne Calodo Nemesis. About 90% Syrah, with equal doses of Grenache and Mourvedre to round it out. Lots of clove, ham, and bacon notes in the nose. Very mannered in mouthfeel, smooth and seductive, with a light licorice bite to the long finish.
2002 Linne Calodo (Syrah). 100% Denner Vnyd Syrah. Lots of smoky toast in the rich blackberry nose. Ripe and round in the mouth, with a nice Kalamata olive accent.
2002 Linne Calodo (Rose). Very nice - refreshing, clean, and crisp. This Grenache Rose is really a charmer. Too bad he makes very little of this wine.
Matt pulled several barrel samples of his '02 wines, each one arguably better than the previous - and every one of them very tasty. It's really satisfying to see this level of consistency in winemaking, and Matt seems to be quite secure in his approach to blending different varieties as well as what he's trying to achieve with the Linne Calodo lineup.
Linne Calodo currently owns 25 acres, and will be planting its own estate vineyard this coming Spring. Meanwhile, they are sourcing fruit from several well-known and/or up-and-coming vineyards, such as Cherry, Denner, Lock and Halter.
The Denner vineyard is of particular interest. Managed by Justin Smith (Saxum), this 5 yr-old site is planted with several new and older clones, and located directly across the road from James Berry Vineyard. There is every reason to expect that it will produce some spectacular fruit.
Matt is trying to stay within 6-8 barrel lots (132-176 cases), in order to keep tight quality control. Total production is currently about 1,000 cases, with the intention of increasing this to 3,000 cases over the long term.
We hated to leave. But, in our insatiable thirst for knowledge, we were unfortunately drinking up the profits of this small operation. We let Matt and Maureen get back to work, and we headed for Paso to get ready for dinner at Alloro.
---
---
Copyright © 1993 - 2004, Eric Anderson -
All rights reserved
No original material may be reproduced without written consent
Mail & Comments - Eric Anderson