A little Quality Time
Sometimes, things turn out exactly as you plan them. Other times, they turn out even better.
Saturday, August 9, 2003
Pinot Noir - Melville Vineyards
Have you ever wanted to take some friends winetasting - hoping that they too could see a vineyard laden with fruit, or taste wine from a barrel, or spend a little quality time with the winemaker? Well, that was my goal.
The plan was to make a weekend getaway for ourselves and some longtime friends. We all enjoyed good wine, so where better than a getaway to the Santa Ynez Valley, I suggested. Everybody loved the idea, and I was put in charge of setting it all up. I figured we'd stay in Solvang, a nice central location to the SYV wineries, with the added advantage of restaurants, stores, curio shops and even tasting rooms - just in case real winery visits didn't work out. So, I set up the motel reservations, and pondered the options of possible winery visits. With the vast number of wineries to choose from, whittling it down could be hard. My usual five or six visits per day would definitely be a massive overload for the group. So, I settled on two visits, one morning - one afternoon, and thought we'd maybe stop in Los Olivos at midday. I explained the plan to my wife, both to allay any concerns about overdoing the winery visits, and frankly, I probably hoped to pick up a little extra credit as well (husbands need extra credit).
Over the years, I've been very fortunate to meet some exceptionally nice and knowledgeable winemakers and/or winery owners in the area. Since we couldn't very well visit all of them - well, not in one day, anyway - I tried to select two or three for potential visits. Mulling over the many options, I leaned toward some of the places where I've felt most comfortable as the obvious places to stop. I contacted a few people to see if anyone would be available that weekend to meet with us for a bit. Graciously, two said yes they'd be around, and we were all set for visits with Chad Melville at Melville Vineyards, and John Falcone at Rusack Vineyards.
While discussing things ahead of time with Chad Melville, he suggested I ought to consider stopping by Stolpman and visit with Sashi Moorman. Chad said that Sashi was doing some really nice things at the Stolpman facility out in Lompoc, and if I was interested, he'd be happy to set something up. Wow, that'd be great, I replied forgetting about my self-imposed two winery limit. This seemed really fortuitous to me. During the Hospice du Rhone last May (see HdR report), I'd spoken to Tom Stolpman about stopping by the winery and he encouraged me to give Sashi a call - something I hadn't gotten around to doing. So, this weekend presented the prefect opportunity. Well, almost perfect.
---
...Yeah, I'd love to meet with Sashi and do some barrel tasting. But could we pretend that we hadn't set it up in advance....
---
There was just one tiny little problem. My wife doesn't usually accompany me on my winery jaunts, preferring to let me get 'heavy into the wine thing' on my own time, and/or with other wine-geeks. In fact, she seemed a little apprehensive about how two visits would go, much less three. So, when I replied back to Chad, I said, yeah, I'd love to meet with Sashi to do some barrel tasting, but could we pretend that we hadn't set it up in advance - hoping that when Chad offered this option during our visit, in the spirit of the moment she couldn't waffle and everything would just fall into place. (Yeah, really good idea - fooling the wife. Sure, this'll work, I thought, still mulling over my deceitful/sneaky intentions.) Chad agreed, indicating that he understood my dilemma, and went ahead and set things up with Sashi. Meanwhile, I let my wife and our friends know that we we had appointments to visit a couple of wineries, but played it low key and didn't go into any details, thinking I could just let things evolve. In fact, our friends apparently assumed that we were just going to stop by a couple of winery tasting rooms for some tasting. So, I'd hoped this would be a nice surprise for them.
Leaving Friday afternoon, we picked up Tony and Jacquie in Long Beach, grabbed a quick bite to eat and started up north. Traffic turned out to be an unexpected breeze. Arriving in Solvang a little before 10:00 in Solvang, we settled into our respective rooms, then met later to share a bottle of blanc de noir and casually discuss the weekend. Tony was looking over the Santa Barbara County winery brochure - Hey, what time did you say we were going to Melville? Oh, 10:00am, I replied. Well, it says here they don't open until 11:00am - are you sure it's for 10:00 - Hey, is this some special thing you arranged - are we going to be with a group or by ourselves? Um, by ourselves, I said matter-of-factly. Tony smiled, nodded his approval. Then he spied something - something about me - it was my sandals. Hey, I have those same exact sandals! No way, I said. Hmmm. Well, no biggie. No one's ever going to notice something like that, I thought to myself.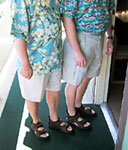 Separated at Birth
The next morning we were supposed to meet, and walk to breakfast. At the appointed time, Tony emerged from his room with not only "my" shoes, but a strikingly similar pair of shorts and shirt as well. I couldn't believe it. Everyone else was cracking up. I was tempted to go back in and change my shirt, but figured that I'd get razzed about it for the rest of the day - maybe the weekend. Naw, I can do this - no one's gonna notice, I was still saying to myself. As our "outfits" turned into a running joke, I started to think it was funny as well. Throughout breakfast, suggestions were flying that Tony and I adopt names like "The Four Sandals,' or "The Sandal Twins.' When the waiter came by for our orders, Tony even said, I'll have the same as my brother. Finally, after we got this all out of our system, we headed for Melville.
Melville Vineyards
Pulling in through the gate right behind Chad, we parked and I introduced everybody. After chatting a bit, Chad went around to enter through the back door to open the place. Meanwhile, the ladies were in hysterics. Chad was looking at your shoes, Jacquie said, trying to stifle her laughter. My wife's sides were starting to split. So, it's going to be like this, I thought. Okay, I'll have to defuse this right away. Hey Chad, let me get this out of the way right now - look at what Tony and I have on. It was a bold move, but it worked. Yeah, how about that, was all Chad had to say. Presto, bomb defused. Now, with the "apparel" issue settled, we could get down to business.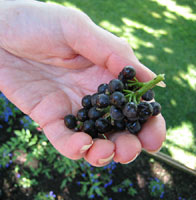 Cluster of Pinot Noir
Chad led us back out to the front vineyard. He talked about the Santa Rita Hills appellation and its unique qualities. He spoke about the density of the vineyards, the 11 clones of Pinot Noir, as well as 3 clones of Chardonnay, and 7 clones of Syrah, on 5 different rootstocks, and what Melville was doing with its wine program, by committing fruit to other local wineries like Brewer-Clifton, Babcock, Jaffurs, Santa Barbara Winery, Lane Tanner, and Ojai.
Heading back into the winery, we stopped at the barrel room and Chad described Melville's philosophy of oak usage and aging - 80 new barrels/yr to stay at 25% new oak. Moving through the tank room, and out onto the crush pad, he showed us the bottling line that was being readied for a run of 2,400 cases on the following Monday. Chad mentioned that If we were going to be around, we were certainly invited to come and watch. Unfortunately, we'd planned on leaving the next day. But, this did offer me the chance to blab-on about how I'd worked a bottling line at Garretson a couple of weeks earlier (see bottling). What a ham I am - with apologies to Dr. Seuss.
Selected Tasting Notes:
...from bottle...
2002 Melville Chardonnay - Estate. (bottled 3 wks prior; not released) Wheaty and toasty, with lots of fruit, lively acids, light tropical notes, and crisp flinty quality. Very nice balance, and a long crisp finish.
2002 Melville Chardonnay - "Inox". Clone 76, fermented in stainless steel, no malolactic and sterile filtered. Pure fruit in the nose, with a nice crisp edge and touch of citrus. Lots of citrusy fruit, almost delicate texture, yet full rich mouthfeel, and chewy mid-palate, with nice grippy finish.
2001 Melville Pinot Noir - Estate. Blend of all the clones. Fantastic nose of floral and stemmy bing and black cherry, candied apple, and croissant. Concentrated slightly sweet mouthfeel, lots of cherry fruit with a touch of stem, great balance, long finish.
2002 Melville Pinot Noir - Estate ( tank sample). More floral notes than the '01, with a nice earthy mushroom-like quality. Interesting textures on the palate - more concentrated, yet slightly narrower focus, but more intense flavors.
2001 Melville Syrah - Estate. All neutral oak used. Slightly herbaceous and minerally, with plenty of spice, rosemary, and lavender scents. Fleshy and almost sweet mouthfeel, very nice blackberry/raspberry fruit, and long finish.
Chad then brought us back through the tank room, stopping to pull a tank sample of the '02 Estate Pinot that was awaiting bottling. After drawing the sample, he used a spray bottle to spritz something into the nozzle he'd pulled the wine from. I hoped Tony had seen this, and he did. What was that you sprayed in there, he asked Chad. Oh, vodka, Chad told him, explaining that plain old vodka did a marvelous job of sanitizing the faucet so some nasty microbe didn't get a toehold. Expanding on the same subject, Chad described how sanitary they try to keep the winery, both to minimize the chance of infection, but also because it was just a good work habit. I was nodding. Earlier, I'd noted how they coil the each of the water hoses inside the winery - much like a boat line. To me, this immediately demonstrated Melville's attention to detail, all by itself.
Carrying the Pinot sample back into the tasting room to let it warm up a bit, Chad started our tasting with the Chards, followed by both the bottled '01 Pinot and the tank sample of the '02. Then finally, the Syrah. Though only 4th or 5th leaf, this cool climate Syrah is starting to pick up some praise for not just the Melville bottlings, but also for the Jaffurs and Ojai offerings.
It was an excellent tour - one that I've had before, but absolutely never tire of reliving. Chad's knowledge of the entire operation allowed him to give our friends a perfect overall idea of what goes on at a winery - from vineyard to bottle. As we finished up the tasting, Chad looked my way and asked if we had time to pay a visit to Stolpman - that Sashi was doing some nice things. Nice segue - and very smooth, Chad, I thought to myself. Why sure, I replied while nodding to everyone in our party. Chad started describing Stolpman's location in Lompoc, and I immediately recognized this as the same place the local winemakers refer to as the "Lompoc Wine Ghetto." Chad mentioned he was driving out that way, and suggested we follow him. Fine by us, and we headed toward Lompoc.
Stolpman Vineyards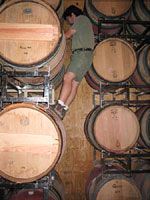 Sashi Moorman
We followed Chad for the 5 minutes or so west to the edge of Lompoc. This small industrial park houses several wineries - many of them personal projects for the local winemakers. We stepped into the small outer office, where Chad said 'hi' to Sashi and left us in his capable hands.
Selected Tasting Notes:
...from barrel...
2002 Stolpman Sangiovese. (From a blend of barrels.) Lots of lush cherry and strawberry, with a nice hint of sweet sun-dried tomato.
2002 Stolpman Cabernet. Lots of slightly herbaceous cassis, along with a touch of mint. Gripping mouthfeel, very chewy mouthfeel, tasty long finish.
2002 Stolpman Rhone Ridge. Very nice Grenache and Syrah blend. Lots of juicy raspberry fruit, punched up by just the right amount of anise-scented Syrah. Slight licorice/tar hangs in through the smooth finish.
2002 Stolpman Syrah. (lot 1) Plenty of tarry scents and flavors, smooth and chewy from the very beginning through mid-palate, the fruity profile flattens out just a bit before the smooth finish.
2002 Stolpman Syrah. (lot 2) A blend with about 20% older vines. Lots of floral aromatics in this one, along with a keener sense of tar and licorice. This one sneaks up on the palate, with a quick attack that keeps getting bigger by mid-palate. Smooth throughout the long finish.
2002 Stolpman La Croce. A co-fermented 50/50 blend of Sangiovese/Syrah. Elegant and floral in the nose. Quite smooth on the palate, with lots of texture. Seems to carry the best of both varietals, with a very nice tarry/licorice streak to the spiced/dried cherry flavors. Strikingly long finish, with a nice smooth un-tangy finish.
2001 Stolpman Nebbiolo. (tank sample) From a 4-barrel lot. Smoked hardwoods and a touch of Parma ham in the nose. Somewhat tight on the palate, but smoky and quite tasty, with a nice long finish.
Prior to joining Stolpman, Sashi Moorman had been assistant winemaker at Ojai Vnyds for several years. By this time, Stolpman Vnyds already had an enviable reputation on the Central Coast, but Sashi obviously saw even more potential for its future.
First planted in 1992, Stolpman Vnyds is blessed with several microclimates, as well as some weak clay soils over a limestone substrate (a good thing for grapevines). From its first harvest (1994), things have looked very promising. Indeed, the 170 acres of Cabernet, Cab Franc, Merlot, Syrah, along with Sangiovese and Nebbiolo has been going into many vineyard-designated bottlings made by several well-known wineries such as Ojai, Jaffurs, and Qupe.
By 1997, Stolpman Vnyds was producing its own line of wines from the wide varieties of fruit planted. When Sashi arrived in 2001, they were already producing a Rhone blend and a Bordeaux blend, as well as some Sangiovese and Nebbiolo bottlings under the Stolpman label. But, Sashi also saw the potential of using the California Sangiovese - not necessarily the current rage in domestic wine - for a Tuscan blend. I've always found Stolpman's fruit to be really delicious, and Bruno D'Alfonso from Sanford Winery has also made a very tasty wine from these grapes. However, it looks like the fruit's future usage will largely go into producing two new "Super-Tuscan" blends - L'Angeli and La Croce. Interestingly, the La Croce is a Syrah/Sangiovese blend - something I've not seen before in a "Super-Tuscan."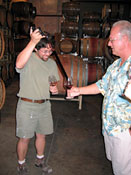 Fill 'er up
What was also needed at Stolpman was a revitalization of the vineyards - including some replanting. The Cab Franc got replaced with 30 new acres of grapes. New row alignments, along with higher density plantings and different trellising is also being used. Sashi recounted how the influence of Antinori's former Director of Enology, Alberto Antonini, helped convince Tom Stolpman to embark on the many changes that Stolpman Vnyds is now undertaking. And, considering the investment that Stolpman was undertaking, getting the blessing from a high profile consultant like Antonini would certainly bolster one's courage to go ahead.
As we walked around the room used for crush and fermentation, Sashi described his winemaking process at Stolpman. He spoke about their use of small lot fermentation, pointing to what they referred to as the "FYB's" (funny yellow bins), and also pointed out the new harmonic shaker table that's used in sorting (not many of these around). Sashi's also experimenting with a variety of barrel shapes, sizes, and manufacturers, as well as country of origin. He seems to have found a niche in something interesting - he prefers barrels from the Cognac region (Cognac gets more rain, and more rain leaches the sap out of the barrels faster). Sashi is also using a couple of different shapes - both Burgundian as well as the traditional Bordeaux barrels, and has even tried a few pungeons (80-100 gal barrels). He also mentioned that he has found that the Stolpman Sangiovese seems to do best in 1-yr old barrels.
This was an excellent visit. It's always exciting to see the enthusiasm generated by a winery's decision to explore new ideas or approaches. For me, this was just one more example of how this valley seems to be on the cutting edge of winemaking. Rather than some mega-case operation, here was a 5,000 case winery looking to push the envelope.
Rusack Vineyards
Rusack's New label
Selected Tasting Notes:
...from bottle...
2002 Rusack Sauvignon Blanc - Westerly Vnyd, SYV. All stainless steel. Tons of melon-flavored citrusy fruit in nose and mouth, with lovely mouthfeel and long finish.
2002 Rusack Chardonnay - SBC. Nose of apple and pear. Nice toasty flavor at mid-palate, with tons of fruit throughout. Can a Chardonnay be a fruit bomb?
2002 Rusack Chardonnay - Reserve, SMV. Now here is a nice toasty aroma - something like wheatberry bread coming out of the toaster, thick on the palate, tons of fruit, with a long smooth finish.
2001 Rusack Pinot Noir - Reserve. Huge blast of warm cherries jubilee in the nose. Light smoky note to the black cherry fruit, long smooth finish.
2001 Rusack Syrah - SYV. Lovely nose of creamy spiced blackberry. Smooth and lush on the palate, the creamy quality continues throughout the mouthfeel, with even more spiced berry notes and a long finish. The fruit source is located west of Gainey near Solvang.
2001 Rusack Anacapa - SYV. 60% Cab Franc, 20% Merlot, and 10% Cab. This proprietary Bordeaux blend is better than ever this year. Smooth, seductive, and loaded with cassis and chocolate flavors, it seems ready now, but seems bound to reward some patience.
We arrived at the busy Rusack tasting room at 2:00. When I'd spoken to winemaker John Falcone about visiting, he said he'd leave some instructions with the tasting room staff to start us through some of the wines yet to be released, and he'd be there soon thereafter.
Dan Martin came over to greet us and started us with a pour of the new Sauvignon Blanc. This might be Rusack's first Sauv Blanc, as I don't recall one being poured before. Either way, this one is beautiful, and loaded with pure fruit! Dan mentioned that John would be by shortly, but that meanwhile John had wanted us to try a couple of new releases.
We were into the second of the Chards when John arrived. Several of the tasting room patrons greeted him - some neighbors, others just fans or acquaintances. How are things going with us, he asked. Fabulous - we just had the Reserve Pinot, we replied. John had been interested in having us try two new releases - the Syrah and the Anacapa Bordeaux blend. John continued to chat with most of the folks in the tasting room. Meanwhile, the staff poured us the Syrah - very nice.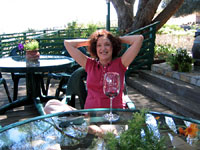 Finishing up the conversations with the other patrons, John grabbed the bottles of Syrah and Anacapa and motioned us out to the patio. It was late afternoon, though still fairly warm outside - almost balmy, with a warm breeze blowing through the trees. John poured us each a glass of the Anacapa. Wow! This was killer stuff. We talked about the new label (classy and very understated), and the how the new vines were doing (they seemed to be doing well). We chatted about everything from barn owls (keeps down the gopher population) to our previous visits during the day, and specifically about how so many people were doing such fabulous jobs on their wines. John mentioned how he too was amazed how both the Santa Ynez Valley and Santa Rita Hills seemed to be ground zero for great winegrowing and winemaking. He sighed a bit, reflecting on the talented crop of young winemakers scattered throughout the valley. Even though "young" is relative, it sounded as though any thought of resting on his laurels was out of the question - the talent was only getting better.
This was truly an amazing cross-section of winery visits, and the day couldn't have turned out any better. We were able to have a close-up look at some vineyards and get a winery tour at Melville, then a barrel tasting with the winemaker at Stolpman, and finally a sit-down 'what's new' chat with Rusack's winemaker, John Falcone. To say that our friends were excited with everything we'd done during the day would be an understatement. And frankly, I was more than pleased with the day turned out, as well. When you set up an itinerary like this, you're not quite sure if everything will fall into place. But it certainly did this time. This definitely was a case where things not only turned out very nicely - they turned out even better than expected.
---
---
Copyright © 1993 - 2004, Eric Anderson -
All rights reserved
No original material may be reproduced without written consent
Mail & Comments - Eric Anderson