Vol. 12 No.3 - August '04

Part 1 of 2 -
Journal and tasting notes from visits to several California wineries and vineyards. The final destination of the trip was the annual Clos Pepe BBQ, but I'd left a day early to join some others in making some winery visits along the way. Our itinerary was to start in Paso Robles, then wander down to Santa Maria to stop at the Central Coast Wine Service facility, and finally to the Santa Rita Hills for some winery and vineyard visits.
Barrel Tasting: even though barrel tasting is one of the most instructive ways to sample wine, it is also something that causes more than a little angst among winemakers. The fact is that the wines being sampled from barrel haven't finished their infancy yet - they are still going through growth and development in the barrel, and haven't reached the point of bottling. Therefore, winemakers are often reluctant to expose their barrel samples to the public - concerned the wines may be misjudged or unappreciated by tasters during this growth stage. Since the tasting notes in this report contain many barrel samples, please note that my impressions relate only to the wine at its current stage of development.
Special Thanks: to Bob Summers for all of his culinary work and the outstanding offline dinner on Friday. And to Peter Cargasacchi, thanks again for indulging those of us who appreciate the fruits of your labors.
Friday, August 20, 2004
Left Irvine early and headed up to Paso Robles to meet Bob Summers and Al Osterheld at Dining with Andre, a French bakery in downtown Paso. The weather was unseasonably cool - which was just fine by me!
With Bob at the wheel, we left town and headed out to the Creston/Templeton area, southeast of Paso. Nice drive out this way - lots of rolling hills, some cattle, a couple of horse ranches, and a few wineries. Found a few unmarked vineyards, too. Arriving a little early at the winery, Bob elected not to turn into the driveway, and we kept motoring down the road a ways to check out more of the local scenery. It seemed as though this beautiful geography went on forever.
Doubling back, we arrived promptly at 11:00 for our appointment with Michael Mooney, proprietor of Chateau Margene. We pulled in past the vineyard and around back to the winery. We were admiring the lovely grounds, when Michael waved us inside the metal building. We chatted for a few minutes, explaining that we had two other guys on the way to join us. Right on cue, Paul Homchick drove up, and Dave Chan soon joined us as well.
Long time winelovers, Michael and Margene Mooney (the winery is named for Michael's wife, Margene) decided they actually wanted to grow and produce their own wines. With the price of land in Napa, they looked into the Paso Robles area, and found something they liked. With no previous winery experience, he and his wife became wine growers and winemakers. Michael explained that Chateau Margene is a family operation, with the wife, kids and even in-laws doing their fair share of duties. Michael worked with John Munch to learn the basics, and calls on John for some consulting, but based on what we tasted, Michael's a natural here!
Selected Tasting Notes:
...from bottle...
NV Ch. Margene Chardonnay. Blend from the '02 and '03 vintages. Pleasant citrusy nose, with moderate oak and a nice lemon bite on the finish.
2003 Ch. Margene Chardonnay. (from a vnyd near York Mtn - Westside) Lots of lemon-lime and tropical scents and flavors, yet underwent no ML. Very nice.
1999 Ch. Margene Cabernet. (from a vnyd near Hog Cyn - Eastside) Ripe and slightly candied, with a light leafy quality that seems to blow off, leaving it more minty.
...from barrel...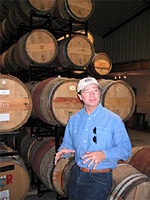 Michael Mooney
2003 Ch. Margene Cabernet. (from a vnyd out on Adelaida Rd - Westside) Destined to be part of the final blend, this wine seemed a little austere right now, exhibiting a lot of minerality, with cassis, chalk and a touch oak.
2003 Ch. Margene Cabernet - Estate. Deep nose of cassis, some toast, and a cheesy-leesy nearly Bordeaux quality to the nose. Full and rich, with lots of dark fruit flavors, and very long balanced finish.
2002 Ch. Margene Cabernet - Estate. Very clove and mint-infused nose, plenty of cassis flavors, very long balanced finish.
2002 Ch. Margene Syrah. Blend of Eastside vnyds. Buttery and floral quality to the thick blackberry nose. Nice sweetness to the fruit, with very balanced finish.
2002 Ch. Margene Merlot. Ripe, with a fresh prune quality to the nose (not overripe). Nice flavors and balance, long finish. Probably destined for blend.
2002 Ch. Margene Sangiovese. from an Eastside 3rd leaf Vnyd, this wine exhibited a fascinating banana scent to the bing and dried cherry. Quite tasty on its own, this is destined to be included in a Super Tuscan blend with some Cab.
...from bottle...
2001 Ch. Margene Cabernet. froma 3 vnyd blend - about 15% Estate) Beautiful, lightly sweet cassis scent to the nose, with a sweet-sour mouthfeel, fine-grained tannins, and nice long finish.
2001 Ch. Margene Reserve Cabernet. Lots of cassis and toast, Big but very balanced, with lots of sweet-sour fruit, seamless textures, and a very smooth long finish.
Michael led the five of us through the small winery, fielding questions about his methods, choice of varietals, and so on, and finally leading us over to the tasting bar, where he poured us a couple of Chardonnays. From there, it was back to the barrels to do some tasting, and finally back to his finished Cabernets.
Speaking of Cabernet, specializing in Cabernet Sauvignon in the Paso area, as Chateau Margene does, is to invite some credibility issues on the part of wine geeks. In an area well-known for Zinfandel and quickly gaining acclaim for its Rhone varieties, the general feeling about Paso Robles Cabernet might well be "Napa is for Cabs." This is not to say that Paso doesn't make some nice Cabs - they do. It's just that the ripeness can be too pronounced. Chateau Margene is striving to reverse this image by producing excellent Cabernet Sauvignon - regardless of appellation. And, they appear to be succeeding.
Chateau Margene gets about 2.0-2.25 tons/acre from their 6-acre vineyard. Planted in 1998, the sandy loam soil seems particularily suited to Bordeaux varietals, and the dry heat of the day cools later in the day, with the afternoon breezes coming from the Templeton Gap, a natural break in the coastal Santa Lucia Mountain range. Michael crops and leafs the vines to allow the cool breeze to get to the fruit.
In addition to the Estate production, the family supplements its output with some fruit from a few Westside vineyards. Using what might be a unique method of compensation, Michael pays the growers for the additional fruit on a per-bottle basis - rather than per-acre basis, thus mitigating annual production fluctuations.
The grapes are hand-sorted, then lightly crushed with a basket press, before going in to small bins for fermentation with native yeasts. The finished wine stays in barrels for 18 months, using about 2/3 American oak, along with mostly neutral French oak for cooperage. The wine only gets one racking before bottling. Michael says he is going to cap production at 2,000-2,500 cases.
With our tasting at an end, we retired to the very spacious picnic grounds out behind the winery, where we finished up the last of the Margene Reserve Cab with our fabulous roast beef sandwiches - both, courtesy of Bob Summers. The day had warmed-up after all, finally getting into the upper 80s. With the nice warm breeze (and a little wine) it was tough to push on with our journey. But, we had a 1:30 appointment at Peachy Canyon, and needed to hit the road.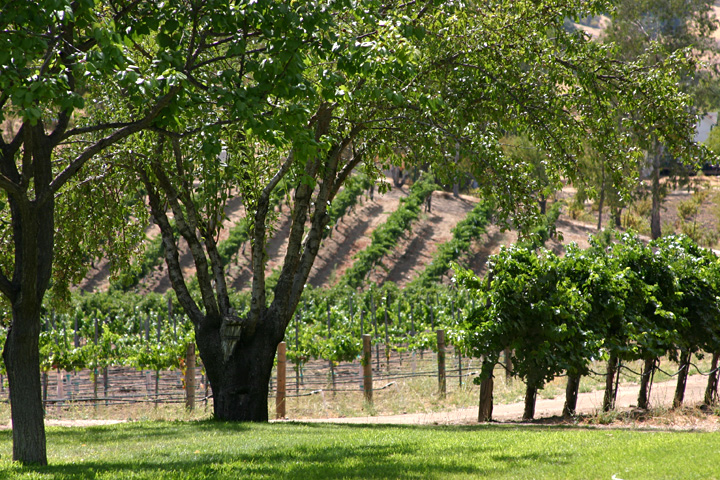 Peachy Canyon vineyards
We probably broke some sort of land-speed record getting back into Paso and over to Peachy Canyon on the Westside of town. The five of us joined Eric Lundblad, Ken Zinns, and Alan Garretson - who were actually supposed to be with us earlier, but ran into "issues." I was really looking forward to visiting the current Peachy Canyon facility. I'd been to the tasting room many times over the years...well, since I first started visiting the Paso area in '94. A lot of time had passed, and I was interested to see what changes the rapid growth had made on this previously small producer.
Selected Tasting Notes:
...from bottle...
2002 Peachy Canyon Chardonnay - Central Coast. This will be the last Chard from their estate vnyd, and contains 14% Viognier and no ML. Nice green apple and pear aromas and flavors, crisp lightly sweet finish.
...from barrel...
2003 Peachy Canyon Zinfandel - Westside. (results of a stuck fermentation) Ripe and sweet in the nose, same in mouthfeel, but evens out a bit at mid and latter palate.
2003 Peachy Canyon Zinfandel - Eastside. neutral oak. Creamy nose and mouthfeel, with a light spiciness throughout.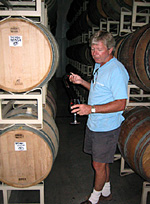 Doug Beckett
2003 Peachy Canyon Zinfandel - Eastside. Gamey and a bit stinky in nose, with nice flavors, and tasty finish. Sort of an odd one, Doug said this was the last time he'd use this vnyd.
2003 Peachy Canyon Zinfandel - Eastside. Nose of rhubarb and strawberry. Quite tasty, this one will end up in the "Incredible Red" bottling.
2003 Peachy Canyon Cabernet - Eastside. Lots of cassis and a bit of spice in the nose. Full bodied, good flavor profile, long finish. Quite nice.
2003 Peachy Canyon Cabernet - Estate. Nose of cassis, dark cherry and sage. Touch of mineral in the dark fruit, long finish.
2003 Peachy Canyon Cabernet - Eastside. Lots of cinnamon-infused fruit in nose and mouth, slightly denser that previous Cabs.
2003 Peachy Canyon Syrah - Eastside. Nice and gamey in the nose, with tar and licorice accents. Good ripeness, balance and flavors.
2003 Peachy Canyon Petite Sirah - Eastside. Dark and brooding color, plenty of grip on the palate, with a smooth long finish.
2003 Peachy Canyon Late Harvest Zinfandel. Wow! Loaded with chocolate, a touch of malt and plenty of spice. Very smooth long finish.
2000 Peachy Canyon Zinfandel Port. Nearly tawny port-like, except for a trace of beef jerky on the palate.
Founded in 1988 by Doug and Nancy Beckett, Peachy Canyon Winery began its production with a load of Zinfandel from Benito Dusi, and soon garnered a reputation for full-bodied, beautifully balanced Zins. The original winery and tasting room was located behind the Becketts house on Peachy Canyon Road (hence the name). At that time, Doug was pouring samples for visitors right inside the winery. The first Estate wine was produced in 1992, made from the 10-acre vineyard surrounding the house. Interestingly, the whole Eastside/Westside thing (vineyards that are either East or West of the Salinas River) is attributed to Doug Beckett.
As Peachy Canyon's reputation for Zin grew, so did the visitors. It seemed obvious to Doug that despite his 500 case annual production, fitting all of the visitors onto his property and into the winery was going to be a problem. So, he built a more formal tasting room adjacent to the winery. The crowds continued to come, and in 1999, the Becketts moved the tasting room to the 1886 Old Bethel School House, an historic building at Hwy 46 and Bethel Road. At about the same time, the Becketts bought an old winery and surrounding 20 year-old vineyard out on Lake Nacimiento Road, and moved productions facilities into it. Peachy Canyon's plantings are currently at about 100 acres - a ten-fold increase in grapevines over the last decade - which, along with fruit from other suppliers (60-70%), led to a corresponding increase in production (3,000 cases in 1990 to 45,000 cases today). As a side note, Peachy Canyon's winery survived the December earthquake okay. The tasting room was another matter - they lost nearly everything!
After everyone arrived, Doug gave us each a pour of Chardonnay and we chatted a bit. Hey Doug, how come the "Central Coast" appellation on this - where're you sourcing the fruit, I asked. Paso Robles, Doug said. Why use CC then? Well, the Central Coast appellation has a better image for Chardonnay, so why not use the larger appellation. We all nodded. It seems like a sad commentary that appellation bias would even keep someone from trying a wine, but it's certainly true.
With glasses in hand, Doug led us out of the winery, through the crush pad and over to the barrel storage area, stopping to introduce us to his son, Josh, who is now making the wines. Inside the large storage room, we sipped and chatted as Doug led us through several barrels. Doug uses American oak on the Zin; French on the Bordeaux varietals.
My perception over the past several years had been that the wines here had gotten leaner and thinner. So, one of the reasons I wanted to visit was to see and taste if there had been any change in the last couple of years. I was pleasantly surprised with what seemed to be marked increase in the level of concentration and quality in the wines that Doug pulled from barrels.
Doug had an appointment in Visalia, and needed get on the road. With our barrel tasting at an end, he led us back to the winery kitchen to rinse our glasses. Stepping inside, I contemplated asking Doug about my perceived quality increase. I asked if he'd mind a pointed question. Sure, go ahead, he said. I said there had been a general perception among wine people that Peachy Canyon has lost its edge in recent years - that the full throttle, extracted, yet balanced wines of the early '90s had somehow become thin and lean as the decade went on, and asked him to comment on this perception. Yes, he said, that's true. I was surprised, but also pleased at his candid reply. Doug said that the wines produced from the mid-to-later '90s reflected the stylistic qualities of the winemaker at the time, rather than any increased production goals or inefficiencies. And, considering the demand for Peachy Canyon wines never died down during this period, Doug was relatively content to let the winemaker continue on her course. He went on to say that since the previous winemaker had now left, he fully expected things to get back to what the new winemaker (son Josh) wanted - the "old" Peachy Canyon style of full throttle winemaking. After tasting what was in barrel, I'd have to agree. It seems the old Peachy's back!
Leaving Peach Canyon, we headed over to Augie Hug's new place, Coastal Vintners in Paso Robles - located right next to Mat Garretson's place. Augie and Raquel poured offerings from Hug Cellars, Perbacco Cellars, Silverstone and Orchid Hill wines. The Hug wines are always incredible. But, I was especially surprised by the Perbacco Chardonnay - three wines, mostly Edna Valley fruit, and all of them delicious.
I can't say enough good things about the wines Augie and Raquel have chosen to carry. All of of the Silverstone lineup was good, but the Syrah was especially nice. Winemaker Dan Kleck is not only making very nice wine for his own label, he's also managing BOTH the Paso Robles Wine Services and Central Coast Wine Services operations. (more on this winery next month.)
...offline wines - Paris restaurant...
1990 Cuvee William Deutz Champagne (magnum)
2003 Garretson Wine Company Roussanne - Tastelai
2002 Silver Viognier - Vogelzang Vineyard
2000 Jaffurs Roussanne - Stolpman Vineyard
2000 Melville Pinot Noir - Clone 115
1998 Dehlinger Pinot Noir
1999 Martinelli Pinot Noir - Martinelli Vineyard
2000 Fiddlehead Cellars Pinot Noir - Lollapalooza
2001 Mas Doix (Priorat)
2001 Failla Syrah - Que Syrah Vineyard
1997 Terre Rouge Syrah - Sentinel Oaks, Pyramid Block
1998 Morre du Tendre CdP
2001 River Grove Cabernet Sauvignon
1994 La Mission Haut Brion
1999 Hug Cellars Grenache - Alban Vineyard
2001 Costieres de Nimes VV Roussanne (from Claude)
2001 Copain Late Harvest Viognier - Broken Leg Vineyard
Dinner that night was at the Paris restaurant in Paso (1221 Park St.). Bob worked with owners Claude and Chrystel Chazalon to prepare an eight course meal, which provided lots of fabulous food and wine parings. We started with a '90 Deutz Champagne that went fabulous with the appetizers: cheese flavored puff pastry, and foie gras. The chilled mushroom soup married well with the each of the whites, and then it was Pinot time. Dishes of cured salmon, sauteed chanterelles, calamari with squid ink risotto, duck with leeks, lamb with tomatoes and squash, were all great matches. Singling out one Pinot would be tough - well okay, the Lollapalooza. The beef with green peppercorn sauce was my favorite with the Syrahs - especially the Failla Que Syrah; and cheese course with greens went witheverything as we tasted back through the wines. Finally, profiterolles with vanilla ice cream and chocolate sauce for dessert.
---
---
Copyright © 1993 - 2004, Eric Anderson -
All rights reserved
No original material may be reproduced without written consent
Mail & Comments - Eric Anderson