Vol. 13 No.2 - August '05
Journal and tasting notes from visits to several California wineries and vineyards. The main focus of our trip was to attend the Clos Pepe BBQ and futures roll-out at the CP vineyard on Saturday, August 6th. But, this merely gave us an excuse to repeat what we did last year -- visit a few other wineries and vineyards on the Central Coast over the weekend. We'd planned to spend Friday in Paso, then head south to the Santa Barbara County for Saturday and the early part of Sunday. Riding shotgun on this trip was GrapeRadio's Jay Selman, plus we were scheduled to meet up in Paso Robles with several folks from the Bay Area (Bob Summers, Ken Zinns, Al Osterheld, Ken Emory, Eric Lundblad, and Alan Garretson), AKA, the 'usual suspects.'
Thanks: A special thanks to Terry Culton at Adelaida, who tasted us through everything from Pinot Noir to Touriga Nacional. Thanks also to Terry and Jennifer Hoage, who are embarking on one of the most ambitious expansion projects on the Westside. And finally, thanks to Gary Gibson, who has his vineyard in Paso, lives in San Luis Obispo, makes wine in Santa Maria, and still has a day job!
In Santa Barbara County, a special thanks to Peter Cargasacchi for the Jalama tour, and both he and Brian for sharing their wines with us. Thanks again to Wes Hagen and family - they put on quite a bash. Thanks also to Barry Torres for guiding us around the emerging Ambullneo winery at their open house. Finally, many thanks to Paul Lato for arranging his schedule to meet with us at the Solomon Hills vineyard, to see first hand his fruit source, and taste his beautiful wines on site.
Barrel Tasting: even though barrel tasting is one of the most instructive ways to sample wine, it is also something that causes more than a little angst among winemakers. The fact is that the wines being sampled from barrel haven't finished their infancy yet - they are still going through growth and development in the barrel, and haven't reached the point of bottling. Therefore, winemakers are often reluctant to expose their barrel samples to the public - concerned the wines may be misjudged or unappreciated by tasters during this growth stage. Since the tasting notes in this report contain many barrel samples, please note that my impressions relate only to the wine at its current stage of development.
Paso Robles
In order to beat the L.A. traffic out of town, Jay and I left Irvine early enought to beat the sunrise as well. Our goal was to get to Paso Robles about 9:30am for some coffee and Danish at Dining with Andre, where we'd meet up with six friends who'd come down from the Bay Area for the weekend. We were all staying at the same motel, so after a little coffee, we headed over to check-in and leave our wine and luggage in some air-conditioned rooms (it was due to be 104 degrees). Afterward, we doubled back to DwA again for a quick lunch, and then finally headed out for our first stop of the day.
Selected Tasting Notes:
...from bottle...
2003 Adelaida Chardonnay - Chamisal Vnyd, SLO. Barrel fermented, sur lee aged, and 100% ML. Nice light smokiness throughout, with lots of clean fruit and a long smooth finish, punctuated by some grip on the back palate.
2004 Adelaida Viognier - Paso Robles. 100% neutral barrel fermented. Floral and flinty, with nice minerality and touch of lime zest and honey. Lots of pure fruit throughout, and nice long finish.
...from barrel...
2004 Adelaida Pinot Noir - HMR Vnyd, Paso Robles. Mt. Eden clone, 100% whole cluster fermentation, 30-40% stem inclusion, 20-30% new oak. Nose of black cherry and floral notes, with a lesser amount of herb and forest floor aromas. Full on the palate, good texture, obvious floral undertones - almost as if were co-fermented with a floral white. Delicious!
2004 Adelaida Pinot Noir - HMR Vnyd, Paso Robles. Completely destemed. Significantly more black cherry aroma and taste over the previous wine -only slightly less complexity. Very nice.
2004 Adelaida Grenache - Glenrose Vnyd, Paso Robles. Tablas clone. Loads of intense strawberry-raspberry and orange zest in the nose. Slightly sweet mouthfeel, with lots of sweet-sour fruit, very nice balance and finish.
2004 Adelaida Mourvedre - Paso Robles. New François Freres barrel. Meaty-scented nose of dark berry, chocolate, and floral tones. Roasted meats and dark fruit on the palate, lighter on the cocoa in mouthfeel, and long smooth finish. Will go into the Rhone blend, rather than bottled separately.
2004 Adelaida Counoise - Paso Robles. Very floral in aroma, with roses, gardenia and a touch of lavender. Light in mouthfeel, with juicy mouthfeel, touch of blueberry and floral on the palate, nice finish.
2004 Adelaida Cinsault - Paso Robles. Peppery and meaty in aroma. Slightly sweet in mouthfeel, lightly extracted, touch of candied zest, and a bit of grip on the finish.
2004 Adelaida Syrah - Glenrose Vnyd, Paso Robles. Aged in 500L Hungarian barrel. Big, rich, ripe blackberry nose. Blueberry and blackberry on the palate, loads of fruit throughout, nice long finish.
2004 Adelaida Syrah - Viking Vnyd, Paso Robles. Nose of pure blackberry, a bit riper and fuller than the Glenrose. Thick and full on the palate, not quite as ripe/sweet in taste as the nose might have foretold. Delicious long finish.
2004 Adelaida Nebbiolo - Paso Robles. Nose of rhubarb pie. Huge tannins and plenty of acids assure its ability to cut through Mama Mia's marinara sauce. Fascinating, if a bit austere.
2004 Adelaida Touriga Nacional - Paso Robles. Lightly sweet and smoky-ripe in nose. Very drying on the palate, with plenty of herbaceous qualities on the palate, and a grippy finish.
2003 Adelaida Cabernet Sauvignon - Viking Vnyd, Paso Robles. Taransaud barrel for 24 months, with 3 rackings. Lightly sweet and ripe blackberry nose. Touches of black forest cake and accent the predominately dark cherry-cassis taste, with a tasty long finish.
2003 Adelaida Cabernet Sauvignon - Viking Vnyd, Paso Robles. François Freres barrel. Very similar in mouthfeel to the wine above, but there's more of a pronounced cherry Kirsch and chocolate mint aroma.
2003 Adelaida Zinfandel - Martinelli Vnyd. From tank, just before bottling. Nose has a old-vine quality to it, though the fruit is from a newer section of the vineyard. Lots of boysenberry and a touch of raspberry. Nice flavor profile and long finish. Well done!
2003 Adelaida Zinfandel - Martinelli Vnyd. Similar to above, but with lots more of the vineyard's older fruit, and more aof a meling of flevors and aromas.
2004 Adelaida "Cryogenique" - Paso Robles. This "Ice Wine" knockoff is an interesting blend of Muscat (92%) and Viognier. The grapes were frozen (hence the name), and processed normally. This got a little dryer than Terry wanted, hence it is less viscous and sweet, with more of a pronounced muscat - not surprising, considering the blend.
Arriving at Adelaida Cellars, we checked in at the spacious new tasting room to see about our appointment with winemaker Terry Culton. During HdR week, a few years back, we were on the way to Tablas Creek and figured we'd just stop by Adelaida for a quick taste of the Zin and the Cab. I met Adelaida's National Sales Rep, Paul Sowerby on that particular day, and he was really excited about their current harvest - 2002 at the time. I ran into Paul again at the 2005 HdR, and he seemed very eager to have us try the '02s that he had spoken about before, as well as the new '04 whites - Viognier, and a Grenache Blanc-Roussanne blend - all of which he was pouring that day. The wines were all quite good - especially the whites, and I asked if we could set up a visit with Adelaida's winemaker sometime in the next few months. Although he couldn't be there too, Paul arranged for us to meet with Terry Culton, for a closer look at Adelaida's wines.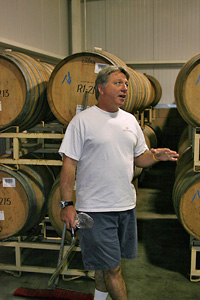 Terry Culton
Terry met us in the tasting room, and after the round of introductions, mentioned that all of his '04 whites had just been bottled within the last two weeks, and might not be showing well. So, he poured us an '03 Chardonnay from bottle, and then after some coaxing, he agreed to pour us an '04 Viognier. From there, we followed Terry outside and over to the barrel room to try a full range of things - from Viognier to Touriga Nacional, from destemmed to whole cluster, and from Hungarian to French oak.
Established in 1981, Adelaida first earned its reputation as the home of full-throttle, highly extracted Zinfandels and Cabernets. Through the '80s, and into the early '90s, winemakers John Munch (now Le Cuvier) and Neil Collins (now Tablas Creek) were producing some very big wines - even for the times. Acquired by the Van Steenwyck family in 1991, there seems to have been a steady momentum over the last 10 years to producing more balanced wines.
Located in the rolling hills of Paso's westside, Adelaida is about 15 miles from the Pacific Ocean. At an elevation of 1,700 feet in the Santa Lucia mountain chain, the weather here consists of hot days, contrasted with afternoon coastal breezes which significantly cool the vineyards in the evenings. The hillside vineyards are filled with High pH limestone and shale. The calcareous, chalky, rock soils of the West Side, coupled with abundant rainfall and steep terrain results in lots of small berry clusters of highly concentrated grapes. About 80% of the planted acreage is to Cabernet Sauvignon, Chardonnay, Merlot and Zinfandel, with various other varieties making up the balance.
Adelaida sources fruit from its own Estate vineyards, as well as a small group of contracted local vineyards. The two Estate vineyards, Viking Vineyard and HMR Vineyard are the flagship properties. The historic HMR Vineyard (Hoffman Mountain Ranch) had originally been planted by Dr. Stanley Hoffman in the early 60's. Hoffman hired the late Andre Tchelistcheff to advise him on the potential of his acreage, and Tchelistcheff enthusiastically recommended planting a vineyard of, among other things, Pinot Noir. Tchelistcheff continued consulting for a few years, and helped to produce some vineyard successes through the early-'70s. However, over the subsequent years, the property fell into a state of benign neglect, and the HMR label and reference to the vineyard was gone from the marketplace for over a decade. In 1994, Adelaida owners Don and Elizabeth Van Steenwyk, heard that HMR Vineyard, just a couple of miles from their Estate, was for sale and purchased a 400-acre portion of the Hoffman Mountain Ranch, including all of the original Pinot Noir plantings. The 64-acre vineyard is currently planted to Pinot, Chardonnay, and a bit of Cabernet.
The 20-acre Viking Vineyard was planted in 1992. It's location is considerably warmer in temperature than the HMR Vineyard, making it more ideal for producing Cabernet Sauvignon and Syrah. Though the daily temperatures are higher here, the nights are significantly cooler, due to the influences of the Templeton Gap (a natural gap in the Santa Lucia coastal range that creates an 'air conditioning' effect). Overnight temperatures here drop by as much as 50 degrees, making it one of the greatest diurnal variations in the state - something that also helps a needed natural acidity develop in the fruit.
Arriving in the Paso Robles area in 1991, winemaker Terry Culton worked his first harvest that Fall at Creston Manor, and from there moved to Wild Horse. After attending extension classes at UC Davis, he became cellar master at Edmeades Winery in Mendocino County, and then assistant winemaker at Calera in San Benito County, working with Josh Jensen for 3-1/2 years. Terry heard from departing winemaker Jon Priest that the winemaking position at Adelaida was open. He immediately expressed interest, was hired and began with Adelaida at the '03 harvest.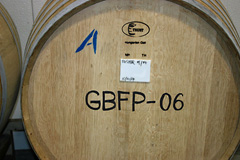 As with many of his contempories, Terry feels wines are made in the vineyard, and thus embraces a non-interventionist style of winemaking. He uses native yeast to start fermentations, then ages the wines for 14 to 24 months in French and/or European oak barrels (20% to 30% new oak, depending upon the varietals). Terry likes to use oak as a spice rack, to accent the wine, rather than dominate it. Everything is bottled unfiltered and unfined. We talked about bottle closure issues and he mentioned that he hadn't seen much of a problem with TCA, but that he would consider screwcaps for his white wines, but not the reds. Adelaida's production is about 15,000 cases annually.
The visit to Adelaida was illuminating. All of the wines were fruit-filled and well-balanced, with a modest amount of oak. Whether it's Pinot Noir or Cabernet or Syrah, Terry is obviously a talented winemaker, and the fact that he appears to have full control of both the vineyards and winemaking, bodes well for Adelaida's future.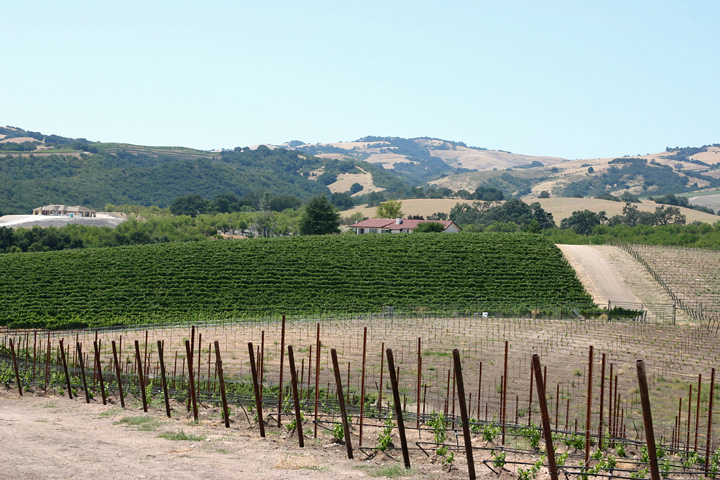 View west at Terry Hoage Vineyards, looking overly the recently expanded vineyard




Selected Tasting Notes:

...from bottle...

2004 Hoage "the 46" Syrah - Paso Robles. Syrah-Grenache blend. Very ripe in nose of raspberry and blackberry. Juicy and bright on the palate, with dusty tannins and a nice long finish. (The "46" is named for Coach Buddy Ryan's famous defense, as well as a play on the fact that the vineyard is located off Hwy 46.)

2002 Hoage "the Hedge" Syrah - Paso Robles. Deep, peppery blackberry nose, with touch of chocolate. Juicy sweet-sour flavors, lots of fruit, very tasty finish. (The "Hedge" is named for the hedges at U of Georgia football stadium.)

2002 Garretson Syrah - Hoage Vnyd, Paso Robles. Something we'd brought along for comparison. Very monolithic in nose and mouth, with a Petite Sirah-like density, but surprisingly toned-down intensity.

2003 Hoage "the Hedge" Syrah - Paso Robles. Very similar to the '02 Hedge - just slightly sweeter in taste. Lovely mouthfeel, juicy and loaded with fruit throughout.

2004 Hoage "the Hedge" Syrah - Paso Robles. Similar to the '03 with its juicy acids, though less sweet in taste.

Leaving Adelaida, we headed back toward Paso, through town and onto Hwy 46 West. A couple of turns later we were at the gate for Terry Hoage Vineyards. I'd been here once before, when it was named Winchester Vineyard - owned appropriately by a fellow named Ken Winchester. Terry and Jennifer Hoage bought the property in 2002, and quickly set about dealing with the immediate harvest of the '02 Syrah.

As some may already know, Terry was an All-American football player with the University of Georgia Bulldogs in '82 and '83. In addition, he was also an Academic All-America selection, with a 3.71 grade point average, and a major in Genetics. Drafted by New Orleans in '84, he was traded to Philadelphia in '86 where he led the NFL in interceptions in '88. After graduation, he had actually intended to enroll in medical school, but, as with many 'great expectations,' Terry ended up staying in the NFL for 13 seasons, highlighted by the Super Bowl ring he received as a Washington Redskin in '92. He was inducted into the National College Football Hall of Fame in 2000.

We drove up the road through the vineyard and parked outside a recently remodeled barn. Getting out of the car, we could feel that the day was only getting hotter. An employee was watering down the cement crush pad, and I felt like lying down in front of the hose to soak up some of the water.

Jennifer and Terry came out to meet us as we pulled in. After introductions, Terry asked if we'd like to start with some wine, or head on out into the vineyard. How about if we see the vineyard first, most of us thought, before the wine slows us down (little did we know that the walk itself would slow us down). So, out into the vineyard we went, Terry leading us up and over the rolling sandy hills into the dry heat, like some scene from the Lost Patrol, to the highest point in the vineyard. It was here on the back of the property that he'll plant his meter-by-meter vines (3.1 x 3.1 feet), often referred to as "close treatment." The competition between vines for water and other nutrients that are planted at such high density naturally stresses the plants, making the berries smaller and the flavors more intense. Thus far, the vineyard stakes for trellising have been set into place, but rows of dried-out brush and weeds stand as the only sentinels until vine planting begins in late Winter or very early Spring. I stared at the weeds for a minute, trying to come up with something amusing (I always seem to do this). Gee, I hate to tell you this Terry, but these vines don't look too good, I said tongue-in-cheek. In fact, they look dead, I added. Yeah, they look dead to me too, he said with a half-smile, obviously having heard this before.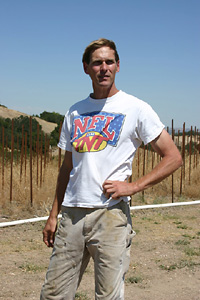 Terry Hoage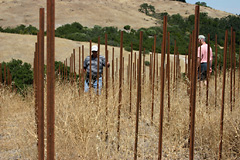 Two of our group (Bob Summers, Eric Lundblad) walk among the meter x meter vineyard stakes
The heat didn't seem nearly as intense up on the top of hill, and we could feel a nice strong breeze picking up from the Templeton Gap. The 26-acre property currently has 17 acres planted, much of it recently.
Well, shall we go back and taste some wine, Terry said. Sure, we thought, though we hated to leave the breeze behind. On the way back, we walked by the newer section of Grenache. Terry mentioned that he had already dropped about 2/3 of it - a substantial amount of crop. Véraison (change of color) had already started, and the vineyard was showing a nice palette of colors.
Back at the barn (which will be the winery, when completed), we took comfort in the cool, air-conditioned front room, while Jennifer poured us some wines. Hoage's first release was 2002, which was made by Justin Smith (Saxum). From the outset, Terry seemed intent on taking over the winemaking, and we chatted about the stylistic differences that he felt we might notice between the wines made by Justin Smith. Interestingly, I think one can actually taste the similarities, as well differences in winemaking over the three vintages ('02, '03, '04), with Justin consulting on the '03, and Terry making the '04. Despite the extra hot sunlamp in the sky, it was an excellent visit, and I for one was pleased to see this property expanding, and taste the first vintages of what I imagine will be another excellent wine estate for the Paso area.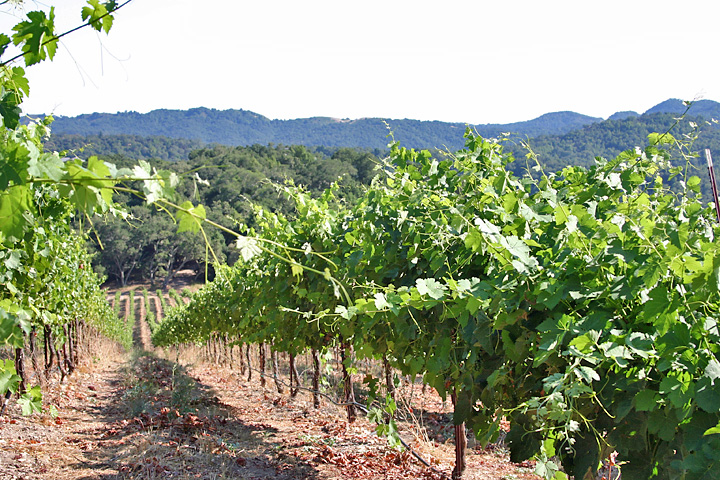 View south at Shadow Canyon Vineyards
Leaving Terry Hoage Vineyards, we continued west on Hwy 46 to the York Mtn AVA, currently the only sub-appellation in Paso Robles. Our destination was Shadow Canyon vineyard, and a visit with owner and winemaker Gary Gibson. In addition to his estate fruit, Gary also sources Pinot Blanc from Bien Nacido Viineyard, as well as Syrah and Grenache from Larner vineyards, both in Santa Barbara County.
Selected Tasting Notes:
...from bottle...
2003 Shadow Canyon Viognier - Larner Vnyd, SYV. Lovely floral and white peach aromas. Nice crisp mouthfeel, stone fruit and slightly candied pineapple flavors, and nice finish.
203 Shadow Canyon Estate Syrah - York Mtn. Lots of currant, pepper, with just a touch of chocolate. Medium grip on the palate, juicy acids, beautiful texture and flavor, very long finish.
2003 Shadow Canyon Syrah - Larner Vnyd, SYV. Slightly heavier in density that the Estate version, with ripe blackberry flavors, excellent balance, lots of smooth tannins, and an equally long finish.
2004 Shadow Canyon Grenche - Larner Vnyd, SYV. Surprisingly massive fruit in nose and mouth, very well balanced, long druit-filled finish. Wow!
2002 Shadow Canyon Late Harvest "Paeonia" Pinot Blanc - Bien Nacido Vnyd, SMV. Lovely nose of floral and citron aromas. Very flavorful, delightful sweetness and acidity throughout, and nice long smooth finish. 11.3% alcohol
I'd first met Gary at HdR this year, when Mid-West friend Mitch Tallan discovered Gary and his wife at the Grand Tasting, and spread the word. Gary is originally from Southern California, first coming to the area to attend Cal Poly SLO. He now lives in San Luis Obispo and makes his wine at CCWS in Santa Maria. Besides this, he has a day job in SLO, finding time to meet at the winery in Santa Maria was going to be difficult for him. But, a few emails later, and we'd arranged to meet with Gary at his York Mtn vineyard - and, he'd bring the wine to us! It just doesn't get much better than that!
We might have had more than a little difficulty finding the place, were it not for Gary's map and instructions. SCV is located about half-way to Cambria, tucked into a canyon off York Mountain Rd. At 1500', the 40 acre property is on a gently sloping hillside, smack dab in the middle of the Templeton Gap, the corridor that allows the area to cool down in the late afternoons and effectively increase the "hang time" of the grapes. The area gets an average 40" of rainfall annually - and up to twice that during El Niño years.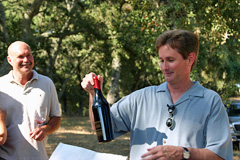 Steve Christle (l) watches as Gary Gibson pulls another bottle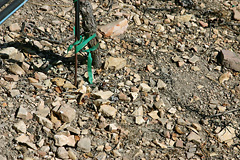 The vineyard is strewn with rocks, allowing excellent drainage
Gary has about 15 acres fenced in, and 11 of those were planted to Syrah starting in '98 and continuing through 2000. Future plans call for planting some Grenache as well. The hillside slopes to the west and the south, with north/south rows of Vertical Shoot Positioned vines. Five different clones are planted: Estrella, #877, and ENTAV clones #174, 383 and 470. Yields are kept to 2-tons/acre, and the fruit quality speaks for itself. Gary's 2000 harvest (3rd leaf) went to none other than Manfred Krankel's Sine Qua Non - all of it! Between 2001-03, SQN reduced their demand to 50% of the Syrah, as their own Syrah plantings came on line. For the '04 vintage, Gary is selling Syrah to Red Car, as well, of course, as making his own wine. Besides his Estate Syrah, Gary also bottles a Viognier, a Syrah, and a Grenache from Larner Vineyard, as well as a botrytised Pinot Blanc from Bien Nacido Vineyard. There was an interesting story behind the Pinot Blanc. Apparently, the fruit had always suffered from botrytis, and the Millers (owners of B/N) were actively trying to treat the vines to rid them of the mold. Talking with owners and a few other local winemakers, Gary convinced them to let the botrytis do its thing unabated. Thus was born Gary's Paeonia, a late-harvest Pinot Blanc in a beautiful square-sided 500ml bottle.
The temperature was getting cooler as we stood in the vineyard. I looked down at the rock-strewn soil. Wow, it must have cost you a fortune to get all this rock up her, huh Gary? He snickered, playing along. Yeah, it did, but it was worth it, he said grinning. After walking back up the slope from the vineyard, we gathered at a picnic table under some of the old live-oak trees, which - except for the vineyard - seemed to dominate the hillsides of York Mountain. The Gibsons have a house on the property that's being renovated. Once finished, they'll all have one less commute to make - although there's still the matter of Gary's day job. We thanked Gary and family for the tour, the wine, and his company and headed back to Paso.
...offline wines - Paris restaurant...
2001 Cedarville Viognier
2003 Peay Roussanne-Marsanne
2003 Linne Calodo Contrarian (Rhone white)
1998 Fiddlehead Sauvignon Blanc L'Orvert
2003 Dauvissat La Foret
2002 Girardin Chassagne Montrachet 1'er Les Vides Bourses
2001 Siduri Pinot Noir Rosella's
2003 Kosta Browne Pinot Noir 4-Barrel
1996 Mommesin Clos de Tart
1989 Ch. Leoville las Cases
1999 Pegau
2003 Domain Fouet Saumur Champigny
1969 Sterling Cabernet
1982 Ch. La Dominique
1997 Flora Springs Trilogy
2001 Rieussec Sauternes
2001 Guiraud Sauternes
Back to the motel for a little 'happy hour,' then we headed over to our reservation for dinner at Paris Restaurant in Paso (1221 Park St.), conveniently located within walking distance. We'd originally intended to order off the menu, but Bob Summers had an idea that we all could appreciate. So, we decided to split up a few of the entrees and all have a little of each one. We were able to try the monkfish paired with the white wines, and the the duck, and lamb paired with the Burgundy and Pinot Noir, as well as with a few of the Cabernets.
The wines were all great, with the '69 Sterling turning out to be the real surprise of the evening. I'm sure most of us expected it to be DOA, but it was surprisingly fruit-forward. All in all, an excellent evening.
Saturday, August 6, 2005 - Santa Barbara County
Up early, we headed out of town for a breakfast meeting in Lompoc with Peter Cargasacchi. A little over an hour later we arrived at a place called Hi's. (It's really called "Hi, Let's Eat," but, that's not a very rousing endorsement for the place. Despite the older appearance of the place, the food is usually very good, and there's plenty of it.) After breakfast, our morning plan called for a visit to Jalama Vineyard, Peter's other vineyard, located off Hwy 1 on an access road to Jalama Beach, near Pt. Concepcion. Besides our usual group from Friday's visits, we were also going to be joined by Bennett Traub, and Alonso Tejeda and wife Lexi.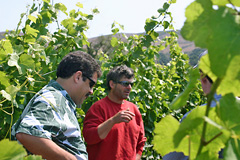 Peter Cargasacchi (c) discusses Pinot Noir with Bennett Traub (l), and Al Osterheld (r)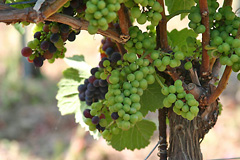 Notice the difference in degree of veriason (color change) of the Mt. Eden Pinot clone (above) and clone 115 (below)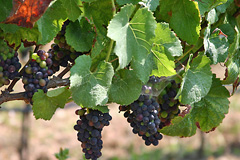 We followed Peter back to Hwy 1, and south to the Jalama Beach turnoff. Here, tucked into some rolling hills was Peter's 16 acres of Pinot (previously Pinot and Syrah), along with a bit of Pinot Grigio. We pulled our cars off the main road onto the dirt and walked with Peter over to the rows of vines. The vine rows are on an east/west face, in a variety of soils. The Pinot Noir was partially planted in 1999 to Mt. Eden clones, with additional plantings of clone 115 in 2001. The original Syrah vines were re-grafted to the new 828 Pinot. Peter has 450 acres of property here, so he also intends to plant the north ridge of the property at some point.
As we approached the vineyard, one of the interesting things immediately visible was the different stages of veriason on the blocks of Pinot. The 115 Pinot clone looked completely different from the Martin Ray/Mt. Eden Pinot clone right next to it. The 115 was almost finished, while the Mt. Eden was only 1/3-1/2 finished. Peter told us that 115 does indeed ripen earlier. Obviously, all clones are not created equal.
The vineyard is in an area known as Salsipuedes Canyon. According to Peter, the name originated as something of a warning, roughly translating to "flee, if you can." Apparently, bandits who preyed upon early California travelers would lie in wait in the Gaviota Pass, the natural pass between Santa Barbara and the Santa Ynez Valley. However, the inland route along the Santa Ynez River, and ultimately through this canyon provided much safer passage. Now, some might consider this with some suspicion, given that Peter does indeed tell some tall tales. But, we all told him we believed him. He just feels better that way.
Selected Tasting Notes:
...from bottle...
2004 Point Concepción Rose - SBC. A 50/50 blend of Syrah (the last from Jalama) and Viognier. Big blast of floral notes in the nose and mouth give way to a lightly sweet and crisp mouthfeel.
2004 Point Concepción Chardonnay - SBC. Very nice mineral, light smoke in the nose. Off sweet fruiti on the palate. Pretty darn nice!
...from barrel...
2004 Loring Pinot Noir - Brousseau Vnyd, Chalone. Big fruit, real nice, with lots of black cherry and a light cola aspect, and fruit-filled finish.
2004 Loring Pinot Noir - Keefer Ranch, Green Valley. Nose of espresso and a hint of roasted meats. Touches of forest floor in the flavor profile signals out Sonoma County.
2004 Loring Pinot Noir - Garys' Vnyd, SLH. Very nice strawberry and cherry aroma and flavor, with just a touch of orange zest near the finish.
2004 Loring Pinot Noir - Pisoni Vnyd, SLH. Roasted coffee and espresso aromas mingle with the deep rich black cherry.Tannic and tight in mouthfeel right now, but this is a huge wine, with a nice gripon the very long finish.
2004 Loring Pinot Noir - Rancho Ontiveros Vnyd, SMV. Nose of cherry and black cherry, with touches of coffee and raspberry. Juicy mouthfeel, lots of fruit throughout. Excellent!
...from barrel...
2004 Point Concepción Pinot Noir - Jalama Vnyd, SBC. Slightly reduced at this point, but there's a nice forest floor/Burg-like quality here.
2004 Cargasacchi Pinot Noir - Estate, SRH. This will be the first Estate Pinot under teh Cargasacchi label (rather than the Pt. Concepcion label). Dense, rich nose of black cherry, forest floor, and orange zest. It seemed way too early to be trying this wine, but it was very well balanced, filled with fruit, and had a nice long finish.
2004 Point Concepción Syrah - SBC. The last of the Syrah from Jalama, blended with some Syrah from westside Paso (prev. Moss Hill Vnyd). Still cool-climate influenced, with the profile more to the pepper and spice side of things, and a long off-sweet finish.
Leaving Jalama, we headed back into Lompoc to visit the home of Loring Wine Company and Point Concepción Wines in what is affectionately called "Pinot Prison," due to its proximity to the Lompoc Federal Correctional Institution. (It's actually closer to the dog pound, yet the pair saw fit to ignore any reference to that of course.) Currently, Andrew Vignello also makes his wine (AP Vin) here too.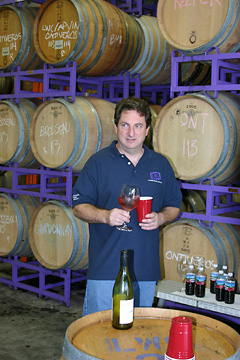 Brian Loring
This is Brian Loring's 5th vintage, and for my palate, it's his best effort yet. As alliterative as it might sound, Loring wines have always been fruit-forward, friendly, and flat-out delicious. However, everything I tasted this time around seemed to be kicked up a notch in complexity. In addition, he's added a couple of new vineyards for the '04 vintage - Keefer Ranch and Durell, both from Sonoma County. This also marks Brian's entry into full-time winemaking - no more day job - and none too soon, either. With 9 different Pinots, and plans to add even more for '05, I know why the guy does it (he's crazy about Pinot), I just don't know how was able to do it. Now, with the day-job behind him he'll finally be able to work 140 hours/week on wine-related activities. Also for '04, Brian will split the wine offerings between two release dates, one in the Fall and one in the Spring.
Peter Cargasacchi needs no introduction to those familiar with Pinot Noir. Planted in 1998, the very well-known Cargasacchi Vineyard has 16 acres of clone 115 Pinot in the western-most portion of the Santa Rita Hills AVA. There's not enough fruit to supply all of those who want to make a Cargasacchi Vineyard designate Pinot Noir, but those that do make one are quick to acknowledge that this is some of the finest Pinot Noir fruit in the state. Peter has also been making wine for a couple of years under his Point Concepción label. However, the '04 vintage will also mark the debut of his own Estate label. I guess even Peter had to admit that his was some of the finest Pinot Noir grown in California.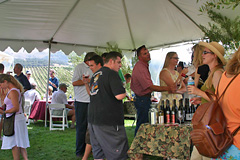 Pinot in the shade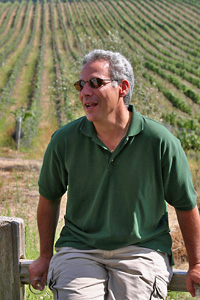 John Tomasso, relaxin' at Clos Pepe
Leaving Lompoc, we headed for the BBQ at Clos Pepe Vineyards. This is an annual event that Wes and Chanda Hagen, and Steve and Cathy Pepe put on for their Allocation List members. Here, the 2004 Barrel Samples were offered for tasting, with the wines offered as futures and with special pricing. The event also affords the opportunity to taste through several vintages of Clos Pepe wines made by other local producers! The BBQ features: Red Oak Barbecued Pork Shoulder with a variety of sauces and rolls. Turkey Italian, and Chicken Pesto Sausages with Baguette, and artisanal cheeses: Midnight Moon, Humboldt Fog, Red Hawk, Point Reyes Blue, Crescenza, Carmody Reserve. I seldom take notes at this event (I don't usually take them at dinners, either), preferring to relax, enjoy the wine, food, and camaraderie, plus shoot a few pictures.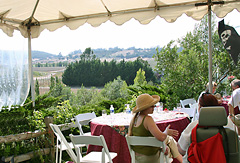 Room with a view
By way of background, Clos Pepe Vineyards is on a former 40-acre horse ranch that was purchased in 1994 by Cathy and Steve Pepe, Wes' mother and stepfather. Before setting up the 28-acre vineyard, the family consulted with Jeff Newton and Larry Finkle of Coastal Vineyard Care to site and plant the vineyards. Burgundian varietals are Wes' passion, and that's all that's grown here - with Pinot Noir claiming the majority of acreage, plus a small amount of Chardonnay. Although Clos Pepe sells about 90% of its fruit to the likes of Siduri, Ojai, Babcock, Loring, Clifton-Brewer and Hitching Post, they keep 3.5 acres (about 250 cases) of Pinot Noir to bottle under their own label. Yields have been down lately - sometimes almost miniscule at Clos Pepe. CP's first year of production was 2000, the critics noticed, about the rest as they say is history.
The Hagens and Pepes are phenomenal hosts, and this BBQ is their way of thanking their allocation list members. We could easily have stayed all afternoon, but the BBQ ended at 4:00 and we had another stop to make before our dinner reservation at the Hitching Post in Buellton.
Both Jay and I had heard that a new winery named Ambullneo was having an Open House, right after the Clos Pepe BBQ. Jay first heard of the winery through friend Barry Torres - who is also involved in the venture. When first told about Ambullneo, I hadn't heard of the winery, so I decided to check out their website. My first surprise was that Ambullneo wasn't the owner's name, it was actually the name of a new breed of dog - a cross between an American Bulldog and a Neopolitan Mastiff - Am-Bull-Neo. My second surprise was that they had already been in production for one vintage. And, my third surprise was the pricing, which seemed quite lofty for a new operation.
With names like Chardonnay Big Paw and Pinot Noir Bulldog Reserve, it'd be easy not to take Ambullneo seriously. But, when critic Robert Parker gives the '03 Chard 92 points, and the '03 Pinot 93 points, you have to take notice. At $40 and $65 respectively, one might also expect that the wines have risen to their highest price points. Apparently not. The '04 versions of both of these wines will be at even loftier $59 and $79 respectively. In addition, there will be a Mastiff Cuvee Pinot from Carneros for $79, and a Canis Major Pinot Noir - California AVA because it's a blend from the north (Carneros) and the south (Santa Maria Valley) for $95.
Proprietor Greg Linn and winemaker Scott Ames have their sights set high. Barry Torres led us around the back, pointing out with obvious pride the gleaming new stainless steel tanks and equipment. There was no question that these folks are making a heavy investment - and consequently, a commitment to make great wine. Scott's winemaking includes about 50% whole cluster fermentation, with 50% new oak. Their first decision was to blend each and every wine, thus purposely not becoming a site (or vineyard) dependent winery, as they saw it. Or, as Greg Linn put it, "Not being at the mercy of single vineyards enhances the quality of every vintage...What if Burgundy could blend La Tache, Musigny and Chambertin? Just imagine the results." Sourcing fruit from Solomon Hills and Bien Nacido locally, and from the Hyde and Hudson vineyards in northern California,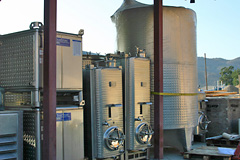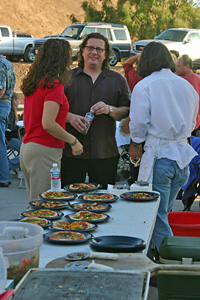 So, Jay, Al and I decided to see what all of the fuss was about, and headed out to Bien Nacido Vineyard to attend the Open House (well, we were invited). When we arrived, a band was already set and playing, and the crowd was happy. The mobile Hitching Post BBQ was on-site serving tri-tip, and there were slices of designer pizza as well as various other munchies. Heck, we easily could've done dinner right here.
One of the Ambullneo people was pouring from an un-Godly sized champagne bottle, and they were trotting out their newer wines frequently - this, in addition to the various other bottles that wishing-you-well'ers like Jim Clendenen were heaving up on the table -- as I said, we could have stayed for dinner and drinks! But, we did have other plans, so I asked one of the HP people if they knew of a shortcut back to Buellton. Sure, she said, take the blah-blah to such and such, then right on 246 and you're there. I nodded incoherently at the instructions, and off we went. How were the wines? They were very-good to excellent. Were they worth the bucks? Wel-l-l-l-l, assessing wine's selling price is awfully subjective. Sound like I'm hedging? Yeah, I guess I am.

...offline wines - Hitching Post restaurant...
2003 Copain Broken Leg Viognier
1999 Thackrey Orion
1997 Ojai Stolpman Syrah
2000 Saxum Bone Rock Syrah
2001 Copain Cailloux and Coccinelle Syrah
2002 Sine Qua Non Just for the Love of It
2002 Copain Broken Leg Syrah
???? Carlisle Dry Creek Syrah
2001 Alban Reva Syrah
2002 Alban Seymour's Syrah
1996 Tardieu Laurent Cornas
1999 Tensley Purisima Mountain Syrah
1999 Clos Pepe Beckmen Syrah
1997 Babcock Black Label Syrah
1999 D'Arenberg Dead Arm
2001 Lookout Ridge Gabrielli Syrah
2000 Testarossa Garys' Syrah
2000 Kathryn Kennedy Syrah
2000 Ojai Thompson Special Bottling Syrah
2002 Hitching Post Cargasacchi Pinot Noir
2001 Suduiraut Sauternes
Dinner that night was at the Hitching Post II in Buellton. John Tomasso made the call, requesting a reservation for "up to 20" people, which elicited more than a little laughter from the staff at the HP. 'Twenty people? Saturday night? Hahahahah.' But, John's tight with the HP folks and hung in there until they decided we could have a seating at 8:30 - two tables, nearly contiguous. That was fine with us - nobody was complaining. Given the Sideways effect to both the area and the HP in particular, we were lucky to be seated at all.
Shortly after our seating, Frank Ostini came over to see if he recognized anyone in this group of 20. He certainly did - nearly all of us, and he hung out awhile, even giving us a bottle of HP Cargasacchi Pinot, since Peter was dining with us. Just what we needed - more wine, we told him, and proceeded to have some nice beef with our Syrah...oh, and Frank and Peter's Pinot, too.
Sunday, August 7, 2005 - Santa Barbara County
Up early (seems we're always up early), we still had some time to to get breakfast before heading up toward Santa Maria. We'd already been to Hi's, so we were looking for somewhere different, but where? Al and I remembered something John had said the night before, "...there's always the Cajun Kitchen," in Lompoc. Since John takes his food seriously, we had to assume this was a worthy place. He was right. Just after we were seated, hordes of local folks (along with some of our group) started arriving for breakfast. The plan for the day was to meet up with Paul Lato at a Santa Maria Valley vineyard named Solomon Hills. John was right - he food was very good. After breakfast, we headed north toward Santa Maria to meet Paul.
Paul Lato
Solomon Hills Vnyd
Selected Tasting Notes:
...from bottle...
2003 Paul Lato "Duende" Pinot Noir - Gold Coast Vnyd, SMV. Martini clone. Beautiful strawberry and cherry, interwoven with hints of grilled meat and citrus. Long silky finish. Paul's first release, from .9-tons/acre!!
...from barrel...
2004 Paul Lato "Ray" Pinot Noir - Gold Coast Vnyd, SMV. Martini clone, from 1.5 tons/acre yields. Sweet purity of black cherry and strawberry fruit, with a touch of cocoa. Beautiful balance, delicious throughout.
2004 Paul Lato "Magdalene" Pinot Noir - Solomon Hills Vnyd, SMV. New François Freres barrel, with heavy toast. Nose of strawberry, witha hint of rhubarb and touch of candied orange peel. Lots of structure, juicy acids and long lovely finish. Wow!
...from bottle...
2002 Paul Lato "Longshot" Syrah - Bien Nacido Vnyd, SMV. 1/3 new oak. Nose of blackberry, clove and mineral. Beautiful silky mouthfeel, lots of fruit, juicy acids, off-sweet long luxurious finish. Wow, again!
I'd first met Paul Lato at the '05 Wine Cask Futures tasting in March. Once again, a mid-west friend - this time Chris Gross, put me on to someone pouring some terrific wines, Pinot and a Syrah. the wines were stunning - yes, stunning. Paul and I talked briefly, and we agreed to talk more, at some mutually convenient time.
Well, weeks led to months and the next time I ran into Paul was at the '05 HdR in May. He was performing sommelier duties for the event - he and a dozen other sommeliers were pouring wine for the 400 participants at each of the seminars. I mentioned that I'd be back in Santa Barbara County in August, and promised to call/write him.
I called Paul in July, and after some phone tag, we had a visit set - well, almost. Like many others in the wine business, Paul has a day job. So, we needed to work around his schedule. Sunday would work best for him, but he wouldn't have access to his wines at Central Coast Wine Services (CCWS) in Santa Maria. We could meet you at a vineyard, I suggested, explaining that we often did this, and in fact found it almost more rewarding - actually tasting wine from its own vineyard! So we agreed to meet him Sunday morning at the Solomon Hills Vineyard, near Orcutt on the east side of Hwy 101.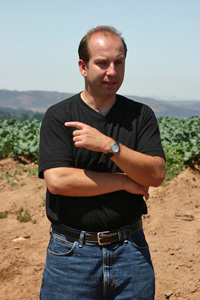 Paul Lato
Solomon Hills, planted in 1999 is owned and operated by the Miller Family, who also own the Bien Nacido vineyard. The Solomon Hills site is one of the coolest in the Santa Maria Valley - in fact, from a geographic standpoint, this vineyard is actually closer to the ocean than many of the vineyards in the Santa Rita Hills. The vineyard itself is divided into four different blocks - each one planted to a specific clone and rootstock best suited to soil type and microclimate. The vineyard shares common soil with the famed Sierra Madre Vineyards formerly owned by the Mondavi organization. 2003 is the second year the vineyard has produced a crop. Currently, Foley, Tantara, Flying Goat, Ambullneo, Ojai, Summerland, Hartley-Ostini (Hitching Post), J. Wilkes and Paul Lato, among others, source fruit from here.
Exiting Hwy 101 at Clark, we parked at the side of the road to wait for Paul. Unfortunately, we'd gotten our signals crossed, and Paul was waiting a mile further up the road. But, when we didn't show up, he finally came looking for us - thanks, Paul! We followed him up to Telephone Rd, and turned into an access road that led to the Solomon Hills Vineyard. We parked on the side road, and Paul introduced us to his fiancee Kascha, whom he met just after last year's World of Pinot symposium. After chatting for a few minutes, we followed Paul down the gentle slope to a strategic point in the vineyard. He described his passion for wine and the vineyard.
Paul is originally from Poland, emigrating to Canada, where he was a sommelier for 12 years in Toronto. He moved to this area in '96, working harvest with Jim Clendenen. This will be Paul's 3rd year working harvest at Solomon Hills. He says he agonizes about winemaking decisions beforehand (to which his fiancee nods with a smile), but once the decision is made he has no regrets. He tries to "cater the winemaking to the vintage," and the 2004 vintage presented special problems, which he dealt with accordingly. Paul did add some water to the must, and acidulated within the first 4 days of cold soak.
Paul wants his wines to "age comfortably" for 6-7 years. We asked him what kind of 'style' he was going for with his wines. He replied that he strives to make his wines something akin to a "swiss clock with a gypsy soul." Ordinarily, that might sound real corny. But, from Paul we completely understood - wine was his passion. We complimented Paul on his obvious zeal, and on his exquisite wines. But, it was winemaker Yves Cuilleron who probably paid Paul the highest compliment when he told him that his wines were "the most French tasting, outside of France." We couldn't have said it better ourselves.
Trip over, it was time for all of us to head our separate ways. It was another interesting and revealing series of visits, and we met a lot of great people along with way. Many thanks to all of those fabulous people who grow wine. They make life fun.
---
---
Copyright © 1993 - 2005, Eric Anderson -
All rights reserved
No original material may be reproduced without written consent
Mail & Comments - Eric Anderson