Vol. 14 No.2 - August '06


Journal and tasting notes from visits to several California wineries and vineyards. The main focus of our trip was to attend the Clos Pepe BBQ and futures roll-out at the CP vineyard on Saturday, August 12th. But, this merely gave us an excuse to repeat what we did last year -- visit a few other wineries and vineyards on the Central Coast over the weekend. We'd planned to spend Friday in Paso, then head south to the Santa Barbara County for Saturday and the early part of Sunday. Jay Selman and I headed up to Paso Robles, where we were scheduled to meet up with several folks from the Bay Area (Bob Summers, Paul Hidalgo, Ken Zinns, Al Osterheld, Eric Lundblad, Paul Homchick, and Jim Hanlon), in other words, the 'usual suspects.'
Thanks: special to Roger Nicolas at RN Estate, who received us at his house - the day before his daughter's impending wedding! Thanks also to the Denners, Marilyn and Ron, for their hospitality at this impressive facility. And many thanks again to Justin Smith, who seems to always make time for us wine geeks to pay a visit, and see first hand the amazing soils that are Bone Rock. We absolutely never tire of walking this beautiful vineyard - oh, and taste those scrumptious wines, too!

In Santa Barbara County, a special thanks to Greg Brewer for making time for us on a busy day, to show us his new project, Diatom. A huge thanks to Steve Russell, who welcomed us into his house, introduced us to Prodigal, and invited us to stay for lunch as well. Thanks again to Wes Hagen and family - they put on quite a bash at this annual event. Many thanks to Matt Dees for his very comprehensive tour of Jonata Vnyds - destined to make a name for itself. And finally, to James Ontiveros - to taste all the vintages of Native 9 - what a treat!

Barrel Tasting: even though barrel tasting is one of the most instructive ways to sample wine, it is also something that causes more than a little angst among winemakers. The fact is that the wines being sampled from barrel haven't finished their infancy yet - they are still going through growth and development in the barrel, and haven't reached the point of bottling. Therefore, winemakers are often reluctant to expose their barrel samples to the public - concerned the wines may be misjudged or unappreciated by tasters during this growth stage. Since the tasting notes in this report contain many barrel samples, please note that my impressions relate only to the wine at its current stage of development.
Paso Robles
Leaving Irvine early on a Friday morning is getting to be a regular thing - but, it's the only way get through L.A. before the traffic get unbearable. This trip has become something of a regular weekend road trip for many of us, starting first in Paso, then continuing down the coast to Lompoc and Buellton.
I've always liked this taking trip - we really push the envelope to get to as many places as possible over the weekend, making an effort to find some new, undiscovered, or otherwise untapped places to visit in the process. This year proved to be no exception. Ken Zinns and I found a French expatriate named Roger Nicolas, (actually, he found us) at Villa Creek one night during Hospice du Rhone. We tried his wines and liked them, and figured we'd look him up in the near future. We had also lined up visits to Denner and Saxum - completing our hat trick for Friday.
On Saturday, we'd lined up an early morning visit with Greg Brewer at his new Diatom project - stainless steel fermented Chardonnay. This was followed by a visit with Steve Russell and his wife Mary to hear, see, and taste their new project, Prodigal Wines - a Pinot Noir from Sta. Rita Hills. Then, off to the Clos Pepe event, after which we'd scheduled a visit to a new endeavor called Jonata - a fascinating project by the new owners of Screaming Eagle. Finally, on Sunday we had a visit scheduled with James Ontiveros to see his eponymous vineyard, Rancho Ontiveros and taste through a few vintages of his wine, Native 9. That might be enough for most people, but Jay had arranged for us to interview Manfred Krankl as a side stop on the trip back home. So, our plate was full.
Selected Tasting Notes:
...from bottle...
2004 RN Estate "Cuvee de Trois Cepage " - Estate, Paso Robles .
Lots of ripe fruit here, with plenty of mouthfeel; good balance of flavors, and nice long finish. 66% Cabernet Sauvignon, 20% Cabernet Franc and 14% Merlot makes this a classic Bordeaux blend.
2004 RN Estate "Westside Cuvee" - Paso Robles.
Slightly less ripe than the previous wine, and a bit more inviting in the aromas of dark cherry and herbs. Delicious flavors, excellent balance, and long fruit-driven finish. 44% Cabernet Sauvignon, 24% Cabernet Franc, 17% Merlot, 12% Petit Verdot and 3% Malbec.
2003 RN Estate "Young Vine Mourvedre" - Estate, Paso Robles.
Lots of gamey notes, with almost a whole-cluster aroma. Nice flavor profile, good balance and finish. The use of neutral François Frères clearly left the fruit in the forefront.
2003 RN Estate "Young Vine Zinfandel" - Estate, Paso Robles.
Slight tart quality to the young fruit here, which ironically seemed almost "old vine" in texture and ripeness (mostly American oak; 14.9% alcohol). Nice job here!
2003 RN Estate "Cuvee de Artistes" - Estate, Paso Robles.
A blend of 48% Syrah, 40% Cabernet Sauvignon, 9% Cabernet Franc and 3% Zinfandel
2003 RN Estate "Syrah-Mourvedre" - Estate, Paso Robles.
This blend of 83% Syrah and 17% Mourvèdre combined the spiciness of Syrah and some of the gaminess found in the mourvedre - for a very nice combination!

After meeting up in Paso, we caravanned north to San Miguel, and looped back to RN Estate. I'd first met Roger Nicolas at Villa Creek, during the week of the '06 HdR. After our annual offline, Ken Zinns and I were leaving the restaurant when I heard someone call my name. It was Steve Anglim (Anglim Winery) who asked us over to sit with he, Stephan Asseo (L'Aventure) and Roger. The three of them, along with Stacy Jacobs from the Paso Vintner's Assn were entertaining a wine writer, but they wanted to pour us some wine. Well, we like wine, so it was a natural fit. Roger came from France to this country over thirty ago. He spent most of that time in the restaurant and hospitality industry, but, as with Stephan Asseo, thankfully ended up in the Paso Robles region, growing wine.
After our chance meeting, I contacted Roger to see if he'd be available for a visit during this trip. However, it turned out his daughter was getting married on this particular weekend, so we decided to try and get together another time. Then, about a week beforehand, timing changed for Roger - his daughter was still getting married - but not until the following day. So, even though (or because) he had many guests coming, he intended to have a bunch of wine open anyway, and asked if we were still interested in visiting. Sure, I said, and we were all set.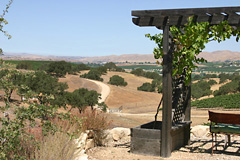 Roger's place is out on a benchline or ridge overlooking River Road. It seemed as though we drove back in off the road quite some distance before coming to Roger's house. Approaching the gate, we could see that he had a nice hilltop location. Coming up the road in a small cloud of dust, our 4 car caravan (9 people) must've looked foreboding to the Nicolas family, who, as we found, were indeed preparing for a wedding to take place the next day. Introductions were made all around, and we extended our congratulations to lucky couple. Would we like to to taste the wines, asked Roger. But of course, we all replied. The family had a huge Great Dane (I suppose huge and Great Dane are redundant) who wandered between us all the while, and we needed to be careful as we maneuvered around the patio with our wine glasses.
Roger focuses on Bordeaux varietals from his own vineyards, along with a bit of Zinfandel, Syrah and Mourvedre. And, as seems to be characteristic for someone without pre-conceived conclusions about California wine, he's not shy about cross-blending some of these varietals. For 2006, Roger will also be producing a Pinot Noir, from the Fiddlestix Vineyard in the Sta. Rita Hills.
Selected Tasting Notes:
...from bottle...
2005 Denner "Theresa" Roussanne - Estate, Paso Robles.
Mostly Roussanne (70%), with 30% Viognier, this has a nice mellow, lightly honeyed-nut aroma and flavor, giving it a rich mouthfeel, yet with plenty of crisp acids for balance.
2005 Denner Viognier - Estate, Paso Robles.
Very nice floral and apricot scented nose. Slightly rich texture, but beautifully crisp on the palate, with excellent balance and tasty long finish,
2004 Denner Syrah - Estate, Paso Robles.
Nose of blackberry, with the barest hint of anise, tar and a nice scent of clove. Rich and very concentrated mouthfeel, yet with very good balance and flavors. Saw 2/3 new oak.
2004 Denner "Ditch Digger " - Estate, Paso Robles.
This GSM blend (Grenache, Syrah, and Mourvedre) seemed a little restrained in the nose, but with nicely balanced flavors on the palate, and tasty finish. The name here is obviously a nod to the Denners previous business (Ditch Witch).
Leaving Roger and family, we headed back toward Paso, through town and onto Hwy 46 West. A couple of turns later we were at the gate for Denner Vineyards.


I knew of Denner Vineyards, having seen their hilltop house under construction during a previous visit to Saxum winery. Wow, what's that over there, I asked Justin Smith at the time. Oh, that's the Denner place, he said, telling me he was going to make some wines for them. Hmm, I thought, might be a good place to visit someday.
I was only recently reminded about visiting Denner Vineyards when another SoCal wine geek, Brian Gould, suggested a few weeks earlier that I give them a call. The Denners had owned and operated several Ditch Witch equipment dealerships in Colorado, Utah and Idaho, and were apparently ready to return to their California roots.
After a few years of planning and preparation, the Denner's had Justin Smith begin planting in 1999. By 2005, the Denners had completed their state-of-the-art, gravity flow winery, just in time for the 2005 harvest. The 126 acre vineyard is planted to Syrah, Grenache, Mourvedre, Viognier, Roussanne, Cabernet Sauvignon, Merlot, Cabernet Franc, Petit Verdot, and Zinfandel. I wondered about the decision to plant so much Cabernet, and wass told that they had plenty of local customers, and may ultimately decide to keep it all for themselves. Hey, maybe Cab's coming back I thought to myself.
Arriving at the winery, it was easy to see that completion of the facility was fairly recent, since most of the landscaping hadn't filled in as yet. met Ron and Marilyn Denner inside the spacious tasting room. Marilyn showed us the blueprints of the facility to give us a cross-sections idea of the gravity-flow design, and after a taste of some Viognier, we took off on a little tour.
Justin Smith from Saxum had done some consulting and acted a winemaker the first year (2003), but as often happens with family-run operations, Marilyn and Ron's son, Brian has taken over as winemaker with the 2004 harvest. Brian got his feet wet with a couple of local wineries, decided he liked it and headed off to Fresno State for his enology degree. Following stints with Bob Cabral at Williams Selyem and Byron Kosuge in Chile (which interestingly gave him to opportunity for two harvests per year), Brian was ready to "settle down," and took over winemaking at Denner with the 2004 harvest.
One of the more interesting things in the winery, were the cold rooms. Specially constructed, they have a lower ceiling and doorframe, allowing the cooler air to stay put. Denner operates an "alternating proprietorship" (aka, custom crush) at the winery, so local winemakers like Scott Hawley and a few others are able to make their wines here. Denner's production was 1,000 cases last year, and they'll be climbing and maybe level off at 4,000 cases next year.
With the next visit one ridge over at Saxum, the old saying 'you can't get there from here' occurred to me. We retraced our steps back out Vineyard onto Hwy 46, and then east to Willow Creek to get to Saxum. They're right across the road from each other as the crow flies, but that didn't do us much good. It was fine, because we did need to get some lunch, and on Marilyn's suggestion we stopped at the apple cider place on Hwy 46. Very nice - they had a cheese, olive and cold-cut platter, sort of a "ploughman's" lunch, and we grabbed a loaf of bread to compliment things.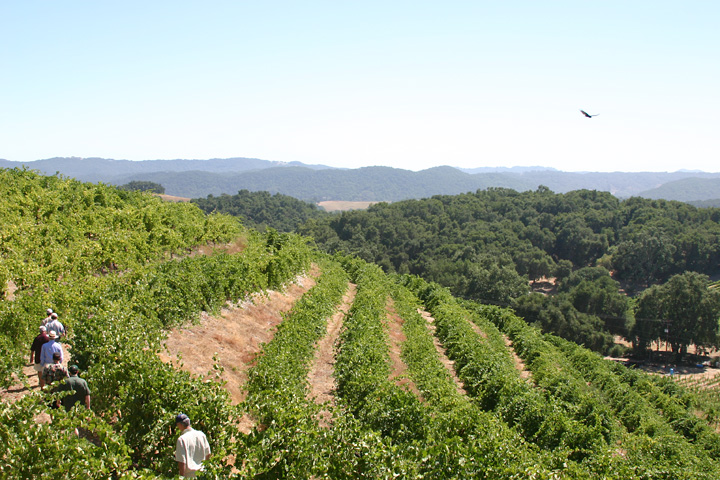 Selected Tasting Notes:
...from barrel...
2005 Booker Vineyards - Booker Vnyd, Paso Robles.
Very seductive nose of ripe black fruit, coffee, vanilla, and chalky minerals. This 100% Syrah is from a new vineyard source near L'Aventure on the Westside; Justin is currently making a small amount of wine for the owners.
2005 Saxum "Rocket Block" Grenache - Estate, Paso Robles.
Big, slightly bright raspberry in nose and mouth. At once seems rich and smooth, but also a bit gnarly, with a nice sappy core, excellent balance and long finish.
2005 Saxum "Bone Rock" - Estate, Paso Robles.
Justin was more selective for '05 bottling, taking just the top of the block (the rest went into the JBV). Black fruit in the nose, smooth and rich in mouthfeel, and packs an interesting earthy streak, yet no mourvedre in this bottling.
2005 Saxum Syrah - Booker Vnyd, Paso Robles.
Nice rich nose of black fruit, minerals and a touch of iodine. Excellent balance of flavors, and nice long finish.
2005 Saxum "James Berry Vnyd" - Estate, Paso Robles.
Probably the gamey-est of the our barrel samples, Justin told us this was all clone 470, and he used a high % of whole cluster fermentation to jack up the complexity.
...from bottle...
2004 Saxum "James Berry Vnyd" - Estate, Paso Robles.
The Grenache for this almost equal part GSM blend is mostly from "Rocket Block," and it seems to carry through in both the nose and mouth with lots of red raspberry. Lots of nicely balanced flavors,good mouthfeel, and slightly crisp finish.
2004 Saxum "Broken Stones " - Estate, Paso Robles.
About 75% Syrah, this wine has a stunning backbone, and a canny resemblance to many Northern Rhones. Dark fruit, earthy scents and a gorgeous balance make this very nice now, but undoubtedly better with some age.
2004 Saxum "Bone Rock " - Estate, Paso Robles.
Slightly riper than the previous wines, this is very smooth throughout, with a very nice balance. This wine's size is deceptive, and it seems to get denser from mid to latter palate.
2004 Saxum "Heart Stone Vnyd" - Paso Robles.
About 60% Syrah, with 30% Mouvedre and 10% Grenache. Arguably the more complex of the Saxum wines, there is lots of stone and mineral qualities, as well as a nice earthy streak to accent the red and black fruit. Very nice balance and finish.
Arriving at Saxum vineyard, we were met by Justin Smith out in front of the winery adjoining their home, right in the middle of James Berry Vineyard. Justin's family owns and farms the James Berry Vineyard, which has established itself as one of the premiere vineyards on the Central Coast, and California for that matter.
Well, what do you guys want to do, Justin asked. I'm sure tasting a little Saxum was on everyone's mind, but I also knew that several in our party had not seen the famous Bone Rock block, a steep and rocky slope responsible for some beautiful Syrah. How about quick a tour, I asked? Sure, follow me, said Justin.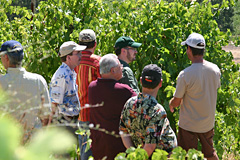 Down the somewhat steep incline we went to get to the vineyard. We wandered between the rows, where Justin described everything from the Templeton Gap cooling effect, to the plantings, the soil, and the age of the vineyard. This was exactly the kind of stuff we love to hear and I'm sure we all could've listened to even more of it. But, we were just as eager to try some wine, so after checking out the view and getting a close-up lesson on the shale-strewn soil, back up the hill to the winery we went. Justin stopped at one point to indicate a large rock pulled from the vineyard when they ripped into the hillside . Look at the fossil right here, he said, pointing at the indentation in the chalky rock.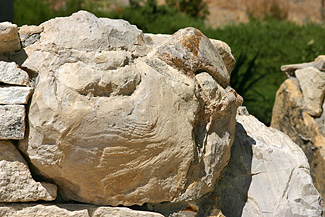 Once back in the winery, Justin tasted us through many of the barrels, and several bottles, and we had a great time. We talked about the potential for water shortage in the Central Coast, and how quickly he thought this might become an difficult issue. It already is, he explained, and at $10-15k to drill a 400' well, it's certainly an issue for new vineyards. We also asked his opinion on what was driving the increased alcohol levels of many of today's wines. "Taste," was his simple answer - it's what the consumer is looking for, richer, riper wines carry more alcohol Justin explained. We all knew it, the press was filled with it, and I guess that made it unanimous - we were the ones to blame. We also remarked that we'd generally perceived a change in the Saxum wines -- they seemed more balanced. Justin agreed, acknowledging that his own tastes have changed, and this is what we were noticing. I love to hear that winemakers are making wine for themselves! The conversation about James Berry Chardonnay came up, and we were surprised to find out that someone was very interested in it because it was in fact old vine.
So, what's it like to have a bunch of wine geeks descend on you, asking a bunch of questions, I wondered aloud to Justin. Oh, I like it, he replied convincingly. Very nice, I thought to myself -- here, Justin liked having us come by, and we were only too happy to oblige.
...offline wines - Bistro Laurent restaurant...
2003 Calera Viognier
2003 Ramey Chardonnay Hudson
1999 Talley Pinot Noir Talley
2002 Dom. du Comte Liger-Belair Vosne Romanee La Colombière
2004 Alesia Pinot Noir Sonatera
2002 Calera Pinot Noir Reed
2005 Redline Pinot Noir Cedar Lane
2002 Radio Coteau Pinot Noir Hellenthal
2004 Kosta Browne Pinot Noir Sonoma Coast
2001 Copain Syrah Cailloux & Coccinelle
2004 Redline Syrah Eaglepoint
2004 Redline Syrah Blue Oaks
1989 Chateau Rieussec
We said goodbye to the Smiths and headed back down the hill to town. Dinner that night was at Bistro Laurent. We had Larry Roberts (Redline wines) joining us, and I'd set up dinner knowing that the BL was not a free the corks type of place. However, I had hoped to make some sort of arrangement with either Laurent Grangien or Kevin, the Matre'd. We had a fabulous meal, and escaped with $10/person corkage. We were very satisfied, and most definitely will return again.
We even garnered some attention with other diners. A fellow from out of state came over - fascinated to see a group with this many wine bottles on top of the table, without the people being under the table. We were the envy of the patio, and all we were doing was having fun. Life is good!
Saturday, August 12, 2006 - Santa Barbara County
Up early for our trip to the self-styled "Lompoc Wine Ghetto," home to the likes of Longoria, Sea Smoke, Brewer-Clifton, Fiddlehead, Stolpman, Samsara, and Palmina. Greg Brewer had graciously agreed to see us early to allow him to tend to family obligations later in the day. Well, 'wine at Nine, mighty fine.'
Selected Tasting Notes:
...from bottle...
2005 Diatom Chardonnay - Clos Pepe Vnyd, SRH
Lots of pineapple, crisp juicy acids - steely mouthfeel. Fabulous balance, with just a touch of lemon grass flavoring the natural light pineapple fruit. Clean fresh finish. 15.7 % alc.

2005 Diatom Chardonnay - Huber Vnyd, SRH
Richer and more tropical in the nose, full and chewy mid and latter palate. The fruit softens over time in the glass, but retains plenty of weight. 16.1% alc.
We met Greg Brewer, co-proprietor of Brewer-Clifton and winemaker for Melville, to get a run down on his latest project, Diatom. Greg is a busy guy, but he never lets it interfere with running tight ship - and if you know Greg or have visited him at a winery, you know what I mean. First off, the place is spotless, and very - I mean VERY, organized. An operating room should BE this organized. It was with this in mind that I worried about something. I'd last mentioned to Greg we were going to be a party of 6, and had forgotten to tell him that our group had gotten larger.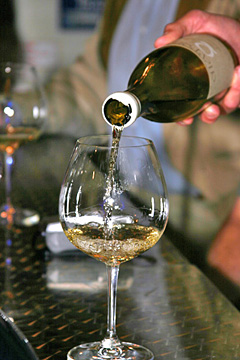 When we got there, I could see that he'd planned accordingly - setting 6 places at a portable table with a faux machined stainless steel top. Oh, there's more of you, he said, on spying the size of our group. I apologized for not keeping him up-to-date with our additional members (we were up to 10 now), and offered to help in some way. Oh, no problem, he said, showing a lot of flexibility as he pulled in another portable table, cleaned additional glassware, and promptly set additional places. Amazing, I thought - what a perfectionist. I was happy with that conclusion, as Greg seem every bit a perfectionist - at least by my definition of the word.
With all of us seated, Greg put 2 chilled bottles of Diatom on a stainless cart with wheels and rolled it over closer to the table. As Greg carefully wiped each of the additional glasses, he explained what Diatom was all about. There were currently two wines - he's looking for a 3rd vineyard source, but that's all (he likes doing things in 3's). His intention is to create the essence of Chardonnay, not unlike the stainless steel fermented Inox Chardonnay he makes at Melville winery. However, with Diatom he is picking riper (~25.5), using cold fermentation in stainless steel, no malolactic fermentation, and the wine stays on lees until bottling. As to any differences with the Melville Inox, Greg says he picks once only for the Diatom, versus multiple picks for the Inox. He shared a little anecdote about explaining to someone about what he was trying to accomplish with Diatom. when Greg had finished, the poor fellow asked if he'd be doing a Pinot under the Diatom label too. "Pinot? No! NO! Only Chardonnay - you so don't get what I've been saying." (At this, I made a note to myself not to ask any of my usual stupid questions.)
The wines were marvelous - to most of our palates (Francophiles probably need not apply). The alcohols were up there, but didn't seem to be noticeable in the wines. This level is not at all unusual in these times - especially in California, where winemakers seem to relish in pushing ripeness of fruit to the max.
It continues to impress me how someone, seemingly satisfied with two major wine projects, embarks on yet a third. Well, considering the passion and aptitude Greg Brewer has, I'm sure he'll succeed at this one as well.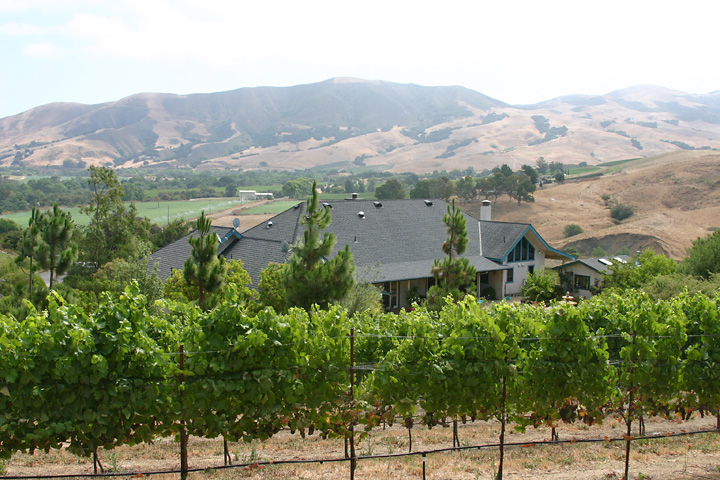 Selected Tasting Notes:
...from barrel samples...
2005 Prodigal Pinot Noir - Rio Vista Vnyd, Sta. Rita Hills.
Clone 2A. Wonderful nose of fleshy dark fruit, with touches of spice and floral notes. Tons of fruit, nice balance and acidity.
2005 Prodigal Pinot Noir - Estate, Sta. Rita Hills.
Clone #777, these vines are on their own roots, and grown from cuttings obtained from Julia's Vnyd. Nice strawberry aromatics, and flavors - bit more narrow in focus, but very tasty.
2005 Prodigal Pinot Noir - Estate, Sta. Rita Hills.
Clone #667. Combination of black and red fruit , with nice a nice lush spiciness, very smooth mouthfeel, and nice balance.
2005 Prodigal Pinot Noir - Estate, Sta. Rita Hills.
Clone #777. (new barrel) Nose of dark fruit, and touch of earth. Lots of structure here, and more grip to the latter palate. Wonderful balance and finish.
2005 Prodigal Pinot Noir - Estate, Sta. Rita Hills.
Clone #777. (neutral barrel) Same wine as above, but from a neutral barrel, so the fruit really shines through in the nose. Mouthfeel much more accessible and lush.
2005 Prodigal Pinot Noir - Sta. Rita Hills.
This was the final blend on the Estate bottling. Lots of black cherry and wild strawberry aromas in the nose. Edgy and structured in mouthfeel, this shows huge potential.
2005 Prodigal Pinot Noir - Estate, Sta. Rita Hills.
This final blend on the AVA bottling is 60% 777 and 40% 667. Much more to the black cherry side of things, with a very smooth and refined mouthfeel and very nice long finish.
Next, we were off to Steve Russell's place, Prodigal Wines. Located off Santa Rosa Road in the Sta. Rita Hills. Steve is on the south side of the road, across from Lafond Vineyards. This is a relatively new operation, and I'd been tipped off to look in on them before the word got out.
We met at the Steve and Mary Russell's house. Steve, a tall bearded fellow with a professorial look about him came out to greet us. I hadn't met Steve before, but as it turned out he was at the Wine and Fire event, so I immediately recognized him. After introductions and some general chat, we went out to the patio where Steve explained who he was and how he came to this place - which was, in fact, a fascinating story.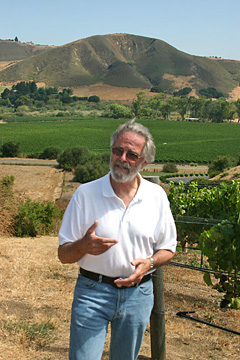 Steve, it turned out, was the first UC Davis-trained enologist hired by Gallo back in the early '60s. After a Gallo daughter married and her husband ascended rapidly in the company, Steve realized that his future with Gallo was limited. It was then that he and a friend attempted to buy the historic Freemark Abbey winery in Napa. Unfortunately, the price was just out of reach. Disillusioned about the wine business, Steve embarked on a career of veterinary medicine, settling in Kansas City. While he was back east pursuing a degree, Steve got a call from BV. They were looking for a replacement for André Tchelistcheff, who was stepping down as chief winemaker. It was a pivotal moment for Steve, but he chose to continue on with veterinary medicine. Visiting California many years later, he and his wife Mary knew they wanted to stay here, and the couple were fortunate to find a house in the Sta. Rita Hills, and were able to plant a small vineyard. So, the name Prodigal is altogether fitting, considering Steve sees himself as the prodigal son returning to California's vineyards. In fact, Prodigal's tagline is, "...a wine fifty years in the making." Arriving at Prodigal's
Steve asked us to follow him up to the upper portion of Quinta Santa Rosa Vineyard. From here, we had a commanding view looking north toward the Santa Rosa Hills, and slightly west to the Santa Rita Hills. From this upper bench, we went down to look at the lower vineyard. It was a steep drop down the side of the hill on the east side of the property, and some of us elected to traverse the hill to bottom, while the rest of us drove a couple of cars down to the lower vineyard via an access road. Steve has the property farmed by Central Coast wizard, Jeff Newton, and pays Jeff's minimum fee to keep him involved - which is a statement in itself about Steve's determination to get the best fruit. Currently, while Steve is winding down his career of the last 30 years and transitioning back to his roots, Norm Yost is serving as Prodigal's winemaker.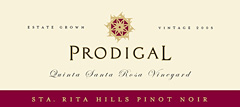 The vineyards tour complete, Steve had arranged for us to taste several clones and blends of his wines back at the house, including those scheduled for release in January. Seated around the dining table, Steve had arranged separate glasses for each wine. This was a perfect setting - almost like barrel-room tasting, only we were nice and comfy inside...and were were sitting down!
This would have been a terrific end to an enlightening visit...but wait, there was more. Steve and Mary invited us to stay for a light lunch of cheeses, crackers, olives, appetizers, and crudities. And, to wash all this down was some Prodigal Estate Pinot Gris.
The morning shift now complete, we headed back into Lompoc to check into our motel rooms, then it was off to Clos Pepe. This was the debut of the new Clos Pepe house, a beautiful place built by Steve and Cathy Pepe on the same footprint as the previous horse stables.
Leaving Lompoc, we headed for the BBQ at Clos Pepe Vineyards. This is an annual event that Wes and Chanda Hagen, and Steve and Cathy Pepe put on for their Allocation List members. Here, the 2004 Barrel Samples were offered for tasting, with the wines offered as futures and with special pricing. The event also affords the opportunity to taste through several vintages of Clos Pepe wines made by other local producers! The BBQ features: Red Oak Barbecued Pork Shoulder with a variety of sauces and rolls. Turkey Italian, and Chicken Pesto Sausages with Baguette, and artisanal cheeses: Midnight Moon, Humboldt Fog, Red Hawk, Point Reyes Blue, Crescenza, Carmody Reserve. I seldom take notes at this event (I don't usually take them at dinners, either), preferring to relax, enjoy the wine, food, and camaraderie, plus shoot a few pictures.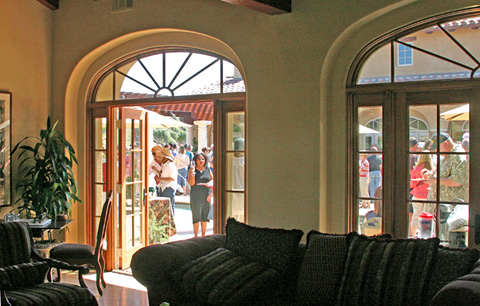 By way of background, Clos Pepe Vineyards is on a former 40-acre horse ranch that was purchased in 1994 by Cathy and Steve Pepe, Wes' mother and stepfather. Before setting up the 28-acre vineyard, the family consulted with Jeff Newton and Larry Finkle of Coastal Vineyard Care to site and plant the vineyards. Burgundian varietals are Wes' passion, and that's all that's grown here - with Pinot Noir claiming the majority of acreage, plus a small amount of Chardonnay. Although Clos Pepe sells about 90% of its fruit to the likes of Siduri, Ojai, Babcock, Loring, Clifton-Brewer and Hitching Post, they keep 3.5 acres (about 250 cases) of Pinot Noir to bottle under their own label. Yields have been down lately - sometimes almost miniscule at Clos Pepe. CP's first year of production was 2000, the critics noticed, about the rest as they say is history.
The Hagens and Pepes are phenomenal hosts, and this BBQ is their way of thanking their allocation list members. We could easily have stayed all afternoon, but the BBQ ended at 4:00 and we had another stop to make before our dinner reservation at the Hitching Post in Buellton.

Leaving the Santa Rita Hills, we drove into Buellton, and headed north on Ballard Canyon Road to meet with vineyardist and winemaker Matt Dees. This Santa Ynez Valley project has been very low profile, but is a project that will be called Jonata Vineyards, as a nod to Rancho San Carlos de Jonata - the original land grant from 1845. This is a Bordeaux varietal-based effort owned by Charles Banks and Stan Kroenke, the same people who recently bought Screaming Eagle. It turns out the connection goes actually goes further than that, as SE's new winemaker Andy Erickson previously worked for Staglin as winemaker, before signing on with Banks and Kroenke to make the future vintages of Screaming Eagle. And guess who worked with Erickson at Staglin? Yep, Matt Dees.
Selected Tasting Notes:
...from barrel...
2005 Jonata Pinot Noir - Fiddlestix Vnyd, Sta. Rita Hills.
Clones 115, 777. Jonata figured they needed a Pinot for their portfolio, and this one's a winner. Big beautiful nose of dense black cherry and spice. Juicy mouthfeel, excellent balance, with plenty of grip through the very long finish.
2005 Jonata Sangiovese - Estate, Santa Ynez Valley.
Wow! Intense nose, with tons of spiced red and black fruit. Huge mouthfeel, this wine has excellent balance of acids, and a massive long finish. Bordering more on a Brunello, this will never be mistaken for some wimpy Chianti.
2005 Jonata Sangiovese/Syrah - Estate, Santa Ynez Valley.
This 50/50 blend was co-fermented, and the result is amazing. The animal and earthy scents of Syrah seem to have magnified in the process, producing a big, yet very balanced wine that just keeps pumping fruit through the very long finish.
2005 Jonata Syrah - Estate, Santa Ynez Valley.
Clone 383, from block 10 - fermented in stainless steel. Funky, almost stinky nose that probably had more to do with a sulfuring than anything else. Light on the palate initially, but gains weight and becomes very mouthfilling by mid-palate. Very long, gripping tannic finish. Fascinating - the stink seemed to blow off revealing very primal black fruit.
2005 Jonata Syrah - Estate, Santa Ynez Valley.
Clone 383, from block 10, as above - but this was fermented in wood. Very sexy nose, with a light eucalyptus note. Tannic and gripping in mouthfeel, with huge fruit and a massive finish. Cooool!
2005 Jonata Syrah - Estate, Santa Ynez Valley.
Clone 174, from block 1. Fermented in neutral oak. Nose of black fruit and violets. Huge mouthfeel, and despite the tannins, a nice smooth long finish.
2005 Jonata Cabernet Franc - Estate, Santa Ynez Valley.
Nose of dark cherry and herb, with just a touch of iodine. Lovely mouthfeel - smooth and very tasty, with nice long finish.
2005 Jonata Cabernet Sauvignon - Estate, Santa Ynez Valley.
Slightly restrained nose of black and red fruit, and spice. Smooth throughout, with nice fine-grained tannins through the very long finish. Really nice!
2005 Jonata Cabernet Sauvignon - Estate, Santa Ynez Valley.
Almost black in color, with tons of blueberry in the nose. Chewy mouthfeel, a bit monolithic, with lots of blueberry flavor, and nice long finish.
2005 Jonata Petite Verdot - Estate, Santa Ynez Valley.
Slightly restrained nose of black and red fruit, and spice. Smooth throughout, with nice fine-grained tannins through the very long finish. Really nice!
2005 Sauvignon Blanc "Essencia" - Estate, Santa Ynez Valley.
One of Matt's experiments. Nose of lemon meringue pie, and flavors of lemon and orange marmalade. Nice sipper!
2005 Syrah "Moda" - Estate, Santa Ynez Valley.
Another of Matt's experiments, this was thick and chocolaty, with a fascinating streak of blood or iodine.
A little bit about Ballard Canyon is probably in order here. Ballard Canyon Road extends from Buellton to Los Olivos, but it is the northern half of this road that bears a closer look. Well-known vineyards like Larner, Rusack, Stolpman, Purisima Mtn, and Tierra Alta are all located on the upper part of this road, nearer to Los Olivos than to Buellton. I recently rode along on a tour of four of the aforementioned vineyards (see). It seems obvious that this already well-known section may be destined for even bigger things with upcoming names like Harrison and Wilkening, and now Jonata.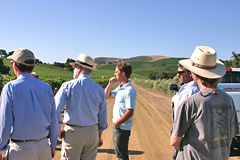 We drove up the dirt access road to meet up with Matt. The 586 acre Jonata property is literally a stone's throw from Beckmen's Purisima Mtn Vnyd, and we chatted for a bit about the proximity of all these important vineyards in this one area. Matt acknowledged that Banks and Kroenke had made a major investment in the area, and suggested we take a look at the vineyard. We could then head back into Buellton to barrel sample some of the wines (nothing has been bottled from this vineyard as yet).
Follow me, he said as he climbed into his pickup. We all followed Matt's truck up into the hilly vineyard. He first stopped to show us the Sangiovese. For years, I think people have wondered how and why growers have been fooling around with Sangiovese in the Santa Ynez Valley. I recalled from the Ballard Canyon tour, Jeff Newton proudly telling us that Alberto Antonini loved the local Sangiovese planted at Stolpman. And, as it turns out, this valley is ideally suited for not only Sangio, but other Italian varietals as well - just ask Steve Clifton, of Palmina winery, who has several varieties planted in Honea vineyard just east of here.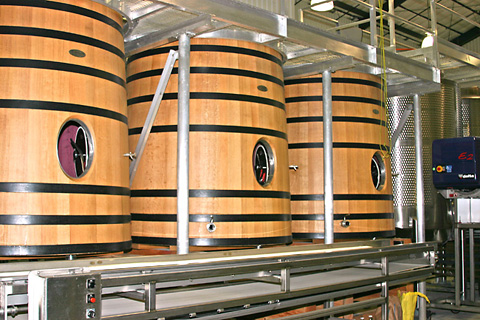 Matt led us through a patchwork of vineyard blocks - from large Sauvignon Blanc and Sangiovese sections, to much smaller blocks of Cabernet Sauvignon, Petite Verdot and Cabernet Franc, and finally to some really stressed vines he referred to as the "mini-blocks." The winds really rip through here, he said. As he showed us around the 80 acre vineyard, it was obvious that Matt has extensive vineyard knowledge - especially about this particular vineyard.
From here, Matt led us back down Ballard Canyon to Buellton and Jonata's temporary winery. Our mission - barrel taste some of the upcoming releases from this exciting new venture. We followed matt around throughout the tight quarters, ducking under this a squeezing through that. It did seem obvious that they were starting to outgrow their space.
These were big tannic wines, and I think we were all surprised by their power. But with the area's pedigree and the talent involved, I think we can rightfully expect big things from Jonata, and I can't help but recall how this valley had almost given up on Cabernet.
Heading for the Barn -
It was now 8:15 and the clock was ticking. We had a reservation for 8:00 to meet several others at the Hitching Post for dinner. It turned out the "several others" was a misnomer. Our ranks had swelled from 16 to 23,and the Hitching Post was in no mood to consider our "new math" at explaining the increase in numbers. It all worked out in the end, but we'll have to do a little more real planning next time.
Dinner that night was at the Hitching Post II in Buellton. John Tomasso had made the call, requesting a reservation for "up to 20" people, which elicited more than a little laughter from the staff at the HP. 'Twenty people? Saturday night? Hahahahah.' But, John's tight with the HP folks and hung in there until they decided we could have a seating at 8:30 - two tables, nearly contiguous. That was fine with us - nobody was complaining. Given the Sideways effect to both the area and the HP in particular, we were lucky to be seated at all.
Shortly after our seating, Frank Ostini came over to see if he recognized anyone in this group of 20. He certainly did - nearly all of us, and he hung out awhile, even giving us a bottle of HP Cargasacchi Pinot, since Peter was dining with us. Just what we needed - more wine, we told him, and proceeded to have some nice beef with our Syrah...oh, and Frank and Peter's Pinot, as well.
Sunday, August 13, 2006 - Santa Barbara County
Up early, we headed for breakfast at "American Host" in Lompoc. You'd think a place with a name that sounded like a luggage brand would be easy to find, but Lompoc just loves to tuck these places into obscure corners of strip malls - with limited signage.
Selected Tasting Notes:
...from bottle...
2002 Native 9 - Rancho Ontiveros Vnyd, Santa Maria Valley.
(never released) spicy dark cherry, with a light citrusy note. Lovely mouthfeel - almost silky. No whole cluster was used on this wine, and it was kept for personal consumption.
2004 Native 9 - Rancho Ontiveros Vnyd, Santa Maria Valley.
The 50% whole cluster fermentation is unmistakable in the nose, with earthy, forest floor aromas accenting the red and black fruit. Sexy and sleek, but also big and chewy, with excellent balance and a very elegant and smooth finish. 25% new oak. Marvelous! Production: 99 cases.
2005 Native 9 - Rancho Ontiveros Vnyd, Santa Maria Valley.
Very perfumed nose, with nice earthy notes to the Bing and black cherry. Lovely balance of flavors, nicely integrated oak and flavors from 40% whole cluster fermentation. Production: 150 cases

From here we were off to Rancho Ontiveros Vnyds to visit with James Ontiveros at Rancho Ontiveros vineyard and taste his Native 9, a Pinot Noir made with RO fruit.
We met James at Dominion Vineyard a new vineyard planted by Caymus - on its own rootstalk to the Wente clone of Chardonnay. Apparently, it's to be a high-end project, with expected yields close to 2-3 tons/acre. Ironically, we were also near Clark & Telephone - actually an intersection of roads in the Santa Maria Valley, but also the name of a semi-prominent Pinot vineyard (Belle Glos), and just across the road from Gold Coast Vineyard. According to James, Clark & Telephone vineyard is likely to be sold to developers, and ultimately be turned into homes. We heard also that Caymus has another project to take its place, with Martini clone plantings.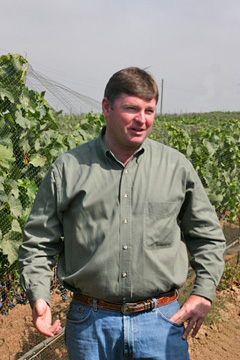 As we were standing there, James' father came tooling by in his flatbed truck, hay bales, topped with a dog on the back. Pulling out into the field of cattle, his father got out of the truck (which was still moving) and climbed on the back to toss off the hay to the waiting cattle. At this point, the truck disappeared over small hill. Hey, the truck..., I said. I expected James to go running to see what happened, when the truck appeared on the other side. How the heck, I thought out loud. Oh, he just put it in first gear and it just chugs along, said James.
From here, we followed James over to Rancho Ontiveros vineyard. I'm not quite sure what I expected to see, but, given the reverence we all pay to the name (based in fact from tasting wines made from this vineyard), I do have to admit to some surprise. This is not a beautiful vineyard (sorry, James) -- at least not in the conventional sense of trees or blocks or gorgeous views. Nope, this vineyard is all business - rightly part of the 'holy trinity' of cattle, oil and vines, all co-habiting in the same general area. The topsoil here is sandy and silty - up to 20" deep. James said that they had to rip down to about 7' to get to harder soil in order to plant.
Rancho Ontiveros has 8 acres in production, planted in 1997 and in 2000, with intentions to expand early next year. The vines are a little scraggly, and the grapes are tiny, but the final product is amazing. The low soil ph here is 5.2 to 5.8. The Santa Maria Valley gets about 12.8" of rain annually. James said he didn't give these vines much water in their youth, allowing them to create an instinct for survival.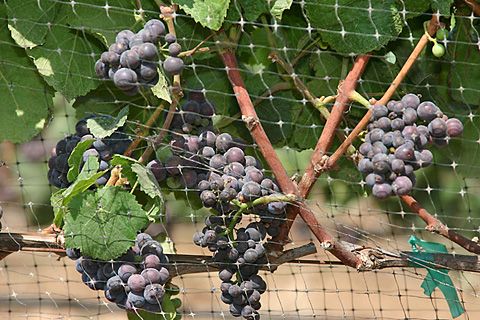 When it comes to harvesting, James says he will pick up to 9 times in the vineyard to get the fruit he wants. Amazingly, the stems are nearly always lignified - meaning they are ripened and can go into the fermentation process (whole cluster fermentation). Keeping the vineyard healthy means it will get through tough vintages like '04. I wondered where James' picked up his experience and knowledge in wine growing. Turns out it comes to a large extent from his years working for Kendall-Jackson as their Central Coast grape buyer, then worked for Gallo of Sonoma north of the Bay Area.
From here, it was down to James' house to taste three vintages of Native 9. The label name is a fitting tribute to his family living in this area for nine generations. We sat around the living room of this ranch house, sipping on each wine, while James explained details of each vintage. His depth of knowledge and obvious understanding of vineyards and Pinot Noir was fascinating. We could have stayed for hours, but Jay and I had an appointment in Ventura. We said goodbye to James, and he thanked us all for coming with a bottle of his '02 - the unreleased vintage. What a fabulous visit!
Departing RO at 1:00, we headed for our rendezvous with Manfred Krankl, at SQN headquarters. Manfred had given us some directions to his winery in Ventura - directions that were precise, yet vague; specific, yet still subject to interpretation (e.g. there was no street address). In short, the instructions were as fascinating as the labels - or the man himself, for that matter.
Selected Tasting Notes:
...from bottle...
2001 Rien Ne Va Plus "All bets are off"
100% Roussanne. Nose of seamlessly integrated waxy citrus and floral notes, along with a touch of lemon zest. Smooth and rich mouthfeel, with juicy acids and a marvelous balance and finish.

The highly acclaimed, low production wines of Elaine and Manfred Krankl are some of the most collectible wines in the marketplace. Sine Qua Non, or SQN, wines are distributed mostly through a mailing list, which has long since been closed. (In fact, the waiting list is even more lengthy.) What makes these wines so special? Well, aside from their distinctive quality, each vintage or bottling features unique label art and bottle packaging. It could therefore be said that SQN never makes the same wine twice.
Sine Qua Non was created after the 1994 harvest of Syrah from the Bien Nacido Vineyard in Santa Maria. Named "The Queen of Spades," this Syrah began a long string of uniquely-named red and white wines. The thought-provoking name for each wine, along with its fascinating label and packaging is all designed by Manfred Krankl, and there is a story behind each one.
Aside from plain old curiosity and the desire to meet the personality behind SQN, our main purpose was to interview Manfred for a GrapeRadio podcast. We'd allowed two hours to get there, and given traffic issues through Santa Barbara, were luck to arrived precisely on time. Interesting SQN-insprired signs dotted either side of the access road, as we drove past auto repair shops and other industrial buildings until finally arriving at our destination - simple concrete block building, with various SQN artwork on its exterior and a souped-up motorcycle parked out front. We knocked on the door.
Manfred Krankl is a tall bearded fellow, who's very engaging and charismatic. As he showed us around his facility, we continued to talk, and as you might imagine, he also had some great stories to share, too - though some of them occurred before or after the taping session. Here's one that cracked me up: Manfred was at a tasting, which was also attended by Bono. The two of them were standing there talking, while a wine media photog moved briskly around the room snapping pictures of people. Suddenly, the photog darted in front of Bono and Manfred. Flash, went the camera, and before the guy could leave, Bono pointed his finger at him, chewing him out about being rude, and how he should have asked permission first. The photog walked away meekly, and someone took him aside and talked to him. He came back shortly, apologizing profusely, explaining how sorry he was. He said he recognized Manfred, but didn't realize who the other guy was.
After noting that one of the barrels was named "Idi Amin," Manfred explained that he usually names the barrels from each vintage with a common theme. This particular vintage they were named after mass murderers, he said, with a twinkle in his eye.
Okay, it was show time, we said, and Manfred selected some libation for us as we settled into our interview - nearly two hours worth. It was a terrific SQN interview, and I encourage you to visit GrapeRadio to download or listen to it.
Trip over, it was time for all of us to head our separate ways. It was another interesting and revealing series of visits, and we met a lot of great people along with way. Many thanks to all of those fabulous people who grow wine. They make life fun.
Copyright © 1993 - 2005, Eric Anderson -
All rights reserved
No original material may be reproduced without written consent
Mail & Comments - Eric Anderson