Vol. 9 No.2. Mar '01
Napa Valley

Vineyards & Wineries Visited -
Journal and tasting notes from a short afternoon in Napa Valley.
Tasting Notes / Scores: Brief tasting impressions are included following the winery write-up. An "n/n" indicates that no notes were taken.
Sat, March 31, 2001
Arrived at Luna at 1:00 for the 1st stop of the day.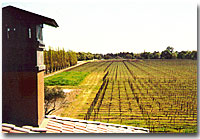 There were just a few people inside the nicely appointed tasting room when we arrived. While Luna is open by appointment for tour and tasting, drop-ins are welcome. We were met inside by Joyce McCollum, who poured us a taste of Pinot Grigio, then led us out to a side porch near the crush pad for a short history of the winery and the people behind it.
Started in 1996, Luna is a joint venture between Michael Moone, George Vare, and John Kongsgaard. Each of these principals brings a wealth of wine-related experience to the Luna venture, with Kongsgaard's winemaking reputation at Newton (as well as his own label), being the most familiar to wine fans. Settling on a primarily Italian theme, Luna is making Pinot Grigio, Sangiovese, and the ever marketable Merlot as their major wine releases. Kongsgaard's own label, as well as a few other "boutique" wines are being made here as well. Luna took over the former St. Andrews winery, remodeling it to meet their needs, and giving it an inviting Tuscan appearance. A young Pinot Grigio vineyard (replacing the previous Chardonnay) spreads out to the South in front of the winery. With an initial output of 10,000 cases, Luna has increased its production to 28,000 cases as of the 2000 vintage.
Joyce took us back into the tasting room to get some of the '99 Sangiovese, then, with glasses in hand, we headed over to the winery and barrel storage room for a peek. Grabbing a winethief, Joyce pulled us a barrel sample of the'99 Sangiovese Riserva - very nice! Space is at a premium here, so Luna's been using their own facilities for the winemaking, racking, and bottling processes, but they've contracted with off-site facilities to store their bottled wines, as well as some of those in barrel that are done with racking. We did a little more chatting, then headed back to the tasting room, where Joyce poured two more wines, the Merlot and the "Canto," a proprietary super-Tuscan. Asking if we'd like to see the tower that overlooks the property, she re-sampled us on the Luna wine of our choice, and led us upstairs to a small watchtower to take in the view. It was a beautiful yet unseasonably warm Napa day. And, as we sat there relaxing at the small table, with the warm breeze and the great vineyard view, we were wishing we could just spend the rest of the day right here. However, there were still more wineries on our itinerary, and time was passing. Out at 2:30.
Tasted at Luna:

2000 Luna Pinot Grigio. $18. Effusive lemon grass-scented nose. Nice chewy presence on the palate, with a long clean and somewhat crisp finish. Fruit is from a relatively new 3rd leaf vnyd. Aroma/Taste: B+/B+

1999 Luna Sangiovese. $18. Nose of fleshy cherry fruit and spice. Very plush on the palate for a Sangiovese, with lots of fruit and lightly spicy flavors, and a long finish. Obviously new world in taste and texture. Very nice. 20% new oak. Co-fermented with 6% Merlot. Aroma/Taste: B+/B+

1999 Luna Sangiovese Riserva. $n/a. (from barrel). Big nose of black cherry, cinnamon, floral notes, and a touch of licorice. Huge in mouthfeel, this wine feels like a Syrah initially with the heavy fruit, then kick in with obvious oak and tannins through long finish. Aroma/Taste: A-/B+

1998 Luna Merlot. $28. Nose of fleshy and stemmy fruit, with a bit of chocolate in the background. Big and somewhat oaky mouthfeel, surprisingly chewy for the vintage, with a long finish. 5% CF, 12% CS. Aroma/Taste: B+/B+

1998 Luna "Canto". $60. Lots of black cherry and chocolate in the nose. Big and chewy mouthfeel, smooth across the palate, with a slight tannic bite at the finish. Blend of 39% Sangiovese, 39%, Merlot, 19% CS, 3% Syrah. Aroma/Taste: A-/B+

1998 Mendelson Pinot Gris. $35.(375ml) Nice fruity nose, with an obvious porty/brandy quality that seems to smell like more than its 16% alcohol. Nice smooth mouthfeel and taste, with no perceptible heat. Late harvest fruit - no botrytis. Fortified with 2% brandy. Aroma/Taste: B+/B+
Arrived at Darioush at 2:40. The winery is named for proprietor Darioush Khaledi, who founded it in 1997, taking over Altamura's former home on Silverado Trail (Altamura has apparently relocated). The tasting room is currently located in a double-wide mobile home opposite the small winery, and is attractively decorated with murals and wine accessories, along with artists renditions of the new and somewhat lavish winery yet to be built. Darioush offers two lines of wine for tasting and sale - the blue label Signature Series, and the lesser expensive tan label Estate Series, which is made for sale in the tasting room only. They're off to a nice start, with quick and efficient hospitality staff, a knowledgeable manager, and something you don't see very often -- one of the staff walked out from behind the small tasting bar, handed us glasses and poured us the first wine to start our tasting. Nice touch! Tasting fee $5.
Toward the end of the tasting, a fellow taster was trying the Estate Cab at the same time as we were. Apparently picking up some Cab Franc in the nose or mouth, he asked the staff if some Cab Franc had gone into the wine. Complimented for his observation, he was told that the Estate indeed had some; however, the Signature, which they would pour for him next, had none. Having already tried the Signature Cab, we nodded in agreement. Quickly noting that we had tasted the Signature Cab before the Estate Cab, the fellow decided to exercise his wine knowledge by reminding us wryly: "Hey, you're tasting out of order." Acknowledging his observation, but resisting my usual snappy comeback, we just moved along. Out at 3:30.
Tasted at Darioush:

1999 Darioush Chardonnay - Estate. $28. Fruity nose, with hint of grass. Clean medium mouthfeel, with a fruity and slightly aftertaste. Aroma/Taste: B/B+

1999 Darioush Chardonnay - Signature Series. $34. Slight citrusy nose, with an interesting licorice background note. Good fruit and body, with the right touch of oak, and a nice full finish. Aroma/Taste: B+/B+

1999 Darioush Vin Gris - Estate. $12. Very fruity and floral nose - almost sweet-smelling. Meaty texture on palate, with clean long finish. Quite a bargain. Aroma/Taste: B+/B+

1998 Darioush Merlot - Signature Series. $38. Stemmy and fleshy cherry nose, with a bit of cinnamon and licorice aromas. Full and fleshy mouthfeel, spicy flavors, long if slightly hot finish. Overall, a nice Merlot - but a little on the pricey side. 100% Merlot. 112 cases. Aroma/Taste: B+/B+

1998 Darioush Cabernet Sauvignon - Signature Series. $54. Smoky cassis, licorice in the nose. Slightly buttery cassis flavor, with toasty midpalate, and long finish. Gives a complex impression on the palate, if a bit thin, with very nice balance and finish. The fruit gets a bit tart/sour toward the finish. 10% Merlot. 383 cases. Aroma/Taste: B+/B+

1998 Darioush Cabernet Sauvignon - Estate. $28. Moderate extraction and nose of stemmy cassis, with obvious Cab Franc notes. Medium-light on the palate, the fruit falls off a bit on the finish. 15% Cab Franc, 5% Merlot. Aroma/Taste: B/B
Arrived at Stag's Leap Wine Cellars at 3:35 to a very busy place. I'd not been here in several years and was interested to see what may have changed, in terms of wines, facilities, and hospitality staff. Well, the grounds are as beautiful as ever, and the winery / tasting room hasn't changed very much over the years. The tasting is still done in the winery itself, with a modest tasting bar tucked into one side of the room. This might provide plenty of room unless it gets crowded. Well, crowded it certainly was. Yet, these were some of the most mannerly wine tasters I've seen in a while. Most of the crowd seemed quite content to get their pour and move away from the bar allowing others to move into place. Lot of folks were standing or sitting around inside the tasting room and out in the patio and grounds areas, just enjoying the day. Observing the SLWC hospitality staff in action was something to behold. This certainly has to be some of the most attentive and efficient staff in Napa. Considering the quantity of people and the pace, they were hustling non-stop, and all the moves looked choreographed. Tasting fee $5. Out at 4:05.
Tasted at Stag's Leap:

1998 Hawk Crest Chardonnay. $15. Very fruity nose, clean with slight citrus quality. Very tasty mouthfeel, with some grass and lemon-lime flavors, and a long clean crisp finish. Fruit: Monterey Co. Aroma/Taste: B+/B+

1998 Stag's Leap Chardonnay Reserve. $45. Big nose of slightly stemmy Chard fruit, with a bit of oak and leaf. Big mouthfeel, crisp, with a slightly tart/acidic streak, and a very fruity finish. Aroma/Taste: B+/B+

1997 Hawk Crest Merlot. $18. Stemmy and fleshy nose, with a slightly bitter rose stem quality. Fleshy and fruity mouthfeel, with a bit of cinnamon and candied quality to the cherry fruit, and long finish. Aroma/Taste: B/B

1997 Stag's Leap Merlot. $35. Deep dark-fruit nose, with notes of black cherry, spice, and a shoe polish-like aroma. Medium body, fruity and fleshy across the palate, with a slightly hot long finish. Aroma/Taste: B+/B+

1998 Stag's Leap Cabernet Sauvignon. $40. Classic claret-like nose of cassis, wood spices, and touch of oak/cedar. Medium body, tasty cassis fruit, with a slight acid streak to the mouthfeel, and a long finish. Aroma/Taste: B+/B+
Arrived at Robert Sinskey at 4:10 to a moderately busy room. Beautiful stone and wood paneled tasting room, with a nice view of the barrel room behind the bar. Friendly and knowledgeable staff. Although the tasting room was closing, they we kind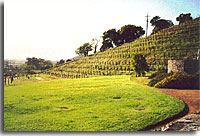 enough not to rush patrons out the door, and even poured wine for a late arrival. Tasting fee $5. Also noted that the Aries label has apparently been retired.
Robert Sinskey Vineyards has been undergoing a 'grand experiment' for the last few of years - that of organic farming. Electing to rid themselves of all the pesticides and chemical fertilizers usually used in grape growing operations, they've embraced natural methods for maintaining the vineyards. The result, Sinskey believes, is or will be obvious in the end product. He makes a logically compeling argument about non-interventionist methods, and organic certification for Sinskey should be coming soon. Meanwhile, what's in the bottle you're wondering?
Tasted at Robert Sinskey:

2000 Sinskey Pinot Blanc. $18. (375ml) Clean, crisp and fruity nose. Big and buttery mouthfeel, with a tasty, almost chewy consistency. One of the better PBs I've had from Californis - albeit fairly pricey. From new vines - Carneros. Aroma/Taste: B+/B+

1998 Robert Sinskey Pinot Noir. $26. Somewhat stemmy nose, with a spicy strawberry aroma. Moderate mouthfeel, structured more to the acid side, with decent strawberry fruit, and a long crisp finish. Aroma/Taste: B+/B

1998 Robert Sinskey Merlot. $26. Stemmy and leafy nose, with a bit of candied, spicy cherry quality. Tasty fruit, but a bit to the acid side, and a bit underfilled. Long, slightly hot finish. Aroma/Taste: B/B

1998 Robert Sinskey Cabernet Franc. $38. Beautiful floral, cherry-laced nose, with just a hint of stem and leaf. Big chewy mouthfeel, though a bit narrow in fruit, and long finish. Nice, but …Cab Franc at a Cab Sauv price? Aroma/Taste: A-/B+

1998 RSV Pinot Noir Reserve. $46. Ripe and slightly burnished strawberry/cherry nose. Ripe and fleshy mouthfeel, medium-full body, long, slightly hot finish. Aroma/Taste: B+/B+

1997 RSV Vineyard Reserve. $45. Very nice nose of fleshy cassis, with spice and floral notes. Big substantial mouthfeel, lots of fleshy fruit, with a very long finish. A little high in acids right now, this one should flesh out over a few years. 47% Merlot, 31% CS, 22% CF. Aroma/Taste: B+/B+
Wrap up: despite a short list of 4 wineries, we had a delightful time and never felt pressured to pick up the pace. If you're interested in a one-day itinerary or just an afternoon trip, this one on the lower half or Silverado Trail covers wineries that are very close to each other, as well as offering a diverse group of wines for tasting.
Cheers!
Eric
---
---
Copyright © 1993 - 2004, Eric Anderson -
All rights reserved
No original material may be reproduced without written consent
Mail & Comments - Eric Anderson