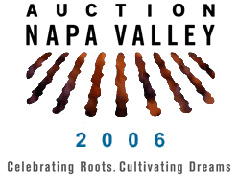 Arguably the benchmark in charitable wine auctions, the Auction Napa Valley is held annually in (where else?) Napa Valley. Established by a group of Napa Valley vintners in 1981, ANV has given $62 million dollars over its first 25 years for healthcare, youth service and low-income housing charities in Napa County. The GrapeRadio crew received an invitation to attend this stellar event, and we were not disappointed.
The informal festivities actually began on Wednesday with an traditional 1/2 bottle lunch at Taylor's Refresher, the iconic burger purveyor in St. Helena. We had planned poorly - bringing no wine or stemware, but - never fear, Dean and Deluca is near, and we were able to pick up wine and stems with no problem. Sightings? Sure, how about Jim Laube, and we were able to chat at length with Heidi Barrett.
Our headquarters for the event was a beautiful cottage in the middle of Trefethen Vineyards. It was a great location, a gorgeous setting, and we had a marvelous time.

Above & Below : Thursday included a visit with winemaker Mark Aubert, who showed us around Colgin Vineyards' premiere setting near Lake Hennessey. Neighbors hereabouts include David Arthur and Chappellet's Pritchard Hill Vineyard. The state-of-the-art winery was spotless.