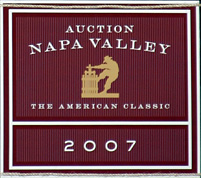 Arguably the benchmark in charitable wine auctions, the Auction Napa Valley is held annually in (where else?) Napa Valley. Established by a group of Napa Valley vintners in 1981, ANV has given over $70 million dollars over its 26 years for healthcare, youth service and low-income housing charities in Napa County. The GrapeRadio crew received an invitation to attend this stellar event, and we were not disappointed.
Organized each year by the Napa Valley Vintners (NVV), the event runs over a three-day period, usually in June. Consisting of a wine & food extravaganza, several auctions (e-auctions, live auctions and barrel auctions), and plenty of vintner-hosted activities, it is a spectacular event. This year, as the final gavel fell, 45 Live, 106 Barrel and 81 E lots that offered extraordinary collections of wine, vintner-hosted events and travel adventures donated by the organization's many wineries had raised more than $9.8 million.

Above:
just a few of the many icons to be found in the Napa Valley.
Below:
the Sycamore Vineyard and John Bryan and wife, Flo, played host to a small gathering. Sycamore has 22 acres of Cabernet Sauvignon, Cabernet Franc, and Merlot that go only to Freemark Abbey as a vineyard designated bottling.
Above & Below : located on the Rutherford Bench, up against the Mayacamas, the soil is made up of soft, gravelly loam with a clay substructure. Sycamore Vineyard is dry-farmed and has been biodynamic since '04. Biodynamic consultant, Philippe Armenier, explains the difference between organic and biodynamic.