Vol. 19, No.3
Napa Valley - December 2011
Prologue -
It seemed like forever since I'd organized a grape-nutz trip to visit some Napa Valley wineries. In reflection, I couldn't believe it - the last report I did was for a trip in November of 2004! Although I'd certainly been to Napa since then, I hadn't generated any reports on the visits. The reasons are as many as they are varied. But, suffice to say, this trip would be different. And yet, it wasn't. After returning home, I kept putting off sitting down to write the report. So, here and now I am going to re-construct this most recent trip.
Once again, I put the word out to all the Bay Area grape-nutz, including, Ken Zinns, Alan Rath, Eric Lundblad, Al Osterheld, and Paul Homchick. My intention was to spend a few of days making 6-7 visits in Napa Valley. I contacted several wineries, winemakers and growers to start setting things up,
Monday - December 12, 2011
I'd set up an appointment for 10am with Phil Gift, Jericho Canyon's Director of Business Development. Since I was staying in St. Helena, the drive up through Calistoga wasn't going to present any time-related problems for me. But, everyone else was coming from the Bay Area, and rush traffic can be quite unpredictable.
I arrived at Jericho Canyon's picturesque facility on Old Lawley Toll Road about 10 minutes early, and Ken rolled in shortly thereafter. While Ken checked on our other arrivals, I went to find Phil. After introductions, he suggested Ken and I check out the winery and grounds, while he finished up some paperwork and we waited for our full contingent of Grape-Nutz. The time was well-spent. As our group trickled in, we talked with co-proprietor Marla Bleecher, who was also tending to some things around the winery. She was in the company of someone very familiar. It was Heidi Peterson Barrett, who apparently now makes her own wines here at Jericho - although not the Jericho wines. After exchanging hello's with Heidi, we chatted a bit more with Marla about the winery history, before Phil arrived to rescue her.
Tasting Notes: Current Releases

Jericho Canyon 2010 Sauvignon Blanc, Napa Valley. Huge floral nose that hints a nice crispness. Clover and honeysuckle flavors, and nice acid balance. A 50/50 blend of stainless steel and neutral oak – no malolactic.
Jericho Canyon 2007 Cabernet Sauvignon, Napa Valley. Plump and round in the mouth, with a slightly soft silky quality to the very long finish. Contains 6 % merlot from Jericho Creek Block.
Jericho Canyon 2007 Cabernet Sauvignon, Estate, Napa Valley. Round and somewhat riper in style than the Napa Valley version. Nice fine-grained tannins, and an overall chewier wine. 100% Cabernet.


Jericho Canyon's genesis began in the 1980s, when Dale and Marla Bleecher purchased a 130-acre ranch in Jericho Canyon at the base of Mt. St. Helena in the northern reaches of Napa Valley. They had been looking for three years, but knew instantly that this was the place for them to raise their children. It had a 100 year old farm house, a pond shaded by large oak trees, and a fabulous view of the Palisades and Mt. St. Helena.

Originally given in a land grant to a veteran of the Civil War as payment for his services, the ranch is situated along the road to the old Silverado Mine, a spot made famous by Robert Lewis Stevenson in his book Silverado Squatters. The property had been used as a cattle ranch since the 1930s, but it showed evidence of a pre-Prohibition vineyard alongside of Jericho Creek. They replanted the old vineyard and extended it up the canyon, terracing extensively and following the contours of the land due to the steepness of the terrain. The vineyard sweeps across the hills on terraces ranging from eight to twenty feet apart. Summer daytime temperatures in Jericho Canyon frequently reach 100 degrees but can drop to 50 degrees at night. The soils are volcanic Boomer gravelly clay loam. In 1990, they planted Cabernet Sauvignon, and in 1993 followed with Merlot and Cabernet Franc. They initially sold the fruit to a variety of wineries including Chateau Montelena, Sterling Vineyards, and Clos du Val.
It was not until 1998, however, that they became convinced they were producing some very nice fruit - Rudd Estate was producing a vineyard designate wine that was very well received by Robert Parker. From 2001-2005 the fruit went to Ramey Wine Cellars, which produced a vineyard designate wine. David Ramey even produced an ultra premium wine for their own label, Jericho Canyon Vineyard.

The 2006 harvest was pivotal for Jericho Canyon, producing their first estate wines. The Bleecher's also completed the winery, which along with the barrel storage is tucked neatly into the side of the mountain. Following the harvest, it was time for retribution. They removed much of our Merlot and Cabernet Franc, and replanted with additional clones of Cabernet Sauvignon, Merlot, Cabernet Franc, Petit Verdot, Sauvignon Blanc, and Syrah. Field budded in the spring of 2008, these vines began producing fruit in 2010. Total plantings over 24 blocks on 40 acres include: 30 acres of Cabernet, 4 acres of Merlot, 4 acres of Cab Franc, and 1/10 acre of Syrah. They continue to sell 50% of their fruit to quality producers.
After walking the vineyard with Phil, we retired to a conference room in the winery for some tasting. Phil poured the three current releases - a sauvignon blanc and two cabernet-based wines. The wines are made by Aaron Pott (Blackbire, Seven Stones, Pott Wine) who knows a thing or two about Napa Cabs. ;-)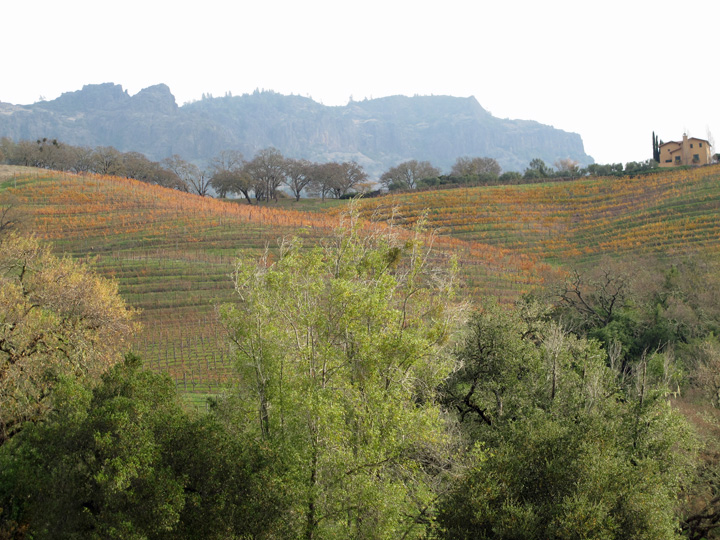 Departing Jericho Canyon, we headed southwest for our next visit. We just can't come toNapa Valley without visiting our good friends, Steve Lagier and Carole Meredith, of Lagier Meredith Vineyards. Their house and vineyard are in the Mt. Veeder AVA, in the Mayacamas Mountains in the western part of the valley. Departing Jericho Canyon, we headed south down Silverado Trail to Oakville Crossroads, stopping at Oakville Grocery to get a few snacks to share with Steve and Carole as an accompanyment to their wines. From there, it was Oakville Grade to Dry Creek Road where we park a few cars, and carpool on the mountain. Carole had called to warn us that her neighbors had been a little less friendly of late due to the number of cars climbing the hill. I guess this is what they call a traffic jam in Mt. Veeder. Sigh, this is what they get for improving the access by paving the previously old rutted dirt road.
Tasting Notes: Current Releases

Lagier Meredith 2009 Syrah, Mt. Veeder. Huge blackberry aromas and flavors. Marvelous on the palate, with lots of berry and a notion of floral characteristics. Very long finish.
Lagier Meredith 2009 Mondeuse, Mt. Veeder. Plump, even a bit primary with lifted aromas of red fruit and floral notes. Lots of fruit on the palate, and nice long tasty finish.
Chester's Anvil 2009 Hattori Hanzo, Napa Valley. Named after a 16th C. Samurai, this a red blend of Cabernet Sauvignon, Cabernet Franc, Merlot, Petit Verdot and Syrah.


In case you've not heard of Lagier Meredith, Steve was a winemaker with Robert Mondavi Winery for 14 years before leaving in 1999 to spend full time at Lagier Meredith. Carole retired as professor at the Viticulture and Enology Department at UC Davis in 2003. She's renowned for her work in analyzing grapevine DNA, and especially for determining the true origins of Zinfandel – a Croatian grape variety called Crljenak Kastelanski. She also identified the parent varieties of Chardonnay, Cabernet Sauvignon, and Syrah.
In 1986 they purchased a piece of property at 1,300-foot elevation, high above Napa Valley. They moved into the old house on the property, with the intention of building another one in the near future. Carole commuted to UC Davis in her trusty 4-Runner for several years. They originally had the idea of planting some grapes and making a bit of wine as a hobby – it wasn't until later that they decided to take full advantage of the exceptional site and to grow grapes and make wine commercially. The first planting of Syrah was in 1994, initially with the Durell clone and later with clones 174, 383, 470, 525, and 877. They added a small block of Mondeuse in 2007, and in 2010 they grafted over some Syrah to Malbec and Zinfandel. The topsoil is quite shallow - mostly fractured sandstone and shale. Steve and Carole do virtually all of the work on the 4½-acre vineyard themselves, which is really something, considering they both had day-jobs. In fact, they proudly display " No employees, No consultants, No partners, No investors on their website. They've since retired, built that new house up behind the old one, which they will now convert into a winery.
The first commercial Lagier Meredith release was from the 1998 vintage, and until recently they produced only Syrah and Syrah Rosé. They added a Mondeuse (Carole sometimes calls it "Syrah's crazy uncle" – a grapevine geneticist in-joke!) with the 2009 vintage, and they recently released a Syrah dessert wine called "Precious Bane." 2013 will see the first releases of Lagier Meredith Malbec and Zinfandel. They currently make the wine at the Monticello Vineyards facility in Napa. In recent years, Steve and Carole have also teamed up with their neighbors and friends Aaron and Claire Pott of Pott Wine to create the Chester's Anvil label. Meant to be fun and early-drinking wines, the current line-up includes Gewürztraminer, Chardonnay, Zinfandel, a mostly-Bordeaux style blend called "Hattori Hanzo," and Malbec.
Steve and Carole accompanied us as we walked down the short distance to their old house (and future winery site) to check out the drop-dead views. From their east-facing hillside vineyard you can see far across Napa Valley and southward on a clear morning. Carole told us that farther up the ridgeline, the view extends all the way to the Sierra Nevada mountains over 100 miles to the east. After heading back up the hill to their house, Carole and Steve pointed out the view to the south, where we could see across the hillsides to San Pablo Bay and beyond.
Back to the house, and we tasted a few of their wines around Carole and Steve's kitchen island, joined by the two most sociable of their four cats. We munched on some delicious almonds and olives – the almonds from Steve's family's farm in the San Joaquin Valley and the olives from a small grove of old olive trees near the house.
Well, all things must pass, and we needed to get onto our next appointment, over in the Stag's Leap District. We would see Steve and Carole again at dinner, we were had a reservation at Celedon in Napa.

It's often a relatively quick trip across the valley, as opposed to travelling up and down the valley. A quick shot back across Oakville Crossroad (barring any traffic) leads to Silverado Trail, and we were practically there.
We turned into a shared driveway and followed the Robinson signs to our appointment with Tom Jinks.
Tom, a Robinson by marriage, and a self-described jack-of-all-trades came out to meet us. Apparently, Tom was a local boy who grew up in this area, spending most of his time learning all these trades from his father-in-law, among others. In fact, all along the little tour, we could see proof of this in his winemaking, carpentry, plumbing, electrical, and many other construction skills as well as accomplishments. So, we asked Tom, in Huel Howser fashion, 'how did all of this get started?'
Tasting Notes: Current Releases

Robinson Family 2007 "Great Legs" Syrah, (Coombsville) Napa Valley. Built more in an Old World style, with plenty of acids streaking through the blackberry fruit. Nice palate coverage, if somewhat short on the finish.
Robinson Family 2007 "Great Legs" Cabernet Sauvignon, (Coombsville) Napa Valley. The 25% Merlot in this blend softens the Cab substantially and it evident in the plush nose. While the fruit itself on the palate is very nice, it serves to puch the wine to a slight dilute quality.
Robinsion Family 2006 Merlot, Estate, Napa Valley. Nice rendition, with plush fruit-driven aromas in the nose and lovely fruit and tannins in mouthfeel. Very tasty, if a bit short on the finish.
Robinsion Family 2007 Cabernet Sauvignon, Estate, Napa Valley. A tiny amount of Merlot included in the blend here. Tasty, with nice balance and finish.
Robinsion Family 2006 Cabernet Sauvignon Reserve, Estate, Napa Valley. The "Reserve" is a barrel-select wine with another year of aging. Nice fine-grained tannins, lovely fruit, and long finish. At $100, it's a little steep in price. 100% Cabernet.
Robinsion Family 2006 Cabernet Franc, Estate, Napa Valley. Arguably the best of the three Cabs, this had nice toasted tobacco notes supported by rich chewy fruit.



Robinson Family Vineyards had its beginnings in 1967, when Norman Robinson and wife Helen Robinson purchased 78 acres in the Napa Valley. Bud had recently retired from the Army as a Lieutenant Colonel, and the idea of planting vineyards was motivated by his friends and neighbors, Nathan Fay and Father Tom Turnbull. They gave up on the notion of horses and cattle, planted vineyards and joined the Home Winemaker's Association. The friends began making home wines under the now defunct "Fay and Robinson-Turnbull" label, better known as "FART" wines. True story, Tom says. He winked just a bit, but it was more a chuckle to the acronym, rather than any truth-stretching.
Norman and Helen's daughter Susie Robinson Jinks and their son-in-law Tom Jinks run all the day to day operations. Granddaughters Carrie, Kim and Robin also help with the family business, along with their respective husbands. A lot of folks use the term "family winery" in more of general context. Here, with great-grandsons involved (especiall at harvest time), it truly is a family winery.
Their location in the Stag's Leap District seems perfect, situated under the face of the Stag's Leap Palisades. On the 78 acres are old oak trees, 7 acres of hillside vineyard, and a charming hand built log cabin. During the day the heat from the large volcanic rock of the cliffs penetrates the vines, followed by the cool coastal nights of the valley. Dug into the mountain slope is the small winery.
Tom led us around the outside of the winery to point out the vineyard, as well as crush pad and entertainment patio, all right next to the house. Then it was back down below the crush pad and into the winery to see this small family operation. A series of interconnected rooms (tasting, display/library) leads to the barrel storage area. Looking up, we could see a stainless steel tube and valve assembly visibly protruding through the ceiling from the crush pad above. Ahh, we thought - gravity flow to the barrels. Nice touch.
All along the way we can see that Tom either inherited much of construction from Norman, or built it all himself. Either way, it was definitely a tribute to the Robinson family work ethic. We thanked Tom for his hospitality and the informative tour and tasting. He and the family had a function to attend that evening, and we had a 6:30 dinner reservation in Napa. Driving south down Silverado Trail into town, we all met up with Steve and Carole at Celedon, a restaurant by the Napa River. Good times and great meals all around.
Additional Photos from Monday
Row 1 - Jericho Canyon Vineyard
Row 2 - Lagier Meredith
Row 3 - Robinson Family

Tuesday - December 13, 2011
New dawn, new day. I'd heard from some friends about a new Cabernet project being shepherded by Philippe Melka. I filed it for future reference. But, I then got an email from the San Francisco PR firm representing Moon Tsai asking if we'd like to come by and speak with Mary Ann Tsai or Philippe Melka about the project. Well, it was obvious the planets had all alligned, so a trip to Moone Tsai was a fait accompli.
We were given an address where we would meet with MaryAnn and Larry Tsai. This was an address I knew to be Luna Winery on Silverado Trail. (I'd been here years ago, and thought Luna was doing some nice things. Unfortunately, just doing nice things - making good wines - is not a guarantee of market success.) I assumed that Moon Tsai was now occupying the former Luna property, and was therefore surprised to see the Luna signage on the building. Since I'd arrived a little early, I called the PR contact, explaining I wanted to be sure I was at the right place. Yes, that's the right place, I was assured. It all seemed a little mysterious to me. But, soon the mystery was solved.
Tasting Notes: Current Releases

Moone Tsai 2009 Chardonnay - Bald Mountain, Mt. Veeder. Gorgeous nose of pear and creme. Full mouthfeel, lightly creamy and elegant. 65% new oak; 2/3 malolactic.
Moone Tsai 2006 Cabernet Sauvignon - Caldwell Vnyd, Howell Mtn, Napa Valley. 100% Cabernet. Lovely nose of dark berry and toast. Elegant mouthfeel, very savory flavors, long finish.
Moone Tsai 2008 Cabernet Sauvignon - Napa Valley. Darker fruit than the '06. Larger framed, but seemingly not as complex.
Moone Tsai 2008 Merlot - Napa Valley. Big, lush, and fleshy. Lots of cherry and savory notes, with a huge long finish.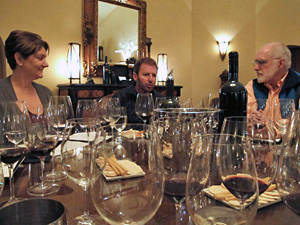 Mike Moone had been President of Beringer, then he retired. Working for him at Beringer was his Vice-President of Sales, MaryAnn Tsai. Luna was co-founded by George Vare and Mike Moone, and Mike asked MaryAnn to work with him at Luna. Because Luna focused on Italian varieties, as a side project, Mike also wanted to do a Napa Cab project. He then partnered with MaryAnn and her husband Larry Tsai. And, viola, Moone Tsai.
Moone-Tsai wines was created in 2006. Since taking the winery's helm in 2010, Larry has moved Moone-Tsai from its single-cabernet-infancy to the brand's current annual production of seven wines across 3,000 cases, with distribution in selected U.S. markets and abroad. The decision to bring in Bordeaux-bred Philippe Melka as winmaking consultant usually helps tip the scales of any winery - but, it especially helps a new winery.
We met with MaryAnn, Larry and Philippe, in the conference room, and tasted through the current releases. With no winery or vineyard to vist/tour, we were totally focused on the wines - well, and the personalities, of course. Conversation ranged from the aforementioned introduction of the winery's founding, to Philippe's stylistic winemaking methods, as well as vineyard sources.

(Note: since our visit, tasting of current releases in available in their wine cave location in the Coombsville district at Caldwell Vineyard, 270 Kreuzer Lane, Napa, California. Available by appointment 7 days a week, is a privately-guided tasting, paired with artisanal cheeses (2-person minimum; $50.00 per person).)
Larkmead Vineyards
My first experience with Larkmead was during my "Cab phase." Back in the '90s that's all I was interested in, and would try any Napa label I could find. Larkmead was priced right and I loved the wine. As my tasting experience continued to grow, I found myself wandering away from Cabs, and toward Rhone Valley wines and Pinot Noir.
Tasting Notes: Current Releases

Larkmead 2009 Cabernet Savignon - Estate, Napa Valley. 12% Petite Verdot, 8% Cabernet Franc. Slight herbal tinge to the nose. Very reminiscent of Pauillac, with its dried herb and tobacco notes. Wonderful mouthfeel, nice fine-grained tannins, tasty long finish. 80 cases.
Larkmead 2008 Cabernet Savignon - Estate, Napa Valley. 5% Petite Verdot, 6% Cabernet Franc. Very integrated nose of dark fruit and dried herbs and floral notes. Voluminous mouthfeel - subsequent tastes seemed to pick up weight. Lovely concentration and long finish.
Larkmead 2007 Cabernet Savignon - Estate, Napa Valley. 4% Merlot. At 96% Cabernet, it was surprising to me that the wine had more of an acid balance, with sweet-sour fruit and very long if slightly pinched finish.
Larkmead 2007 LMV Salon - Estate, Napa Valley. 62% Cab, 20% Cabernet Franc, 10% Merlot, 5% Malbec, 3% Petite Verdot. Margaux-like in aromas, with a touch of cocoa. Fleshy at mid-palate, and vey long luxurious finish.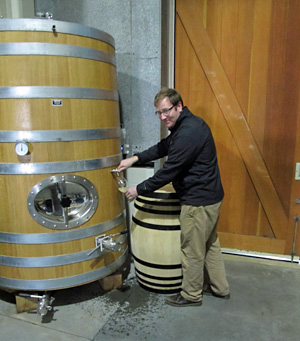 Fast forward to 2006. GrapeRadio had been asked to cover the Auction Napa Valley for the Napa Valley Vintner's Association. During the auction itself, a gentleman who was sitting at a table just behind us offered us some of the wine from his table. (Usually, the tables have 3-4 different bottles of wine.) "Eric, do you know Larkmead," Jay asked me. "This man would like us to try his wine." I LOVE LARKMEAD CAB, I must've said. It turned out the gentleman was none other that Larkmead owner Cameron Baker sitting right behind us. He shared a couple of vintages with us which added greatly to the whole experience. Does it get any better than that? Well....
While covering the Auction Napa Valley the following year, we were assigned to two dinner venues - Long Meadow Ranch, and Larkmead. Obviously, I offered to cover the Larkmead event and was able to renew my acquaintance with Cam Baker. I could go on and on like this, but suffice to say, the winery holds a place in my heart. Since that time, I'd visited once during 2008 harvest to photograph the process. Now, this was to be the 'Return to Larkmead.'
Larkmead's vineyards date back to the late 1800s, and have been owned by the Solari family since 1948. Growing up at Larkmead, Kate Solari remembers a very different Napa Valley. There were orchards of prunes and walnuts, cattle ranches and acres of empty fields. The towns were very small, catering to the local farmers and ranchers. Main Street St Helena was so quiet in the evenings that she and her friends could play kick the can with no risk from traffic!
The historic Larkmead Estate is comprised of 145 acres, of which 113 are planted to seven different grape varieties, ranging in age from new plantings to over 120 years old. Due to the dramatic variation in soil types, the vineyard is divided into three distinct areas in order to maximize fruit and subsequent wine quality while diversifying flavor profiles for blending purposes. The true character of Larkmead and its unique wines are a direct result of the topography, climate, and the exceptional geology of the soils.
With the majority of the Estate planted to Cabernet, the vineyard maintains a diverse variety of clonal selections including: 4, 7, 8, 15, 34, 169, 191, 337, Jenkins, Olmo, Philips and Jackson. The second largest dedicated grape variety based on acreage is Merlot with 22 acres planted to clones 1, 8, 181, 314 and Red Barn. The remaining "noble" Bordeaux varieties make up the remaining red grapes planted on the site - Cabernet Franc, Malbec and Petit Verdot. Since 2005 Larkmead has also embarked on producing white wines. They have 10 acres of Sauvignon Blanc planted and less than two acres of 120+ year old Tocai Friulano.
Current owners are Kate Solari Baker and Cam Baker. A Bay Area artist with a studio in Sausalito, Kate is well known for her pastel landscapes and figurative work. In 1995 and 2010 she produced the Napa Vintner's Wine Auction posters. Manager of Larkmead operations and wine program, Cam worked for many years with his father-in-law, the late Larry Solari, whom he well remembers as a giant of the California and US wine industry. Cam has a passion for the land, and his goal is to enhance Larkmead's status as one of the finest vineyards in the Napa Valley.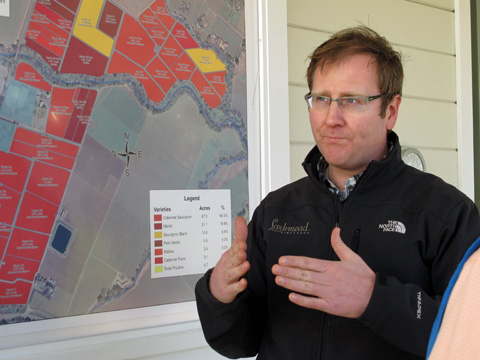 Larkmead's primary focus in farming practices is to utilize a "systems" approach, treating the vineyard as just one component of the surrounding ecosystem. This level of management dictates that each block is a separate "farm", resulting in different needs as well as an intimacy with the block. It is this intimacy and attention to detail that allows them to make informed decisions. The vineyards are bordered by two waterways, so promoting biodiversity in the riparian corridors as well as the vineyards is desired. They have long-term projects focusing on cover crop diversity as well as beneficial hedge rows, with a focus on native plants. Larkmead is 100% Estate fruit.
Senior Winemaker Andy Smith came to Larkmead in April 1999. Since becoming obsessed with wine in the late Eighties in his native Scotland, Andy has worked with a number of the World's leading producers. These include, most notably Dry River in Martinborough New Zealand; Yalumba in the Barossa Valley, Australia; Littorai and Paul Hobbs in California. Since 1999 he has been winemaker with the highly regarded DuMol in California's Russian River Valley and brings a Pinot sensitivity to his winemaking for Larkmead. Between 1999 and 2004 he was also winemaker for Napa Valley's Gemstone Vineyard.

Winemaker Dan Petroski came to Northern California from New York via Italy where he spent a year living and working with the family that owns the Sicilian winery Valle dell'Acate. Dan first set foot in the Larkmead vineyard in 2006 as an intern while assisting our winemaker Andy Smith with the harvest that year. Dan is responsible for the daily management of Larkmead winemaking and his old-world sensibility is very much in harmony with Andy's palate and winemaking philosophy.
The current winery was built in 2005. The original winery building is not on the property. It is in fact the one used by Frank Family today. Originally built in 1902, and expanded in 1906, it was purchased by the Solaris in 1948. During the mid '50s, Larry Solari was mis-diagnosed with cancer. He didn't want Kate to have to deal with the winery and vineyard, so he sold the the winery to Hans Kornell, who became of sparkling wine producer of note - for a short period. Kornell finally went bankrupt, and the property was sold to Rich Frank and Koener Rombauer. Rich Frank ultimately bought out Rombauer and now makes about 20-30K cases in the facility, jsut down the street (Larkmead Lane) from Larkmead itself. More trivia? Larkmead makes 5-9K cases of wine annually. It was budwood from Larkmead that was sold to Warren Winiarski to establish Stag's Leap Wine Cellars, after he left his position as Robert Mondavi's first winemaker.
It was Dan we were meeting with today. I'd known Dan from the 2008 visit, and really like what he's been doing with the fruit. After some barrel tasting, we retired to the immensely comfortable and roomy tasting room. Dan pulled out all the stops, and we were able to taste through the current releases, as well as a couple of library wines. Great visit!
We had a reservation for dinner Oenotri restaurant, in downtown Napa. In contrast to the all hands on deck dinner last night, some had plans in The City. So, I was joined by Ken and Eric for this one, it was a delightful meal.

Wednesday - December 14, 2011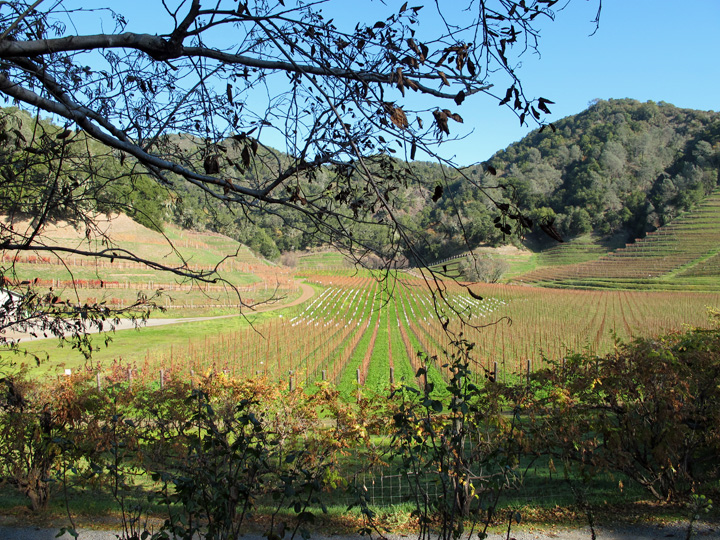 Tasting Notes: Current Releases

Skipstone 2005 Red Wine "Oliver's Blend" - Estate, Alexander Valley. 65% Cab, 25% Merlot, 5% Malbec, 5% Petite Verdot. (made by Andrew Levy) Ripe cassis overtones, fleshy and very smooth throughout. There was a light scent of Cab Franc in the wine, but none was in the blend = Alex Valley fruit.
Skipstone 2006 Red Wine - Estate, Alexander Valley. 64% Cab, 18% Malbec, 13% Cab Franc, 5% Merlot. Great balance in aromas and mouthfeel. Very elegant and seamless, with lovely finish.
Skipstone 2007 Red Wine - Estate, Alexander Valley. 96% Cab, 4% Cab Franc. New oak scents permeate the fruity nose. Absolutely marvelous in mouthfeel, with perfect balance and seamless from front to back. If that oak integrates, well....
Skipstone 2008 Red Wine - Estate, Alexander Valley. 94% Cab, 6% Cab Franc. Strikingly similar in nose to the '07. But in mouthfeel - even more impressive! Full and balanced on the palate, with that dried herb flavor nice touch that Cab Franc brings to the table. Classic!


I'd been in contact with General Manager Brook Drummond, after tasting some Skipstone at a Cabernet event in Laguna Beach. We arranged for a visit. She mentioned the view was nice.
When we arrived at the property, the view was breathtaking. Here, stretched out before us was a gorgeous amphitheater of winegrowing. What a piece of property. What a view from the house and office behind us.
Brook came out of the office to meet us. It was obvious she was "with child" as they say. And, the doctor had ordered her not to do anything strenuous - like walking the hilly vineyard. We were handed off gently to the very capable Amy Schaefers, who gave us the full vineyard tour, and marvelous tasting!
The Skipstone vineyards encompass 30 organically farmed acres forming an amphitheater shape surrounded by steep mountain slopes above Alexander Valley. An ambitious redevelopment of the vineyard was undertaken upon the discovery of the site, and new viticultural practices were implemented after "listening" to the vineyard through extensive evaluation.
In 2003, Proprietor Fahri Diner recruited highly-regarded organic farming consultant Amigo Bob Cantisano to help develop standards specifically tailored to the diverse geography and terroir of Skipstone. A specialist in organic farming since 1972, Amigo Bob has worked closely with many of Napa and Sonoma's most prestigious vineyards and wineries. Today, Skipstone is a thriving organic and sustainable estate, uncompromising in its farming standards and its stewardship of the land. In return, its vineyards and orchards yield nature's finest quality fruit.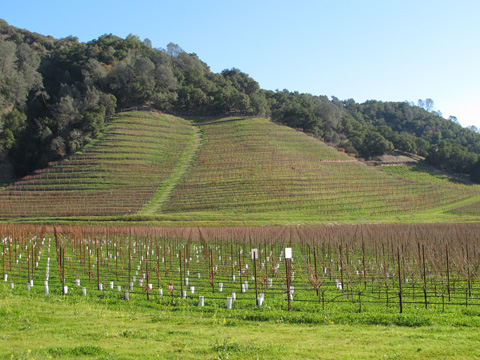 The 200 acre Skipstone estate property has received Organic certification from the reputable California Certified Organic Farmers (CCOF) organization. They adhere to strict CCOF Organic farming standards with a focus on Sustainability throughout the entire estate including the vineyard, seven acre olive grove, and 1.5 acres of culinary gardens and orchards. In addition to our farming practices, Skipstone applies a philosophy of zero waste and sustainability to everything, right down to choosing 100% post consumer recycled content for our business cards and packaging our wine in styrofoam-free boxes. They also plant a tree for every case order we receive and in 2009 added our first biodeisel farming vehicle to further offset our carbon footprint.

Skipstone is also trying to operate with a zero carbon footprint. In addition to the Sustainable and Organic vineyard practices, they use 100% recycled materials when printing marketing materials or shipping wines. They are completely solar powered through a 35 kW photo voltaic solar system consisting of 130 panels forming an impressive array. Whatever energy they don't consume, gets sent back to the energy grid.
Baby Doll sheep are a unique heritage breed commonly referred to as South Down Sheep. The sheep are ideal grazers and help in the springtime with controling cover crop growth. In addition to the amazing results in short periods of time, they are eliminating gasoline for manual weedwhacking, and are fertilizing the vineyard in the process. Free range chickens are also on the property, and incorporate their 'fertilzer' in our composting.
Skipstone is in their 4th vintage - although some of the vines on the property are 20 yrs old (Cabernet and Merlot). Production is a miniscule 500 cases, of which 200-300 are Cabernet-based and the rest are Viognier. The wines are made by Philippe Melka.
Additional Photos from Skipstone Ranch
Tasting Notes: Barrel Samples & Current Releases
Barrel Samples
Vellum 2010 White - Napa Valley. 80% Sauvignon Blanc, 20% Semillion. Barrel fermented. One carboy (10%) is through malolactic. Nose of alfalfa, clover, hay, and newly mowed grass. Picked at low brix, for lots of acids and very long finish.
Vellum 2009 Cabernet Sauvignon - Napa Valley. Mostly Coombsville fruit, clone 337, 11th leaf, organically grown, very high trellising. Fairly austere in the nose, with a slight hole at mid-palate.
Vellum 2009 Cabernet - Napa Valley. Clone 8 from Chiles Valley (hotter area). About 20% Merlot. Front and mid-loaded, with somewhat short finish.
Vellum 2009 Petite Verdot- Napa Valley. From Capell Valley (south of Chiles Valley). Nice tannins. Very tactile on the palate and nice finish.
Vellum 2009 (blend of above '09 barrels) - Napa Valley. A nice wine whose sum is definitely greater than the individual parts. Should be a very nice wine.

Current Releases
Vellum 2007 Cabernet Sauvignon - Napa Valley. Very refined, this wine is in a nice place. Elegant and feminine, with a nice Margaux quality.
Vellum 2008 Cabernet Sauvignon - Napa Valley. Darker than the '07 and slightly riper, there is gobs of jammy fruit in both nose and mouthfeel. Some green tobacco aroma (which dissipates w/time), and slightly less acids then the '07.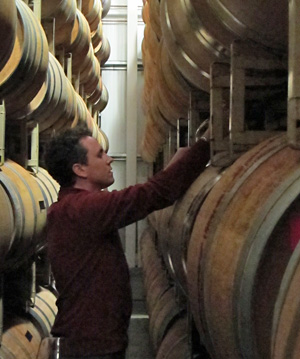 We departed Alexander Valley for our appointment with Jeff Mathy, who is making his Vellum wines in a custom crush facility in a light industrial section south of Napa. We arrived at Bin to Bottle, on Camino Dorado, and had called him ahead of time to let him know we were running late.
Ken had tasted his Cab at the Family Winemakers of California tasting in San Francisco, and thought we ought to pay them a visit. From what we tasted, it appears they've succeeded at replacating what we thought was long gone from Napa - Old School Cab.
Karl Lehmann and Jeff Mathy started Vellum Wine Craft in 2006. Their conscious goal was to make Napa Cabernet in an "old style" manner. Which is to say, not too ripe, not too much alcohol, and not too much new oak. At Jeff's suggestion, we started with tasting the barrels, then moved into a common conference in the facility to taste the bottles wines. I hate to put it this way, but I was impressed - especially considering these were Millenials making the wines. I'd given up on Cab, given all the over-extracted behemouths out there. And, I just assumed that younger winemakers were (or had been) leading the charge. Could I possibly be wrong! ;-)
For dinner that evening, Ken and I celebrated old school Napa and went for tradition. We decided what we both needed was a trip to Mustard's Grill! It had been a long day and a couple of burgers and beers were just what the doctor ordered. From here, Ken headed south to home, and I headed back up to my motel in St. Helena.
Epilogue -
Well, another nice trip is put to bed. Lots of nice wines, and lots of promising future successes for wineries. Skipstone was just gorgeous, and the wines were stellar as well. Larkmead is always a pleasure, although the wines are getting bigger in framework. Is it wrong to want things to get old school again? We'll see.