Vol. 7 No.3. Nov '99
Napa - Sonoma

Vineyards & Wineries Visited -
Journal and tasting notes from a three day tour of the Napa and Sonoma Valleys.
Tasting Notes / Scores: Brief tasting impressions are included following the winery write-up. An "n/n" indicates that no notes were taken.
It's been two years since we last visited the Napa and Sonoma wineries (Nov '97). So, it was time to get back into the saddle and see what the folks up north have been doing with all their grapes. I would really like to take this trip once or twice a year; because, it seems to take that kind of frequency to keep up with the changes in ownership, new wineries, etc. But frankly, I think visiting that often would kill some of the thrill and anticipation. I generally take a trip like this right after Thanksgiving to take advantage of the 3-day weekend.
However, doing this on a holiday weekend is like a double-edged sword. On the plus side, many wineries are having Open Houses or some other holiday celebration, so they'll often pour wines that are generally not available otherwise. On the down side, the Fridays after Thanksgiving are notoriously busy. In addition to the usual out-of-towners, hordes of local patrons with their extended families in tow, clog up the roads and descend upon the wineries - which is especially evident on Friday. Saturday isn't quite as busy, and Sunday seems to be reasonably quiet.
We followed the usual itinerary and started with Sonoma County, attempting to get in a half-day of wine tasting in the Sonoma Valley. Then, in the following days we'd crisscross our way back and forth between Napa and Sonoma, so that we could meet our appointments and still visit other wineries over the remaining 2-1/2 days. Establishing an itinerary of this sort usually requires setting up any/all appointments first, then filling in with regularly open wineries or tasting rooms. Of course, there's often a need to improvise along the way, if for instance, a winery's hours have changed or they've closed earlier than normal.
Fri, Nov 26, 1999
Arrived at Domaine Carneros at 1:55. Seems as though we've always driven past this Chateau on Hwy 12 on nearly every trip to wine country; although it's right on the way into Sonoma, we've never stopped.Tattinger is the French partner in this venture. Offering 3 sparkling wines at various prices by the glass. As appears to be customary at most "Champagne" houses (and at Sterling too, as I recall), the patron is seated or seats himself at one of the many small tables, and a server comes by to take their order. Prompt and friendly service here, and as a plus, we apparently arrived in between the waves of customers. From high up on a hillside, the view is commanding, and one could easily just stay here and sip sparkling wine all day - that is, if one didn't have an itinerary dictating each and every move. Very nice setting though, and the glass of Brut I tried ($5) will definitely have me looking for this wine at my local shops. Out at 2:30.
Tasted at Domaine Carneros:

1995 Domaine Carneros Brut - Carneros. $19

Hints of yeast and crisp lemon in the nose. Lively yet soft and fruity mouthfeel, very nice finish completely absent of sour or bitter flavors. Overall: B+
Arrived at Gundlach-Bundschu at 2:40. Full crowd in tasting room, with most of the tasters practicing the "This is my space, and I'm not leaving the tasting bar" mentality. Finally one of us was able to squeeze his way into an open spot. Announcing to our pourer that we were interested in tasting "reds only," the 1999 games officially began (the "champagne" tasting was merely the opening ceremony). Unfortunately, this pourer was also doing double-duty as the cashier. Given the crowd, it looked as though I wasn't going to get my glass back into this window of opportunity very easily. So I opted to try another part of the bar, hoping that people would back away a bit so I could get one of the other pourers attention. Opportunity finally knocked. But unfortunately, this turned out to be Mr. Skimpy-Pourer's station. Eyeballing my minuscule pour as I made my way from the bar toward the back of the room, I saw my colleague holding a full glass of Zin. "She told me to give you half of it," he said, in explanation to the dumbfounded look on my face. Apparently, the aforementioned cashier-pourer had not seen my glass come forward for the Zin, so she came up with this brilliant way to serve the both of us. She presumed too much. I mean... this wasn't '45 Lafite - I'm not going to swap wine out of someone's glass - at least not this early in the day. Novel approach aside, this just might run afoul of a few ABC laws. On the other hand, I thought maybe I could try the same ploy, and get a full glass of wine too! Nope. Experiment over - she was back to regulation pours. Out at 3:05.
Tasted at Gundlach-Bundschu:

1997 Gundlach-Bundschu Pinot Noir - Rhinefarm Vnyds, Sonoma Valley. $18

Nice nose of cola and black cherry. Off-sweet fruit seems a bit singed on the palate, but finishes okay. Overall: B

1997 Gundlach-Bundschu Zinfandel - Morse Vnyd, Sonoma Valley. $16

Deep extraction. Nose of raspberry, boysenberry, and blueberry. Full body, smooth fruity mouthfeel, delicious aftertaste. Overall: A-

1997 Gundlach-Bundschu Cabernet Sauvignon - Rhinefarm Vnyds, Sonoma Valley. $24

Nose of raspberry, plum, black cherry, and cola. Soft tannins, easy mouthfeel. Taste seems a bit atypical. Overall B+
Arrived at Arrowood at 3:40 to a moderately busy room. Dick Arrowood's been doing quite nicely since he left Ch. St. Jean in 1988. The Arrowood wines are always dependable, although like all premium wines, they're getting a bit pricey. The last time we were here (Oct '93), tasting was done in the smaller hospitality house next door, which probably didn't handle more than a dozen people or so. This new tasting room, however, was well appointed and seemed spacious enough to take on some larger crowds. Friendly folks pouring 3 wines for a $4 tasting fee, which seemed quite fair considering the two reds that were included. Out at 4:00.
Tasted at Arrowood:

1998 Grand Archer Chardonnay - Sonoma County. $14.50

Nose of pineapple, pear, and straw. Pineapple and pear fruit, with hint of butterscotch. Overall: B

1996 Arrowood Merlot - Sonoma County. $40

Fleshy, nose of cola and candied cinnamon. Very nice body and balance, long finish. Overall: B+

1996 Arrowood Cabernet Sauvignon - Sonoma County. $44

Very nice cherry, and black cherry nose, with hint of vanilla and oak. Very solid mouthfeel. Open and accessible, with great balance and long finish. Overall: A-
Arrived at Ch.St.Jean at 4:10 to a moderate crowd. Since CSJ was having it's usual Thanksgiving weekend Open House, they were pouring wines at different locations in and around the chateau. For $5, we tried the sparkler; passed on the regular Chardonnay, and moved on to the reds. With only a Pinot and Merlot being poured, we decided to go upstairs to the reserve tasting room to seek out some other reds. For an additional $5, we were able to pick 3 wines to taste from their offering of: three Chards, a vnyd-specific Pinot, and a Cab Franc. Hospitality employee Bob Beck poured and chatted up the winery's mailing club, where members will receive about one case of wine delivered over the course of a year, at a 25% discount. I asked about availability on the '96 Cinq Cepages, the newly anointed Wine Spectator darling that looked to go up about 33% in price. Bob said that club members would get some in their allocation, but he couldn't say how much. As with many clubs, this particular one would be of more interest to me if specific wines could be selected by the member, rather than having the winery assume that role. Out at 5:15.
Tasted at Ch.St.Jean:

1990 Ch. St.Jean Sparkling Wine - Sonoma County. $22

Quite yeasty, and nearly sour nose. Somewhat poor concentration of flavors. Overall: B-

1997 Ch. St.Jean Pinot Noir - Sonoma County. $18

Black cherry and plum nose. Fleshy mouthfeel, good fruit, nice finish. Overall: B+

1997 Ch. St.Jean Merlot - Sonoma County. $20

Fleshy and fruity nose. Very fleshy mouthfeel, with flavors of black cherry and cola. Good concentration and medium-long finish. Overall: B+

1994 Ch. St.Jean Chardonnay - Rob't Young Reserve, Sonoma County. $60 (Magnum)

Nose of pear, allspice, and nutmeg. Nice structure, plenty of fruit, long finish. (from magnum). Overall: B+

1997 Ch. St.Jean Pinot Noir - Durell Vnyd, Sonoma County. $30

Slightly closed nose, but leans to the less ripe side of the varietal. In contrast to the nose, the mouthfeel is is of sweet ripe fruit, with a chewy consistency and long finish. 14.6% alcohol. Overall: B+

1996 Ch. St.Jean Cabernet Franc - Sonoma County. $30

Deep and dark color. Slightly tight nose of blueberry, shoe polish, and cassis. Full and tannic mouthfeel, with lots of black fruit, pepper, and spice. Slightly tart blueberry note of very long finish. Overall: A-
Arrived at Family Wineries Tasting Room at 5:20 to a fairly crowded room. Just about any winery or tasting room open past 5pm will attract a mess of "last call" gadflies (it takes one to know one), in addition to the ever-present fruit flies. This moderate-sized tasting room in Kenwood is designed to offer tastes from many of the smaller family-owned wineries in the area. A unique tasting bar had several stations, each separated by an attractive cut-glass privacy" divider (like a classy bank) dividing the bar into approximately 5' sections. Since each of these stations carried one or two specific winery's advertising, and each seemed to be staffed with a pourer, it almost appeared as though the wineries had leased space at the counter. However, there didn't seem to be any problem getting pours of one wine at another winery's "station." I tried 9 from the very broad selection of 38 wines on their list, with no charge for tasting. Generally decent wines with a few standouts. Prices for the wines seemed a little high, and possibly out of sync with their quality levels. But then, these are generally very small wineries producing small quantities of wine. Out at 6:00.
Tasted at Family Wineries:

1997 Deerfield Ranch Sangiovese - Roumiguiere Vnyd, Sonoma County. $20

Very light strawberry flavors; somewhat fruity and dry, with clean taste. Overall: B

1998 Mayo Family Winery Pinot Noir - Russian River Valley, Piner Ranch. $35

Lighter style, less that stellar nose, and only moderate mouthfeel. Overall: B

1998 Nelson Estate Pinot Noir - Russian River Valley. $28

Moderate extraction, nice nose, good mouthfeel and flavors. Overall: B+

1998 Noel Wine Cellars Barbera, Kunde Ranch, Sonoma Valley. $24

Moderate extraction, average smoky nose, decent mouthfeel and flavors. Overall: B

1997 Noel Wine Cellars Merlot, Sonoma Valley. $22

Somewhat fleshy nose and mouthfeel, sweet/sour finish. 98 cases made. Overall: B

1996 Nelson Estate Merlot, Sonoma Valley. $24

Fleshy nose, medium mouthfeel; good fruit - better nose. Overall: B+

1997 Sunce Winery Cabernet Sauvignon, North Coast. $32

Smoke, olive, caper, BBQ sauce nose, very inky and new mouthfeel. Overall: B

1997 Tantalus Cellars Cabernet Sauvignon, Van der Kamp Vnyds. $35

Huge nose of cassis, shoe polish, new oak, and spices. Moderate mouthfeel and flavors. Overall: B

1997 Mayo Family Winery Cabernet Sauvignon, Los Chamizal Vnyd. $32

Nose of cassis, sweet sawdust. Very young and tannic mouthfeel. Overall: B+
Managed to get to 5 wineries and 1 tasting room, and had a total of 22 wines in the brief afternoon. Tomorrow would be our first full day, and was to start with a bang at Pride Mtn.
Sat, Nov 27, 1999
Up early for the trek over the Mayacamas to our first stop at Pride Mtn. Arrived on location early, so we decided to kill some time driving down to the Napa valley floor. We took a couple of photo opps and passed by Guilliams, Robert Keenan, and Schweiger wineries along the way. Then we doubled back in time for our 10am appointment.
Arrived at Pride Mtn at 10:00. Greeted by Sales Director Tim Bouchet, who poured everyone a taste of the '97 Cab. Tim described the winery's originsa nd history, and then took our tour group of 11 on an extended walk through the vineyards. Along the way, Tim encouraged all of us to taste examples of each of varietals by picking off some of the remaining grapes. Pretty interesting way to note the taste and skin thinckness of each varietal.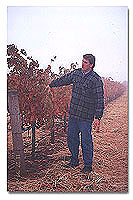 The winery has a fabulous location high up in the Mayacamas, literally straddling the Napa Sonoma County lines. The actual county border is marked by brickwork that forms a line extending across the crush pad and on towards the storage cave that is under construction. Although morning fog obscured most of the potential vistas from the mountain, the vineyards are ideally situated so that one can see all the way from Howell Mtn to the East, to Bodega Bay to the West. Very nice visit. Back at the hospitality room, visitors were able to purchase bottles of the only remaining wine for sale - the '97 Cab - limited to 4 bottles per person. They did have a few etched larger format bottles of Merlot, but nothing else. As we were leaving, Tim suggested that we stop by Guilliams Winery down the road, mentioning that he had called ahead to ask if they would receive visitors. Since we thought we had a noon "appointment" at Vigil, rather than chance arriving late, we passed. Big mistake! As it turned out, Vigil was holding an Open House so tardiness wouldn't have been a problem. Live and learn. Out at 11:15.
Tasted at Pride Mtn:

1997 Pride Mtn Cabernet Sauvignon - Napa Valley. $36

Classic nose of cassis, shoe polish, black cherry and oak. Tannic and tasty mouthfeel. Overall: A
Arrived at Vigil at 11:50. Just a few people in the room when we arrived. Two fellows pouring, one of whom sounded as though he might be the winemaker, or at least had a hand in the winemaking process (I didn't ask). They poured quite an assortment of things, mostly blends of one kind or another, some white, some red. Elected to try one of the whites and most of the reds - N/C for the tasting. The wines seemed generally light-to-medium bodied, with a corresponding amount of fruit. Their "quaffability" was probably due in no small part to the abundant use of "volume" grapes in many of the blends. Psychologically detracting from the wines, was the also abundant use of cute proprietary names. What's wrong with that, you ask? Well, proprietary names are one thing. But, I'm kind of a purist. I know this sounds snobby, but to me, cute proprietary names seem to diminish a product, making the whole effort look less like serious winemaking. And this, afterall, is the "serious" Napa Valley. Decent stop though, and friendly people. But unfortunately, knowing that I'd passed on a visit to Guilliams probably made the wines seem even less impressive. (He who lives by the glass....) Out at 12:30.
Tasted at Vigil:

1997 Vigil Desesperda White. $10

Fragrant nose, with a Viognier quality to mouthfeel. Surprisingly good quaffer. Blend of 6 white grapes. Overall: B+

1995 Vigil California Terra Vin. $10

Nose of ...hamburger! Light Zinny mouth. Decent grip on mid and back palate. Good BBQ wine. Zinfandel/Carignane blend. Overall: B

NV Vigil Vigilante Red Numero Quatro. $12

Floral, buttery, and meaty nose. Chewy mouthfeel, slightly tart off-sweet fruit. Nice lighter style of wine, though not quite a rosé in color. Overall: B+

1997 Vigil Tres Condados Zinfandel. $14

Odd and somewhat closed nose of raspberry, pepper, mint, eucalyptus, toast. Very sweet mouthfeel, somewhat bitter midpalate, long sweet finish. Amazing taste, considering the nose. Overall: B

1998 Vigil Zinfandel - Mohr-Fry Vnyd Old Vines. $18

Raspberry and butter nose. Jammy mouthfeel, good balance, slightly hot finish. Overall: B

1996 Vigil Valiente Meritage - Napa Valley. $20

Bordeaux-like nose. Soft mouthfeel, yet good structure. Light-medium body and finish. Overall: B

1997 Vigil Organic Terra Vin Reserve. $22

Light Zinny nose. Jammy, sweet and spicy. Long finish. Field blend of Zin, Carignane, and Refosco. Overall: B

1997 Vigil Cabernet Franc - Solari Vnyd. $25

Big floral and blueberry nose. Chewy mouthfeel, spicy fruit. Tasty long finish. Overall: B+
Drove back into Calistoga to search for some Pride Mtn Cab Franc (this turned out to be like looking for snipe!). I did end up finding some Pride Mtn Merlot at the Wine Stop. Grabbed a tailgate snack, and headed back toward Storybook Mtn.
Arrived at Storybook Mtn at 1:20, and joined the tour in progress out in vineyards (oops, late for an appointment).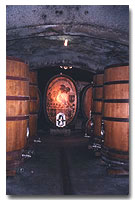 Our tour guide told us some old stories about the founding brothers Grimm, and the 3 Jakes (Jacob Beringer, Jacob Grimm, and Jacob Schram), who all arrived in the late 1800s. Nice tour, and we were able to taste in a 100 year-old cave. A nice historic winery, some really picturesque vineyards, and a quality product. So, what's not to like? Yet, I was a bit disappointed with the visit, probably due to the expectations of being able to taste 3-4 wines, all Zins of varying appellations. Unfortunately, the winery was out of stock on all but two of the wines, the Howell Mtn and the regular Napa bottling. And, the Howell was in short supply, since it was Storybook's last bottling of this appellation (vnyd owner Randy Dunn has pulled out all the Zin from this Vnyd and replanted with...what else...Cab). Out at 2:20.
Tasted at Storybook Mtn:

1997 Storybook Mtn Zinfandel - Napa Valley, Mayacamas Range. $20

Nice raspberry and briar nose. Chewy consistency, long finish. Overall: B+
Arrived at Perelli-Minetti at 2:50. Hadn't been here before, and haven't had any of their wines. Busy room, loaded with happy people who've obviously been having a great time wine tasting for most of the day. Since the bar was crowded with tasters, we hung out over at the side while jotting down our tasting notes. We were just trying to remain part of the furniture, as well as trying to avoid the swarm of fruit flies at the dump bucket. But, since we must have appeared anti-social, some of the folks at the bar were chiding us to "...com'n over - we'll make room." Well, okay. Pouring 3 wines for $3 tasting fee. The wines offered here seem to be moving away from the Perelli-Minetti label to that of William Harrison (a nephew). Nice packaging, but I wasn't overwhelmed with the wines. Out at 3:10.
Tasted at Perelli-Minetti:

1997 Perelli-Minetti Chardonnay. $15

Slightly grassy/fruity nose. Residually sweet fruity taste and finish. Overall: B

1994 William Harrison Cabernet Franc - Napa Valley. $22

Slight blueberry nose. Stark and stern mouthfeel, moderate fruit. Overall: B

1995 William Harrison Cabernet Sauvignon - Napa Valley. $24

Nice cassis nose. Thin mouthfeel and body. Overall: B
Since we'd planned to hit a couple more wineries before having dinner at Tra Vigne, I decided to call for a reservation. No openings 'till 8pm! Hmmm, what about Mustard's? No openings - 'till 9pm! Finally decided on dinner at the Rutherford Gri,l which doesn't require or even take reservations. So, we figured we'd head South on Hwy 29 to pick up a couple more stops before doubling back to the Grill to wait with the rest of the mob for a table.
Stopped first at Whitehall Lane. They were serving five wines for $5, but only two of them were red, so we passed. Tried Peju Province. I've been hearing some good things about the Cab and Cab Reserve. However, it looked as though it would be a while before we could taste here. I imagine their limited tasting bar space is the rationale behind the misguided method Peju uses to handle its visitors. Tasters are supposed to wait at the "Please wait here..." sign in the decently appointed gift shop area until they are called forward to the tasting bar. Since there was no actual line or queue, it appeared there might be a mad rush to the bar when an employee was ready to serve a new group. With only two pourers handling the room, and moving leisurely through the wines to boot, we could see this becoming a big time sink. Not since St. Supery (link) have I seen such an inefficient method of moving people through a wine tasting. So, we gave up on Peju and headed for Beaulieu (aka, BV) which was conveniently located right behind the Rutherford Grill.
Arrived at Beaulieu at 3:50. Semi-crowded circular tasting room (spiral staircase in center of room leads down to retail shop). Serving 5 wines for $5 tasting fee - keep the glass. Passed on the Sauvignon Blanc, trying the Chardonnay and all three reds. It may have been just me, but each of the wines seemed a bit thinner than usual, conveying a sense of diluted flavors. Would like to have visited the Reserve Room here, but time was short, and diners were starting to gather around the Rutherford Grill. Out at 4:15.
Tasted at Beaulieu:

1997 BV Chardonnay - Carneros. $13

Nice fruity nose. Crisp with moderate flavors. Overall: B

1998 BV Pinot Noir - Carneros. $16

Black cherry and cola nose. Light-medium body and mouthfeel. Overall: B

1997 BV Zinfandel - Napa Valley. $12

Nice raspberry nose, medium body. Overall: B

1996 BV Cabernet Sauvignon - Rutherford. $16

Cassis and slightly anise nose. Medium mouthfeel. Overall: B
I'd stopped my tasting between the Pinot and the Zin to put our name in for dinner at the Rutherford Grill and pick up the obligatory pager. No sooner had I finished with the Cab, than the pager went off. Nice timing. For dinner, I had the pork roast and garlic mashed potatoes, along with a '97 Stonefly Cab Franc. And, while I have no specific notes, both were quite delicious. Totals for the day: 5 wineries and 17 wines. Not really up to our usual body count, but then it was a screwy day too.
Sun, Nov 28, 1999
Left Napa for our first stop of the day. It took about an hour to get from Napa to the Green Valley area of Sonoma County. The irony wasn't lost on us that we could've stayed another night in Santa Rosa and spent less time on the road this morning. On the other hand, then we'd have had to drive to Santa Rosa after our last Saturday visit at BV and dinner in Napa. I suppose it's all six of one, or a half-dozen of the other.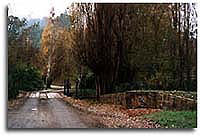 Arrived at Iron Horse at 10:00. As we approached from the parking lot, Shirley Everly, Hospitality and Sales Director, waived us over to the side of the winery to a patio overlooking the rolling hills of Green Valley. Here, a large weathered plank tasting bar sat atop oak barrels. Once again, fog obscured most of the view this morning, but it was easy enough to see that this was yet another beautiful setting. Pulling bottles left over from the day before from an ice chest behind her, we started off with some literally ice-cold Millennium Brut, as Shirley proceeded to tell us all about Iron Horse, and the huge crowd she'd had the day before.
These may be some very nice bubblies, but the ice-cold temperature of these wines made them really difficult to assess. Further, tasting sparkling wines from a still wine glass does little to enhance aromas and taste. In many cases the wines smelled numb from the cold. After awhile, a gentleman showed up to "re-taste" some of the wines that he'd tasted the day before. He'd apparently been too palate-fatigued to recall how well he liked them, and was here for another go at it. Seemed like a local resident to me, with lots of wine stories to share. This was our cue to exit stage left. Out at 10:35.
Tasted at Iron Horse:

1997 Iron Horse LD Millennium Release Brut. $50

Faintly yeasty and fruity nose. Good presence on palate, but too cold to assess.

1994 Iron Horse Brut Rosé. $28

Imperceptible nose. Light strawberry fruit.

1991 Iron Horse Blanc de Blanc. $33

Crisp and fruity nose. Fruity crisp mouthfeel.

1998 Iron Horse Fume Blanc, T-bar-T - Alexander Valley. $18

Floral and citrus nose. Medium body, nice aftertaste. 17% Viognier added. Overall: B

1997 Iron Horse Chardonnay, T-bar-T - Green Valley. $22

Slightly crisp and lemony nose. medium weight, and crisp, if somewhat sour taste. Overall: B

1997 Iron Horse Sangiovese, T-bar-T - Alexander Valley. $22

Very nice dried cherry and cinnamon nose. Medium mouthfeel, long finish. Overall: B+

1997 Iron Horse Pinot Noir, T-bar-T - Green Valley. $24

Light strawberry and earth in the nose. Light-medium mouthfeel, medium finish. Overall: B

1993 Iron Horse Cabernet Sauvignon - Alexander Valley. $70 (Magnum)

Tight nose, but some wafts of herbal cassis evident. Still tannic, with an herbal and vegetal quality. Overall: B
Even though we ran through a fairly extensive lineup at Iron Horse, the absence of a tour gave us a bit of breathing room from the one-hour visit that I'd allocated. Originally, I'd hoped to get to Swan and Everett Ridge before heading over to Napa Valley to pick up Flora Springs, and finally to our 2:00 appointment at Napa Wine Co. But, at 10:45 we were too early for Swan's 11:00 opening time. And since they still had the chain up on their entrance driveway, we decided to head for Everett Ridge instead.
Arrived at Everett Ridge at 11:10. Only two other tasters in the room, so we were able to chat leisurely with the very nice lady doing the pouring. The Nuns Cyn Syrah had been highly recommended, but they weren't pouring it and all the winery had left to sell were the Millennium etched bottles. The Syrah was regularly $22. But, even with the special bottle at $38, it was still worth a try. The wines were all good to very good, and the staff member was very pleasant. Some very reasonable prices as well. Out at 11:50.
Tasted at Everett Ridge:

1998 Everett Ridge Chardonnay - Russian River Valley, Michalczyk Vnyd. $18

Crisp and fruity nose. Medium mouthfeel, lots of fruit. Overall: B

1997 Workhorse Pinot Noir - Russian River Valley. $16

Strawberry and cola nose. Medium body, nice fruity finish. Overall: B+

1997 Workhorse Old Vine Zinfandel - Dry Creek Valley. $13

Fruit-filled nose of raspberry and strawberry. Light-medium mouthfeel and medium finish. Pretty much a quaffer. Overall: B

1997 Everett Ridge Cabernet Sauvignon - Dry Creek Valley. $22

Nose of black cherry, anise and herbs. Medium body and finish. Overall: B
Arrived at Lytton Springs at 11:55. No other tasters in attendance. Friendly pourer (in contrast to a long-ago previous visit, and/or other people's experiences). For those who don't know, in 1991, Ridge bought the Lytton Springs winery and vineyard to obtain exclusive rights to the old vine Zin. Winemaking takes place in Santa Cruz, and this location serves mostly as a sales/tasting room for Ridge. The Lytton Springs label was dropped in 1994. Pouring 4 Ridge wines for $3 tasting fee; actually a bargain considering it included the Pagani Zin. Out at 12:15.
Tasted at Lytton Springs:

1993 Ridge Carignane - Alexander Valley, Sommer Ranch. $18

Rather non-descript nose. Burnished cassis taste. Overall: B

1990 Ridge Zinfandel - Jimsomare, Santa Cruz. $24

Meaty and slightly burnished nose. Semi-sweet mouthfeel, chewy consistency, older fruit. Overall: B+

1993 Ridge Zinfandel - Lytton Estate $30

Raspberry and blackberry nose. Rich fruit and mouthfeel; sinewy at finish. Overall: B+

1992 Ridge Zinfandel - Pagani Vnyd $40

Deep herbaceous raspberry nose. Full rich mouthfeel; some acids at finish. Overall: B+
Arrived at Flora Springs at 1:05 to a quiet room. Rather than conducting tastings at their winery/headquarters in Rutherford, Flora Springs is now operating out of a very nice tasting room on Hwy 29. Our pourer, Keith, was very knowledgeable and cordial, as well as efficient. He was of considerable help to a couple from out-of-state, suggesting shipping methods and making luncheon reservations. Tasting options were from the daily selection sheet for $5, or $8 including the reserve list. As with most wineries, Flora Springs seems to do better with certain varietals. In the past, their red program was quite impressive, with many of their regular line wines (Merlot, Sangiovese) representing real bargains. This time however, all the beauties were in the reserve end of the price scale. Out at 1:55.
Tasted at Flora Springs:

1997 Flora Springs Sauvignon Blanc - Reserve - Napa Valley. $14

Nose of sweet grass and straw. Tasty grass and fruit, toast finish. Overall: B+

1998 Flora Springs Chardonnay - Estate. $18

Clean, crisp and smoky nose. Crisp mouthfeel, lemon-smoke taste. Overall B+

1998 Flora Springs Chardonnay - Barrel Fermented. $24

Nose of pear, apple. Rich mouthfeel, slightly sour/floral taste, grassy finish. Overall: B

1998 Flora Springs Pinot Noir - Lavender Hill, Carneros. $30

Odd combination of floral, burnished and VA aromas. Fleshy, light body, with brief fruit at finish. Overall: B

1995 Flora Springs Zinfandel - California. $15

Smoky raspberry nose. Off-sweet chewy mouthfeel, slightly sour finish. Overall: B

1998 Flora Springs Sangiovese - Napa Valley $16

Somewhat closed nose of dried cherries. Spicy, fruity and fleshy mouthfeel. Excellent balance, long finish. Overall: B

1997 Flora Springs Merlot - Estate $20

Fleshy and leafy nose. Sweet juicy fruit, but light in body. Overall: B

1992 Toad Hall Bodacious - Napa Valley $35

Very ripe nose with raisin, smoke, matchstick, and beet. Tannic and and slightly thin mouthfeel. Has a sinewy substance - like a free-range toad. Overall: B

1986 Flora Springs Cabernet Sauvignon - Napa Valley $? (from decanter)

Orangish edge, burnished cassis/wood nose, touch of raisin and veggie. Fruit has fallen-off significantly, and seems to have gotten a bit sour to boot. Some heat on moderate finish. Overall: B-

1996 Flora Springs Merlot - Windfall $50

Complex and ripe nose. Substantial mouthfeel, big fruit and tannins. Serious stuff. Overall: B+

1996 Flora Springs Trilogy - Napa Valley $?

Beautiful floral, cassis, herbaceous, cocoa-scented nose. Big mouthfeel, but silky texture. Very long finish and tasty. Overall: A-
Arrived at Napa Wine Co at 2:00. A call to Staglin referred me to this winery in Oakville.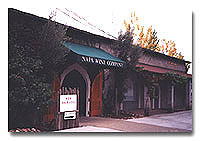 This custom crush facility, caters to wineries that have no actual winemaking facilities of their own. By their own description, "...Each winery member brings in their own Winemaker, their own grapes, and their own barrels then uses the Napa Wine Company's facility to crush, ferment, age and bottle their wines. Each members' Winemaker directs our staff in the winemaking processes that depict the style of that particular winery."
The tasting room offers many (but obviously not all) of these wines for tasting, as well as some items bottled under their own Napa Wine Co label. An appointment is requested to taste, but I suspect that if one wandered in on a slow day they'd be happy to accommodate. Sales Manager Andy Gridley led us through several pours de jour, and we tried another from an extensive list on a price-per-pour basis. Friendly place, and the only place to taste Staglin and a few others. Plus, there's always some great stories and background info on wineries and winery personalities. Out at 3:00.
Tasted at Napa Wine Co:

1997 Lamborn Family Zinfandel - Howell Mtn. $23

Big spicy raspberry nose. Huge frame, spicy fruit, very long finish. Overall: A-

1997 Fife Zinfandel - Old Vines, Napa Valley. $45 (magnum)

Big blast of raspberry fruit in the nose. Tasty, big and chewy. Flattens out a bit on the finish, but this is a brute. Overall: A-

1997 Mason Merlot - Napa Valley. $22

Nearly Cab-like in nose. Big and tannic, yet mellow and tasty from mid-palate onward. Overall: A-

1994 Larkmead Cabernet Sauvignon - Napa Valley. $25

Nose of cassis, anise, herbs. Somewhat closed flavors in the mouth. Still tannic, good structure, long finish. Overall: B+

1996 Staglin Cabernet Sauvignon - Rutherford, Napa Valley. $26 (375 ml)

Nose of cassis, anise, sweet wood. Big and tannic, but major core of fruit. Overall: A-.
Arrived at PlumpJack at 3:05. Located on Oakville Cross Rd near Silverado Trail, this winery came on the scene quite recently, with accolades for its Cabernet Reserve. They're using the old Villa Mt. Eden facility to make the wines. But, they've built a new tasting room (VMtE used the kitchen of an old farmhouse for a tasting room). Pouring 6 wines for $5 tasting fee. Only two other people in the tasting room, so service was quick. Very good wines overall, with one of the more pricey Rieslings around. The Merlot was a heavily-extracted knockout. Out at 3:35.
Tasted at PlumpJack:

1995 PlumpJack Chardonnay - Napa Valley $18

Big nose, lots of malolactic qualities. Medium weight, good fruit, slightly hot finish. Overall: B+

1998 PlumpJack Chardonnay, Reserve - Napa Valley. $32

Lots of fruit in the nose. Crisp and lemony. Crisp fruity mouthfeel, slightly sour finish, big lemony body. Overall: B+

1996 PlumpJack Chardonnay, Reserve - Napa Valley. $75 (magnum)

Grassy, toasty, citrusy, matchstick nose; soft and buttery fruit. Overall: B+

1996 PlumpJack Riesling - Napa Valley. $16

Beautiful nose of spicy floral fruit. Spicy fruit in mouth, slightly spritzy, with sweet finish. Probably a knockout for Asian foods. Overall: B+

1997 PlumpJack Sangiovese - North Coast. $25

Nose of dried cherries, cinnamon, and cola. Very dry mouthfeel, and seems a bit closed or weak on fruit. The nose definitely carries this wine. Overall: B+

1997 PlumpJack Merlot - Rutherford. $38

Very nice fleshy and fruity nose. Big and fruity, with sufficient tannins to require a dental visit. Overall: A-
Arrived at Oakville Ranch at 3:40. It's always interesting to me to find a winery by one name that pours a majority of wines with another name. So, here's the story here. Randy Lewis and Bob Miner were partners in the Oakville Ranch venture. Lewis split in 1994 to form Lewis Cellars, and Bob Miner started building his own family label in addition to the Oakville Ranch label. Our pourer Steve, was very cordial and informative, and seemed to know the wines quite well. Nice wines, and a very pleasant visit. Thanks, Steve. Out at 4:20.
Tasted at Oakville Ranch:

1998 Miner Sauvignon Blanc. $14

Nose of hay and sweet grass. Some residual sweetness noted on mouthfeel. Flavors of hay and sweet grass. Overall: B+

1998 Miner Sangiovese Rosato - Mendocino. $12

n/n on wine, but recollection is that is wasn't up to the level of the Swanson offering.

1997 Miner Pinot Noir - Pisoni Vnyd, Monterey Co. $45

Burgundian-like nose of floral, cola, and hamburger notes. Very meaty mouthfeel and taste, slightly off-sweet or bitter finish. Overall: A-

1997 Miner Sangiovese - Hopland, Mendocino. $20

Big cherry nose. Lots of acids and high notes to the taste and mouthfeel. Gotta have food with this one. 6% each - Cab & Zin. Overall: B+

1997 Miner Zinfandel - Napa Valley. $20

Raspberry, anise nose. Good mouthfeel, sweet fruit, long finish. 5% each - Cab & Sangiovese. Overall: B+
Got into Mustard's before 5:00, which is always advisable. Totals for the day: 7 wineries and 43 wines. Now, that's more like it!
Mon, Nov 29, 1999
With three appointments set for today, the day looked really full. I figured there might be time to add one stop before the last appointment, but we weren't going to be able to do much improvising. Leaving Napa early to counter any uncertain delays on Silverado Trail (traffic, landslide, overturned wine barrels), we arrived too early at our first stop, so we proceeded up the mountain to Howell Mtn Rd and White Cottage Rd to look around, then headed back to first appointment.
Arrived at Viader for our 9:30 appointment. Proprietor Delia Viader greeted us at the winery, and led us through the facility, from the spacious upstairs business office, down to the winery itself, and finally out into the newly dug caves, the digging of which was still in progress just behind the winery.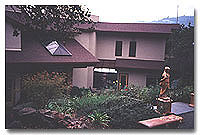 Afterward, grabbing a half-bottle of the '97, she invited us to a stunning room that appeared to be part of the main house on the other side of the hill, about 50 yards from the winery. Out on the patio, the view stretched Northwest out over Calistoga and the Mayacamas Mtns. Despite the fog, this was a breathtaking scene. Looking down onto the vineyards from the patio, Ms. Viader explained that it was the East-West exposure of these vineyards which gives these grapes a longer hang-time. Well, I can't blame them. Given the serenity and the view, I'd like to hang around longer too!
As we sipped through the '97, I found Delia Viader to be a gracious lady who was every bit as interesting as her wines, yet still seemingly a bit surprised at her international status. She'd just returned from Europe, and was obviously pleased at the press she was getting in several wine-related books in Germany. "Do you read German?" she asked while laying one of the books open on the table. I didn't. But the photographs of her and other California winemakers told most of the story with no interpretation needed. The photos looked like a Who's Who gallery, with her picture usually more prominently featured on the page (she's very photogenic). It was kind of amusing: here was Delia Viader turning the pages for me, pointing out "...there's Cathy, ...and there's Randy, ...and there's...." It was very surreal.
Very nice visit and an interesting glimpse into the more personal side of winemaking. Only my visit to Santa Cruz Mtn Vnyds last year (link) exceeded this for serendipity. I find visits like this are rare - especially in Napa. Although I did speak with Delia when I set up the appointment, I assumed that a staff member would probably conduct the tour. So, having the proprietor show us the property was an extra treat. I can't recall being treated so cordially and invited into someone's personal wine-life. Out at 10:35.
Tasted at Viader:

1997 Viader - Napa Valley. $50

Nose of chocolate, cassis, and anise. Big mouthfeel, with soft tannins, chocolate-cherry taste, and very long finish. Overall: A
Arrived at Saddleback at 10:55. Down on the valley floor, and just across the street from Silver Oak, is where you'll find Saddleback Cellars, Nils Venge's own label along with the family label, Venge, when he's not consulting. Now here was a contrast in styles. We'd just left the classy chateau-like digs of Viader, and were entering the world of winemaking operations in ultra-tight quarters. While Kristof Anderson was moving around some new barrels to beat the impending rain, Michele Wooliever was pouring 5 wines and chatting with us. Really nice people, and a nice intimate visit. Out at 11:45.
Tasted at Saddleback:

1997 Saddleback Cellars Chardonnay - . $

Nice lemony and grassy nose and flavors. Easy finish.

1998 Saddleback Cellars Viognier - California. $17

Nose and flavors of honey, pear, and pineapple. Somewhat less viscous than most.

1997 Venge Sangiovese -. $

Dried cherries, toast, anise nose; toasty off-sweet fruit. 12% Charbono.

1997 Venge Scout's Honor - Napa Valley. $24

Nose of raspberry, anise, and cocoa. Ripe and full on palate, long sturdy finish. 85% Zin, 15% Charbono. Overall: B+

1997 Venge Merlot - Napa Valley. $35

Big nose of fleshy cherry fruit. Big mouthfeel; a knife and fork Merlot. Overall: A-
Arrived at Mumm's Napa at 12:00. This is one of the more understated "champagne" houses in Napa/Sonoma. Rather than a grand chateau, they pour the wines in a low slung attached building facing the vineyards to the West. Entrance and exit is through the wine shop (convenient, huh?). Taking the lead from what most micro breweries have been doing, Mumm's has assembled a 3 half-glass sampler for $7.50. What a fabulous idea!! This way you can taste a few of the offerings, without having to order three glasses of "champagne." Oh sure, I'd like to try a glass of each of their bubblies. But, then I'd end up getting lazy about continuing with the daily plans afterward. Very small crowd, quick service. Out at 12:45.
Tasted at Mumm's Napa:

NV Mumm's Napa Blanc de Blancs. $19

Clean and lemony nose. Crisp and slightly fruity flavors. Overall: B+

NV Mumm's Napa Brut Prestige. $15

Clean and lemon and yeast nose. Crisp, fruity flavors, long finish. Overall: B+

NV Mumm's Napa Blanc de Noirs. $16

Clean and fruity nose. Fruity flavors, and tasty finish. Overall: B+
Arrived at Shafer at 1:00. Appointments here are usually made for one of two time-slots, 11:00 and 1:00.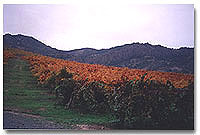 So, sometimes you'll end up in a large group - as we did at Pride - or, sometimes you'll be by yourselves. It's sort of a toss-up as to which is best. Often, larger groups will induce the winery to open up a larger number of wines, whereas they're not as likely to do so for just a couple of people. Sometimes with larger groups, the tour is more in-depth as well - there may be a visit to the storage room, barrel tasting, etc. So, with just the two of us in attendance, and since we'd visited Shafer before (link), our guide, Melissa Prange, elected to do the "short tour," walking us around the perimeter of the winery, while chatting with us and fielding my incessant questions. We sorely missed the barrel tasting, but I sort of went into this visit figuring that it would have a hard time measuring up to the last one. Out at 2:15.

Tasted at Shafer:

1997 Shafer Chardonnay - Red Shoulder Ranch, Carneros. $35

Slightly crisp and lemon and apple nose. Crisp palate, nice fruity flavors, long finish. Overall: B+

1997 Shafer Merlot - Napa Valley. $35

Fleshy and concentrated nose. Full mouthfeel, long finish. Overall: B+

1997 Shafer Cabernet Sauvignon - SLD, Napa Valley. $38

Nose of cassis and anise. Medium-full mouthfeel, long finish. Overall: A-

1997 Shafer Cabernet Port. $45

Wow! "May I have a drink of your tasty beverage?" Sumptuous nose, very ripe fruit, fabulous silky texture. Big mouthfeel - big price, too! The hook here is that this is available only at the winery. Overall: A
Managed to cram in 4 visits, with 13 wines for the day.
Wrap up: what a great trip! 22 wineries, 95 wines. I had set up 7 appointments for this trip, which is a higher number than usual. But, as one tries to visit absolutely every winery in California, sooner or later appointments are going to be a necessity. Also, with the increase in new winery startups, buy-outs, etc., the goal of visiting everything is becoming ever more illusive. But, that's okay, I'll just have to go more often and drink faster. Cool!
And now the envelopes, please.


| | |
| --- | --- |
| BEST VISITS: | Pride Mtn, Napa Wine Co., Viader |
| MOST DISAPPOINTING: | Vigil, Iron Horse |
| WINE BOZOS: | Peju Province |
Cheers!
Eric
---
---
Copyright © 1993 - 2004, Eric Anderson -
All rights reserved
No original material may be reproduced without written consent
Mail & Comments - Eric Anderson