Vol.10 No.2. February '02
San Diego County

Vineyards & Wineries Visited -
Journal and tasting notes from visits to five San Diego County wineries.
some photos courtesy of: Michael Poston
Often thought of as part of the same grape-growing region as Temecula - (which is actually in Riverside County) or forgotten about entirely, San Diego County is home to nearly a dozen wineries. The majority of these wineries are clustered near Escondido, although there are several other wineries scattered throughout the county. Grape quality can be surprisingly good in these parts, yet as always, it all comes down to the skill of the winery - both in the vineyard, and in the winery itself - to turn out a quality product.
Friday, Feb 22, 2002 - Escondido
Located in the rolling hills near Rancho Bernardo, Bernardo Winery is considered to be the oldest operating winery in San Diego. Originally founded in 1889, Bernardo was purchased by the Rizzo family in 1928, and has remained in family hands to this day. The Rizzo family had originally owned a larger spread of acreage, selling much of it to residential developers over the recent years, while retaining the winery and a small parcel for themselves.
Selected Tasting Notes:
1999 Bernardo Winery Sangiovese - Madera Co. $10. Slightly overripe and acidic in both nose and mouth. Seems very "Old Italian" in taste and texture, but might work well with pasta dishes. Aroma/Taste: C+/C+
1998 Bernardo Winery Carignane - San Diego Co. $10. Sweet fruity nose. Slightly tart and dry on the palate, good balance, tight finish. Aroma/Taste: B-/B-
1998 Bernardo Winery Syrah - Central Coast. $12. Mostly overripe in nose, with cooked maple aroma. Mature ripe blackberry flavors, long slightly gamey finish. Aroma/Taste: B-/B
NV Bernardo Winery Vino di Rosario - San Diego Co. $7.50. Very fruity and somewhat floral nose. Fruit-juicy on the palate, with citrus edge to the taste and finish. Blend of Carignane and Muscat. Aroma/Taste: B-/C+
2000 Bernardo Winery Zinfandel Port - Rancho Cucamonga $12. Smooth, sweet and slightly nutty - Tawny Port-like. Nice taste and finish. 18% alcohol. Aroma/Taste: B/B
Now located smack in the middle of a residential area, the tasting room and winery are part of a small collection of arts and crafts shops, a coffee bar and a small bistro. Modeled after early-California architecture, this little village of shops seems very inviting, and provides a nice atmosphere for shopping or just strolling about.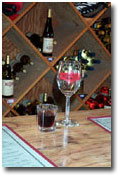 After finding the tasting room, we wandered inside past the souvenirs and gourmet foods and up to the tasting bar. We were welcomed by Beth, who brought out a couple of glasses and offered us complimentary tasting samples. Hold on a minute - what's this? She was pouring our wine into shot glasses! Shades of the old Pesenti winery in Paso Robles! Of course the shot glasses were very cool and all (nice thick square tumblers), but since I was also interested in swirling the wine (for...uh, scientific reasons), I asked for a regular wine glass. As it turned out, they had regular glasses for just that purpose (or, my kind of person, if you want to look at it that way). In other words, they're very accommodating here. Still curious though, I asked why they used shot glasses instead of regular stemware. Well, because they're much more efficient to wash, and they don't break as easily, Beth explained. I couldn't argue with that.
Bernardo's wines are made on the premises from purchased grapes that come from varying California locations - from San Diego County to Madera County. There is roughly an equal mix of vintage and non-vintage wines, with most of them leaning to Italian or Rhone varietals or blends, and mostly rustic in style.
We headed next toward Escondido and Orfila Vineyards. This moderately large winery sits on a hillside in the San Pasqual Valley, just south of Escondido. Nearly surrounded by vineyards, the winery also houses the tasting area, thus allowing visitors to see and smell the oak barrels and feel more a part of the winemaking process.
Selected Tasting Notes:
1999 Orfila Vineyards Chardonnay "Ambassador's Reserve" - California. $18. Nice citrusy nose of apple, oak, and vanilla. Moderate mouthfeel, crisp and a bit tart on the palate, moderately long finish. A blend of Edna Valley, Monterey, and San Pasqual Valley Chardonnay. Aroma/Taste: B+/B
NV Orfila Vineyards "Estate Lotus" - San Pasqual Valley. $28. Very fruity nose, with a touch of toast and and floral aromas. Tasty mouthfeel, crisp and fruity with a very nice balance, long slightly coarse finish, and a meaty aftertaste.A blend of Viognier, Marsanne and Roussanne from the 1999 & 2000 vintages. Aroma/Taste: B+/B+
2000 Orfila Vineyards White Riesling - Monterey Co. $11. Lightly floral and spicy in the nose, with a moderate mouthfeel, light spices and hint of hazelnut. A blend of grapes from Monterey Co (86%), and the Godfrey vineyard in Fallbrook. Aroma/Taste: B/B
1999 Orfila Vineyards Pinot Noir - Edna Ranch. $35. Lots of bing and black cherry, with a touch of cola and vanilla. Slightly singed in taste, with a bit of spritz on the palate. Balanced somewhat to the acid side, it has a delicious long finish. Aroma/Taste: B+/B+
1998 Orfila Vineyards Sangiovese "Di Colona" - San Pasqual Valley. $20. Bold, spicy and slightly rustic, with licorice, smoke and ash. Very good balance, with a slight acid bent. Even though this was a newly opened bottle, Leon wanted to open a 2nd bottle of this to try along side. The 2nd bottle definitely seemed to have more vibrant fruit, as well as less smoke and ash. Aroma/Taste: B+/B+
1998 Orfila Vineyards Merlot - San Diego Co. $16. Very fruity and fleshy nose. Moderately full mouthfeel, very fruity and somewhat fleshy in texture, with a touch of mint and licorice, with a light herbal taste to the moderate finish. Immediately accessible, this wine is very claret-like, and invites early drinking. A blend of fruit from San Pasqual Valley and Godfrey Vnyd, Fallbrook. Aroma/Taste: B/B
1999 Orfila Vineyards Syrah - San Pasqual Valley. $24. Slightly restrained nose of blueberry, blackberry and licorice. Big mouthfeel with lots of structure, and seductive, somewhat gamey/bacony taste to the long finish. Aroma/Taste: B+/B+
1999 Orfila Vineyards Merlot "Ambassador's Reserve" - San Diego Co. $27. Effusive nose of black cherry and licorice, with a hint of cheddar and oak. Slightly tart fruit on the palate, tight structure, obvious oak, with fruity mouthfeel and long finish. A blend of fruit from San Pasqual Valley and Godfrey Vnyd, Fallbrook. Aroma/Taste: B/B
A large 4-sided tasting bar occupies most of the floor space set aside for the informal and slightly rustic tasting room. The place is nicely merchandised, and the staff is very attentive and friendly. Plus, and this is always a plus, they seem quite knowledgeable about wine. Tasting fee is $3 for 5 wines, including a logo glass.
We were initially welcomed by Dana, who started us off with some wine while giving us a bit of background on the winery. On seeing that we had more than a passing interest, she offered to introduce us to the General Manager and winemaker, Leon Santoro. Graciously, Leon asked if he could join us in tasting the wines. Why of course, we'd like that very much, we replied. Leon explained that he had asked if he could join us, rather than just assuming it was all right, because some people prefer not to be influenced by having the winemaker right there. Heck, it was fine with us, but was nice of him to ask. Leon opened new bottles, and we were able to taste through most of the Orfila selections.
In contrast to many of the other local family wineries, Orfila's winemaker spent quite a bit of time in Napa Valley. Leon Santoro honed his winemaking skills over several years at the likes of Louis Martini, and Stags' Leap, and finally in 1981 with Quail Ridge as a co-owner and winemaker. After Quail Ridge was purchased by Grand Metropolitan (Hublein), Santoro decided he needed new challenges, yearning once again for the opportunity to craft quality wines at a smaller winery.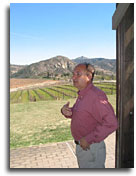 Through a series of coincidences, Leon found himself in Southern California in 1992, where he teamed up with Alejandro Orfila, a former Argentinean ambassador to the United States. Orfila had purchased the former Thomas Jaeger winery in 1989, and found in Santoro just the kind of GM/winemaker to guide Orfila winery on a quest for quality. In addition to investing the necessary time to ramp up the quality of the wines, Leon is not opposed to taking risks, and has planted the vineyards with several Rhone varieties that are somewhat new to the area.
As Leon led us through most of the wines, and later into the vineyard, it was easy to see that Orfila was trying to make a statement about the potential quality that could be produced in San Diego County. Although the challenge has made him something of a local crusader, Leon deferred taking personal credit, preferring instead to acknowledge the quality of the soil and grapes it produces. Nevertheless, it's always a personal accomplishment for a winemaker when a winery gets noticed and receives accolades, especially when the winery's located in an area that hasn't received much recognition or respect.
We moved on to Ferrara Winery. Wow, what a change from Orfila. If you want to see how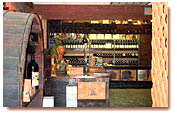 wineries conducted business 50 years ago, this is a must stop. Located in a mostly residential area, the Ferrara tasting room is attached to the back of the house, with the winery located in a barn-like structure behind the house. While this isn't uncommon for a family winery out in the countryside, it does represent a contrast in developed areas. From the appearance to the selections, nothing could seem more like a "neighborhood winery" than Ferrara. Here, it seems common for local folks to just stop by for a bottle on their way home, almost like stopping by a 7-11 store.
Tasted at Ferrara:
NV Ferrara Nebbiolo - $10.
NV Ferrara Vino Rosso - $10.
NV Ferrara Vino di Caspano - $10.
NV Ferrara Carignane - $10.
NV Ferrara Muscat of Alexandria - $10.
NV Ferrara Vineyards Muscat Canelli - $10.
NV Ferrara Nectar de Luz- $10.
NV Ferrara Almond - $10.
The tasting room was empty when we walked in. The walls and shelves are stocked with jugs and bottles of wine, and the place has "old Italian deli" written all over it. As we were looking around the place, Vera Ferrara stepped inside and welcomed us. Here for some wine tasting, she asked. Sure, you bet. Vera grabbed a bottle from behind the counter and poured some wine into a couple of tiny plastic shot glasses, sort of a smaller version of the cap on a bottle of Nyquil. Looking with amazement at the small cups, I wondered what I'd gotten myself into. After Vera finished pouring the first wine, I took out my notepad to take some notes. I asked what vintage this wine was from. "Oh, we don't go for that here, she replied. Nope, we just make wine," she chuckled. I eyed the barely-larger-than-a-thimble cup. Instinctively, I gave the wine a sniff, then, took a swig. Meanwhile, Vera was poised to pour from the next bottle. Taking notes here was going to be tough, I figured. So, I decided to identify each of the wines I tasted, but didn't bother writing down any specific impressions. Frankly, it seemed kind of pointless anyway - what with the non-vintage wines and the plastic cups and poised bottles etc., - what good were notes going to be? Maybe I'll just be a visitor, I thought.
Interesting place. In fact, I imagine that this is really wine-tasting in its most basic state - just a small jigger of the stuff to see if you want to buy any. And then, like with the Baskin-Robbins spoon - you could just throw the thing away when you're done. Obviously, this arrangement doesn't do much to bolster any kind of "new or happening" image for Ferrara, but it's obviously a lot easier for cleanup purposes. The Art Deco label and the fact that all of the wines are finished with Port-like corks, give Ferrara's wines a sense of the past. As with looking at sepia-toned photographs of previous generations, Ferrara winery seemed like a step back to a simpler time. This was a side to wine tasting I hadn't seen in a long time; comparable to visiting a Cucamonga or Guasti winery many years ago. I'd like to think I became a little more humble for the experience.
We had the Deer Park Winery and Automobile Museum listed as next item on our menu. The idea sounded real kitchy, and slightly reminiscent of a visit to the old Mission View Winery and Doll Museum in Paso Robles. Since this trip was supposed to be all about discovering new places, we figured, why not. Plus, even though Deer Park was an apparent satellite location for a bulk producer from Napa, we weren't going to hold it against them. Well, the museum was priced a little higher than we expected, and the tasting room only seemed to have one or two local white wines. So, we pushed on. (This trip was supposed to be all about trying locally-produced wines - preferably reds.) Ironically, that goal was to put us on the firing line at our next (unscheduled) visit.
We moved on to Belle Marie Winery, a place we'd see from the I-15 while on the way to Deer Park. Nice new spacious facility and tasting room, also very well merchandised. We browsed a bit while the staff helped a few people at the tasting bar. I pulled out a bottle of something red from a rack on the sales floor.
Selected Tasting Notes:
1998 Belle Marie "Encore" - Guadalupe Valley, Baja Calif. $14. Fairly dry and austere, acid-balanced, long slightly oaky finish. Bordeaux blend of Cab, Merlot and Malbec. Aroma/Taste: C/C
1997 Belle Marie "Cresendo" - Guadalupe Valley, Baja Calif. $18. Tasty, and fairly fruity. Lots more accessible that the usual Petites. 100% Petite Sirah. Aroma/Taste: B-/B-
1999 Belle Marie Grenache - Guadalupe Valley, Baja Calif. $16. Fruity, with some raspberry, cinnamon and spice in the nose. Slightly crisp, yet fleshy mouthfeel, good flavors, with a peppery finish. Aroma/Taste: B-/B-
1999 Belle Marie "Duet" Private Reserve - Guadalupe Valley, Baja Calif. $20. Smoky and meaty nose. Slightly sweet mouthfeel, yet also woody and astringent, with a long crisp acidic finish. A blend of Grenache, Barbera. Aroma/Taste: B-/C+
1999 Belle Marie "Symphony" Private Reserve - Guadalupe Valley, Baja Calif. $22. Smoky and sweaty nose, with a distinct gaminess. Mostly monolithic in taste, with flavors of blackberry, ink, steel and newsprint. Something of a kitchen sink blend of Cab, Nebbiolo, Malbec, Barbera, and Carignane. Aroma/Taste: C/C
1999 Belle Marie "Maestro" Private Reserve - Guadalupe Valley, Baja Calif. $24. Very smoky and sharp nose. Rough and astringent mouthfeel, with noticeable wood and a long uneven finish. Aroma/Taste: B-/B-
1999 Belle Marie "Bravo" Private Reserve - Guadalupe Valley, Baja Calif. $22. Cloyingly sweet/fruity nose. Slightly sweet and fruity mouthfeel, with a bit of heat and along oaky finish. Blend of Nebbiolo, Cab, and Barbera. Aroma/Taste: C+/C+
1999 Belle Marie "Apropos" - Guadalupe Valley, Baja Calif. $10. Nice fruity nose, good balance, long lightly sweet finish. Rose made from Grenache. Aroma/Taste: B/B
2001 Belle Marie "Essence" - Guadalupe Valley, Baja Calif. $16. Very aromatic nose, good slightly sweet mouthfeel, long balanced finish. Blend of Cab, Aleatico, Muscadet. Aroma/Taste: B/B
2001 Belle Marie Port - Guadalupe Valley, Baja Calif. $18. Smooth and smoked/fruity nose. Very balanced mouthfeel, lightly smoky finish. Blend of Zin, and Tempranillo. 17% alcohol. Aroma/Taste: B/B
Huh? Guadalupe Valley? ...Isn't that Mexico, I wondered to myself. Turning the bottle to the back label - yep, sure enough, Guadalupe Valley, Baja California. I checked another bottle, and another. Everything was from Guadalupe Valley (about 10 miles East of Ensenada). Rushing to judgment, I decided this wasn't local enough for me, and we started to leave. Did we want to taste some wine, the manager called out to us. I replied something to the effect of we had been interested, but were looking for locally produced wines, and wondered if they had other wines, other than the ones on display. All of our wines are made here, she assured us, from grapes grown in Baja California. I assured her back that we weren't trying to be snobby (although, it would seem so), and explained that we were on a quest for San Diego's Holy Grail of wine. So, it was nothing against their use of fruit from South of the border - it was just that we had a mission. Oh come on, give them a try, she urged us. They're really quite nice. Well, you know how it is when you try to convince someone that they've got you wrong, only to realize that you're slowly (or, not so slowly) hoisting yourself on your own sword? Naw, I didn't think you knew. Right. Well okay, let's try some of that Guadalupe Valley wine.
Owners Mick and Mary Dragoo have an intriguing concept here - trucking up grapes from the Guadalupe Valley in Baja California, to make wine in San Diego County. The wines were largely rustic in smell and taste, yet there was a certain quality to them - like many of the wines from the South of France were years ago. Tasting room manager, Candace Patterson, did a marvelous job of hospitality. After all, had she not refused to let us leave - no, wait - had she not urged us to put away our snobby ways, we'd have never been able to try the wines. Thanks, Candace.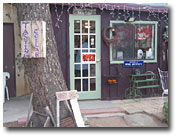 Selected Tasting Notes:
2000 Shadow Mtn "Sombra Blanc" - San Diego Co. $12. Crisp, clean, and lightly fruity, with a good balance, and long finish. Blend of Viognier and Chenin Blanc. Aroma/Taste: B/B
1999 Shadow Mtn Vineyard Viognier - San Diego Co. $18. Lightly fruity nose and flavors, with a nice nutty peach flavor through long finish. Aroma/Taste: B/B
2000 Shadow Mtn "Sombra Blanc Sunshine" - San Diego Co. $12. Very musky and somewhat fruity nose. Claret-like in mouthfeel and flavors. Blend of Nebbiolo, Grenache, and Mission. Aroma/Taste: C+/C+
1999 Shadow Mtn Barbera - Warmington Ranch, South Coast. $15. Nice smoky and fruity nose. Stern and acidic on the palate, this will need food to balance it out. Aroma/Taste: B/C+
1999 Shadow Mtn Carignan - San Diego Co. $15. Shoe polishy and fleshy nose. Nice and fruity mouthfeel, with very tight flavors of chocolate and black raspberry, and long finish. Aroma/Taste: B/B
2000 Shadow Mtn Merlot - San Diego Co. $16. Slightly fleshy nose and mouth, with good balance and long fruity finish. Aroma/Taste: B/B
1998 Shadow Mtn Dry Muscat - San Diego Co. $13. Slightly oxidized, with a paint thinner aroma dominating the slightly floral scents. Dry mouthfeel, with a vaporizing fruit taste. Aroma/Taste: B/B
Last stop, Shadow Mountain Vineyards. Located on East of of Mt. Palomar in the Warner Springs Valley at 3,500 feet altitude, and seemingly way off the beaten path, Shadow Mountain is actually quite near one of the major highways that access the Anza-Borrego desert, a Southern California Mecca for campers. The Northern-most of the San Diego county wineries, this one's probably closer to Temecula in Riverside County, than to any of its sister wineries in San Diego County.
Founded in 1944, Shadow Mtn is now owned by Alex and Pam McGeary, a Dana Point couple who bought the place and moved out to the area in 1990. The rustic tasting room is very inviting and homey, kind of like a cabin in the woods. After pouring us through her lastest offerings, Pam led us out into the sleeping vineyard. She pointed out that Shadow Mtn was just sufficiently South and East to be outside of the South Coast appellation (the one usually used by Temecula).
The present wine production facility underwent two years of rebuilding after a 1995 forest fire claimed most of it. Newly planted Syrah will join the Estate Viognier, Grenache and Carignane.
Overall Comments:
We had absolutely no expectations as the day began. So, it was perfect that we should get a couple of major surprises along the trail. It seemed immediately obvious that Orfila had something going for itself. And, it wasn't but a few minutes into tasting their wines that we felt it would probably be the winery visit of the day. Orfila would've been a tough act to follow under most circumstances. But, going from Orfila to Ferrara was a major jolt. Yet, it too provided an interesting comparison in winery styles.
---
---
Copyright © 1993 - 2004, Eric Anderson - All rights reserved
Copyright © 1993 - 2003
All rights reserved
No original material may be reproduced without written consent
Mail - Comments
Eric Anderson