Mendocino County Wine Tour - August 2017 - Part 1
It had been far too long since I'd made a wine-tasting trip to Mendocino County, so when an opportunity came up to visit Halcón Vineyards in the Yorkville Highlands region, I thought it would make sense to expand that to include more Mendocino wine visits over an early-August weekend. I made a couple of other appointments with vintners but left time for dropping in at tasting rooms too.
A few other friends came along for the Halcón visit – Wes Barton, Rob Bergstrom, and Chris Rush. Since they would not be accompanying me on the rest of my Mendocino wine visits, I drove separately from the East Bay and we met up on a Saturday morning in Healdsburg.

Saturday - August 5, 2017
Tasting Notes: Current and Library Releases

Halcón 2013 "Prado," Alder Springs Vineyard, Mendocino County. 50% each Marsanne and Roussanne. This displayed pear and stone fruit, spice, and hints of flowers and vanilla. Moderately rich mouthfeel with a lively finish.

Halcón 2015 Pinot Noir, Wentzel Vineyard, Anderson Valley. Flowers, red fruits, tea leaf, and earth on the nose. Medium-light bodied, this showed good acidity and structure, finishing with fine tannins.

Halcón 2015 "Esquisto," Estate, Yorkville Highlands. 65% Grenache, 30% Mourvèdre, 5% Syrah. This had a very savory character, with herbs, earth, and black pepper plus black cherry and plum fruit. Medium weight with juicy acidity on the palate and moderate tannins, nice.

Halcón 2013 Syrah "Alturas," Estate, Yorkville Highlands. Another wine with very savory aromas, along with flowers, darker berry fruit, smoke, and earth. Great structure with moderate, chalky tannins on the finish, nice.

Halcón 2015 Syrah "Alturas," Estate, Yorkville Highlands. The aromatics for this wine were tighter than the previous one but opened up after being open for awhile – it featured a more meaty profile, with iron and pepper along with black fruit. Big and structured, with a stony mineral note along with grippy tannins on the finish – shows good potential but needs time to develop.

Halcón 2015 Petite Sirah "Tierra," Theopolis Vineyard, Yorkville Highlands. Intense dark fruit, spice, flowers, and herbs on the nose, with earthy undertones. Richer mouthfeel than the previous wines, with plenty of structure but surprisingly refined tannins for a young Petite Sirah.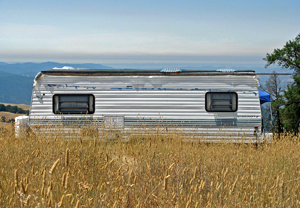 Our first destination on Saturday morning was Halcón Vineyards in the Yorkville Highlands appellation of Mendocino County, where we were scheduled to visit with proprietors Paul and Jackie Gordon. I'd actually planned to visit Paul at the vineyard once before, in early 2008. Bad weather prevented friends and me from going that day – Paul had called to say there were snow flurries and there was lots of mud on the dirt road leading to the vineyard, and that it would be better to postpone our visit to another time. Little did I know that it would be ten years before I finally made it there!
From Healdsburg, I followed Wes, Rob, and Chris north on Highway 101 to Cloverdale, where we turned onto Highway 128. This winding two-lane highway leads over the mountains and into Mendocino County. We passed the small town of Yorkville and not long afterwards we pulled off onto a dirt drive with a gate at the bottom. Chris jumped out to open the gate lock – which proved to be a bit tricky – but we were soon on our way up the well-maintained dirt road leading into the rugged mountains of Yorkville Highlands. Along the way we passed many other roads that branched off in various directions – thanks to Paul's detailed directions, we were able to follow the correct branch every time. After climbing farther and farther up the road in this remote area, we finally got our first sight of Halcón Vineyard near the crest of the mountains. We passed through another gate and soon spotted Paul and Jackie walking down one of the vineyard roads along with their dog Cookie (a Yorkshire/Maltese mix). They directed us to park near their trailer – their weekend home on the property.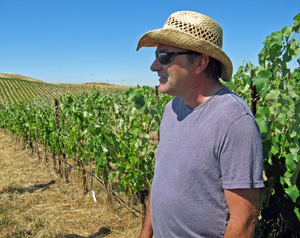 Paul Gordon
Paul and Jackie are both originally from England. Paul (who works in high-tech) and Jackie (who's in real estate) still have day jobs in the Bay Area's Silicon Valley, but they drive up to the vineyard to stay there on many weekends. In the early 2000s, Paul developed an increasing interest in wine – he's noted that a bottle of 1999 Chave Hermitage was one wine that especially captivated him – which led him to join with a few friends to make a barrel of Syrah in 2004 and 2005 at the Crushpad custom crush facility in San Francisco. By that time, he had started to look for property where he could plant a vineyard, and his friendship with Copain's Wells Guthrie paid off when Wells told Paul about the 162-acre site in Yorkville Highlands. Paul had particular interest in the windy ridgetop site due to the rocky soils there – shale, schist, and chert – and the climate which was not unlike that of Côte-Rôtie.
Paul purchased the property in 2005, and Wells helped with developing the vineyard, with 15 acres planted from 2005 to 2007 – Wells also leased some of the vineyard blocks there. At nearly 2,500-foot elevation, Halcón is among the highest vineyards in the region. The vineyard name is Spanish for "hawk", and comes from the highest point there, Hawk's Butte. In addition to help from Wells, Paul has also credited Steve Lagier and Carole Meredith, Mike Officer of Carlisle, and Justin Smith of Saxum with lending advice and support.
The first vintage of Halcón wines came in 2009, and Scott Shapley has worked with Paul on the winemaking from the start. Paul had first met Scott when he was the assistant winemaker at Siduri/Novy, and they worked together when Scott was the winemaker at Crushpad. Since then, Scott has gone on to be the winemaker for Roessler and currently for Roar Wines, as well as having his own small label called Flywheel. The Halcón wines are made at the Roar facility in San Francisco (Disclosure – I've helped out with bottling the Halcón wines). Current production is around 1,500 cases per year.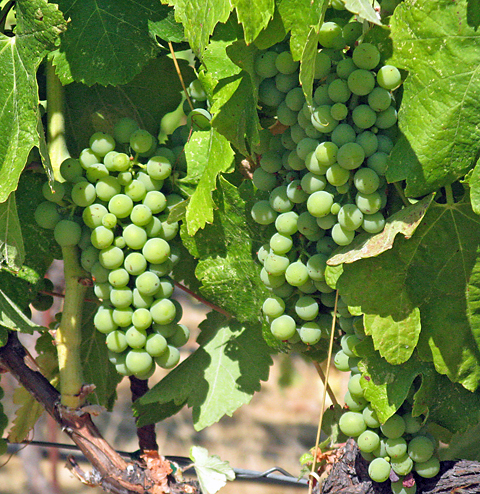 We started our visit with Paul and Jackie leading us on a brief tour of part of the vineyard. It's spread out among several distinct blocks along the hilltops and features different slopes and aspects. All of the vine rows are oriented in a general north-south direction regardless of the hill slope, and the vines have fairly dense spacing, with 2,200 vines per acre. This orientation allows for even sun exposure and good afternoon shading of the fruit zone while the density works toward increasing water and nutrient competition, encouraging the vine roots to extend deeper into the soil – Paul and Jackie were able to dry-farm their Grenache last year. Paul has also noted that he feels higher-density plantings allow the fruit to ripen at lower sugar levels – they generally pick their Syrah at around 22-23 brix. The cool growing season at the site's high elevation means that even with this modest brix, the harvest at Halcón is generally later than at many vineyards. Most of Halcón Vineyard is planted to Syrah (several heritage selections and other clones), with smaller plantings of Grenache (Alban and Tablas clones) and Mourvèdre plus a little Viognier for co-fermenting with Syrah. Paul and Jackie recently grafted some Marsanne and Roussanne, about ¾ acre each. They keep all of their Grenache and Mourvèdre – these are co-fermented as part of their "Esquisto" blend – while they keep only about half of their Syrah, selling the rest to several other vintners. Some of the vines are own-rooted, but most are grown on various types of rootstock.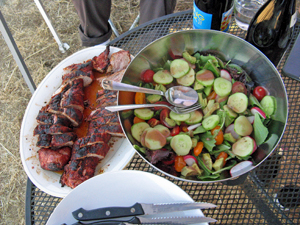 As we walked along a section of the vineyard, we were able to look at Syrah, Grenache, and Mourvèdre vines. No veraison was evident yet on any of the varieties, though it would start not too long after our visit. Paul and Jackie told us that due to the wind at the site, they don't need to leaf-pull and not much hedging is needed. The wind also helps keep mildew pressure down, and they have not had to spray sulfur very much, just twice this year. This is the only spraying they do, and the vineyard is farmed using organic methods. We asked about cover crop between the vine rows, and they told us that they planted some early on and have not had to re-plant since then. Fruit yields are typically low, so they don't need to drop much crop during the growing season. Paul and Jackie noted that the Mourvèdre vines typically have a particularly low yield, only about one ton per acre, and that it's been the toughest variety for them to farm. During the winter, Paul and Jackie prune about five acres of vines themselves while their crew does the rest. They mentioned that they've had frost/snow issues in some years but it hasn't been a serious problem.
We walked back to Paul and Jackie's trailer and admired the expansive views from there. They pointed out several landmarks in the Boonville area in Anderson Valley, and we were able to see far beyond that. Since the vineyard is so remote and Paul and Jackie knew we'd have to drive a ways to find a place for lunch, they had graciously invited us to have lunch with them, so we all brought food to share and Paul grilled some meat for us. A couple of tent-like canopies provided shade outside the trailer and we sat down and opened a few bottles of wine our group had brought along. Lunch was delicious, and as we sat around talking afterwards we were joined by a couple of Paul and Jackie's friends who had also made the trek up the mountain.
Along with lunch, the centerpiece of our time relaxing outside the trailer was tasting six Halcón wines. All the wines are fermented using native yeast, in small fermentation vessels. Little new oak is used for aging the wines, and puncheons are favored on the red Rhône varieties. Paul said that they use a lot of Ermitage barrels for Rhônes, and they like François Frères for their Pinot Noirs. We started on tasting the Halcón wines with the subtle floral and spice of the 2013 "Prado" Marsanne/Roussanne blend, with fruit sourced from Alder Springs Vineyard and made in 20% new French oak. The Marsanne and Roussanne now growing at Halcón will replace the Alder Springs fruit for upcoming vintages. Although Halcón is known mainly for the Rhône-style wines from their estate-grown fruit, they also make several fine Mendocino Pinot Noirs, and we tried the 2015 Wentzel Vineyard Pinot from Anderson Valley. This was made mostly from 115 clone along with some 667 and 777, fermented with about 33% whole clusters, and aged in 25% new oak. Other Halcón Pinots that we didn't taste on this visit include ones from Oppenlander and Bearwallow vineyards – the second of these is new with the 2016 vintage and not yet released.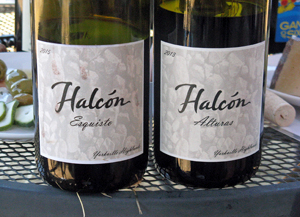 We moved along to taste three wines from the estate vineyard, beginning with the savory and peppery 2015 "Esquisto" – a blend of mostly Grenache and Mourvèdre plus a little Syrah. Fermented with 33% whole clusters, this was aged entirely in neutral oak. We tried two vintages of the "Alturas" Syrah. Paul and Jackie told us that there was a very small crop in the 2013 vintage due to frost, with a yield of only about 1/3 ton per acre. The wine was showing beautifully, quite floral and savory. The 2015 "Alturas" was showing its youth, somewhat tight but revealing a more gamey, meaty character. Both vintages of the "Alturas" Syrah were made with around 33-40% whole-cluster fermentation. Our final Halcón wine was the 2015 "Tierra" Petite Sirah, with fruit from Theopolis Vineyard, not far away in the Yorkville Highlands. Fermented with 50% whole clusters, this was surprisingly refined for a young Petite Sirah.

I had another wine appointment that afternoon so I said goodbye to everyone and headed back down the mountain, while the rest of the group stayed to hang out for awhile longer. I wished I could have stayed longer too – Paul and Jackie were very generous and gracious hosts, and it was so much fun sitting next to their trailer and talking with them. Their vineyard is truly stunning, a top-of-the-world location with views in nearly every direction. And the Halcón wines were all very good, with the 2015 "Esquisto" and 2013 "Alturas" Syrah being standouts but every one of the others was no more than a notch below those. And I should point out that their 2014 Oppenlander Vineyard Pinot Noir I tasted at a wine event last year was another standout. Paul has noted that he's making new world wines with old world inspiration – I think that's an apt way of looking at them, and in particular, the wines made from Halcón estate fruit are quite distinctive. It's well worth seeking out any of the Halcón wines, and I'm glad I finally made the long journey up to the vineyard high in the Yorkville Highlands.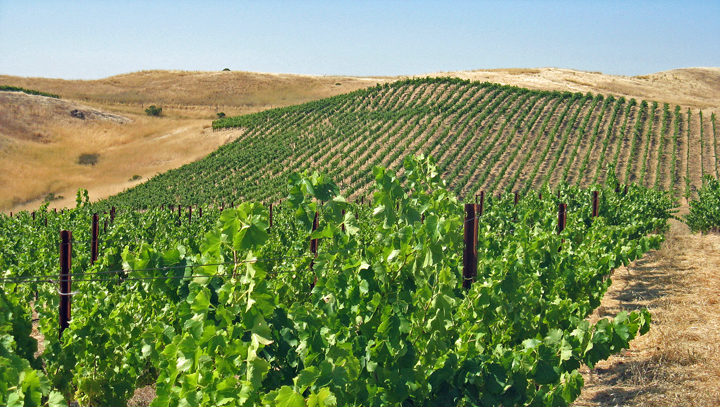 Tasting Notes: Current Releases & Barrel Samples

Drew 2015 Pinot Noir, Valenti Ranch, Anderson Valley. This featured aromas of cherry, spice, mushrooms and tea leaf, along with a touch of vanilla/oak. Bright texture and good structure, with fine tannins, nice.

Drew 2015 Pinot Noir, Joshua's Vineyard, Anderson Valley. This was showing its youth, a bit tight and reticent aromatically, but opening to show raspberry, earth, and spice, plus some forest floor notes. Juicy acidity with bigger structure and firmer tannins – needs time but good potential.

Drew 2015 Pinot Noir, "The Fog-Eater," Anderson Valley. Darker fruit profile than the two previous wines, along with a more savory character and notes of mushrooms and earth. Medium-bodied with great mouthfeel, and a stony mineral note on the finish, nice.

Drew 2014 Pinot Noir, "Estate Field Selections," Mendocino Ridge. Plum and darker berry fruit on the nose, with exotic spices, savory herbal notes, and earth. Firm structure with fine acidity, with moderate tannins and a minerally component on the finish, nice.

Drew 2015 Pinot Noir, "Estate Field Selections," Mendocino Ridge. This displayed less upfront fruit than the 2014 vintage, but with intense savory, smoky, and floral aromas along with darker fruit, tea leaf, and earth. A bit more structured than the previous wine, with firmer tannins – needs time to develop but shows good potential.

Drew 2015 Syrah, "The Ornbaun," Mendocino Ridge. Very aromatic, with floral notes plus black olives, spice, and black cherry and darker fruit. Medium weight with a lively mouthfeel and moderate but refined tannins, already delicious and should develop further.

Drew 2015 Syrah, Perli Vineyard, Mendocino Ridge. More upfront fruit than the previous wine, with blackberry, game, iron, earth, and black pepper. Somewhat richer texture with a firm tannic finish – good now but should develop nicely with more time.

Drew 2015 Syrah, Valenti Ranch, Mendocino Ridge. This featured dark berry fruit, flowers, exotic spices, iron, and savory aromas. Big and structured, finishing with chalky tannins – great potential and deserving of time in the cellar.

Drew 2016 Syrah, Perli Vineyard, Mendocino Ridge (barrel sample). 877 clone. Beautiful floral aromatics, with bright red and black fruit, and spice notes, nice structure.

Drew 2016 Syrah, Perli Vineyard, Mendocino Ridge (barrel sample). McDowell selection. More red fruit profile with meaty and savory notes, somewhat lighter texture on the palate.

Drew 2016 Syrah, Perli Vineyard, Mendocino Ridge (barrel sample). McDowell selection, from barrique. More intense aromatics than the previous sample, with floral notes in addition to game and iron, and darker fruit character, with a bigger mouthfeel.

Drew 2016 Syrah, Valenti Ranch, Mendocino Ridge (barrel sample). Clone 1. Brighter fruit aromas, with pepper and black olive notes, nice acidity and texture.

Drew 2016 Syrah, Valenti Ranch, Mendocino Ridge (barrel sample). Chave clone, no SO2. Dark fruit on the nose along with some floral, earthy, and savory notes, with good acidity and a bigger structure than the previous sample.

Drew 2016 Syrah, Valenti Ranch, Mendocino Ridge (barrel sample). Chave clone, with SO2. Similar to the previous sample but with fresher fruit aromas and less of a floral note.

Drew 2016 Syrah, Valenti Ranch, Mendocino Ridge (barrel sample). Chave clone, from Hungarian oak puncheon. More meaty and gamey aromas, iron, earth, and dark berry fruit, with great texture.

Drew 2016 Pinot Noir, Estate, Mendocino Ridge (barrel sample). 828 clone, from new barrel. Plummy fruit with exotic spice, and vanilla/oak, good acidity and mouthfeel.

Drew 2016 Pinot Noir, Estate, Mendocino Ridge (barrel sample). 943 clone. Savory and somewhat stemmy, black cherry fruit, spice, more structure and tannin.

Drew 2016 Pinot Noir, Estate, Mendocino Ridge (barrel sample). 115 clone. More red fruit and spice, along with tea leaf notes, grippier tannins.

Drew 2016 Pinot Noir, Estate, Mendocino Ridge (barrel sample). Pommard clone. The aromatics were more shy and subtle, with red fruit along with some spice and earth, and less tannic grip than the previous two samples.

Drew 2016 Albariño, Valenti Ranch, Anderson Valley. Aromas of citrus, herbs, earth, plus a saline note. Medium-light bodied with zippy acidity and a long, clean finish, nice.

Drew NV "Sur La Mer" Brut Cider, California. Bright and tart apple fruit along with hints of stone fruit, yeast, and a distinct saline quality. Medium-light weight with great acidity and a crisp, dry finish, nice.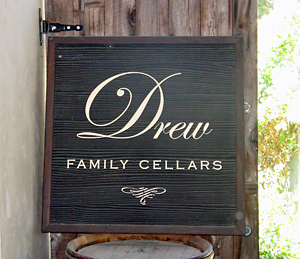 I drove northwest from Yorkville Highlands and through another winding portion of Highway 128 until I reached Anderson Valley. The valley is a beautiful area and thankfully the road straightens out there considerably, passing through the small town of Boonville and even smaller town of Philo. Just past Philo, I turned west on Philo-Greenwood Road and headed back into the mountains. The road curves through the wooded area and ends at the town of Elk on Highway 1 along the coast. I didn't have to travel quite that far, but almost – my destination was the vineyard and winery of Drew Family Cellars, located along a ridge at nearly 1,300-foot elevation but barely three miles from the ocean. This is part of the Mendocino Ridge AVA, which stretches through a vast and remote region southwest of Anderson Valley. Mendocino Ridge has been nicknamed "Islands in the Sky" – it's the only non-contiguous winegrowing appellation in California, limited to vineyard land that is 1,200 feet or higher in elevation.
I'd been familiar with the Drew wines for many years and I'd visited with Jason and Molly Drew at their winery in early 2008, but I had not yet seen their estate vineyard that they planted in 2011. I had no problem following the directions Jason had given me, and as I found a place to park near the winery building, Boggs, one of the Drews' dogs greeted me immediately. With the "visitor alert" sounded, Jason soon came out to welcome me as well.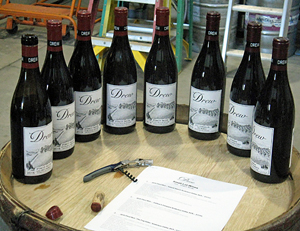 Both Jason and Molly grew up in the San Francisco Bay Area, and Jason earned a degree from UC Santa Cruz in agricultural ecology with an emphasis on viticulture, as well as a Graduate Diploma of Oenology from the University of Adelaide in Australia. He worked at Navarro Vineyards in Anderson Valley in the mid-1990s before moving to Santa Barbara County, where he became the associate winemaker at Babcock Vineyards. It was while Jason and Molly were still in Santa Barbara County that they established their winery in 2000, and they've always been focused mainly on Pinot Noir although Syrah has been an important part of their production over the years as well. The early years of Drew featured Pinots that were mainly sourced from Sta. Rita Hills as well as Syrah from the Ballard Canyon and Los Alamos regions.
By the early 2000s, Jason and Molly had decided that they wanted to return to the North Coast. They were looking for a coastal site to grow Pinot Noir, and the Mendocino Ridge area appealed to them. They found the 26-acre property in 2004 and loved it right away, purchasing it that same year. Jason and Molly moved there and initially lived in a 19-foot Airstream trailer with their young children while their new combination winery / home was built – when Jason told me that their kids are now 16 and 19, I realized just how long it had been since I'd visited! The winery portion was complete enough for use during the 2005 harvest, though the living space above wasn't finished until the middle of the following year. The handsome wood structure is large enough to accommodate a 5,000-case production, and the Drews currently produce about 2,500 cases per year, with all fairly small lot bottlings. The last Drew wines made from Santa Barbara County fruit were from the 2008 vintage, and since then they've worked almost exclusively with Mendocino County fruit. They currently focus entirely on fruit from Mendocino Ridge and Anderson Valley.
Jason suggested that we start with a short walk through part of the vineyard, since I hadn't seen it since it was planted. He told me that one of the things that he and Molly were interested in when they were looking for property in the area in 2004 was a site that had uplifted ocean floor soil rather than alluvial soil. Their vineyard has this – it contains Franciscan soil types, with iron-rich, gravelly loam soil, sandstone, and shale. Another key to the site is the proximity to the ocean, allowing a direct channel of cool air from the coast to flow through the vineyard. Due to the airflow and the ridgetop location, there are no frost issues at the site, and the elevation above the fogline helps keep mildew pressure in check. There's considerably more rainfall there than in Anderson Valley itself, making dry-farming a goal that Jason is pursuing. He's working with deficit irrigation in order to encourage the vine roots to go deeper for water, a step toward ultimately dry-farming the vines. Jason noted that because of the cool and windy coastal conditions at the site, the vines produce smaller clusters and smaller berries than is typical in Anderson Valley. As with many other Mendocino Ridge appellation Pinot Noirs, the early Drew estate Pinots have shown a somewhat darker fruit profile than those from Anderson Valley, with more acid and tannin.
The Drews' entire ranch is certified organic, and Jason said that he's trying out some biodynamic farming methods as well. The property includes an apple orchard planted in the 1960s. Although they took out a portion of the orchard in order to plant their vineyard, there are still lots of apple trees with a number of varieties. In addition to their wine, Jason and Molly produce a cider called "Sur La Mer" which is very good – they made about 500 cases of it last year. As mentioned earlier, they planted their vineyard in 2011 (with the first vintage from estate fruit in 2014), and it may be the westernmost commercial vineyard in California. There are currently about seven acres planted with eight clones of Pinot Noir – 943, 115, 667, 828, Mount Eden, Swan, Calera, and Pommard. Jason told me that about 10% of the vines in each block are planted on their own roots, while he's been doing rootstock trials on one block of 115 clone Pinot – these include 101-14, SO4, and RS-9 rootstocks. Jason showed me an open area where they may plant an additional block, possibly with Chardonnay or Syrah. When I visited the vineyard in early August, there was no veraison evident anywhere that I could see. Jason noted that they have been able to get good "hang time" so far for their estate fruit while maintaining fairly low sugar, with an aim to pick in the 22-23 brix range.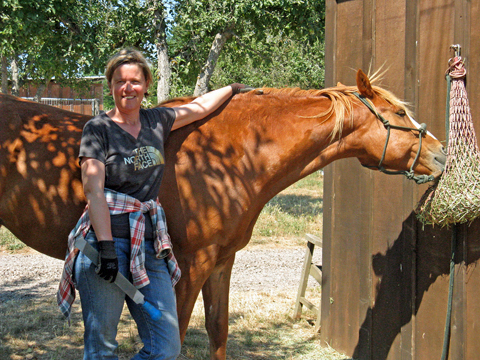 Jason and I headed back through the vineyard toward the winery building, and Molly was nearby with Scout, one of her two horses – she loves horses and has enjoyed riding for many years. Molly manages the Drew tasting room in Philo in addition to a number of other responsibilities for the business. She also tends their small flock of sheep, as well as chickens and bees they keep at the property – it's all part of maintaining a healthy ecosystem there. After a brief chat with Molly, Jason and I stepped into the winery and he proceeded to open a number of new Drew releases for me. All of the Drew reds are made with at least some whole-cluster fermentation, generally ranging from 10% to 40% for both Pinots and Syrahs. Smaller fermentation vessels are used, and the wines undergo native fermentations, with punchdowns. The Pinots are aged in varying percentages of new oak, with some bottlings I tasted (such as "The Fog-Eater") using no new oak and others (Joshua's Vineyard) aged in up to 50% new French oak. There's typically no new oak used for aging the Syrahs. Alcohol for all of the Drew reds is modest, generally around 13.5%.
Jason started me out with the 2015 Pinot Noir from Valenti Ranch, a Mendocino Ridge site just off of Philo-Greenwood Road between the Drew property and Anderson Valley. Jason noted that the fruit came from the middle and lower sections of the vineyard, and that the berries from there are always small and intense. Next was a 2015 Pinot from a new source for Drew, Joshua's Vineyard. Located in Anderson Valley northwest of Philo, it's well into the "Deep End" of the valley. It's a one-acre organically-farmed vineyard planted in the early 1970s with an unknown clone of Pinot – the vines are own-rooted and dry-farmed. The 2015 "The Fog-Eater" Pinot was sourced from Valenti, Balo, Fashauer, Perli, and Joshua's vineyards. The name of the wine comes from the Boontling (a fascinating Anderson Valley dialect) term that local residents gave to coastal dwellers. All three wines displayed the forest floor / mushroom component that is so distinctive of this region as well as savory notes and fine acidity.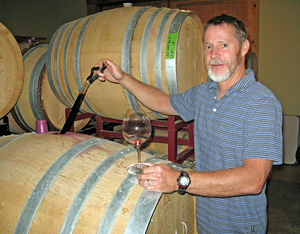 We followed these wines with the first two vintages of Pinot from Jason and Molly's estate vineyard, from 2014 and 2015. Both vintages of the "Estate Field Selections" bottling include Pommard, 943, 115, Swan, 667, and Mount Eden clones, with the 2015 having more whole-cluster fermentation (40% vs. 20%) and both aged in about 30-33% new French oak. Yields from the young vines were low in these first two years – especially so in 2015 – so production of these two wines has been quite limited. Each of these wines showed both elegance and intensity, with a similar but distinct character from the two vintages – a very promising start to the Drew estate Pinot program.
Moving on to Syrah, Jason poured me the 2015 "The Ornbaun" bottling. The fruit was sourced from Valenti and Perli vineyards in the Mendocino Ridge region, and the name refers to a soil type found in the area. With appealing floral and black olive aromas, this wine is a particularly fine value. We continued with the 2015 Perli Vineyard Syrah – the site is farther south than the Drew property, in an even more remote location deep in the mountains at about 2,000-foot elevation. The final Syrah was the 2015 from Valenti Ranch. Both the Perli and Valenti bottlings featured elements of meat, iron, and pepper – terrific cooler-climate Syrahs.
Jason and Molly were heading to a dinner that evening but since Jason still had some time before they needed to leave, he asked me if I wanted to try some barrel samples – that's something I rarely turn down! We started out with various 2016 Syrah samples, mostly from puncheons. Jason took me through Perli Vineyard Syrahs from 877 clone and McDowell selection – he noted that he uses less whole-cluster fermentation on the McDowell selection Syrah there to preserve its gamey character. We tried Valenti Ranch Syrah from Clone 1 and Chave clone, including a comparison of Chave clone samples with and without added SO2. We concluded the barrel tasting with four 2016 estate Pinot samples, from 828, 943, 115, and Pommard clones – unlike the other samples I tasted with Jason, the Pommard was from entirely destemmed fruit. Jason noted that many of the 2016 barrel samples had just recently finished malolactic fermentation.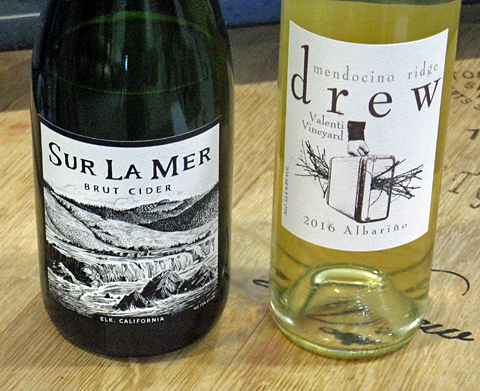 There were still two more bottles to taste before we were finished. Jason opened their bright and citrusy 2016 Albariño, sourced from Valenti Ranch. The fruit was picked at 21.5 brix and the wine was made entirely in stainless steel with no malolactic fermentation. We wrapped things up with their "Sur La Mer" Brut Cider. Made from Gravenstein, Jonathan, Rhode Island Greening, and Philo Gold apples (plus a little Viognier), this had a small dosage and was not disgorged – a tasty and refreshing way to finish up.
In addition to the wines I tasted with Jason, Drew also produces a few other Pinot Noir bottlings. There's the "Gatekeeper" Pinot – with fruit sourced from Anderson Valley, Yorkville Highlands, and Mendocino Ridge appellations – and single vineyard designates from Morning Dew, Balo, and Fashauer vineyards, as well as a second estate vineyard bottling called "Estate – The Gulch." The easiest way to taste the Drew wines is to visit their tasting room, located in The Madrones complex right along the highway in Philo – I stopped in there briefly the following day (I had an excellent lunch right next door, at Stone & Embers) and Molly was behind the tasting bar.
So much has changed since my previous visit with Jason and Molly ten years ago. While both of them are still the friendly and generous folks I remember, their kids have now grown up (and we're all a little older too), and they now have a beautiful vineyard on their property in addition to their animals and apple orchard. I should also note the new label design for their most recent couple of vintages – it features a wonderful drawing of their vineyard, orchard, and winery/home high in the mountains and overlooking the ocean. It's fanciful to be sure, but it does capture what's special about their place. The Drew Pinot Noirs all display what's distinctive about the Anderson Valley and Mendocino Ridge, and the complex and savory Syrahs are among the best cooler-climate California Syrahs you'll find. Choosing favorites is tough, but the 2015 Valenti Ranch and 2015 "Fog-Eater" Pinot Noirs and the 2015 "The Ornbaun" and 2015 Valenti Ranch Syrahs would be my picks. I can add to those both the 2016 Albariño and the "Sur La Mer" cider – this was an excellent group of wines throughout. The barrel samples I tasted showed that the upcoming 2016 reds promise to be just as good – several samples of the Perli Vineyard and Valenti Ranch Syrahs and the Estate Pinot Noir displayed lots of potential. If you're in Anderson Valley, don't miss visiting the Drew tasting room in Philo to try this fine line-up of wines.
Since there are not many options for lodging at an affordable price (at least for me) in Anderson Valley or nearby, I decided to stay in Ukiah. Because it's located over the mountains from Anderson Valley, Ukiah seems farther away from there than it really is – it's little more than a half-hour drive from Boonville. The drive is a scenic one on Highway 253 as the road climbs to near the ridge of the mountains and then stays along it for a couple of miles, affording some spectacular views, before dropping down to Ukiah Valley.
After checking into my motel in Ukiah – the Quality Inn, which turned out to be a good place for me – I walked over to have dinner at the Ukiah Garden Café, just a few steps away. Dinner was nice enough though nothing really memorable. But the pasta primavera with a salad and beer hit the spot after a long day. This Saturday had been a good start to my brief Mendocino wine tour, and anticipating another long day on Sunday, I turned in early to be ready to go the following morning.