Napa and Sonoma Visits - December 2018 - Part 1
A visit to Napa and Sonoma wine country in late December has become a tradition for me, and I usually find a few friends to come along. My trip at the end of 2017 was a rare solo one, but in 2018 things returned to normal and on this occasion I was joined by my friends Jane and Chris, Pam and Jeff, Eric, and Alan. Our brief tour would be on the last two days of 2018, and as we've sometimes been able to do for these trips, we stayed at a timeshare facility in Windsor, just north of Santa Rosa. This provides a convenient and comfortable base and allows us to enjoy breakfasts and dinners together in a relaxed setting.
We planned two days of wine visits, and I was fortunate enough to be able to make appointments at two places each day – not always easy to do at the very end of the year when many people (yes, even vintners!) are traveling or have family functions to attend. For our group, scheduling issues meant that not everyone was able to make it to all four of our wine visits, but in the end it all worked out fine. Since I'd made the wine appointments, I asked Jane to choose places for lunch – she's always good at that. We would be making our own dinners at one of the two timeshare units our group shared in Windsor.
Jane and Chris had been staying at one of the timeshare units already, and I drove up from Oakland early on Sunday morning to drop off my things there before heading out for the day's wine visits. Jeff and Pam were originally planning to meet us for our first wine appointment but they'd sent word that they were running late and would meet us for lunch instead, while Eric was still scheduled to meet us for that morning's appointment (Alan wouldn't join us until the following day). Unfortunately Chris was a bit under the weather so he stayed at the timeshare unit and I headed out from Windsor with Jane to our wine visit.
Our destination that morning was in the Mount Veeder AVA, high in the mountains west of Napa Valley. Getting there from Windsor involves a fairly lengthy drive, heading along Highway 12 southeast from Santa Rosa and then onto the winding route of Trinity Road up and over the crest of the Mayacamas Mountains into Napa County and down Dry Creek Road. Fortunately the weather was good – clear and not especially cold – so that made the driving easy. This is not a trip you want to make in stormy weather or on icy mountain roads. Jane and I made our way along Dry Creek Road on the slopes of Mount Veeder to the spot where we planned to meet Eric, at the base of the drive that leads up to Lagier Meredith Vineyard.
Sunday - December 30, 2018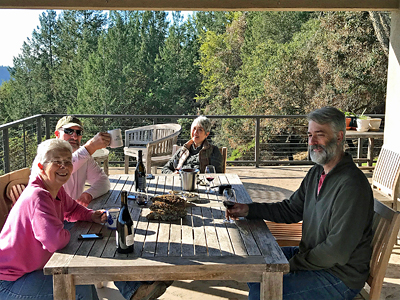 left to right: Carole, Steve, Jane, Eric
Jane and I arrived at the lower end of the road leading up to Lagier Meredith Vineyard to find several trucks parked there and a number of workers who looked ready to begin work on something, though we couldn't tell just what that might be. We were surprised to see all that activity on a Sunday morning. Eric was going to meet us at this location and park in the pullout area next to the road so we could take just one car on the steep, narrow route up the mountain. But with all the trucks, there was nowhere to park, so we asked one of the workers if he could tell Eric that we'd already headed up the mountain and he should meet us there (there was no cell service at that spot to call or text Eric). Somehow that didn't happen, and after Jane and I had been up at the house of Steve Lagier and Carole Meredith for 15-20 minutes, Steve volunteered to drive down and see if Eric was down the hill. Sure enough, Eric was waiting there, and no one at the base of the hill had told him to drive up and meet us at the top. But Steve led Eric up the mountain and eventually everything worked out fine.
It was a beautiful clear morning and warmer than we expected when Jane and I got to Steve and Carole's house, so we decided to sit around the large wooden table on their front deck overlooking part of their vineyard. Sitting out on the deck is a great spot to look at all the hummingbirds enjoying the feeders that hang from the underside of the roof above. As the morning went on, it actually got colder as the wind started to come up – not a lot of wind but enough to make a noticeable difference in warmth. We all just grabbed a sweatshirt or jacket and didn't let it bother us, though.
Both Steve and Carole attended UC Davis, which is where they met. Steve earned a degree in biochemistry followed by a master's degree in enology, and he went on to work as a winemaker at Robert Mondavi Winery for nearly 15 years before leaving in 1999 to focus on the Lagier Meredith vineyard and winemaking. Carole earned a doctorate in plant genetics at Davis before joining the faculty at the Department of Viticulture and Enology. She's famed for her pioneering work on grapevine DNA, particularly with respect to discovering the Croatian origins of the Zinfandel grape variety. She retired from her position at Davis in 2003.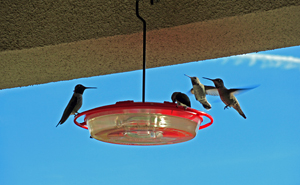 Steve and Carole purchased their 84-acre property on Mount Veeder in 1986. The site has mostly fractured sandstone and shale rock and soil, ancient seabed materials that are common on the southern slopes of the Mount Veeder AVA but are unusual in most of Napa Valley. Most of their property is woodland (which harbors plenty of wildlife), but part of it near the house had already been cleared before they moved there, though it still took a lot of work to prepare it for planting their vineyard. They planted their first Syrah vines in 1994 – the first plantings were Durell clone, and they added more clones later – 174, 383, 470, 525, and 877. The vineyard is at about 1,300-foot elevation (high above Napa Valley itself) and it's only 4½ acres in size, so Steve and Carole are able to do nearly all the work there themselves. For many years Syrah was the only variety they grew there, but in 2007 they added a block of Mondeuse, and in 2010 they grafted over some Syrah vines to Malbec and Zinfandel. There are some beautiful olive trees dating to the nineteenth century not far from the house as well, and Steve and Carole sometimes have the delicious olives that they cure themselves to share with visitors.
The first commercial Lagier Meredith release was their 1998 Syrah, released in 2000. While Syrah remains the backbone of their small production, they've added Mondeuse, Malbec, Zinfandel (called "Tribidrag" – a very old Croatian name for the variety), and occasionally a Syrah dessert wine called "Precious Bane." All of the Lagier Meredith wines are made exclusively from their estate vineyard fruit. Their winemaking is fairly basic – all destemmed fruit fermented in small lots, no extended macerations, and wines aged for 18 to 23 months in entirely neutral barrels. Total annual production is quite small, typically less than 800 cases, with some bottlings being under 100 cases.
This year's visit was much different than last year's, which came only a couple of months after the devastating 2017 wine country wildfires. One of those fires burned parts of the Mount Veeder region, and it went through Steve and Carole's property. Their house came through that with no problem, but there was other damage to the property – notably, the fire destroyed just under a quarter-acre of their Syrah vines. Steve and Carole are not replanting it since it was not one of the better vineyard blocks – nearby trees shaded the vines so they didn't ripen as well. Due to that, the fruit was used mainly for their rosé wine, which they've decided to discontinue, as it was a lot of effort to make the wine in relation to the return. Many of the wooden vineyard gates and fence posts were destroyed or damaged during the fire as well, and these have been replaced with steel ones. Steve mentioned that they are continuing to replace more of them, since he and Carole know that the next fire is a question of when and not if. I'd also noticed that the culverts under the road leading up to the house and vineyard had been replaced with new galvanized steel ones since the old plastic ones had burned or melted during the fire.
The items noted above are just a few of the many things that needed to be repaired or replaced after the fire – it was a great deal of work, and much of it had to be done in a limited amount of time. Steve is continuing to do more clearing around the house and vineyard, removing brush and cutting back nearby trees to create more defensible space. The house was designed with fire safety in mind, with entirely non-flammable exterior materials. Steve and Carole will also be adding to their existing water tank capacity, with the thought that when the next fire comes – hopefully not anytime soon – they may well be safer to hunker down at their house (they also have a generator and air purifier) rather than risk the area's narrow mountain roads in an emergency.
As we sat around the table out on the deck, we noticed a few interesting objects there that they'd discovered since the fire. One was an impressive three-level yellowjacket nest that was unearthed by the roots of a toppled tree – normally these nests are entirely underground. Another found object was an old rusted pistol that turned up on the ground after underbrush that had covered it burned during the fire. Carole had posted a few photos of the pistol on Facebook shortly after it was found in spring 2018 to see if anyone could identify what it is, and it's probably a Ruger Single-Six made in the later 1950s. How it got there is anyone's guess – there could be an interesting story behind it!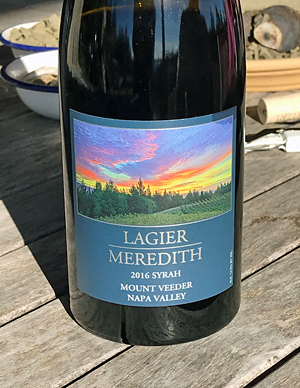 I asked how the 2018 season was for them, and Steve described it as "mercifully gentle," with only one day where the temperature broke 100 degrees – in contrast, 2017 saw a couple of periods of unusually hot weather. He also described the 2018 harvest and crush as "mercifully uneventful," a very understandable view. Steve and Carole noted that the 2018 vintage was particularly fruitful due to good weather during bloom, leading to a better fruit set than usual. The crop level was normal for the vineyard, even considering the loss of some of their vines from the 2017 wildfire.
Steve asked us if we would like to taste their new 2016 Syrah – of course we would! Even with several other varietal wines that they've made from their vineyard over the past ten years, Syrah continues to be Lagier Meredith's flagship wine. The aromatic signature of their Syrah has had a good deal of consistency over the years, though of course there is some vintage variation. The 2016 displayed lots of pepper, flowers, and pure, fresh dark berry fruit, along with touches of earth and orangepeel/spice plus an iron/mineral note. Another hallmark of Lagier Meredith Syrahs is their beautiful texture and balance – nothing here feels awkward or out of place, even for such a young wine. This is already drinking very nicely, and should age as gracefully as their Syrahs always do.
I mentioned above that Steve and Carole have added Mondeuse, Zinfandel, and Malbec to their vineyard over the past 12 years. I knew why they chose Mondeuse (Carole has described the variety as "Syrah's crazy uncle") and Zinfandel (from Carole's pioneering work in identifying its origins) but why Malbec? Carole explained that she and Steve had tried some very good Malbec produced by Cuvaison and Hess Collection, both sourced from nearby vineyards on Mount Veeder, so they felt that the area was a particularly good place for the variety. They got Malbec fruit from Brandlin Ranch in past years for some of their Chester's Anvil wines (the collaborative effort with Aaron and Claire Pott that was discontinued a couple of years ago), and now they're able to source Malbec from their own vineyard – the ones I've tasted have been very good indeed.
We always have interesting discussions with Steve and Carole, with many topics completely unrelated to wine. We talked about some of the various types of birds they see at their property – there are currently lots of robins in the nearby trees. Carole also pointed out the pole where their sometime-resident red-tailed hawk would hang out. They've named him "Ethan Hawk," and he had been elsewhere for the past couple of months before our visit but he returned not long afterwards. One wine-related discussion was that we would be visiting vintner Carol Shelton the following day, and we learned that she had been a classmate and dormmate of Steve's at UC Davis. Carole also recalled that Carol had commented on a Facebook photo of one of their older Syrahs – she and her husband Mitch had a bottle but lost it along with their house (and many other wines) during the 2017 wildfires. Carole spent awhile tracking down that Facebook post and finally found that the vintage in question was a 2001. Steve later retrieved a bottle from their stash of library wines for me to bring to Carol Shelton the next day – she was delighted to receive it.
Seeing Steve and Carole at their Mount Veeder vineyard and home is one of the wine visits I enjoy the most each year. Even when only tasting one wine, as was the case on this occasion, it's a pleasure to just sit and talk with them – they're generous with their time and they always have such fascinating stories to share. Their 2016 Syrah is just the latest in the long string of excellent Syrahs that they've produced from their vines. Toward the end of our visit, Steve and Carol mentioned how the wine business can often be like fashion or popular music, with some producers constantly trying to keep up with the latest trends that they see consumers chasing. Steve and Carol's approach (as is true of most vintners I truly appreciate) is completely different – they follow their own path and do things the way they feel they should be done, regardless of trends. Their wines have been consistent standouts over the years, and you'll find few if any more reliable producers in California than Lagier Meredith.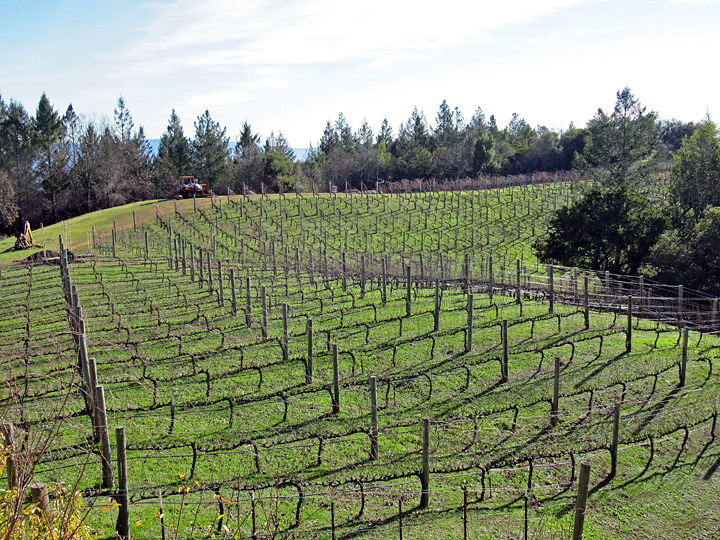 After we'd said goodbye to Steve and Carole, I went over a couple of alternate routes with Jane and Eric that we could take to get to Healdsburg, where we were meeting Jeff and Pam for lunch. The main options were driving straight back over the mountains and down to Sonoma Valley, the way Jane and I had come earlier that morning, or to go down Oakville Grade to the floor of Napa Valley, then head north past Calistoga and through Knights Valley and Alexander Valley to Healdsburg. Eric told us that he preferred the less mountainous drive, so we decided on the latter route. As I led the way down the steep drive from the vineyard to Dry Creek Road on Mount Veeder, I realized right away that this was the correct decision – Eric was really slow driving along mountain roads! I lost sight of him a few times and had to stop along the road to wait for him to catch up. Once we got to the main road, though, he had no trouble keeping up with me and we were able to caravan quite easily the rest of the way to Healdsburg.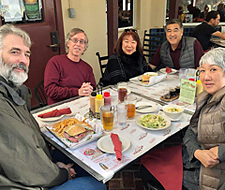 photo credit: Pam Kawaguchi
We found parking spots at the large parking lot a block west of Healdsburg Plaza and walked into Bear Republic Brewing Company, where we were having lunch. It's a fairly large place, and we were seated quickly – Jeff and Pam walked up and joined us a few minutes later. I noticed that the menu had changed since my last visit here in spring 2017, and all the burgers are now "build your own." There are a variety of other options though, including various soup/salad/sandwich combinations. I got a pastrami sandwich, with basil, pepperoncinis, pickled red onions, arugula, and whole grain mustard on a country roll, with a side of coleslaw. The sandwich was ok but a little dry, and I have to say that it was not especially memorable. The strength of Bear Republic is clearly the wide selection of their beers – there are many year-round and seasonal brews plus specialties on tap. I had the "Resilience Butte County Proud" IPA – Bear Republic is one of many breweries that have made a special beer to help support those affected by the 2018 Camp Fire in Butte County, and I enjoyed this one quite a bit. As with my earlier visit here, the beer was the highlight of my lunch. Not that the food was bad, just pretty ordinary. Still, I'd say it was worth it for the fun atmosphere and tasty beer.
After lunch, we had a short drive to our afternoon appointment, just south of Healdsburg at the very end of Limerick Lane. We were meeting with Rootdown Wine Cellars' owner/winemaker Mike Lucia at his property there. I'd met Mike in 2017, during the Seven % Solution wine tasting event in San Francisco. He poured wines from three grape varieties there, with a rosé and a red version of each – I liked the concept of that approach, and I thought that several of the wines were among the standouts I tasted that day. I contacted Mike and a late-December visit worked out for him.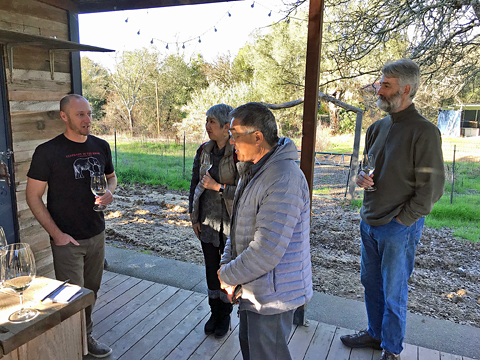 left to right: Mike, Jane, Jeff, Eric
We parked nearby the house at the property and Mike came out to greet us. Mike grew up in Healdsburg, so he knows the region well. In the 1990s, he worked in the restaurant industry as an assistant sommelier and wine buyer, at establishments including Plumpjack Restaurant, Village Pub in Woodside, Madrona Manor, and Chateau Souverain Restaurant. He also spent time living in Squaw Valley to pursue his passion for snowboarding. Mike told us that got into wine more seriously during his time in the restaurant business and decided that what he really wanted to do was to make his own wine. He worked his first harvest in 1997 at DeLoach Vineyards, and he's also worked at other wineries including Forchini and Ridge. Mike's ambition to become a winemaker led him to return to school in 2004, and he earned an enology degree from Fresno State. Mike became the assistant winemaker at Goldeneye in 2007, and in 2010 he became the assistant winemaker at Copain Wines. He launched the Rootdown label in 2014, while he was still at Copain. He left Copain after the brand was sold in 2016 and although he also does some consulting work, he's mainly been focusing on Rootdown since then.
The Rootdown name comes from a combination of two things – back to the roots winemaking, and being down to earth. It's also a reference to Mike's belief in the strong influence of soil on wine. Mike said that his original idea for Rootdown was a rosé-only label, but it's developed from there, and there are now whites, rosés, and reds, with the rosés and reds coming from the same grape varieties. He likes working with less-common grape varieties for California, and most of the Rootdown wines to date have been single-varietal, single-vineyard bottlings. Mike is currently making his wine at the old Wind Gap facility (several other vintners share that space) but he will be moving into a new spot that recently opened up at the facility just north of Healdsburg where Idlewild, Ryme, and Leo Steen are located. In addition to Rootdown, Mike is starting a second label called Es Okay – he said that he wanted to display his "jokester side" with the name, and the label will feature lower-priced bottlings. Production for the upcoming 2018 vintage of Rootdown and Es Okay will be about 1,500 cases each.
Mike purchased the 2.2-acre property on Limerick Lane in August 2017, and very recently added another 4.8 acres of adjacent land to the east and south. He and his fiancée Jill, who's an interior designer, are making plans to remodel the house on the property before too long, turning the lower level into a wine cellar and space for entertaining visitors. He said that they have long-range remodeling plans too, taking into account kids in the future, changing needs as they grow older, etc. – that's really planning ahead!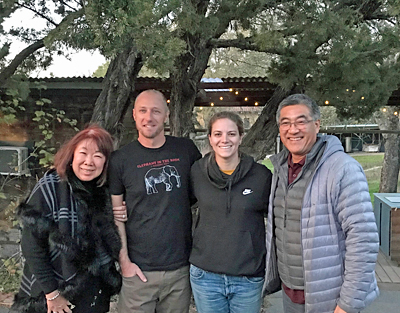 left to right: Pam, Mike, Jill, Jeff
Mike is also planning to plant a vineyard at the property, hopefully starting in 2019. He's looking to plant around five acres, and still deciding on the grape varieties that he'll put in. He said that he'll most likely plant Gamay and Mondeuse, and perhaps Blaufränkisch and others as well. Since the site has various slopes and aspects, Mike will plant several blocks to take advantage of that. He's also planning to plant some orchard trees, including avocado. The original property had previously been a certified organic farm, so the soil is in good shape, and Mike is thinking about biodynamic farming for his vineyard. There is clay and cobble soil on the various properties, and once soil tests are completed, Mike will choose rootstocks and clones for planting – he's hoping that he can dry-farm the vineyard once the vines are established, but he'll have to see whether that works out.
Since fruit from his own vineyard is still a ways off, Mike purchases all of the fruit for his wines, and he prefers to work with organic growers. The winemaking can be described as low-intervention, with all native ferments in small bins, no new oak used in aging, and minimal SO2 additions. Mike told us that he's looking to make wines with more earthy than fruity qualities, and the wines have tended to be higher-acidity and lower-alcohol than most from California. He likes fermenting white and rosé wines at least partially in barrel rather than in tank – he said that the barrel shape helps keep the yeast moving and also allows it some needed oxygen during fermentation. These wines are racked to stainless steel tanks after fermentation, and whites and rosés are cold-stabilized according to Mike's "Rule of 33" – 33 days before bottling, he chills the tanks down to 33 degrees. Reds have been made mostly fermented with destemmed fruit, though Mike put part of his most recent Trousseau through carbonic fermentation. The whites and rosés are sterile-filtered prior to bottling. The current Rootdown releases feature three wines each of three types – white, rosé, and red. Sounds like Mike's Rule of 33 strikes again!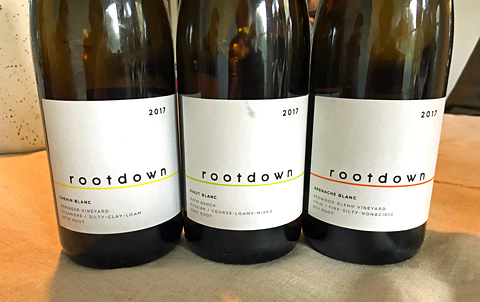 Mike started us out on tasting his wines at a covered deck area a little ways from the house. He showed us the walk-in cooler adjacent to the deck that's a great place for storing wine – Mike calls it "Christopher Walk-in." He poured us a small production (single barrel) white blend, the 2017 "McConkey Blanc." It's about 50% Grenache Blanc and 25% each Chenin Blanc and Pinot Blanc. Very light color, with green apple and stone fruit aromas plus savory herbal notes and undertones of flowers and earth. Light-medium weight on the palate, this had fine acidity and a fresh, clean finish. Mike made this wine in honor of famed skier / BASE jumper Shane McConkey who died in 2009, and proceeds go to the Shane McConkey Foundation, which supports environmental education and wildlife protection. Mike said that he plans to make three barrels of the "McConkey Blanc" blend from the 2018 vintage since the initial limited-production bottling has been well-received.
As we tasted this first wine, Mike told us that he sees wines in shapes and colors – the color of the line on labels of whites and rosés and of overall label color of reds approximates the color of the residual lees that comes out of the barrels after the wine is racked out. Since the "McConkey Blanc" is a blend of three varieties, there are three lines of different colors on that label. Mike noted that he likes to include soil types, vine age, and other "geeky" wine stuff on the labels as well.
We followed Mike up a slope near his house, where we enjoyed beautiful views to the north and west. There he opened a bottle of 2017 Jane's Vineyard Rosé of Sangiovese, from Mendocino County. Mike said that there was no added SO2 in this wine but it's bottled with some CO2 to help preserve the wine and maintain freshness. This wine displayed savory red fruit and citrus aromas along with touches of spice and earth, with bright acidity and a slightly chalky mineral texture and finish. An unusual feature of Mike's winemaking is that he makes the rosé and red of each grape variety from fruit picked at the same time. The fruit is picked with an eye toward making rosés with acidity and freshness, so it tends to be on the early side compared with when fruit is typically picked for reds. There are two additional Rootdown rosés, from Trousseau and Mourvèdre, but the most recent vintages of these were already sold out.
Mike led us back down the hill and into his house, where we all sat around his dining table to taste more of the current Rootdown wines. We began with the 2017 Heringer Vineyard Chenin Blanc, from Clarksburg. Mike knew of Mike Heringer from his time at Fresno State, and he was interested in trying out the fruit from his vineyard since they are moving toward organic farming. The whole-cluster fruit spent about five days in a sealed bin with dry ice for some carbonic fermentation, then it was pressed hard (to help give it some structure) and barrel-fermented in neutral oak. The wine had somewhat shy aromatics, but some time in the glass brought out hints of pear, flowers, and spice, medium-bodied with a crisp dry finish.
Next was the 2017 Rivin Ranch Vineyard Pinot Blanc, (formerly Shrader Ranch), not far from the Russian River near Ukiah in Mendocino County. Mike picks the vineyard rows of Pinot Blanc that are farthest from the river as he feels the fruit from these vines is better quality. Unlike the other two Rootdown whites, this wine has no skin contact prior to pressing. With earth, citrus, and pear aromas leading the way plus herbal notes in support, this combined lively acidity with plenty of body and texture, leading to a long finish. We followed this with the 2017 Redwood Glenn Vineyard Grenache Blanc, from a site near Westside Road near the appellation border between Dry Creek Valley and Russian River Valley. The fruit was foot-trod and then was pressed after spending six hours on the skins. Beautiful floral aromatics along with stone fruit, orangepeel/spice, and earth, this had the richest texture of any of the Rootdown whites yet retained plenty of fresh acidity, with the skin contact adding texture and structure.
Mike does a rack and return partway through fermentation of his whites – he learned this practice at Copain – with the aim of producing a fleshy and fresh wine. While the current Rootdown whites are bottled prior to the following harvest, Mike would like to overvintage them, something he hopes to do once he moves into his new winemaking space. Mike told us that he chose the three white varieties he works with partly because he feels that they have been largely misrepresented in California.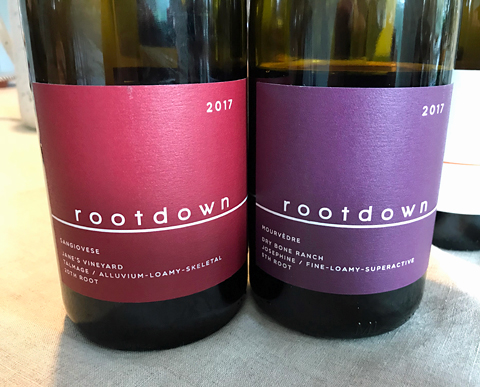 We moved on to taste two of Rootdown's three red wines – the third one, Trousseau, is sold out. Mike poured us the 2017 Jane's Vineyard Sangiovese, which was fermented with about 1/3 whole-cluster and 2/3 destemmed fruit. This featured black cherry fruit and loads of fresh herbs and spice on the nose, medium weight in the mouth with a slightly chalky mineral texture and a lively finish. Our final wine of the day was the 2017 Dry Bone Ranch Mourvèdre. The fruit comes from the small Fiddletown AVA in Amador County, and Mike noted that he has been farming the Mourvèdre vines there. This wine was made using 50% whole-cluster fermentation. Lots going on here, with very savory and earthy aromas, plum and spice notes, plus earth and iron undertones, a bigger, more structured mouthfeel with firm tannins on the finish – quite tasty now but this should develop nicely with some additional bottle age.
As we were finishing up our tasting with Mike, he told us that he's making 2018 wines for the new Es Okay label from a number of Portuguese grape varieties – Tinta Cão, Tinta Roriz, Tinta Barroca, Touriga Nacional, and Touriga Francesa, all sourced from a vineyard north of Hopland in Mendocino County. He's planning to release these wines as a six-pack, with one of each variety plus one blend. Mike visited Portugal in 2018, and he liked the results with the way these varieties are often pressed early and still sweet there. He's experimenting with different approaches for his versions, including carbonic, whole-cluster, destemmed, and combinations. Mike is also making a Pinot Gris for Es Okay.
My friends and I had a great time visiting with Mike, and toward the end of our visit we got to meet his fiancée Jill as well. Mike has a lot of serious plans for the future of his property and his winery, but it was his enthusiasm and sense of humor that really kept things fun throughout our visit. I've been impressed with the Rootdown wines I've tried so far, and I like that he's working with some of California's less-common grape varieties. My favorites from our tasting included the 2017 "McConkey Blanc", 2017 Redwood Glenn Vineyard Grenache Blanc, 2017 Jane's Vineyard Rosé of Sangiovese, and 2017 Dry Bone Vineyard Mourvèdre, though everything we tasted was very good. The current Rootdown wines range in price from $24 to $34 so they're all fine values too. It will be interesting to follow the continuing progress of Rootdown – and its new sister label Es Okay – and particularly once the vines from Mike's own vineyard start producing fruit. These will definitely be labels to watch in the coming years.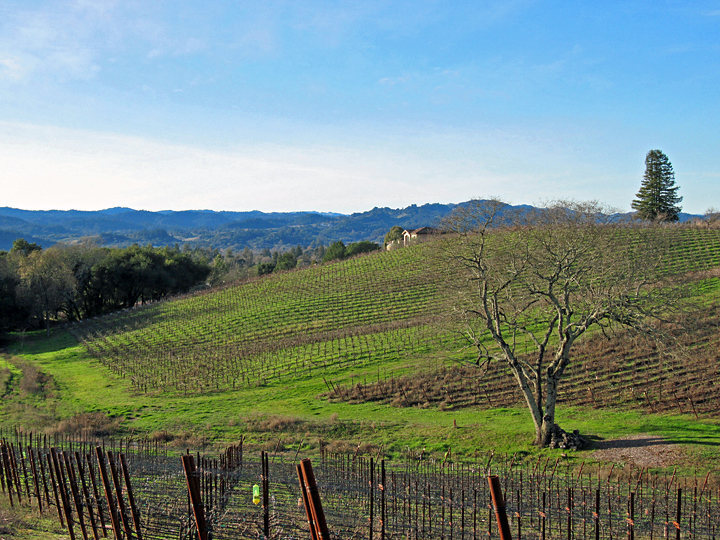 The view west from Rootdown
After saying goodbye to Mike and Jill at Rootdown late on Sunday afternoon, we drove the short distance back to Windsor. Eric and I were staying in the same timeshare unit as Jane and Chris, and we set out some cheese and crackers and opened up a bottle of wine to get things started. After awhile, Jeff and Pam came over from the other unit and prepared very tasty grilled beef appetizers and a delicious salmon dinner for everyone – and of course we opened more wine! This was a relaxing conclusion to a fun day of wine visits in Napa and Sonoma counties.