Napa and Sonoma Visits - December 2018 - Part 2
The first of our two-day mini-tour of Napa and Sonoma counties had been a good one, with visits on the Sunday before New Year's to Lagier Meredith Vineyard and Rootdown Cellars – visiting vintners at their homes adjacent to their vineyard (for Lagier Meredith), and to their future vineyard (for Rootdown). My friends Jane, Chris, Pam, Jeff, Eric, and I all stayed in a couple of timeshare units in Windsor, a few miles north of Santa Rosa. Our second day would be limited to Sonoma County – that meant much less driving for us, which was a plus – and it would also be different in that both of our scheduled visits were to urban locations rather than out in the country.
As we had done the previous evening for dinner, we all gathered in one of the two timeshare units for breakfast. Nothing fancy on this day, but enough to fuel us for the morning. Eric had other plans later in the day so he would be leaving us after our first wine visit, while another friend, Alan, would be joining us during the day. Chris was still not feeling his best so he decided to forego the wine tasting again. We grouped into two cars – Eric drove one since he would need to take off later, and Jeff drove the other – and after a few minutes of confusion about where to meet before heading to our first appointment of the day, we joined up and hit the road.
Monday - December 31, 2018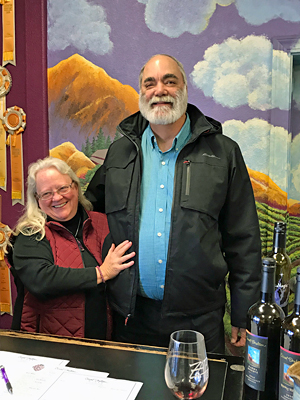 Carol Shelton & Mitch Mackenzie
It can be tricky to make appointments with vintners on the day before New Year's Day, so I was delighted that the timing worked out for a visit with Carol Shelton. I've tried a number of Carol's wines over the years and had an opportunity to talk with her for a few minutes at the spring 2018 Historic Vineyard Society tasting in San Francisco. Her wines there were among my favorites of the event, and one in particular caught my attention that day – more on that later.
It was a fairly short drive for our group from Windsor to Carol Shelton's urban winery, in an industrial park in the northern part of Santa Rosa. After we'd gotten off of the freeway and drove though the streets to her location, we passed through part of the Coffey Park neighborhood that was devastated by the 2017 wine country wildfires. Many homes were in various stages of being rebuilt, though there were still quite a few vacant lots – we saw similar scenes in commercial areas nearby as well. Sadly, Carol and her husband / business partner Mitch Mackenzie lost their home in the Larkfield-Wikiup area during the fire, but the good news is that it's now being rebuilt. Carol and Mitch lost many irreplaceable bottles of wine that they'd cellared at their home, though we were able to replace one bottle for them – a 2001 Lagier Meredith Syrah. When I had visited Carole Meredith and Steve Lagier the previous morning, Carole had recalled Carol replying to a Facebook post about that wine and she and Steve made sure I took one of their library bottles to give to Carol. Carol was very pleasantly surprised with the gift, and she told us that it was much appreciated!
Carol is widely known as the "Queen of Zinfandel" – it's her favorite grape variety. Although she had originally thought of becoming a poet, a visit to a Sonoma County winery during her college years at UC Davis changed her direction. Carol earned an enology degree from Davis in 1978 – one of the early women graduates from the program there. We learned that Steve Lagier was a classmate and dormmate of Carol's there. Also notable – Carol worked at Davis with Ann Noble on the well-known Wine Aroma Wheel. Things were not easy for a woman in winemaking in those days, but following her degree from Davis, Carol was able to work with such notable vintners as Zelma Long at Robert Mondavi, Peter Lehmann at Saltrams Wines in the Barossa, and André Tchelistcheff at Buena Vista. She went on to work for Rodney Strong's Windsor Vineyards in 1981, where she became their winemaker, a position she held until she and Mitch launched Carol Shelton Wines in 2000. Over the years, Carol has been named California Winemaker of the Year by a number of highly-respected publications including the San Francisco Chronicle – quite an honor.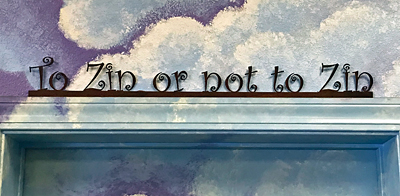 Carol's winery has been in its current Santa Rosa space since 2007, though they bottle their wines at the Rack & Riddle facility in Healdsburg. Carol told us that they're working on a new winery and tasting room in Windsor, near the recently-built Russian River Brewing location there. She hopes to have the new facility finished within the next two years, and it may include a restaurant. Carol sources fruit from many parts of California, ranging from Mendocino County to the Sierra Foothills to Cucamonga Valley in Southern California. Currently, the winery produces 16-18 different bottlings each year, and Carol noted that they are starting to switch from natural to DIAM corks for most of their wines, to eliminate TCA concerns and reduce potential bottle variation. Their "Wild Thing" series of wines are already bottled under Stelvin screwcaps. Total annual production is around 16,000 cases, with about 10,000 of that being their "Wild Thing" Zinfandel while other bottlings are as small as 120 cases.
So what was it about Zinfandel that particularly drew Carol to that variety? A major reason was that she liked the fact that there was no real European model or style for that variety that she might be expected to emulate, unlike Pinot Noir, Cabernet Sauvignon, and most other grape varieties. She also likes working with Zin, saying that "it is the most transparent to terroir of any variety I have dealt with." But she noted that Zinfandel (like some other varieties) can easily be "overdone" with too much alcohol, new oak, and residual sugar that cover up distinctions in terroir, so she aims to avoid that in her own wines. She also mentioned how user-friendly Zin can be, and there's little doubt about that!
The tasting room is a fairly small but very welcoming space, and as we'd begun our visit before the regular opening time, we had the place to ourselves. Carol started our group with tasting the 2017 "Wild Thing" Chardonnay, sourced from 30-year old Hoskins Vineyard near Healdsburg, close to the border of the Russian River Valley and Dry Creek Valley AVAs. This is Carol Shelton Wines' first estate vineyard, which Carol and Mitch purchased in 2014. The Chardonnay fruit was mostly from Clone 4 plus some Spring Mountain clone – there's also a little Viognier and Marsanne blended in – and it was fermented in nearly all neutral oak barrels plus some stainless steel drums, undergoing partial malolactic fermentation. The wine featured stone fruit and tropical fruit aromas, spice, and slightly floral notes, with a lively, medium-light bodied mouthfeel and pleasant finish.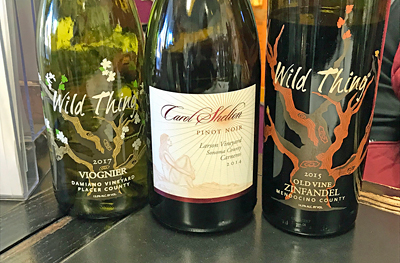 We continued with the 2017 "Wild Thing" Damiano Vineyard Viognier, from Calera and Hawley clones of Viognier grown at a vineyard in the Sierra Foothills, near Auburn in Placer County. As with the Chardonnay, this is fermented using both wild yeast and a variety of inoculated yeasts, and is made in neutral oak along with some stainless steel drums. Floral and citrus aromas led the way for this wine, with spice and stone fruit notes in support, a richer texture than the Chardonnay combined with nice acidity and a clean finish.
Like other Carol Shelton "Wild Thing" bottlings, the Chardonnay and Viognier were fermented partly with wild yeasts. Carol noted that the combination of yeasts she uses for the "Wild Thing" wines – particularly the whites and rosé – keeps them from being too heavy and not fresh enough. She's been known for her pioneering work in studying the effect of different yeast strains on wine flavor and mouthfeel, so it's no surprise that she continues to use her knowledge in that area to good effect.
Carol poured us one more white wine that she mentioned was a favorite of hers – the 2017 "Coquille Blanc", a blend of 46% Grenache Blanc, 24% each Roussanne and Viognier, and 6% Marsanne, all sourced from Nevarez Vineyard near Paso Robles. All of the components were barrel-fermented separately, using six yeast strains for added complexity, and Carol noted that the lees were stirred weekly starting in the January following harvest – the "Wild Thing" Chardonnay and Viognier both get lees-stirring as well. This wine featured intriguing aromatics, displaying pear and stone fruit, lots of spice, and hints of flowers, nuts, and earth, with a fairly rich, creamy texture that was balanced by good acidity and led to a long finish. Carol aims to keep all of the component parts for the "Coquille Blanc" from going through malolactic fermentation (though some barrels tend to go through regardless) to retain acidity and to blend well with the bigger texture of the Roussanne component. Carol does not inoculate her barrels for malolactic fermentation, and she said that they'll typically go through on their own unless she stops it.
Carol then asked whether we would like to taste barrel samples of the components for the 2018 "Coquille Blanc" – of course we took her up on her offer! We followed Carol back into the barrel room, where she pulled samples of each separate variety, mostly from neutral barrels. We started with the 2018 Marsanne, followed by samples of the 2018 Grenache Blanc, 2018 Roussanne, and 2018 Viognier. It's still on the early side to tell how these will develop, but they were all distinct from one another, especially in the aromatics – the Marsanne had more citrus, the Grenache Blanc mostly apple and spice, the Roussanne showed more pear and stone fruit, and the Viognier displayed floral notes along with stone fruit. The Roussanne and Viognier were noticeably richer in texture at this stage than the other two. Carol told us that she picks the Viognier and Roussanne earlier, then the Grenache Blanc and Marsanne later – Paso Robles is a long way to travel from Santa Rosa, especially for two separate picks, but she feels the results are worth it.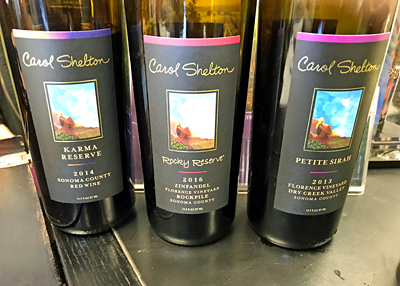 After heading back into the tasting room, we proceeded to taste red wines. The first of these was the 2014 Larson Vineyard Pinot Noir, from the Sonoma side of Carneros. Carol told us that she no longer plans to make Pinot Noir and that this is the last one. This featured ripe cherry and spice aromas with earth and herb undertones, with medium body and a pleasant finish. We then moved on to Zinfandel, the variety that the winery is best-known for. The 2015 "Wild Thing" Old Vine Zinfandel came from 62-year old organically-farmed vines at Cox Vineyard in Mendocino County. After a native fermentation, this wine was aged in 35% new American and French oak. Great brambly Zin character with ripe raspberry and spice on the nose plus undertones of vanilla, this had a rich, mouth-coating texture and refined tannins on the long finish – perhaps not an especially profound Zin but certainly a tasty and fun one!
Next up was the 2016 "Rocky Reserve" Florence Vineyard Rockpile Zinfandel, which includes 13% Petite Sirah from the same vineyard – Carol considers this to be her flagship wine. The vines are located in the Rockpile AVA in the hills northwest of Dry Creek Valley. Carol was one of the vintners who helped get the Rockpile region approved as an AVA in 2002 – she noted that only she and Kent Rosenblum were sourcing fruit from the area at that time! She told us that the fruit for this wine came from a terraced vineyard block at about 1,400-foot elevation. Carol noted that the area – due to its higher elevation – typically avoids summer fog more than Dry Creek Valley, and she feels that Rockpile Zinfandels have more elegant tannins than Zins from most other areas. Compared with the "Wild Thing" Zinfandel, the "Rocky Reserve" was aged in a higher percentage of French oak as well as more new barrels. The "Rocky Reserve" Zin displayed aromas of boysenberry and darker berry fruit, spice, and touches of vanilla/oak and earth, with more structure and tannin than the "Wild Thing" that suggest that this will develop nicely with a few years in the cellar. The "Rocky Reserve" was a less rambunctious Zin than the "Wild Thing" but with greater refinement – definitely a more "serious" rendition of Zinfandel.
The 2014 "Karma Reserve" was next – this is a Zin-based blend from Sonoma County, mostly sourced from Bastoni Vineyard in the Fountaingrove AVA just east of Santa Rosa. The wine is 70% Zinfandel, 14% Petite Sirah, 6% Alicante Bouschet, 6% Cabernet Sauvignon, with small amounts of Carignane and Viognier. The Cabernet comes from King Ridge Vineyard in the West Sonoma Coast region. Aged in about 40% new French and American oak, the wine had bright and slightly higher-toned plum and darker berry aromas along with spice, vanilla, and a touch of pepper, with an elegant mouthfeel and refined tannins. The 2013 Florence Vineyard Petite Sirah, from the northern edge of Dry Creek Valley, is farmed by Jack Florence Sr., who also farms Florence Vineyard in Rockpile. This showed a darker fruit profile plus spice and earth notes, with a bigger structure and tannic grip on the finish.
I mentioned earlier one specific wine of Carol's that was of particular interest to me at the Historic Vineyard Society tasting I attended, and she poured it for our group. This was the 2016 "Monga Zin" Lopez Vineyard Old Vine Zinfandel, from Cucamonga Valley, a historic wine region near the foot of the San Gabriel Mountains between Los Angeles and San Bernardino. I visited the area last summer, and Carol had been extremely helpful in getting me in touch with the right people to visit Lopez Vineyard. It's the largest remaining vineyard in the region, with tiny own-rooted, head-trained, dry-farmed vines (they grow no more than 30" to 36" tall) planted in 1918 – they've been certified organically farmed since 2004. Yields at Lopez Vineyard are tiny, typically well under one ton per acre and sometimes as little as 0.1 ton per acre. The wine featured intense raspberry and plum, fresh herbs, and exotic spice on the nose, with a fairly rich, structured mouthfeel and firmly tannic finish.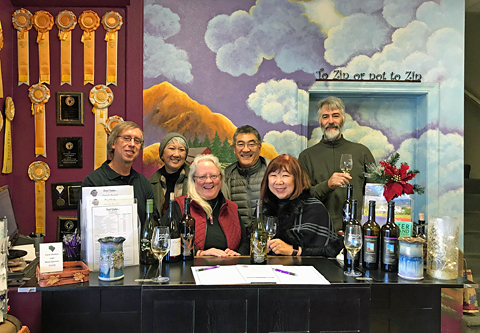 We concluded our tasting with Carol with a sweet wine, the 2017 "Black Magic" Late Harvest Zinfandel, sourced from three Sonoma County vineyards. The fruit was harvested at 32 brix, pressed early at about 8% sugar, and kept in stainless steel until it was bottled just a few months following the harvest. The finished wine is 6.5% residual sugar and 15.5% alcohol. Intense dark berry, chocolate, and spice aromas with a rich, mouth-coating texture that was not overly sweet or heavy. Carol brought out some small dark chocolates for us to enjoy with the "Black Magic" wine. The wine comes in 375ml bottles, and Carol noted that parts of the screen-printed label actually glow in the dark – true "magic"!
We had a wonderful time visiting with Carol Shelton at her namesake winery. It's not a given that you can impart lots of detailed information about vineyards and winemaking and make it a lot of fun at the same time, but Carol did that with ease, and we were fortunate to be able to have her on hand to guide us through our tasting. My favorites included the 2017 "Coquille Blanc", 2015 "Wild Thing" Old Vine Zinfandel, 2016 "Rocky Reserve" Florence Vineyard Rockpile Zinfandel, and 2016 "Monga Zin" Lopez Vineyard Old Vine Zinfandel, and everything we tried was very tasty. An added bonus is that the Carol Shelton wines are very good values, particularly the "Wild Thing" bottlings. Carol is renowned for "Mastering the Zen of Zin" and it was easy to see why during our visit. While her other wines deserve high praise too, it truly is the Zinfandel here – with varied bottlings that showcase their different vineyard sources – that makes Carol Shelton Wines such a standout. Their tasting room is a highly recommended stop if you're in the Santa Rosa area.
Alan had originally planned to meet us for our visit with Carol Shelton, but he got a late start and let us know that he would join up with us at lunch instead. As it turned out, he met us toward the very end of our tasting with Carol, so at least he had a chance to say hello to Eric, who needed to take off immediately afterwards. With Jeff and Alan now behind the wheels for our group, we started out toward our lunch destination at Sazón Peruvian Cuisine in Santa Rosa – a fairly short drive. For whatever reason, we split up rather than caravan to the lunch spot and took somewhat different routes. As it turned out we each arrived within less than a minute of one another and parked in front of the restaurant, located in a very small, nondescript strip of shops on a busy street corner.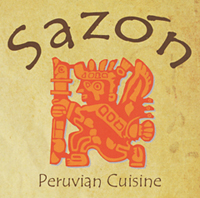 The interior of the restaurant is not large but it's inviting and nicely decorated, and there's a good-sized adjoining deli space also run by Sazón. The restaurant menu features appetizers, ceviche, soups and salads, sandwiches, plus a variety of house specialties. I've had some Peruvian food before but Jeff and Pam were more familiar with the cuisine, and they suggested getting a carafe of chicha morada, a traditional Peruvian non-alcoholic beverage made from purple corn. We took their advice, and the drink was very tasty, not quite like anything I can remember trying before. I ordered one of the restaurant's specialties, the Ají de Gallina – pulled chicken stew in an ají amarillo cream sauce, with potato, hard-boiled egg, and walnuts on top, served with steamed rice. Again, this featured some really interesting and different flavors, and it was delicious! Others in the group had ceviche and other Peruvian specialties, and everyone seemed very happy with their meals. The staff at the restaurant was quite friendly, and we enjoyed chatting with our server. I'd certainly consider returning to Sazón, especially if I'm in the mood for something a little different.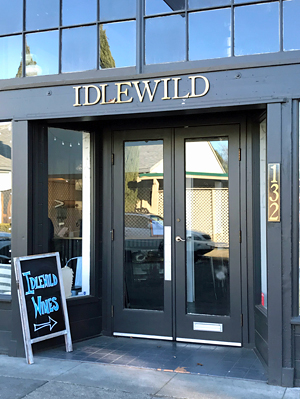 The final visit of our brief two-day wine tour was to the tasting room of Idlewild Wines, located just off the Plaza in Healdsburg. I had contacted owner/winemaker Sam Bilbro earlier to see whether they would be open on the afternoon of New Year's Eve – since many places close early – and I was happy to hear from him that they would indeed be open. Sam wasn't sure whether he could be there but assured me that he would have someone there to take good care of us if not. The tasting room opened in early 2017, and it offers several tasting options. There's the basic tasting through a wine flight, and small plates of cheese and salumi can be purchased to add to the experience. A more in-depth tasting – "The Idlewild Table" – includes special pairings of food items with each wine and more detailed information on each. Private tastings are also available. I'd met Sam a few years ago at an informal annual event called Nebbiolo Enthusiasts & Believers (NEB), as Idlewild's focus is on wines made from grape varieties from Italy's Piemonte region.
Our group arrived at the tasting room about ten minutes early, and Sam was there but was busy with another group of visitors. The tasting room is a light-filled space with large windows facing the street. Andrew Pellegrino at the tasting room had us take seats around a low table by one of the front windows and started us with our first wine. After a couple of minutes, Idlewild's "Resident Wine Geek" Thomas DeBiase came in take over for Andrew and he guided us through the rest of the tasting. Thomas has worked in the local food and wine business for a number of years. Most recently he was a Senior Manager with Foley Family Wines for four years (working on brands there including Chalk Hill, Lancaster, and Roth) before he sought out a position at Idlewild and joined their team in mid-2018. Like Sam, Thomas is a big fan of Italian wines – particularly those from Piemonte – and his knowledge of them is extensive, so we were in very good hands with him leading our tasting. Although Sam came by to chat with us for a little while a bit later, he needed to leave though it was good to see him even if only for a short time.
Sam comes from a winemaking family. His great-grandfather made wine in Cloverdale during Prohibition and trucked it to San Francisco. Sam's father Chris started Marietta Cellars in Geyserville in 1978, so Sam grew up around grapevines and winemaking. His brothers are both in the wine business as well – Jake has run the Limerick Lane vineyard and winery since 2011 and Scot now runs Marietta. Sam worked in the restaurant and produce businesses prior to starting Idlewild in 2012.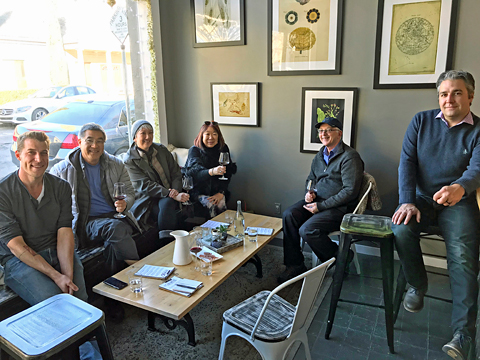 left to right: Sam, Jeff, Jane, Pam, Alan, Thomas
Over the years, Sam has been able to try fine wines from all over the world, but he took a special liking to the wines of Piemonte in northern Italy, and the grape varieties found in that region are the focus of Idlewild. The winery produces varietal bottlings of Arneis, Cortese, Dolcetto, Barbera, and Nebbiolo. In addition to these varietal Idlewild wines, Sam also makes three blends, collectively known as the "Flora & Fauna" blends. The most recent 2017 "The Bee" white is a blend of 50% Moscato Bianco, 47% Arneis, and 3% Cortese, the 2017 "The Flower" rosé is from 47% Nebbiolo, 28% Barbera, and 25% Dolcetto, and the 2017 "The Bird" red is a blend of 60% Dolcetto, 35% Barbera, and 5% Nebbiolo. Although the most recent vintage of all three of the "Flora & Fauna" wines were already sold out and we didn't taste them on this visit, I've tasted various vintages several times in the past, and they're always quite nice and excellent values too. Overall annual production at Idlewild is currently close to 5,000 cases.
Fox Hill Vineyard, which is the fruit source of all of the current Idlewild wines, is located just south of Ukiah in Mendocino County. The site is at 1,000 to 1,100-foot elevation, with clay, gravel, and sandstone soil with some gravelly loam and quartz. The Italian varieties at Fox Hill have been there for many years but it's been Idlewild's work with them that has really put this vineyard on the map. Sam has managed the farming at Fox Hill for a number of years but will now also be leasing the vineyard as well as steering it toward organic farming – he sees this as an exciting development.
Another recent development for Idlewild is a new vineyard site that Sam has planted in the Yorkville Highlands AVA of Mendocino County – the vineyard is called Wild-Ruth Ranch. He was able to harvest some Nebbiolo from there in 2018, and more will be coming online in the future. Sam feels the area has similar landscape and soil to Piemonte, and he mentioned that both budbreak and harvest take place there quite late. His early take on the Nebbiolo fruit from Wild-Ruth is that it has a more "masculine" expression than fruit from Fox Hill. Sam has been propagating Brachetto vines and plans to graft some in 2019, and other varieties that may go in there over the coming years include Timorasso, Nascetta, Erbaluce, Ruchè, and Pelaverga.
Sam aims to make wines that are true to their Italian origins but are still Californian. He keeps things simple in the winery, with native fermentations, no added water or acid, and no new oak. Although Sam uses the wines of Piemonte as inspiration, he's not looking to try to replicate them in California – something he realizes is not possible.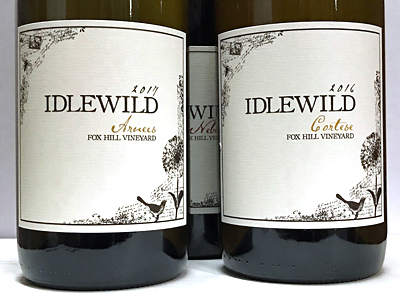 Our first Idlewild wine at the tasting room was the 2017 Arneis, which is pressed right away and made in stainless steel and neutral oak. Bright, savory stone fruit with touches of flowers and spice plus saline and faintly nutty undertones, with medium body and a crisp finish. A contrast to the Arneis was the 2016 Cortese – 75% of the fruit goes direct to press while the rest is fermented on the skins with a 90-day maceration. Thomas noted that some skin fermentation for Cortese is traditional in Piemonte, and the long maceration time helps to manage tannin from the skins. This Cortese was another savory white, showing the phenolic character of the skin contact though there was still fig-like fruit along with herbs, spices, and a citrus note on the nose. This had a bigger texture than the Arneis with a bit of tannic grip on the finish. I thought both of the Idlewild whites were outstanding – they seem to get better every vintage.
As we continued on to red wines, Thomas sliced some salumi for us to enjoy with them. The first red that he poured for us was the 2016 Dolcetto. Thomas noted that the grape variety typically has small berries and ripens early, and the wines are known for lots of tannin but low acidity. The Dolcetto fruit was partly foot-trod before being fermented with whole clusters and aged in neutral puncheons. The wine featured ripe strawberry and cherry fruit, spice, and pepper, with plenty of structure and chalky tannins. Next was the 2016 Barbera – this variety is in many ways the mirror image of Dolcetto, with lots of acidity but low tannin. The fruit was foot-trod and fermented with whole clusters and the wine was aged in neutral puncheons – this gets heavier foot-treading than the already-tannic Dolcetto, to help add structure and a more savory note to the wine. This wine showed bright and ripe cherry and raspberry notes with dried herbs and earth, loads of acidity and a pleasant, lively texture.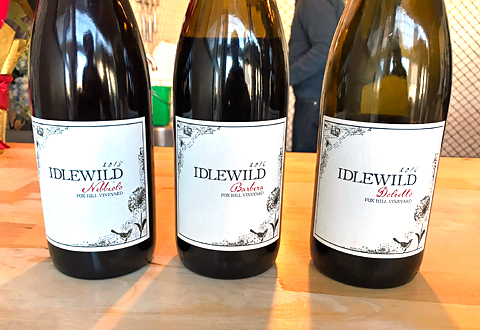 We finished our tasting with the 2015 Nebbiolo – Idlewild's flagship wine. It's not an easy grape variety to grow, and not an easy wine to make either. There's been mixed success with it in California, and Sam is aiming to make his in a less fruit-forward style than most from the state. The fruit was fermented with about 50% whole clusters, and underwent a 100-day maceration in botti (large Italian oval wood vessels) that are not opened during the maceration period. The neutral Slovenian oak botti are also used to age the wine for two years before bottling, and it also gets one more year in bottle prior to release. The wine displayed classic Nebbiolo scents of roses and tar/earth along with spice undertones, lively acidity and great structure, with a firmly tannic finish. It's approachable even now, but this wine promises much greater rewards given time in the cellar.
Sam told us that he's significantly changed the way he's made Nebbiolo since his first vintage in 2012. The first couple of years were made with fairly standard, relatively short maceration periods and shorter barrel aging. Beginning in 2014 he's gone to the longer maceration and aging regimen. Although the 2012 and 2013 Nebbiolos were very good, the latest ones are definitely a step up with greater aromatic and textural complexity, and I'd say that the 2015 vintage is the best yet.
Before we left, Thomas told us to keep an eye open for upcoming Idlewild "Sunday School" sessions. Every month the Idlewild team puts together a tasting that focuses on wines from specific regions of Italy. The recent January 2019 Sunday School was on "Sparkling Wines of Franciacorta (and other Italian fizzy lifting drinks!)", and the December one featured wines of Valle d'Aosta. Earlier ones have spotlighted Alto-Piedmonte, Mount Etna, and Indigenous White Wines of Campania. This sounds like a great program and one that I'd like to check out one of these days.
It was great to visit with Thomas and Sam at the Idlewild tasting room in Healdsburg. Although I'd been to the winery before and had a fine time there, the overall experience at the tasting room was really something special. Both Thomas and Sam are truly passionate about wines from Italian grape varieties, and that came through in Thomas' presentation of the latest Idlewild bottlings. I think everyone in my group came away learning much more from Thomas than we'd expected, while tasting some terrific wines along the way. All five of the wines we tried were very true to their varieties, and I thought that the 2017 Arneis, 2016 Cortese, and 2015 Nebbiolo were the standouts among a strong group. I've been impressed by the way the Idlewild wines seem to get better with each vintage, and it was fascinating to hear about some of the changes that Sam has made in his winemaking in recent years that has helped take them to the next level. The promise of the new Wild-Ruth Ranch vineyard and of new grape varieties mean that there will be more exciting days ahead for Idlewild. For fans of Italian wine, a visit to the Idlewild tasting room is a must if you're in the Healdsburg area – the wines here are among the very best renditions of Italian-style wines anywhere in California.
After our visit to the Idlewild tasting room, Jane, Jeff, and Pam decided to look around at shops around the Plaza in Healdsburg for awhile. Alan still needed to bring his stuff to the timeshare unit in Windsor, so I rode back there with him. I hung out with Chris at the other unit (where I was also staying) and he got some of this evening's dinner into the oven – prime rib and baked potatoes. Once Jane got back, we broke out cheese and crackers left from the previous evening and we opened another bottle of wine to get the New Year's Eve festivities started. Jeff, Pam, and Alan joined us after awhile and we added more cheese, bread, and leftover grilled beef. Once again, dinner was delicious, and the prime rib was cooked perfectly. And, needless to say, more bottles of wine were opened and enjoyed!
We watched some of the New Year's celebrations from Times Square in New York City on television but unlike previous years at Windsor, we all turned in before midnight this time! At least that made it easier the following morning to have breakfast and to get on the road to head home a bit earlier. As usual with these year-end wine trips, we enjoyed plenty of good food and good company.
This was a relaxing two-day trip to Napa and Sonoma wine country. Having only two wine appointments each day certainly made the schedule a lot less hectic than trying to squeeze in as much as we could handle. We had the good fortune of being able to visit with four excellent producers on this trip. Our year-end visit to Lagier Meredith has become an annual tradition, and we also stopped to taste with producers that were new to many in our group. It was great to visit with Carol Shelton, one of California's most celebrated vintners, as well as to check out newer ventures like Idlewild and Rootdown. We tried some standout wines from all of the vintners we tasted with on this brief but very enjoyable trip. As always, thanks to everyone that we visited for being so generous with their time and their wine!