Sierra Foothills Visits - December 2019 - Part 1
2019 marked the twelfth consecutive year that I've made an autumn wine-tasting trip to the Sierra Foothills. Most have been day-trips from the Bay Area – the two-hour drive each way makes for a long and somewhat tiring day by the time it's all done. So this year I decided to stretch the trip to three days, and to invite Eric Anderson – the head Grape-Nutz nut himself – and his friend Michael Poston. Michael has been on several of our wine tours in recent years so he knew what he was getting himself into!
We compared ideas for which wineries we wanted to visit and made appointments with vintners at most of them (though nearly all of the wineries we visited have tasting rooms with regular visitor hours too). Even with three days of tasting on our agenda, we decided that it might be too much to include wineries in Calaveras County on this trip, and we focused entirely on those in El Dorado and Amador counties, both to the north of Calaveras. Although most of the wineries on our schedule were ones we'd visited in the past, there were only a couple that I'd been to in the past few years, and Eric and Michael's most recent trip to the area had been in 2012.
El Dorado generally has the higher-elevation vineyards of the two wine regions, with vineyards located throughout a number of areas north and south of Placerville at elevations of 2,200 to over 3,000 feet, with some lower-elevation sites in the Coloma area to the north. Decomposed granite soil is common to the area, much more so than throughout other winegrape-growing areas in California, and there are also volcanic and other types of soils. Amador is just south of El Dorado and most vineyards there are lower in elevation – generally from 1,200 to 2,000 feet with a few higher-elevation sites – so it tends to be warmer there. Much of the vineyard land is centered in the Shenandoah Valley and Fiddletown areas. There is granite-based soil there as well (Shenandoah Loam) and the area is known for its reddish volcanic soil.
Many people – even those from California – are unaware that these are among the state's oldest wine-producing regions, with thousands of acres of grapes planted following the Gold Rush and wineries springing up to help serve thirsty miners and others in the area. By the 1860s, the Sierra Foothills was becoming known for producing some the state's best wines, though other wine regions would soon surpass it. Later economic downturns and Prohibition dealt serious blows to the wine business in both El Dorado and Amador counties, and by the 1960s, fewer than 15 acres of grapevines were being cultivated in El Dorado and only one winery (D'Agostini) remained in Amador. The establishment of Boeger Winery near Placerville in 1972 helped launch a resurgence of the Sierra Foothills wine industry, and it's continued to grow since then.
Amador County retains some of the oldest winegrape plantings in California, with a number of vineyards dating to the 1880s and even further back. The state's oldest documented Zinfandel vineyard is there (documented to 1869 and probably older than that), and likely the oldest continuously-producing winegrape vines as well (Mission vines that may date to 1853 or 1854).
Eric and Michael made the long drive to Amador wine country from Orange County in Southern California on the Saturday of Thanksgiving weekend. I wouldn't have expected a lot of traffic heading up through the San Joaquin Valley that day (and I'm sure that they didn't expect it) but that's just what they got, and they missed their dinner reservations at the Imperial Hotel in Amador City that evening. They did eventually make it to their destination, the Shenandoah Inn in the town of Plymouth, close to the many wineries in Amador County's Shenandoah Valley. How did the valley get that name? It's believed that it was named by Gold Rush-era settlers from Virginia who were reminded of their home.
I drove to Plymouth from Oakland through cool, rainy weather the following morning and met Eric and Michael at the motel. We'd already discussed lunch plans, and Eric had ordered lunch boxes for all of us from Amador Vintage Market in Plymouth – they have some terrific deli options there. Eric volunteered to drive for the day, and he took us into town, where we picked up our lunches. Being a bit ahead of schedule, Eric made a leisurely drive north through Shenandoah Valley and then into the Fair Play region of southern El Dorado County a few miles further north for our first winery visit of the day.
Sunday - December 1, 2019
Eric, Michael, and I arrived at La Clarine Farm, our first appointment of the trip, a few minutes early and parked off the road in front of the gate leading into the property. Owner / winemaker Hank Beckmeyer and his wife Caroline Hoël – and their friendly dogs – came out to welcome us. I first visited Hank and Caroline in 2012, and although I've seen them at various tastings in the Bay Area a number of times since then, this was my first return visit to their place in the Fair Play region. With the light rain appearing off and on that morning, it wasn't the best time to look at their vineyard so we headed straight into their winery building.
The "la clarine" name is French for the bells that cattle and goats wear in alpine pastures, which is appropriate since Hank and Caroline raise goats on their hilly property. Caroline is originally from Lyon, near the foot of the French Alps, and Hank also spent time living in Europe, where both he and Caroline worked in the music industry. Looking for a change in their lives, they moved to California in 1999 to pursue other interests. Caroline had already begun serious study of making cheese while Hank wanted to learn winemaking, his early influence coming from the wines of Domaine Tempier among others. They liked the Sierra Foothills and found a ten-acre property at about 2,600-foot elevation with decomposed granite soil – a good spot for their vineyard. They now grow grapes and raise goats and chickens, and have been making the La Clarine Farm wines since 2007. Caroline used to make cheese for commercial sale but no longer does.
Hank has worked at Terre Rouge / Easton and Sobon in Amador County, but now focuses entirely on the La Clarine Farm wines. He started planting the two-acre vineyard up the hill from the winery around 2001, with Tempranillo, Syrah, Grenache, Tannat, Cabernet Sauvignon, and a tiny amount of Negroamaro. The goal was to create a field blend of grapes from their small vineyard and they planted varieties they thought would grow well there and make an interesting wine together. Unconventional field blends are something that Hank likes to do, and he's taken this approach with many of the La Clarine Farm wines. Since their own vineyard is so small – and unfortunately they lost some vines during the recent drought years – nearly all the fruit that goes into the La Clarine Farm wines is purchased, coming from Sierra Foothills growers practicing organic farming. These include Cedarville (also in the Fair Play area), Sumu Kaw (a few miles to the north), and Rorick (in Calaveras County). Hank has also worked with other growers to plant vines specifically for their wines – this includes a vineyard they had planted about four years ago in the Apple Hill area northeast of Placerville. Planted to about 50% each Grenache and Tannat, 2019 was the first commercial harvest at that site.
Hank & Caroline's vineyard practices follow the writings of the late Masanobu Fukuoka, a Japanese rice farmer and author of the book "The One Straw Revolution." Fukuoka's writing led Hank to realize that even organic and biodynamic farming is still an effort to control and subdue nature, just using different means than "conventional" farming methods – the idea is to do nothing that is not necessary to grow the grapes. Similar to the farming, Hank's winemaking philosophy is to not do anything that's not necessary. Fruit for the La Clarine wines is typically picked on the early side, and native yeast and malolactic fermentations take place for all the wines. All the white wines go through 100% malolactic fermentation to avoid needing sterile filtration to keep the wines stable after bottling. The reds all are fermented with 100% whole clusters, mostly in one-ton fermenters – they don't even own a destemmer. The La Clarine wines are all aged in older oak cooperage and plastic flex tanks, to keep oak aromas and flavors out of wine. Typically no SO2 is added to the wine until it's racked just prior to bottling. Hank & Caroline have a small bottling set-up at the winery and they bottle everything on-site – all of the wines are bottled under screwcap.
The La Clarine Farm wines are made in a farm shed building about the size of a garage – it's packed full of tanks and barrels, even more so than when I visited in 2012, and it was already pretty full then! Hank told us that they're currently making about 2,500 cases per year, just about capacity for their facility. There are no plans to expand the production, since that would require adding more space to accommodate it and also since it's about as much as they can handle – other than occasional harvest interns, Hank & Caroline do essentially all of the work themselves.
Hank & Caroline had six of their current wines for us to taste, and we started with 2018 Viognier, with fruit sourced from about 50% each Cedarville and Sumu Kaw vineyards and aged entirely in tank. While Viognier has sometimes been part of a blend in other La Clarine Farm wines, the 2018 is their first varietal Viognier bottling. The wine featured classic stone fruit and floral aromas plus stony mineral undertones, medium-light weight with bright acidity, and a long, tasty finish. Next was the 2018 "al basc" Albariño. Hank told us that he produces two separate Albariño bottlings, both from Rorick Vineyard fruit – the fruit for their "regular" Albariño was whole-cluster pressed right away, while the "al basc" remained on the skins for seven months prior to pressing. The extended skin contact accounts for the wine's cloudy light salmon-pink color. Savory and tangy, with citrus, orangepeel, and spice notes, this had more texture on the palate than the Viognier, with mild tannins on the finish – intriguing on its own, but this should be at its best with food.
The next two wines reflect Hank's musical background. He's described the 2017 "Funky Drummer" blend (65% Syrah, 29% Grenache, 6% Counoise from Cedarville Vineyard) as combining Syrah bass drum, Grenache high-hat, and Counoise "ghost notes." The Grenache and Counoise components were co-fermented and everything was tank-aged. Plummy and floral aromatics, with spicy and savory components in the mouth, medium-bodied and lively with moderate grip on the finish. And if the "Funky Drummer" is the A-side of this vinous single, it needed a B-side to go with it – the 2017 "b-sides" is a blend of younger-vine Mourvèdre fruit from the Camino area and more mature-vine Syrah from Sumu Kaw Vineyard. Compared with the previous wine, this had a darker fruit character along with earth and spice, a bigger mouthfeel and firmer tannins.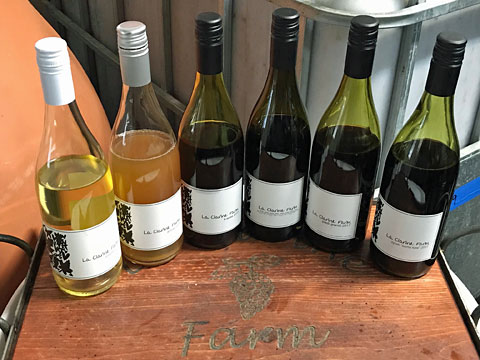 We continued with the 2017 "Piedi Grandi" – this is a blend of 60% Nebbiolo and 40% Mourvèdre from Sumu Kaw Vineyard. This vintage will be the final one for this wine, and Hank feels that this one has the proportions of the two varieties just where he likes them. Displaying more Nebbiolo rose and tar character than some vintages have, and nicely balanced by the darker fruit, earth, and weight of the Mourvèdre, this finished with surprisingly fine tannins – this may be my favorite vintage of the "Piedi Grandi." Our final bottled wine was the 2017 "sumu kaw" Syrah. While some earlier vintages of this wine were pretty tight in their first few years, Hank feels that the 2017 vintage in general is more forward, with the wines showing well early, though they should still develop nicely in the cellar. In contrast, he thinks that 2018 is a more "classic" vintage where the wines will need more time to show their best. The 2017 "sumu kaw" Syrah was savory and smoky, with forward dark berry fruit and spice, medium-full bodied with a lively texture, and firm tannic finish. Consistently among my favorite La Clarine Farm bottlings, this vintage of the wine is delicious right out of the gate and should age nicely as well.
Before we left, Hank pulled a tank sample for us to try, 2019 "Angle of Repose" Rosé from the new vineyard in the Apple Hill area. This is a blend of about 70% Grenache and 30% Tannat, and will be released in fall 2020. Light purple color, with bright red fruit plus hints of spice and flowers, this had a bolder mouthfeel and finish than most rosé – the additional time aging in tank should benefit this wine.
A few other recent and upcoming La Clarine Farm releases include Petit Manseng, "Rosé Alors!" (from Mourvèdre), "cedarville" Mourvèdre, "alto" Mourvèdre (sourced from the Apple Hill area), and "TCB" – a new Syrah-Viognier co-ferment to be released in spring 2020. We asked Hank whether any other new wines are in the works, and he told us that he got Chardonnay from Rorick Vineyard and Cabernet Sauvignon from Cedarville Vineyard this year. They're also adding Zinfandel from Sumu Kaw to their wine line-up – they first got this fruit in 2018 but the wine has not yet been released.
I'm glad that I had a chance to catch up with Hank and Caroline at their winery – it's always fun to talk with them. My favorite wines on this visit were the 2017 "Funky Drummer" and 2017 "Piedi Grandi," with the 2018 Viognier, 2017 "sumu kaw" Syrah, and tank sample of 2019 "Angle of Repose" Rosé close behind. The La Clarine Farm wines are often grouped with others in the natural wine movement, but their wines should appeal to a broader audience of wine drinkers – they're distinctive and delicious. While we were sampling the wines, Hank marveled that it was 20 years since his first winegrape harvest and crush in California back in 1999. No doubt that he and Caroline have come a long way since then, and their latest La Clarine Farm wines may well be their best yet.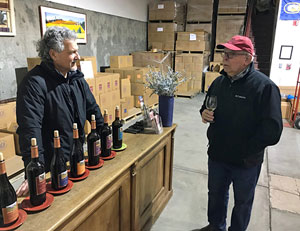 Our next stop was less than a 15-minute drive away, at Cedarville Vineyard. Our visit at La Clarine Farm had taken a bit less time than expected, so we arrived at Cedarville on the early side. Run by husband-and-wife owners and winemakers Jonathan Lachs and Susan Marks, a stop here has been an annual tradition for me for many years. Jonathan welcomed us in from out of the cold, though the winery wasn't too much warmer!
Jonathan and Susan met while they were each earning enology degrees at UC Davis, but they both worked for a number of years in Silicon Valley before entering the wine business full-time. They purchased their vineyard site in 1995. There were already vines there – some Syrah and Zinfandel had been planted the previous year – and Jonathan and Susan added more right away. Their 15-acre vineyard is planted to Viognier, Grenache, Mourvèdre, Syrah, Zinfandel, and Cabernet Sauvignon, and they've been farming it organically since 2010. Situated on a hillside at about 2,500-foot elevation, the vineyard features the decomposed granite soil that is characteristic of the Fair Play area and seen in some other parts of the Sierra Foothills but uncommon in most other California wine regions. The first Cedarville releases were from the 1998 vintage, and by 2000 Jonathan and Susan had completed their winery, including two concrete-vaulted barrel rooms extending into the hillside, providing natural cooling.
In addition to using the fruit from their vineyard for the Cedarville wines, Jonathan and Susan sell some to a number of other noted producers, including Turley, Baker Family (Dusty Baker's winery), Skinner, and La Clarine Farm. Jonathan told us that they're now selling about two-thirds of their fruit, as they've continued to cut back somewhat on their own production. Jonathan noted that many fruit buyers appreciate the fact that their site is farmed as a "winemaker's vineyard" – sometimes the sensibility of a winegrape grower can be different than that of a grower / winemaker. All of the wines that Cedarville makes are sourced from their estate vineyard with one exception – they buy Petite Sirah fruit grown from 40+ year old vines farmed by their neighbors Bill and Trish Naylor.
Cedarville is a small, hands-on operation, and Jonathan and Susan do nearly all of the work themselves in both the vineyard and winery. Since all of the fruit for their wines comes from their estate vineyard or close by, they're able to bring it into the winery early in the day during crush, ensuring that it's cold. Reds are destemmed but are largely whole-berry, and fermentations take place in small bins or in temperature-controlled stainless steel tanks, and wines are aged entirely in French oak. Total annual production is currently a bit less than 1,000 cases.
It turned out to be a good thing that we arrived at the winery on early the early side since several other visitors arrived about 20 minutes later, so we were able to taste a few wines with Jonathan before things got busier. And they proceeded to get very busy once Susan arrived not long afterwards with a number of friends who came by to help pack wines for shipment. Jonathan mentioned that he and Susan are cutting back a bit on winery tasting appointments, having friends fill in for them more often now – and one of their friends helped out with pouring for other visitors while we tasted with Jonathan.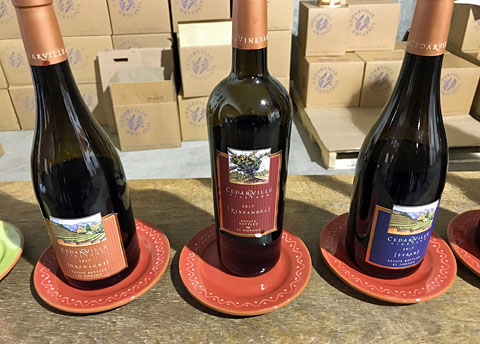 Cedarville's tasting arrangement has always been modest – a simple wood bar set up in a corner of the winery space. Jonathan had all of the winery's current releases open for tasting, and he started us on the 2018 Estate Viognier, Cedarville's only white wine. Their Viognier vines are on the rockiest part of the vineyard, on a cooler, north-facing slope. Jonathan and Susan use only a small percentage of new oak on their Viognier (no new oak at all in some vintages), and the 2018 was aged in just 5% new French oak. Pretty floral aromas along with stone fruit, citrus, and a hint of spice, this had medium weight on the palate with great texture on the finish. We followed this with the 2017 Estate Grenache. As is their usual practice, Jonathan and Susan include a little Syrah in this wine, with 10% co-fermented Syrah in the 2017 vintage – the smallest percentage of Syrah in this wine to date. Bright red fruit, spice, notes of flowers and herbs, this had a lively mouthfeel and medium tannins – perhaps my favorite of Cedarville's recent Grenache vintages.
Cedarville's Zinfandel is blended with a small amount of Petite Sirah in some years, but the 2017 Estate Zinfandel is 100% Zin. Ripe boysenberry, spice, and a touch of sweet oak on the nose, this was medium-bodied with a long finish. We continued our tasting with the 2017 Estate Syrah, which was co-fermented with 4% Viognier. The fruit came from the Syrah vines planted back in 1994, and the wine was aged in 1/3 each new, one-year old, and two-year old barrels, all François Frères. This wine displayed darker berry fruit along with notes of earth and spice, medium-full bodied with fine tannins.
The 2016 Estate "Turnabout's Fair Play" (45% Grenache, 30% Syrah, 25% Cabernet Sauvignon) is a blend inspired by the wines of Priorat in Catalonia. As with a few other Cedarville wines, this is given additional aging before release. With black cherry, dried herbs, earth, and a hint of pepper, this featured a bigger structure and more firmly-tannic finish – as with the Syrah, this is approachable now, while it should also benefit from further time in the cellar. Next was the 2016 Estate Cabernet Sauvignon, which is 100% varietal. Plum, earth, herbs, with touches of smoke and coffee, this has good structure with youthful tannins, and really deserves additional time in the bottle to reach its full potential. Although the Sierra Foothills are not particularly known for fine Cabernets, Cedarville's bottling is consistently a cut above the rest and shows what the region is capable of with this variety.
Jonathan poured a couple of big, bold reds to finish our tasting. The 2017 Petite Sirah is sourced from the older vines from nearby Naylor Vineyard. Featuring intense ripe dark berry fruit, earth, and notes of flowers and sweet oak, this was big and structured but with firm but approachable tannins – among my favorite Cedarville Petite Sirahs in recent years. We wrapped up our tasting with the 2016 "The Rules of Fair Play," a blend of 62% Zinfandel from the estate vineyard and 38% Petite Sirah from Naylor Vineyard. Jonathan told us that this wine was inspired by the old field blends of these two varieties from nineteenth-century vineyards. The bright berry aromatics were more about the Zin component to me but the darker-fruited Petite Sirah portion came out in the mouth, with spice, black pepper, and sweet oak in support. Big, mouthfilling texture and structured for further aging, but should be good now with hearty foods.
I rarely visit the Sierra Foothills wine region without making a stop at Cedarville. Jonathan and Susan are always wonderful hosts, and they even offered to let Eric, Michael, and me eat our sandwiches in their barrel room on this occasion – they told us that it was the actually the warmest spot in the winery at this time of year, and they were right! Favorite wines included the 2018 Viognier, 2017 Grenache, and 2017 Petite Sirah, and the 2017 Zinfandel and 2016 Cabernet Sauvignon were close behind – really, you can't go wrong with any of the Cedarville wines. Jonathan and Susan noted that their current releases include their 20th vintage of Zinfandel and Syrah and the 19th of Viognier. Few wineries in the region have been producing wines as consistently good through the years as those from Cedarville.
As mentioned above, we grabbed a few chairs and had our box lunches from Amador Vintage Market in the Cedarville barrel room – a bit cramped but warmer than the rest of the winery! My Amador Turkey Cobb sandwich – smoked turkey, bacon, gorgonzola, avocado mayonnaise, tomatoes and greens on a ciabatta roll – was delicious, and the box lunch also included chips and a big chocolate chip cookie (I saved those for later). Susan came in to talk with us for a short time while we enjoyed our sandwiches.
We said goodbye to Jonathan and Susan and headed through the rainy weather back to Shenandoah Valley. Since we had some time before our one afternoon appointment there, we decided to drop in to some nearby tasting rooms beforehand.
Sobon Estate is the first Shenandoah Valley winery that you encounter as you enter the area from El Dorado County, and we stopped in to taste there. I hadn't visited Sobon in quite a few years, and the same was true for Eric and Michael. This is among California's oldest and most historic wineries, though that's not widely-known. It was originally founded in 1856 by Swiss immigrant Adam Uhlinger, and the winery and vineyard were purchased in 1911 by Enrich D'Agostini. The original Uhlinger winery building, adjacent to the current tasting room, is today the Shenandoah Valley Museum, and features old winery and farming implements, household items, and other interesting displays.
The winery remained under the ownership of the D'Agostini family until 1989, when Leon and Shirley Sobon bought it – the couple already owned nearby Shenandoah Vineyards, which they had purchased in 1977. Like a number of wineries in the area, this is very much a family-run operation – sons Paul and Robert and son-in-law Tom Quinn are all key parts of the business. Paul is the winemaker for both wine labels and recently launched his own winery, Paul J Wine, as well.
The Sobon family farms about 200 acres of winegrapes, olives, prunes and walnuts, and they've used sustainable farming practices for 30 years. At the northeastern end of Shenandoah Valley, their vineyards are among the highest-elevation in the area. Some of the Zinfandel vines that the Sobon family farms are quite old – the Cougar Hill Vineyard was planted in 1923 while the Rocky Top and Lubenko plantings both date from about 1910. All of the wines for the Sobon label (as well as the Shenandoah Vineyards label) are made from estate-grown fruit. The wines for both labels are made at Shenandoah Vineyards.
Since our time was a bit limited on this occasion and we'd all seen the museum before, we headed straight from the parking area through the light rain to the tasting room. We thought that since this was the Sunday of Thanksgiving weekend, there might be a lot of visitors on hand but it was a quiet day there. Apparently the previous two days had been really busy, but the crowd had died down considerably on this rainy Sunday – we heard the same story at a couple of other places we stopped at that day. We started out our tasting with a 2018 Rosé, from 80% Grenache, plus Syrah, Vermentino, Petite Sirah, Carignane. Made in a slightly sweet style, this was light, red-fruited, and medium-light bodied.
We continued with three white wines, beginning with 2018 Viognier, barrel-fermented in older oak – this had floral aromatics but a slightly bitter finish. Next was the 2018 Roussanne, which was fermented and aged in 50% new French and American oak barrels and blended with 8% Viognier – I thought that the pleasant stone fruit aromas were masked by too much oak. My pick among the whites was one from Sobon's sister winery, the Shenandoah Vineyards 2018 Sauvignon Blanc – made in 20% new oak, this featured bright citrus fruit with notes of herbs and spices, a lively mouthfeel and clean finish.
Moving on to reds, we tried the 2017 Premium Red Blend, made mostly from Malbec – dark-fruited with herbal and vanilla/oak overtones. 2018 Barbera was next – this one kept the oak in check while offering bright cherry fruit, spice, and medium weight on the palate with good acidity. We also tasted the 2017 Cabernet Sauvignon – aged in 30% new French and American oak, this was a pleasant medium-bodied Cabernet with plum and herb aromas along with sweet oak notes and moderate tannins.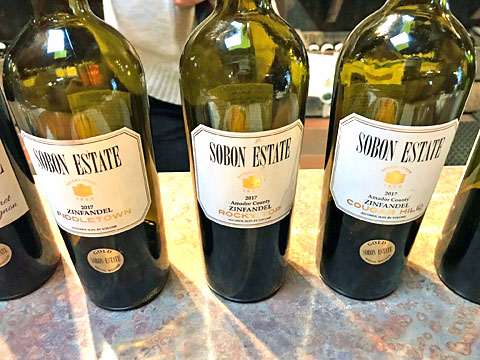 We had the opportunity to taste several distinct bottlings of Sobon's best-known variety, Zinfandel. All of the four we tried were aged in both French and American oak – the "Old Vines" bottling uses older barrels while the other three get 30-40% new oak for aging. Our first Zin was the 2017 "Old Vines" Zinfandel, which displayed spicy berry fruit with nice texture and medium tannins. We followed this with the 2017 "Cougar Hill" Zinfandel – including 4% Petite Sirah, this had more intense wild berry and spice aromas with more structure but fine tannins. The 2017 "Rocky Top" Zinfandel, with 5% Petite Sirah, was next – this featured a more earthy character with lots of spice and a grippier finish. The 2017 "Fiddletown" Zinfandel comes from Lubenko Vineyard, at about 1,900-foot elevation and with own-rooted vines. This wine showed ripe boysenberry fruit that was nicely balanced with a brambly component along with spice and pepper, plus a richer mouthfeel and finish.
We finished our tasting at Sobon with three of their "ReZerve" line of wines, the winery's top-of-the-line bottlings. The 2017 "ReZerve" Zinfandel was aged in 40% new American oak – intense ripe plummy fruit with lots of spice and vanilla/oak overtones. The 2017 "ReZerve" Primitivo was aged in older French and American oak – this was more subdued than the previous wine, with a more peppery and savory character along with plum and black cherry fruit and a nice texture on the palate. Our final wine of the tasting was the 2013 "ReZerve Red, a blend of 44% Zinfandel, 14% Cabernet Sauvignon, 20% Petite Sirah, 18% Syrah, 4% Cabernet Franc, had plenty of ripe plum and darker berry fruit, herbs, spice, and chocolate on the nose, with a rich, smooth mouthfeel and finish. Among the other Sobon wines that we didn't taste are Chardonnay, "ReZerve" Petite Sirah, "ReZerve" Tannat, and Zinfandel Port.
I had recalled from past years that Sobon was a pleasant stop in Shenandoah Valley wine country, and this visit confirmed that – very friendly folks at the tasting room and plenty of wines to check out. And though we didn't have time to stop in at the adjacent museum on this occasion, it's a fun and educational look at Shenandoah Valley's past. Favorite wines included the 2018 Shenandoah Sauvignon Blanc, 2018 Barbera, 2017 Cougar Hill Zinfandel, and 2017 "ReZerve" Primitivo. The wines were stylistically a bit hit-and-miss for my tastes, but there was quite a good range on display, and there will be something for nearly everyone – particularly those who like Amador Zinfandel – to enjoy there.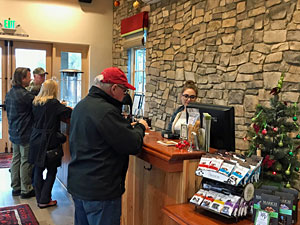 As our tasting at Sobon had gone fairly quickly, we took Eric's suggestion of heading to Wilderotter Vineyard a couple of miles away in Shenandoah Valley. Wilderotter is another winery we'd all visited before, but none of us had been there since 2012. Jay Wilderotter and his wife Maggie purchased their property off of Shenandoah School Road in 1986, and after some UC Davis viticulture and enology courses, Jay made the initial planting at the site in 1990 – Viognier, Zinfandel, Syrah, and Barbera. The vineyard expanded over the years, and there are currently 21 grape varieties planted along with three varieties of olives on 80 acres of land.
In 2001, Jay & Maggie began to make the transition from strictly growing and selling grapes to also making their own wines, starting with three barrels each of Zinfandel and Syrah, released in 2003. They followed that by building their own winery and the tasting room in 2004, adjacent to the estate vineyard. They've more recently added an upscale lodging and event property called the "Grand Reserve Inn." Jay continues to head up the winemaking team and the annual production is currently about 5,000 cases.
We walked into the handsome tile-roofed tasting room building, and headed back to one of two tasting bars inside. The tasting of current release wines includes a very nice artisan cheese plate, and the tasting room staff were helpful in letting us know which cheeses paired particularly well with the specific wines we tasted.
Though most of the Wilderotter wines are made from their own estate fruit, we started out with a wine sourced from Sonoma County fruit, a NV Blanc de Noirs, made entirely from Pinot Noir with the Méthode Champenoise technique of producing sparkling wines. Very light red in color with citrus and strawberry notes, this was not a particular standout to me but still a pleasant start to our tasting.
Next was the 2017 Roussanne – subdued citrus and fig aromas with medium weight on the palate, and showing a bit of heat on the finish. We followed this with the 2018 Sauvignon Blanc, displaying grapefruit and herbs on the nose, medium-bodied with moderate acidity and a pleasant finish. The 2018 Grenache Rosé includes 15% Syrah, and showed lots of spice along with red fruit and a richer texture than most rosé wines.
Two Rhône-style reds were next, beginning with the 2016 Estate Mourvèdre. Earthy and smoky with black cherry and plum fruit plus undertones of spice and herbs, this was medium-bodied with a lively texture and milder tannins. The 2016 "GSM" – a blend of 26% Grenache and 37% each Syrah and Mourvèdre – displayed more upfront fruit along with earth and spice notes, with a somewhat bigger structure and grippier finish.

We finished up with three more red wines. The 2017 Estate Zinfandel was the first of these, and showed ripe raspberry fruit plus notes of pepper, spice, and sweet oak, medium weight, and moderate tannins. Next up was the 2017 Primitivo, with more intense plum and spice aromas plus earth and pepper notes, a more structured mouthfeel, and firm tannic finish. Completing our tasting was the 2016 Petite Sirah – plenty of ripe dark berry fruit supported by notes of flowers, pepper, and earth, mouthfilling yet lively texture, and big but approachable tannins on the long finish.
In addition to the wines we tasted on this visit, Wilderotter also produces a number of other bottlings, including Vermentino, Viognier, Russian River Valley Chardonnay, Grenache, "Ambrosia" Grenache/Tempranillo blend, Estate Tempranillo, Estate Barbera, Estate Syrah, Napa Valley Cabernet Sauvignon, and Reserve Napa Valley Cabernet Sauvignon.
We tasted a nice variety of wines at Wilderotter, and the cheese plate was a nice bonus that added to the overall experience there. The tasting room staff was friendly and knowledgeable, and the wine highlights for me were the 2016 Mourvèdre, 2017 Primitivo, and 2016 Petite Sirah. Overall, the wines were solid and well-balanced, and though as a group they may not have been the most exciting wines we tasted on this Sierra Foothills trip, Wilderotter is still a worthwhile stop in the area.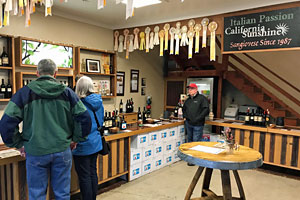 We still had time for one more quick winery visit before our late-afternoon appointment, and we decided to stop in at Vino Noceto, right along Shenandoah Road. The light rain was continuing as we walked from the parking area to the tasting room, past the winery's whimsical "Doggie Diner" head. Those who grew up in the San Francisco Bay Area may remember the small (and now long-gone) local chain of Doggie Diner restaurants and their memorable dachshund head signage, complete with bow tie and chef's hat – the one at Vino Noceto is one of the few that remain.
Perhaps California's best-known Sangiovese specialist, Vino Noceto started as a number of California wineries do – with the owners, Jim and Suzy Gullett, catching the "wine bug" after years of wine-country visits and then buying property for a vineyard in a beautiful wine region, in this case Amador's Shenandoah Valley. Despite the area being known mainly for its Zinfandel, Jim and Suzy decided to follow their love of Sangiovese-based wines and make that the focus of their efforts. Before planting their new vineyard site, they sought out the advice of famed Sacramento wine expert Darrell Corti and traveled to Tuscany to learn about vineyard and winemaking practices at noted Chianti and Brunello producers such as Castello dei Rampolla, Argiano, Isole e Olena, and Badia a Passignano.
Noceto, which means "walnut grove" in Italian, was a natural choice for the winery name. There had been a grove of the trees at the vineyard site (some still remain), and the small city of Noceto in Italy is the sister city of Suzy's hometown of Walnut Creek. Early vintages of Vino Noceto wines were made by winemaker Scott Harvey at other facilities. Their own winery was completed in 1999 – the winery and tasting room are now run fully on solar-generated power – and since then Rusty Folena has taken over the winemaking duties with Stacey Gregersen as their consulting winemaker. Annual production is around 10,000 cases, about half of which is their basic Sangiovese bottling, with around 2,000 cases of their light, frizzante-style "Frivolo" Moscato, and the rest being smaller-production bottlings of Sangiovese and a few other wines.
Planting began at the estate vineyard in the late 1980s, and it's currently about 25 acres. Nearly all of the vineyard is planted to Sangiovese, with five different clones, plus a few varieties used for blending into their "Misto" Sangiovese bottling, inspired by Chianti Classico. Specific clones are planted separately in different vineyard blocks. Jim and Suzy were able to obtain vine cuttings that originated from some renowned sources in Tuscany, including Isole e Olena, Il Poggione, Biondi Santi, and Altesino. Vino Noceto has also purchased Sangiovese fruit from other growers, notably from nearby Reward Ranch. Vino Noceto also grows walnuts – of course! – and olives on their property.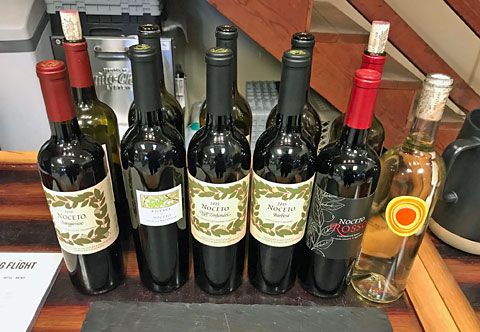 At the tasting room, Rhys Tappero took care of pouring for us. He started us out with the winery's best-known wine, the 2016 "Originale" Sangiovese, their basic Sangiovese made in a lighter style than the other bottlings. Bright cherry with notes of herbs, this had a lively mouthfeel and pleasant finish – a fine "everyday" Sangiovese. A step up from that wine was the 2016 "Riserva" Sangiovese, sourced entirely from their estate fruit. The winery's Sangioveses are fermented in temperature-controlled stainless steel tanks and are aged in mostly neutral French oak puncheons. This had more defined aromatics than the previous wine, showing black cherry, earth, and spice notes with medium weight and more structure on the palate and finish.
Rhys next poured us a taste of a wine that was not on the regular tasting menu, Vino Noceto's top-of-the-line Sangiovese, the 2013 "AX-1" – the name stands for "Altesino Experiment 1." With fruit sourced from cuttings obtained from Altesino in Tuscany, this wine is given longer barrel-aging and more time in bottle before release than any of the winery's other Sangiovese bottlings, with a goal of producing a wine in the style of a Brunello. Not produced in every vintage, the 2013 that we tasted is just now being released to Vino Noceto's wine club members. The "AX-1" featured more intensity on the nose, with cherry, dried herbs, earth, and a stony mineral note, fine acidity and great texture in the mouth, and moderate tannins on the finish – this is definitely a serious Sangiovese that's built for the long haul.
We followed the three Sangioveses with a Zin, the 2015 "OGP" Zinfandel, made with fruit from the Original Grandpère Vineyard in Shenandoah Valley, perhaps the oldest Zinfandel vines in California. Not as ripe in character as many Amador Zins, this displayed wild berry and raspberry aromas with spice and a touch of pepper, medium-bodied with a lively mouthfeel and finish. The final wine that Rhys poured for us was the 2015 Linsteadt Vineyard Barbera – Vino Noceto has been making Barbera from this Shenandoah Valley site for many years. Showing bright black cherry fruit with notes of spice and earth, this had medium weight on the palate with plenty of acidity.
Other Vino Noceto wines that we didn't taste on this occasion include Pinot Grigio, "Frivolo" (low-alcohol frizzante Moscato, available in cans as well as bottles), NV "Rosso" red blend, "Misto" Sangiovese, "Dos Okies" Sangiovese, "Almirante" Port (from four traditional Portuguese Port varieties), as well as grappa.
We really enjoyed our tasting with Rhys at Vino Noceto. We'd mentioned to him that we had limited time, and he did a great job of guiding us through a somewhat-abbreviated tasting while still filling us in with lots of detailed and interesting information about the wines. My favorites of the wines we tried were the 2016 "Riserva" Sangiovese, 2013 "AX-1," and 2015 "OGP" Zinfandel, and the 2015 Barbera was quite nice too. I need to return to Vino Noceto on an occasion when I have more time to taste there – the wines we tasted were very good across the board, and I'd like to check out more of them. Vino Noceto is certainly worth a stop in the Shenandoah Valley area, and it's a must for any fan of Sangiovese.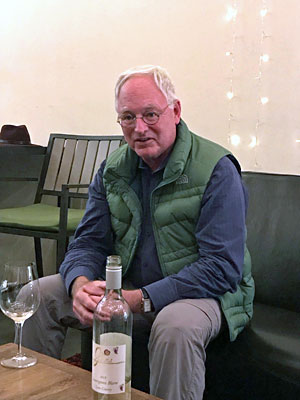 Our final stop of the day was a visit to Scott Harvey Wines, just down the road from Vino Noceto. I knew that Scott Harvey was one of the modern pioneers of Amador County wine and I'd tasted a handful of his wines in the past, but I'd never been to the tasting room before and I don't believe I'd ever met him. As Eric, Michael, and I walked into the tasting room, Scott was right there to welcome us in. After a quick round of introductions, he led us to a table in the back part of the tasting room and we all settled in to the comfortable seats around it as he told us a little about himself and the winery.
Scott has a long history in the Sierra Foothills. Born in Germany to American parents, he grew up in El Dorado County and went to high school in Placerville. As a high school exchange student in the Rhineland Pfalz region of Germany, Scott started to develop an interest in wine. After moving back to California and attending Sacramento State University, and working in 1974 at Monteviña (now Terra d'Oro) Winery in Shenandoah Valley, he relocated to Germany once again to undergo more serious education in winemaking there. Scott developed a particular love of Riesling while in Germany, a variety he still continues to champion. Returning to California, by 1978 he had become the winemaker at nearby Story Winery at the age of just 23.
Scott later became the winemaker and general manager of Santino Winery, where he made many acclaimed wines – notably some excellent Zinfandels – as he did later at that winery's successor, Renwood. He made a move to Napa Valley in 1996, where he partnered with Dr. Richard Peterson at Folie à Deux Winery, creating their popular "Ménage à Trois" line of wines while he was there. He was able to retain his connection to the Sierra Foothills there, bringing Amador County vineyard sources with him as well as an old Mendocino Riesling vineyard source.
When the Folie à Deux label was sold in 2004, Scott established Scott Harvey Wines with his wife Jana. Their venture is actually two labels – Scott Harvey and Jana – with the Scott Harvey label focusing on wines from Amador County while the Jana label includes wines from Napa Valley, Mendocino, and other locations. They used to make a Jana Riesling from Michigan (I recall this was quite good) but the logistics proved too difficult to continue with that wine. The winery now has a second tasting room along Main Street in Sutter Creek – which is becoming a magnet for wine tasting rooms – as well as their tasting room at the winery in Shenandoah Valley.
Scott began our tasting with a sparkling wine, a Jana NV Brut Blanc de Blanc. As with many small-production sparklers, this one was finished off-site at a facility specializing in sparkling wine production. Made from Chardonnay, this was bright and fresh, not as yeasty or complex as some sparklers but very pleasant and a good way to start our tasting. Next was the Jana 2018 Sauvignon Blanc, sourced from Lake County fruit, an often-overlooked growing region that is one of California's best spots for this variety. This was made entirely in stainless steel with no malolactic fermentation, and bottled under screwcap. Grapefruit and herb aromas plus floral notes, balancing medium body with zippy acidity, and a long crisp finish.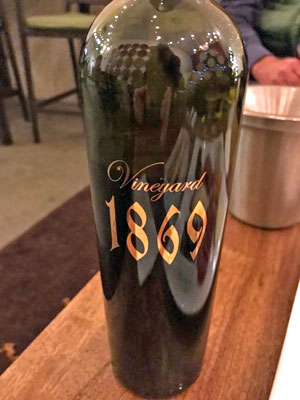 Our next wine, the Scott Harvey 2017 "Vineyard 1869" Zinfandel, was sourced from one of California's most historic vineyards, the Original Grandpère Vineyard in Shenandoah Valley. This is the oldest documented Zinfandel vineyard in the US, as it was mentioned in an 1869 deed, and the vines there are thought to date at least that far back. The vineyard has gone through a few different owners over the years, and there have been controversies over the use of the "Grandpère" name. The vineyard is currently owned by Scott's ex-wife Terri, and his winery is one of only four getting the old-vine Zinfandel fruit from there. Aged mostly in neutral oak, this wine was a highlight of our tasting – floral and brambly notes combined with ripe wild berry and plum fruit, earth, black pepper, and spice. Medium body with a lively texture and finish, this really showed the best of old-vine Amador Zinfandel.
We continued with another Zin, the Scott Harvey 2017 "Mountain Selection" Zinfandel. Scott told us that he feels mountain fruit lends better acid and tannin structure to Zinfandel. He also pointed out an interesting feature on the back label of his wines – an Old World Style / New World Style scale. This shows the basic stylistic character of each wine, from a more elegant and refined "Old World Style" to a riper and bolder "New World Style." While this wine showed a bolder fruit character than the "Vineyard 1869" Zin, it certainly was not overdone – and like the previous wine, it had brambly notes along with a bigger spice component, finishing with moderate tannins. Scott next poured us the Scott Harvey 2017 "J&S Reserve" Barbera. This variety has become one of Amador County's hallmarks, and Scott feels that Amador will become known as the best Barbera region in the world. He noted that both Piemonte and Amador have granitic foothill geography, but the climate is different with Amador getting more sun, which benefits Barbera. Bright cherry and raspberry fruit, earth, good acidity with a lively mouthfeel and finish.
We returned to a Jana wine next, the Jana 2014 "Cathedral" Cabernet Sauvignon from Napa Valley near the southern edge of the Stags Leap District. On the more restrained side for a Napa Cabernet, this is just 13.5% alcohol. Dark berry, smoke, herbs, and a touch of sweet oak on the nose, medium-full bodied with the structure for further aging. Scott poured one more red for us, the Scott Harvey 2016 Petite Sirah, sourced from a rocky hillside site in Shenandoah Valley. This featured bold dark fruit, spice, and chocolate aromas, a rich texture with a firmly tannic finish – more time in the cellar should benefit this young Petite Sirah.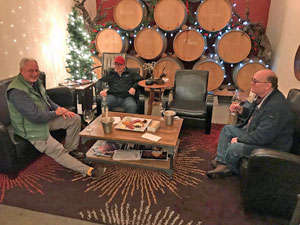 Scott completed our tasting by pouring us two sweet wines. First was the Jana 2013 "Angel Eis" – this is made in an icewine style (11% alcohol, 22% residual sugar) from Mendocino County Riesling grapes that were frozen before being pressed. Intense stone fruit aromas with floral notes, a viscous texture and long sweet finish, where the Riesling character came through most clearly. Our final wine of the day was the Scott Harvey 2011 "Forté." A Port-style wine (20% alcohol, 8% residual sugar), this is a blend of 64% Touriga Nacional and 12% each Tinta Cão, Souzão, and Alvarelhão from DeWitt Vineyard in Shenandoah Valley. Ripe dark berry fruit and spice on the nose, medium sweet with a rich mouthfeel, and a lingering finish.
Additional Jana wines include Dry Riesling, "Tickle Me Pink" Rosé, Rosé of Barbera, and "One Last Kiss" red blend. Other Scott Harvey wines include Tempranillo, "J&S Reserve" Zinfandel, "Three Stags" red blend, "Cattedrale" Barbera, Toy Vineyard Barbera, "Mountain Selection" Barbera, "J&S Reserve" Syrah, and "Mountain Selection" Syrah. Scott also produces "Inzinerator" Zinfandel - a riper, bolder style.
Scott was a wonderful host for Eric, Michael, and me. Low-key and thoughtful, his long connection with the Sierra Foothills wine region was certainly on display as he spoke with us about his wines. I thought the highlights of our tasting with Scott were the 2018 Sauvignon Blanc, 2017 "Vineyard 1869" Zinfandel, 2017 "J&S Reserve" Barbera, and 2013 "Angel Eis," though all of the wines we tried were quite good. Overall, the Jana and Scott Harvey wines strike a fine balance of displaying ripe California fruit while also exhibiting restraint and elegance. Although this was my first visit to Scott Harvey Wines, it will certainly not be my last, and a stop there is highly recommended.
We headed back into the Shenandoah Inn in Plymouth and got ready for dinner. Eric had made reservations for us at Taste, right along the main street of town, and among the top restaurants in all of the Sierra Foothills. We'd all been there in the past but it had been awhile for all of us. The dinner menu there changes frequently, but they've always kept one of their best-known starters, which we shared – the Mushroom Cigars – crimini, shiitake, and oyster mushrooms, fresh herbs, goat cheese wrapped in phyllo. I ordered the duck breast entree, and after a day of wine-tasting I felt like a beer, so I ordered a Ballast Point Sculpin IPA, a longtime favorite. If you want to treat yourself to a first-rate meal in Amador County, Taste is the place to go.
Back at the Shenandoah Inn, I took Eric up on his offer to come over to my room for some after-dinner spirits, a Delord Bas-Armagnac X.O. that he'd brought along on the trip. I hadn't had a lot of experience with Armagnac, and I thought this one was an exceptional brandy. Since Eric and I hadn't seen each other in close to 18 months, this was a great chance to relax and catch up on things and a fine way to end the first day of our Sierra Foothills wine tour.