Oregon Wine Visits, June 2023 – Part 1
Some good friends live in the Portland area, and I had been planning to visit them when the pandemic shut down pretty much everything in the spring of 2020. Now that I felt it was time to start traveling again, I arranged to visit them in the first half of June 2023, and since I enjoy a good road trip I planned to drive from the Bay Area through northern California and Oregon. I planned a day and a half for the drive to the Portland area, and a couple of days along the Oregon Coast on my way back. As it had been about 20 years since I'd visited Oregon wine country, I thought this would also be a perfect opportunity to stop at a few wineries and tasting rooms, though I knew that my time for that would be quite limited on this trip.
I contacted a handful of vintners and managed to make a couple of appointments plus one "maybe" stop. Two of those three places were ones that I could get to pretty easily from my friends' place outside of Portland, while the third one was a winery and vineyard in southern Oregon that would not be far out of my way on my first day's drive from home.
Before proceeding further, it might be useful here to provide a brief introduction to the two Oregon wine regions I visited on this brief trip.
Introduction to Applegate Valley and Willamette Valley

The Applegate Valley AVA was officially established in 2000, and is located south of the city of Grants Pass, in the western part of the larger Rogue Valley wine region of southwestern Oregon. Located within a long valley in the Siskiyou Mountains, most of Applegate Valley's vineyards are at elevations of about 1,200 to 1,500 feet while a few are even higher. Although the mountains cut off much of the direct marine influence from the coast, cool afternoon breezes do make their way through to help temper the warm summer days. It's a warmer and dryer area than Willamette Valley farther north. The Applegate River runs through the valley, and much of the area's plantings are on broad stream terraces above the river or on alluvial fans with deep sedimentary soils, some of which contain decomposed granite carried down from the mountains.
Applegate Valley (click to expand)
Map Courtesy of Oregon Wine Board
Applegate Valley has a wine history that goes back to the early 1850s, when settler Peter Britt first planted winegrapes on his property and later opened Valley View Winery, the first winery in Oregon. Although the winery closed in the early 1900s, it demonstrated that this was an area where high-quality winegrapes could be grown. The modern wine history of Applegate Valley started in 1972, when Frank Wisnovsky planted 12 acres of winegrapes and soon after launched his Valley View Winery label (there's no connection to the original Valley View and it's not in the same location). That same year, Dick Troon planted winegrapes at his Applegate Valley property. Today there are about 750 acres of vineyards in the AVA and 18 wineries, and the grape varieties planted there reflect the moderately warm climate.
Farther north is the famed Willamette Valley wine region. The Willamette Valley AVA was established in 1984, and covers a very large area in northwestern Oregon. Most of the vineyards are located in the northern portion of the AVA, which has been subdivided over the years into ten smaller and distinct AVAs – the earliest of these were approved in the mid-2000s while the most recent ones date from only a few years ago. It's generally a significantly cooler and wetter area than Applegate Valley, which is why varieties such as Pinot Noir, Pinot Gris, and Chardonnay thrive there. Much of the vineyard soil of the northern Willamette Valley is either marine sediment or of volcanic origin, and the distinctions in wine produced from vines planted in one soil type or the other is important to understanding the character of the smaller AVAs.
North Willamette Valley (click to expand)
Map Courtesy of Oregon Wine Board
Although there were a few vineyards planted in Willamette Valley in the 1800s, much of Oregon's wine production in the nineteenth century centered on vineyards in the Umpqua Valley and Rogue Valley to the south. Willamette Valley's modern wine history dates to 1965, when David Lett of Eyrie Vineyards first planted Pinot Noir vines. A few other noted vintners planted Pinot Noir later in the 1960s, but it wasn't really until the 1970s when the area's Pinot boom began to take off. By the 1980s, Willamette Valley was becoming recognized as a world-class Pinot region. Today there are over 700 wineries and over 27,000 acres of vineyards in Willamette Valley, with the vast majority planted to Pinot Noir.
I set out from home on a Thursday morning, and my drive through northern California and into southern Oregon was pleasant and uneventful. I got off of Interstate 5 near Ashland and traveled west into the Rogue Valley wine region. I'd made an appointment for that afternoon at a winery and vineyard in the Rogue Valley's subregion of Applegate Valley. It was a very scenic drive from the freeway along a rural road and through a couple of small towns, and before long I arrived at my destination.
My first Oregon wine visit was at Troon Vineyard in the Applegate Valley wine region of southern Oregon, not far from the city of Grants Pass. After parking outside of the winery tasting room and stepping inside, I was welcomed right away by Troon General Manger Craig Camp. Craig and I had interacted a little on the internet over the past few years, and between that and the very interesting story of Troon Vineyard, it seemed like this would be a good choice for the one wine visit I'd have time for on this day.
Before going into the details of my visit to Troon, I should write a bit about its history and the changes that have been taking place there in recent years. The site is located on the Kubli Bench, at about 1,400-foot elevation above the Applegate River. Dick Troon purchased the property in 1972, and soon began to plant vines there, beginning with Chardonnay, Zinfandel, and Cabernet Sauvignon and later adding more varieties – these were among the earliest winegrape plantings in southern Oregon since Prohibition. Though Dick Troon started bottling some of his own wine in 1976, he mainly sold fruit to others and didn't establish a winery until 1993. In 2003, he sold the property to his friend Larry Martin, who built a new winery and tasting room and expanded the vineyard. In 2017, the winery and vineyard property was purchased by Bryan and Denise White, from Arlington, Texas – as with Larry Martin, they maintained the Troon name to honor the winery's founder.
This is the point where Craig Camp came into the picture. Larry Martin initially brought him on board in 2016 for the short term to help get the property in better shape for sale – many of the vines were not healthy due to disease and years of less-than-optimal farming. But once he met with the new owners, he realized that they were committed to making the investment needed to bring the vineyard back to good health, and he saw an opportunity to stay on to help turn things around. Craig had some previous experience overseeing a vineyard transition to biodynamic farming, and he felt that this, as well as regenerative organic farming, would be the way to do this at Troon. He and the Whites embarked on a project to completely make over not only the vineyard but also the entire property using these methods – a project that's still continuing today.
Craig has decades of experience in the wine business, and has worked as a distributor, in wine sales, and in wine production and viticulture. He's also held many positions with various vintners' associations, and he's currently the President of the national Board of Directors of the Rhone Rangers wine organization. Craig's background includes stops at wineries in Italy, Willamette Valley, and Napa Valley. Immediately prior to coming to Troon, he was working with a Napa Valley winery but felt increasingly disillusioned with the wine scene there, and he thought that working in Applegate Valley – a wine region he'd already noticed and admired – would be an opportunity to recharge his excitement about the wine industry.
Under the leadership of Craig along with Troon owners Bryan and Denise White, Troon received Demeter Biodynamic certification in 2020 and Regenerative Organic Certified (ROC) status in 2021 – only the second winery in the world to receive ROC certification, and the only winery in Oregon with both ROC and Demeter. Troon has since progressed to ROC Gold certification, just the fourth farm in the world to achieve that. Earlier this year they also received the Equitable Food Initiative's ERGO Certification – this program is set up to promote safe and fair working conditions at smaller farms. That's impressive list of achievements for the new Troon team in just a few years!
Craig had arranged for me to get a tour of the Troon property with their Director of Agriculture Garett Long. Stepping outside, the weather was warm and noticeably humid that afternoon, something Craig said was quite unusual for Applegate Valley, which is typically cooler than most of the broader Rogue Valley wine region. Troon is in a beautiful setting, on the valley floor with the Siskiyou Mountains all around. Another thing I couldn't help but notice was the number of butterflies, bees, and other beneficial insects flitting about in flower beds near the tasting room – a sign that the property was being brought back to good health very effectively. After a couple of moments, Garett drove up in one of the vineyard's electric ATVs, and introduced himself. He has a master's degree in soil science from UC Davis and joined the team at Troon in 2021. As I got into the ATV with Garett, Craig mentioned that they're in the process of converting to solar power for the entire property and that even most of the vineyard vehicles will be electric, with the aim of becoming carbon-neutral.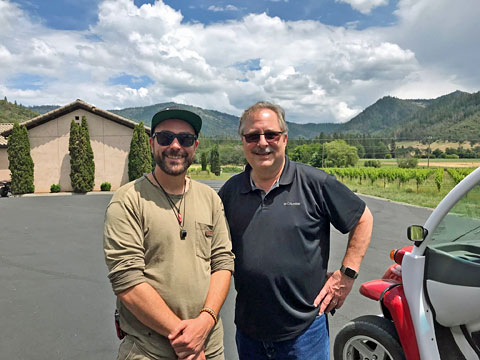 Garett Long and Craig Camp
Garett proceeded to take me on a fascinating tour of the Troon property. The vineyard takes up about 50 acres on the 100-acre site. The old vines, which as noted above were in poor shape, have been gradually taken out in phases of around ten acres per year and new vines planted – the replanting process is nearly complete although it will still take time for the new vines to mature. There are currently about 20 grape varieties – mostly those from the southern Rhône – with some less-common varieties for Oregon such as Négrette and Tannat, and Craig had mentioned that they're also putting in Tibouren. In addition to the vineyard, there's an orchard with many different types of apples (they're planning to produce cider at some point), vegetables, medicinal and other herbs, a native plant garden with over 90 species, and other areas of the property set aside for biodiversity and as a wildlife reserve. They also raise sheep and chickens. Troon sells some of their produce at a farmstand and to restaurants, and they hope to increase that part of their business.
Garett told me a little about the climate and soil at the property. He said that it's located in a transitional zone that is one of the most biodiverse regions in the country, with a climate that is conducive for growing almost anything. It's warmer and dryer than Willamette Valley to the north, but cooler and wetter than many California wine regions. Being in the western portion of Applegate Valley, Troon gets cool late-afternoon air from the Pacific Ocean to create a notable diurnal temperature swing, which can help maintain acidity in the grapes. There are a number of different soil types throughout the property – mainly a mix of various sedimentary soils along with decomposed granite. Varieties and clones of the newer vine plantings have been chosen to work well with the soil type in different parts of the vineyard.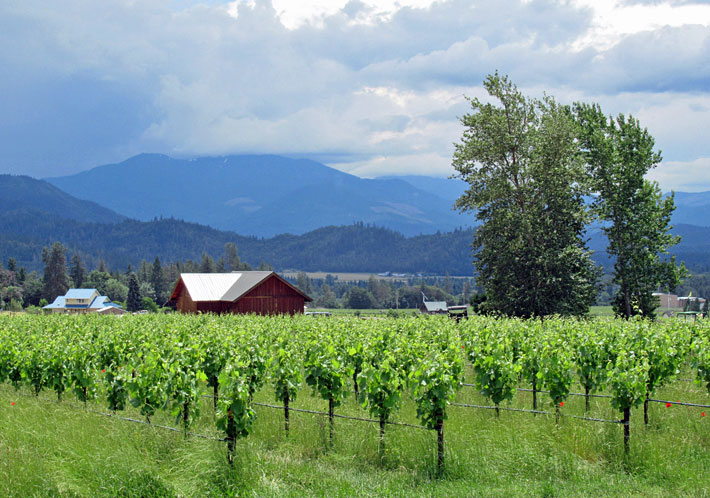 As Garett drove me around the property, we spent most of the time looking at parts other than the vineyard itself, as maintaining a biodiverse property is one of the key elements of biodynamic farming. Garett mentioned that his background is in agriculture and not specifically grapegrowing, so this ties in well with the Troon program. He noted that they focus more on the practical side of biodynamic farming rather than the sometimes-mysterious spiritual elements of biodynamics, though they work according to lunar cycles, fruit days, etc. where it makes sense for them but they're not dogmatic about it. They also follow the process of making and applying biodynamic preparations at the site. Probably the best-known of these is Preparation 500, where cow manure is buried over the winter in cowhorns to "ferment" – some of the cowhorns were just being dug up when I visited, and Garett showed me one spot where they'd been buried. The manure from the cowhorns is subsequently stirred into water the following spring to create what's known as a compost tea, which is then applied as a ground spray across the entire property. Since the Troon property is too small to raise cattle, they get cow manure from a neighboring organic dairy farm.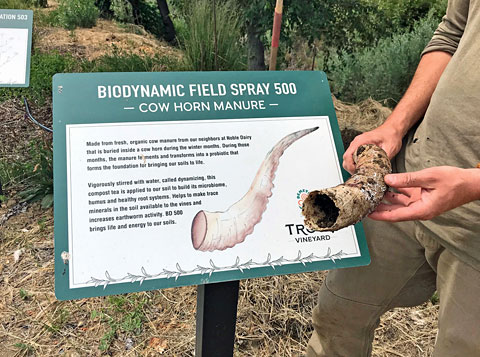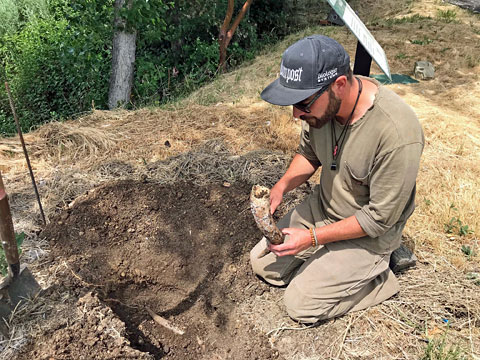 In addition to Preparation 50 there are six other biodynamic compost preparations used at the property as well, with the goal of promoting soil health. After the many earlier years of using commercial fertilizer, weed-killers, and pesticides in the vineyard, much of the natural microbial life in the soil had been compromised, and the biodynamic farming methods have been a way to help bring it back. Central to this effort is using compost for fertilizing the soil rather than commercial products. Garett also works with other methods for helping to maintain the health of the vines, such as using a spray derived from cinnamon oil to help counter powdery mildew.
Garett stopped at a barn on the property that contains a central water tank supplied by wells. This also contains vats for brewing the compost tea, a process that was going on during my visit. Garett told me that the compost tea contains about one billion microbes per milliliter, some useful as nutrients and others for helping to suppress pests or disease. Attracting beneficial insects is another way that Troon is working to control pests in the vineyard and other planted areas. They also have owl boxes throughout the property and they're working to attract raptors by installing hunting perches. Garett also showed me a large covered compost bin in the barn where worms are doing their work – he said that Troon makes and uses about 250 tons of compost per year.
Back out on the ATV, Garett pointed out the cover crop of wildflowers and grasses between rows of vines. As is becoming more common in vineyards, the soil is not tilled. I asked him about regenerative organic farming, and how it differs from biodynamic farming. He told me that the two systems are similar in many ways, though biodynamic farming requires the use of the biodynamic preparations while regenerative organic farming is about more holistic farming practices and methods, with a particular emphasis of promoting soil health. Part of the regenerative organic certification is a requirement for soil testing every three years to demonstrate the soil health. It also goes further in that it has a social justice component, requiring ethical treatment of farmworkers to promote empowerment and equity, as well as a component dealing with animal welfare on the property.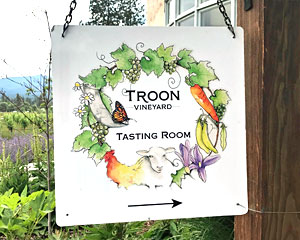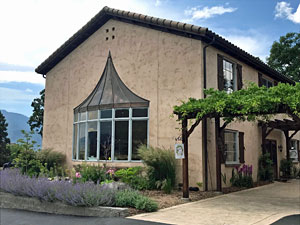 After touring the property we returned to the tasting room, where Garett dropped me off. I met up again there with Craig, and he led me to the shaded rear patio where we were soon joined by Troon winemaker Nate Wall. Nate started out making wine in Virginia before spending a number of years in Willamette Valley. He joined Troon in 2018 and became the winemaker in spring 2019. The winemaking at Troon is low-intervention, with native yeast fermentations and no additions other than a small amount of SO2. Wines are typically aged in older French oak barrels. White and rosé wines are made by whole-cluster pressing while some reds use a portion of whole-cluster fermentation in the winemaking, and all wines go through full malolactic fermentation so that no filtering is needed prior to bottling. Many of the Troon wine labels feature depictions of beneficial plants at the property, including yarrow, chamomile, dandelion, valerian, and others.
Craig and Nate brought out six wines for me to taste, starting with their 2022 Piquette! – yes, there's an exclamation point! While most piquettes are made by adding water to grape pomace after wine is pressed, the Troon rendition is made from unfermented skins that are rehydrated after pressing grapes going into white and rosé wines. The varietal make-up of the piquette changes from year to year, and the 2022 vintage – the fourth that they've made – is from Mourvèdre, Vermentino, Cinsault, Tannat, Roussanne, Grenache Blanc, and Négrette. With a light salmon-pink color, this had bright orangepeel and stone fruit aromas with a lightly effervescent mouthfeel and lively finish – a fun, lower-alcohol summertime drink. Next was the 2021 Vermentino "Sur Lie" – this comes from four barrels of Vermentino (the most widely-planted white variety in the vineyard) that were given extra aging on the lees. The lees notes came through in the aroma, along with peach and undertones of flowers and fresh herbs, and the wine had a moderately rich mouthfeel and finish – something a bit different than a typical lighter-weight Vermentino.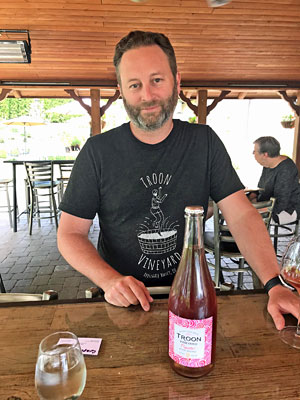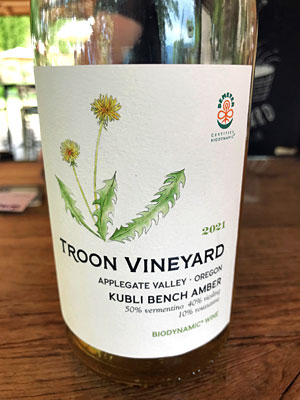 We continued with the 2022 "Kubli Bench Rosé". Made with fruit from younger vines grown specifically for rosé and picked early, this was fermented in neutral oak, with 55% Mourvèdre, 25% Cinsault, 9% Counoise, 8% Carignan, and 3% Négrette. This had a very light color, with both stone fruit and red fruit aromas plus hints of earth and herbs, medium-light weight with more texture than many rosé wines. The 2021 "Kubli Bench Amber" – 50% Vermentino, 40% Riesling, and 10% Roussanne – came from fruit grown especially for this wine and picked at slightly higher brix, with each variety fermented separately. The fruit spent 3-4 weeks on the skins prior to pressing to older barrels for aging. Displaying upfront floral and citrus peel aromas plus hints of spice and earth in the background, this showed the phenolic notes typical of this style of wine. With a medium-bodied mouthfeel, it featured a bit of tannic grip on the long finish.
Craig and Nate had two reds for me to taste, and began with the 2021 "Druid's Red". The name of this wine goes back to Dick Troon's interest in his Scottish heritage. The blend changes from year to year, and in 2021 it was 27% Tempranillo, 23% Malbec, 22% Syrah, 15% Mourvèdre, 6% Grenache, 5% Cinsault, and 2% Carignan. Intended to be the winery's entry-level red wine and inspired by Côtes du Rhône blends, this may be a lighter Syrah-based blend in the future (this was the final vintage for the older Tempranillo vines). The wine was earthy, with darker berry fruit and spice along with dried herb notes, and had a bright texture with moderate tannins, a good early-drinking red. The final wine I tasted at Troon was their 2020 Tannat – 76% Tannat co-fermented with 24% Malbec, using about 75% whole clusters. More intense aromas of dark berries along with earthy, herbal, and slightly smoky notes, full-bodied with plenty of structure but surprisingly fine tannins on the finish.
I should note that I tried the Troon 2022 "Glou Glou" Grenache and 2020 Syrah at a tasting event a few weeks after my visit to their winery and vineyard. I found that the Grenache, which underwent partial carbonic fermentation, really developed with some time in the glass, and had lots of upfront bright red fruit with earth and herb notes and a vibrant finish – a fun and lively wine. The Syrah was dark-fruited, peppery, and earthy, plus pleasantly smoky undertones, with medium-full body and the structure for cellaring.
Troon produces nearly 25 different wines per year. Other current and recent bottlings include a Pét-Nat Tannat, Roussanne, "Druid's White" blend, "Amphora Amber" Vermentino, "Côtes du Kubli" Red blend, and "Cuvée Pyrénées" red blend, and several additional Syrah bottlings. Current annual production is around 4-5,000 cases, with a goal of growing to about 10,000 cases when all the new vines mature and are in full production.
In addition to everything else at the Troon property, there's a vacation rental house at the vineyard. And for those who may find Applegate Valley a bit too far out of the way, they also have a tasting room / wine bar in McMinnville in Willamette Valley. This location helps bring Troon within a short distance of Portland and provides a different experience from that of other Willamette Valley wineries. Among other things that Craig has been known for in the wine business, he was an early adopter of using the internet for outreach to potential customers, something that continues today. He's also worked to get the word out on the Applegate Valley wine region as a whole. Craig's presence on social media was definitely a factor in drawing me to visit the winery!
This was a really fun and educational visit with Craig, Garett, and Nate at Troon. They all seemed to truly enjoy showing me how they were improving the vineyard and the entire property with biodynamic and regenerative organic farming as well as how this was benefiting the quality of Troon wine. This wasn't the first biodynamic vineyard tour I'd had, but it went beyond my earlier experiences. Even if you don't have a vineyard tour, Troon is a very enjoyable place to taste wine – it's a beautiful setting, and the tasting room patio is a lovely environment. One quality of the wines that showed through in all of them was the great acidity, which gave even the bigger reds a very lively character. I especially enjoyed the 2022 Piquette!, 2021 "Kubli Bench Amber" (my overall favorite), 2022 "Glou Glou" Grenache, and 2020 Tannat. Applegate Valley and Troon are not a long drive off Interstate 5, and it's well worth the time to check them out – I'll be back for sure.
After my visit to Troon, I drove north to the city of Roseburg, where I stayed that evening. The Riverfront Inn was very nice, with some rooms having a view of the scenic South Umpqua River just below. I took a short walk across the river and had dinner at McMenamins Roseburg Station Pub & Brewery, part of the McMenamins chain of pubs and restaurants, hotels, and other hospitality establishments in Oregon and Washington. I have to say that my first time at one of their brewpubs was underwhelming – the meal wasn't bad but the beers (I had a sampler flight of six) were meh.
The next morning I drove to the Portland area, stopping along the way in Linn County southeast of Salem to take a look at some of Oregon's old covered bridges. I continued to Portland and strolled around the Pearl District for awhile, checking out Powell's Books – which may be the world's largest bookstore – and of course stopping for some afternoon refreshment at one of city's many brewpubs, one of the things that Portland is well-known for.
Later that afternoon, before heading to my friends' home, I stopped at Division Wines in southeast Portland – a wine bar and bottle shop that a friend had recommended to me. I had a look around the shop – a good selection of both domestic and imported wines – and then sat at the bar and relaxed for awhile with a glass of very nice Domaine de la Combe 2021 Muscadet.
From there I drove north across the Columbia River to my friends Jon & Ling's house in the small city of Camas, just east of Vancouver, Washington. We spent the following day (Saturday) taking a short hike near their home and then sightseeing along the Columbia Gorge and elsewhere. They wanted to go wine tasting with me on Sunday, even though neither of them are particularly big wine drinkers. I had one place in mind – a winery I'd contacted earlier but didn't get a firm response from – and I checked online for one more place that might be a good stop. Many Willamette Valley wine tasting fees and wine prices aren't exactly inexpensive, so I looked to see if I could find a spot that was likely to have good wines but that wouldn't break the bank. I gave Jon & Ling a few options and we settled on one to visit on Sunday morning.
Three days of travel so far and only one winery visit (plus a wine bar) – that's not much for me! But as mentioned earlier, wine touring was not the main point of this trip, so I wasn't complaining. In any case, I'd make up for things somewhat in the next couple of days in Oregon wine country.