Vol. 17 No.1 October '09
Arizona

Vineyards & Wineries Visited -

Page Springs Winery
Oak Creek Winery
Art of Wine
Caduceus Cellars
Jerome Winery
Journal and some tasting notes from visits to five Arizona wineries.
(The Northern Arizona winegrowing area is located in and around Yavapai County, about 90 minutes north of Phoenix. With altitudes at 3,000-4,000 ft., the temperatures in this part of the state are actually more similar to Paso Robles, California than to the high desert. The Arizona Wine Growers Association lists 31 member wineries, most in the Southern part of the state. This time of year (October), it's usually crisp and clear, with temperatures ranging from the 40s at night to the high 80s during the day.)
Saturday, October 31, 2009
During a recent visit to Arizona, we decided to visit some of the local wineries. Yes, I know what you're thinking, wineries…in Arizona? Well there are actually plenty of them located throughout the state. Most are located in the northern or southern parts of the state. And most, though not all, have their own vineyards as well, which are located at higher altitudes of 3,000-4,000' thus helping to mitigate the otherwise intense heat of the desert floor. The climate at this altitude is actually quite similar to Paso Robles, CA., giving the grapes relatively cool nights to recover from the hot daily temperatures.
In addition to local fruit, several Arizona wineries buy grapes from well-known California AVAs - sometimes to blend with Arizona grapes, or often to make separate wines. The rationale is primarily commercial – this allows the wineries to augment their tasting room selections with recognizable grape varieties, thus increasing sales appeal. That being said, sometimes the diverse sources actually make a better wine. Now, selling wine made with grapes from California is all well and good, but I'll mention from the outset that my main interest was to discover wines made with Arizona grapes, rather than wines made in Arizona, but using California grapes. Chauvinistic? Maybe. I just didn't see the point in tasting wines made in Arizona, but using fruit from California.
Previous trips here had concentrated on wineries in the southern part of the state, those wineries located south of Tucson in the Sonoita region. As you may recall, we met with mixed results (see: It was the Best of Wines; It was the Worst of Wines, and a further tasting of Arizona wines). Undoubtedly, the star of that first visit to the Sonoita area was Callaghan Vineyards. Using fruit mostly from southern Arizona (Sonoita & Wilcox), Kent Callaghan fashioned some very genuine wines that seemed to reflect the terroir of southern Arizona. During one of those visits, Kent shared some wines he'd received from a new vintner in the Sedona area. Echo Canyon owner, Jon Marcus, had sent some of his wine as a "thanks" for Kent's oenological advice. At the time, Jon was using a combination of grapes from California and Arizona to make his wines, until his own vineyard came on line. The wines were quite nice, and I promised myself to follow up on visiting Echo Canyon and other northern Arizona wineries the next time I had a chance.
Well, we soon found ourselves visiting family in the Verde Valley of north-central Arizona, and it turns out there was plenty to see. Unfortunately, we found that Echo Canyon did not have a tasting room. However, it looked as though Oak Creek winery had added the Echo Canyon wines to their own tasting room's list. So, venturing forth on a beautiful late Fall Saturday, we had picked 3-4 wineries to visit, and were considering dropping by a tasting room in Sedona as well. The tasting room appeal dropped a notch for me when I found it was named "Art of Wine." It just seemed too...I don't know...overtly commercial and affected.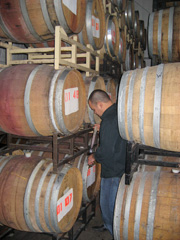 We began our little tour on Page Springs Road, south of Sedona, just outside the small town of Cornville. First stop, Page Springs Vineyards and Cellars. Located in a woodsy area, the building and grounds were quite inviting. Frankly, the only hint that we were in Arizona was the occasional cactus. Founded in 2003, this 5k case winery is also the local custom crush facility (they also make 3k cases of wine for other labels, including Pillsbury, Caduceus, and Arizona Stronghold). Page Springs was pouring from several lists, varying from $5-10 for 4 to eight tastes. The wines seemed reasonably priced ($25-30), and the tasting room was never empty. The vast majority of wines came from Arizona grapes, and there were even a few with multiple AVA sources. The staff was quite proud of their owner/winemaker Eric Glomski, who had some California genealogy – having spent some time at David Bruce winery in the Santa Cruz Mountains. Further conversation with our friendly pourer led us to Corey Turnbull, who, after leading us through several bottlings of Page Spring blends, then proceeded to take us down to the winemaking facility below to sample some barrels. Working primarily with Syrah, Petite Sirah, Grenache and Mourvedre, plus Viognier, Rousanne and Marsanne, they are making some very nice Rhone blends. In addition, they have the unusual Cabernet Pfeffer, along with some Cabernet Franc, and some Sangiovese.
From Page Springs, we decided to take a lunch break at the Page Springs tavern. After lunch, we headed back to Javelina Leap Winery, along the Page Springs trail. Entering the tasting room, we were welcomed by a gentleman wearing a sarape - which, given this was Halloween, may have been the purpose. He showed us the selections they were pouring today: a Sauvignon Blanc, and two Zinfandels – all from California, at $10 for the flight. The "Paso Robles" really stuck out on the labels of the Zins. I told him we were really on a quest to try some Arizona-grown wines, to see if there were other tasting options. "Good luck with that," he replied sarcastically, and we didn't let the door hit us on the way out. Driving out of the Javelina parking lot, we pulled literally into the winery next door, Oak Creek Vineyards and Winery. I was looking forward to this visit, because this was also the place on the website listed as pouring the Echo Canyon wines. Hi there, we'd like to taste some Arizona wines made with Arizona fruit, I said. All of our wines come from Arizona fruit, the lady replied. Gee, the guy next door doesn't seem to know that, I suggested, repeating what the fellow next door had said. She gave me a silent shrug. After going through the tasting, I asked if they also pour Echo Canyon wines. Oh, no we haven't done that for some time now, she replied. I was disappointed, and asked where I might find some. Our pourer differed to another lady working the room. Well, we're not sure he's still making wine, but Bashas' supermarket or the 'Art of Wine' in Sedona might have some. So, reconsidering my decision about visiting the 'Art of Wine,' we set out for Sedona, about 10 miles away. (There was also a Bashas' in Sedona, so who knows, maybe we'd get lucky.)

We arrived at the 'the Art of Wine' in the Hyatt Pinon Pointe Shopping Center. It certainly had a great view. Upon entering the small shop, a fellow asked if we'd like to taste. I asked if they had any Echo Canyon wines. Nope, the fellow named Scott said from behind the tasting bar. He added that Jon Marcus was a neighbor of his, and hadn't made any wine last year, and the vineyard, as far as he knew, had been sold. Feeling a bit let-down, we were headed for the door when he asked, what did you like about his wines? I described their qualities as best I could, to which he replied, well step over here and try the best red wines the area has to offer, Sycamore Canyon. I was intrigued at the prospect, but also somewhat reluctant to respond to the obvious pitch. At 4 tastes for $15, it wasn't the deal of the century – even by Sedona standards. But, I was game. Tried a few - not bad, I thought, as we ran through the reds. After telling us that John McCain was also a neighbor of his, Scott also told us that Sycamore Canyon was his own winery, and was only sold through the tasting room. The sales pitch was getting more overt, as he added a Chardonnay to our lineup of pours. It too was nice, I thought. I couldn't really tell the AVA from the label, what with the fine print on the side. Nice Chard, where are the grapes from, I asked. California, he replied. I nodded. Well, did anything blow you away, he asked. Nope, not really, I told him. So, we settled up and headed out, feeling like we'd spent too much time at the ShamWow booth at the state fair.

Sunday, November 1, 2009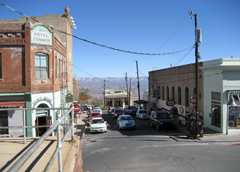 The following day, we headed up to nearby Jerome, an old mining town located on the side of Mingus Mountain at about 6,000'. The town seems to be undergoing a Renaissance of sorts, apparently having had a seedy reputation. First things first, and we headed for breakfast at the Mile High Grill. Great place and excellent food. Then, spying the Jerome Winery on the road above us. We climbed the stairs to a neat little tasting room perched at the edge of the road. A lady welcomed us in, telling us that her brother was the owner/winemaker, and that his were made with fruit from the Wilcox area. They were pouring whites and reds, so we picked a few things from the list to try. The wines were just so-so, although the 2nd wine in the flight was obviously corked, so I mentioned it to the lady. Oh no, she quickly corrected me, I just opened it this morning. It has a little funky quality to it - that's just the way it is. Well, "funky" it may have been, but the bottle also had a fair measure of TCA as well. She needn't have been defensive - corked wines happen! Unfortunately, many tasting room stafffers develop a deaf ear and/or poor attitude to tasters who appear to threaten the balance of power. So, whether the staffer is right or wrong I will generally acquiesce, rather than provoke an argument. Life's too short.
Venturing down a few more of the streets, we also found the Caduceus tasting room, a winery making its wines at Page Springs. Very nice room, with a nice selection of wines - including some of the Page Springs offerings. In addition to some new things, we couldn't resist tasting some of the same wines from Page Springs. Really attractive place, and some nice wines as well.
Still further down another street was what turned out to be the Jerome Winery tasting Room #2. Apparently, they bought the art gallery that occupied the space, and brough in wine as well. The wine turned out to be a completely different list than the Jerome #1 was offering, and the view of the valley below was a knockout. At this point, however, we weren't too interested in more tasting, so we passed on the selections.
Leaving town, we pulled into the local Bashas' market to look over their wine selection. It looked as though they had been culling some wines from their shelves, and we found a few shopping baskets with close-out markdowns. Reaching into one basket, the first thing I grabbed was an Echo Canyon Zinfandel, followed by an Echo Canyon Sedonatage. Paydirt! I found a few more interesting bottles as well, making this a special – make that spiritual - trip to Sedona.

Overall impressions: this visit to northern Arizona wineries was another eye-opener. From my perspective, they largely broken through the perceived sterotype of non-California wineries and vineyards.
---
---

Copyright © 1993 - 2010, Eric Anderson - All rights reserved
No original material may be reproduced without written consent
Mail & Comments - Grape-Nutz
Updated 5.29.10