Linne Calodo Cellars
by Eric Anderson
(excerpted from Vol.9 No.5, Journal du Vin, June 2001. …a visit on 5/31/01 to Linne Calodo in Paso Robles for a tour and tasting.)
Details
It was an unseasonably warm 102 degrees, as I drove up the steep gravely road to reach Linne Calodo, or more properly, Justin Smith's house. Situated within the James Berry Vnyd, Justin's home has a commanding view of the surrounding vineyards, especially those below to the West. Owned by the Smith family, fruit from the James Berry Vnyd is sold to the likes of Alban, Wild Horse, Fetzer, and of course Linne Calodo. Justin is the vineyard manager for the JBV, as well as the Cherry Ranch vineyard, and he and business partner Matt Trevisan are the proprietors and winemakers of Linne Calodo. In addition to fruit from the JBV, Linne Calodo also draws from Cherry Ranch Vnyd, and Justin has planted 7 acres (5 Syrah, 1 each Grenache and Mourvedre) down the road at Swanson Family Vnyd (no relation to the Napa Swanson), that should yield its first harvest next year.
The growing conditions in the area are highly influenced by both its altitude (about 1200'-1400') and a geologic formation known as the Templeton Gap, the first low point south of Monterey in the Santa Lucia Mountains. This gap allows a cooling ocean fog to permeate the area well into the morning, yet brings nice warm (or, in this case very warm) days, and pleasant cool evenings.
Since their first harvest in the early '80s, Justin Smith's family has always made a little barrel of this and that in their own micro-winery. This allowed Justin to hone his winemaking as well as vineyard skills. Meanwhile, Justin's college friend, Matt Trevisan, had been working at nearby Wild Horse winery. The two decided to throw in together, and after a few more years of experimenting, they figured it was about time to drop the amateur status, and try their hand at operating a viable winery. Through the 2000 vintage, the wines have been made at Wild Horse, which has a very large facility. This year, Justin and Matt have setup shop at Mat Garretson's new place on Hwy 46 East. Current production is about 1200-1500 cases, with final production expected to cap out at about 2500 cases.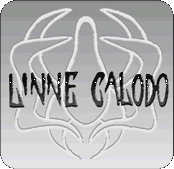 So, who is Linne Calodo? Well, it's not really a who - it's a what. "Linne" and "Calodo" are actually two of the geologic terms that apply to the types of calcareous shale and sandstone soils common to the Adelaida Hills. Does that whet your appetite? Well, you can read more about it right here. Oh, and while we're at it, that fascinating Linne Calodo logo apparently doesn't represent anything sinister, sensual, or even significant. It's merely an interpretive piece of artwork by Erin Trefry, commissioned by a couple of fans - Justin and Matt. Now there's a letdown. It had Sci-Fi written all over it.
Yo, Road Trip
Upon arriving, I wandered out back to where the other visitors were gathered under a couple of large umbrellas, looking for a little relief from the sun while sipping a little for-home-use-only blend of Viognier/Roussanne. After introductions and some chatting, the dozen or so of us then piled into three 4-wheel drive vehicles, with Justin, Matt, and Cris Cherry driving us out to visit the vineyards and actually taste the final product of fruit from these vines. (Cris had recently broken his ankle, and was sporting a pair of crutches through all of this.)
First stop, down the road a bit to Cherry Ranch Vnyd, home to the Zinfandel used in their blends. Owned by Elmer and Mary Cherry, the Cherry Ranch Vnyd has about 2.5 acres of head-trained vines, planted in 1978. Justin is the vineyard manager of this property as well. Justin and Matt poured us the current releases of Willow Red and Cherry Red.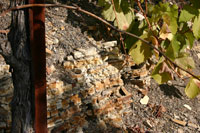 After piling back into the SUVs, we headed over to the James Berry Vnyd and its Rhone varietals, and. Originally planting the JBV to Chardonnay and Pinot Blanc in 1981, the Smith family became "converted" to Rhone varietals after seeing the results of planting test blocks of Mourvedre, Viognier, and a 4 acre block of Syrah in 1988. Since then, the they have added twenty more acres to the James Berry Vnyd, and included Grenache Noir and Roussanne to the Rhone varietal plantings. The 75 acre vineyard now has 55 acres planted, including a 3.5 acre block known as Bone Rock Terraces. Constructed in 1990 on a very steep rocky hillside, the fractured shale rocks of the Bone Rock section is primarily planted to the Estrella clone of Syrah. This fractured-rock soil has fabulous drainage, thanks to a prehistoric sea that once covered the area. In fact, the section was named in homage to a large whale skeleton that was unearthed while constructing the terraced slopes in the vineyard. This quick-draining soil forces the vines to work extra hard for nutrients, which in turn creates a more concentrated fruit. Appropriately, we tried the '99 James Berry blend.
From here, it was off to their wine lab, library, and experimental station -- in other words, their R & D joint. Enjoying experimentation as they do, Justin and Matt have also played around a lot with different varietal blends and fermenting methods. They use light destemming with minimal crushing, preferring to use a high percentage of whole berry fermentation in open top containers, followed by 8-18 months of aging in small oak barrels. While we all browsed around, Justin and Matt poured us a few more wines, including a '97 Mourvedre. The aroma of this wine was still very meaty and attractive, though the flavor profile had lost a little of its assertiveness. Single bottlings such as this were done more for the sake of experimentation, than for production. And though the Bone Rock, at 90% Syrah, is indeed "varietally legal," they intend to stick with blends and proprietary names. While here, Justin and Matt also poured the pre-release 2000s of Cherry Red, JBV, and Bone Rock.
Finally, we headed back up to the house for an up-close look at the Bone Rock section of the JBV. The temperature was finally starting to cool off as we traversed the steeply terraced vineyard. Noting the interesting reverse angle on some of the terraces, Justin described that the expertise of the Soil Conservation Corps had been enlisted to help minimize erosion (55% slope and average rainfall of 26" makes this a big concern). thus, every other terrace backslopes, channeling the water runoff to a collection culvert and then drained safely to the bottom of the hill. Looking at a cross-section of the hillside, it was also easy to see the rock shale and calcareous soil that gives Linne Calodo its name. As we meandered along one of the terraces, Matt and Justin first poured the '99 Bone Rock, followed by the '99 late harvest Sweet Leona. Needless to say, we all had an excellent time.
Brief impressions of the 10 wines tasted:
2000 Linne Calodo Viognier/Roussanne - Paso Robles. Aromas of tropical fruit, with some peach and nectarine. Slightly sweet and buttery mouthfeel, with very nice fruit and balance, and a long finish. Aroma/Taste: B+/B+
-- in the vineyard...
1999 Linne Calodo Willow Red - Paso Robles. Dense fruity and slightly floral nose. Young astringent mouthfeel, tart pomegranate flavor, long finish. Aroma/Taste: B+/B.
1999 Linne Calodo Cherry Red - Paso Robles. Nose of ripe berry, along with a slight cheddar cheese and of all things, banana bread. Puckery and astringent mouthfeel, sweetens up at mid-palate, then sours up a bit on long finish. Aroma/Taste: B+/B
1999 Linne Calodo James Berry - Paso Robles. Beautiful fruity and floral nose, with toasty meat aromas. Very chewy mouthfeel, lots of fruit, a touch of bacon fat, very long off-sweet finish. Syrah/Grenache/Mourvedre. Aroma/Taste: A-/A-
-- at R & D central...
2000 Linne Calodo Cherry Red - Paso Robles. (pre-release) The nose is a mass of cassis, boysenberry, and raspberry. Very young in intensity, with a mostly Zin-like mouthfeel initially, until the 20% each of Syrah and Mourvedre kicks in toward the latter palate, smoothing out the bumps and adding a nice meat and maybe beet flavor to the long finish. Aroma/Taste: A-/B+
2000 Linne Calodo James Berry - Paso Robles. (pre-release) Nose of concentrated fruit, meat, ash, and ink. Chewy mouthfeel, with a sweet and meaty midsection, and long tasty finish. Aroma/Taste: A-/A-
2000 Linne Calodo Bone Rock - Paso Robles. (pre-release) Big ripe nose of blackberry, smoke and meat. Chewy mouthfeel, lots of meaty flavors, long finish. Syrah/Mourvedre. Aroma/Taste: B+/A-
1997 Linne Calodo Mourvedre - Paso Robles. (library sample) Lots of chocolate, blackberry, and meat, with a touch of stem in the nose. A bit lean in varietal flavors, but with lots of substance and chew, and a long finish. Aroma/Taste: B+/B
-- in the vineyard...
1999 Linne Calodo Bone Rock - Paso Robles. Ripe nose of cassis, clove, meat, and smoke. Big mouthfeel, delicious slightly candied and cinnamon-spiced flavors, very long finish. Syrah/Mourvedre. Aroma/Taste: A-/A-
1999 Linne Calodo Sweet Leona - Paso Robles. Nose of lightly brandied raspberry and boysenberry. Fabulous mouthfeel, with a sweet meaty and toasty flavor, and very long smooth Sauternes-like finish. From 45-yr old vines. Aroma/Taste: A-/A-
(As a post-script, Justin Smith and Matt Trevisan dissolved their partnership in Linne Calodo, early in 2002. It was decided that Matt would keep the "Linne Calodo" name as well as most of the wines from 2000 and 2001. Justin has since started his own project named "Saxum," Latin for large stone, and retains rights to the James Berry Vineyard and Bone Rock terraces. Here are links to more recent visits to both Linne Calodo, and Saxum.)
---
---
Copyright © 1993 - 2004, Eric Anderson -
All rights reserved
No original material may be reproduced without written consent
Mail & Comments - Eric Anderson