Beckmen Vineyards
by Eric Anderson
(excerpted from Vol.11 No.5, Journal du Vin, November 2003. …a visit on 11/10/03 to Beckmen Vineyards for a tour and tasting.)
When Tom Beckmen moved his family to the Santa Ynez Valley in 1993, he wanted to get back to his roots. He'd already had a pioneering career in electronic music. But, he'd always wanted to return to the farming he recalled as a youth. He sold his business, the Roland Corp, and moved the family west. Buying the former Houtz winery and property in 1994, Tom inherited a less-than-perfect 16 acre Estate vineyard planted with Chardonnay, Cabernet, Merlot, and some Sauvignon Blanc. Red wines made here under the Houtz label had a distinctive vegetal quality, something on the order of asparagus meets green bean. But, Tom and his son Steve changed all that.
I first stopped by two years after Beckmen was founded, and tasted through the lineup of wines. That day, Steve Beckmen was doing the pouring in one of the barns that served as both winery and tasting room on the property. We tried all of the current wines at the time, and it our reaction was eye-opening. Wow, what a change. Gone was that vegetal quality - the Cab actually tasted like Cab - and tasted very good, to boot. I thanked Steve, and probably said something like keep up the good work (little did I know that self-motivation was his defining quality). After leaving the tasting room, I ran into Tom Beckmen relaxing out front. Complimenting him on his winery's efforts thus far, I congratulated him especially on eliminating the "green" quality that had plagued the previous wines from this property. Tom said that he felt that Houtz had probably always just picked the fruit a little too soon, and said that he found that a little longer hang-time, combined with some canopy maintenance vastly improved the crop. No question about it.
Selected Tasting Notes:
...from bottle...
2001 Beckmen Sauvignon Blanc - Estate. Nice notes of alfalfa and wheat accent the tropical fruit. Lots of mineral on the palate, with a very nice crispness, and long finish. Stainless steel fermented on the lees.
2001 Beckmen Sauvignon Blanc - Purisima Mtn. Lush nose and mouthfeel. Aside from being richer in the mouth, this also seems a bit more tropical than the Estate bottling, and the mineral notes continue throughout the very long finish.
2002 Beckmen Marsanne - Purisima Mtn. (Randall clone) Nose of citrus and tropical fruit, with a banana lifesaver scent. Full and rich on the palate, the neutral lets all of the fruit come through. 7 mos on lees, but not stirred, as Steve has found that Marsanne get funky with too much intervention. Yield 3/tns/acre.
2002 Beckmen Roussanne - Purisima Mtn. Nice golden color. Nose of wheat, citrus, and honey. Full and rich on the palate, with a nice white peach flavor, with lots of crispness to the very long finish. Some Marsanne and Grenache Blanc in the blend. Yield 1-1/2-2 tns/acre.
2002 Beckmen Purisima White - Purisima Mtn. A blend of 50% Roussanne, with equal amounts of Marsanne, and Grenache Blanc. Nice and easy drinking. Crisp mouthfeel, with flavors of pear and pineapple,and along tasty finish.
2001 Beckmen Cuvee Le Bec - Purisima Mtn. A knockout nose; very Southern Rhône in style, with nice rich berry scents, and somewhat gripping mouthfeel. Excellent balance and very long finish. They made about 3k cases of this delicious GSM blend.
2001 Beckmen Grenache - Purisima Mtn. Huge beautiful raspberry nose. Full and chewy on the palate, with a load of raspberry fruit and very long finish. The co-fermented Syrah seems to mellow out the tannins a bit.
2001 Beckmen Mourvedre - Purisima Mtn. Nose of roasted coffee some earthiness, and meat juices. Gripping mouthfeel, with a nice meaty taste, and a slight chocolate tinge on the long finish. This stuff is great!
2001 Beckmen Syrah - Estate. Lighter-toned nose of coffee, spice, licorice, and dark fruit. Excellent balance, smooth, with moderate complexity, and long finish. 4,000 cases.
2001 Beckmen Syrah - Purisima Mtn. Despite similar coloration of the Estate version, this one's much denser and more complex in the nose. Sweet, rich mouthfeel, very tasty with tons of chewy blackberry fruit, coffee and spice, excellent balance, and very long finish. 50% new oak. 600 cases.
2001 Beckmen Syrah Clone 1 - Purisima Mtn. Big complex nose of spiced black fruit, bacon, tarry licorice notes, and roasted coffee. Chewy, rich, and delicious, this one delivers tons of fruit from front to back palate, with smooth texture throughout, and very long finish.
...from barrel...
2002 Beckmen Grenache - Purisima Mtn. Whoa! Bursting at the seams with ripe raspberry and boysenberry fruit, coffee, and an interesting flowery component. Rich, with lots of power, fruit, and spice, and a very long finish. What a stunner!
2002 Beckmen Syrah - Estate. 1 yr old French Oak Barrel. Nose of bright blackberry and plum, with a light oak scent. Very tasty mouthfeel, with more red than black fruit, and a nice vanilla component. Quite tasty.
2002 Beckmen Syrah - Estate. 1 yr old Am. Oak Barrel. Nose of black and red fruit, with a huge coffee/espresso note. Somewhat rougher on the palate than the French Oak, with very good balance, and plenty of tannins.
2002 Beckmen Syrah Clone 1 - Purisima Mtn. Slightly reductive nose, with roasted coffee and bittersweet chocolate. Massive, yet smooth mouthfeel, dense black fruit, ripe and smooth long finish.
2003 Beckmen Syrah - Purisima Mtn. Loaded with toasted herb and espresso aromas. A bit rough on the palate, but obviously packed with fruit.
2003 Beckmen Syrah - Purisima Mtn, Block 6. Fabulous nose of black fruit, bacon, brown sugar, coffee, and bittersweet chocolate. Sweet and succulent on the palate, with excellent balance and tasty long finish.
2003 Beckmen Cabernet - Purisima Mtn. Nose of cassis and toast, with a fleshy macerated quality. Very tasty mouthfeel, seems packed with fruit, with excellent balance, and very long finish. Has a small % of Merlot and Syrah.
The Beckmens replanted most of the Cab, Merlot, and Sauvignon Blanc on the Estate blocks surrounding this winery. But, they also struck off in a new direction - Rhône varietals. In 1996, the Beckmens acquired an area in the Purisima Hills to the West, adjacent to the nearby Stolpman Vineyard. While the Estate property produces some very nice distinctive wines, the Purisima property is leagues ahead. They cultivated 125 acres of the 365-acre property above Ballard Canyon in the Santa Ynez Valley, and with consultant Jeff Newton's input, started planting vines. Here, the rolling hills and dramatic elevations (up to 1200') on the property allow hillside plantings on slopes ranging up to 25%. The rows are mostly north/south-facing, with tightly spaced vines and vertical trellising to keep the yields low. Planted to several different clones, the Purisima Mtn Vnyd is dedicated primarily to Rhône varieties, and winemaker Steve Beckmen has already produced some very noteworthy wines from this source.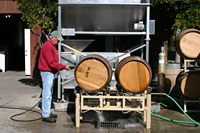 Tom Beckmen
As we pulled up to the winery, assistant winemaker Mikael Sigouin was busy with some bins out on the crush pad. He welcomed us, mentioning that Steve was waiting inside the tasting room. Local resident and Internet denizen, John Tomasso, was meeting us here, and had pulled up just before us. After some intros, we all went into the tasting room to see what trouble we could get into. Steve Beckmen was finishing up with his wine-club manager on some orders, and after re-introductions all around, Steve poured us through 11 of his current offerings. Unfortunately, John couldn't stay around for barrel tasting or our planned tour of Purisima Mountain Vineyard - he needed to get back to his day job.
Steve led us outside, and over to the winery/barrel room where he tasted us through five barrels of the '02 wines and two of the '03 wines. The '02s were fabulous, and we discussed the relative merits of the past three vintages. Steve said that '03 was a great year for his Syrah; yet more difficult for his Grenache. All the Purisima wines we tasted were great. Want to see the vineyard, Steve asked. You bet we did. We emerged from the winery to find Tom Beckmen hosing out some barrels. At this winery, everybody works - even the proprietor!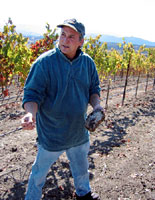 Steve Beckmen
We followed Steve over to Purisima Mountain Vineyard, on Ballard Canyon Road. Heading south on Ballard Canyon, we drove past the Sarloos, Larner, and Stolpman vineyards, before swinging right and heading up a dirt road. Park your car there, said Steve, and hop in. We piled into Steve's Durango and started climbing the hill. The view is long and beautiful from here. No small wonder that Steve has his house right in the middle of the vineyard.
The Purisima Mountain property is 365 acres, 125 of it planted to Rhône and Bordeaux varietals in 36 blocks of generally 2+ acres each. There are 6 clones of Syrah on a variety of rootstalks which occupy many of the higher elevations (300'-500+'). The Grenache Noir is all Tablas clone, as is the Grenache Blanc and Roussanne. Steve pointed out that the soils here were a combination of clay loam and linne soil on a sub soil of limestone - or, quite similar to Paso Robles. Rootstalk selections are determined by soil conditions, and he's using predominately 110R, along with a few others. When they planted, the Beckmens decided to preserve the natural contours of the hills. And although Steve has dabbled a bit in biodynamic farming, it's his interest in sustainable practices that really keep this vineyard in its mostly 'natural' condition.

Purisima Mountain Vineyard
We traipsed around Purisima Mountain, discussing the different varieties he's planted. The Grenache from here has always been very sumptuous, and I recalled that Grenache in general, and especially the Tablas clone, was considered to be very prolific. I asked Steve how much fruit he had to drop. He said that as it has gotten older, his Grenache is naturally pulling only about 1-1/2 ton/acre. That made sense, as I thought to myself how 'old vine' wines are usually made from reduced crops.
Steve's wine-growing and wine-making skills are largely self-taught - of course it probably didn't hurt that he was able to spend time with local vineyard guru Jeff Newton, and rub elbows with other forces in the Valley. Nevertheless, Steve's been able to create something very special here, due primarily to his own efforts. And, I expect as he continues to learn what works and what doesn't work in the vineyard - as well as in the winery, that we will see even better things from Beckmen in the future.
---
---
Copyright © 1993 - 2004, Eric Anderson -
All rights reserved
No original material may be reproduced without written consent
Mail & Comments - Eric Anderson