Vol. 11 No.5 - November '03

Central Coast

Vineyards & Wineries Visited -
Journal and tasting notes from visits to several California wineries and vineyards.
Part 1 of 3
Prologue -
I decided to travel around on this trip with Bob Summers (aka, BackroadBob to Internet denizens). His California wine traveling days pre-date my own. In fact, Bob's affinity to this fermented beverage we love so much pre-dates my own affliction as well. When we first discussed what we wanted to see and do on the trip, Bob was very flexible. We talked about all of the options, then I, of course, inflicted my final decisions on him! Bob's a real gentleman, with an even temperament, a razor-quick wit, and the ability to keep wine conversation (or any conversation for that matter) rolling along. This was a real help to me, since I'm also trying to take notes and photos along the way. As a bonus, Bob's also a foodie - a gourmet who likes to travel with all the goods to make himself at home on the road. This turned out to be a real asset for us, as Bob prepared sandwiches for several of our lunches, saving us the time to locate a deli or otherwise take time to find lunch.

When he's not wine touring, Bob and his family live in Walnut Creek, near the Bay area. Bob had left home early Sunday, spending the day in Paso, with plans to drive to Buellton the following day. On the other hand, I decided to leave very early Monday morning and make the drive directly to Buellton. We arrived in Buellton within five minutes of each other, a good omen for the rest of the trip.

Regarding the goals and planning that went into the itinerary for this trip, my original intention was to spend a couple of days constructing a pictorial essay of the Santa Rita Hills AVA, and another couple of days focussing on updates in Paso Robles. Also, since I hadn't had the opportunity to stop by Beckmen on a swing through the SYV last Spring, I wanted to include a visit with Steve Beckmen as well. Once that basic framework was established, I filled in the remaining time slots with other places and people I wanted to visit. Geographic continuity had a lot to do with organizing a trip like this. But, since that doesn't always work from a scheduling standpoint, flexibility is a must.

Peter Cargasacchi deserves a special mention here, as he was instrumental in making this an up close and personal look at the Sta. Rita Hills AVA. Peter led us around for nearly a day-and-a-half, and I am very grateful for his time, energy and enthusiasm. I'm also very grateful for his talent at growing grapes. Now, as to his winemaking prowess.... Well, let's just say Peter's out there, pushing the envelope! ;-)
Barrel Tasting: even though barrel tasting is one of the most instructive ways to sample wine, it is also something that causes more than a little angst among winemakers. The fact is that the wines being sampled from barrel haven't finished their infancy yet - they are still going through growth and development in the barrel, and haven't reached the point of bottling. Therefore, winemakers are often reluctant to expose their barrel samples to the public - concerned the wines may be misjudged or unappreciated by tasters during this growth stage. We were especially pleased that many winemakers gave us a glimpse of the '03 vintage, by offering us tasting samples of these wines, a mere 1-8 weeks after harvest. Finally, since the tasting notes in this report do contain many barrel samples, please note that my impressions relate only to the wine at its current stage of development.
You Are Here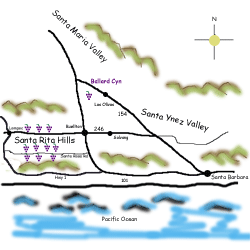 Santa Barbara County appellations are unique, as one of the few places on the west coast of North America with transverse (east-west) coastal valleys
Monday, November 10, 2003 - Santa Ynez Valley
No sooner had I arrived in Buellton, than I got a call from Peter Cargasacchi. He said that the morning fog was obscuring most of this morning's view of the SRH appellation - at least out toward Lompoc. And since tomorrow was supposed to start with Peter giving us a quick synopsis of the AVA from a particular vantage point, we ought to play tomorrow morning's meeting a little loose. The SRH fog burns off at various times, so we would adjust our meeting time as needed. Peter promised to call at 6:30am to let me know if the meet was "on." (Later on, while in the Beckmen tasting room, I received a call from Casa Cassara saying that their person couldn't meet us as planned for Wednesday morning. They did offer as how Peter could take us up to see the vineyard, since he'd been there before. This was fine with us. We were to see Peter at dinner this evening, so we could discuss the Casa Cassara visit, as well as tomorrow's schedule. I'd set up a visit to Sea Smoke for mid-day, and Peter had arranged an itinerary for the beginning and ending portions of tomorrow's activities.)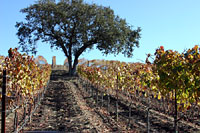 Our first stop of the day was Beckmen Vineyards. When Tom Beckmen moved his family to the Santa Ynez Valley in 1993, he wanted to get back to his roots. He'd already had a pioneering career in electronic music. But, he'd always wanted to return to the farming he recalled as a youth. He sold his business, the Roland Corp, and moved the family west. Buying the former Houtz winery and property in 1994, Tom inherited a less-than-perfect 16 acre Estate vineyard planted with Chardonnay, Cabernet, Merlot, and some Sauvignon Blanc. Red wines made here under the Houtz label had a distinctive vegetal quality, something on the order of asparagus meets green bean. But, Tom and his son Steve changed all that.
I first stopped by two years after Beckmen was founded, and tasted through the lineup of wines. That day, Steve Beckmen was doing the pouring in one of the barns that served as both winery and tasting room on the property. We tried all of the current wines at the time, and it our reaction was eye-opening. Wow, what a change. Gone was that vegetal quality - the Cab actually tasted like Cab - and tasted very good, to boot. I thanked Steve, and probably said something like keep up the good work (little did I know that self-motivation was his defining quality). After leaving the tasting room, I ran into Tom Beckmen relaxing out front. Complimenting him on his winery's efforts thus far, I congratulated him especially on eliminating the "green" quality that had plagued the previous wines from this property. Tom said that he felt that Houtz had probably always just picked the fruit a little too soon, and said that he found that a little longer hang-time, combined with some canopy maintenance vastly improved the crop. No question about it.
Selected Tasting Notes:
...from bottle...
2001 Beckmen Sauvignon Blanc - Estate. Nice notes of alfalfa and wheat accent the tropical fruit. Lots of mineral on the palate, with a very nice crispness, and long finish. Stainless steel fermented on the lees.
2001 Beckmen Sauvignon Blanc - Purisima Mtn. Lush nose and mouthfeel. Aside from being richer in the mouth, this also seems a bit more tropical than the Estate bottling, and the mineral notes continue throughout the very long finish.
2002 Beckmen Marsanne - Purisima Mtn. (Randall clone) Nose of citrus and tropical fruit, with a banana lifesaver scent. Full and rich on the palate, the neutral lets all of the fruit come through. 7 mos on lees, but not stirred, as Steve has found that Marsanne get funky with too much intervention. Yield 3/tns/acre.
2002 Beckmen Roussanne - Purisima Mtn. Nice golden color. Nose of wheat, citrus, and honey. Full and rich on the palate, with a nice white peach flavor, with lots of crispness to the very long finish. Some Marsanne and Grenache Blanc in the blend. Yield 1-1/2-2 tns/acre.
2002 Beckmen Purisima White - Purisima Mtn. A blend of 50% Roussanne, with equal amounts of Marsanne, and Grenache Blanc. Nice and easy drinking. Crisp mouthfeel, with flavors of pear and pineapple,and along tasty finish.
2001 Beckmen Cuvee Le Bec - Purisima Mtn. A knockout nose; very Southern Rhône in style, with nice rich berry scents, and somewhat gripping mouthfeel. Excellent balance and very long finish. They made about 3k cases of this delicious GSM blend.
2001 Beckmen Grenache - Purisima Mtn. Huge beautiful raspberry nose. Full and chewy on the palate, with a load of raspberry fruit and very long finish. The co-fermented Syrah seems to mellow out the tannins a bit.
2001 Beckmen Mourvedre - Purisima Mtn. Nose of roasted coffee some earthiness, and meat juices. Gripping mouthfeel, with a nice meaty taste, and a slight chocolate tinge on the long finish. This stuff is great!
2001 Beckmen Syrah - Estate. Lighter-toned nose of coffee, spice, licorice, and dark fruit. Excellent balance, smooth, with moderate complexity, and long finish. 4,000 cases.
2001 Beckmen Syrah - Purisima Mtn. Despite similar coloration of the Estate version, this one's much denser and more complex in the nose. Sweet, rich mouthfeel, very tasty with tons of chewy blackberry fruit, coffee and spice, excellent balance, and very long finish. 50% new oak. 600 cases.
2001 Beckmen Syrah Clone 1 - Purisima Mtn. Big complex nose of spiced black fruit, bacon, tarry licorice notes, and roasted coffee. Chewy, rich, and delicious, this one delivers tons of fruit from front to back palate, with smooth texture throughout, and very long finish.
...from barrel...
2002 Beckmen Grenache - Purisima Mtn. Whoa! Bursting at the seams with ripe raspberry and boysenberry fruit, coffee, and an interesting flowery component. Rich, with lots of power, fruit, and spice, and a very long finish. What a stunner!
2002 Beckmen Syrah - Estate. 1 yr old French Oak Barrel. Nose of bright blackberry and plum, with a light oak scent. Very tasty mouthfeel, with more red than black fruit, and a nice vanilla component. Quite tasty.
2002 Beckmen Syrah - Estate. 1 yr old Am. Oak Barrel. Nose of black and red fruit, with a huge coffee/espresso note. Somewhat rougher on the palate than the French Oak, with very good balance, and plenty of tannins.
2002 Beckmen Syrah Clone 1 - Purisima Mtn. Slightly reductive nose, with roasted coffee and bittersweet chocolate. Massive, yet smooth mouthfeel, dense black fruit, ripe and smooth long finish.
2003 Beckmen Syrah - Purisima Mtn. Loaded with toasted herb and espresso aromas. A bit rough on the palate, but obviously packed with fruit.
2003 Beckmen Syrah - Purisima Mtn, Block 6. Fabulous nose of black fruit, bacon, brown sugar, coffee, and bittersweet chocolate. Sweet and succulent on the palate, with excellent balance and tasty long finish.
2003 Beckmen Cabernet - Purisima Mtn. Nose of cassis and toast, with a fleshy macerated quality. Very tasty mouthfeel, seems packed with fruit, with excellent balance, and very long finish. Has a small % of Merlot and Syrah.
The Beckmens replanted most of the Cab, Merlot, and Sauvignon Blanc on the Estate blocks surrounding this winery. But, they also struck off in a new direction - Rhône varietals. In 1996, the Beckmens acquired an area in the Purisima Hills to the West, adjacent to the nearby Stolpman Vineyard. While the Estate property produces some very nice distinctive wines, the Purisima property is leagues ahead. They cultivated 125 acres of the 365-acre property above Ballard Canyon in the Santa Ynez Valley, and with consultant Jeff Newton's input, started planting vines. Here, the rolling hills and dramatic elevations (up to 1200') on the property allow hillside plantings on slopes ranging up to 25%. The rows are mostly north/south-facing, with tightly spaced vines and vertical trellising to keep the yields low. Planted to several different clones, the Purisima Mtn Vnyd is dedicated primarily to Rhône varieties, and winemaker Steve Beckmen has already produced some very noteworthy wines from this source.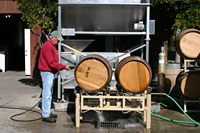 Tom Beckmen
As we pulled up to the winery, assistant winemaker Mikael Sigouin was busy with some bins out on the crush pad. He welcomed us, mentioning that Steve was waiting inside the tasting room. Local resident and Internet denizen, John Tomasso, was meeting us here, and had pulled up just before us. After some intros, we all went into the tasting room to see what trouble we could get into. Steve Beckmen was finishing up with his wine-club manager on some orders, and after re-introductions all around, Steve poured us through 11 of his current offerings. Unfortunately, John couldn't stay around for barrel tasting or our planned tour of Purisima Mountain Vineyard - he needed to get back to his day job.
Steve led us outside, and over to the winery/barrel room where he tasted us through five barrels of the '02 wines and two of the '03 wines. The '02s were fabulous, and we discussed the relative merits of the past three vintages. Steve said that '03 was a great year for his Syrah; yet more difficult for his Grenache. All the Purisima wines we tasted were great. Want to see the vineyard, Steve asked. You bet we did. We emerged from the winery to find Tom Beckmen hosing out some barrels. At this winery, everybody works - even the proprietor!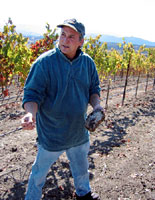 Steve Beckmen
We followed Steve over to Purisima Mountain Vineyard, on Ballard Canyon Road. Heading south on Ballard Canyon, we drove past the Sarloos, Larner, and Stolpman vineyards, before swinging right and heading up a dirt road. Park your car there, said Steve, and hop in. We piled into Steve's Durango and started climbing the hill. The view is long and beautiful from here. No small wonder that Steve has his house right in the middle of the vineyard.
The Purisima Mountain property is 365 acres, 125 of it planted to Rhône and Bordeaux varietals in 36 blocks of generally 2+ acres each. There are 6 clones of Syrah on a variety of rootstalks which occupy many of the higher elevations (300'-500+'). The Grenache Noir is all Tablas clone, as is the Grenache Blanc and Roussanne. Steve pointed out that the soils here were a combination of clay loam and linne soil on a sub soil of limestone - or, quite similar to Paso Robles. Rootstalk selections are determined by soil conditions, and he's using predominately 110R, along with a few others. When they planted, the Beckmens decided to preserve the natural contours of the hills. And although Steve has dabbled a bit in biodynamic farming, it's his interest in sustainable practices that really keep this vineyard in its mostly 'natural' condition.

Purisima Mountain Vineyard
We traipsed around Purisima Mountain, discussing the different varieties he's planted. The Grenache from here has always been very sumptuous, and I recalled that Grenache in general, and especially the Tablas clone, was considered to be very prolific. I asked Steve how much fruit he had to drop. He said that as it has gotten older, his Grenache is naturally pulling only about 1-1/2 ton/acre. That made sense, as I thought to myself how 'old vine' wines are usually made from reduced crops.
Steve's wine-growing and wine-making skills are largely self-taught - of course it probably didn't hurt that he was able to spend time with local vineyard guru Jeff Newton, and rub elbows with other forces in the Valley. Nevertheless, Steve's been able to create something very special here, due primarily to his own efforts.
Finishing up with Steve, we headed for our appointment with David and Helen Hardee of Carina Cellars. Unfortunately, we found ourselves running behind schedule, and by the time we arrived for lunch at the Los Olivos Cafe, we were at least a half-hour late. We apologized profusely to both David and his wife Helen for our tardiness. Sorry to say, being late meant we'd also missed Carina's winemaker Joey Tensley. Joey was to join us briefly, before leaving for a prior commitment.
Selected Tasting Notes:
...from bottle...
2000 Bernat Chardonnay - Marmorstein Vnyd. Ripe and minerally fruit, with a light oak component, and long finish. 85 cases.
2000 Bernat Syrah - Marmorstein Vnyd. Big extraction, off-sweet fruit, very chewy on the palate, long finish.
2002 Tensley Syrah - Colson Cyn. Intense black fruit, with lots of chocolate and a touch of licorice. Smooth and jammy mouthfeel, long finish. Seemingly wants a knife and fork on its own, but pairs well with food.
2002 Carina Cellars Iconoclast - Napa Cab (65%), Colson Cyn Syrah (35%). Although the bright berry Syrah shines through in the nose, there's no mistaking the Cab in this blend. Amazingly rich and smooth on the palate, tasty throughout, and very hard to keep your hands off.
...from barrel...
2003 Carina Cellars Viognier - (a blend of 3 vnyds:Stolpman, Rodney's, Rothberg). Crisp and delicious, with just the right amount of ripeness and viscosity. Nice honeysuckle/jasmine nose with light minerally notes, with flavors of peach and honey.
2003 Carina Cellars Viognier - Stolpman. Massive notes of honeysuckle in the nose. Rich and ripe, with lots of mineral qualities on the palate.
2002 Carina Cellars Syrah/Viognier. Lots of sweet black fruit, with hints of herb, licorice and spice. Very big, yet very smooth on the palate. A co-fermented blend of 7% Viognier.
2003 Carina Cellars Syrah/Viognier. Dense sweet nose of dark fruit, along with a light floral scent. Chunky and just a bit coarse, but packed with fruit. 9% Viognier.
2003 Carina Cellars Syrah - Colson Cyn. Nose of dark fruit, lots of spice, touch of licorice. Thick and jammy on the palate, excellent balance, long finish.
2003 Carina Cellars Syrah - Westerly Vnyd. Stunning nose of dark fruit, toasted nuts, herbs, and cake spice. Ripe and rich on the palate, thick and chewy.
2003 Carina Cellars Syrah - Harrison Vnyd. Dense and dark, with slightly brighter fruit than the others; somewhat more high-toned. 1st crop from this vineyard on Ballard Cyn Rd..
2003 Carina Cellars Syrah - Westerly & Harrison Vnyd. Best of both worlds, this Syrah combines the other-worldly nose of the hotter Westerly Vnyd, with the slightly cooler high-toned
2003 Carina Cellars Syrah - Watch Hill Vnyd. Dark color. Ripe dark cherry nose. Warm sweet mouthfeel, flavors of mostly black fruits and herbs. From a vineyard off Alisos Cyn.
2003 Carina Cellars Syrah - Camp 4 Vnyd. From new oak - interesting nose, with lots of roasted coffee and solid dark fruit aromas. Thick and chewy mouthfeel, but doesn't seem particularly giving in flavors right now. From a vineyard off Baseline, near Bridlewood Winery.
2003 Carina Cellars Syrah - Camp 4 Vnyd. From neutral oak - Nose of dark fruit, licorice, and sage. Thick and chewy mouthfeel, with very fruity flavors.
The founding of Carina Cellars was the classic wine-lover's dream - having your own winery. When David and Helen set out to create their dream, David decided on Joey Tensley immediately. David figured that with his own business acumen and Joey's winemaking talent, the two couldn't miss. Thus, the Carina Cellars name was born. Both David and Helen Hardee are transplanted Southerners who call Santa Barbara home. They apparently love to entertain, and in fact were both featured in the November issue of Bon Appétit, in a very nice Thanksgiving on the Grill article. Needless to say, the recommended wine to be served with the big meal was something from Carina Cellars.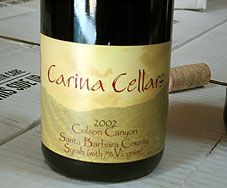 Prior to lunch, David introduced us to the cafe and wine shop owner, who also produces a small portion of Chardonnay and Syrah from his own small Marmorstein Vineyard (planted in '96) right here in Los Olivos. We had a fabulous mushroom risotto, which paired well with each of the wines: the '01 Carina Cellars Iconoclast and the '02 Tensley Colson Cyn Syrah. The Iconoclast is a particularly interesting wine, made from 65% Napa Cab (Rob't Craig) and 35% Syrah (Colson Cyn). We chatted with David about the decision to bring in Napa Cabernet for a "Napa" Cab bottling, as we as to use in one of his blended wines, Iconoclast. He felt that combining Napa Cab and SYV Syrah gave him the best of both worlds - something akin to the partnership of he and Joey. Although Helen was still nursing a painful broken foot, she and David were very gracious hosts.
After finishing lunch, we followed David over to Buellton, where Joey makes the Carina Cellars wines, along with a few other labels, including his own Tensley label. After tasting a few barrels of the Carina lineup, David and Helen had to leave for another appointment. But, they left us in the capable hands of assistant winemaker, Rodney, who was able to take us through several additional barrels. Finally, with the clock was still running, we needed to leave as well. We'd been a half-hour late to lunch, and this lost time continued to haunt us the rest of the day. One of the standouts, from my perspective, was the wine David referred to as the "7% solution." It's 93% Colson Cyn Syrah, co-fermented with 7% Viognier from Sanford & Benedict Vineyard. Production will be only about 1,000 cases for 2003.
Selected Tasting Notes:
...from barrel...
2003 White Hawk Chardonnay - Estate. Dijon76 clone. Nice fruity nose, with lots of smoky mineral notes. Excellent balance, nice and crisp on the palate, long fruity finish.
2003 White Hawk Chardonnay - Estate. Mt. Eden clone. Accenting more of the mineral notes than the Dijon clone, this wine also carried a little more off-sweet fruit, along with excellent balance, and crisp long finish.
2002 White Hawk Chardonnay - Estate. Davis 4 & 5 clones. This wine represented a further increase in mineral qualities over the other two Chards, as well as more slightly riper and burnished fruit, and some obvious ML butteriness. Nice stuff.
2003 Silver Viognier - Vogelzang. Tons of fruit in the nose and mouth, a bit tart throughout mid and latter palate, exhibiting more of a grapefruit quality to the fruit.
2002 Silver Pinot Noir - Lake Marie. new barrel. Lots of coffee and espresso aromas from the new wood here, that compliment the black cherry and light cinnamon notes. Very extracted in mouthfeel, with nice cherry and black cherry fruit and a touch of olive.
2002 Silver Pinot Noir - Julia's. older oak; Pommard clone - Still a fair amount of coffee aroma in the nose of this wine, along with lots of black cherry, spice, and a touch of stem. Ripe and rich on the palate, with off-sweet black cherry fruit, cinnamon, and a touch of cola.
2002 Silver Pinot Noir - Julia's. newer oak - Much heavier in coffee aromas than the sample from the older oak. This one also seemed rounder in the mouth and slightly stemmier than the previous sample. I preferred the flavor and mouthfeel of this wine over the previous one. But, I liked the nose better on the first wine. Since the final wine will be a blend of both barrels, I ought to be able to get my cake and eat it too!
2002 Silver Sangiovese - Tempesquet. Stunning nose of dried cherries and cranberries, spices, and toasted grains. Nice balance of acid and fruit, ripe and off-sweet, dusty tannins and long finish.
2002 Silver Mourvedre - Larner. Nose of roasted coffee, dark fruit, raw meat, and herbs. Full mouthfeel, plenty of chewy fruit. Really nice.
2002 Silver Syrah - Larner. Smoky nose of black fruit, light tarry qualities, and roasted meat. Excellent balance, delicious core of fruit, very long smooth finish.
2003 White Hawk Sangiovese - White Hawk. Big nose of macerated red fruit. Slightly sweet cherry compote flavor.
2002 White Hawk Syrah - White Hawk. Gorgeous nose of blackberry, floral and gamey aromas, and a touch of smoked or roast beef. Big and delicious on the palate, with smoky flavors and long finish. Hated to spit this out.
2002 White Hawk Syrah - White Hawk. wild yeast - Interesting contrast with the wine above. The indigenous yeast imparts a whole lot more licorice, rubber and asphalt to the wine's aromas. A little wilder on the palate as well, like freshly picked berries.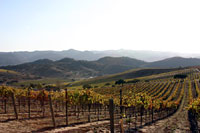 White Hawk Vnyd
From Buellton, we headed north on Hwy 101 to meet up with Benjamin Silver of Silver Wines, at the White Hawk Vineyard in Los Alamos. Just as we got onto 101, my cell phone beeped letting me know that someone had left a message. It was from Sidney Stone, saying that he had arrived in Buellton, and was interested in hooking up with us somewhere along the line for the rest of today's visits. So, we wheeled back around to grab Sidney and headed north again.
I first met Benjamin several years ago at one of the SB Futures Tastings held by the Wine Cask, in Santa Barbara. Benjamin was assistant winemaker at Zaca Mesa Winery at the time, and I was struck by the gorgeous Mourvedres he was making. He says he learned a great deal from Dan Gehrs while working at Zaca Mesa winery in the mid-'90s, and after leaving Zaca Mesa, Ben brought this talent to bear with his own project, Silver Wines.
We turned onto Cat Canyon and found Benjamin down the road and inside the gate at White Hawk. The White Hawk Vineyard is in the Santa Maria AVA, and Benjamin sources some of his fruit from here. In addition, Ben consults on the vineyard management, as well as making some wine for the owners, under the White Hawk label.
Ben climbed in and we drove around the vineyard while he explained what changes he'd suggested and implemented. From the sound of it, this vineyard was now onto bigger and better things. And, from some of the things we tasted later on, it appears the White Hawk name will become much more widely known. Working our way around the vineyard and back to the gate, we dropped Ben at his car, then followed him up to the Central Coast Wine Services facility in Santa Maria, near the airport. This is a huge warehouse setting where some 41 winemakers make about 300,000 cases of wine - mostly Central Coast. In addition to Silver and White Hawk, this is also home to such local labels as: Arcadian, Red Car, Clos Mimi, Bonaccorsi, Westerly, Lane Tanner, Kunin, Hartley & Ostini, and Costa del Oro.
Benjamin sampled us on thirteen barrels of his and White Hawk's '02 and '03 wines. He's a fastidious winemaker, striving for perfect balance in all of his wines. Although he seems to have the Rhone varieties of Mourvedre and Syrah dialed in, Benjamin also delivers the goods on some very nice Chards and Pinots, as well as a stunning Sangiovese. Benjamin uses lots of pump-over on both the Pinot and Syrah. Hey, maybe that's where this 'Cali Pinot tastes like Syrah' nonsense came from. Nope. But, Benjamin does seem just as talented with both varieties.
Selected Tasting Notes:
...from bottle...
1999 Arcadian Pinot Noir - Bien Nacido. Roasted meat scent to the dark fruit and light stem quality. Seems very young in mouthfeel, lots of extraction, excellent balance and very long finish. From a 2 tons/acre yield.
2000 Arcadian Pinot Noir - Pisoni. Nose of roasted coffee, herbs, and black cherry. Rich and full on the palate, delicious throughout, with a really nice meat drippings taste on the very long finish.
2001 Arcadian Pinot Noir - Garys'. Beautiful nose of black cherry and a spices. Sweet ripe fruit, full mouthfeel, very long finish. I would describe this as the sleeker of the 4 Pinots we tasted, and probably the more accessible.
2001 Arcadian Pinot Noir - Fiddlestix. Effusive berry nose - more red than black fruit. Young and spicy on the palate, with ample fruit, plenty of acids and tannins still present, and a very long finish.
2001 Arcadian Pinot Noir Francesca Cuvee. A blend from the 4 vnyds above. A lovely meld of qualities from each vineyard, the wine seems to want to melt in your mouth, just before the acids prickle the sides of the tongue. Flavorful and delicious, this would be a real sleeper in the right blind tasting.
1999 Arcadian Chardonnay - Bien Nacido. 18 months in all new barrels. Stunning nose, with a roasted coffee aroma that seemed to pump up the fruit. Delicious tasting, excellent balance, big and chewy on the palate, crisp throughout the very long finish.
2000 Arcadian Chardonnay - Sleepy Hollow. A bit more citrusy in the nose and mouth than the Bien Nacido, this wine also seemed to carry more sweet fruit and toasty flavors. As good as the BN was, this was better.
1999 Arcadian Chardonnay - Sleepy Hollow. And, as good as the '00 Sleepy Hollow was, this was still better yet! Silky and smooth, this wine illustrates how lovely the flavors get with more bottle age. Wow!
1999 Arcadian Syrah - Garys'. The famous Robert O. Fleming bottling. This is sort of an inside joke, because Joe was seeking to honor someone with the name, only to have the name misunderstood as being something Irish - 'Rob't O'Fleming.' Smoky and meaty in the nose and mouth, there is amazing concentration of peppery blackberry flavors in the wine. Full, rich and tasty, with a very long smooth finish. From a 1 ton/acre yield.
After finishing up with Benjamin (oh sure, there were plenty more barrels to taste, but we were running late, remember), we walked the fifteen feet or so over to Joe Davis' bond at Arcadian. I first ran into the Arcadian label while at a SB Futures Tasting some years ago. The wine was great, and I wondered why I'd never heard of them before. I posted my notes, asking "who are these guys," and Joe wrote me an email, describing Arcadian and its focus.
Joe says a Clos de la Roche Grand Cru, Domaine Dujac, was his epiphany with the Pinot Noir grape. Joe became winemaker for Monterey County's Morgan winery in 1986, and then on to Bernardus in 1994. Founding Arcadian in 1996, Joe set out to create something special in California Pinot Noir. With Arcadian, Joe Davis wanted to adhere to traditional French methods of making his wines. The whole cluster hand-sorted fruit is placed in open-top fermenters, covered in dry ice to retard fermentation, and cold soaked for two days.
We talked a great deal about stem inclusion - the pros and the cons. The bottom line was that the stems have to be fully ripe, or you're imparting the wrong kind of flavors to the wine. (Interestingly, this became a focus of conversation for the following two days, as we sought to find out each winemaker's preferences, and why.) Overall, Joe uses anywhere from 40%-100% stems, and stays with authentic Burgundian methods, like foot treading, in making his Pinot. The wine finishes fermentation in mostly new Fançois Frères barrels, and stay in oak for upwards of 18 months, undergoing no racking. The Chards are aged 15 months on lees, and hand-stirred about every two weeks. By using constant winemaking methods, he creates wines whose only differences are the origins of their fruit.
Joe was magnanimous in pulling out nine Arcadian wines for us to taste through. We sat around in front of his small office inside the building, sipping and spitting, and talking and sipping, and sipping, and sipping and talking. After awhile, some of us gave up this wine-spitting business - we actually had to get out of our chairs (well, except for Bob - he carries large plastic cup for this reason) to dump these fantastic wines on the floor. I'll tell you, this is probably about as sacrilegious as it can get. How were the '02s, we asked Joe. They came in at 1/2 ton/acre, he replied. We all looked at each other. If this kind of extraction was what he could do with 2 tons/acre, we could scarcely imagine what 1/2 ton/acre would look like. In a departure from what we all perceive to be the 'normal' tasting order, Joe preferred that we sample his Chardonnay after the Pinot Noir. It made an impressive difference - almost as though the olfactory nerves were suddenly awakened.
Aside from the multitude of vineyard-specific Pinot Noirs he makes for his Arcadian label, Joe did just this one special Cuvee - the Francesca Cuvee, which is named for his daughter. He also bottles some wine for private labels as well. Great guy; fabulous wines!
Following our visits with Benjamin Silver and Joe Davis, we headed back to Buellton, where Peter Cargasacchi had made reservations for several people at the Hitching Post. Peter had arranged for us to have the back room off the bar - just one of the many advantages of winemaker "pull," I'm sure. In addition to Bob, Sidney and myself, joining us were: Peter and his wife Julia, Mike and Porsche Machado, Brian Loring, John Tomasso, and Bernie Roth. Seventeen wines; ten people. Now, those are good odds. In addition to the great stuff on the table ('96 Chave Hermitage, '98 Karl Lawrence Cab, '95 Longoria Blues Cuvee), we added the remnants of the Carina and Tensley wines from lunch, along with a few of Joe Davis' Arcadians. It was only 'Day 1' of our trip, and we were already livin' large!
---
---
Copyright © 1993 - 2004, Eric Anderson -
All rights reserved
No original material may be reproduced without written consent
Mail & Comments - Eric Anderson