Vol. 12 No.2 - May '04

Journal and tasting notes from visits to several California wineries and vineyards.
Part 1 of 2 -
Prologue -
The final destination of the trip was the 2004 Hospice du Rhône, (Friday and Saturday May 20th and 21st in Paso Robles), and I'd left a couple of days early to make some winery visits along the way - one of which was a stop in the Santa Rita Hills to see some vineyards, and/or taste some wine.
A special thanks to Peter Cargasacchi, and all of the other Santa Rita Hills winegrowers and winemakers for inviting us to come out and enjoy their wines in their natural surroundings - the vineyards. The day went amazingly smooth, and the ability to interact with growers and producers in an ideal venue made the day that much better.
Barrel Tasting: even though barrel tasting is one of the most instructive ways to sample wine, it is also something that causes more than a little angst among winemakers. The fact is that the wines being sampled from barrel haven't finished their infancy yet - they are still going through growth and development in the barrel, and haven't reached the point of bottling. Therefore, winemakers are often reluctant to expose their barrel samples to the public - concerned the wines may be misjudged or unappreciated by tasters during this growth stage. Since the tasting notes in this report contain many barrel samples, please note that my impressions relate only to the wine at its current stage of development.
Wednesday, May 19, 2004 - Santa Rita Hills
Some SRH Vineyard Locations
Last year at this time, about twenty-five wine geeks gathered at the Kahn winemaking facility in Buellton to sample some of the wines from the Santa Rita Hills - Santa Barbara's newest sub-appellation. Local winegrower Peter Cargasacchi had taken the lead in arranging the '03 event, by enlisting several other SRH winemakers and growers to pour their wares and talk with us about the Santa Rita Hills and their wines. Leaving Kahn, our little tour then stopped at Babcock to do some barrel sampling with Bryan Babcock, before heading over to Sea Smoke to taste with Kris Curran. Thus began what will probably become an annual pre-HdR event - a tour and tasting through the Santa Rita Hills. (The day went exceedingly well - so much so, that when Bob Summers and I toured more in depth through the AVA last November, we simply had to have Peter along for much of the ride.)
Sanford & Benedict Vineyard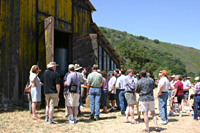 Assembling in front of the barn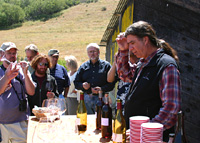 Rick Longoria pours a few Pinots
For 2004, Peter had planned a similar tour, except that everybody was to meet first at the Sanford & Benedict Vineyard for a barrel tasting of Pinot Noir from '03, then on to Sanford's La Rinconada winemaking facility for lunch and barrel tasting of '03 Chardonnay and some library wines, and finally onto Melville winery for a tasting of SRH current releases. As if he were booking talent for the Letterman Show, Peter had lined up some major players for this event, including: Richard Sanford and Bruno D'Alfonso from Sanford, Rick Longoria, Brian Loring, Victor Gallegos and Kris Curran from Sea Smoke, Norm Yost from Flying Goat, Ken Brown from Byron, Greg Brewer and Chad Melville from Melville, Ariel Lavie, Gray Hartley of Hartley-Ostini, and Peter Work. (I should mention that this was not a "sanctioned" event, and was not sponsored by any particular winery, or the SRH winegrowing association. Rather, Peter had organized his fellow growers to hold this event for the SRH fans on the westcoastwine.net forum.)
Selected Tasting Notes:
...barrel samples - from bottle...
2003 Lafond Pinot Noir. Clone 115. More about backbone and structure - less candied. Excellent balance and flavors. Nice finish.
2003 Lafond Pinot Noir. Clone 4. Bigger and more effusive in the nose that the 115, this one seemed to be firing on all cylinders. Nose and mouthfeel of perfumed dark cherry, and very good balance.
2003 Loring Pinot Noir - Cargasacchi. Dense fruit, with a faint sulpher note in the nose. Fabulous dark cherry fruit on the palate, touch of coffee through finish.
2003 Loring Pinot Noir - Clos Pepe. Another terrific offering from this vineyard. Excellent balance, chewy long finish. 1/3-667 clone, 2/3-115 clone.
2002 LaVie Pinot Noir - Sanford & Benedict/Fiddlestix. Cliche as it is to say - this was very Burgundian-like, with lots of forest floor additions to the cherryish fruit. Very good balance - I defy someone to declare this blind as CA Pinot.
2003 LaVie Pinot Noir. Lots of stem inclusion in this wine, and it shows. Stemmy (not in a bad way), with lots of forest, wet leaf and mushroom notes make this a very interesting wine to smell. Cherry, strawberry, light and dark mushroom. You could spend hours looking for new scents and flavors. Blend of 667 & 777 clones, and a bit of Gamay.
2003 Clos Pepe Pinot Noir. Clone 115, from new Trancais oak barrel. Killer stuff! Light toast on the big cherryish fruit, chewy mouthfeel, very long finish. Balanced for food.
2003 Clos Pepe Pinot Noir. No oak - stainless steel only. Wow! So this is what Pinot Noir smells and tastes like. Obviously pure fruit, nicely balanced, chewy mouthfeel and nice fruity finish.
2002 Sanford Pinot Noir - Estate. Co-fermented with small amount of Pino Grigio. Supple, with plenty of dark cherry fruit, and a nice crispness to the palate.
2003 Longoria Pinot Noir - Fe Ciega. Clones 5, 115, 667. Gorgeous nose of dark cherry, with supporting roles by sage, and lavender. Very accessible on the palate, marvelous balance and finish.
2003 Hitching Post Pinot Noir - Cargasacchi. Touch of herb/floral in the otherwise black cherry nose. Big and rich black cherry on the palate. Real nice!
2003 Hitching Post Pinot Noir - Fiddlestix. Fascinating cinnamon and lots of spice in both nose and mouth.
2003 Flying Goat Pinot Noir - Rio Vista. Very fruit driven - lots of strawberry and raspberry flavors, and excellent balance.
2003 Flying Goat Pinot Noir - Rancho Santa Rosa. Slightly deeper in texture than the RV above, more lush, with a touch of forest floor quality.
2003 Babcock Pinot Noir - Cargasacchi. Beautiful, almost the most Burgundian of the bunch - no doubt the oak is playing the hand here, but then I do like oak.
Although there were a few of our group who are fortunate enough to live in the area, most of the thirty or so attendees had come from out-of-town - in fact, some of them had already arrived in Paso and had headed south just for this unique tour of the Santa Rita Hills. We had arranged to meet in Buellton, then carpool over to the old Sanford winery located in the Sanford & Benedict vineyard.
Planted in 1971, the Sanford & Benedict Vineyard had an additional section planted about 6 yrs ago, and now encompasses 135 acres, planted to 68 acres of Mt. Eden clone Pinot Noir, 52 acres of Chardonnay, and 15 acres of other white varieties. Considered the "alpha vineyard" of the Santa Rita Hills - if not the Santa Ynez Valley, this particular site seemed like the most fitting place to start our tour.
Entering the vineyard off Santa Rosa Road, our caravan of cars drove slowly up the dusty road to the old barn that served as the first Sanford winery. It's a beautiful location, in a hillside bowl on north side of the Santa Rosa Hills, with a slight downhill view of the Sanford & Benedict Vineyard spread out just in front of us, and the Santa Rita Hills just beyond. It looked as though all the local winemakers and growers were already there, and as everyone piled out of the cars we were ready to go - it was showtime!
Peter and the gang at Sanford had set out a makeshift bar in front of the barn, and one after another, each winery or grower would step up and serve as "guest bartender," pouring their respective wines for us. Meanwhile, Peter and Wes Hagen would prompt folks to move along, lest the program start running late. It was all very casual - like we'd all known each other for some time. Newcomer, Ariel Lavie (winemaker at Rideau), poured a couple of interesting wines, including one that was a fascinating blend of 667 and 777 clone Pinot and ...Gamay!
With our barrel sampling finishing up, a quiet fell over the group as Richard Sanford thanked all of us for our obviously rabid interest in the area and its wines. It was a powerful moment - Richard Sanford standing in front of the eponymous Sanford & Benedict Vineyard, with the Santa Rita Hills as a backdrop. Funny how this sort of thing happens - it was just moments before that we were thanking Richard and all of his SRH cohorts for producing such fabulous wines, and for inviting us to join them. Clearly, this was a case of mutual admiration.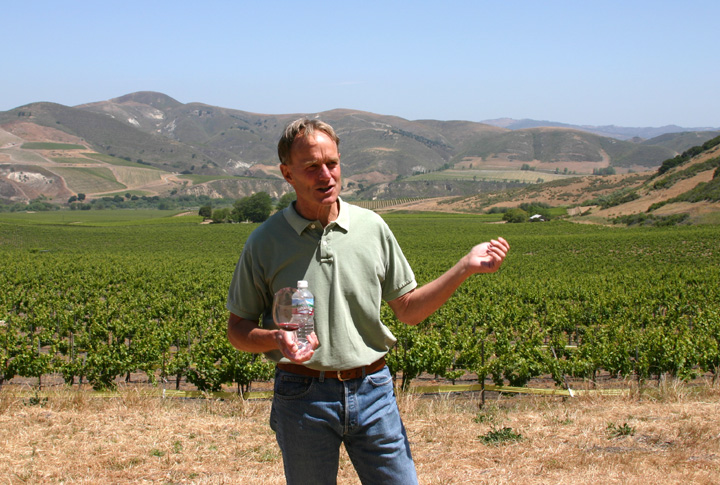 Richard Sanford explains the special qualities of the Sta. Rita Hills AVA
Richard described the early '70s in the area, and how upon returning from Viet-Nam he came to select this valley as his own Shangri-La, attempting to create a harmonious place with nature and man. And, he's certainly succeeded. Just looking at exterior of this rustic-appearing winery (probably still fully operational inside), or looking at the Sanford tasting room, one can see that his interest lies in erecting natural structures in their natural surroundings. In fact, when he designed the new winery facility, he wanted a place that actually seemed to belong outdoors. Our visit to La Rinconada would further illustrate that.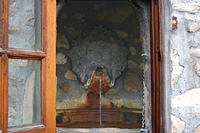 Artesian well - Sanford & Benedict Vnyd
Our next stop on the journey was a mile or so away - lunch and a tasting of some '03 barrel samples of Chardonnay at Sanford's La Rinconada winemaking facility. Most of us elected to walk the short distance through the vineyards and down the hill to the new facility. Along the way, we stopped near the junction of the Sanford & Benedict and La Rinconada vineyards. Here, an enclosure built around an artesian well feeds three vineyard cisterns. Inside the enclosure, water flowed from a mask of Dionysus attached to the back wall, and we were able to stick our wine glasses in for a drink of cool spring water. If only they'd arranged to have Chardonnay coming out of the mask - now, that would've been something. Planted in 1997, the 130 acre La Rinconada vineyard is planted to an even balance of Pinot Noir and Chardonnay at 60 acres each, plus 10 acres of Sauvignon Blanc. The Pinot mostly occupies the slopes, and the Chardonnay gets the flat lands. (You see, Chardonnay always looks up to Pinot Noir.)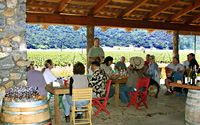 Patio area - Sanford's La Rinconada facility
The winery facility is open-air through all but the storage facilities. Building this facility had been on Richard's mental drawing board for over 20 years, and in keeping with his philosophy of using natural materials, over 100,000 hand-made-on-site adobe bricks were used in making the main walls, and providing a natural insulation for the interior. The higher ceilings utilize old growth timbers that were salvaged from a Washington sawmill, and only local stone was used for functional support or accent pieces throughout.
Arriving at the facility, everyone grabbed a wine stem and seated themselves out on the back patio overlooking the vineyard to the south. Peter had ordered box lunches for us, and we just sat around and relaxed, chatting and taking in the view. Conveniently, bottles of '98-'03 Chardonnay had been set out on the bar, and no one appeared shy about helping themsleves. There were many nice Chards set out, including an '01 & '02 Clos Pepe, but the magnum of '98 Longoria tasted especially nice.
The group co-mingled very well - which was easily understood, since we like wine, and they make wine. After lunch, most of us wandered around the facility for a brief period, checking out nifty things like the outdoor lavatories, and the elevators used for gravity-flow racking, before finally heading back to our cars at Sanford & Benedict Vineyard.
Selected Tasting Notes:
...from bottle...
2002 Longoria Pinot Noir - Sanford & Benedict. Somewhat dense in the nose and on the palate, with a nice spiciness throughout.
2002 Longoria Pinot Noir - Fe Ciega. The 1/3 new oak here adds a nice coffee scent to the dark fruit. Spicy, very well balanced mouthfeel. I like this vineyard!
2001 Sanford Pinot Noir - Sanford & Benedict. Nice ripeness to nose and mouth.
2001 Sanford Pinot Noir - La Rinconada. Immediately richer in nose and mouth than the S&B. Lots of black cherry, with a nice oak-induced coffee aroma. Somewhat more tart from mid to latter palate.
2002 Melville Pinot Noir - Terraces. Clone 115. Beautifully balanced, quite spicy in fruit and flavors, tasty long finish.
2002 Loring Pinot Noir - Clos Pepe. Huge chewy wine, with plenty of espresso aromas still lightly covering the dark cherry fruit.
1994 Hitching Post Pinot Noir - Sanford & Benedict. Plenty of bottle bouquet here, with attractive aromas of dried flowers, tobacco, and tea leaf to accompany the surprisingly vibrant bing cherry.
2002 Hitching Post Pinot Noir - Cargasacchi. Smoky, spicy, and big in both nose and mouth, with chewy long finish.
2002 Hitching Post Pinot Noir - Fiddlestix. Nice floral and herbed notes on the dark cherry fruit. Very well balanced and tasty.
2002 Foley Pinot Noir - Santa Rita Hills. Clone 667. Sinewy black cherry fruit, lots of dark spices, very tasty!
2002 Sea Smoke Botella Pinot Noir. Nose of black and bing cherry, nice palate weight and structure, and tasty throughout.
2002 Sea Smoke Southing Pinot Noir. Nice dark cherry in nose and mouth. Smooth and rich mouthfeel, light herb scents, long chewy finishwith a light chocolate flavor on the back end.
2002 Sea Smoke Ten Pinot Noir. Beautifully ripe black cherry fruit, with accents of smoke and leather. Seems big in structure, but also quite silky.
2002 Babcock Cuvee Pinot Noir - Cargasacchi/Estate. This equal blend of vineyards seems to have all the best of both worlds - plush, yet with the dark herbed notes.
2002 Siduri Pinot Noir - Cargasacchi.
2001 Lafond Pinot Noir - Lafond. Ripe nose, slightly tight/tart mouthfeel, very nice balance, still plenty of tannins left through finish.
2002 Clos Pepe Pinot Noir. Lots of red and black fruit, with a nice coffee/mocha scent throughout.
2002 Clos Pepe VS Pinot Noir. Big rich dark cherry/espresso nose, chewy mouthfeel, long finish. Denser and more structured than the regular bottling, the VS also has more new oak.
Leaving Sanford & Benedict Vineyard, we drove around the west perimeter of the appellation, and skirting by Lompoc, headed back east on Hwy 246 to Melville Vineyards. Peter's original idea of sending us on this route was to let people circumnavigate the Santa Rita Hills - to get an overall picture of the size of the AVA. It was an excellent idea, though something that probably would've worked a little better if everyone had been aboard a tour bus - with Peter pointing out vineyards and describing sights along the way.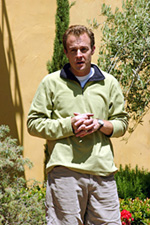 Greg Brewer, Melville and Brewer-Clifton
The visit to Melville would also complete our SRH tour, with yet another round of tastings - this time by sampling many of the current releases. On arriving, everyone congregated on the porch, while Melville winemaker, Greg Brewer, welcomed us and described his own enthusiasm for fruit from this area. In fact, Greg has made the commitment to produce wines exclusively from Santa Rita Hills fruit for his Brewer-Clifton label.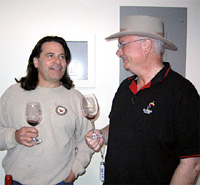 Bruno D'Alfonso, Sanford (l), and
Rod Schiffman
Melville had opened up their cellar room to us, setting up a station for each winery to pour their latest releases. No big deal, right? Well, these folks are fanatical about cleanliness, and having a bunch of people traipse through their winery isn't a natural thing. My hunch is that some winery people were in that very room cleaning the heck out of it after we left.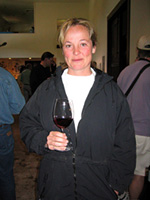 Kris Curran, Sea Smoke
Twelve wineries, either growing or producing wines from the area were represented. While I've tasted many of these wines previously, it's always instructive to see how they're coming along. Plus, this was the perfect opportunity to taste again through the Sea Smoke selections that had been previewed at March's Santa Barbara Futures tasting. Killer stuff!
One of the surprises was how nicely a '94 Hitching Post Sanford & Benedict Pinot was doing. Here was a 10 yr-old wine from 20 yr-old vines that just tasted great. Sadly, one of the producers, Peter Work from The Worx Cellars, had only brought two bottles - one of which was corked. By the time I got around to his table, it was too late. I also half expected to find some Syrahs at this point, but clearly that would have been an interloper in Pinotland.
The Melvilles had set out a very nice spread of breads, cheeses, and crackers, and even though we'd just had lunch, the cheeses were delicious. Everyone was having such a good time, it was really difficult to leave. Several of our group and a few locals were staying on for an Peter Cargasacchi-inspired offline at the Hitching Post. Most of the others were moving on to Paso Robles for a scheduled offline at Villa Creek restaurant. We'd signed up for the Villa Creek event, as there were due to be several online attendees I hadn't me before. Augie Hug had organized a group of 30+ people to take over the new VC back room. Ultimately, many of us would meet again tomorrow for tastings and tours of Alban, Bassetti Vineyard, and Tablas Creek - a trek through San Luis Obispo County.
---
---
Copyright © 1993 - 2004, Eric Anderson -
All rights reserved
No original material may be reproduced without written consent
Mail & Comments - Eric Anderson