Vol. 12 No.4 - September '04

Journal and tasting notes from visits to several California wineries and vineyards.
Part 1 of 2 -
I was scheduled to attend a preview session of the Paso Robles Wine University. This new program from the Paso Robles Vintners and Growers Association was designed to educate consumers on all the facets of wine - from growing through tasting. The preview was going to be held on a Thursday, conveniently allowing me to add a day before and after the PRWU for winery visits.
My plan was to cover Santa Barbara and points north on one of the days, and seek out some new wineries in the Paso area on the remaining day. David Chan had decided to join me for both Wednesday and Friday.
Barrel Tasting: even though barrel tasting is one of the most instructive ways to sample wine, it is also something that causes more than a little angst among winemakers. The fact is that the wines being sampled from barrel haven't finished their infancy yet - they are still going through growth and development in the barrel, and haven't reached the point of bottling. Therefore, winemakers are often reluctant to expose their barrel samples to the public - concerned the wines may be misjudged or unappreciated by tasters during this growth stage. Since the tasting notes in this report contain many barrel samples, please note that my impressions relate only to the wine at its current stage of development.
Wednesday, September 15, 2004 - Santa Rita Hills
David Chan and I had arranged to meet for breakfast in Buellton, before turning our attention to all things wine. Unfortunately, David called to say he was caught in L.A. traffic; he promised to give me a call when he got closer to Buellton. So, with time to kill, I headed out on Santa Rosa Road to see if I could capture some foggy photos - the famous SRH fog, out near Fiddlestix Vineyard. I did get a glimpse of some interesting effects, but nothing that photographed well. I also noticed pickers out in the vineyards, and from time to time, Fiddlestix was sending out a truck load of fruit to some lucky recipient. I didn't know it at the time, but it turned out that I'd probably witnessed a load of grapes headed for Arcadian up at the Central Coast Wine Services in Santa Maria.
Finally, with a 9:00 appointment at Gypsy Canyon, I put away the camera and beat a path back to Hwy 246. When you need to get to the other side of the appellation and you're standing (or sitting) at the site of Sanford & Benedict or Fiddlestix Vineyards, it's virtually a toss-up whether to head east or west on Santa Rosa Rd to get to your destination. This time I decided to go east back through Buellton, hoping to make up for lost time on Hwy 246.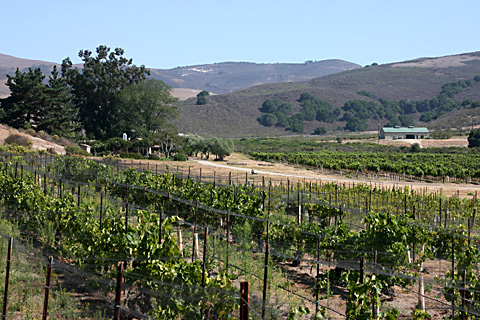 Gypsy Cyn, looking north: Mission vines in foreground; Pinot in background
My visit here had been on the books for a couple of months. I'd heard that one of the Santa Rita Hills wineries had some Mission vines planted in their vineyard - apparently propagated long ago by a local farmer using cuttings from the old Purisima Mission. I called Deborah Hall, the proprietress of Gypsy Canyon Winery, to set up a visit.
Arriving early in the morning, I pulled in through the gate, drove past some vineyards both to the right and left, then on up just beyond a house, near what appeared to be an old barn. What was that? I heard piano music coming from inside. I assumed Deborah must be inside, and uncharacteristically wandered in.
Once inside, I could see this wasn't merely a barn at all. The interior was bright and cheery, the walls were finished, and the place was decorated with lovely antiques. A fellow sat at a piano on the other side of the room - a piano tuner, I thought. Just then, a tall slender lady stepped out from the back room. Hello, you must be Eric, she said, and a couple of large dogs came to greet me. Yes I am, you must be Deborah Hall, I replied. Properly introduced, Deborah turned to the piano tuner, who was finishing up, and thanked him for coming out. The dogs seemed happy to see me - I was probably new meat. They weren't bothersome, but Deborah thought we'd get a little more peace if they were exiled outside. Deborah ushered them outside. But, after a little scratching and pawing it seemed apparent the dogs were used to having the run of the place, and in fact one of them was quite adept at opening the door from the outside. Neat trick.
Deborah and I sat down on a large sofa that seemed dwarfed by the room, and proceeded to chat about Mission grapes, Angelica, old bottles, quaint labels, and the Santa Rita Hills. Offering me a small pour of her Angelica, Deborah told me how this had been made from the estate fruit and fortified with brandy. Deborah was keen on idea of recreating Angelica's original appearance and packaging, going so far as to commission hand blown bottles from Mexico. She showed me a sample, and the bottle had an old Tequila look - almost decanter-like. The bee's wax capsule topped off the whole package, making it look like something from a bygone era. Mmmm, I said, tasting the wine. Somewhat sweet and a bit nutty - very similar to an older Tawny, with just a light twang of something... oh, citrusy.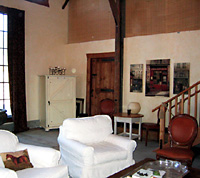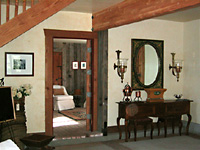 Deborah showed me several books documenting the Mission period, and spoke of origins of Angelica. I complimented her on the makeover of the barn. Deborah explained that this had actually been a old stable. However, after pouring a concrete floor, reinforcing the beams, finishing the walls, and adding some larger windows, the structure looked more like a ranch house. Deborah said she hopes to make the back room area into a working winery, or at least gain some barrel storage.
Deborah and her husband bought the 290 acre ranch in 1994, moving into the small 1800s farmhouse on the property. Sadly, her husband passed away in 1997, and Deborah made the difficult decision to stay on with her two children and farm the ranch. Although she'd planted additional acreage in 1998, she ultimately decided this was really more that she wanted to handle, selling 160 acres with 18 acres of vineyards to Jason Yardi, and keeping 130 acres, with 12 acres of vineyards for herself. It seemed like a sound decision at the time, and even more so today.
For some reason I'd assumed that Mission grapes was all Deborah was growing - not so. With Pinot Noir the most widely planted variety here in the Santa Rita Hills, Gypsy Canyon could be no exception - although the historical Mission variety does add a certain old world charm to the ranch and vineyards. There are 9 acres of Pinot Noir (777, 115) and Pinot Gris, along with 3 acres of Mission vines (which may have been planted around 1897). Norm Yost (Fying Goat) is making the Pinot Noir in Lompoc, and will be looking into co-fermenting some of the lots with the Pinot Gris. Norm is also making the Angelica, effective with the '03 vintage, and he and Deborah want to make a dry red from the Mission grapes as well - provided they can get it to 24 brix.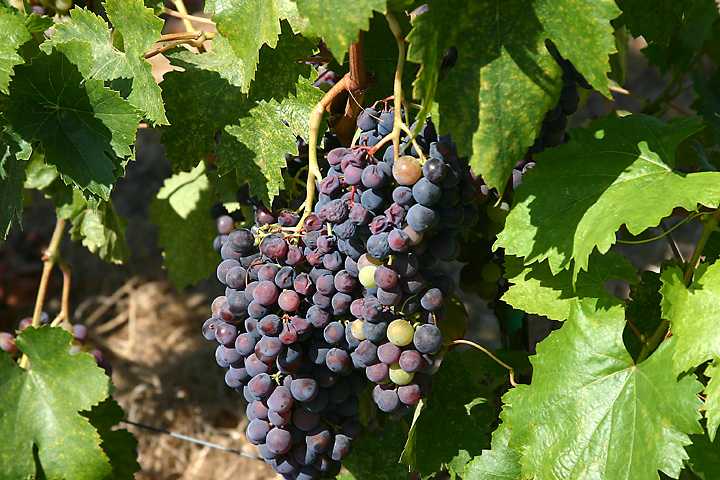 Cluster of Mission grapes
The Mission grape has an interesting history here in California. Apparently, in the late 1800s, there were as many as 4,000 acres of Mission in Napa Valley alone. Considering there are only 1,000 acres left in all of California, Gypsy Canyon, despite the relatively small acreage, could figure prominently in its rebirth - or at least its continued future.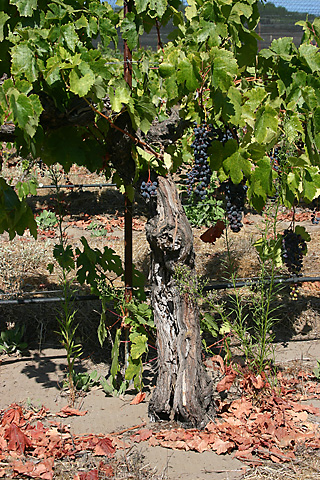 The genetic origins of the "Mission" grape are less than clear - though the grape has a lot in common with Monica or Criolla. Similar varities are planted in South America (Criolla in Argentina, and Pais in Chile), probably brought there from Spain by Jesuit missionaries. It's also quite possible that this first foothold in the New World contributed to the grape's presence in California, via Mexico. In the late 1700s, with a need for sacramental wine and no indigenous grapes, the Franciscan monks frequently planted vines adjacent or nearby each of its early California missions. The origin of Gypsy Canyon's particular vines appear to be of the Pais variety, from what Deborah has been able to learn.
Could we take a walk out to the vineyards, I asked, I'd like to get some photos of the Mission vines. Sure, Deborah replied. What time do you have to leave - you could follow me out there. We got into our cars and drove back out toward the gate. There on the right at the bend in the road was the vineyard of Mission grapes. It was also fully netted, with netting stretched over the top of each row. Getting out of our cars, we wandered up a few rows, and I stared at some the clusters of fruit hanging from the vines. I'd seen Mission vines before - up in the Sierras. But, it was Fall at the time, so the vines had no fruit. But, these were very large clusters with larger-than-usual berries, and some of the grapes appeared to be at various stages of ripeness.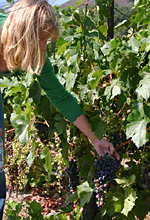 Deborah Hall
We crouched under some netting, moving over to the vines in a stooped-walking position. The "walk this way" scene from Young Frankenstein flashed through my head. I snapped a few of shots - just then my phone rang. It was David, asking whether he ought to come out to Gypsy Canyon or just meet me at Peter Work's - our next stop. Remembering that Gypsy Canyon is still a few miles in from the highway, I proposed we meet closer to Peter Work's place - how about at the corner of 246 and Mail Road in about 20 minutes, I suggested. Fine, he said. I continued crouch-walking about, stopping at times to shoot a picture or retreive my cap, which seemed to be forever catching in our see-through ceiling.
Stepping out from under the protective netting, Deborah and I walked the perimeter of the vineyard, stopping a one point to take a distant look at the parcel she sold to Jason Yardi. From here, we could also see Rozak Ranch, a vineyard adjacent to the Yardi property. I watched as the dogs roamed through a large area of poison oak. Doesn't the poison oak bother them, I asked. No, not really. I was still curious - but you have to be careful about petting them afterward, right? Well, yes. As we continued on down the other side of the vineyard, we come upon an older section of Mission vines. There were some beautiful old vines here.
Glancing at my watch, I could see it was time to meet David and get to the next stop. Wine touring presents a real paradox. On one hand you feel quite content to stay in whatever vineyard you happen to be standing in. Yet on the other hand, you're eager to push on to see what's around the corner. I thanked Deborah for tour and the Angelica. Gypsy Canyon has something unique in its Mission vines. Thankfully, Deborah instinctively wants to preserve it for all of us.
Wine@Work - Worx Vineyards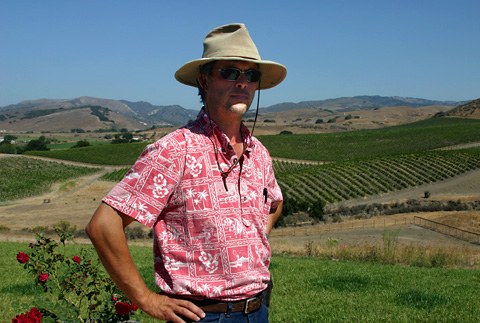 Peter Work
Departing Gypsy Canyon, I drove the few miles back out to Hwy 246, and then headed east to the intersection with Mail Road. I found David, patiently waiting in his car by the side of the road. I pulled up momentarily and dropped the window. Follow me, I said, and left in a cloud of dust. Up Mail Road and made a quick left to Santos. As I approached the gate, I could see a house on top of a hill. I also noticed something that struck me as a bit unusual - probably a 1/2 mile ribbon of concrete leading all the way up the hill and disappearing on the other side. Wow, I thought, this has to be the longest concrete driveway in the appellation - if not the county! Finally getting to the top, I could take in the tremendous view!
As we pulled our cars up into the circular drive in front of the house, Peter Work's dogs approached the cars to welcome us. Dogs bother you guys, he asked. Naw. Peter welcomed us to his ranch, and the grower part of his Wine@Work project, and Worx Vineyards label. Come on, I'll give you a quick eye-view tour of the surroundings. We walked around to back of the relatively new house - built 2-1/2 yrs ago. From here, we had nearly a 360 degree view of the surrounding countryside. Over to the east, I noticed a vineyard that looked somehow different. We'd come back to that later.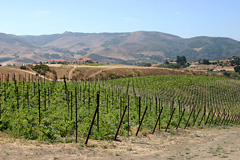 Work Vnyd, looking south: Syrah in foreground
How about a drive around the property, Peter asked. Love to, we replied. We climbed into his truck, and Peter drove us around the each of vineyard blocks on his property, stopping at various palces along the route. I have some Danish guys who are interning here, he said. They may join us for lunch. Interning - that sounds cool - for the both of you, I said. Yeah, it's nice to have the help, he replied.
Originally from Denmark, Peter came up to the valley with his wife Rebecca in 2000 - refugees from the Los Angeles IT industry looking for a little piece of heaven. They fell in love with the location of this 82 acre property, located toward the eastern end of the AVA, tucked into a natural break occuring in the intervening Santa Rita Hills. The couple immediately considered the idea of planting a vineyard.
As it turns out, the driveway was already there at the time of purchase, along with a well and lots of PVC pipe. The couple planted Pinot and Syrah in 2001. About 2/3 of the vineyards are planted to Pinot Noir (with 4% Pinot Gris interspersed), and 1/3 planted to Syrah, on 7x3 spacing - all farmed by Jeff Newton. Their technological background has had an influence, however. They use multiple sensors for following such things as wind, humidity, and sun radiation, all communicating wirelessly with Petere's computer. Rebecca's son, Don, has worked around the valley for several years and helps them with their vineyard and the winemaking.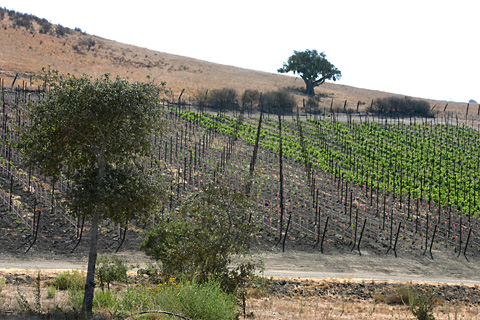 Work Vnyd: The Brewer-Clifton block of Pinot Noir, Clone 828.
Different rootstalks account for the difference in leaf and growth rate
As we pulled back up to the house, Peter pointed out the vineyard I'd spotted earlier. This 1.8 acre vineyard is a joint venture with Brewer-Clifton, he said. Really - that's interesting, tell me more. Well, Peter said, it's planted to Clone 828, on two different rootstalks, at 9x4 spacing, with 2% Pinot Gris interspersed in the vineyard. I've never heard of 828 - sounds more like a Porsche, I said with a grin. Yep, it's new - not very much of it around, he said.
I notice there is a difference in leaf growth between the left and right sections of the block - why is that, I asked. Oh, that's the different rootstalks, Peter said. I was trying to take all of this in. So, how's this joint venture work, I asked. Well, we own the land, Brewer-Clifton planted and owns the fruit, and will produce a "Work Vineyard" Pinot Noir from this block.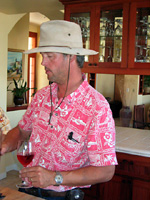 How about something to eat, asked Peter, as we walked back up to the house. Sure, you bet. Peter broke out sliced meats, cheeses, breads and condiments to accompany his Rose and we had a great lunch, sitting there on the patio overlooking the vineyard. The Rose was big and juicy, and we were settling in - getting nice and comfy. With a wry grin, I told him how unusual I thought it was to find a Danish guy up this way...waiting for the Solvang connection to kick in. He laughed - yeah, sure, you bet, he said. It sounded as though he and his wife have very much enjoyed the friendship of all of the other wine people in the Santa Rita Hills - inlcuding Bruno D'Alfonso (Sanford) and Kris Curran (Sea Smoke). In fact, Peter sells fruit to Bruno for his Badge lablel, and to Chad Melville for his Samsara label, and also to Ken Brown (Byron). The Worx recent releases have been from non-Estate fruit, a 2002 Fiddlestix Pinot Noir, and a 2002 SBC Syrah, both under the Worx label.
We'd love to have stayed, but the clock was ticking and it was getting time to move along. I had an appointment with Brian Talley at 1:30 in Arroyo Grande and really needed to hit the road. Since David also needed to pick up some Clos Pepe orders, we decided he'd meet me later on at Talley. I really wish you had time to go over to the winery and taste some of the wines from barrel, said Peter. So did we, I assured him. I'll likely be back up this way soon, and give you a call ahead of time, I promised.
Once on the road, I got a call from Barry Rossum. Barry was working crush for Arcadian at the Central Coast Wine Services (CCWS) in Santa Maria, and had invited us to join Joe Davis for some barrel tasting later in the afternoon. However, he was calling to let me know that they'd just received 6 tons of fruit from Fiddlestix Vineyard, and would likely be tied up sorting and crushing fruit. So, that's where those grapes were going, I thought to myself. Barry mentioned that we were still welcome to come by, but there probably wouldn't be much of an opportunity to barrel taste. Okay, I reassured myself, maybe we wouldn't need to be in such hurry to get back to Santa Maria after the Talley visit.
Central Coast - Arroyo Grande, Santa Maria
I'd been working for awhile with Dan Fredman to arrange a visit with Brian Talley of Talley Vineyards. Finally, our schedules coincided and Brian and I were all set. Talley Vineyards is located in the Arroyo Grande Valley, just south of Edna Valley, and about 8 miles inland from the ocean, or basically between the hills and Pismo Beach on the coast. The valley here runs northeast to southwest, allowing it to receive a direct coastal influence.
Talley Family Farms has been in the area since 1948, when Brian Talley's grandfather, Oliver, was farming peppers and zucchini. Talley's estate winery was completed in 1991, and the old Rincon adobe (the vineyard namesake) aerved as the original tasting room for Talley. The first Talley vintage was 1986, with 450 cases. Annual production is now at 14,000 cases.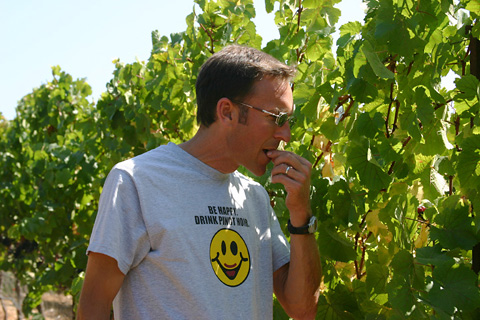 Brian Talley, sampling Pinot from Rosemary's Vnyd
Of the total 160 acres, many of the vineyards were planted in 1984. The Pinot vines are primarily clone 2A (aka, the Wadenswil selection) and 115, along with some 667 and 777 (which seem to not do as well in direct sunlight). Rincon is planted primarily to Pinot and Chardonnay, with a small amount of Riesling and Sauvignon Blanc, and even lesser amounts of Cabernet Franc and Semilion. Rosemary's was originally planted only to Chardonnay, but 17 acres was later regrafted to Pinot Noir - on 420A rootstalk, for its low vigor. The remining vineyards, Oliver's (17-acres - all Chardonnay), and Stone Corral (28-acres - all Pinot Noir) vineyards are both located in the Edna Valley AVA. The Stone Corral Vineyard is a joint venture between Talley, Stephen Ross Wines, and the Kynsi winery.
Arriving at 1:30, I wandered into Talley's gorgeous tasting room, introduced myself and asked for Brian Talley. Minutes later, Brian came over from his office and after we chatted briefly, he asked, well, what would you like to see. (I knew exactly what I wanted to see.) I'd really like to see Rincon and Rosemary's, I replied, without skipping a beat. Well, let's do it, he said. Leaving the tasting room, we got into his 4x4 and headed up into the east Rincon Vineyard. Climbing the tall hill we circled around to the west and stopped. From here, we could see the west Rincon vineyard, and further out on the horizon, the ocean (well, if it hadn't been fogged-in with a marine layer).

West Rincon Vineyard
From here, Brian drove us over to the 28-acre Rosemary's Vineyard, about a mile down the road to the west. While the Rincon vineyard is primarily loam and calcareous clay, Rosemary's is loam with lots of sandstone rocks. In fact, as we stood there, Alban's Seymour's Vineyard (another famous rock-laden vineyard) was clearly visible up on a hill to the north. The rocks, for all their appearance, are quite light in weight and drain moisture well. .
Selected Tasting Notes:
...from barrel...
2003 Talley Pinot Noir - West Rincon. Clones 667, 777, 115. Pretty nose, with lots of zip on the palate. This particular barrel is destined for the Estate Pinot.
2003 Talley Pinot Noir - West Rincon. Clone 2A. Wow, here was a big fruit bomb. Packed with effusive dark cherry, and a nice sweet mouthfeel.
2003 Talley Pinot Noir - West Rincon. Clone 2A, 100% whole cluster fermentation. Plenty of framework here to build on. Lots of dark cherry, cinnamon, and a light sweet resiny backnote.
2003 Talley Pinot Noir - East Rincon. Block T. 100% destemmed. Largely floral nose, with just a touch of limestone and citrus. Smooth texture, long finish.
2003 Talley Pinot Noir - Rosemary's. Blocks 9 & 10. Pommard & 115 clones. Amazing balance here, with lots of dark cherry throughout.
2003 Talley Pinot Noir - Rosemary's. Block 5. Clone 2A, regrafted on Chardonnay rootstalk in '93. This was wearing a beautiful espresso-scented coat over its dark cherry frame. Love those Frères barrels.
...from bottle...
2003 Talley Sauvignon Blanc - Estate. From 20 yr-old vines in the West Rincon vnyd. About 17% Semillon. nice notes of lemon and lime, with a very light toast. Crisp, excellent balance.
2002 Talley Chardonnay - Estate. Blend of fruit from both vnyds - but primarily from Rincon. Fascinating nose of pineapple, melon and bacon! (Made me want a Hawaiian pizza.) Chewy, lots of flavorful fruit, very nice oak treatment.
2003 Talley Reisling - Estate. Mostly floral nose, with apricot, peach and pineapple scents. Very light residual sugar (.7), crisp balance, slight tang to finish.
2002 Talley Pinot Noir - Estate. Blend of fruit from both vnyds - but primarily from Rincon. Lots of fruit here, but the flabby structure is a bit wanting. Maybe some decanting needed, or possibly this was the second day on the bottle.
2001 Bishop's Peak Cabernet Sauvignon - Paso Robles. A light menthol or eucalyptus adds interest to the cassis fruit. Ripe, without being overripe in flavor, with a nice finish.
2002 Bishop's Peak Syra - Edna Valley. Well balanced and meaty in texture, very nice, and not at all overblown.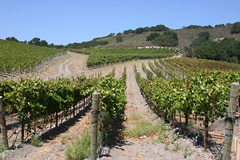 Rosemary's Vineyard
Back at the winery, Brian asked if I'd like to sample some barrels. Sure, you might be able to twist my arm, I replied with a grin. And, into the barrels we went. Brian pulled numerous samples, and I was able to try this and that. I was a little surprised to learn that Brian is not the winemaker - and never has been. Steve Rasmussen has always made the Talley wines. I met Steve at last year's bottling extravaganza at Garretson. Yes, he's moonlighted for some years now with the bottling gig, sort of a "have bottle - will travel" operation. (Shortly after this visit, I learned that Steve is leaving his winemaking job at Talley to pursue his own sidelines. His talent was obvious, and I hope Brian is able to find someone with similar talents to take over the winemaking reins.)
Brian and I discussed winemaking methods, and I asked if Talley Vineyards destemmed everything, or if they practiced some stem inclusion. After reflecting for a moment, Brian said that before 1995, they used about 25% stem inlcusion, but that from 1995-2000 everything was destemmed. Now, however, he says they've moved back to stem inclusion, and are currently using 100% whole cluster fermentation. Talley also prefers to use only Fançois Frères cooperage, and it's a bit special at that. Talley orders barrels made from 3-yr old dried oak, instead of two year old. We also talked about the Bishop's Peak line, another label produced by Talley. Brian explained that these wines were primarily made from purchased fruit, along with a bit of declassified Talley fruit.
As Brian and I tasted through several barrels, I was beginning to wonder what was keeping David - he was missing some great stuff here. Just then Brian's phone rang. It was the office, and David was there, able to join us for the last of the barrel tasting. We'd held an extra glass for David, and pulled a little from the last barrel, meeting him just as we were stepping out of the winery.
Brian needed to keep a prior appointment, so we moved back into the tasting room to try some finished wines, and he turned us over the capable hands of the tasting room staff. What can I pour you? Everything, we replied, with big wide grins. But we narrowed ourselves down to tasting through most of the lineup. I told David about the earlier call from Barry, and how we probably wouldn't be doing any barrel tasting. So, we talked about dinner options, decided to pay Joe and Barry visit anyway, and then grab some dinner at Jocko's in Nipomo. Well, fate was to intercede. The best laid plans....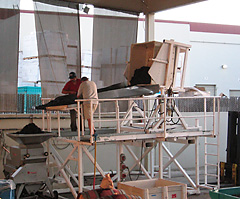 Table Sorting some Fiddlestix Pinot Noir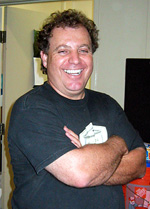 Joe Davis
Leaving the Edna Valley, we dropped David's car off in SLO - where he was staying, and headed south to Santa Maria to Arcadian at the Central Coast Wine Services. About 72 winemakers use the CCWS as their winery. It's a huge facility, located near the Santa Maria airport. As we rounded the corner of the building, I spied Barry. Apparently, fruit was going to be delivered at any moment, and Barry was cleaning the crush pad, and equipment to get ready for it. We said hi, and wandered into the cavernous CCWS facility. Hi Joe, we called out to Joe Davis. We looked around here and there, while lots of people moved about. I was afraid people would sneer at us for not having purple splashes on our clothing, or ask us to get out of their way. But nope, no one gave us any "looks" or attitude. Could've been the Grape-Nutz ballcaps.
Selected Tasting Notes:
...from bottle...
2001 Arcadian Chardonnay - Sleepy Hollow. Smooth and creamy texture, with beautiful balance, lots of tropical, apple pie crust, and pear scents and flavors. Delicious now; bound to get better.
2001 Arcadian Pinot Noir - Gold Coast. This was just beautiful, and had a touch of everything - cherry, strawberry, cinnamon, light floral notes. Smooth and silky on the palate, with a perfect balance. Joe was right - this one was singing!
2002 Arcadian Pinot Noir - Fiddlestix. Ever so slightly closed in aromatics, but lurking down there was bing cherry, wild strawberry, earth, vanilla and a touch of clover. Firm on the palate, yielding to a nice smoothness even as it picks up weight through it's long finish.
2001 Arcadian Pinot Noir - Lafond. Hadn't tried this bottling before. Nice black cherry nose, with a touch of toast or hops in the background. A bit primary initially on the palate, smooth mouthfeel, but you get the impression that there's more to give - just not yet.
2002 Arcadian Pinot Noir Francesca Cuvee. This blend of vnyds succeeds in picking up many of the nuances of the designated bottlings. Lots of red and black fruit, with a very nice mid palate, and slightly soft finish.
1997 Arcadian Pinot Noir - Pisoni. Beautifully knit flavors and textures here, with an herbed black cherry quality that really stood out. Not nearly done evolving, this is more like a 5-yr old Ferrari - just broken-in.
2001 Arcadian Pinot Noir - Pisoni. Espresso, wild cherry, and a touch of stone come through in the nose. Big, rich and full on the palate, with a really nice tamarind background note on the long finish.

2001 Pisoni Pinot Noir - Pisoni. Initially very big in mouthfeel, the wine seems surprisingly plush on the palate rather quickly. Loaded with dark cherry, spices and an herbed background, the finish is long and full.
After poking around the place for awhile, we could see that if we weren't going to become part of the solution (helping), we might become part of the problem (getting in the way), and decided to hit the road for Jocko's. On the way out, we waved to Joe, who was standing over by his small office. So long Joe, we said. Hey, don't you want to try some wine, he asked, looking puzzled that we were leaving. Uhhh, well sure we would, we said, certainly not wanting to disappoint Joe. He had a couple of bottles opened, glasses out, cheese on the board...all systems go! Got a little Chardonnay here, and a Pinot too. Geez, Joe, that's very nice of you - we're not even working your harvest, I said - not quite wanting to turn it on enough to get pressed into service.
I covered much of Arcadian's philosophy at making Pinot in November '03's edition. But to recap, Joe says that he likes to pick earlier than most other Pinot producers, hand sorts, and uses anywhere from 40%-100% stems. The whole cluster fruit is placed in open-top fermenters, covered in dry ice to retard fermentation, and cold soaked for two days. He stays with authentic Burgundian methods, like foot treading (pigeage), in making his Pinot, and the wine finishes fermentation in mostly new Fançois Frères barrels, staying in oak for upwards of 18 months, and undergoing no racking. The Chardonnays are aged 15 months on lees, and hand-stirred about every two weeks. By using consistent winemaking methods, Joe is able to create wines whose only differences are the sources of their fruit.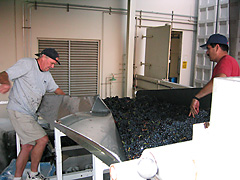 Barry Rossum (l) and Arcadian's cellarmaster
Julio Espinosa hand sort Fiddlestix fruit
We tried a few sips of the delicious SLH Chardonnay, and then a Gold Coast Pinot. Although Joe always says, "toss it over there - anywhere," it seems counter-intuitive to both me and my palate. Savoring these wines is always a pleasure, and I find it difficult to toss or spit anything while tasting at Arcadian - for a couple of reasons. One, it's so damned good, and two, there aren't any drains in this part of the facility.
After awhile, Barry came in from slaving out on the pad, and grabbed a glass and a pour. What the heck, we all thought, let's set down a few chairs and take a break. I was only planning on having a couple of sips and then scooting for Jocko's - a quazi-biker-bar-steak-place that I've obviously never been to before.
Joe mentioned that his '01 Gold Coast was really singing right now. Getting up to look for a bottle, he returned successfully. We chatted about the Fiddlestix fruit that had just been trucked in. He loved these grapes, and when Kathy Joseph offered him an additional block, he was eager to have it. Holding a vineyard map, Joe pointed to the additional blocks he'd picked up. They're expensive, but the fruit is so great, I couldn't turn it down, he said. Definitely so, we agreed, and mentioned that Peter Work had been purchasing Fiddlestix fruit, while waiting for his own vineyard to come on line.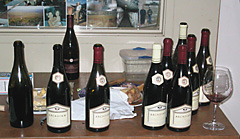 The Remains of the Day
Meanwhile, Joe pulled one bottle out, and then another, as we tried several of his Pinots. It was now after 8:00pm, and we figured we ought to get going if we were going to grab a late meal and get on the road. David was staying with relatives in SLO, but I still needed to get to my motel in Paso. How about something to eat, said Joe. We always order from this burrito place in town - they're great, and you're welcome to join us, said Joe. Burritos and Pinot - yeah, we could do that, I said. So, taking a break, Joe phoned in an order (they deliver!), and Dave wandered off to stretch his legs a bit. He came back with a funny look on his face. Come here you gotta see this, he said, pulling me along into an adjacent large room. Over there, said Dave, pointing over my left shoulder. I turned to find someone standing in a fermentation bin, visible only from the waist up - yet familiar looking. Dave! Dave Corey! Wow, long time no see, I said (it had only been a month). Sp, here was Dave doing pigeage to some of his Syrah. Small world here, at CCWS.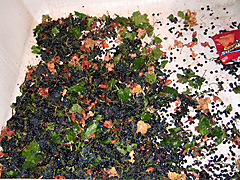 The Other Remains of the Day
Joe got back to work dumping more fruit on the sorting table, as well as dry icing the bins. From time to time, we'd wander out from our inside encampment to see what was going on - outside in the dark. For some unknown reason, we no longer felt ashamed to be sitting idly by while our teamates (I like to think of enjoying some very fine Pinot Noir as a team sport) continued with the crush. I dunno, maybe it was the burritos, or just the night air - either way, we seemed to be very relaxed about everything. Okay, maybe it was the Pinot.
Wine touring can be so... quixotic. Here we had come by for a short visit, and ended up staying into the night. Finally, six hours and eight bottles later, we finally needed to hit the road - David to SLO, me to Paso. We thanked Joe profusely for his generousity, and said goodbye to Barry, who was pulling a double shift - here all day, then down to Loring, and over to Clos Pepe for an early AM Loring pick.
---
---
Copyright © 1993 - 2004, Eric Anderson -
All rights reserved
No original material may be reproduced without written consent
Mail & Comments - Eric Anderson