Vol. 12 No. 2 - May '04

Part 2 of 2 -
I was scheduled to attend a preview session of the Paso Robles Wine University, a program designed to educate consumers on all the various aspects of wine - from growing through tasting. The preview session was slated for Thursday, so I had conveniently added a day before and afterward to make some winery or vineyard stops along the way.
I dedicated Wednesday to cover a couple of places in the Santa Rita Hills and Arroyo Grande, and set aside Friday for seeking out some new wineries in the Paso area to explore some of the smaller wineries. David Chan had decided to join me for both days.
Barrel Tasting: although barrel tasting is one of the most instructive ways to sample wine, it is also something that causes more than a little angst among winemakers. The fact is that the wines being sampled from barrel haven't finished their infancy yet - they are still going through growth and development in the barrel, and haven't reached the point of bottling. Therefore, winemakers are often reluctant to expose their barrel samples to the public - concerned the wines may be misjudged or unappreciated by tasters during this growth stage. Since the tasting notes in this report contain many barrel samples, please note that my impressions relate only to the wine at its current stage of development.
Friday, September 17, 2004 - Paso Robles
I'd decided to make three appointments for the day, then fill-in wherever possible with other wineries. Luckily, we ended up on the Eastside all day, and had no need to traverse back and forth across Paso. Besides, I thought, there are still plenty of wineries - both big and small - on this side of town that are still under the radar.
Selected Tasting Notes:
...from bottle...
2003 Vina Robles Viognier - Huerhuero Vnyd. Notes of pear, peach, and nectarine come through in nose and mouth. Carries a bit of weight on the palate, and finishes with a citric bite.
2002 Vina Robles Sauvignon Blanc - Estate. Aromas of lemon, lime, and gooseberry. Crisp in the nose, yet fairly fat on the palate, the fruit drops off a bit, but finish hangs in there much longer.
2002 Vina Robles "Signature" - Estate. Blend of 48% Petite Verdot, 33% Sryah, and 19% Petite Sirah. Lovely nose of blackberry, blueberry and a light chocolate note. Smooth on the palate, excellent balance, long delicious finish.
2001 Vina Robles Cabernet Sauvignon - Estate. About 20% Petite Verdot. Nose of spiced cassis and black cherry. Beautiful balance, lots of fruit, very good flavors, nice long finish.
2001 Vina Robles Syrah - Huerhuero Vnyd. Lots of spicy blackberry, with touches of blueberry, tar and licorice. Smooth mouthfeel, with a nice touch of fine tannins at finish.
2001 Vina Robles Petite Sirah - Jardin Vnyd. Dark fruit, a bit tannic, yet smooth throughout, with a nice long finish. Unlike some PS monsters, you don't have to work hard to appreciate this one.
2001 Vina Robles Zinfandel - Lock Vnyd, Westside. Hint of oak to the raspberry and dried cherry fruit, also a bit smoky, with a sweet juicy mouthfeel and long smooth finish.
I'd arranged a visit with Marc Laderriere, marketing director for Vina Robles, and we agreed to meet just off Union Road on Paso's Eastside to have Marc show us one of Vina Robles' vineyards, and then head back to his office to try some wines. Dave Chan was waiting for me as I pulled into the lot, and Marc arrived soon thereafter. Shall we take just one car, Marc suggested. We agreed. Piling into Marc's Audi Quattro, we drove less than a mile down the road to the entrance to Huerhuero Vineyard, and ventured on in. Set amid gently rolling hills, the vineyard seemed huge - much of it recently planted. Driving in about halfway, we traversed a hill to the east for a great view of what they were doing. We'll be putting in the winery right over there here, and a hospitality center over there, he said, pointing back toward Hwy 46. Quite an investment in the area, I thought.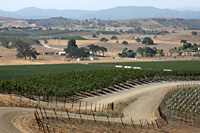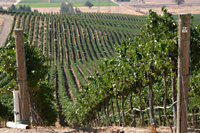 Huerhuero Vnyd
Vina Robles is the vision of Hans Nef, a Swiss developer, and his business partner Hans Michel. In 1996, they purchased three vineyard properties on Paso's eastside – Pleasant Valley Vineyard, to the north near San Miguel, Huerhuero Vineyard, further to the south, and Jardine Vineyard right in between, near the airport. After mapping the areas, they planted about 14 varieties on just over 800 acres, intending to concentrate on red varietals.
Shall we go back to my office and taste some wine, he asked. Love to, we replied. Marc's office was about 8-10 miles away, at the Pleasant Valley Vineyard. So while driving us back to where we left our cars, he asked, where's your next visit - where are you headed. We told him that the rest of our visits were out this way, and a little further south. Well, why don't you leave your cars here, he sugested. I'll drive you up to the office, and when we're finished, I'll bring you back to your cars. We really didn't want to put him to any trouble, but the offer seemed too good to refuse. Besides, Marc explained he was a fast driver, and didn't want us to get tickets while trying to keep up with him. So, rather than challenge him to a race, we agreed.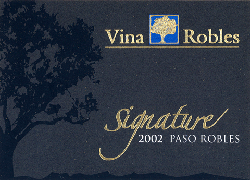 We zipped along quickly, heading north up Airport Rd, finally pulling into the Pleasant Valley Vineyard and stopping in front of what looked like a ranch house amid the trees. Come on in, and I'll open some bottles, said Marc, as we walked in to the nicely appointed office building. We gathered around a large dining table and Marc started popping corks. He poured a few things for us and we chatted about the wines.

Hey, Mac, come here, Marc called out, and Operations Manager, Creighton "Mac" McDonald, came over to join us and sample a few more wines.I was pleasantly surprised to find these wines all had fabulous balance. Plus, the alcohol levels weren't very high, either - with most of the lineup weighing in in the low 14%. A "Westside Zin" at 15.4% was biggest wine in the bunch. But, it was the balance of these wines that was most surprising to me - especially for the region. I'm not sure what methods winemaker Matthias Gubler employs here, but the results are excellent, and these wines seem very food-friendly.

The was definitely fun, and I could easily see us cruising through their entire lineup. But, the clock was ticking and we needed to move along to our next stop. Marc agreed - okay, let's get you back on the road, he said. And, back to the drop-off point we sped.


We decided to drop Dave's car over at Coastal Vintners, before heading over to the Paso Robles Wine Services facility, near Creston and Niblick Rd. This custom crush (actually, "alternating proprietor") facility is owned by the same people that own the much larger Central Coast Wine Services in Santa Maria. A facility like this is usually home to many smaller labels who don't have a facility of their own, and I was looking for one of them in particular - Steve Anglim, of Anglim Winery.

Selected Tasting Notes:

...from barrel...

2003 Anglim Syrah - Fralich Vnyd. (new oak) Lots of licorice-laced blackberry aromas in the nose, along with the telltale scent of freshly ground coffee from the oak. A bit tight on the palate, but balanced very well.

...from bottle...

2003 Anglim Viognier - Fralich Vnyd. Harvested at 2 tons/acre, went through 20% ML in 1-yr old barrel. Beautiful gravelly/minerally scent adds to the pineapple and light citrus noses. Feels full on the palate initially, but maintains a beautiful balance throughout the long finish.

2002 Anglim Rose of Syrah. Nose of strawberries and cream, with light buttery and floral scents. Smooth, but with lots of punch on the palate. Nice light pepper note adds to the dark fruit, and finishes long and crisp.

2002 Anglim Syrah - Santa Barbara Co. 50/50 blend of Thompson and Gainey Vnyds that saw only neutral oak cooperage. Plenty of dark fruit in the nose, along with tar and asphalt, and leather. Lots of dense black fruit on the palate, with a long gripping finish.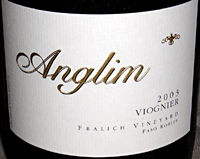 I'd been looking through the local winery/winegrowers association website (PRVGA) for some smaller producers to visit, and found a fellow producing about 1500 cases of Syrah and Viognier, along with a bit of Syrah Rose as well. Sources of fruit included some familiar vineyards: Fralich, French Camp, and Bien Nacido. I was intrigued, and after checking out the Anglim website arranged to meet Steve Anglim where he made his wine to sample a barrel or two, and then try some finished wines. When Steve suggested that there might be another producer or two that would like to join us, I said 'great.'
Steve and wife Steffanie Anglim started their namesake winery in 2003, after a chance meeting with local grower Harry Fralich. Working with Harry and other growers to get his choice of fruit, Steve concentrates on getting the optimum balance out of his wines. He also seemed to gravitate to Rhone varieties, producing a Syrah Rose as his first wine.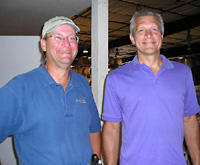 Steve Anglim (l), and Dan Kleck
(photo courtesy of David Chan)
I'd attended the Paso Robles Wine University preview session the previous day, and had a chance to meet Steve and try his wines at the final tasting of the event. I was struck by the fabulous balance he'd achieved in the Syrah, and the crispness and balance in the Viognier - both from the Fralich Vineyard. And, to digress a bit, I chatted with Harry Fralich during the same event. Harry's not only a talented grower, he's a also making wine under his own label - and a nicer guy, you've never met.
Back to Friday. As soon as Dave and I wandered into the winemaking facility, we ran into Steve, who was talking with facility manager Dan Kleck, a winemaker himself (Silverstone, Red Horse Ranch). We could see the place was busy with crush, with fork lifts humming back and forth carrying bins. A delivery approached Steve with some paperwork, and Steve asked if we could hold on for a short while - he'd just received some fruit and had to deal with it, now. You bet, we replied, and started to wander around the facility. We spent the next 20 minutes or so dodging forklifts and generally trying to stay out of people's way - not always an easy thing to do during crush.
Steve suggested we could try an Anglim barrel sample, before going over to Dan's house to try some finished wines from both of their labels. That suited us fine. After temporarily putting his bins of fruit aside, Steve grabbed a wine thief and pulled a sample of '03 Fralich Syrah for us. Very nice, with plenty of fruit and really excellent balance. Well, shall we grab some bottles and go, Steve asked? Sure, we'll follow you. The finished wines I tasted were very impressive - just brimming with fruit, and all with excellent balance.
Selected Tasting Notes:
...from bottle...
2003 Silverstone Chardonnay - Bien Nacido. Barrel fermented, with 65% native yeast. Blousey and lush in the nose and fat in mouthfeel.
2003 Silverstone Syrah - Hall Vnyd. Plenty of chocolate and mocha accents to the dark fruit. Ripe and very fleshy, with a light fresh sweet fruit taste, and long finish.
2003 Red Horse Ranch Zinfandel - Paso Robles. Lots of raspberry fruit in nose and mouth, smooth, with excellent balance. Not at all overblown.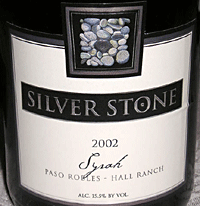 Arriving at Dan's house, we set up shop at the dining room table. So, how'd you get into this Dan, we asked. It turns out that Dan was a winemaker in Long Island before coming out to the West Coast in 1998 to work for Kendall-Jackson, managing production at the Monterey Winery. Dan left KJ a few years later in order to focus on his own labels, Silverstone and Red Horse Ranch. This would be enough for anybody, but Dan also decide to take on the job as facility manager for both the Central Coast Wine Services and the Paso Robles Wine Services. What's that mean? Well, for one thing it means that Dan can get a phone call at his house in Paso, telling him that a pump is broken in Santa Maria (about 1-hr south) - which can and did apparently happen just a day or two earlier.
Another interesting thing - and I'd never made the connection before, but we'd already tasted some of Dan's wines in August, while visiting Augies Hug's Paso tasting room - Central Coast Vintners. We were all standing around in Augie's tasting room and noticed a couple of pictures hanging on the wall that bore a resemblance to Georgia O'Keefe's work. Who did that, we asked. Dan Kleck, was the reply. So, it turns out Dan's a triple threat -- winemaker, facility manager, and artist.
Winding things up, we thanked Steve and Dan for their hospitality and got back on the road. We did make one quick unscheduled stop at Clautiere winery, so I could show David what a "real" tasting room room ought to look like. I'd stopped by last November for a peek at this unique place. I won't go into a lot of detail here, but suffice to say that a visit to Paso should not complete without a visit to the eye-opening Clautiere.
Driving south from Clautiere, we took the back roads to our next stop, passing a steep vineyard with a house perched on top of the hill. Looked like a perfect photo-opp to me, so here it is.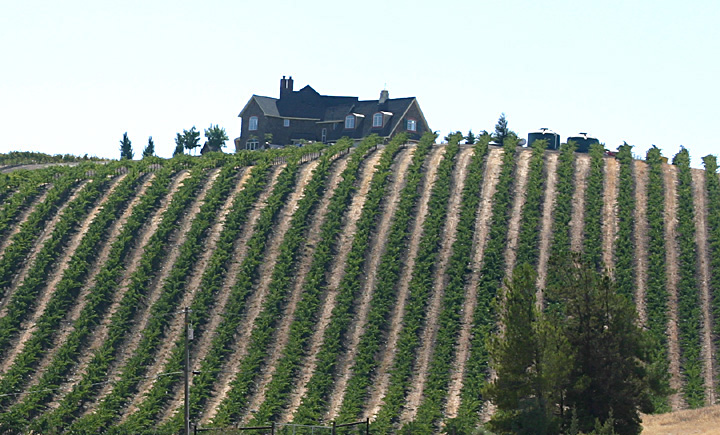 Steep incline in an unknown vineyard - Linne Road, Eastside Paso
I'd already decided to stop by this Still Waters tasting room for a visit. But, after meeting Paul and Patty Hoover the previous night after the PR Wine University tasting, I asked if I might impose on them for a little tour. Sure, come on by, they said, we'd be happy to show you around.
Selected Tasting Notes:
...from bottle...
2003 Still Waters Chardonnay - Central Coast. Barrel fermented, neutral oak. Lots of apple and citrus fruit. Nice mouthfeel, medium weight, very tasty.
2003 Still Waters Sauvignon Blanc. Slight tropical notes in the nose, very good balance. Stainless fermented, slight ML. Received a whole 2-wks in oak.
2002 Still Waters Zinfandel - Paso Robles. Not designated as such, but the fruit is from 60-yr old vines from the Dusi Vnyd. Tons of slightly soft and smooth raspberry fruit. Plush on the palate,and delicious to the last drop.
2001 Still Waters Syrah. Very fruit-driven nose and mouth, with plenty of blackberry and boysenberry notes throughout. Balanced quite well, and not the least bit ponderous, though the touches of licorice and a hint of leather are just about masked by the big fruit.
2002 Still Waters "Reflections". Blend of Cab, Syrah, Merlot.
...from barrel...
2003 Still Waters Cabernet Sauvignon. 23% Malbec. Terrific nose of cassis and mocha. Fat, juicy and chewy in the mouth, smooth long finish.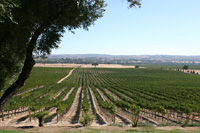 Still Waters Vineyard
We pulled in to the Still Waters vineyard and up the long approach. Patty welcomed us out in front, and mentioned that Paul was up at the tasting room. The grounds and vineyard looked immaculate, and the spacious tasting room was outfitted just like a house - kitchen and small bar.
After chatting for a few minutes, Paul led us outside. Come on, let me show you the place. We walked up an adjacent hill with a small grove of olive trees. From here, we had a beautiful view of their vineyard, as it stretched to the south.
Paul Hoover
Apparently, a home winemaking hobby was partially responsible for Paul and Patty's interest in having their own vineyard. But, they knew they wanted to stay small - just one acre on their property in Atascadero. But, after meeting a local vineyard consultant and watching the installation process, they decided to upscale things, and edned up planting 60 acres at a new site near Templeton. The vineyard had already been planted with Cabernet Sauvignon and Merlot in the mid-'90s, and there was a small house and old olive orchard. They kept most of the Cab and Merlot, but regrafted several acres to Chardonnay, Viognier, Pinot Grigio, Sauvignon Blanc, Syrah, Malbec, and Cabernet Franc.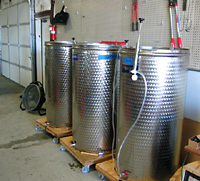 No fixed fortifications here!
The Hoovers are selling about 80% of their fruit, retaining the other 20% for use under their own Still Waters label. To their credit, the Hoover's fruit has been included in Bishop Peak wines by Talley Vineyards, Clos La Chance, and Cinnabar, usually falling into "Central Coast" bottlings. However, it appears that many future bottlings by these labels will receive vineyard designations.
Let me show you the winery, Paul suggested. We walked down to the new winery, Small, compact and obviously engineered to maximize the space allotted, Paul is surprisingly able to utilize lots of "high-end" methods in making his 1,000 cases of wine. He uses small 100-gallon open top fermentors, and gravity racking methods. Paul modified several pieces of equipment, putting tanks on wheeled pallets, for instance. He also made himself a little cold room, off the main building. The building itself seems capable of handling more production, but the Hoovers (and their relatives that are also part of the operation) want to stay small for now.

We headed back into Paso to see Raquel at Coastal Vintners and take her out to dinner at Paris restaurant (Augie was in Australia). But first, I had to take advantage of the opportunity to try the Silverstone wines again, as well as the delicious Perbacco Chardonnays. Of course, the chance to taste the Hug Cellars lineup again just couldn't be missed.
And so, another trip ends, and the planning for yet another begins. Next up, a November run of three days in Napa and Sonoma, and two more days on the Central Coast, primarily Santa Ynez Valley. Look for the report after the holidays.
---
---
Copyright © 1993 - 2004, Eric Anderson -
All rights reserved
No original material may be reproduced without written consent
Mail & Comments - Eric Anderson