Vol. 13 No.1 - May '05
Part 1 of 2 - Journal and tasting notes from visits to several California wineries and vineyards.
Prologue -
The final destination of the trip was the 2005 Hospice du Rhône, (Friday and Saturday May 13th and 14th in Paso Robles), and I'd left a few days early to make some winery visits along the way.
A special thanks to Deborah Hall, who graciously allowed about 25 of us to descend on her idyllic Gypsy Canyon Vineyards to observe the old planting of Mission vines, and taste her bottling of Angelica, a wine made from these Mission grapes. A big thanks too, to Peter Cargasacchi and all of the other Santa Rita Hills winegrowers and winemakers for inviting us to Melville Winery to taste the their 2003 vintage.
Barrel Tasting: even though barrel tasting is one of the most instructive ways to sample wine, it is also something that causes more than a little angst among winemakers. The fact is that the wines being sampled from barrel haven't finished their infancy yet - they are still going through growth and development in the barrel, and haven't reached the point of bottling. Therefore, winemakers are often reluctant to expose their barrel samples to the public - concerned the wines may be misjudged or unappreciated by tasters during this growth stage. Since the tasting notes in this report contain many barrel samples, please note that my impressions relate only to the wine at its current stage of development.
Santa Barbara County
Monday, May 9, 2005 - Ventura and Santa Barbara Counties
Up early for the drive up to Ojai for the first stop of the day at Ojai Vineyard. Al Osterheld was joining me for the next couple of days in the Santa Barbara area. He had stayed in Paso last night, and we'd arranged to meet at the Ojai Vineyard for the first stop of the day.
It was nice weather during the drive up from Orange County, and Al and I arrived in the Ojai area of Ventura County at about the same time. Once through the town of Oak View, we'd been told to turn up a largely non-descript road to the winery, with apparently nothing more than the address to mark the entrance to the Ojai Vineyard. Depending on their availability, I'd made an appointment to meet with either proprietor Adam Tolmach or Ted Vance, his assistant winemaker. Al and I drove down the road past a small office and up to a group of buildings that appeared to be the winery and barrel storage areas.
Selected Tasting Notes:
...from barrel...
2004 Ojai Chardonnay - Bien Nacido Vnyd, SMV. A bit funk initially, the crisp slightly tropical fruit takes over. Very light oak treatment, delicious fruit, and long lingering finish.
2004 Ojai Chardonnay - Clos Pepe Vnyd, SRH. Deeper, and more intense nose, with a bit more mineraliy in nose and mouth. Plenty of fruit on the palate - pure and crisp.
2004 Ojai Pinot Noir - Solomon Hills Vnyd, SMV. Adam "found" this vnyd through Mike Bonaccorsi - having tried some of what the latter had made. Tons of cherry throughout, nice fragrant spicy nose and mouth.
2004 Ojai Pinot Noir - Bien Nacido Vnyd, SMV. Martini clone. Touch of herbaceous throughout, much earthier than the previous. Very tasty sherry and wild strawberry fruit.
2004 Ojai Pinot Noir - Clos Pepe Vnyd, SRH. Very spicyand floral nose. More blue and blackberry in its cherry flavors, good structure and finish.
2004 Ojai Pinot Noir - Fe Ciega Vnyd, SRH. Spicy nose, fleshy mouthfeel, lots of black cherry, terrifically smooth on the palate. Adam was glad to have picked this before the big '04 heat spike. (Rick Longoria's vnyd.)
2004 Ojai Grenache - Thompson Vnyd, SYV. Nose of pomegranate, along with raspberry and a touch of blackberry. Nice mouthfeel, good grip on the palate, long fruity finish.
2004 Ojai Grenache - Purisima Vnyd, SYV. Somewhat reduced aroma in the nose, lots offruit, though slightly less raspberry than the Thompson above. Very, very long finish.
2004 Ojai Mourvedre - Thompson Vnyd, SBC. Young, slighly high-toned red and black fruit. Big and rich mouthfeel, almost crisp in acids, juicy texture, long finish.
2004 Ojai Syrah - Melville Vnyd, SRH. Stunning nose of violets and blackberry/blueberry compote. Rich chewy mouthfeel, lots of dark fruit, smooth tasty finish.
2004 Ojai Syrah - Bien Nacido, SMV. Slightly sweeter and more concentrated than the Mellville, huge mouthfeel, very well-balanced flavors and finish.
2004 Ojai Syrah - Verna's Vnyd, SBC. Espresso-laced nose of blackberry, and light chocolate and bacon notes. Flesy mouthfeel, with lots of body and grip on the palate. (Melville's "other" vnyd, near Cat Cyn.)
2004 Ojai Syrah - White Hawk Vnyd, SBC. Lots of floral and Provençal aromas of lavender and sage. Leaning slightly to the high-toned in flavors, with plenty of red and black fruit, herbs and spice. (Very sandy soil, from a vnyd out in Cat Cyn.)
2004 Ojai Syrah - Thompson Vnyd, SYV. This wasn't finished with ML yet. Nose was more to the bittersweet chocolate, and the mouthfeel seeed higher-toned than vintages past.
2004 Ojai Syrah - Stolpman Vnyd, SYV. Surprisingly young in nose and mouthfeel (smoothness is usually a hallmark here), but the dark, brooding, mineral-laden fruit really got my attention. Very nice.
2004 Ojai Syrah - Roll Ranch Vnyd, California. "Warmer," if you will, in nose and flavor, with a mix of red and black fruit, and a nice white pepper picks of the natural spice. (From 5 acres of Syrah located north of the town of Ojai in Ventura County at the foot of the Las Padres Nat'l Forest.)
...from bottle...
2003 Ojai Chardonnay - Bien Nacido Vnyd, SMV. As with the barrel sample, the beautiful fruit shone through on this wine. Plenty of lightly crisp tropical fruit, excellent balance and long snappy finish.
2004 Ojai Viognier - Bien Nacido Vnyd, SMV. Nose of white peach, with a touch of pineapple. Lightly viscous on the palate, excellent balance,lots of fruit, lightly crisp finish.
2004 Ojai Sauvignon Blanc - Westerly Vnyd, SYV. Big fruity nose, excellent balance, wonderfully tasty finish. (From a vnyd in the eastern Santa Ynez Valley, in an area called Happy Cyn.)
2002 Ojai Pinot Noir - Clos Pepe Vnyd, SRH. Nose of spicy black cherry, light pepper and smoke notes and full rich mouthfeel.
2003 Ojai Syrah - Roll Ranch Vnyd, California . Rich spicy nose of black fruit, medium-full body, with excellent balance throughout.
2004 Ojai Vin du Soleil - SBC. This mostly Mourvedre blend is surprisingly aromatic and flavorful. Plenty of fruit, excellent balance, and nice long finish.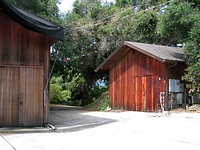 As we pulled up, a fellow motioned us over to a gravel parking area. Parking our cars, we gave the secluded canyon a quick look-around, and wandered over to two of the barn-like buildings. We introduced ourselves to cellar assistant Bruce Freeman, who told mentioned that Ted wasn't going to be in today, so Adam would be along soon to visit with us.
The Tolmach house is on a hill overlooking the winery, and Adam came down shortly thereafter to introduce himself. He mentioned that he had another appointment coming at 11:00 (a wine store owner from British Columbia), and that it would be more convienent for him if he could include us with them, and wondered if it would be a problem. No problem at all, we said. In fact, this gave us more time to talk with Adam beforehand, and, as we were to find out later, it also afforded us the occasion to taste many more wines - since the buyer usually came in annually. (It turned out that the buyer was John Clerides, owner of Marquis Liquors in Vancouver, and he, his wife, and one of his employees were on their way to Hospice du Rhône as well. Small world.)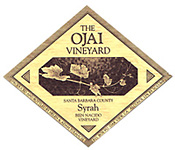 Adam began making wine with Jim Clendenen and Bob Lindquist in the late '70s in the small town of Los Alamos, about 15 miles south of Santa Maria. His first vintage under his own Ojai label was 1983. Because Adam makes so many Santa Barbara-based wines, it's probably assumed that his winery is in Santa Barbara County. But, the Ojai property is actually located in Ventura County, and has been in his family since 1933. There was in fact once an estate vineyard planted here. Unfortunately, the it fell to Pierce's Disease, and the last vintages of estate wines were produced in the late '80s.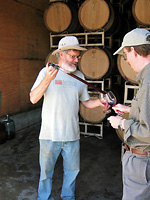 Adam Tolmach (l) provides Al Osterheld with some Pinot
With no shortage of well-known Central Coast vineyards, Adam has always had an ample supply of fruit sources. And, as you can see by the tasting notes, he makes a good many vineyard-designate bottlings. On the other hand, he did stop making bottlings from both Pisoni and Talley vineyards, and is now earnestly trying to simplify things for himself by sticking with Santa Barbara County sources. Buying fruit by the acre (as opposed to the ton), Adam is able to keep the same select blocks in each of his vineyard sources. He prefers only organic intervention in the vineyard ("I'm not a nozzlehead," he says, referring to the spraying of pesticides), and pretty much leaves the wine to do its own thing in the winery by not racking the barrels very often, if at all.
Adam first took the five of us through several barrels of wines, as we all chatted about vintages, locations, and his winemaking methods. All of the fruit is trucked in, and wine made up here at the winery. It was very interesting to taste through these barrels - tasting what was basically a 'spice rack' of smells and flavors. We chatted about the cork versus screw cap issue, and Adam said he is still staying with cork -- paying about 70 cents for each one. Production is about 6,000 cases, and the winery and storage buildings have grown from one to three, right along with production.
With the barrel tasting completed, Adam asked if we wanted to try some of the current or soon-to-be-current releases to wind up the visit. Would we? Of course, we said. In fact, we considered it a duty. Adam pulled a half-dozen bottles from the case goods room, and started pouring through these as well. All terrific stuff, but the Vin du Soliel certainly represents one of the best bargains I've ever tasted in a Rhône blend.
Thanking Adam for his hospitality, Al and I headed north to Santa Barbara.
Leaving Ojai, we headed north up Hwy 101, through Santa Barbara, into the Santa Ynez Valley and over to the coastal town of Lompoc. I'd arranged to meet Sashi Moorman, winemaker for Stolpman Vineyards, to see what was new and taste through some barrels. On the way, I got a call from Brad Harrington from westcoastwine.net, who was also up in the area to make some winery visits on the way to HdR. He mentioned that he'd spoken to Sashi who'd suggested that he come on by the same time we were scheduled. This would be good for all -- one-shopping for Sashi, and better group dynamics for the three of us. (I've come to prefer having a few people along for winery visits, because it allows me to take more notes and photos more easily, as well as adding to the general stream of consciousness.)
Selected Tasting Notes:
...from barrel...
2004 Stolpman Roussanne - Estate. Nice lightly floral and tropical notes, touch of waxy flavors in mouthfeel.
2004 Stolpman L'Avion - Estate. Interesting blend of Roussanne, Viognier and Sauvignon Blanc, with the SB being fermented on Viognier skins. Lots of honeydew melon in the nose, and similarly on the palate. Lightly crisp, plenty of body, and excellent balance.
2003 Stolpman Sangiovese - Estate. Lots of spicy dark cherry in nose and mouth. Very nice balance, smooth seamless finish.
2003 Stolpman Syrah - Estate. Another fascinating blaned of Syrah aged on Roussanne lees. Nice floral notes in the otherwise blackberry nose. Exceptionally smoooth and refined on the palate, with touches of chocolate and red licorice accenting the black fruit.
2004 Stolpman Hilltops Syrah - Estate. Fabulous balance here, with nice acid backbone to offset the plush berry and pomegranate fruit.
2004 Stolpman Syrah - Estate. Durell clone. Very nice floral accent to the dark fruit nose. Very clingy on the palate, chewy texture, nice balance, and long finish.
2004 Stolpman Syrah - Estate. 877 clone. Slightly more floral than the Durell, with a juicy and spicy mouthfeel, and mouthwatering finish. 2nd leaf crop.
2004 Stolpman Syrah - Estate. Non-toasted barrel. Nice fleshy nose, moderate spice with a touch of licorice. Chewy fruit, though a bit restrained. Slight oaky edge to the otherwise smooth finish.
2004 Stolpman La Croce - Estate. This Syrah/Sangiovese blend was loaded with spice and dark cherry and berry. Chewy mouthfeel, smooth and seductive, with a nice
...from bottle...
2003 Stolpman Syrah - Estate. There's a little Grenache, Counoise, and Cinsault in the blend here, which seems to give a little more volume to the front and mid palate. Long smooth finish is deceptively fruit-forward.
2003 Stolpman Syrah - Estate. previously opened bottle - 5 days. Bit of oxidation noted on the nose. Nice fruit throughout, though it gets a little hot on the medium-long finish.
2003 Stolpman Hilltops Syrah - Estate. Fascinating nose of beef drippings, iodine, and a touch of beet. Chewy and full on the palate, with a nice refined smoothness throughout.
2003 Red Car The Fight Syrah. Made up of mostly Napa Fruit, the nose still had some light chocolate, coffee and spices. The ripe fruit-filled mouthfeel was starting to show the tiniest bit of oxidation.
2003 Holus Bolus Syrah. Light touch of herb and gardenia noted in the blackberry nose. Full and rich on the palate, not seeming to show any sign of oxidation. (Sashi said that the small % of Malvasia Blanca seemed to keep the wine more lively.)
2003 Piedrasassi Syrah. Sourced from a wide variety of sites, including Paso Robles, the fruit was fermented in 300L Cognac barrels. Nose of ripe black and red fruit, ripe in mouthfeel, with good balance and finish.
2003 Holus Bolus Rose. A rose sagnee, with a very nice fruity nose, somewhat crisp mouthfeel, and refreshing finish and aftertaste.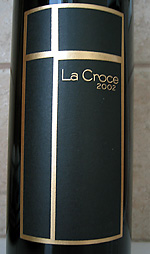 I'd hoped that Al and I would be able to stop somewhere along the way to have some lunch. But, we'd started our visit a little later and therefore stayed a little longer at Ojai, so when we got to Buellton, we headed into the local Albertsons for a couple of ready-made sandwiches to go. I figured since we were driving right by our motel, we still had time to check-in, and eat our sandwiches, before striking out for Lompoc.
Pulling onto the self-named "wine ghetto" on the eastside of town, Al and I made our way over to Stolpman, and wandered in to look for Sashi. We noticed a few tables had been setup end-to-end in the middle of the room, with several bottles and glasses out. Wow, are those for us, we asked aloud. No, those are the remants from the Parker tasting we had a few days ago, said Sashi. Our eyebrows lifted. We noticed that there was generally plenty of wine left in each bottle, and I wondered to myself if was this was going to remain as some sort of museum. Sashi answered my unasked question - they were tasting the remaining wine daily, as sort of a 'how long will it last after it's opened' experiment. But, he assured us, after we taste through some barrels, we can come back to these. Ex-cellent, I said.
Located in the Ballard Canyon section of the Santa Ynez Valley, Stolpman Vineyards started out as growers, providing fruit to many local wineries (including Ojai, Jaffurs, Qupe, and Palmina). Tom and Marilyn Stolpman first planted grapes in 1992 and today have 120 planted acres, containing an assortment of varietals: Syrah, Sangiovese, Nebbiolo, Sauvignon Blanc, Rousanne, Grenache, Cinsault, and Merlot. With the 1997 vintage, Stolpman started producing their own wines. They continue to sell fruit to others, but now on a much smaller scale.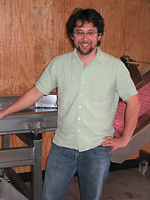 Sashi Moorman
Interestingly, Sashi had been the assistant winemaker at Ojai, prior to coming to Stolpman in 2001. Under his watch here, he has overseen a rather dramatic change in vineyard plantings and selection - in addition to winemaking style. I detailed many of the changes in my last visit (8/03), and I was looking forward to seeing how things were progressing toward Sashi's goal of creating more blended wines for the Stolpman label.
When Brad and Maureen arrived, we all headed back to the barrel room to do a little "research." After tasting the '04 Hilltops Syrah, I commented how almost crisp I found the wine. Sashi said that they really pushed this particular block, and had started experimenting with less irrigation. Another interesting departure from the norm was the use of non-toasted barrels. This is not a "neutral" barrel, rather it's a new barrel that's not received any toasting. This was a new one on me, because contrary to what you might assume, the toasting process actually scales the otherwise raw oak back a bit. Sashi also like to use 500L puncheons for aging the wines. These larger barrels impart a little less oak, and allow the wine to age a little longer.
After tasting through several barrels, Sashi asked if we'd like go ahead and taste through the bottles that were sitting on the table out in the main room. We were eager to take him up on the offer. One of the more interesting wines on the table was the Holus Bolus, and combined effort from Sashi, Chad Melville, and Jim Knight (Jelly Roll).
We thanked Sashi for his hospitality headed for our next stop. We also said so-long to Brad and Maureen, who were headed back to Solvang. What are you guys doing for dinner, he asked. We're not sure, we replied, since we really weren't certain how long we'd be at our next stop, and we hadn't made any reservations. Getting into the post-Sideways Hitching Post was probably out of the question, even for Friday's burger night. Well, if you guys want to stop by our place, we have lots of cheese and meat, and plenty of crackers and bread. That sounded great to Al and I, and we told Brad we'd give him a call.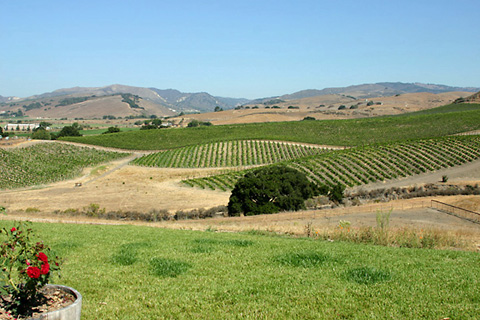 View from back patio, looking north toward the Purisima Hills
Since we were going to be "in the ghetto" (as Elvis might have said) during that afternoon, I'd asked Peter and Rebecca Work if their son, Don Schroeder (also assistant winemaker at Sea Smoke), might be able to taste us through some of the '04 wines. The Works lease winemaking and storage space in the Lompoc complex from Presido winery, and have all their barrel storage there as well.
Unfortunately, the after-hours access has been a bit limited. But fortunately, Don had an idea - let's meet at my folks place, he said. He said he'd bottle up a few samples, and we could just relax with a little cheese and wine. Great idea, I said. Do you know the way, he asked. Sure, you're at the end of the only 20 mile driveway in the SRH, I said kiddingly, remembering the long ribbon of concrete leading up to their house with the beautiful view. Yep, that's it, he said. Just be sure you fill up with gas before attempting the trip, he joked back.
So, leaving Lompoc, we headed back on Hwy 246 to Mail Road and over to Ampelos Cellars, formerly known as Wine @ Work, or Worx Cellars, after owners Peter and Rebecca Work. The name change came easily enough - the Works are partners in a resort of the same name, located on Folegandros in the Cycladic Islands of Greece.
Selected Tasting Notes:
... barrel samples, from bottle...
2004 Ampelos Rose of Syrah - Estate. Floral and fleshy nose, nice lightly crisp mouthfeel, lots of nearly chewy furit, excellent balance and long finish.
2004 Ampelos Pinot Noir - Estate. This is the first crop from the Estate 4th leaf vnyd. From Pommard and 115 clones. Big, with lots of floral and spice accents to the dark fruit.
2004 Ampelos Syrache - Estate. A 50/50 Syrah/Grenache blend. Obvious leaning to Syrah in the smoky meaty nose, give way to a nice raspberry center. Somewhat more rasberry in mouthfeel, with nice balance an finish.
2004 Ampelos Syrah - Estate. Estrella clone, from a hybrid barrel. Fabulous nose of dark and spicy fruit, and violet aroma. Big mouthfeel, very tasty and balanced.
Driving up the long driveway, we were met by the Works two large dogs, followed by Peter, then Rebecca and Don. Since Al had not visited here before, I suggested we take in the 360 degree vineyard views from their beautiful house. Rebecca and Don gave us a tour, pointing out the various vineyard sites. I covered this in more detail after visiting last September.
Heading back inside, we settled into a couple of stools at the kitchen bar, and just talked and relaxed. They showed us their new Ampelos label design - quite striking - and we delved into the wines. This was my first opportunity to taste the Estate Pinot - their first crop from the 4th leaf vineyard. Peter performs a lot of the vineyard maintenance himself, but uses Jeff Newton of Coastal Vineyard Care for most vineyard services.I was interested to hear how the vintage's especially hot weather had affected the crop. Peter and Don told us that when the heat spike first hit, they immediately went out and picked over the following three days. It turned out the fruit had climbed to 28 brix, so they added acidulated water that had been filtered and de-chlorinated, to get it down to 24 brix. They were successful, and the result was quite tasty.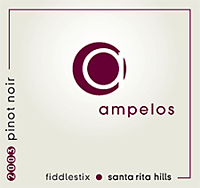 Ampelos has been experimenting with hybrid barrels (French oak heads, American staves) on the '04 Syrah. Of course it was probably the power of suggestion, but I had the distinct feeling that this is what added the heavy spice to this wine. And, speaking of Syrah, apparently are grafting some of it over to Grenache - as in Alban clone Grenache. My mouth was watering. On the news front, Ampelos is moving its winemaking facilities into a new space in Lompoc, over by Peter Cargasacchi, and will be joined by Ken Brown (former Byron owner). The new space will allow them to keep all of their barrels stacked 2-3 high, instead of the usual 4-5 high, in order to keep evaporation and temperature more uniform. Ampelos is targeting production at 4,000 cases annually.
It was time to move along and let Peter, Rebecca and Don get on with their evening. We thanked them for the visit and the wines, and complimented them on their new label. We decided to accept the Harringtons kind offer to stop by their motel in Solvang. Brad had a variety of cheeses and cured meats, as well as bread and crackers, so we opened a few wines (well, a lot of wines) and we had a great time - sort of our own mini offline.
Tuesday, May 10, 2005 - Santa Barbara County
Up early, Al and I headed over to Thanks a Latte, a small coffee house in Buellton, for a scone and some java. This morning, we were scheduled to meet with Joey Gummere of Kenneth Crawford, followed by Jason Drew of Drew Family winery. Both were conveniently located in the same facility in Buellton. Next, we'd head up to Santa Maria to the Central Coast Wine Services (CCWS) to pay a visit to Seth Kunin, as well as Tim Spear at Clos Mimi. Tim was in the process of moving to newer diggs, but still had some barrels at CCWS. We'd planned to have dinner in Santa Maria at Chef Rick's.
Selected Tasting Notes:
...from barrel...
2004 Kenneth Crawford Pinot Noir - Babcock Vnyd. New barrel. 115 and Pommard clones. Nose of sweet dark cherry and spice, excellent balance and mouthfeel. New oak, but the fruit pretty much kicks it into submission. Excellent!
2004 Kenneth Crawford Pinot Noir - Babcock Vnyd. Neutral barrel. 115 and Pommard clones. Beautiful floral and cherry nose, lovely balance, young - but elegant mouthfeel, long finish.
2004 Kenneth Crawford Pinot Noir - Clos Pepe Vnyd. New barrel. Clone 115. Picked at 24.5 brix, the nose is bright. Less hi-toned in the mouth, with a darker almost sweetart taste, very good balance and long finish.
2004 Kenneth Crawford Grenache - Larner Vnyd. Nose of raspberry and dark cherry. 3rd crop from this part of the vineyard. 12% Syrah.
2004 Kenneth Crawford Syrah - Larner Vnyd. Slightly sweet nose of chocolate-covered coffee beans and blackberry. Less sweet in mouthfeel than in nose, with nice sweet-sour finish.
2004 Kenneth Crawford Syrah - Stolpman Vnyd. Rich smooth nose and mouthfeel
2004 Kenneth Crawford Syrah - (blend of Larner & Stolpman). Very Côte Rôtie in style, much more aromatic than the individual vineyards, smooth and succulent, nice fine-grained tannins.
2004 Kenneth Crawford Syrah - Purisima Vnyd. Clone 1, new Sirugue barrel. Big coffee scent to the dark fruit. Chewy and delicious, with nice spice and light herbs, and massively long finish.
2004 Kenneth Crawford Syrah - Purisima Vnyd. Clone 1, new Marsanny barrel. Even bigger in coffee aromas - more espresso. Darker fruit in mouthfeel, very fleshy and chewy, and very long finish.
2004 Kenneth Crawford Syrah - Purisima Vnyd. Estrella clone, neutral barrel. Slightly sweet dark cherry fruit, mouthfilling, slightly tart fruit, huge finish.
2004 Kenneth Crawford Syrah - Lafond Vnyd. New Marsanny barrel. Recently racked, this seemed much darker in fruit, with a younger and more tannic edge, and long gripping finish.
2004 Kenneth Crawford Syrah - Lafond Vnyd. New Sirugue barrel. Smoother and much more fruit forward, with lots of dark cherry and blackberry.
2004 Kenneth Crawford Syrah - Evans Vnyd. Light roasted scent to the dark fruit. Big, smooth, delicious, with excellent balance, and a nice grip on the back end.
Al and I arrived about 9:00am at Kenneth Crawford. I'd arranged to meet Joey Gummere at the small facility that he and Mark Horvath have in Buellton, literally, right around the corner from our motel.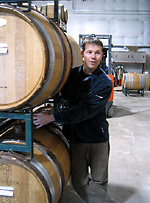 Kenneth "Joey" Gummere
I first came across Joey and Mark's label at the 2002 Wine Cask Futures tasting, and was very impressed with their first release '01 Lafond/Melville Vnyd Syrah. In fact, there was a funny outcome to our conversation during that event. We talked about their Syrah, and the fact they were also making a Pinot Noir. But, what came out of the conversation created one of those countless "urban myths," the origins of which are always difficult to trace. What had happened was that I had gotten the impression that they intended to concentrate on Pinot Noir - at the expense of Syrah. Thankfully, nothing could have been further from the truth, and Kenneth Crawford has been making both varietals - at least of late. Ironically, it seems the pendulum may have actually swung back the other direction, as the pair appear to have now decided to concentrate even more on Syrah. But, regardless of what they make, I'll always be a fan.
Kenneth "Joey" Gummere and Mark Crawford Horvath met each other while working at Babcock Winery. Later, Joey moved on to Lafond Winery and Mark stayed with Babcock as Bryan's assistant winemaker. Mark has now left Babcock to focus on the winery and a project with his wife, and Joey too has left his day job, to focus on the Kenneth Crawford label.
From their first commercial release in 2001 of just a couple of hundred cases, the pair have increased their production only a slight amount each year. Current production is a bit under 1,500 cases, with a goal of 3,000 cases annually.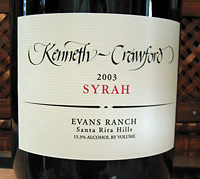 Joey Gummere started us right away on some barrels, and we talked about the whole Pinot vs. Syrah thing in the Valley in general, and the Santa Rita Hills in particular. We talked about the Babcock Pinot fruit that the two were very happy to get from Bryan Babcock's gorgeous vineyard. This '04 fruit got a 6-day cold soak and basket press (which ends up delivering about 50 gallons less juice). Shortly after we began, Jason Drew arrived. Jason also makes the Drew Family wines here in this facility, and we were due to meet with him right after we finished with Joey, so we had some one-stop shopping in store for us. Come on and join us if you like, Joey called out to Jason. Nah, thanks anyway, you guys go ahead - I've got some barrel maintenance to do here, Jason said.
Unfortunately, this will probably be the last of the Stolpman Syrah fruit, as apparently the price has substantially increased. And, speaking of "last," this looks to be the last of the Evans Ranch Syrah for KC as well, since Gainey is apparently going to use it all for their own production. It seems kind of sad, as I recall several California producers in similar positions of having made a name for the fruit from a particular vineyard, only to have the fruit either go up substantially in price, or otherwise be made unavailable to other winemakers - who were now victims of their own success, as it were. The worst part of this is that identifying specific vineyard attributes is usually a passion (at least for the wine geek consumer), and if growers react negatively to outside recognition or accolades by raising prices or keeping the fruit for themselves, we end up with a much more myopic view of a vineyard's capability - in my not so humble opinion, of course. I realize that the grower's interest lies in taking advantage of favorable circumstances that might not last, but I also think it's not a good idea to 'kill the goose that lays the golden egg.'
I understand that Mark Horvath and his wife have about 44 acres just off Sweeney Road right next to Peter Cargasacchi's now-famous vineyard. I'm sure that Mark hopes to plant Pinot Noir, and who knows, maybe Kenneth Crawford's focus will swing back to Pinot, and away from Syrah. Not likely, though.
Selected Tasting Notes:
...from barrel...
2004 Drew Pinot Noir - Arita Hills Vnyd. 667 clone; blend of small and hungarian barrels. Sweet dark cherry nose. Fleshy and floral, very elegant.
2004 Drew Pinot Noir - Clos Pepe/Fiddlestix. 115/777 clones. Here's a blend you don't see every day. Lots of structure, with sweet strawberry, cherry, and black cherry fruit. Impressive.
2004 Drew Pinot Noir Gatekeepers - Santa Rita Hills. Blend of 1/3 Ashley's and 2/3 Rio Vista vnyds. Smooth and succulent, with dark and bing cherry aromas and flavors.
2004 Drew Pinot Noir - Ashley's Vnyd. 115 clone. From one of the higher elevation blocks (read, exposed) in this Fess Parker-owned vnyd, in the western part of the appellation. Nose of bing cherry and a touch of cranberry. Nice cherry fruit, very good acidity. 1.5 tn/acre
2004 Drew Pinot Noir - Rio Vista Vnyd. Clone 777. Slightly bright nose; ripe and fleshy, with sweet cherry cordial flavors and a heady finish. Picked at slightly higher brix - could rightfully be called buxom.
2004 Drew Pinot Noir - Rio Vista Vnyd. Clone 667. Less sweet than the 777, lovely balance to mid-palate, but seems to fall off on the finish.
2004 Drew Pinot Noir - Rio Vista Vnyd. Clone 115. Slightly candied pomegranate aroma, beautiful balance, and terrific finish. These three Rio Vista barrels will be blended, and for the majority of the Gatekeepers blend.
2004 Drew Syrah - Larner Vnyd. Nose of dark black raspberry, licorice, dark roasted coffee, and chocolate. Gripping mouthfeel, with lots of big flavors and textures. Has a small % of Larner Grenache.
2004 Drew Syrah - Morehouse Vnyd. Nose of roasted dark fruit, hi-toned, and balanced well, with long spiced-herb taste and finish. Durell clone; vnyd planted in '92.
2004 Drew Syrah - Hearthstone, Paso Robles Vnyd. Slightly hi-toned sweet ripe nose, with a touch of mineral and iodine. A wow finish, which starts to smoothly grab the palate a bit tighter from midway to finish.
2004 Drew Grenache - Larner/Hearthstone. an interesting blend of AVAs here, and the result is that the nose and mouthfeel get a CdP-like aroma and flavor with the addition of an Orange floral and orange zest somponent.
...from bottle...
2003 Drew Syrah - Morehouse Vnyd. Nice complex nose of grilled red and black fruits, toast, and a fascinating citrus note of orange zest, and candied lemon peel. Slight rhubarb flavor to the dark fruit, with a beautiful balance and finish.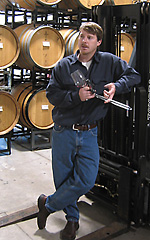 Jason Drew, thief in hand
Jason Drew was just finishing some restacking and topping of barrels, and was now ready for some tasting. This was about as convenient as it gets - we segue from one winemaker to another without taking more than a few steps.
I'd first met Jason at the '03 Wine Cask Futures as well, as he was pouring several of the Drew Family wines. I was very impressed with the wines, and he mentioned that I ought to stop by and taste some barrel next time I was in the area. Conveniently, I expected to be in the area a couple of months later, and Jason not only had us by try some barrel samples, but he also led us on a 'three-hour tour' of Happy Canyon, the literally hot area in the eastern part of the valley that has been growing some remarkable reds and whites from vineyards such as Vogelzang, Westerly, and Star Lane.
Jason has been in the wine business since 1992, serving stints at Joseph Phelps, Carmenet, Luna, Corison, and St. Supery. He also spent 1997-98 in Australia, getting his degree in winemaking. Relocating to Santa Barbara County, he's yet another alumni from Babcock winery, and loves to work with Pinot Noir and Syrah - a perfect match for the Santa Ynez Valley and Santa Rita Hills. In fact, he sources fruit from some interesting locations, including Pinot from Arita Hills (near Gainey's Evans Ranch), and Syrah from Morehouse, near Solvang. Jason farms this himself, as do others who source from this location.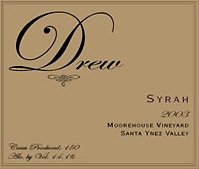 Jason likes to play around with blends. He doesn't bottle too many separate lots, and would much rather blend the wines initially - letting the aromas and flavors meld together. And on that note, he had some interesting things for us to try. The first was a Pinot blend of Clos Pepe and Fiddlestix fruit - something you certainly don't see every day. Sort of a mainstay is his "Gatekeepers" blend, a name derived from the fact that the two components - Ashley's and Rio Vista vineyards - are on opposite sides of the SRH. In another instance, we we able to try all three clones from the Rio Vista Vineyard. This is usually barrel tasting at its finest - being able to sample the components that will go into the blend, and discussing the effects of each clone with the winemaker.
I wondered what was new with Drew Family. Well, plans to buy something in the Santa Rita Hills didn't work out, so he and his wife Molly have purchased 27 acres on Mendocino Ridge, on the NW side of Anderson Valley. The elevation of 1250' shouldn't present much of a challenge. Until his Estate vineyard is producing, he plans to source fruit from Weir Vineyard. He's planning on planting to 65/35 Pinot and Syrah, and may drop the local SYV Syrahs when he moves up there. Drew Family Cellars produced 380 cases as their first vintage in 2001, and about 800 cases of the '02 vintage. Production is now up to 1,400 cases for '04.
Leaving Buellton, we headed for Santa Maria, and the Central Coast Wine Services facility to visit Kunin Wines. I'd first met Seth Kunin when he debuted his 2000 vintage at a Wine Cask Futures tasting. Since then, he's become something of a fixture at this annual event, always coming up with new vineyard bottlings or intriguing blends. Yet somehow, I'd never found the time pay him a visit.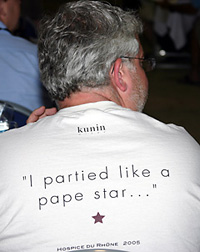 Seth Kunin shows off his new shirt
Selected Tasting Notes:
...from barrel...
2004 Kunin Sauvignon Blanc - Westerly Vnyd, SYV. Nose of pineapple, apple and tropical aromas. Bright, crisp and tasty, this barrel sample will be blended with some tank fermented juice.
2004 Kunin Roussanne - Westerly Vnyd, SYV. Nice waxy, honeyed nose. Surprising grip on the palate, crisp acids, very nice texture and flavors.
2004 Kunin Viognier - Stolpman Vnyd, SYV. Nose and flavors more of a sweet lemony variety than white peach. Recently sulphured, and a little tough to assess.
2004 Kunin Zinfandel - Saunders Vnyd, PR. Nice bright aromas and flavors of spicy red fruit and juicy acids.
2004 Kunin Zinfandel - Cushman Vnyd, PR. Soaked up to 33 brix and not dry yet, but still much riper than the Saunders, and flat-out delicious.
2004 Kunin GSM - Larner Vnyd, SYV. Neutral oak. Here's a CdP in New World clothing. Destined to become "Pape Star" (an auction lot at HdR), this GSM blend has lots of dark fruit in the nose, and more to the red on the palate. Delicious!
2004 Kunin Syrah - SBC. Meaty in nose and mouth, lightly sweet fruit throughout, plenty of tannins on long finish.
2004 Kunin Syrah - Alisos Vnyd, SBC. Dark and brooding in the nose, with blackberry and licorice aromas. Full and rich on the palate, long tooth-staining finish.
2003 Kunin Syrah - Westerly Vnyd. Co-fermented with 6% Viognier, dark cherry and blackberry with a hint of floral, smooth throughout.
2004 Kunin Syrah - Westerly Vnyd. Clone 877. Rich, slightly sweet nose, with a nice rich smokey mouthfeel, and long finish.
2003 Kunin Apres Viognier - Westerly Vnyd. From neutral barrel. Vin de paille in style, with a toasty nutty nose, and a definite botrytis effect. Beautifully rich and smooth on the palate. Wow!
2001 Kunin Sauvignon Blanc - Westerly Vnyd. Still in barrel!! I believe Seth forgot about this barrel - which was good! Yeasty and nutty, flat-out delicious.
2003 Kunin Apres Viognier - Westerly Vnyd. From stainless. This is the accompanying wine to the neutral one above. Once again, vin de paille in style, with dried a toasty nutty nose, and a honeyed peach component. Somewhat juicier acids than the one in oak. Wow again!
I wasn't sure if Seth was in bldg 1 or bldg 2, so after arriving at CCWS, we drove down past the buildings looking for the usual evidence of the winery's location - picking bins with KUNIN stenciled on the sides. There they are, Al said, pointing over to the space between the two buildings. Just then, as if by magic, out walks Seth Kunin, cell phone in hand and obviously engrossed in an animated discussion. Be right with you, he said. No problem, we said, as we considered wandering around, but thought better of leaving the area, lest Seth disappear and we lose sight of him. He finished quickly, but that call seemed to leave some unfinished business. Okay if I just to one more call, he asked, then we can get down to some tasting.
Seth's wine beginnings came after eight years in the restaurant business. Beginning with a stint in the cellar and then the vineyards at Gainey Winery, he was able to glean much about the process of growing and making wine. Being able to pick the brains of people like the highly respected Jeff Newton, owner of Coastal Vineyard Care, didn't hurt either.
Seth paced back and forth, wandering in and out of building as he talked. He seemed to be a guy in perpetual motion. One got the impression that Seth Kunin's life was busy - but completely in control. A trait learned in the restaurant business, no doubt.
Finishing his call, Seth looked at us: hi again, sorry about that, you sort of have to deal with these things as they come up. Hey, not a problem, we're happy you could spare the time to meet with us, we replied. Besides, we're on SLO time, I thought to myself. We re-introduced ourselves to each other. So what did you have in mind, he asked. I was thinking we'd some barrel tasting, I said. Okay, he said nodding, while walking back into building 2 with us in tow.
Seth took us through a few whites, then some Zin, and finally to the main course - Syrah. We were also able to get an advance taste of his GSM from Larner Vineyard - Pape Star - which will be an auction lot at HdR. There was also the surprise barrel - a 2001 Sauvignon Blanc! Maybe a little long in the tooth, but very complex and interesting. Lastly, it was dessert time, and taste of two vin de paille style Viogniers - one from neutral oak, the other from stainless. (The vin de paille method consists of laying the fruit out on straw mats, and dehydrating it over a long period of time to concentrate the sugars.)
Like most winemakers, Seth always wants to make the best possible wine, and seeks out the best possible sources of fruit. This usually leads him to Santa Barbara County - but not always. From his beginnings with some Dante Dusi Zinfandel, he frequestly selects fruit from San Luis Obispo County as well. Seth has an affinity for Westerly Vineyard, out in Happy Canyon section of Santa Ynez Valley. In fact, he likes it so much, he's their winemaker as well.
Seth believes that wines shouldn't be manipulated to try and be something they're not. He feels that each wine of a particular vintage ought to befit the conditions of that vintage - whether it was hotter or cooler than normal - the wine should be representative of the vintage. This, and the fact that he's always looking for optimum fruit will keep Kunin Wines small, which is just how Seth Kunin wants it.
From Seth Kunin's digs, we wandered back over to building 1 to see if we could find Tim Spear of Clos Mimi. I'd met Tim a few times in the past, but was very interested in trying more of his wines - which frequently are mentioned as the poster child of the bigger New World style - Central Coast version.
Selected Tasting Notes:
...from barrel...
2004 Clos Mimi Syrah - Shell Creek, Paso Robles. Dark, almost brooding nose of dark fruit, and roasted herbs. Big, slightly sweet mouthfeel - ripe, but not overly so, with very good balance and smooth long finish. 16.7% alcohol. No new oak.
2004 Clos Mimi Syrah - Alamo Creek, SLO. Much redder in profile than the Shell Creek, the nose is a compote of ripe raspberry with a touch of boysenberry. Chewy in mouthfeel, with lots of fruit and flavor and long smooth finish. Composed of younger vines, this vnyd's located in SE San Luis Obispo county. 16.7% alcohol.
2004 Clos Mimi Syrah - Westerly Vnyd, SYV. Huge ripe dark berry nose, with some buttered popcorn effects from the still on-going fermention. Massively chewy, slight residual sugar apparent, smooth long finish.
2003 Clos Mimi Syrah - Shell Creek. Touch of loamy funk, and roasted aromas in the nose - almost a French-like quality. Good structure, lots of ripe fruit, juicy acids, long finish.
2003 Clos Mimi Syrah - Brave Oak. (new barrel) Lots of red and black fruit in the nose. Slightly hi-toned, with juicy acidity, lots of fruit, and gripping finish.
2003 Clos Mimi Syrah - Brave Oak. (neutral barrel) Okay, now er're talking. Without the oak to mask the nose and mouth, this wine has a loamy, herb-scented compote of red and black fruit, distinctive roasted aroma, very good balance and long finish.
2003 Clos Mimi Syrah - Westerly. Big beautiful nose of red and black fruit, with light accents of tar, licorice, and chocolate throughout, and a nice smooth finish.
2002 Clos Mimi Syrah - White Hawk, SBC. The one and only barrel from this vnyd. Slightly sweet nose of dark fruit and black forest cake. Similar flavors on the palate, big mouthfeel, long balanced finish.
2004 Clos Mimi Syrah - Rolling Hills. (21-28 day maceration, neutral barrel) Nose of red and black fruit - has more of grapey scent than the other barrels, along with licorice and orange blossom, with a touch of mocha. Surprisingly tame - plush, almost soft on the palate, with smooth long finish.
2004 Clos Mimi Syrah - Rolling Hills. (6 yr old barrel) Very similar to above, with the same maceration regimen. Seems to have a bit more presence on the palate, and a more definition in the finish.
2004 Clos Mimi Syrah - Rolling Hills. (4 yr old barrel) Similar to above, same maceration regimen, slightly more orange zest throughout.
I wasn't a complete stranger to Tim's wines, and had been able to try a couple of the Clos Mimi bottlings at some of the previous Hospice du Rhone events, as well as having purchased some of the earlier Red Car Syrahs, also made by Tim. Then, another chance came when I met with several others for dinner at the Ballard Inn last November also gave me a chance to chat with him for awhile, and taste his 2002 Red Car Amour Fou, a whole different level of Pinot Noir. But, what I really wanted to do was to get to know the man behind these bold wines, and try some of his barrel samples. A couple of emails later, we'd set up a visit.

Established in 1996 by Tim and Mimi Spear, Clos Mimi focuses on Syrah exclusively (though, word is he might be going to make some Grenache as well), purchasing grapes from several nearby vineyards, including Westerly and White Hawk from Santa Barbara County, as well as Shell Creek and Brave Oak from eastside Paso Robles. After graduating from UC Davis, Tim went on to apprentice at such places as Chalone, Mumm Napa, Silverado, Tablas Creek, Lynch-Bages, and Cloudy Bay. He feels the time spent in Bordeaux gave him a insight and appreciation for old world winemaking methods - although some might dispute this, given that his winemaking style is very new world.
Tim's first winemaking position was at Justin Vineyards in Paso Robles, where he was responsible for the making the '91 Isosceles. A few years later, he became interested in viticulture, and went to work for nearby Tablas Creek Vineyard. That experience eventually landed him a vineyard position at Meridian Vineyards working for Robert (Taz) Steinhauer. At the time, Meridian was purchasing fruit from Shell Creek vineyard in Paso, and Tim became very familiar with the vineyard and its potential.
Not long after, the owners of Shell Creek offered Tim and Mimi three tons of Syrah, and the thought of starting their own label became a reality. Tim made his first three vintages of Clos Mimi at Creston Vineyards while serving as their winemaker, before finally moving his operation to the large CCWS facility in 2000, at which time he also began to consult for Red Car, a small label with a similar focus on Syrah. Producing only about 250 cases of Syrah under the Clos Mimi label, Tim and Mimi (well, Mimi) needed a larger production wine to maintain cash-flow, thus, the 2,500 case Petite Rousse label was born in 2001. With the exception of Bunny Slope, most of their vineyard contracts call for 2.5 tons/acre.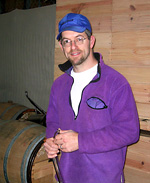 Tim Spear
I'd heard that Tim was into biodymanics, reincarnation, phases of the moon, and was a Francophile with an affectation for all things Burgundian. Well, this probably isn't too far off, and Tim himself will be the first to tell you that his winemaking practices fall "somewhere between Pagan, Pauillac, and Port-like." In fact, he thinks he'll come back in another life and make Syrah in Burgundy - after global warming wipes out all the Pinot Noir. He seems completely in earnest when he talks about these things, with an almost deadpan expression. However, the fact that he occasionaly flashes a wry smile makes one wonder if this is merely a facade, something to pull you in. I found him to be introspective, with a quiet self-confidence about who he is and what he does.
Despite Tim's self-declared French leanings, he loves wines that are big, ripe, and in-your-face. The ripeness in these wines almost approaches 'late harvest' in style - owed in no small part to the very concentrated fruit that results from allowing the grapes extended 'hang time' in the vineyard. In addition, most of his wines also carry higher alcohol levels, as one might expect from very ripe fruit. That said, they all seemed quite balanced, and according to Tim are never acidulated. Other practices include must sulfiting, indigenous yeasts, pigeage, pre-fermentation and post-fermentation maceration, indigenous malolactic fermentation in barrel, and 18-36 months élévage in large cooperage. As to any French similarity, he says he likes to follow "pre-phylloxera traditions practiced in Hermitage, Côte Rotie, Musigny, and Clos de la Roche." He feels his wines "are intended for medium to long term cellaring thanks to well-preserved fruit, ripe grape tannins, well-integrated oak tannins, lofty alcohols, high pHs, and low TAs."
At the time of our visit, Tim was in the process of moving his wines over to a new facility, near the Santa Maria airport. After six months of planning and designing a brand new 2,700 square foot winery, he's able to realize the dream of having his own place. No more communal space or shared equipment. He'd been doing a little 'midnight plumbing,' and proudly showed us the sewer hookup and floor drains he'd installed. The facility also features a barrel rinsing station - a nice touch. He was also quick to point out how he was applying feng shui to the new space, as we could see by the multi-colored surroundings and Chinese accents.
All good things must end, and it was time to let the "pagan winemaker" get home for the rites of solstice... I mean, spending the evening with his family. Besides, Al and I were hungry, and Chef Rick's was just down the street. We thanked Tim for introducing us to his philosophies and letting us sample his wines. My only hope was the wine we selected for dinner wouldn't be too wimpy by comparison.

Wednesday, May 11, 2005 - Santa Barbara County
Up early, Al and I once again headed over to Thanks a Latte for a little breakfast. The Wednesday before HdR is our annual Santa Rita Hills outing, a day when grower/winemaker Peter Cargasacchi usually shepherds his flock of 20-30 wine geeks around the AVA in order to stick our noses into vineyards, as well as wine glasses. This year was to include a visit to Gypsy Canyon, home of some 100+ year-old vines - probably the only remaining Mission vines in the county. This was to be followed by a vineyard tour at Presidio, a picnic lunch on the Purisima Mission grounds, and finally a tasting at Melville Vineyards of '03 Pinot Noir from several SRH producers. We'd all agreed to meet at Melville, and carpool down the highway a bit to Gypsy Canyon, and then onto the Mission. Arriving at the rendezvous is the fun part - seeing all the people arrive and introduce or re-introduce themselves to each other. It's like some sort of convention - like a bunch of wine-trekkies from different parts of the state or country getting together to celebrate a common love for wine.
First visit of the day was to Gypsy Canyon, which, in addition to Pinot Noir, has a small area of Mission grapes under vine. This was a revisit for me, as I'd visited with Deborah Hall just last September. Our whole group, caravaning down the dirt road, must have been a sight to see. Deborah met us at the entrance to her property, and had us park just inside the gate where we walked up the slight incline to see the vines, up close and personal, as it were. She and her vineyard manager gave us quick course in the grape's origins, and its sacramental, as well as other uses. As I mentioned in my previous report, the genetic origins of the "Mission" grape are less than clear - though the grape has a lot in common with Monica or Criolla. Similar varieties are planted in South America (Criolla in Argentina, and Pais in Chile), probably brought there from Spain by Jesuit missionaries - hence our name for the grape.
The tour over, we walked down the road past Deborah's house to the remodeled horse barn, where she had set up a table of stemware, some cheese and a couple of bottles of Angelica, made from her grapes. We were able to taste it alongside two older Angelicas brought by Tom Hill (J.W. Morris Mission Angelica) and Mike Ripley-Lotee (1974 Novitiate Angelica). Very nice indeed.
| | |
| --- | --- |
| | |
| 2003 Gypsy Canyon Angelica | l to r : Adam Lee, Deborah Hall, Mike Ripley-Lotee, and Tom Hill |
With the tasting finished, we were all herded by shepherd Peter into a group and told to head over to Presidio Vineyards for the scheduled vineyard tour. We thanked Deborah for her generosity, and dutifully followed the car in front of us, out the dirt road and further down the highway to Presidio.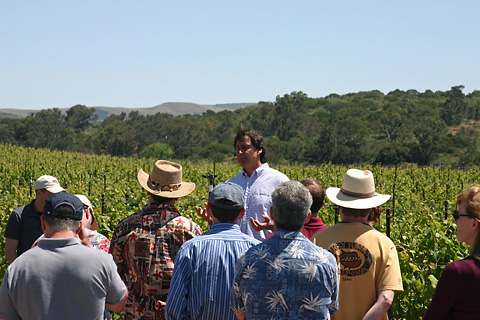 Doug Braun describes his Presidio Vineyard's soil and climate
Arriving at Presidio Winery, we parked wherever in haphazard fashion, most of us looking for shade to keep the cars cool. We walked up the road to the vineyard to hear owner and winemaker Doug Braun tell us about his biodynamically-farmed vineyard.
Doug feels that using sustainable farming techniques, such as using tea composts, creates a healthy and more balanced soil than chemical fertilizers, which might lead to unbalanced wines with undesirable aromatics.
With a total of 100 acres total, 30 acres planted to several varieties, including Pinot Noir, with a little Syrah, Pinot Gris,and Viognier. The vineyard is 5th leaf, which means they're on the 2nd vineyard harvest. Presidio uses a trellising system that positions the vine closer to the ground to maximize the heat that reaches the cluster. It's a Burgundian model that incorporates a 9-bud cane, restrictive yields and increased vine density. It is planted on a 3' x 7' spacing with a plant density of 2,074 vines per acre, and the row orientation is north/south.
We didn't have a great deal of time to spend here, but I'm always fascinated with how much we look to 'old world' methods to solve 'new world' problems. Our time was at an end, so, we piled into our cars, and headed back toward the highway, and west to the Purisima Mission, which was practically next door. Meanwhile, Peter Cargasacchi and John Tomasso headed into Lompoc to pick up sandwiches and drinks for the group.
Mission Impossible
Arriving at the Mission, we were surprised to see 50-60 school buses sitting in the parking lot. The children had long since deboarded, and were all over the place. Since we hadn't been able to reserve picnic benches, it looked as though finding a place to sit and have lunch might be tough. But, like the sheep that we were, we wandered around - aimlessly, since both Peter and John had gone off to pickup the sandwiches and drinks. But, they were back in a jiffy, and after a couple of cell phone calls it was decided that we'd all just go back to Melville to eat our lunch. An excellent idea! This was why these guys got the big bucks, I figured. (We were to find out later that this was "Mission Week" in Santa Barbara County, and most schools were bussing kids to the closest Mission for a field trip. Timing is everything.)
SRH Tasting -
Melville Vineyards
I've written frequently about Melville Vineyards, but I can't say enough good things about the place, the people, and the wines - all of which are fabulous. It was a stroke of luck that our originally scheduled lunch venue didn't work out and was moved back to Melville, because this was much prettier and the weather seemed much cooler. With our lunch finished, we were able to get down to some serious tasting. Peter had arranged things with Chad Melville, and Chad asked that each winery only pour SRH-grown wines, from the 2003 vintage. Unfortunately, this cut a few producers out of the picture (notably Arcadian, whose '03 was actually still in barrel), but most everyone else was able to get with the program and we had 19-20 wines available.
| | |
| --- | --- |
| | |
Selected Tasting Notes:

...from bottle...

2003 Melville Pinot Noir - Terraces, SRH. Light candies apple and pomegranate notes add to the cherry and dark cherry nose. Lots of fruit, seamless textures, and crisp balanced finish.

2003 Ortman Pinot Noir - SRH. Classic strawberry scents and flavors, with just a bit of heat apparent on the back end. Blend of Rancho Santa Rosa (Foley), and Fiddlestix.

2003 Ortman Pinot Noir - Fiddlestix, SRH. Richer and darker, with more black cherry than their blend above. Nice mouthfeel, excellent balance, with a nice tasty finish.

2003 Lafond Pinot Noir - Lafond, SRH. More about structure, the wine has lots of dark fruit, a lightly oaky backbone and slightly leaner finish.

2003 Flying Goat Pinot Noir - Rancho Santa Rosa, SRH. Nose and flavors of bing cherry, with lighter notes of cranberry and earth. Bright fruit throughout, juicy acids, delicious finish.

2003 Flying Goat Pinot Noir - Rio Vista, SRH. Nose of darker fruit that the RSR above, with black cherry, and a touch of pomegranate. Same excellent balance as the RSR, with longer richer finish.

2003 Fiddlehead 728 Pinot Noir - Fiddlestix, SRH. Rich and earthy, with lots of black cherry, excellent balance, and very long seamless finish.

2003 Fiddlehead Lallapalooza Pinot Noir - Fiddlestix, SRH. Similar in style as the 728, but with a richer mouthfeel, even darker fruit, forest floor scents, and smoother fuller finish.

2003 Presidio Pinot Noir - Solomon Hills, SMV. Warmer in nose and flavors, with black cherry, strawberry, and a touch of earth. Nice slightly soft feel through mid-palate, and the finish seems to melt away smoothly.

2003 Hitching Post Pinot Noir - Rio Vista, SRH. Nose of cherry, cherry and cherry, with lighter scents of earth and loam. Nice balance, fruit seems a bit soft on the finish.

2003 Hitching Post Pinot Noir - Cargasacchi, SRH. Dark and brooding black cherry in the nose. Lots of complexities - mineral, earth, wet stone seem to compliment the aroma and flavor.

2003 Hitching Post Pinot Noir - Fiddlestix, SRH. Similar to the Cargasacchi in nose and flavor profile, but more accessible, and a bit softer on the finish.

2003 Siduri Pinot Noir - SRH. Dark earthy nose, lightly sweet throughout, with plenty of black cherry and touches of toast. 60/40 Clos pepe and Cargasacchi.

2003 Sea Smoke Botella Pinot Noir - Estate, SRH. Light floral scent to the otherwise dark cherry nose. Full and tasty, with plenty of black cherry, touch of vanilla-cola, and bit of mineral on the back end.

2003 Sea Smoke Southing Pinot Noir - Estate, SRH. Very succulent, with a bit of brightness throughout, and smooth long finish.

2003 Sea Smoke Ten Pinot Noir - Estate, SRH. Wow nose! Rich, full seamless, with decadent fruit, chewy mouthfeel, long nicely balanced finish.

2003 Ampelos Pinot Noir - Fiddlestix, SRH. Slightly sweet nose and mouthfeel, excellent balance, long tasty finish. '04 will mark the first of the Estate fruit.

2003 Loring Pinot Noir - Clos Pepe, SRH. Dark and a little brooding in the nose, with very nice balance and finish. The nose seemed a little close, and the palate a little softer than I remember.

2003 Loring Pinot Noir - Cargasacchi, SRH. Gorgeous nose of black cherry and a touch of blackberry, and loamy earth. Big rich mouthfeel, juicy black cherry flavor, very nice balance and long finish.
Finally, about 4:00, we needed to get on the road to Paso Robles. I still had to get a few supplies for our big Friday BBQ, check in at the motel and freshen up for our offline at Villa Creek. What a week so far, and it was only going to get better.
---
---
Copyright © 1993 - 2005, Eric Anderson -
All rights reserved
No original material may be reproduced without written consent
Mail & Comments - Eric Anderson