Vol. 13 No.1 - May '05
Part 2 of 2 - Journal and tasting notes from visits to several California wineries and vineyards.
The final destination of the trip was the 2005 Hospice du Rhône, (Friday and Saturday May 13th and 14th in Paso Robles), and I'd left a few days early to make some winery visits along the way.
Many Thanks: A special thanks to Stephan Asseo, from L'Aventure. In one of the busiest months of the year for Paso Robles vintners (PR Wine Festival, Hospice du Rhône), Stephan made the time to meet with us, bottling up several barrel samples just prior to our arrival. And, thanks to Larry Roberts of Caernarvon Cellars for arranging a one-stop tasting experience for us to visit with several of Paso's smaller producers at Paso Robles Wine Services. Thanks as well to Jason Haas of Tablas Creek for his tireless efforts in tasting us through many, many wines. Finally, thanks to Mat Garretson for the amazing stamina to 'keep on trucking' throughout the weekend by inviting people to stop by his winery for an Open House - after what has to have been an exhausting week beforehand. Rumor had it that he'd been up for the last 24+ hours.
Barrel Tasting: even though barrel tasting is one of the most instructive ways to sample wine, it is also something that causes more than a little angst among winemakers. The fact is that the wines being sampled from barrel haven't finished their infancy yet - they are still going through growth and development in the barrel, and haven't reached the point of bottling. Therefore, winemakers are often reluctant to expose their barrel samples to the public - concerned the wines may be misjudged or unappreciated by tasters during this growth stage. Since the tasting notes in this report contain many barrel samples, please note that my impressions relate only to the wine at its current stage of development.
San Luis Obispo County
Thursday, May 12, 2005 - Paso Robles
We've always taken a mini-Paso tour (with a little San Luis Obispo Co. thrown in) on the Thursday before HdR, and this year would be no exception - though what had become an annual sojourn to Alban Vnyds was unfortunately going to be out of the picture. They were apparently going to be heavy into bottling, plus our contact for all of these years (Paul Wilkins) had departed to do his own consulting. Nevertheless, Bob Summers had organized a tour-de-force day for us, which was to begin with a stop at L'Aventure to visit with owner/winemaker Stephan Asseo, followed by a multi-vintner tasting at Paso Robles Wine Services, and finally a tour/tasting at Tablas Creek, with Jason Haas.
Most of us followed each other caravan-style out of town and over to L'Aventure, which is tucked into the back country off Hwy 46 on the westside of town. Once in past the gate, we parked over near the winery and everybody got out to stretch and take a few pictures.
The last time I'd visited here was two years ago (5/03 visit). I already knew the wines were starting to make a name for themselves, but Stephan Asseo had some long range plans, so I was interested to see if there had been any changes to the vineyard plantings. Shortly after we arrived, Stephan stepped out of the winery to meet us and offer a brief description of the property.
Arriving from Bordeaux in 1998, Stephan Asseo began looking in Paso for a place to start anew with his family. He found his L'Aventure in the last parcel he visited. Using a backhoe to examine the limestone soil composition, he confirmed that this was indeed the place he wanted. Despite the absence of vines, and only a house on the property, after Stephan saw the soil, he quickly visualized the potential for wine grapes.

Shortly after purchasing this parcel on Live Oak Road, Stephan planted vines - lots of vines. In fact, he put in about 2,100 vines per acre - nearly three times more density than normal. He tells us today that he's calculated that one vine is roughly equivalent to one bottle of wine, "and that's not B.S." he says assuredly. Intent on striking a balance between ripeness and brix, Stephan planted most of the vines with a north-south facing, though the Cabernet is on the steep hillsides with southwest facing rows, and other varieties facing to the east in order to get what he felt would be more "elegant" qualities, in this 'Bordeaux meets the Rhône.'
Selected Tasting Notes:
...from barrel...
2001 L'Aventure Zinfandel - Paso Robles. Sourced from a Westside vnyd about a mile away. Big and rich, ripe - but not over the top. Lots of boysenberry and a dollop of raspberry. Excellent balance and finish. 100% new oak, but wears it well.
2002 L'Aventure Syrah - Estate. Made up of 20% Estate fruit. Lots of dark berry, very young in mouthfeeel, obvious oak, but handles it very well, very chewy and slightly jammy, perfect ripeness and very nice balance, with long tasty finish.
2002 L'Aventure Optimus - Estate. Fascinating nose of red and black fruit, full bodied, lightly chewy, with a nicegrilled toast quality. 50% Syrah, 46% Cab, 4% Zin (future bottlings will use Petite Verdot instead of Zin).
2003 L'Aventure Optimus - Estate. Gorgeous nose of espresso-infused dark fruit, lots of presence on the palate, and delicious throughout.
2003 L'Aventure Syrah - Rim Rock Vnyd, Paso Robles. Here was a treat,and will just be available via mailing list. This fruit was grown on re-grafted stock in a vnyd far out toward Cambria (near the ocean), not harvested on Nov 25th! This was a dead ringer for an upscale Cote Rotie. 14.5% alcohol.
2003 L'Aventure Cote D'Cote - Estate. This blend varies with each vintage (i.e. '02 was 60% Grenache and 40% Syrah). The '03 was 1/3 each Grenache, Syrah, Mourvedre. Nose is redolent with blackberry compote and chocolate, full rich and smooth on the palate, with somethign like a 2 minute finish. It's not shy either, at 16.9% alcohol. But I'm telling you, you'd never know it -- well, maybe after a couple of glasses you might.
2003 L'Aventure Estate Cuvee - Estate. 66% Cab, 28% Syrah, and 6% Petite Verdot. The hint of carmelized brown sugar brings out the cassis in this otherwise blackberry-filled nose. Beautifully ripened fruit, rich and chewy mouthfeel, and huge long finish.
...from bottle...
2000 L'Aventure Syrah - Estate. Very nice red and black fruit in the nose, and terrific balance of flavors and textures. (Stephan suggested that we just take this bottle with us, as it was sure to be eclipsed by the previous barrel samples. But I prevailed, explaining we were up to it. It got lost.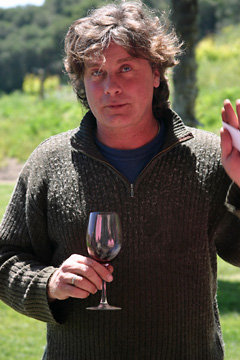 Stephan Asseo
Several years later, and Stephan now has about 58 acres planted with about 40% Cabernet, 30% Syrah, and 15% each Mourvedre and Petite Verdot, as well as a very small amount (1 acre) of Grenache. The experiment with Viognier is still that - an experient. From the outset, Stephan Asseo's goal has been to be 100% Estate-grown fruit, figuring this would take from 6-7 years to achieve. Well, he appears to be on target, and expect to reach that point by 2007. In further refining the estate wine program, Stephan doesn't intend to bottle any vineyard designations, and will ultimately be abandoning both Chardonnay and Zinfandel which was supplied from contract sources. Not producing a Zin is tantamount to heresy in these parts, but considering his goals, Zin just didn't fit in. So, the last L'Aventure Zinfandel will be the '02, and it's a very nice wine.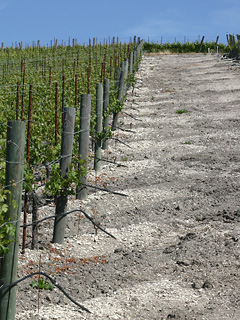 Stephan uses only new oak for the L'Aventure label (80% of his 1-yr old barrels are sold off - 20% are kept for the Stephan Ridge line). He'd recently racked all of his wines (moving them from one barrel to another in order to clarify the wine). Since this process can sometimes affect a wine's profile, Stephan had bottled some barrel samples for us just prior to racking, so that the racking wouldn't adversely influence our palates (thanks, Stephan). Also, because Stephan was due to have another group in right after use, we'd brought our own stemware to use for the tasting.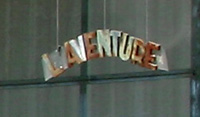 The 10-12 of us formed a large semi-circle in the barrel room, and Stephan described each wine as he poured an ounce or two into each of our glasses. We were filled with questions - everything from his frequent use of new oak, to his pairing of Syrah with Cabernet as a final blend. It's always instructive to taste wines with the winemaker. But, when you have nearly a dozen people asking winemaking questions, I would imagine it might be a bit daunting. Not so with Stephan, however. He seemed quite at ease with our group, and though he feigned a bit of nervousness initially, he had plenty of one-liners - made even more delightful by his French accent. In fact, the accent probably helped mask an expletive or two - barely (wink).
We had a great time, and had even brought along a bottle of '00 L' Aventure Syrah to share with Stephan and the others - though he cautioned us not to expect much, since we'd already "destroyed" our palates with the barrel samples. He was semi-serious - just conveying to us what many of us already knew. But the older Syrah smelled great, and those tastebuds that hadn't already been fried, loved it! Soon, his next appointment arrived, which signaled the time to move on with our day, and let Stephan continue with his day as well.
Paso Robles Wine Services
Selected Tasting Notes:
...from bottle...
2004 Anglim Roussanne - Fralich, Paso Robles. Honeyed nose and lightly waxy mouthfeel. Vnyd had been re-grafted from Syrah. Very nice!
2003 Anglim Viognier - Bien Nacido, SBC. Lovely nose of pineapple and floral scents. Rich, yet very balanced mouthfeel, with just the right amount of weight.
2003 Anglim Viognier - Fralich. More mineral-scented in th enose, with a crisper mouthfeel and body than the B/N version.
2003 Anglim Rose of Syrah - Paso Robles. Tons of fruit, beautiful deep crimson color, juicy and slightly gripping on the finish.
2003 Anglim Syrah - Vista Creek, Paso Robles. Lots of raspberry and dark cherry fruit, slightly gripping back end. Surprisingly moderate extraction and balanced mouthfeel, considering this was from an eastside vnyd. Very nice, and a sample of what can be done well from this side of town.
2002 Anglim Syrah - Fralich. Lots of blackberry, with a touch of tar and mineral in the nose. Lively on the palate, lots of black fruit and tasty finish.
2003 Anglim Syrah - French Camp, Paso Robles. Interesting differences in this slightly sweeter and more plush wine than the Fralich. Like opposite sides of the same coin.
2003 Anglim Two Angels Syrah - Paso Robles. Very nice blend of vineyards, especially with 2% Roussanne added, which seemed to punch up the aromatics.
2003 Fralich Viognier - Estate. Pretty nose of flowers and fruit. Seemingly a little sweeter than the Anglim version, showing a touch of heat on a very nice finish.
2004 Fralich Viognier - Estate. Very nice balance and flavor. As with the '03, a perceptible light sweetness noted on the wine's finish.
2002 Fralich White Wine - Estate. Made of 89% Verdhello, and semmingly very Chardonnnay-like. Bit of waxy quality to the mouthfeel, so this was something of a Roussanne meets Chardonnay - well, for me, anyway.
2003 Fralich Claret of Syrah - Estate. Somewhat leesy nose of red and black fruit. Fleshy mouthfeel, good balance and finish.
2004 Silver Stone Sauvignon Blanc - Arroyo Seco. Light grass scent to the otherwise citrus nose and mouth. nice balance and finish.
2003 Silver Stone Chardonnay - Arroyo Seco. Nice rich, slightly sweet nose. Good body and balance, lightly sweet finish.
2003 Silver Stone Pinot Noir - Bien Nacido/SLO. Nice red and black cherry, touch of cola and earth. Nice mouthfeel, balance, and finish.
2002 Silver Stone Syrah - Hall Ranch. Rich and smoky sweet in nose and mouth. Very tasty, nice balance and finish.
2003 Silver Stone Syrah - Paso Robles. More to the licorice and tar than the Hall Ranch version. less sweet throughout.
2004 Silver Stone Syrah - Monterey Co. Fascinating floral/alflafa scent in the nose. slightly sweet mouthfeel, bit grippy on the finish. An interesting wine to sit with for awhile.
2001 Caernarvon Cuvee Frank Zinfandel - Paso Robles. Nose of boysenberry pie, with a dollop of custardy-something. Nice finish.
2002 Caernarvon Cuvee Frank Zinfandel - Paso Robles. More to the blackberry spice side of Zin, with very nice balance and flaovr. Primative clone, and very nice indeed.
2004 Caernarvon Syrah - Blue Oaks. Lightly sweet and smoky in the nose, with lots of blackberry fruit, and a long gripping finish.
2004 Caernarvon Syrah - Eagle Point. Whoa! Gorgeous fruit, thick and chewy mouthfeel, massive structure, terrific stuff!

2004 Caernarvon Syrah - Arroyo Seco. Interesting toasted herb quality, with sage and even a little rhubarb in the nose. Full mouthfeel, good balance and finish.

We drove back through Paso and over to Paso Robles Wine Services, a large custom crush facility on the southeast side of town. Larry Roberts of Caernarvon Cellars had suggested that our group stop by before HdR, and he'd been able to put together a group of local winemakers who also use the facility to pour their wines for us. I'd visited here before, and had been impressed with several of the wineries, and was looking forward to the return.
Tables and chairs had been setup at the back of the facility, with Steve Anglim, Harry Fralich, Debra Kleck, and Larry Roberts doing the pouring of their respective labels. We had quite a variety of wine and wine styles represented, and this was a unique opportunity to taste some of the smaller Paso producers. I'd met most of the winemakers and proprietors before, so it was see everybody again.
Meanwhile, Bob Summers had previously taken sandwich orders from folks, and picked up them up at Dining with Andre, a small bakery in town, so we were all set for lunch after we'd finished with the tasting.
Steve Anglim produces vineyard-designate Rhône wines using fruit from such growers as Fralich Vineyard and French Camp Vineyard in Paso Robles, and Bien Nacido Vineyard in Santa Maria. I'd first met Steve last year, when I went up to attend the annual Paso Robles Wine University, a two-day "introductory course" in wine growing and wine making, hosted by the PR Vintner's Assn. His wines were impressive - very well balanced, and not at all oversized.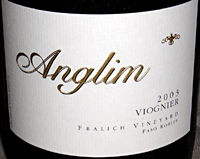 Steve uses custom small production techniques where the grapes are gently crushed to retain 50 to 70% whole berries, and then transferred to small open-top fermenters where they're cold soaked for 1 to 4 days, and inoculated with various yeast cultures. He punches down three to five times a day by hand, generally fermenting to dryness. Once fermentation is complete, he moves the wine directly into varying percentages of new French oak barrels for aging, keeping press lots separate until final blending. He racks the wine as little as needed in the intervening 12 to 18 months.
The Anglim white wines are also whole cluster pressed. The juice is chilled to a fermentation temperature of 50ºF, allowed to settle, and then transferred to a combination of tanks and French oak cooperage for fermentation. When dry, the wines are aged on the lees for 4 to 6 months to develop complexity.Production at Anglim is 2,000 to 3,000 cases per year.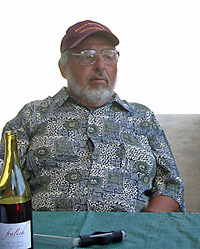 I still recall the first time I met Harry Fralich. It was HdR in '03, and I was walking down one of the aisles at the Grand Tasting scouting for untapped wealth - some newer wineries that were still under the critic's radar, when I heard someone say, "hey, come on over here and taste our wine. We won't bite. Hey, com'n, give our wines a try," he challenged. Being hailed over to a table isn't a real common occurrence at tastings - well, unless they're drinking more wine behind the counter, than in front of it. Either I couldn't resist - or I couldn't get away, but I was drawn to the couple at the table. Introductions revealed that they were Harry and Ruth Fralich, local vineyard owners seemingly having the time of their lives just mixing it up with all these Rhône-loving people. I'm not sure if they weren't getting enough action at their table, or if they just loved talking to people, but they were both obviously gregarious, and this was certainly a prime setting. We hit it off immediately, and Harry insisted that I pay a visit to the vineyard sometime soon to see what he'd accomplished. Well, I haven't found the time to get to his vineyard as yet, but it was really nice to run into him again.
Harry and Ruth Fralich purchased a 20 acre property on the east side of Templeton in 1980, in an area Harry refers to as the "Templeton Bench." Harry started his vineyard in 1989, but still continued to work his "day job," at Hughes Aircraft in Los Angeles, until 1993. But, the year before he left Hughes, he noticed the stirrings of a Rhône revolution, both locally and throughout the world. Harry decided to concentrate on Rhône varieties and set his sights on working with winemakers and wineries of a similar mind - people that would put the same effort into crafting wines that he would into growing grapes.
Although he's now making about 1,000 cases of wine under his own label, Harry intends to keep the project small and will continue to sell about 80% of his fruit to other wineries.
Dan and Debra Kleck are the people behind Silve Stone Wines, and its initial vintage of 1997. Dan Kleck, has been making wine for the past 26 years, beginning his career in the mid-1970's, by focusing on the Long Island region in New York, where he was involved with Chardonnays, Merlots and other varietals at wineries such as Hargrave Vineyard, Bidwell Vineyards and Palmer Vineyards.
In 1998, the couple migrated west to California so Dan could work with Jess Jackson, managing wine production at K-J's largest facility in Monterey, and working with fruit from properties stretching throughout the Central Coast. The focus at K-J Monterey was Pinot Noir and Chardonnay, and Dan was involved in the creation of the initial vintages of these varietals under the Great Estates label. Later, he went on to create the Carmel Road wine project, under the Artisans & Estates umbrella.
Dan left K-J in 2002 to continue work on his own wine labels, Red Horse Ranch and Silver Stone. Drawing on the experience gained with k-J, Dan sources fruit from all over the state for the Silver Stone label, while the Red Horse Ranch will concentrate on the Central Coast, currently Zinfandel from Paso Robles. He also consults with several vineyard owners, and assists in establishing new micro-wineries on the Central Coast. He likes working with up-and-coming vineyard properties: "working with small growers tending well-placed varietals, and with exceptional fruit and location potential to develop artisan wine projects," Dan says.
I'd met Dan, along with Steve Anglim during the same visit last year. Dan had invited us over to his house to try both he and Steve's wines, and I admired a painting on the wall. Hey, that looks familiar, I said. Oh, I painted that, Dan said, as it finally dawned on me where I'd seen a similar one before. Augie Hug has one or more hanging at his cooperative tasting room in Paso, Coastal Vintners.

Caernarvon Cellars
Once known as "Dr. Fermento" (after a wine column he wrote for a weekly paper in San Luis Obispo), former home winemaker Larry Roberts is now in the thick of it. He began making wine as an amateur in 1980, with 200 lbs. of Paso Robles Zinfandel grapes and produced "home wine" until 1997, winning "Best of" awards at the Mid State Fair and Golds at the California State Fair. Emboldened, he began making commercial wine in 1996 for the new Rio Seco label, working three vintages and releasing their first three wines, including a very well received 1996 "Cherry Vineyard" Zinfandel. In 1998, he began making wine for Penman Springs Vineyard, another eastside Paso grower, producing multiple varieties for their label and his own startup label, Caernarvon Cellars (first releases – 1999 vintage).
With the 2001 vintage Larry has added Paso's Vista del Rey Vineyards to his list of clients, and he's also doing some graphic design work for Central Coast wineries, including label design. Judging from what I tasted of his Syrahs, he's going to see an increased demand for his services - as well as his wine. Until his website is up, you can contact Larry at Lrob@charter.net.
We could have easily stayed here for the rest of the day, but we had an appointment with Jason Haas at Tablas Creek for a mini-tour and maxi-tasting, and we sure didn't want to miss that.
Selected Tasting Notes:
...from bottle...
2003 Tablas Creek Côte de Tablas Blanc - Estate. Definitely Viognier driven, with lots of floral accents to the lightly crisp citrus fruit. Stainless steel fermented. 45% Viognier, 32% Marsanne, 16% Grenache Blanc , 7% Roussanne.
2003 Esprit de Beaucastel Blanc - Estate. Much richer in mouthfeel than the Côte, with a nice smooth slightly waxy mouthfeel, and drawn-out finish. 68% Roussanne, 27% Grenache Blanc, 5% Viognier.
2003 Tablas Creek Roussanne - Estate. Slightly sweet nose of lemon-lime and floral scents. Very nice balance, with crisp flavors and a very long finish.
2004 Tablas Creek Rosé - Estate. The mostly Mourvedre blend comes through in mouthfeel more than the nose, with a nice meaty texture and taste, and almost chewy finish. Bottled in Stelvin screw caps. 62% Mourvèdre, 28% Grenache Noir, 10% Counoise.
2002 Tablas Creek Côte de Tablas - Estate. Lovely blend of 45% Grenache, 22% Syrah, 21% Mourvedre, 12% Counoise makes this smooth, yet very intricate in flavors on the palate.
2002 Tablas Creek Esprit de Beaucastel - Estate. Bit of 'French Stink' (kind of earthy/barnyard quality) noted in the nose. Big and rich, very meaty in mouthfeel, with a long smooth finish. 57% Mourvedre, 27% Syrah, 10% Grenache, 6% Counoise.
2002 Tablas Creek Las Tablas - Glenrose Vnyd. Beautiful nose of tar and herbs, slightly soft at mid-palate and through the otherwise long finish. Made from Tables clones grown under their regimen at the nearby Glenrose Vnyd (purpose= same growing techniques - different soils). 35% Syrah, 29% Mourvedre, 26% Grenache, 10% Counoise.
2003 Tablas Creek Vermentino - Estate. (Also known as Rolle) Very citrusy and quite crisp in acids, seemingly lighter in fruit - but also imbued with more pepper and spice.
2003 Tablas Creek Grenache Blanc - Estate. Lemon-lime aromas and flavors, with just a touch of sweetness, good acids, and rich fruit. This variety of white has become all the rage of late. It's crisp and delicious, and seemingly goes with everything.
2003 Tablas Creek Bergeron - Estate. Basically Roussanne, specially bottled as it is might be in the Savoie region of France. Lightly rich with a light citrusy quality. Certainly more under-fruited than what most of us expect from Roussanne, this nonetheless is very enjoyable.
2003 Tablas Creek Mouvèdre - Estate. Interesting leather and wild game quality in the nose, along with dark cherry and a touch of smoke. Not nearly as gamey in flavor, with a nice smooth mouthfeel and long finish. Neutral oak used in cooperage.
2003 Tablas Creek Syrah - Estate. Nice dark fruit, slightly brooding in aroma. Very good balance; not at all overly extracted, with nice flavor profile and finish.
2002 Tablas Creek Panopoly - Estate. Dense, yet bright in aromas, with both red and black fruit, fabulous balance, and a very nice hint of bittersweet chocolate on the long finish. 80% Mourvedre, 13% Grenache, 7% Syrah
2002 Tablas Creek Tannat - Estate. Very Petite Sirah-like in nose, though not quite as impenetrable, and a bit more looser in structure. The 16% Cab may have imparted just a touch of sweet prune, but without tasting 100% Tannat - it's difficult to tell. 84% Tannat, 16% Cabernet Sauvignon.
2003 Tablas Creek Vin de Paille - Estate. Made in the traditional method of drying the grapes on straw mats. Nice fruit, very good balance - not overly rich, but very nice. 50% Viognier, 25% Grenache Blanc, 25% Marsanne
Driving back through town, we headed out to Paso's westside. When we arrived, cars filled the small parking lot, and spilled out onto the side road. What the heck was going on, I wondered. Turned out there was one other tour going on, and more than a few guests in the tasting room area. No matter, we found Jason and followed him outside to start our tour.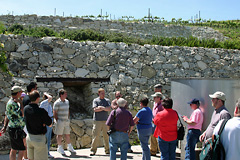 Jason Haas describes the soil at Tablas Creek
Toward the back of the parking lot, Tablas Creek has conveniently left several "windows," or openings built right into the retaining wall. These work perfectly, allowing visitors to see a cross-section of the calcareous soil structure (see photo), unique to this westside area of Paso.
Jason gave us story of how Tablas Creek was started as a joint venture between the Haas and Perrin (Ch. Beaucastel) families. In 1989 Robert Haas and François Perrin had searched the Peachy Canyon area looking for what they thought would be an ideal soil location for growing Rhone varietals in California. What they found in Paso Robles was an area filled with a combination of soft and hard limestone - one very similar to that of Chateauneuf du Pape. This area is quite rocky, and a large amount of rocks and stones in the soil is often desirable. In fact, winemaker Neil Collins jokes about how even after they had cleared the vineyard sites of most of the larger rocks prior to planting, the things still "...seem to creep back at night by themselves."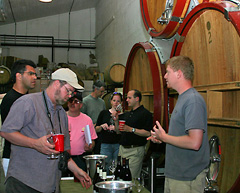 (Earthquake mitigation: note the metal plates attached between the large barrels at upper right)
In the past, many of us had been able to take the vineyard and nursery tour here, so Bob had asked if we could focus on some interesting varietals and just chat. Besides, Tablas has apparently ceased its nursery operations, having now partnered with NovaVine of Sonoma to produce the Tablas Clone grafted vines. This made me all the more glad to have toured the nursery while it was here (link to '02 visit). The Tablas Creek wines are getting better with each vintage. And, there are some different things going on in the winery now. In addition to vinifying some unusual varieties, an interesting trial is the Glenrose experiment: Tablas clone fruit grown in another Paso vineyard, then vinified at Tablas Creek using the same techniques as with their own fruit. Purpose: to see the effects of grower methods and terroir compared to Estate-grown fruit.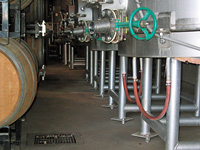 (Earthquake mitigation: note the cross braces added to the tank uprights)
Another interesting development was the effect the December '03 earthquake had on the how the wineries made their barrel rooms more secure. During that quake, Tablas Creek sustained damage to many of its barrels, in particular a very large Seguin-Moreau barrel that was filled with wine actually lifted off its concrete and wood supports, falling onto a tank fitting that pierced the bottom of the barrel (see '03 pictures). Needless to say, a river of red wine poured out from inside the storage room from this as well as other barrels. All-in-all, Tablas Creek lost about 1,000 cases of wine due to the quake.
To mitigate potential future damage, they decided to stack barrels no more than 4-high on their regular barrels racks. They also eliminated the concrete and wood pylons that previously held the large fudrons, replacing them with cross-braced steel uprights and metal fittings between the larger barrels to further strengthen them. also, because the upright legs on the tanks had experienced some buckling, they also added cross-bracing to these vessels as well, and tied them into the catwalk above.
Currently, 80 acres of the property are planted, leaving about 35 more for expansion. Production is currently about 14,000 cases, and Jason said that the final goal is 23,000-25,000 cases. Long known for their blends of he winery is also experimenting a bit with Rhône single-varietal bottlings, such as Grenache Blanc, Syrah, and Mourvedre - many of which we tasted on this tour. In addition, Bob Summers generously purchased a bottle of Panopoly for all of us to try. This mostly Mourvedre-based wine is more 'barrel select,' and it a gorgeous example of of Tablas' blending power. Was it mere coincidence that Robert Haas picked that particular time to come and join us for tasting? Maybe, but I'd like to think that he could smell the Mourvedre.
With our visit over, we all headed back to town. Dinner for the evening was at Paris Restaurant, just off the town square in Paso. Working with Chef Claude Chazalon, Bob Summers had arranged an eight-course meal for our table of 14, and we'd brought specific wines to match the courses.
Friday - Saturday, May 13-14, 2005 - Paso Robles
Up early, I headed over to the Fair Grounds for some coffee and danish, and chatted with other early arrivals for a few minutes before heading down to the first seminar. Then, we were off and running for the 2005 Hospice du Rhône. Friday was a full day, and the evening was a BBQ/bash with many other folks at one of the local motels. Saturday too, was packed with activities, including a final BBQ dinner - essentially a BYO party for all the attendees.
Sunday , May 15, 2005 - Paso Robles
Sunday morning came early, given the festivities from the night before. Mat Garretson has traditionally held an Open House at his winery the day after HdR. It seemed like a crazy idea to me - a celebratory open house coming right on the heels of several days of baccanalia. But, from Mat's perspective - he'd already been up all night debreifing with his HdR cohorts, so why not! Bully for you Mat, and I just had to stop by on my way out of town - to say thanks, as well as hoist a few ...more!
Selected Tasting Notes:
2003 Garretson Reliquary White. Mostly Marsanne and Roussanne, with just a touch of Viognier. Subtle nose, with a nice aroma of apricot and peach. Lightly sweet and juicy mouthfeel, with just a touch of pepper.
2004 Garretson Roussanne. Rozet Vnyd. Sweet, waxy and floral with a bit of citrus in both nose and mouth. Delicious throughout, and nice long finish.
2004 Garretson Roussanne. James Berry Vnyd. Sweet, waxy and floral with a bit of citrus in both nose and mouth. Delicious throughout, and nice long finish.
2004 Garretson Grenache Blanc. Somewhat sweet in mouthfeel, nice citrusy flavors and aroma, very tasty. Still needs to finish malolactic, which may knock down some of the sweetness.
2004 Garretson "G" White. Considered an 'entry level' wine, this is still packed with fruit, if lighter in mouthfeel, with nice lightly sweet white peach aromas and flavors,and nice crisp finish.
2004 Garretson Rose. Blend of Syrah, Mourvedre, and Grenache, this is certainly darker than most Roses, but what a gorgeous color! Bit of buttered popcorn in the nose, backed up by floral and meaty aromas. Nice fleshy and meaty mouthfeel, with a nice crispness to finish.
2004 Garretson "G" Red. Blend of Syrah and Grenache, with quite ripe black and red fruits, very nice mouthfeel and finish. Slightly soft and very drinkable, this is another of Mat's entry level wines.
2003 Garretson Grenache. Lots of raspberry and a bit of blackberry in the nose and mouth, with very good balance and finish.
2003 Garretson Mourvedre. Big meaty nose, with lots of gripping tannins on th epalate and a very long finish.
2003 Garretson Craic Syrah. Beautiful nose of dark fruit, bit of tar and licorice. Tight on the palate, but there's ample fruit, very good balance, and a long smooth finish.
2003 Garretson Aisling Syrah. Much more herbed than the Craic, with leather and tobacco as well. More approachable in mouthfeel, nice balance and finish.
2003 Garretson Syrah - Rozet Vnyd. Nose of blackberry, licorice and black pepper. Somewhat tight on mouthfeel, with spicy dark fruit and smooth long finish.
2003 Garretson Mon Amie Syrah - Bassetti Vnyd. Rich and deep black fruit nose. Big mouthfeel, lightly sweet herbs and spice, with massive mid-palate and very long finish.
2003 Garretson Bullador Syrah - Hoage Vnyd. Nice dark fruit nose. Big, slightly sweet mouthfeel, lots of fruit, gripping finish.
2003 Garretson Reliquary Red. Nose of red and black fruit, with just a bit of licorice. Slightly sweet mouthfeel, raspberry and blackberry flavors, long balanced finish.
...from barrel...
2004 Garretson Syrah - Rozet Vnyd. Big and loaded with black fruit, saddle leather, and licorice. Chewy mouthfeel, very good balance and nice long finish
2004 Garretson Mon Amie Syrah - Bassetti Vnyd. Lots of blackberry, touch of coffee, herbs and spice. Beautiful balance, plenty of chewy fruit, nice balance and finish.
We pulled in about 9:30am, and there were already people in the tasting room. Mat poured everybody through everything he had in bottle, and then invited us all into the tasting room for barrel samples.
Former Navy pilot Mat Garretson had an Viognier epiphany and decided he wanted to get into the wine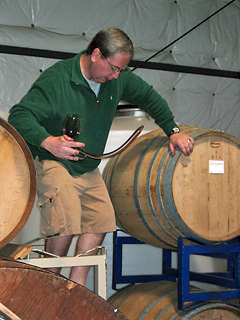 Mat Garretson descends a stack of barrels after pulling a thief-full of wine
business. Arriving in Paso Robles, he started his new career with Eberle winery. At the time, everybody wore more than a few hats, so Mat was getting experience in many facets of the business - from vineyard to bottle. From here, Mat moved on to Wild Horse, where he was Brand Manager, which served him well when it came time to market his own wines.
Mat started his own winery in 1997, though he fully expected to keep his 'day job,' while making wine. But, he decided to chance it and gave up the day job, moving into his current space just off Hwy 46 East in 2000. Since that time, Mat's place has become Ground Zero for many a burgeoning winemaker, and more than a few 'names' have made their own wines right here, including: Matt Trevesan (Linne Calodo), Justin Smith (Saxum), Chris Cherry (Villa Creek), Augie Hug (Hug Cellars), and Shawn Mitchell (Palm Cellars). Mat feels he'll just be here for an interim basis, and has every intention of building his own winery someday.
Mat like to push the envelope, and also seems to be on the cutting edge of a lot of things. For instance, the Garretson label is nothing if not distinctive. Its bright colors and Gaelic names for many of the wines are meant to grab attention, and 'thumb noses at pretentiousness.' Mat jokes that his wife Amie calls the label, "Garish-son," but Mat likes the 'Crayola' comparison, and feels that his wines stand out. Mat was also one of the first in Paso to get into the synthetic closure (aka plastic cork), and tried the closures for a couple of years as a way to prevent his wines from becoming 'corked' from TCA - a mold that causes wine corks to transmit "off" aromas and flavors to wine. Not completely satisfied with the results, Mat has not switched to Stelvin closures, a screwcap of sorts that has very wide usage in other parts of the world. About 97% of the Garretson line is now under Stelvin.
Currently, Mat buys all of his fruit from the Westside Paso, but he and wife Amie have plans to buy some vineyard land - hopefully sooner, rather than later. He purchases grapes on long term contracts, producing 20 different wines under the Garretson label. Mat says that he wants each of his wines to be "vineyard driven, rather than style driven," and this is not more aptly shown in his 3-8 Syrah bottlings. Total production is about 15,000 cases anually.
Selected Tasting Notes:
...from bottle (some barrel samples)...
2003 Palm Cellars Carlita's Grenache. Lots of nice spiced raspberry aromas.
2004 Palm Cellars Syrah. Dark and brooding
2003 Palm Cellars Syrah. Nutty richness, very good mouthfeel
2004 Palm Cellars Zinfandel. Lots of nicely ripened boysenberry
2003 Palm Cellars Zinfandel. Fascinating nose of sweet thick raspberry
Our visit with Mat over, no time was lost getting to Palm Cellars, the small Paso-based label owned by Shawn Mitchell. Shawn has worked in the wine industry for over 15 years and "has a great passion for everything from racy, minerally Germans, to fine Burgundys, to in your face Aussies." Though he seems to like many divergant styles, Shawn feels his own wines are "closer to Australian, but with higher acids." Production is about 1,500-1,700 cases.
Shawn arrived to meet with some other people, and offered to show us what he had from '03 & '04. We jumped at the chance, as his wines have been one of the recent big breakthrough wines out of Paso. Sourcing fruit from Westside vineyards, Shawn is making some rich and ripe reds that have all the approachability and balance necessary to be major league. Get'em while they're still available.
---
---
Copyright © 1993 - 2005, Eric Anderson -
All rights reserved
No original material may be reproduced without written consent
Mail & Comments - Eric Anderson