Vol. 15 No.1 - August '07
Journal and tasting notes from visits to a few Santa Ynez Valley wineries. The trip was centered around the annual Clos Pepe BBQ and release party. This incredible event is held at Steve and Cathy Pepe's house, right in the Clos Pepe vineyard, and is not to be missed - provided you are on the mailing list and/or get an invite.
A special thanks to Matt Dees and the proprietors of Jonata. Thanks too to Tim Grubb, who is living the dream and making wine. And, a special thinks to Karen Steinwachs for giving us a super-tour at Buttonwood.
Barrel Tasting: even though barrel tasting is one of the most instructive ways to sample wine, it is also something that causes more than a little angst among winemakers. The fact is that the wines being sampled from barrel haven't finished their infancy yet - they are still going through growth and development in the barrel, and haven't reached the point of bottling. Therefore, winemakers are often reluctant to expose their barrel samples to the public - concerned the wines may be misjudged or unappreciated by tasters during this growth stage. Since the tasting notes in this report contain many barrel samples, please note that my impressions relate only to the wine at its current stage of development.
Saturday, August 4, 2007 - Ballard Canyon
Up early, I headed out of Orange County for the Santa Ynez Valley. I was looking forward to meeting up with several people and making a return visit to a winery that promises to be an exciting new venture in Santa Barbara for the owners of Napa's Screaming Eagle winery.
I've written previously about my first visit to Jonata (see). As a brief recap, this Santa Ynez Valley project has been very low profile (it even had a code name). The name is derived from Rancho San Carlos de Jonata - the original 1845 Spanish land grant for the area. The 80-acre vineyard of mostly Bordeaux varietals is owned by Charles Banks and Stan Kroenke, the same people who bought Screaming Eagle in 2005. The site chosen for the vineyard was on Ballard Canyon Road, a north-south corridor extending from Buellton to Los Olivos.
Where's Ballard Canyon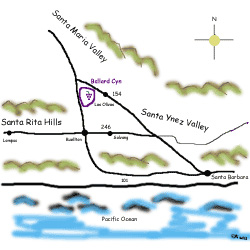 It is the northern half of this road that continues to impress all who follow things in the Central Coast. Well-known vineyards like Larner, Rusack, Stolpman, Beckmen's Purisima Mtn, Harrison -Clark and Tierra Alta are all located on the upper (Northern) part of this road, nearer to Los Olivos than to Buellton, but they all have one thing in common, they deliver fantastic fruit, from Cabernet to Syrah and Grenache and even to Sangiovese. Oh, I can hear the scoffing right now, but this is undoubtedly one of the premiere sites for Sangiovese outside of Tuscany - at least that's what Alberto Antonini thinks. It's also a bastion of Syrah and Grenache. In fact, the Perrin family (Chateau Beaucastel) were seriously considering this area for their Rhone variety partnership with the Haas family (they ultimately selected Paso Robles for Tablas Creek).
So, why is Ballard Canyon so great for so many varieties of grape? The soil. There is limestone strata running from southern Monterey county through westside Paso and into parts of Santa Ynez Valley. Limestone has a high ph, Ordinary soil about ph6 - the soil here is ph8. Of course, this call for different rootstalk, rootstalk that is resistant to limestone-induced iron deficiency (e.g. 110R, a cross of two American species). Last year, I took a little sponsored tour of the corridor, which included a nice show-and-tell by Jeff Newton, who farms a majority of vineyards in the area (see PhotoJournal).
Last year, we'd toured the vineyards with winemaker and vineyardist Matt Dees, then followed him back to the small winery in Buellton to do some barrel tasting of the wines. Everything was so tasty, we could hardly wait to come back later on and try things from the final bottles lots. Well, one year later, that time had finally arrived.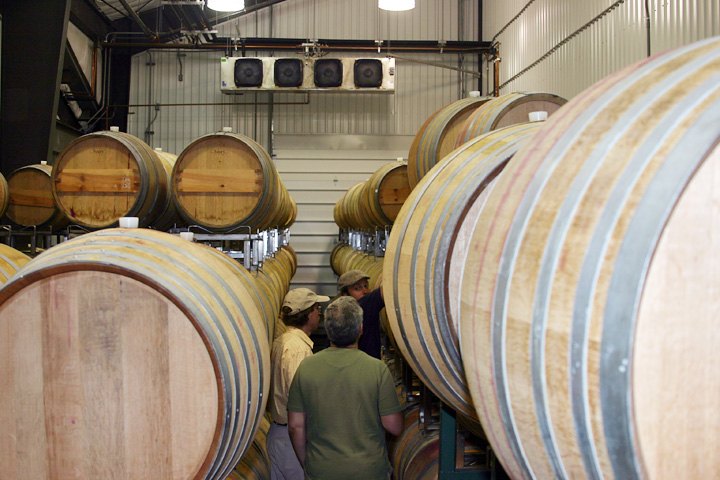 Jonata winemaker Matt Dees thiefs some wine for Al Osterheld and John Tomasso
We all arrived at almost the same time at Jonata's winery, tucked into a small industrial center in Buellton. Peter Cargasacchi, Al Osterheld, and John Tomasso were there again, along with Rob Winn and Francine Haight. I'd arranged with Matt to take us through their current bottlings, which included mostly '04s and one '05.
Selected Tasting Notes:
...from bottle...
2005 Jonata "La Flor de Jonata" Sauvignon Blanc - Estate.
Nice floral scent, with a light boxwood/grass quality, with hits of lemon and citron, crisp acids, and nice grip on the very long finish. Musque clone, 14.9% alc.
2004 Jonata "El Alma de Jonata" Cabernet Franc - Estate.
Almost Chinon-like in nose with a pronounced floral and lavender aroma, along with pencil lead, sawdust accenting the dark fruit. Lovely mouthfeel, absolutely delicious long finish. 84% CF, 9% Cab, 7% Merlot, 15% alc.
2004 Jonata "La Sangre de Jonata" Syrah - Estate.
Fascinating hints of iodine and blood as backnotes in the aroma. Rich and chewy, but also firm and structured. Seemingly perfect ripeness and balance, with long seamless finish. All clone 174. 15.7% alc.
2004 Jonata "La Desafio de Jonata" Cabernet Sauvignon - Estate.
Fabulous mouthfeel, chewy and rich, but also a bit rustic in its cassis, leather, and hint of tobacco. Any rusticity smooths out just before the very long finish. 8% Merlot.
2004 Jonata "El Corazon de Jonata" Blend - Estate.
Fascinating ripeness seems initially sweet in mouthfeel, but shows more juicy-acids from mid-palate on, and through very long finish. 61% Syrah, 16% Cab 16% Merlot, 5% Petit Verdot, and 1% each of Sauvignon Blanc and Sangiovese.
...from barrel...
2006 Jonata Sangiovese - Estate. Nose of carpaccio and dried herbs. Nice ripeness, full and rich on palate , and long finish.
2006 Jonata Syrah - Estate. Some stem inclusion here, with tar and asphalt notes, pepper, and herb-tinged finish on tannins.
2006 Jonata Syrah - Estate. Different block than above, carries some obvious cooperage notes of coffee/espresso, along with a nice touch of fennel.
2006 Jonata Syrah/Sangiovese - Estate. The Sangiov was dried to 32 degrees brix Vin-Santo style by spreading them out on a drying grids, then co-fermented with Syrah for a sumptuous, yummy nose, and tasty mouthfeel.
2006 Jonata Cabernet Franc - Estate. Gorgeous! Think Chinon, with plenty of ripe fruit.
2006 Jonata Cabernet Sauvignon - Estate. Ripe and rich, excellent mouthfeel and texture.
2006 Jonata Petite Verdot - Estate. Newer oak. Big, tough and tannic, with that telltale blueberry.
2006 Jonata Petite Verdot - Estate. Neutral oak. Elegant and rich mouthfeel.
We followed Matt into the darkened winery, as he flipped some light switches and we waited and waited for the energy-saving light to come on. How about some tasting, he said, and we were off to the races. (Actually, truth be told, this was not my first pour from a bottle of Jonata. Auctioneer Ursula Hermacinski had come to one of the Hospice du Rhone offlines with nearly a case of Jonata wine, apparent leftovers from a tasting she and a few others had attended earlier that day. The wines were great, and I for one was glad to have had the opportunity to taste them.)
Matt led us through each of the Jonata bottlings. The wines were all fabulous, and invariably, the subject got around to how much they intended to price these first offerings. After Matt told us what the wines were being offered at, we collectively gulped. (Actually, the pricing didn't come as a complete surprise to us. We'd heard some ball-park figures before, but then again, you never know what the final outcome will be.)
At $75 for the Sauvignon Blanc and $125 for the top-end Bordeaux blend, the admission price was certainly in the high-rent district in general, and even more specifically for Santa Barbara County - a point that's arguably moot. There was no doubt to any of us that the quality was in the bottle - absolutely no doubt at all. The question seemed more to be, at what price - quality, or will the wine be judged by its quality alone.
As an aside, there seems to be a lot of angst these days over new projects pricing themselves at a level considered too high - that is, if the pedigree or lineage isn't sufficiently established, higher pricing is unwarranted. Personally, this just doesn't make sense to me. The fact of the matter is the true value of a wine is subjective. They shouldn't be compared to other wines, other wineries, or other wine-producing regions.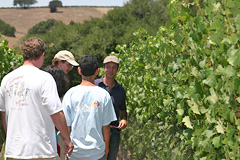 Okay, so back to the Jonata story. After the tasting, matt led us out to the vineyards to get the lay of the land. Their parcel of land in Ballard Canyon is 600 acres, with an 83-acre vineyard that is planted in blocks and sub-blocks, and to many different clones and rootstalks. Eschewing the original suggestions that they plant asparagus, they chose instead Cabernet Sauvignon, Cabernet Franc, Merlot, Petit Verdot, Sauvignon Blanc, Sémillon Sangiovese and Syrah, with recent additions of Grenache and Viognier. The different varieties selected for planting represent a little hedge-betting I'm sure, but it should also be noted that each of these varieties have succeeded quite well thus far at other nearby vineyards, and there is every reason to believe that they will do exceptionally well here.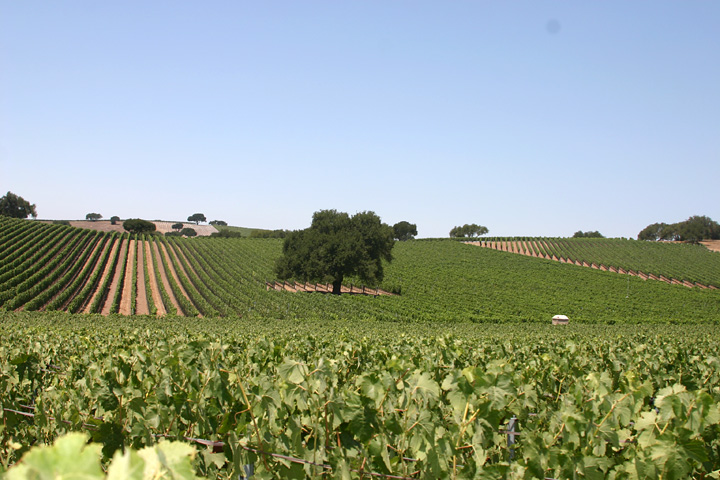 With our little tour done, we left Matt to his Saturday and headed to Lompoc to check in to our motel, and freshen up for the Clos Pepe BBQ. Dinner that night was at our old friend, The Hitching Post, where we were joined by several others and some more nice wines.
Sunday, August 5, 2007 - Santa Ynez Valley
Up not-so-early, Al and I headed over to the local Starbuck's for pick-me-up, then out to Buellton to check in with Tim Grubb, for our first visit of the day.
Selected Tasting Notes:
...from barrel...
2006 Departure Pinot Noir - Silacci Vnyd, Pisoni Clone. Wild and earthy nose, slightly sweet mouthfeel.
2006 Departure Pinot Noir - Silacci Vnyd, 667 Clone. Nice sweet-sour dark cherry aromas and flavors, almost chewy mouthfeel - very nice all over!
2006 Departure Pinot Noir - Silacci Vnyd, 777 Clone. Wild strawberry nose, sweet-sour fruit, seems more complex than the 667. Real nice!
2006 Departure Pinot Noir - Silacci Vnyd, blend of the 3 clones. So, this was probably going to be the "final" blend. 45% 667, and the balance is 50/50 (27.5% each) of the Pisoni and 777. Very nice. All of the components I liked in each of the barrel samples came through in the final, including a nice earthiness.
2006 Departure Syrah - Three Creek, Happy Cyn. Huge, dense nose, lots of tannins, and big berry fruit. Quite the monster,and a bit of a surprise from this warmer location in SBC.
2006 Departure Syrah - Zotovich Vnyd, SRH. This vnyd is located across from Melville in the Sta. Rita Hills. Lots of tar, as[halt, and dark fruit here. Fairly tannic as well, but what complexity!
2006 Departure Syrah - "East Meets West." This blend is meant to combine a warm-climate and a cool-climate Syrah. The 75% Zodovich comes through real nice in the nose, and the mouthfeel gets much more inviting too. Fascinating!
2006 Departure Syrah - Tierra Alta Vnyd. Clone 1 and 887 produces a big dark nose with lots of blackberry pie at mid-palate, and a nice grip on the back end.
2006 Departure Syrah - Demetria Vnyd. Clone 1. Sort of a lighter version of the Tierra Alta, but slightly thinner in body, with a touch more ripeness on back end. Very approachable right now!
It had been a year or so since we last visited with Tim Grubb of Departure Wines. Tim and brothers Jason and PJ Miele are partners in this venture, begun in 2004. Tim had gone to school at UCSB, so he was no stranger to the area. College developed an interest in wine, and working with Joey Tensley for a few vintages gave him the skills needed to begin his own label, making Rhones and Pinot Noir in the Tensley facility in Buellton.
The Tensley facility is located in a small industrial section of Buellton, on the west side of US-101. Tim had pulled several barrel samples ahead of time, and we did something that I really enjoy. We tried two or three samples from specific vineyards, and then Tim would pour a few things together in a bottle to approximate what he feels might be the final blend.
It's instructive to first taste the components, then the final product. One of the educational aspects of wine tasting is to try and disect the blend, looking for traces of the original components. It's an exercise in focusing on the attributes of each vineyard, that can teach you a lot about certain terrain or soils.
Buttonwood Vineyards & Winery
I've written frequently about visits to Santa Barbara County, looking for new people, wineries and vineyards to visit. Well, that kind information doesn't come without some research, or more accurately, someone giving me tips on the going's-on. Thankfully, Karen Steinwachs has always been interested in getting the word out about these things in SBC, and I for one am grateful. A few years back, when she became assistant winemaker at Fiddlehead, I thought, now this is the perfect place for Karen. Well it is - or was, because behind every assistant winemaker is a desire to get out and do their own thing. Now that Karen had made wines with Norm Yost (Foley, Flying Goat) and Kathy Joseph (Fiddlehead) and probably more than a few others, she received a offer she couldn't refuse, and accepted it to become the winemaker for Buttonwood Farms, effective February 2007.
Buttonwood Farms is located on Alamo Pintado Rd, just north of Solvang. I'd always thought Buttonwood was a cool name. Little did I know the origin. It turns out that a Buttonwood is a type of Sycamore, or a London Plane tree, and one of the two trees native to Santa Barbara County.
Selected Tasting Notes:
2006 Buttonwood "Devin" - This 64/40 blend of Sauv Blanc/Semillion was a tank sample, currently being cold stabilized. Barrel fermentation and partial ML adds a nice toasty rich aspect to the wine.
2006 Buttonwood "BW" - This is the high-end red blend, anmed in honor of Betty Williams (BW), and bottled in magnums only. The blend was 41% Cab Franc, 32% Merlot, 18% Cab, and 9% Syrah, and it smelled great! The obvious Cab Franc influence in the nose really lifted the wine, and with its softer mouthfeel from the Merlot, they probably have winner here.
2003 Buttonwood Cabernet Franc - This had just been bottled. Herb-tinged cassis nose, slightly soft mouthfeel, very good acids and balance and nice finish.
2006 Buttonwood Marsanne - Juicy and citrusy, with a nice candle-wax mouthfeel.
2004 Buttonwood Merlot - 12% Cab Franc give the nose a slight toasted herb edge. Smooth mouthfeel, a bit of a quaffer.
2003 Buttonwood "Hawk Red" - This 50/50 blend of Cab Sauv and Cab Franc has good fruit, a soft mid-palate, and a nice cassis-laced finish. At $14, this was designed as a "good wine at a good price," so people could enjoy wine every day.
2000 Buttonwood "Trevin" - 50% Merlot, 25% Cab Sauv, 25% Cab Franc. This is their higher-end Bordeaux blend. Very nice hint of toasted herbs in the cassis-filled nose, smooth and rich on the palate, with juicy acids and a tasty long finish.
2006 Buttonwood Late Harvest Semillion - Lovely Sauternes-like nose, with touches of white peach. Juicy, very well-balanced and long lingering finish.


Purchased in 1968 by Betty Williams, it was developed into a Thoroughbred horse training facility, as were many of the spreads in teh Santa Ynez Valley back then. By the 1980's Betty had seen vineyards make a pronounced appearance in the County. Finally, a local vintner convinced her that the higher portion of Buttonwood would make an excellent vineyard site. So, in 1983 she began a three-year planting process which eventually became 33,000 vines of the Buttonwood Farm Vineyard. In 1989, she took the next natural step and built a winery. In the early '90's Betty became interested in organic farming. Then, as related on their website: "What started as a small-scale experiment behind the barn ultimately pushed the horses off the property and grew to twelve acres of exquisite produce. Between 1992 and the end of 1995, Betty created an artist's palette of vibrantly colored fruit, vegetables and flowers for the tasting room."
It was at about this time (1994) that I first visited, and formed an initial opinion of Buttonwood Farms. As I read these comments now, it seems very elitist of me to have said such things, but at that time and place I was on a quest for wineries, not farms, and while I meant no insult by my comments, I meant no particular praise either.
"Brand new tasting room/gift shop/herb store/organic Mecca in the Santa Ynez valley. Humph. I can't put my finger on it, but the place didn't seem winery-enough for me. Maybe it was because it looked like a "Hadley's" operation, with fruits, herbs, and the like. Maybe it was the "organic" signage out front. Maybe it was the $2.50 incl glass tasting charge. Or, maybe it was just all of the above - coupled with a "cold" tasting room. The pourer was obsessing about the installation of a new countertop. The wines were just okay-to-average, although I particularly enjoyed the Port, which, as it happens, was made from 4 of the original Portuguese grape varieties (Porto uses 6)."
Fast forward to today. Once Karen took over the reins and asked us to stop by, I was very interested in seeing if my earlier opinion might have changed. Okay, I said to Karen, I know where Buttonwood is, so, where do we find you. Easy, she says, go up the hill from the tasting room/peach stand, a left turn at the tomatillos/tomatoes/onions, right turn at the olives and then up the hill to the vineyard/pond/winery. Sounded like pretty standard directions - for a farm! But then again, that's essentially what Buttonwood is - still a farm.
Karen and her husband Dave met us and showed us around the "farm." She was excited, and obviously had big plans for a resurrection of the winemaking program. But first, she needed to familiarize herself with what Bordeaux varietals need and want to thrive - or more appropriately, struggle in order to deliver good wines. She counts herself lucky that many others in the valley are so willing to help and share information.
We walked up to a large pond with lots of shade trees. We sat at a picnic table with a couple bottles of wine, and chatted as the warm relaxing breeze picked up. The vineyards are up on a mesa, and the weather is cooler than is Ballard Canyon. The property is 100 acres - currently planted to 39 acres of vines. Production is about 8,000 cases annually. Karen definitely has her work cut out for her. She has already been through the mental planning process regarding new equipment and new winemaking methods. Karen wants to shorten the time in barrel for the wines. The previous winemaker (Mike Brown) was a fan of aging most wine for 36 months. The '03 Cab Franc we tasted was a prime example of this - it had just been bottled. Another change was the oak regimen. Karen intends to move into French oak cooperage for future lots, a departure from past methods. Also, many, if not all, of the bottlings were finished in neo-cork. Karen plans to change this, going back to regular cork. Bravo, I immediately said.
The quiet idyllic surroundings were about to get noisier very soon. The vineyard workers typically use this area for Sunday afternoon get-togethers. So, we moved along, saying goodbye to Karen and Dave, and heading for home, lamenting the environment we'd left behind - but knowing we'd be back again.
Copyright © 1993 - 2007, Eric Anderson -
All rights reserved
No original material may be reproduced without written consent
Mail & Comments - Eric Anderson