Vol. 19, No.1
Central Coast - February 2011
Prologue -
By way of background, when I first started writing Grape-Nutz back in the early '90s, my good friend Michael Poston was along for the ride. Actually, it was Michael's newly-developed interest in wine that reawakened my own interest. It also turned out to be sufficient motivation for my wife and me to suggest he accompany us on a trip to Napa and Sonoma in 1993.
Soon, the three of us were visiting wineries on a regular basis, usually three or four times per year. After a few years, my wife finally grew weary of the juggernaut that drove us to visit as many as eleven wineries per day. Michael and I did not, however, and he and I continued traveling the wine road for several more years. Michael ultimately took a sojourn from all the winery-hopping about 2003. Meanwhile, I continued to soldier on – either on my own, or I would join up with other wine geeks to continue the never-ending quest. It was usually unspoken, and most certainly impossible, but I think we were all after the same thing - trying to visit EVERY winery in California.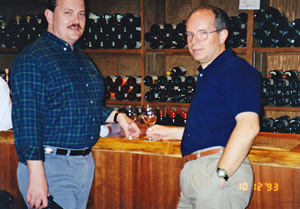 Back In The Day: Michael and Eric hold up the counter at V. Sattui, our #11 stop of the day.
Fast forward several years, and Michael now found his interest in wine similarly reawakened. It appeared to me to begin when his brother-in-law Tim from England came to visit several years ago. Tim is a foodie with an appreciation for wine – primarily as a beverage to pair with food. He knows what he likes and is fairly articulate about describing the aromas and flavors – appealing or otherwise. Being from the U.K., however, it is fair to describe his palate as Euro-centric. So, in order to expose Tim to New World wines, Michael did the obvious thing most Southern Californians would do – he took Tim to nearby Temecula to visit some wineries. Well, suffice to say Tim was less than impressed with the wines he tasted, and, from what I'm told, was quite willing to articulate this to the pouring staff. At this point, I'm sure Michael decided there were several other California wine producing regions whose wines would be more amenable to Tim's palate. But, where to go? Michael asked me for some suggestions, one thing led to another, and I started accompanying them. Over the last couple of years, we've taken day trips to Santa Ynez Valley and Sta. Rita Hills – all with the goal of "Educating Tim."
When Michael told me that Tim would be making his annual trip to the West Coast again in February, I knew it was time to setup another wine trek. Although we hadn't exhausted the available wineries in Santa Barbara County, Michael thought it was about time to take Tim on a longer out-of-town journey – a real road trip. So, we mutually agreed on Paso Robles as a good geographic choice, and Michael took care of the accomodations and restaurant reservations, and I set about planning the winery and restaurant visits. I tried to include a little of everything - barrel room, vineyard, and tasting room visits, so that Tim could get a well-rounded sense of both the wine touring experience as well as the region itself.
Thursday - February 24, 2011
Tasting Notes: Current & Future Releases

Valor 2010 Sauvignon Blanc – Central Coast. Tank sample. From a vineyard near Avila Beach. Nose of light citrusy aromas with a racy background note. Nice acid balance in mouthfeel, very nice lime zest flavor, with a slight saline quality to the long finish.

Effort 2008 Chardonnay – Estate, Edna Valley. Fermented in stainless, then coopered in neutral oak. Nicely ripened almost sweet fruit in the nose, with slightly waxy texture and good concentration of fruit and balance.

Center of Effort 2008 Chardonnay – Estate, Edna Valley. Same vineyard source as above, but all barrel fermented and coopered with 80% new oak. Light pineapple and tropical aromas; seems to wear the oak well, with nice crispness and flavors of lemon and lime.

Sinor-Lavelle 2008 Pinot Noir – San Luis Obispo Co. From a blend of vineyard sources. Lots of rose petal and cinnamon in the nose. Nice cherry fruit, the 1/3 whole cluster fermentation is more apparent in mouthfeel, raising the complexity from mid to latter palate.

Sinor-Lavelle 2008 Pinot Noir – Talley-Rincon Vnyd, Arroyo Grande Valley. From a 14 row block of Clone 2A (Wadenswil selection). Meaty nose of dark cherry and forest floor. Excellent balance and flavors, nicely understated in mouthfeel, you get the feeling that something more is hiding in the background, waiting to emerge. Quite "Burgundian" in its unsweetened flavors, with a nice soft fade on the long finish.

Sinor-Lavelle 2008 Pinot Noir – Aubaine Vnyd, San Luis Obispo Co. From a vineyard near Nipomo, which at 800' elevation, has a direct view of the Pacific Ocean. Mike says the fruit here looks like a small cluster of blueberries. The nose is loaded with bing and dark cherry fruit, with a talc or chalky note. More jammy than expected in mouthfeel, with very good balance and a long fruit-filled finish.

Sinor-Lavelle 2008 Pinot Noir Anniversary Cuvee – San Luis Obispo Co.. This is 100% whole cluster fermented, and essentially a 'best barrel' blend of his fruit sources. But, but slightly reticent dark cherry nose, with only a slight perception of whole cluster aroma. Chewy mouthfeel with lots of cherry fruit, very good blance, and long finish.

Sinor-Lavelle 2008 Syrah – Luna Matta Vnyd, Paso Robles Clone 174. Big, but decidedly not ponderous in the nose, with lots of black fruit, and some tarry notes. Very nice balance of fruit and acid, slightly peppery quality to the dark fruit, and nice long smooth and tannic finish.

Effort 2008 Pinot Noir – Estate, Edna Valley. Interesting spicy and smoky quality in the nose. Dark spices compliment the dark cherry fruit, with good balance throughout and long finish.

Center of Effort 2008 Pinot Noir – Estate, Edna Valley. Lush and spicy in the nose, with a firm grip on the palate, and even more spicy fruit in the mouthfeel.


Michael and Tim came by to pick me up, and we left about 6:45am for Edna Valley. After slugging through the usual L.A. Freeway choke spots on the I-405, plus a few on the 101, we finally arrived a little after 11am for our appointment at Sinor-Lavallee. Rain was threatening the next few days, but today was nice and sunny.

Mike Sinor has been around the Central Coast wine scene for some time now, working at Corbett Canyon, Chamisal Vineyards, assistant winemaker at Byron, and winemaker at Domaine Alfred. Rather than formal wine training at Cal Poly SLO, Mike was more interested in becoming a shop teacher. Interestingly, after he was bitten by the wine bug, these skills at welding and fabricating undoubtedly made him a potentially valuable asset to any winery.

I first met Mike on a visit to Domaine Alfred in 2003. Bob Summers and I were wandering around looking for then owner, Terry Speizer, to show us the vineyard and winemaking operation. With the tasting room locked and nobody in sight, we wandered around to the back of the building. As DA's winemaker, Mike was on the crush pad with a couple of assistants working hard at cleaning out manual presses from the recent crush, since the Europress was down and they were waiting for a serviceman to show.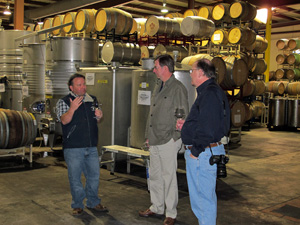 Mike Sinor, Tim, and Michael
I ran into Mike again a year or two later at the World of Pinot Noir festival, where he had become one of the directors. By that time, he had left Domaine Alfred to devote full time to his own fledging label, Sinor-Lavelle as well as consult on a few other projects.

Mike greeted us out front of the former Corbett Canyon facility. After describing the aspect and growing conditions of Edna Valley, he led into and around the large winery, explaining its recent history. In 2010, Corbett Canyon, owned by The Wine Group, moved its production to a larger facility, selling the vineyard and winery to Rob Rossi, a local businessman and co-owner of Ancient Peaks Winery, and Bill Swanson, CEO & Chairman of Raytheon. Nathan Carlson (Tolousa), left EOS winery in Paso Robles to become general manager here. Renaming the vineyard, Center of Effort, the facility now produces wines under the Center of Effort and Effort labels, as well as Ancient Peaks – all made by Mike Sinor. The winery is also home to Sinor-Lavelle and several other smaller labels (including, Giornata, Broadside, Drake) which are produced on the premises under an alternating proprietorship.

The Sinor-Lavelle label began in 1997, combining Mike's last name and his wife's maiden name. Natural growth has taken the production up to 400 cases, and Mike is happy with keeping this volume - at least for the time being. Active involvement with so many project seems to merely stoke his fires. I guess you could say that working hard is what Mike does. Animated and energetic, he seems indefatigable as he explains what he does and how he does it. "I'll make 40 different wines, but the consumer will only see 4 of those," he said, describing the various lots and barrels he labors on that will ultimately go into the bottle. Well, he did want to work hard!
Mike and I had talked about grabbing lunch, so with the clock ticking, we headed the short distance into San Luis Obispo to Meze Cafe and Market, in SLO's Railroad Square. Terrific menu here, with tapas and lots of other options.
We brought along a couple of the wines Mike opened, and everything was absolutely delicious. I had lentil soup with bacon, and amozzarella sandwich with roasted red pepper and balsamic dressing with rocket. (As an aside, whose bright idea was it to rename arguala, and call it rocket?) It would have been enough for us to just hang out there, but sadly, we had another wine stop to make before sundown.


Tasting Notes: Current Releases

Ancient Peaks 2010 Rose of Pinot Noir – Margarita Vineyard, Paso Robles. Quite fruity in the nose, with a blood orange quality throughout. Tasty in mouthfeel, good balance with a relatively short finish. 100 cases.

Ancient Peaks 2010 Blanco – Margarita Vineyard, Paso Robles. A blend of Chard, Pinot Grigio, and Sauv Blanc, with nice perfumey nose, and a refreshing lightly crisp mouthfeel and moderate finish. 100 cases.

Ancient Peaks 2010 Sauvignon Blanc – Margarita Vineyard, Paso Robles. The nose is loaded with clover, boxwood and copious amounts of cat pee. Very tasty, with surprisingly little of the aromas penetrating the flavor level. Nice crispness, balance and finish.

Ancient Peaks 2009 Merlot – Margarita Vineyard, Paso Robles. Nice, almost lush nose of plum and cinnamon. Nice fruit, moderately tannic in mouthfeel, with good balance and finish.

Ancient Peaks 2008 Cabernet Sauvignon – Margarita Vineyard, Paso Robles. Nice cassis and dark fruit in the nose. Very much a Paso Cab in ripeness, though not overtly so. Tasty, with good fruit, balance and finish.

Ancient Peaks 2008 Zinfandel – Margarita Vineyard, Paso Robles. Spicy ripe boysenberry fruit, with a hint of pepper. Nicely ripened Zin-berry flavors, with a dollop of spice, and long finish.

Ancient Peaks 2008 Syrah – Margarita Vineyard, Paso Robles. Nice Northern Rhone qualities of sage, spice and black fruit. Very nice ripeness and balance, and tasty long finish.

Ancient Peaks 2008 Malbec – Margarita Vineyard, Paso Robles. Nose of boysenberry fruit pie, with mocha cream on top. Good flavors on the palate, and despite the creaminess in the nose, there is more complexity in the mouthfeel.

Ancient Peaks 2008 Petit Verdot – Margarita Vineyard, Paso Robles. Nose of fresh blueberries. Lots of fruit layers on the otherwise tannic mouthfeel, good balance and finish.

Ancient Peaks 20108 Petite Sirah – Margarita Vineyard, Paso Robles. Nose of dark fruit, with hint of iodine and minerals. Big mouthfeel, with ripe if largely undefinable flavors…to me. Good balance and long finish.

Ancient Peaks 2008 Oyster Ridge – Margarita Vineyard, Paso Robles. 46% Cab, 24% Petite Sirah, 15% Merlot, and 15% Petit Verdot. Interesting blend that works quite well. Nice dark fruit aromas, with a touch of mocha. Smooth mouthfeel, with nice fruit-filled flavors and smooth long finish.

Since Mike is the director of winemaking for the Ancient Peaks label, he volunteered to lead us up to Santa Margarita, a small town just north of SLO near the top of the Cuesta Grade. First stop, the Ancient Peaks tasting room on Hwy 58, and then we were off to "5-mile," a jumping-off point for a Jeep ride through the vineyards. The tasting room is replete with ancient oyster shells and soil samples. Mike led us through the wines, while he and Karl Wittstrom, one of the partners in the operation, told us about the interesting history of the ranch.


Sort of a hybrid of the cooler Edna Valley to the south and warmer climate of Paso Robles to the north, the nearly 14,000 acre Santa Margarita Ranch is bordered on three sides by the Santa Lucia Mountains, and is the southernmost vineyard in the Paso Robles appellation.
The ranch was bought in 1999 by a group that includes Rob Rossi, a local developer known for his interest in preserving the natural landscape of the Central Coast. Cattle-ranching is the ranch's primary occupation. However, in an effort to defray part of the purchase price and retain the working-ranch heritage of the property, the group leased 1,000 acres of rolling hills to Robert Mondavi Winery in 2000.
Grapes are not new to the ranch, the area having been first planted by Franciscan missionaries in 1774. Mondavi proceeded to plant 966 acres for inclusion in its RM Private Selection label. However, when Constellation Brands purchased the Mondavi Corporation in 2004, they weren't at all interested in keeping the Margarita Vineyard. So, Santa Margarita Ranch took back the vineyards and land. Now, Santa Margarita Ranch, LLC, was in the wine growing business – and soon thereafter, the wine-making business. Enter Mike Sinor, in the Spring of 2006, who became director of winemaking for Ancient Peaks.

There are now sixteen different varieties planted on a complex palette of soil formations. Margarita Ranch has five distinct geologic areas: ancient seabed, sedimentary, shale, volcanic, and granite. There are also literally tons of oyster shells poking their heads out of the ground in several areas, especially a block known as Oyster Ridge.
Ancient Peaks has been getting some good scores and very good press of late. Most of these accolades have been for wines which over-perform at their price points, and are frequently cited as a "Best Value" for a particular varietal. While these wines all have good structure, they generally don't appear hugely fruit-forward or smoothed out (some would say 'smacked') with oak. That being said, their top wine, the Oyster Ridge is, at $50, quite Napa-esque in both its structure and mouthfeel. A winery to watch, especially as the vines mature.
Tasting and tour of the ranch completed, we'd managed to monopolize Mike's entire afternoon – in addition to our own, of course. After the Jeep ride, Mike brought us back to the tasting room about 4pm – not enough time to visit another winery. BUT, according to my watch it was already Beer O'Clock, so there was still enough time to grab a pint at Dunbar Brewery, conveniently located right next door to the tasting room.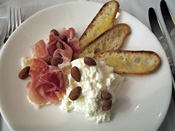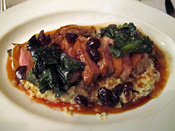 Next, we were off to check into our accommodations, the Hotel Carlton in Atascadero. An hour or so to decompress, and we were off to Artisan restaurant in Paso for dinner. We did not bring wine with us, so we were a bit at the mercy of their by-the-glass wine list, which in the end worked out nicely. Of course, 'English Bob Tim' was able to score a few extra tastes of the available wines by pleading ignorance as to the proper food pairings, thus figuratively throwing himself on the mercy of our female server. Quite cheeky, I thought. ;-) I had the burrata, la quercia prosciutto, and smoked almonds - accompanied by a Ranchero Cellars Grenache Blanc; and an Adelaida Pinot to accompany the duck breast with dried cherries on a bed of mushroom risotto - or as Tim enjoyed pointing out, "risotto with mushrooms - there is a difference."


Additional Photos from Thursday
Row 1 - Sinor-Lavallee / Center of Effort / Meze Cafe
Row 2 - Ancient Peaks
Friday - February 25, 2011
Awoke to a rainy morning, and the rain was supposed to continue throughout the day – even leading to snow at elevations of 1,000-1,500', we were told. After meeting in the lobby, the three of us left at 8:30am for the short drive to Joe's Other Place in Templeton, for a rib-sticking breakfast. I had the usual Chilaquiles (I'm hooked), and about 5 cups of coffee.
From here, we were off to the first of our visits. I'd scheduled a morning and an afternoon appointment, figuring we could fill in as time (or weather) permitted.
Tasting Notes: Current & Future Releases

Anglim 2007 Roussanne – Fralich Vnyd, Paso Robles. Lovely nose of candle wax and lemon. Rich and plush, yet svelte in mouthfeel, with a nice bees-waxy texture on the palate. Long delicious finish.

Anglim 2007 Viognier – Bien Nacido Vnyd, Santa Maria Valley. Light citrusy aromas in the nose, with just a faint honeysuckle scent. Nice leaness to the fruit-filled palate, with slight crisp edge on the mouthfeel. Excellent balance and finish.

Anglim 2008 Grenache Blanc – Red Cedar Vnyd, Paso Robles. Nose of light apples and pears. Lean with a bit of minerality in mouthfeel, with very nice green apple fruit, and an almost savory component through the long finish.

Anglim 2007 Pinot Noir – Bien Nacido Vnyd, Santa Maria Valley. Clone 2A (Wadenswil selection). Nose of pomegranate, cherry and red berry. Light earthiness to the red fruit, with hints of spice and smoke, excellent balance and finish.

Anglim 2007 Pinot Noir – Fiddlestix Vnyd, Sta. Rita Hills. Clones 4 & 5. Small amount of whole cluster fermentation. Faint wiff of whole cluster in the nose, adds a bass note to the wine almost resembling an Oregon Pinot. Earthy dark fruit flavors, with a decidedly off-sweet (not cloying) taste, excellent balance and finish. An ager that will reward patience.

Anglim 2008 Pinot Noir – Fiddlestix Vnyd, Sta. Rita Hills. Clones 4 & 5. 20% whole cluster fermentation. Not much scent of whole cluster in the nose, but a bit brighter fruit profile. Lots of bright red and black fruit flavors, the'08 seems more approachable. Delicious now, it will be hard to keep your hands off it.

Anglim 2007 Pinot Noir – Jack Ranch, Edna Valley. Clones 667 & 115, with 85% new oak. Earthy and jammy, this is a bit riper in nose and mouth than any of the previous Pinots. Jammy on the palate, but still restrained and elegant, with very nice balance and long finish.

Anglim 2007 Mouvedre – Hastings Ranch, Paso Robles. Nose of bright black fruit, with a touch of talc, as well as funk that seemed to swirl off. Lots of black fruit on the palate, with a nice almost floral character – like a black rose! Off-sweet flavors, good texture, balance and finish.

Anglim 2008 Grenache – Vista Creek Vnyd, Paso Robles. Barrel sample. Nice fruit-filled nose of raspberry and loganberry, with a touch of cinnamon. Knockout mouthfeel, perfect ripeness with a chewy and sappy center, and plenty of texture. Oh, it was delicious, too!

Anglim 2008 Syrah – LaManita Vnyd, Paso Robles. Barrel sample. Nose of nearly pure dark fruit, spice, and touches of pepper and bramble. Lovely concentration on the palate, with layers of dark fruit, spice, and a touch of blueberry. Excellent level of ripeness and balance.

Anglim 2008 Mouvedre – Hastings Ranch, Paso Robles. Barrel sample. A bit plusher and seemingly riper in nose and mouth than the '07, the black has a nice higher-tone, and the flavors linger longer on the palate.

Anglim 2007 Cabernet Sauvignon – Starr Ranch, Paso Robles. Nicely ripened nose of cassis, and spicy black cherry. Medium-full mouthfeel, good Cab flavors and texture, excellent balance and finish. Very nice rendition.

Anglim 2007 "Old Bailey" Cabernet Sauvignon – Paso Robles. From a vineyard out on Chimney Rock Rd., with 50 yr old dry-farmed vines. Fermented for 42 days. Made in answer to the question, "why don't you make big wines." 100% new oak, 15.5% alcohol. Fabulous nose of cassis, toast and spice. Rich and chewy, with smooth fine-grained tannins, and a lengthy fruit-filled finish. Absolutely delicious!


Steve Anglim began as a home winemaker, finally going commercial in 2003 after a chance meeting with local grower Harry Fralich. I first met Steve in May '04. I knew I was going to be up in the Paso area visiting some wineries, and am always looking to find emerging new and/or smaller producers.
Perusing the Paso Robles Vintners website, I discovered a name that was new to me - Anglim. I checked out the Anglim website, and then contacted Steve to arrange a visit at Paso Robles Wine Services, a local custom-crush facility where he makes his wines. Back then, Steve was producing about 1,500 cases of Syrah and Viognier, along with a bit of Syrah Rose. His fruit sources included some familiar names to me: Fralich, French Camp, and Bien Nacido. Trying his '03 Viognier was a real eye-opener. Elegant, with demure aromas and a nice lifting mouthfeel, it was much more Condrieu-like than most other New World renditions of the grape I had tasted. His '02 Syrah from Santa Barbara County was no slouch either.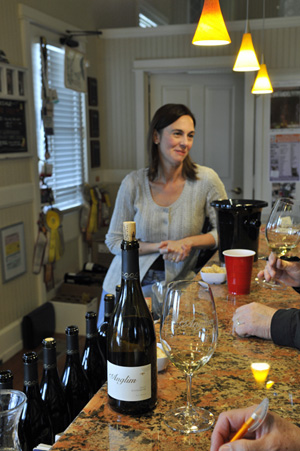 Steffanie Anglim
I continued to run into Steve at different events for several years thereafter, tasting a few of his wines here and there. But, this visit was my first comprehensive tasting of his wines. He Steve and Steffanie are now making about 3,500 cases/yr. They have made as much as 4,500, but Steve's sweet spot seems to be right around 2,500 cases. They have also expanded their lineup, adding Pinots and Cabs to their offerings. The Anglims opened up their tasting room in the historic Paso Robles train depot in May 2005.
We arrived a little early, and went into the tasting room, where both Steve and Steffanie seemed to be waiting for us with bottles in hands. As Steve led us through 13 wines (including 3 barrel samples he'd pulled earlier), it was plain to see that he had branched out, varietally speaking, yet never strayed from his original elegant winemaking path – well, with maybe one exception, the "Old Bailey." Steve said this particular wine was made to answer those who ask why he "doesn't make a big wine." It was indeed big – but, it was also very well balanced. Still, it was nice to see he was still making a very stylish Viognier. So nice, in fact, that our resident Viognier hater (Michael) actually loved it!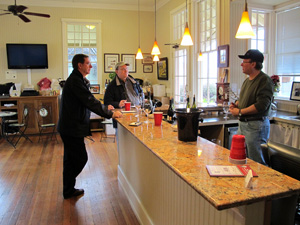 Tim, Michael, and Steve Anglim
Anglim uses only French oak, and takes it easy on the new cooperage. The whites usually get about 18-24 months of aging, and the reds see up to a year longer. That said, Steve is slowing reducing the amount of new oak for Rhone varieties, while still maintaining a healthy dose for his Cabs, which he feels need it and can handle it. The alcohols were all generally in the 14% range, with the exception of the "Old Bailey."
Having now made wine commercially for close to ten years, Steve is reflective. He still feels strongly in creating wines that are gracefully balanced - fruit, acids and alcohol. So, you're not going to find any over-the-top fruit bombs at Anglim. Like a parent reflecting on his progeny, he also wistfully acknowledges that the proud moments of looking at a room filled with wine barrels, eventually devolves into some angst, once the wine goes into bottle and he's now left with room full of case goods to sell. Yet, he appeared downright romantic about it all, which seemed kind of odd to me, considering he's a former finance guy. ;-) But, I suppose that's the romance of wine.
Leaving the Anglims about Noon, we headed for Hwy 46 West. The plan was to make one more winery visit before making a lunch stop at Farmstand 46. I was already salivating - I could just smell the pizza.
Écluse
Tasting Notes: Current & Future Releases

Écluse 2008 "Prelude"– Paso Robles. A white Rhone blend of 37% Viognier, 35% Roussanne, 18% Grenache Blanc, and 10% Marsanne. Nice flavors and balance Just a bit on the sweeter side of things in mouthfeel, but certainly not blousey or overblown.

Écluse 2008 "Ensemble"– Lock Vnyd, Paso Robles. A Bordeaux blend of 50% Cabernet, 25% Petit Verdot, 20% Merlot, and 5% Cab Franc. Nice cassis and dark cherry nose, with tasty flavors and mouthfeel. Surprisingly discovered to be 16% alcohol, which wasn't really noticeable, but would doubtless creep up on the unwary.

Écluse 2009 Cabernet Sauvignon – Lock Vnyd, Paso Robles. Barrel sample. 30% new oak. Good rendition of Paso Cab, with moderate ripeness, good concentration and balance, and tasty finish.

Écluse 2008 Zinfandel – Lock Vnyd, Paso Robles. Quite balanced lighter style of Zin. Not at all jammy, with some nice pencil shavings and toasted grain accents to the rather nice fruity nose, that seemed to give the wine an "old vine" scent and well as mouthfeel. Good balance and finish. 16.1% alcohol.

Écluse 2007 "Improv"– Lock Vnyd, Paso Robles. A blend of 69% Zinfandel, and 31% Syrah. Nice dark fruit flavors in nose and mouth, if a little narrow in focus.

Écluse 2006 "Rendition"– Lock Vnyd, Paso Robles. A Rhone blend of 59% Syrah, 22% Grenache, and 13% Mourvedre. Very good red and black fruit in the nose, with tasty flavors, and a gripping tannic finish. Given this is an '06, it probably saw plenty of new oak, and seems to be a wine built for the long haul.

Écluse 2009 Syrah – Lock Vnyd, Paso Robles. Sample from a Meyrieux barrel. Dark chewy fruit, with plenty of campfire-like smoke in the nose. Good flavors and mouthfeel.

Écluse 2009 Syrah – Lock Vnyd, Paso Robles. Sample from a Boutes barrel. Interesting contrast with the previous barrel, maybe it was on a different sulfur regimen, but this sample showed more sulfur, and some reduction in the nose. Good flavors and mouthfeel.

Écluse 2006 Syrah – Lock Vnyd, Paso Robles. Very nice dark fruit aromas, with notes of tar and anise. Good acids and very good balance. Fruity flavors, but nice complexity to taste and finish.


We arrived at Écluse to a driving wind and rain. It was a little surprising to see a half-dozen people in the tasting room-winery, given the weather. We introduced ourselves to Pam Lock, who in turn introduced us to her husband Steve. The Écluse name comes from the French word for the canal locks on the rivers in the French countryside.

Originally from Southern California, the couple also lived in Washington State, before moving to Paso Robles. Steve and Pam Lock began their small winery and vineyard in 1997, purchasing 30 acres of gently rolling hillside terrain on the Westside of Paso. With varied soils ranging from calcareous limestone on the hill tops to areas with clay and loam near the bottoms of the gentle hills they were able to plant vines in something of palette of vine varieties.
They began in 1998 by ripping and discing the soil, preparatory to planting Cabernet Sauvignon, Syrah, and Zinfandel. Over the past few years, they have decided to add a number of blending varieties to the vineyard as well, and began planting small blocks of 1/2 acre to 1 acre of Mourvedre, Grenache, Petit Verdot, Rousanne, Malbec and Cinsault to increase their options during final blending of the wines. Thus far, no white varieties are grown on the Lock vineyard.

The Locks first harvest was 2000. Although their original intention was to remain wine growers, after Steve won several Gold Medals for his homemade wines and accolades from friends and family they decided to make some wine commercially, producing limited bottlings of Syrah and Cabernet Sauvignon. The rest, as they say, is history.

Over the course of several years, Steve has interacted with local winemakers, including Matt Trevisan (Linne Calodo Cellars), Mike Mooney (Chateau Margene) and Scott Hawley (SummerWood Winery). Thus, when he decided to expand the Lock Vineyard operation to include winemaking, the knowledge had been laid and his friends became his consultants.
Steve uses sustained viticulture practices, involving water conservation, use of natural predators for pest control and efforts to minimize the use of any herbicides and pesticides. He plant cover crops in the vine aisles to promote the development of friendly insects. He's especially proud that he is able to pay individual attention to the nearly 25,000 vines. The Locks sell 15-20% of their fruit, and make about 2,000 cases annually.
As we prepared to go back out in to the wind and rain, we asked Steve, "so, what do we owe you for the tasting?" Oh, we don't charge for tasting, he replied. What! No tasting fee? Yes, tasting at Écluse is free, gratis, no charge – not very common anymore – anywhere!
We left for Farmstand 46, a small deli-cafe on Hwy 46 West. I was still imagining a nice warm pizza. No dice! While the deli was open, the pizza option went out with the rain - the brick oven was outside, and no one was going to be cooking my pizza in the rain. We settled for sandwiches, which was really more than we wanted to eat (we'd planned to share the pizza). Some water and a couple of phone calls later, we were off for our 2pm Tablas Creek appointment.
Tasting Notes: Current & Future Releases

Tablas Creek 2009 "Cote de Tablas" (Blanc) – Tablas Creek Vnyd, Paso Robles. A white Rhone blend of 45% Viognier, 28% Roussanne, 20% Marsanne, and 7% Grenache Blanc. Slightly ripe Viognier seems to poke through in the blend adding to its blouseyness in both nose and mouth. But, the white peach and minerality add to the texture and finish on the palate.

Tablas Creek 2009 Roussanne – Tablas Creek Vnyd, Paso Robles. A little funky in the nose initially, but the mouthfeel is delicious. Lots of honeyed pear, with a hint of nuttiness through the long finish.

Tablas Creek 2009 "Esprit" (Blanc) – Tablas Creek Vnyd, Paso Robles. A white Rhone blend of 62% Roussanne,
26% Grenache Blanc, and 12% Picpoul Blanc. Lovely nose of melon and green apple, with a candle wax note. Nice fruit and melon on the palate, slightly waxy texture, great balance and finish.

Tablas Creek 2009 "Anthesis" – Tablas Creek Vnyd, Paso Robles. A Chardonnay from Tablas? Yes, and actually, this is their 9th bottling of this wine. The rootstalks were brought in with the other French cuttings (at the request of an unnamed Sonoma winery). No new oak, slightly tropical aroma and flavors, with a nice minerality that lifts the palate through the long finish. So, an American nose, with a French mouthfeel!

Tablas Creek 2010 Rose – Tablas Creek Vnyd, Paso Robles. A blend of 59% Mourvèdre, 30% Grenache, and 11% Counoise. This wine had been bottled just the day before, so there was some evidence of bottle shock (flint, gunpowder aromas). Beneath that, there were notes of rose petal/stem, and an almost meaty taste. Very tasty, almost chewy mouthfeel.

Tablas Creek 2009 "Cote de Tablas" (Rouge) – Tablas Creek Vnyd, Paso Robles. A base of 43% Grenache, with roughly equal amounts of Syrah and Counoise, and a lesser amount of Mourvedre, this too had been recently bottled – 3 days prior. Lots of dark fruit notes, mingles with the Grenache's red fruit. Nice meaty taste and texture, great balance and finish.

Tablas Creek 2006 Syrah – Tablas Creek Vnyd, Paso Robles. Very Northern Rhone-like, and along the lines of a Beaucastel, with a decided dark fruit, pepper, bramble, and earthy note throughout. To keep the ripeness and alcohol in check, they pick the fruit early, then hold the wine for additional time in bottle.

Tablas Creek 2008 Mourvedre – Tablas Creek Vnyd, Paso Robles. Very nice dark fruit aromas, with a smoky, loamy, grilled quality. Very tasty in the mouth, the wine actually seems to get bigger from mid to latter palate.

Tablas Creek 2008 "Esprit" (Rouge) – Tablas Creek Vnyd, Paso Robles. Surprisingly light color on this blend of 38% Mourvèdre, 30% Grenache, 26% Syrah, 6% Counoise. Lovely complex nose of spice and dark fruits. Excellent mouthfeel, nice fine-grained tannins, great balance of acids, with a light salinity at finish.

Tablas Creek 2006 "Esprit" (Rouge) – Tablas Creek Vnyd, Paso Robles. A similar GSM blend as the '08, this wine is significantly more floral and fruity – almost young. Delicious long finish.

Tablas Creek 2008 "Patelin" – Tablas Creek Vnyd, Paso Robles. Tank sample. A new effort, this a blend of 50% Grenache Blanc, 33% Viognier, 10% Roussanne, and 7% Marsanne from both Estate vines as well as from other growers. Light crisp fruity notes in the nose. Very nice, almost bracing in freshness on the palate.

Tablas Creek 2009 "En Goblet" – Tablas Creek Vnyd, Paso Robles. Tank sample. A white Rhone blend of 50% Mourvedre, 25% Grenache, and 25% Tannat. Named for the dry-farmed head pruned shape (goblet) of this section of the vineyard. Huge mouthfeel, with all sorts of red and black fruit flavors. Like an orchestra in your mouth!

Tablas Creek 2009 "Esprit" (Rouge) – Tablas Creek Vnyd, Paso Robles. Barrel sample. The last in our trio of Esprit reds, this too was a similar GSM blend as the '08 & '06. Surprisingly well-knitted at this point in time, the aromas and flavors seem quite melded. Lots of dark fruit, seamless textures on the palate, excellent balance and long finish.


The rain had started to lighten up as we arrived for our appointment with Jason Haas at Tablas Creek. The vineyard and winery is joint venture between Robert Haas of Vineyard Brands and the Perrin family of Chateau de Beaucastel. It began in 1989 with the purchase of 120 acres in the rolling hills on the Westside of Paso Robles. The pH of the shallow limestone-clay soil in this part of Paso is very similar to that of Chateauneuf du Pape. It is also quite rocky, a desirable quality that allows for better drainage. The local climate appeared to be very close to that of Chateau de Beaucastel, and all they felt that this location would produce Rhone varietal wines with their own particular qualities. They believed that using French vines, rather than American vines, would give the wines a great heritage, yet also impart a true sense of California "terroir."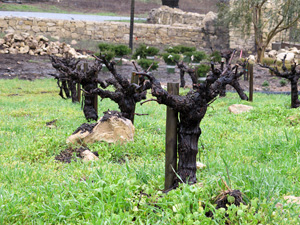 While awaiting customs clearance on the French cuttings, planting began in 1991 using American vines. This afforded the winery an opportunity to get into the swing of the operation. Beginning in 1993 with rootstocks supplied by Beaucastel, Tablas Creek began to work at propagating the French cuttings for planting. Setting up a full nursery, it was their original intention to only produce material for themselves.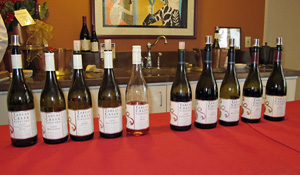 However, interest, or rather demand, for the French (Tablas) clones from many Central Coast producers like Zaca Mesa, Beckmen, and Tensley, as well as such stalwarts as Ridge and Joseph Phelps added a new dimension to their project. To their credit, Tablas Creek took a good neighbor posture with its willingness to "share the wealth," as it were, by selling the French cuttings to other wineries. In 2004, with demand for the cuttings creating a burgeoning nursery program, Tablas Creek decided instead to partner with NovaVine of Sonoma to produce the Tablas Clone grafted vines, and handle the distribution to buyers.
In December 2003, a 6.6 earthquake rattled Paso Robles, causing two deaths and a lot of damage. During that quake, Tablas Creek sustained damage to many of its barrels. In particular, a very large Seguin-Moreau 1200-gallon oak foudre filled with wine actually lifted off its concrete and wood supports, falling onto a tank fitting that pierced the bottom of the barrel (see '03 pictures). Needless to say, a river of red wine poured out from inside the storage room from this as well as other barrels. All-in-all, Tablas Creek lost about 1,000 cases of wine due to the quake.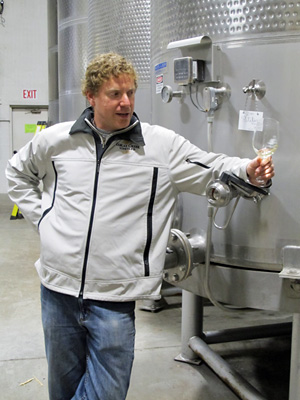 Jason Haas
To mitigate potential future damage, they decided to stack barrels no more than 4-high on their regular barrels racks. They also eliminated the concrete and wood pylons that previously held the large fudrons, replacing them with cross-braced steel uprights and metal fittings between the larger barrels to further strengthen them. Also, because the upright legs on the tanks had experienced some buckling, they also added cross-bracing to these vessels as well, and tying them into the catwalk above for additional strength.
As the winery and storage needs have grown, Tablas Creek has expanded, adding space for barrel storage and bringing the crush facilities inside the winery. At the time we visited, construction was also nearly complete on an expansion of administrative space and a brand new tasting room. The fact is, they never really had a tasting room before - the reception area functioned as needed for hospitality. Barrel storage will wrap around two sides of the new tasting room, giving visitors a 180° view into the winery.
Currently, 80 acres of the property are planted, leaving about 35 more for expansion. Production currently varies between 12,000-18,000 cases, depending upon growing conditions. Jason said that the final goal is 23,000-25,000 cases. Long known for its blends, Tablas Creek is also creating some single-variety bottlings, such as Grenache Blanc, Syrah, and Mourvedre as the situation or quality of the wine warrants. In 2010, the winery launched a new label, Patelin de Tablas. These wines will include some fruit from other top Paso Robles Rhone producers, blended with fruit from Tablas Creek Vineyard. Things are getting downright exciting around here.
The rain was finally letting up by the time we left, about 4pm. Temperature was in the high 40s, and Jason had mentioned the snow was expected at the vineyards with higher elevations, including Tablas which is about 1,500'. It really would have been nice to see (it's happened 2-3 times in the last 20 yrs.), but short of our sleeping in the vineyard, it just wasn't going to happen. We still had time for one more stop, before heading for dinner in Paso.
Tasting Notes: Current & Future Releases

Justin 2009 Chardonnay – Estate, Paso Robles. 100% new oak, no malolactic fermentation. Nice tropical fruit aromas. Slightly viscous mouthfeel, good balance and lightly crisp finish.

Justin 2009 Viognier – Estate, Paso Robles. No new oak, no malolactic fermentation. Attractive nectarine and peach aromas, with similar flavors on the palate. Good balance and finish, slightly viscous in mouthfeel, though not at all overblown.

Justin 2008 Cabernet Sauvignon – Estate, Paso Robles. 35% new American oak. More claret-like in color, ripe aromas and flavors, with a spicy Burbon-like bite from the oak. Good balance and finish, if a bit underfilled. It would be interesting to follow this, to see if the fruit oulasts the oak.

Justin 2008 Syrah – Estate, Paso Robles. 45% new oak. Nice dark fruit aromas and flavors, some spice throughout, with a nicer melding of French oak/fruit through the moderate finish.

Justin 2009 "Justification" – Estate, Paso Robles. 65% Cab Franc, 35% Merlot. Very nice aromas of dark cherry, with a loamy tobacco note. Very good initially, there seems to be a hole at mid palate, which is regained in the long fruity finish.

Justin 2009 "Obtuse Ruby Port" – Estate, Paso Robles. Cabernet Sauvignon-based, the wine has attractive dark fruit in the nose. Mouthfeel and flavors seem a little simple, and there's a trace of heat through the finish.


We made a kind of impromptu stop at Justin before heading back to town. I had hoped to show the guys the new winery and tasting room. Unfortunately, it was only open on weekends. Nevertheless, it appeared they had significantly expanded the tasting room at the Just Inn B&B. We wandered in to a light crowd, and sidled up to the bar.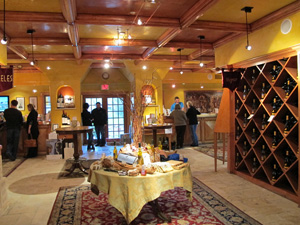 I'd last been here in May of 2002, just after they'd completed the new winery and hospitality center. Begun in 2001, the new winemaking facility and caves were almost finished, and were expected to be open to the public by early 2003. Cave-building is always a daunting undertaking for a winery - from both a logistical as well as a monetary standpoint. There are usually a great many variances needed to meet both city and county codes for building a cave, and the variance costs can be quite large. But, the finished product is always going to be nice. The larger facility was needed both due to increased production, the outsourcing expense of storing barrels and case goods in town.

Justin Vineyards & Winery began in 1981. Former investment banker Justin Baldwin, and former mortgage broker Deborah Baldwin had just purchased 160 acres of land in the remote Adelaide Valley west of Paso Robles on California's Central Coast. Their first wine, a sparkling Blanc de Noir made from purchased fruit (their vines were not yet mature) was released that same year. In 1982, they planted 72 acres, concentrating on the three classic red Bordeaux grape varietals, Cabernet Sauvignon, Merlot and Cabernet Franc. Construction of the winery began in 1985, and in 1987, they completed their first crush of estate fruit. In addition, other small plantings of Sangiovese, Nebbiolo, Orange Muscat, and recently Syrah were added to the vineyard mix. A shale and limestone base produced from ancient seabeds underlie the entire vineyard. Top soils range from red clay/volcanic pumice to sandy loam and rocky limestone.

The winery continued to grow throughout the '80s and '90s, with increased production, a new winery building, and the opening of the JUST Inn, a luxurious B&B, and on-site restaurant. With an 72-acre vineyard (38 acres in Cabernet), Justin Winery produced more than 50,000 cases of wine ranging in price from $15 to $62. Current winemaker is Fred Holloway, has worked with the brand winemakers of Lokoya, Cardinale, Verite, Stonestreet, Hartford Court, La Crema and others. He returned to the Central Coast in 1999 as Winemaker at Cambria Winery. The winery was recently purchased by Fiji Water for an undisclosed amount.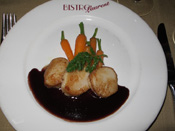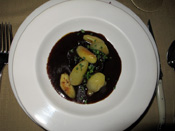 Next, we were off to Bistro Laurent restaurant in Paso for dinner. As I mentioned before, we hadn't brought any wine with us, so after scanning the by-the-glass wine list, we took a long look at the tasting menu. All-in-alll, it looked interesting. So, we decided to let Ian, the front house/sommelier fellow, make the decisions for us.
After an amuse bouche of Pâté, we had terrine of foie gras matched with a Villacana Viognier; then, scallops in a red wine reduction, matched with a Bouchard Cote du Rhone; and finally, veal cheeks in an even more reduced wine sauce was matched with a Qupe Bien Nacido Syrah. The dessert - a fruit and creme-filled tart was matched with Maderia. The Maderia was good, but the tart was a bit pedestrian.

Additional Photos from Friday
Row 1 - Tablas Creek

Saturday - February 26, 2011
Awoke to a bright sunny day. We had previously decided to make a couple of tasting room visits on the way out of town. Chosen more for the scale of the winery/tasting room, than for the wine itself, we picked Eberle and Robert Hall for our visits. But first, we had to have a man-sized breakfast. We'd already been to Joe's in Templeton; but there was still one place we hadn't visited. Hoover's Beef Palace. If you haven't been here for breakfast, you owe it to your physician to visit them.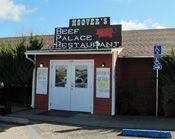 Situated on Templeton's Main Street, it is also coincidentally positioned right in front of their stockyards, and from what I hear, their slaughterhouse as well. Yes, this in the beef & pig equivalent of some seafood restaurant's claim, "the fish you eat here, swam in the ocean last night." We were just hoping to blend in – not wanting to get that 'stranger-enters-the-saloon' look as we walked into the place. We also thought it best not to take any photos of our food – well, one of us did anyway. Surprise, it was filled with non-assuming family members, jsut enjoying their breakfast.
I ordered the bacon and eggs, Michael ordered the Ortega chile omelet, and Tim, bless his soul, ordered the meat extravaganza of ham, bacon, and sausage – along with eggs, hash browns, and toast of course. Michael commented that while the Ortega chilis seemed a little sparse, his omelet did have plenty of something resembling pot roast. Tim did manage to put away most, if not all, of the huge meal.

Sated, we waddled out of Hoover's, hoisted ourselves into the car and headed for Paso, with our first stop at Eberle Winery.
Tasting Notes: Current & Future Releases

Eberle 2009 Chardonnay – Estate, Paso Robles. Nice citrusy aromas and flavor. A bit sweet in mouthfeel, with peach, pear and green apple notes. Good balance and finish.

Eberle 2009 Viognier – Mill Road Vnyd, Paso Robles. Quite floral and perfume-scented aromas. A bit sweet, and a dead ringer for lemon meringue pie in flavors.

Eberle 2007 Sangiovese – Paso Robles. Nice dried cherry scent to the dusty dry nose. Spicy – maybe a bit too spicy on the palate (all reds get American oak), with plenty of acids, good balance and a long finish. It would be interesting to try this variety had it been coopered in French oak.

Eberle 2008 Syrah – Steinbeck Vnyd, Paso Robles. Somewhat restrained in the otherwise dusty dark fruit nose. A bit astringent and bitter on the palate, with a long puckery finish.

Eberle 2007 Cabernet Sauvignon – Estate, Paso Robles. Spicy cassis and dark cherry in the nose. Tasty, classic Paso Cab with nice grip and flavors on the palate. The American oak seems to work here.


We arrived at 10am, right as the tasting room opened. Stepping up to the bar, a friendly gentleman said hi, and asked if we wanted to taste some wine? He didn't need to ask twice. He was pouring 5 wines - at no charge! (I'd thought for sure everybody in Paso was now charging for tasting.) Heck, we even wangled a tour of the caves for the same price.
Certainly one of the pioneering Paso Robles wineries, Gary Eberle has been making wines for more than 35 years in the region. A native of Pittsburgh, PA, Eberle started his college career in 1962 as a Penn State biology student, as well as a defensive lineman for the football team.
Eberle then moved to Louisiana to do graduate work in cellular genetics at LSU. It was here that a professor introduced him to the magical world of food and wine. Tasting a fine, classified growth Bordeaux from his professor's cellar, Gary became quite interested in Cabernet Sauvignon. He soon began to envision the possibility of making his own wines.
Arriving at the University of California at Davis, he met with the chair of the enology department and explained that he wanted to become a winemaker. Given his studies at LSU, the Davis professor admitted him to the doctoral program without the usual qualifying exam.

In 1973, Gary Eberle began his career in the wine industry by heading his family's Estrella River Winery (currently, Meridian Vineyards in Paso Robles) and produced 500,000 cases a year at its facility. In 1980, he co-founded the Paso Robles Appellation and in 1983, Gary opened the doors to his own Eberle Winery with the premiere of Eberle's 1979 Cabernet Sauvignon.
The redwood building that houses the Winery and Tasting Room was built to be a natural extension of the vineyard and surrounding countryside. But in 1994, Eberle was seeking additional space for the red wine program and decided to go underground. Today, 16,000 square feet of underground caves located below the winery are used for aging wines.

Why the boar on the label? Well, the "Eberle" translates to "small boar" In German. So, there is a bronze boar statue at the entrance to the tasting room. The statue is the 93rd replica of the original bronze Porcellino cast by Tacca in 1620.
Out from Eberle, we drove back up the highway about 100 yards to our next stop.
Tasting Notes: Current & Future Releases

Robert Hall 2006 Meritage – Estate, Paso Robles. Slightly reductive, but otherwise nice dark cherry fruit in the nose. Tasty flavors, a bit rough on the palate, nice concentration, leading to short finish and light tannins.

Robert Hall 2006 Reserve Syrah – Estate, Paso Robles. Slight floral/perfume character in the blackberry fruit. Smoky, with a touch of Northern Rhone quality, very good balance and fruit, and long finish.

Robert Hall 2008 Reserve Syrah – Estate, Paso Robles. Similar to the '06 version, but the nose was more restrained and slightly reduced. Some tarry notes in nose and mouth, very nice black fruit flavors, very good balance and finish.

Robert Hall 2006 Reserve Cabernet Sauvignon – Estate, Paso Robles. Very nice lush cassis-filled nose. Medium bodied, with very concentrated fruit, nice balance and finish.

Robert Hall 2006 Petite Sirah – Estate, Paso Robles. 100% Petite Sirah. Nose of blackberry and India ink. Huge, with mostly indefinable "black" flavors on the palate. Some astringency and no shortage of tannins makes this mouthfeel more about the pain than the pleasure. Caveat: this is not my favorite variety.

Robert Hall 2007 "Pape de Robles" – Estate, Paso Robles. A blend of 28% Grenache, 25% Mourvedre, 23% Syrah, 18% Petite Sirah, 4% Cinsault, and 2% Counoise. This take on a Chateauneuf du Pape is nicely done, with a lovely fruit-filled nose of berry compote. Nicely ripened fruit, excellent balance, very good flavors, and delicious long finish.

Robert Hall 2006 "Port" – Estate, Paso Robles. 9.26 grams residual sugar. 20.5% alcohol. A blend of "traditional" Portuguese varieties of 34% Alvarelhao, 32% Touriga, 21% Sauzao, and 13% Tinta Cao. Surprisingly sharp acids in the dark fruit nose. Initially almost too sweet in mouthfeel, this evens out by mid-palate. Balance wavers a bit, and the wine seems to get thinner through long creamy finish.

Robert Hall 2009 Cabernet Sauvignon – Estate, Paso Robles. Barrel sample. Very nice dark cherry nose, with a touch of oak. Good palate coverage, smooth tannins, good balance and finish.


We walked into the large spacious tasting room, and over to the square tasting bar in the center of the room. A very nice young lady told us our tasting choices, and we each selected the taste of seven "reserve" wines for $10. I noticed all the "reserve" wines for tasting had a "vinturi" or something similar stuck on top of the bottle, apparently to oxygenate the wines as they were being poured into the glass. Only one of the wines was a relatively new release, so I'm not sure it was really necessary.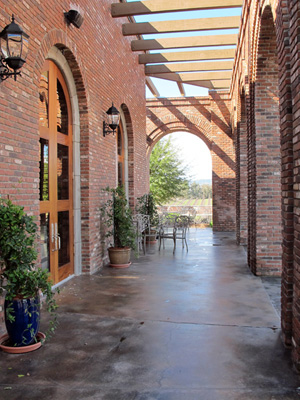 The first wine she poured revealed obvious TCA, which I called to the her attention. She poured some into a glass for herself and sniffed. She didn't seem completely convinced it was corked, but without missing a beat, immediately looked up smiling and said, "see, now this is what a corked wine smells like." Good recovery, we told her. As she held the bottle up to the light, she commented that it was a shame to discover this now, since they had already poured ¾ of the bottle for previous tasters. We agreed. She invited a couple of other staff members to sniff the wine as well. I'm not so sure they would have picked it up, had she not told them. But, she opened up new bottle, and we got on with our tasting.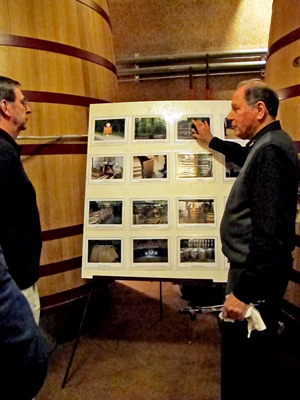 Work on the caverns at Robert Hall winery began in 1999, taking 20 months to compete. First, a large hole was dug. Then, in the "cut & cover" method, forms were built in the proper shape and placed in the hole. Rebar was added, and cement was then poured into the forms. At this point, the earth is pushed back onto the visible structure, and voila, you have a cave! A total of 19,000 sq.ft. was created for barrel storage and wine aging, at an average temperature of 55 - 60 degrees. As with several other wineries in the area, the cavern has a capacity of 200-300 guests for winery events.
Robert Hall became interested in wine during a family trip to France in the late 70's. He had visited the Rhone valley and was taken by the winery lifestyle of farming, crafting wine and the pairing of wine with food. Robert began considering his own vineyard and winery in the early-80's, and decided to visit each of California's wine appellations to assess the growing conditions for wine grapes, especially the Rhone varieties.
In early-90's, Robert and Margaret Hall determined that viticultural conditions were ideal for them in Paso Robles. The soil was rich, and there were warm days and cool nights. "Home Ranch" was acquired in 1995. Soon after, the "Terrace" and "Bench" vineyards were planted (where the winery, caverns and hospitality center are located), in all, nearly 300 acres of wine grapes. Considering themselves stewards of the land, Robert Hall Vineyards & Winery were participants in the Central Coast Vineyard Team's Sustainability in Practice SIP™ pilot program for sustainability certification.
After the tasting, we talked ourselves into a short cellar tour with a nice gentleman. He kiddingly offered us the $50 tour or the $75 tour. Playing along, we asked the difference. The $75 tour is longer, he replied. Well, give us the $100 tour we said. Bring your glasses, he said. So, down the stairs to check things out, and get a barrel sample of the '09 Cabernet, before leaving.
Our work here done, we headed for the car and back to Orange County. Nice trip again (it always is), and we all thoroughly enjoyed it – since I'm speaking for all of us.
Epilogue -
Most Paso Robles wineries are continuing to fine tune their wines. And, I noticed that more of the wineries seem to be trading that ultra-ripeness and incumbent alcohol for more interesting fruit flavors and balance. The people here are nicer than ever, and I think Michael and I were successful at showing Tim yet another interesting group of wineries on California's Central Coast.
Wine touring is always fun, in and of itself. However, as I mentioned at the outset, much of the enjoyment of wine is about discovery and sharing, and the camaraderie that accompanies both. In that respect alone, Tim's interest in wine (and food for that matter) contributed to making this another great trip. In fact, as we parted company back in the OC, Tim called me the 'Dumbledore of wine.' Now, there's a lofty calling to maintain.