Vol. 12 No. 1 - March '04 - Part 1 of 2

Journal and tasting notes from visits to several California wineries and vineyards.
Prologue -
I decided to travel around on this trip with some folks from the Bay Area - all of whom I knew by name through the westcoastwine.net board, and some of whom I'd met previously. The group included: Bob Summers, Ken Zinns, Alan Rath, Eric Lundblad, and Everett Bandman - six of us altogether. Despite the size of our group, the dynamics were superb and everyone seemed to enjoy each other's company. Plus, everything moved along nicely and according to schedule. In fact, we were able to add four additional people (local growers) to our group and make two unscheduled stops during the first day, and still keep things on track.

Regarding planning, my intention was to spend a couple of days in the Sonoma Coast & Russian River area gathering material for a journal and pictorial essay, and then spend another couple of days focussing on similar goals in Napa Valley. I contacted several wineries, winemakers and growers to start setting things up, and this determined which days worked best for either Napa or Sonoma. From there, it was all a matter of fitting in the pieces for each of the respective appellations.

SONOMA COUNTY: Thank you to the many winemakers and winegrowers who extended their hospitality to us. Al and Virginia Rago of Que Syrah Vineyard deserve a special mention here. Not only were they most gracious in pouring a vertical of Que Syrah Vineyard Syrahs over lunch, but Al and his friends let us stomp around in their vineyards to see and discuss everything from clones to trellising. Also, many thanks to Pete Marsh of Marsh Vineyard for the personal tour of his vineyard.

NAPA VALLEY: In addition to the many winemakers that extended their generousity to us, a special thanks to Peter and Linda Snowden of Rockledge Vineyards for their gracious hospitality, and to Valli Farrell of Spring Mountain Vineyards for her expertise and patience on our Spring Mountain tour. A special thanks to Pete Danko for arranging a highly instructive visit with Doug Fletcher of Chimney Rock. Also, to Steve Lagier and Carole Meredith - thanks so much for paving the road to your Mt. Veeder vineyard! Finally, to Michelle Hunt, thanks so much for your hospitality at Rockledge, as well as arranging a visit to two genuine "finds," Elkhorn Peak and Chameleon Cellars.
Barrel Tasting: even though barrel tasting is one of the most instructive ways to sample wine, it is also something that causes more than a little angst among winemakers. The fact is, the wines being sampled from barrel haven't finished their development yet, and are still going through growth during their time in the barrel. Therefore, winemakers are often reluctant to expose their barrel samples to the public - concerned the wines may be unappreciated or even misjudged by tasters during this infant stage. We were especially pleased that many winemakers gave us a glimpse of the '03 vintage, by offering us tasting samples of these wines, less than 6 months after harvest. Finally, since the tasting notes in this report do contain many barrel samples, please note that my impressions relate only to the wine at its current stage of development.
Sonoma County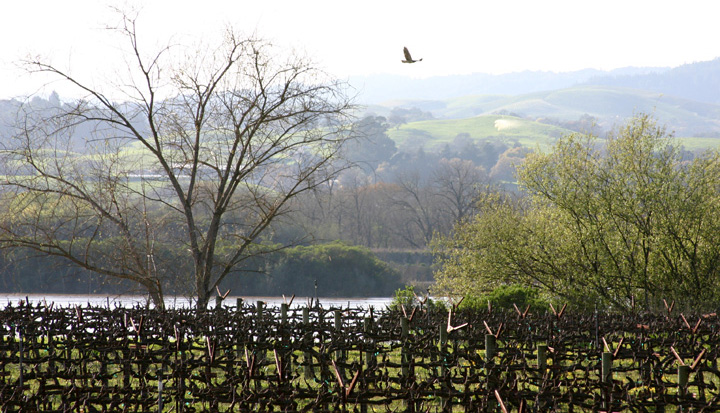 The Russian River, courses by numerous vineyards on its way to the Pacific
Tuesday, March 9, 2004 - Sonoma Coast
It was unseasonably hot, and temperatures were expected to be in the mid-80s for the day. The locals were loving it - but I was a little bummed about it. The Russian River Valley is designated as a cool growing area with plenty of fog coming up the Russian River. What fog? Not today, or for the forseable future, because all 12,000 acres of the RRV was warm - and the fog was non-existent. So, I was bemoaning the fact to anyone who would listen that I'd come up here to get lots of foggy and moody shots of vineyards, only to find THIS - sun and heat! My whining only fell on deaf ears, though. Heck, after awhile, I even began to "warm" up to the weather, and eventually stopped whining.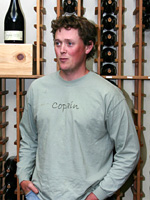 Wells Guthrie, Copain Cellars
Our first stop was Copain Cellars, to meet with Wells Guthrie, Copain's winemaker. Almost everyone in the group already knew Wells - or at least knew about him. In a reasonably short period of time, Wells had raised the bar on both Pinot Noir and Syrah made from vineyards on the Sonoma Coast. He was building a solid reputation for putting exceptional balance into what otherwise could have been destined to become California fruit bombs.
Interestingly, Wells started out at the Wine Spectator as a tasting coordinator. Developing a taste for Syrah, he migrated to the Northern Rhone, working for Chapoutier and spending time with Jean Louis Chave. Before starting Copain Wine Cellars on his return to the States, Wells served a stint at Turley - just to hone things up a bit. We were here to see the results of all that experience applied to Sonoma Coast vineyards. Joining our band of wine geeks, were Al Rago, his son Vincent, Jerry McIntyre, and Kurt Beitler - all local growers from out near Occidental.
Selected Tasting Notes:
...barrel samples...
2003 Copain Pinot Noir - Hacienda Secoya Vnyd. Massively fruit-filled nose. Big gutsy fruit, with a very chewy mouthfeel, very good balance, and very long finish. Need more barrel time, then watch out! 30% new oak. From a 3-acre vineyard of six yr-old vines planted to 115 and Pommard clones located near Roederer in the Philo area.
2003 Copain Pinot Noir - Hein Vnyd. Loads of black cherry fruit - very, very seductive nose. Nice touch of complexity contributed by the 70% whole cluster fermentation. Smooth and succulent off-sweet fruit. Also from the Philo area, this vineyard consists of a mixture of primarily 115, 777, and Pommard clones. The small clusters and low yields (1 tons/acre in '03) make for some intense fruit.

2003 Copain Pinot Noir - Keiser Vnyd. First crop off this vineyard on the Mendocino Coast. Nearly all rock, Copain got 1 barrel off 2 acres in this vineyard in Anderson Valley. Very minerally and "French" in nose and mouthfeel, with bacon and wet stone in the nose, and nice clinging acids throughout the very long finish.
2003 Copain Syrah - Cailloux-Coccinelle Vnyd. The '03 seems very approachable , with massively fat fruit, and chewy mouthfeel. Located in Oregon, just a few miles south of the Washington border in the Walla Walla Valley. Stones, stones, stones is the calling card of this vineyard. The 100% whole cluster is brought down in refrigerator truck and crushed locally.
2003 Copain Grenache - James Berry Vnyd. Lovely violet-infused raspberry fruit, with crisp acids and nice touch of vanilla throughout. Surprisingly restrained in both heat and sweetness, you'd never guess this was Paso fruit from 10 yr-old vines.
2003 Copain Mourvedre - James Berry Vnyd. Wow, now here's an interesting wine. Decidedly meat-scented, with earthy and spicy accents in the nose, along with lots of espresso and coffee. Amazingly balanced yet chewy in mouthfeel, with a meaty flavor and very long finish. I assumed the espresso and coffee were due to the oak regimen. Nope, says Wells - it's the wine. Get-ouuut!
2003 Copain Syrah - James Berry Vnyd. Yet another surprise. Here's a warm climate Syrah masquerading as a cool climate Syrah. Stunningly mineral-scented blackberry, with notes of chocolate and sage. Perfectly balanced, lots of chewy fruit, and a very long finish. My mind is whirling.
2003 Copain Syrah - Garys' Vnyd. Big fruity nose, lots of chewy fruit and spice in the mouthfeel. Perfect balance that gets a little fatter toward the long finish. 50% whole cluster fermentation. This is Copain's 2nd Gary's bottling.
With everyone driving into Santa Rosa from different directions, we had arranged to all rendezvous at Copain in at 9:30am - four guys from the Bay Area, one from Davis, and Al, Vincent, Jerry, and Kurt from out near Occidental - ten of us all together.
Bob and I arrived at Copain a little early, so I paced the parking lot, while waiting for the others to arrive to begin our day's itinerary. Very quickly, people started to arrive. I know it sounds silly, but despite all of the planning, you're never quite sure everything will actually work out. I mean, you plan, you scheme, you email everybody, and then, as if by magic, it all actually starts to come together. It's like waiting for a birth.
My phone rang - it was Ken Zinns. He and Eric Lundblad were close by, but stuck in traffic. Since everyone else had arrived, we decided to head on in to see Wells, and let Ken and Eric catch up later - hopefully not too much later.
Hi Kevin, I called out to Wells' business partner, Kevin McQuown. Hi guys, here to see Wells? Yep, but hey, if you want to just give us a thief, we'll go on over and help ourselves, I half joked. Over this way, Kevin said; hey Wells, your guys are here! The size of our group would preclude us from being able to taste barrel samples - or at least being able to have Wells thief them for us while we waited. But no matter, he had pulled barrel samples ahead of time and had them waiting for us.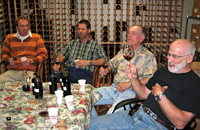 (l to r) Kurt Beitler, Vincent Rago,
Jerry McIntyre, Al Rago
Wells showed us into a medium-sized conference room that allowed most of us to scoot up to the table. He had set out a dozen glasses and there were several cryptically-labeled plastic bottles on the table. Well, welcome to Copain, Wells said, as he proceeded to describe the operation while pouring the first of the barrel samples. This is a Pinot from the Hacienda-Secoya Vineyard, up near Roederer in Mendocino County. I took a wiff - Wooo, nice stuff! Next came the Hein Pinot. About then, Ken and Eric walked in, and picked up with the Hein.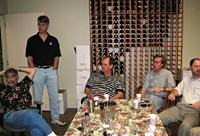 (l to r) Everett Bandman, Eric Lundblad, Bob Summers, Ken Zinns, Alan Rath
As we tasted through several of Copain's wines, questions to Wells were flying left and right. Plenty of grower-inspired queries came from Al, Jerry, and Kurt, who were curious about everything from clones to trellising. This was fascinating to regular wine geeks. We were quite accustomed to our own interactions with winemakers and proprietors. Yet, these were winegrowers, asking the same kinds of questions - just more detailed. This was art imitating life.
All of the Copain wines start fermentation with wild yeast; Wells mentioned that has had no problems with indigenous yeasts. The juice undergoes 8-9 days cold soak, and get their fermenter jackets turned off after about 3 days. While all the Pinot is pumped over, the Syrah is punched down constantly while 'percolating' at about 94 degrees - considered somewhat to the higher side of fermentation.
Across the board, the Copain Pinots were all fabulous - and the Syrahs were excellent as well. However, especially impressive was what Wells had done with fruit from Paso Robles' James Berry Vineyard. It was nothing short of astonishing to taste this fruit in the hands of NorCal guy. Everyone knew that the fruit was very jammy. But, I don't think any of us expected to find this kind of balance in the wine.
it seemed as though no sooner had we started, than it was time to leave - given the day's itinerary, we just had to stay on schedule. We thanked Wells for his time and hospitality, assuring him that if he DID bottle each of those James Berry Vineyard varietals, we'd all buy some. And, we meant it!
Selected Tasting Notes:
...from barrel samples...
2003 Pax Syrah "Obsedian"- Knight's Valley. Planted in '78, this vnyd is located near the Peter Michael property in Knight's Valley. Loads of blackberry fruit, very nice structure, lots of clinging fruit and tannins, along with mineral and meaty scents.
2003 Pax Syrah - Lauterbach Hill, RRV. Located over by Martinelli, and surrounded by Pinot and Chardonnay, Pax has been using this vnyd from the start. There's lots of gravel and sandy loam here, and the sweet red and black fruits are a hallmark of this location. Seductive and smooth, this is usually one of the tastiest offerings in the lineup, but only gets better with age.

2003 Pax Syrah - Castelli-Knight Ranch, RRV. The orange clay from this location give the blackberry-blueberry more of an iodine scent and flavor. Very nice balance, smooth texture, and very long finish. 40% new oak.

2003 Pax Syrah - Walker Vine Hill, RRV. The Walker Vine Hill property is located behind Kistler and Dehlinger, and on goldridge soils. Really tasty, a little more stern in structure than the Lauterbach, but with sweet juicy fruit, and very long finish. 50% new oak.
2003 Pax Syrah "Griffin's Lair" - Sonoma Coast. This bottling seemed to provide more of what I come to expect in a cool-climate Syrah - lots of licorice, dark olive, and wet stone. Dense, very chewy on the palate, lovely balance, and very long finish.

2003 Pax Syrah - Alder Springs Vnyd, Mendocino Co. Rather than depend on marine influence to keep thing cool in this vineyard, they rely on altitude - about 2500 ft. Effusive with meaty and earthy scents, with a very smooth mouthfeel, plenty of black fruit, and a chewy long finish.

2003 Pax Syrah "Cuvee Keltie" - North Coast. A blend of whole cluster lots, this cuvee is reserved for Pax's best barrels. Lots of floral and spice complement the big blackberry nose. Very fat in the mouth, the off-sweet dark fruit has background notes of sage and gunpowder, and a very, very long finish.
2003 Pax Syrah - Kobler Vnyd. Co-fermented with 10% Viognier, the nose gives more of a floral or apple scent to the blackberry fruit. But in the mouthfeel, the Viognier quality is more obvious - adding a nice white peach note to the abundant dark fruit. Nice job!
Next, we drove the 5 minutes or so over to Pax Wine Cellars, also located in a small industrial park in Santa Rosa. Pax Mahle met us out front, and we all chatted a bit. Pax started out in the wine biz as a buyer for Dean & DeLuca. Graduating to making his own wine was an easy decision, and his first commercial vintage was 2000, making 700 or so cases.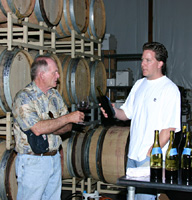 Jerry McIntyre, Pax Mahle
So, want to taste some wine, he winked. Sure, why not, we dutifully replied, and wandered on in. Pax described his program, and we congratulated him on his recent Wine Spectator scores - which put his mailing list clientele into a buying frenzy.
We'd already introduced ourselves while standing outside. But somehow Pax got 'total recall' when the "mailing list" subject came up. Turning to Eric Lundblad, Pax asked if he was the the same Eric Lundblad who'd posted comments on the internet about the Pax mailing list "...needing overhauling." Eric nodded yes, maybe a little sheepishly. And, are you even ON my mailing list, Pax asked Eric. Uhhhhh...well, no, Eric confirmed. Ahhh, said Pax, nodding while moving his tongue to his cheek and raising his eyebrows slightly. It was all good natured enough (well, we all laughed - gee, I don't know if Eric actually did), but I suspect Pax may have been delighted to have this accidental opportunity to...shall we say...give back to the community.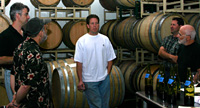 (l to r) Everett Bandman, Eric Lundblad, Pax Mahle, Vincent Rago, Al Rago
Pax started us through several samples he'd already pulled from barrels. As we gathered around a small table set up in the winery-barrel room, each of us grabbed a glass. Pax made the rounds with each wine, answering questions about vineyard locations, styles of wine, and whether or not he'd like to make a white wine. Maybe, Pax said - we'll see. He seems to be self-assured in his winemaking, a fact that does seem evident in the bottle (or the barrel, for that matter). As we continued to chat and sip, we discovered a pallet with some carboys on it. Hmmm, this looks like white wine, I thought. Whatcha got here, I asked. Oh, that's kind of a...uh, project, said Pax, preferring not to elaborate any further. Looks like Roussanne, I said, fishing for a little more info. Might be, he replied. Well, no newsbreaking info to report here. We thanked Pax for his hospitality, apologized for Lundblad's mailing list maelstrom, and moved along to our next rendezvous.
Selected Tasting Notes:
...from bottle...
1996 Que Syrah Syrah - Que Syrah Vnyd. Made by Dan Goldfield for La Crema label. Warm earthy tones and a touch of stem and brown sugar add to the black cherry nose. Fleshy in mouthfeel, still good fruit, soft finish.
1997 Que Syrah Syrah - Que Syrah Vnyd. Made by Dan Goldfield for the Hartford Court label, and pretty much kept internally. More hi-toned in aromas, with more fruit than the '96, and an interesting gunpowder scent. Fruity and more minerally in mouthfeel.
1998 Failla-Jordan Syrah - Que Syrah Vnyd. Beautifully warm and earthy nose - smells almost "French" in style, with a nicely balanced mouthfeel, and semi-sweet fruit, that picks up just a bit of bitterness on the long finish.
1999 Failla-Jordan Syrah - Que Syrah Vnyd. Lovely nose of black and red fruit, nice balance, slightly soft finish.
2000 Failla Syrah - Que Syrah Vnyd. Slightly pungent nose, with dark fruit and herbs. Full, sweet and tasty in the mouth, excellent balance, and long finish.
2001 Failla Syrah - Que Syrah Vnyd. Nose of pomegranate, black cherry, and herbs. Soft and fleshy mouthfeel, nice fruit, slight grip on finish.
2002 Starr Creek Pinot Noir - Estate. Nose ofbing and black cherry, along with cola spices. Nice fruit and balance in the mouth, with a medium-long fruity finish.
2001 Edmunds St. John Syrah - Peay Vnyd. Lots of licorice, dark chocolate and cinnamon to accent the dense blackberry nose. Lots of fruit, excellent balance, gripping mouthfeel, and long finish. Planted in '98, the Peay Vnyd is near Sea Ranch, on the Northern Sonoma Coast.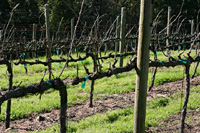 Leaving Santa Rosa, we all drove out toward Occidental to visit some vineyards. First stop was a visit to Al and Virginia Rago's Que Syrah Vineyard, on the Sonoma Coast. It was a gorgeous day (I seemed to be coming around to this fact), with the temperatures in the mid-to-high 80s. Arriving at Que Syrah, I punched in the gate code and drove on in. I immediately noticed how much the vines had grown since my last visit two years earlier.
Al and Virginia's house is tucked into a glen, just up past the vineyard - as I recalled. Well, two years does make a difference, and I overshot the "driveway" to the house. I backed down the narrow road and drove into the space between the trees at the front of the house. With two other cars following us, I felt as though I ought to wave them into the right place. No problem though; everybody caught on just fine.
Planted in 1994, the first crop was harvested in 1996 and went to La Crema, and the following vintage ('97) went to Hartford Court. The 1998-2003 vintages have gone to Ehren Jordan's Failla-Jordan label - which ultimately became Failla, after Alexander Valley's Jordan Winery made a fuss. Beginning with the '04 vintage, Al will be selling his fruit to friend Kurt Beitler, who lives just up the road - or is that down the road.
Al and Virginia were prepared to entertain us with a vertical of Que Syrah wines, from '96-'01. Meanwhile, as Al and few others circled the table pouring the Que Syrah wines in alternate glasses, Bob was busy assembling all the ingredients he'd brought along to make sandwiches, and Virginia was putting out olives and cheeses. Looking at all of this, I was already thinking ahead - wishing we didn't have to leave any time soon. Maybe everyone else could just come and visit us right here.
The food and all of the wines were great. But, as with a progressive dinner, we had to keep moving along to our next scheduled stop. We thanked our hosts and headed for the Marsh Vineyard, before heading to Radio Coteau, which was to be our last stop of the day. Oh, but you've got to stop by Vincent's place to see what he's done, Al said. Sure, let's stop by there, Vincent agreed. And then don't forget, we have to see Kurt's weird Trentino trellising. Well, I'm certainly up for more stops - I just have to find a way to control the time spent - at least, as much as I possibly can.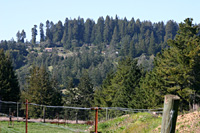 View toward Marsh Vnyd from V. Rago Vnyd
First stop, Vincent Rago's vineyard, just down the road from his mom and dad's place. Just one of the many views from here is a straight shot over to Pete Marsh's place, Vincent said. Sure enough, right across the canyon - an easy mile as the crow flies, but more like 15-20 minutes as the car drives. Last time here, Vincent was just starting to remodel the property's old barn into an office and small winery. He's been doing his own carpentry, and the place looks absolutely beautiful. As we walked around the vineyard, Vincent told us how he's looking forward to his first crop. He has 2-1/2 acres each of Pinot Noir and Chardonnay.
Kurt Beitler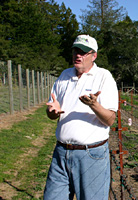 Pete Marsh
Next, we stopped by the property that Kurt is managing for Caymus. The first thing one notices about this vineyard is the unusual trellising. It's called Trentino, and the design hails originally from Alto Adige, in northern Italy. Quite high off the ground, the trellis and wiring system produces a pergola, or large walk-under canopy. Exactly what this will do for Pinot Noir is yet to be determined.
Unfortunately, time didn't permit us to swing by Jerry McIntyre's Starr Creek Vineyard. Located in Windsor, Starr Creek grows Merlot and Pinot Noir for places like Chateau St. Jean.
Finally, we swung by Pete and Barbara Marsh's vineyard. With 1-1/2 acres of Pinot Noir, the Marsh Vineyard may be arguably the smallest Pinot vineyard in the area (his neighbor has 34 acres). At 1,100 ' altitude, the property is part of a natural bowl that faces due south, offering a view of Pt. Reyes on a clear day.
In 1999, Pete planted the Dehlinger Swan clone he obtained as green vines. Using sustainable farming techniques, Marsh produced a small crop of fruit (2,900 lbs) in '02. Pete told us he has 2,037 vines, and has named each one of them. He could recite the names if we wished, but said he'd understand if we were in a hurry to get on over to Radio Coteau. Let's see, figure maybe 2 seconds per name...that's about 68 minutes...plus walking time.... Gee, Pete, I think we have to get going now, but thanks anyway.
Selected Tasting Notes:
...from bottle...
2002 Radio Coteau Pinot Noir - Hellenthal Vnyd, Sonoma Coast. From a hillside vnyd between Cazadero and Fort Ross. Mt. Eden and Calera clones. Nose of candied apple spices, dark cherry, and a touch of vanilla. Full on the palate, with a chewy texture, perfect balance, and very long finish. 320 cases.

2002 Radio Coteau Syrah - Timbervine, RRV. From a 12 yr-old vnyd near Forestville. Planted to Durell clone. Nose of blackberry and black cherry, cranberry and a touch of bacon. Full and rich, with a nice mineral accent to the blackberry flavor. 400 cases.
2002 Radio Coteau "Old Vine" Zinfandel. From the Von Weidlich vnyd. Planted 60-70 yrs ago. Nose of spiced raspberry and boysenbery. Smooth and seductive - not an "in-your-face" style of Zin - much more refined in texture and flavor.

...from barrel...
2003 Radio Coteau Pinot Noir - Hellenthal. Lovely nose of sweet ripe black cherry, with a touch of cake spices. Round and very tasty, with lots of dark cherry fruit, beautiful balance, with a juicy sweetness to the very long finish.
2003 Radio Coteau Pinot Noir - Marsh Vnyd, Sonoma Coast. Planted in 1998 to Swan clone (Dehlinger). slightly higher-toned in the nose. Youthful mouthfeel, with lots of bing cherry fruit, touch of spice, lovely balance, and a very long finish.
2003 Radio Coteau Pinot Noir - Savoy Vnyd, Anderson Valley. Pommard, Dijon 115, Martini clones, planted in 1992-96. Smooth and rich in the nose, with lots of black cherry and spice. Quite full bodied in mouthfeel, very tasty, perfect balance, ands seems to get even chewier on the back end.

2003 Radio Coteau Syrah - Timbervine. Slight floral and herbed quality to the dark fruit. Beautiful balance, lots of sinewy dark fruit, and a very long finish.
2003 Radio Coteau "Old Vine" Zinfandel. Gorgeous nose of raspberry-boysenberry fruit, with a nice sappy jasmine scent. Smooth texture, excellent balance, and long tasty finish.
We finally headed on to Radio Coteau to meet with winemaker Eric Sussman. We met Eric at the Taft Street Winery, to taste through some of the current and future Radio Coteau offerings.
Everyone was really looking forward to this visit, since Radio Coteau is now releasing it's first vintage, and is expected to gain recognition very quickly.California has no shortage of up and coming wineries as well as winemakers, but the lineage in this operation is excellent. In addition to partners Bill and Joan Smith (previous owners of La Jota), Eric Sussman brings a wealth of winemaking experience to the project, most recently as the associate winemaker at Dehlinger. Prior to that, Eric was at Bonny Doon (Associate Winemaker), Comte Armand & Jacques Prieur - Burgundy, Mouton Rothschild & Clerc Milon - Bordeaux.
The slightly unusual winery name, Radio Coteau, is a French colloquial expression, translating roughly to "word of mouth," or "heard it from the grapevine." The name aptly expresses Eric's feelings about commitment to the land through sustainable farming, and traditional methods of winegrowing being passed onward.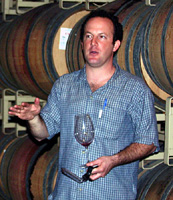 Eric Sussman
In starting Radio Coteau, Eric was determined to select the best vineyard sources along the north coastal areas (both Sonoma Coast and Mendocino County), treat the fruit with the utmost care and non-interventionist techniques, and just let nature take its course. No, this isn't rocket science. But, the extra attention that he brings to the project translates into things like picking fruit on 4 separate occasions at Savoy, just to get the perfect ripeness. Long cold soaks (7-10 days) no innoculation for primary or secondary fermentation, no enzyme additions, low SO2 regime, and of course, no finning or filtration. Eric uses no whole clusters. Radio Coteau's production was 1,700 cases in '02, with an expected 1,500 cases in '03.
I often have to remind myself not to be a varietal snob - you know, "this varietal" is better than "that varietal." Given that his focus is Pinot and Syrah, I was curious as to why Eric was making a Zinfandel - half expecting that he'd tell me he was a big fan of the varietal. He explained that he was driven more by the location of a site, rather than a particular varietal - or in Eric's words: "...the Zin was chosen because the property has notable history - (planted in the early 1900's & vinified by Ridge in the early 70's under Occidental Vineyard label) great site with great soil and planted to a variety that has proven to perform in this location. I guess in short I first look at site and then see if the appropriate varietals are planted." Made plenty of sense to me.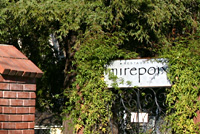 Well, all good things must end, and we had a dinner reservation in Windsor. So, we thanked Eric for his time, and moved on to the next part of our progressive dinner - DINNER! From Taft Street, we headed to dinner at Mirepoix. Pete worked some magic and got our party of 10 into this small (28 seats), yet highly recognized restaurant in Windsor. Dinner was fabulous.
By any measure, it was stupendous day. We'd visited three wineries and four vineyards, stopping only for a delicious lunch and vertical tasting. Plus, we had added two additional stops - yet, still stayed on schedule.
---
---
Copyright © 1993 - 2004, Eric Anderson -
All rights reserved
No original material may be reproduced without written consent
Mail & Comments - Eric Anderson