Vol. 12 No. 1 - March '04 - Part 2 of 2

NAPA - more than a four letter word
What's new in Napa Valley
Wednesday, March 10, 2004 - Napa Valley
Since the members of our Tuesday "wine crew" were all returning to their day jobs on Wednesday, Everett Bandman and I decided to go it alone on this first day in Napa Valley. We arranged to meet at Vine Cliff at 9:30, for a short tour and tasting with Christine Peterson, Vine Cliff's sales and marketing manager. Let's get some wine first, Christine said, leading us into the barrel room, to the front and just below the crush pad. Pouring us an '01 Carneros Chard to sip, she invited us back outside to give us the origins and history of Vine Cliff winery.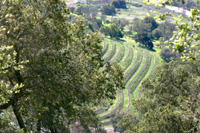 Terraces at Vine Cliff
Located in Oakville on the east-side of Silverado Trail, bonded winery #9 started life in the late 1800s, as part of the original George Yount estate. Purchased in 1870 by George Burrage and Thomas Tucker, the pair constructed a winery and tunnels. Purchased later by John Fry, the winery achieved some note by the 1890s. Ultimately, however, the winery fell into a state of decay after Phylloxera destroyed the vineyards in 1900. The original cave entrance is still visible over on the south hill - though the cave itself has long since collapsed.
Through fire and neglect, the property finally fell into a state of disrepair and lay dormant - a ghost winery - for several years. Purchased in 1985 by the Sweeney family, Vine Cliff literally rose from the ashes. Reconstruction of a new winery was started, and the first vintage was produced in 1990. The next year hailed their first crush at the new facility. More vineyard land was purchased over the next few years, bringing Vine Cliff to about 26 acres of Cabernet and Merlot. In addition, more acreage was purchased in Calistoga and Carneros, the latter for 10 acres of Chardonnay.
Selected Tasting Notes:
...from bottle...
2001 Vine Cliff Chardonnay - Carneros. Lots of oak here, but the wine wears it well. Crisp, floral and tropically-scented. Very nice balance and long finish. (They also make a Proprietress Reserve Chard, using the best of the Carneros blocks.)
2001 Vine Cliff Chardonnay - Bien Nacido. An interesting contrast to the Carneros fruit, this has more of an apple/pineapple pie quality, and silkier texture. Really nice!
2001 Vine Cliff "Bobcat Zin". From a one acre block, this Zin is more quaffer in style, with it's lighter body and mouthfeel. That said, it definitely doesn't trade the weight for fruit, and was very enjoyable. Available in the Tasting Room only.
2000 Vine Cliff Merlot - Napa Valley. Made from a blend of vineyards. Full mouthfeel, with a light herbaceous quality to the dark plummy fruit. Very nice balance, and long finish.
2001 Vine Cliff Cabernet Sauvignon - Napa Valley. Lots of cassis-scented fruit, moderately fully mouthfeel, very tasty, with a nice hint of sage on the finish.
2001 Vine Cliff Cabernet Sauvignon - Estate. Still quite young, but gorgeous cocoa-dusted cassis, along with a touch of anise. Full rich mouthfeel, velvety texture, and very long finish.
1999 Vine Cliff Cabernet Sauvignon - Estate. Beautiful nose of cassis, sage, lavender, and toast. Lots of sweet fruit on the palate, chewy texture and fine-grained tannins, long luxurious finish.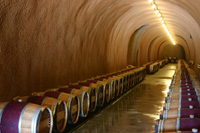 Christine then led us back into led us back through the barrel room - stopping to pour us an '01 Bien Nacido Chard, before we headed up to the crush pad. It's an impressive facility, and obviously designed to maximize the use of gravity. The Chards get imprisoned in satinless steel for 72 hours of cold soaking, before being racked into French oak for barrel fermentation and aging. The reds are hand sorted before going into smaller stainless fermenters, then gravity fed into French cooperage.
We walked back down to the barrel room, where Christine poured us a Zin and a Merlot, as we continued to chat about the facility and grounds. We've got an beautiful view from atop the plateau, up by the main residence on the hill - I'll take you up there, she said. But before that, let's go over to the new caves, and we headed across the grounds to have a look at the 15,000 square feet of barrel storage. Christine brought a couple of bottles along with her, and we stopped at a junction point inside the caves to try the '01 Napa Cab, '01 Estate Cab, and finally the '99 Estate Cab. They had just hosed down the floor, and the combination of oak, wine and humidity was intoxicating. Christine explained that Vine Cliff had declassified their '00 Oakville Estate Cab, blending it into the regular Napa production. It's not uncommon for wineries to talk about quality. But, it is nice to see them 'walk the walk.'
Back outside, I volunteered to drive us up the road to the top of the plateau. Rounding the last turn, we could see the "big house," the very large Sweeney residence. Passing by some distance away, we parked by a gorgeous picnic ground. I could see why Christine referred to this as "the playground." It was a lovely park-like setting, complete with gardens, outdoor cooking facilities, a staggering view, and ...yes, even a playground for kids. Apparently, most of the entertaining and staff functions are held up here. Christine pointed out a few of the sights: that's Peter Michael over there...that's Screaming Eagle down there, and so on. After a few photos, we drove back down to reality - the parking lot. But even here, the parking lot is attractive, with its fountain and gardens. Everett and I thanked Christine for her time, and we voiced what she already knew - Vine Cliff certainly seemed like a beautiful place to work.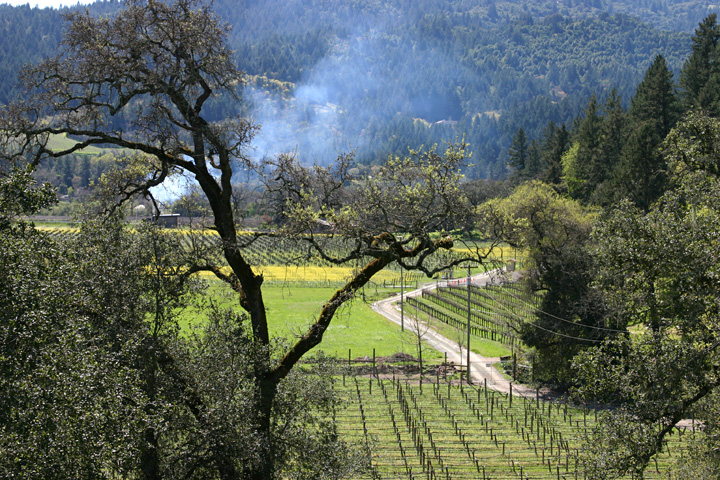 Burning Canes
From here, we headed north on Silverado Trail to the Calistoga area for a visit with Warren Smith and his son, Barr of Barlow Vineyards. Rather than having both Everett and I drive up to Calistoga and back, we decided to drop his car off at a convenient location on the way and just travel in one car. Everett knew of a little fruit & Vegetable stand on Silverado Trail, so he stashed his car there and we were off.
Selected Tasting Notes:
...from bottle...
2001 Barlow Merlot - Estate. Lots of black cherry and sweet oak in the nose. Rich, with a nice ripeness on the palate, a silky mouthfeel, excellent balance, and a very long finish.
2001 Barlow "Barrouge" - Estate. An 80/20 blend of Cab and Merlot that succeeds on all levels. Jam-packed with lovely cassis fruit and a touch of toast in the nose. Full and rich on the palate, with creamy flavors, excellent balance and a very long finish.
2001 Barlow Cabernet Sauvignon - Estate. Loaded with fruit, and just a touch of sage. Big chewy mouthfeel, with fine-grained tannins, excellent balance. Very accessible now, this one should reward patience.
2000 Barlow Cabernet Sauvignon - Estate. Plenty of black cherry and floral aromas in the nose. Delicious dark berry flavors, smooth on the palate, with a very long finish.
2002 Barlow Merlot - Estate. Plump, ripe black cherry aromas. Slightly soft and round, yet very chewy, with excellent balance and long finish.
I first met the Smiths at the '03 Family Winemakers tasting in Pasadena. Having already tried an impressive '99 Cabernet at a tasting a year earlier, I was interested in trying their latest releases - which turned out to be a Cab, a Merlot and a Zinfandel - all of which were excellent. It seemed to me a future visit to Barlow Vineyards was in order.
Warren and Jeanne, and Barr and Ann Smith founded the 36 acre Barlow Vineyards in 1994. (Barlow is Warren's middle name.) Replanting an existing large block of Cabernet, and adding some Merlot and Zinfandel, the former Upjohn retiree and his family set about their new lives as wine growers. They've been selling about 90% of their fruit to BV, Ch. Montelena, and Summers, and had enlisted winemaker Corey Beck (from Summers and Niebaum-Coppola) to make a small amount for family and friends. After making the first Barlow Cabernet, Beck apparently suggested that the Smiths sell their wine - it was just too good to keep!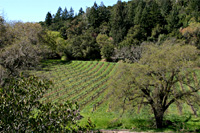 As we rounded the bend on the north end of Silverado Trail, we noticed that something had plowed through a fence and into a vineyard - or, more properly, the Barlow vineyard! Because of the bend in the road, it was easy to assume that a car had gone through the fence into the vineyard - though it might just have easily been a tractor. Maybe we'd find out something from the Smiths. Driving up the road, Warren and Barr came out to greet us and showed us into their house.
We chatted about the unseasonably hot weather (they didn't seem to mind it at all), and asked Warren about the hole in the vineyard fence. Oh, somebody ran into it one night last week - probably drunk. We went back outside so I could get a few photos, and walked around the property. Back in the house, we chatted about vineyard and production particulars. They drop fruit twice during the season to keep the yields down, which certainly accounts for the concentration in their wines. The Cabernet gets 45% new oak; the Merlot about 35%. Currently at 1300 cases, the Smiths are going to cap themselves at 2000 cases annually.
We tried several of their new releases, including a soon to be released blend they call Barrouge, a nice little play on words with the Barlow name. Very nice setting - the house is gorgeous, the wines are excellent and the Smiths are nice friendly folks.

Selected Tasting Notes:
...from bottle...
2002 Neal Chardonnay - Napa. Citrus and citron scented nose, touch of toast and apple. Big and chewy mouthfeel, with nicely ripened fruit, and a long tasty finish. I could drink this all day - well, at 15% alcohol, maybe just part of the day.
2001 Neal Cabernet Sauvignon - Napa. (first bottle) Aromas of cassis and toast, with a hint of anise and sage. Big and rich mouthfeel, lots of black cherry fruit, smooth tannins, excellent balance, and very long finish.
2001 Neal Cabernet Sauvignon - Napa. (second bottle) Mark didn't think the first bottle smelled/tasted as it should, so they cracked a second bottle. Similar, if more effusive aromas of cassis and toast. But, gone were the sage notes - replaced by a chocolate and mocha edged quality. A bit more cassis than black cherry in flavor, still very smooth with its fine-grained tannins.
...barrel sample...
2002 Neal Cabernet Sauvignon - Napa (blend of barrels). Wow! Loads of cassis, cloaked with aromas of espresso and coffee, and dusted with cocoa. Thick, rich, smooth and chewy in mouthfeel, this wine is absolutely stunning! If this is indeed the final blend for the '02 Napa, I hope they have plenty of it.
2002 Neal Cabernet Sauvignon - (East face, Howell Mtn). Slated to be the "1540" single-vineyard designation, this wine seemed to have slightly sweeter fruit than the Napa, with dark cherry and a touch of licorice. Although it also has noticibly tannins, the wine is still quite smooth on the palate, and there is plenty of fruit to balance out the oak. Think filet mignon in a glass.
2002 Neal Cabernet Sauvignon - Estate. As good as I thought the Napa was, this is up another level. Packed with sweet fruit, the nose brims with French Roast coffee and dark chocolate. Big and rich in mouthfeel, excellent concentration and balance,and long chewy finish.
Leaving Barlow, we headed back down Silverado Trail to pick up Everett's car. From here, it was up to Howell Mountain for a visit with Mark Neal and Gove Celio at Neal Family Vineyards. Mark greeted us when we arrived at the winery, nestled into the hillside at the end of Liparita Road. It was a beautiful setting - with a very attractive winery and storage cellar surrounded by lots of flowers beds. But, apparently it wasn't always this way. Mark says this box canyon was once a junk yard, littered with rusted hulks. Frequented as a lover's lane of sorts, Mark says he still has to kick people out who pull up to park.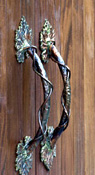 My introduction to Neal Family Vineyards was while tasting the '99 Neal Cabernet early last year. This wine was clearly about the fruit, and I was looking forward to trying the '00. When I attended the '03 Family Winemakers tasting, I made a point of looking for the Neal table to try the 2000 vintage. But, it turned out they were pouring the '01 at the tasting. What happened to the '00, I asked, since I'd never seen it arrive in the retail market. Well, it wasn't up to our standards, so we bulked out the juice, was Mark's reply. The year 2000 was considered to be a "difficult vintage" in Northern California, and more than a few vineyards had difficulties with their fruit. So, it was impressive to me that a winery would make what must be a very difficult decision - to declassify, or otherwise not make their wine in a given vintage. Obviously, it's to Neal's credit that they value the reputation of their wine, rather than just produce a vintage for sake of production. With the '01, Neal has also changed the label design and color, moving from a large white diamond to a much more distinctive terra-cotta emblem.
Mark Neal has been a vineyard guy for as long as he can remember. He and his father amassed a stellar reputation managing several of the premier properties in Napa Valley, and Mark brings all that experience to bear in establishing his own vineyards and winery. Starting production in 1997, he made a small amount of Cabernet with fruit from the Shifflett Vineyard, which was one of the properties farmed by Mark. He made the first Neal Cab in 1998, which was a big hit for the vintage. But, the 1999 Neal was other-worldly, with lots of chewy mocha-laced black cherry fruit. As mentioned, the 2000 Napa Cab was de-classified, since Mark wasn't happy with the quality of the fruit. It was an odd situation that year, with the weather setting the timetable(s) for picking, and the picked fruit overwhelming the available crushing facilities.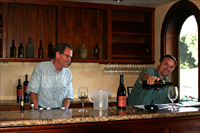 Gove Celio, Mark Neal
After nearly three years of construction, the new winery was completed in time for the 2001 crush. It's very attractive, with lots of dark wood, custom metal, and terra-cotta accents in the main rooms and office complex. A custom Cabernet-vine chandelier hangs in the foyer that leads back to the caves. Back on the winery side of things, Mark has an abundance of fermentation tanks - in fact, more than enough to handle his 3,000 case production. Why so many tanks, I wondered aloud. Because I don't want to be put in the position of having let fruit sit around waiting for an open tank, was the reply. Mark uses only free-run juice for the Neal label, and they rack about 2-3 times per year. The oak regimen here is 100% new - and the wine wears it very well.
The '99 and '01 Neal Cabs were made by Tony Biagi, with Gove Celio finishing the '01, then taking over the winemaking duties after Biagi left. Gove and Mark had known each other for years, most recently from Gove's duties at Liparita as the vineyard manager as well as the winemaker. Inherently a vineyarist, Gove brings a wealth of knowledge to the winemaking side of things. Mark has also hired Kelly Wheat as assistant winemaker. Kelly had previously worked at Carmenet, and with John Kongsgaard at Luna.
The 2001 vintage should be a banner year for Neal Family. Mark selected vineyards from Howell Mountain, Rutherford, Mount Veeder, Coombsville, Atlas Peak, and St. Helena for inclusion in his '01 Napa Cabernet (already sold out). In addition, he has added two single-vineyard '01 bottlings - Second Chance (Atlas Peak), and Howell Mountain (Estate). Mark says he's going to add a few more single-vineyard bottling to the '02 lineup, including a "1540" (Howell Mtn), as well as bottlings from Mt. Veeder, Rutherford, and maybe two more from Howell Mountain. Production is expected to go to about 3,000 cases.

Thursday, March 11, 2004 - Napa Valley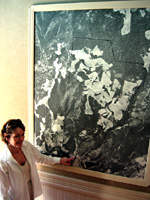 Valli Farrell, Spring Mtn Vnyd
Several people from Tuesday's excursion were joining up for the Thursday schedule. We were all to meet in St. Helena, and could then travel in one car for most of the day. After Ken Zinns, Eric Lundblad and Alan Rath arrived, we were off. First stop was a visit up on Spring Mountain to Spring Mtn Vineyard. The site of the former TV show, Falcon's Crest, the new Spring Mountain has been making wine since the 1993 vintage, and was now open to the public by appointment. We had heard that the grounds were something to behold, and were all interested in seeing the estate - oh yes, and tasting the wines too. We were met by Valli Farrell, the winery's public relations manager, who showed us inside the main building that houses offices and abuts the winery itself. She led us over to an aerial wall map that illustrated the vineyard layout. The original property dates from 1885, and the map provided an interesting overview of the four properties that now comprise the large Spring Mountain estate. Miravalle, Chateau Chevalier, Streblow (Alba), and Draper (La Perla) Vineyards. The property is now 845 acres, with 245 acres planted in nearly 130 blocks.
Selected Tasting Notes:
...from bottle...
2002 Spring Mtn Savignon Blanc - Estate. The Sauv Blanc gets barrel fermentation in 15% new oak. Nice crisp citrusy nose, with light floral and nutty components. Crisp mouthfeel, lots of fruit, excellent balance, and long finish.
2000 Spring Mtn Cabernet Sauvignon - Estate. Gorgeous black cherry and dark plum nose. Very nice structure and balance, lots of off-sweet cassis and black cherry, and a long seamless finish.
2001 Spring Mtn "Elivette" - Estate. Very similar to the Estate Cab, but more Bordeaux-like in its profile. Fabulous nose of cassis, pomegranate, and cherry. Rich and dense on the palate, with excellent balance and very long finish.
1999 Spring Mtn Syrah - Estate. Nose of blackberry, blueberry and licorice. The nose seemed quite complex, with nuances of herb and pipe tobacco. Very well balanced, lots of fruit, and a joy to taste.
...from barrel...
2002 Spring Mtn "Elivette" - Estate. (final blend) Lots of cedar-scented cassis and black cherry, with lesser notes of lavender and sage. Ripe and slightly sweet in mouthfeel, the smooth texture and tannins seem surprising for a barrel sample. Beautifully balanced, with a tasty long finish.
2003 Spring Mtn Cabernet Sauvignon - Miravalle & LaPerla Vnyds. Nice coffee-scented cassis and dark cherry in the nose. Ripe and plush on the palate initially, this wine seemed to get more elegant from mid to latter palate. Very tasty!
2003 Spring Mtn Syrah - Estate. The 20% Viognier is easily recognizable in this lovely Syrah. Nose of applewood and blackberry, with additional notes of licorice and bittersweet chocolate. Full and rich on the palate, with beautiful balance, and long finish.
From here we took a short tour of the grounds, including the old stables, the vineyards and the gardens surrounding a gread deal of the property. The stables are being used as a museum of sorts, with many pictures and artifacts from a bygone era. Everything seemed to be in nearly original condition - it was as if time stood still.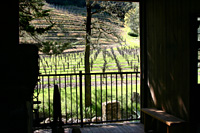 As we walked from the stables, we were able to look to the west at the beautifully terraced vineyards, rising up the hillside from 400' to 1600' in elevation. These varied elevations give us several microclimates, Valli pointed out. As I squinted at the terraces, the mountain reminded me of a ski slope, all carved out and glistening. Valli led us over to a vineyard block on the grounds. The trellising looked quite different. That's Gobelet trellising, said Valli, explaining that this 6-7 year old vineyard is an experiment in high density planting. This type of trellising coaxes the vine up into a goblet shape - hence, Gobelet. It's an old-word method, that has been primarily used in hot and dry environments.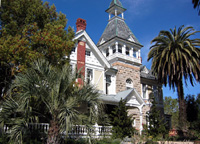 From here, we wandered through the lush tropical gardens and finally over to the "main house," the same Victorian that was featured during the aerial flyover in the opening credits of the TV show. Beautifully maintained both inside and out, this 8,000 square foot house was built in 1885 by Tiburcio Parrott. All of the original features of stained glass and moulding have been kept.
Have a seat, Valli said, and she proceeded to gather some wines for us. We seated ourselves at a long table in the Century-old dining room, and Valli poured us through several wines. A sit-down tasting is always nice, but this one seemed special. We discussed each of the wines and chatted about wineries and Napa. I could see the look on everyone's face, and I'm sure it was on mine as well. We were all thinking - hey, we could get used to this. Does everyone who takes the Spring Mountain tour get to experience exactly what we have, Alan asked. Yes, they certainly do, said Valli. It struck me then that this was an ideal tour for couples or families. Here was a tour about history, memorabilia, beautiful gardens, and wine. In my opinion, if you do nothing else on in Napa Valley - take this tour!
We we having a great time, but the clock was ticking and we still had places to go. Then Valli offered - would we like to talk with the winemaker and possibly do some barrel sampling? Without trying to look too eager, we replied something like: why yes, that would be excellent. We hoped the clock would just stop ticking.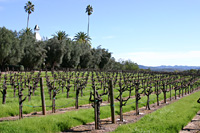 Valli called over to see if Jac Cole was still in the winery. Yes, she nodded to us, and she led us over to the winery to meet with winemaker Jac Cole. Jac was tasting his barrel coopers on some of the currently slumbering blends, and offered to do the same with us. How could we refuse. Jac had worked at Chateau St. Jean, and both Stag's Leap and Stags' Leap (confusing, isn't it), as well as S. Anderson. Each of the Cabernet-based wines are blended with Cab Franc, Merlot, and Petite Verdot. They also make small amounts of Sauvignon Blanc and Syrah. Oak treatment here is generally 50% new, or one year old. Currently at 10,000 cases, they are looking to raise production to 20,000 cases eventually.
Valli and her husband Tom (General Manager) have done a remarkable thing here - they've maintained the past in the present, thus allowing the public to see and feel a great estate from Napa's past. It was getting late, and I didn't want to keep our next appointment waiting too long. So, we thanked Valli for her time, her expertise, and her hospitality, and drove across the valley to Silverado Trail.
Although I didn't actually have a lunch break penciled in for us, I thought we'd stop sometime during mid-day and grab a bite to eat. I'd picked up some sandwiches earlier in the morning, and decided we'd take the opportunity to stop, when and if it came. Well, running a little late at Spring Mountain didn't allow any extra time around Noon, so we headed straight across the valley to Rockledge Vineyards.
Selected Tasting Notes:
...from bottle...
2000 Rockledge Zinfandel - Estate. Planted in 1993, this is a beautiful claret-style Zin that just keeps begging you to pour more. Lots of cherry, bramble, boysenberry, with a nice spicy component.
2000 Rockledge Primativo - Estate. Big slightly candied boysenberry and floral nose, with incredible density, fruit and balance on the palate. This is the Charlie Parker of the Zinfandel. Once you've tasted it, you can never go back.
1999 Rockledge Cabernet Sauvignon Reserve - Estate. Just packed with cassis, black cherry and toast, smooth throughout, excellent balance, very long finish. A beautiful wine!
2000 Rockledge Cabernet Sauvignon - Estate. Nose of cassis, pomegranate, and dark cherry. Slightly soft in mouthfeel through mid-palate, with more astringency picking up through the long finish. Drinking very nicely right now.
2002 Rockledge Cabernet Sauvignon - Estate. Nose of plummy cassis and cherry, with a light lavender streak. Full and rich on the palate, chewy and blanced well, with long tasty finish.
2003 Rockledge Cabernet Sauvignon - Estate. Huge fruit-driven nose and mouth, with great balance and structure. Surprisingly accessible at this stage, this wine seems very Medoc-like in structure and intensity. It's got a big future!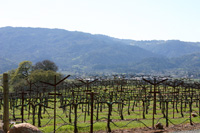 Rockledge Vineyards
I had met Peter and Linda Snowden nine months earlier at the '03 Family Winemakers tasting in Pasadena. I fully expected an excellent Cabernet from this area, but the stunning Primitivo was a complete surprise. Come on up and see us, they said. And I vowed to make sooner, rather than later.
The Rockledge property is Located up on a hill, off Taplin Road - just behind the Joseph Phelps winery. Arriving a little after Noon, we pulled in through the gates and drove up to the house, where we were met by Peter. I hope you guys haven't had lunch yet; we have a little something set up for you, Peter offered. Gosh, no we haven't- that sounds great, I said. We followed Peter over to the outside patio, with its beautiful southeast view of the Napa Valley. He introduced us to his wife Linda, and their national sales manager, Michelle Hunt, and to their new winemaker Michael Hirby. I'd met Michael before, while he was working at Behrens & Hitchcock, and it was nice to see he was aboard as the Rockledge winemaker.
Come on, everybody sit down, Peter said. They had set out quite a spread - there were all sort of cheeses, breads, crackers, condiments, and sausages. Alan contributed some olives that he'd picked up at the Oakville Grocery on the way into the Valley, and I could see it was going to be hard to break up the party anytime soon. In fact, about now, I was wishing this was the last stop of the day, so we could all just kick back.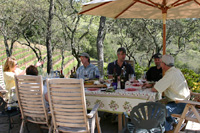 We passed around plates of food and bottles of wine, while chatting about the origins of Rockledge. Peter explained that he and Linda were transplants from Laguna Beach, and had been coming up to Napa for years. Even earlier, Peter would come up to visit his cousin, Scott Snowden, of Snowden Vineyards. When the couple found this 42 acre property about 15 years ago, they decided to take the plunge. Unfortunately, they had no power and no water, and in fact, no access - the property was land-locked by the Phelps vineyards. But fortunately, Joseph Phleps offered to provide an easement for the Snowdens to build their home. Phelps also came to the rescue when the Snowdens efforts to find water on the property came up dry. Phelps let them drill a well on his property, in exchange for half the water - something he's apparently never claimed. With their immediate problems now solved, it was time to plant vines.
The vineyards were planted in 1993, in the mostly rocky soil. They have 8 acres of Cabernet, some of which has gone to Stag's Leap Wine Cellars through a previous agreement which has now ended. Additionally, the Snowdens have 2-1/2 acres of Zinfandel and another 2 acres of Primativo. Unfortunately, the Primativo was being pulled out to make way for Cabernet. Ordinarily, I'd support such a move - in fact, I might even help. But this Primativo was flat-out delicious, and it broke my heart to hear about this.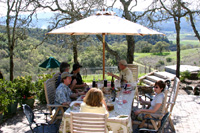 In 1999, Peter and Linda produced their first commercial wine. They had enlisted the help of John Gibson (Snowden, Frazier) as winemaker, and used the custom crush facility south of Napa at Kirkland Ranch, in Jamieson Canyon. Apparently Gibson has made the Snowden label there as well. But, Peter mentioned that his cousin was going to build a winery, so hopefully he and Linda will be able to make their wines a bit closer to home. We asked Mike Hirby what changes he envisioned in the winemaking. He said he might pick a little later, and try more experimentation. I like the idea that a winemaker is willing to experiment with things. In fact, the only thing I want to sit still is me.
Excellent wine, excellent food, and excellent companionship doesn't make for an easy parting of company. But, we had to be off to our next scheduled stop - ironically, back on Spring Mountain. We thanked everybody profusely, and tearfully piled into the car to drive back across the valley. I might be exaggerating here a little - but not much; everything was just that good.
From Rockledge, we headed back across the valley and up Spring Mountain for a visit to Barnett Vineyards. We were running a little late, so I called the winery to let them know we would be there soon. Upon arriving, we were met by Tyson Ducker.
Selected Tasting Notes:
...from bottle...
2002 Barnett Chardonnay - Sangiacomo Vnyd. Nicely balanced, plenty of citrusy fruit with just a touch of apple. Moderately chewy, this is more about the fruit than the oak. Went through about 10% malolactic fermentation.
2002 Barnett Pinot Noir - Sleepy Hill Vnyd, Santa Lucia Highlands. Very nice nose of black cherry, strawberry, and pomegranate. Rich and ripe, with a slight bite to the long finish.
2001 Barnett Merlot - Spring Mtn District. Candied and plush in nose and mouthfeel. Gets a bit tight in the latter palate, with excellent structure and backbone, and a nice long finish.
2001 Barnett Cabernet Sauvignon - Spring Mtn District. Lots of cassis, vanilla, and black cherry in the nose. Slightly sweet fruit on the palate, with excellent balance and a long finish. Blended with 8% Merlot and 3% Cabernet Franc. 60% new oak.
2001 Barnett Cabernet Sauvignon - Hammock Terraces. Wow, here was a Cab for Cab lovers! Lots of smooth textures seem to belie the fact that this is mountain fruit. Surprisingly accessible, and very delicious right now, this wine has excellent balance and a great future. 100% new French oak. 100% Cabernet. . planted to clone #8. six rows that produce less that 2 tons/acre, and yielded 200 cases.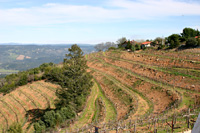 Barnett Vineyards
After introductions all around, Tyson asked if we'd like to go on up to "the deck." Sure, we said, not quite knowing that we needed to climb the 'stairs of a thousand tears' to actually get there. Barnett is located at 2,000', so the climb is more than a walk down the block. Okay, it really wasn't that bad, and indeed the view was outstanding. Up on the redwood deck, we could see for miles south and east into the Napa Valley. Tyson poured us the first wine, and looked down to see another car arriving. The next appointment, Tyson said,and they seemed early.
Tyson traversed the stairs down to the winery and welcomed the visitors. then he headed back up to us. Someone in the other party wasn't quite up to climbing the stairs, so Tyson asked if he could leave us with the wines and he would stay below to chat and pour for the new arrivals. Well, this took some consideration - for a second! Sure, go ahead, we'll be fine. So, we kicked back, admiring the view and sipping Barnett Cabs. Life was good.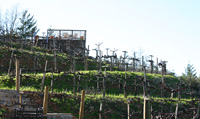 Room with a view
Tyson did come back up to our "crow's nest," and we all chatted about Barnett and its various vineyard locations. We even chatted about wineries and people that we were now in a position to actually look down upon. The 14 acre Barnett Vineyards was founded by Hal and Fiona Barnett in 1983. The Barnett Vineyards are all planted on steep terraces, yielding less that 2 tons/acre, giving an obvious intensity to this mountain fruit. Given that the property is 40 acres and they've only planted 14 of them, I asked when and if they were going to put in more vineyards. Nope, there's a moratorium on hillside planting, Tyson said. Ah yes, I said, as I recalled to original incident that caused this. Barnett is up to about 5,000 cases now, and winemaker Charles Hendricks is doing a great job. Hendricks is also behind the Regusci winemaking as well as the Hope & Grace label.
From Barnett, we headed back through St. Helena so Ken, Eric and Alan could pick up their cars. Then from there it was up to Mount Veeder and Lagier Meredith Vineyards for a quick visit. We left the cars at the base of the mountain, and drove up in one car - mostly to try and keep traffic on the road to Lagier Meredith to a minimum. It was interesting to travel this road, now that it's been paved.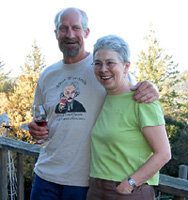 Steve Lagier, Carole Meredith
Everett rejoined us at Lagier Meredith, and Steve and Carole opened a bottle of Alban rose, to sip on as we walked the vineyards, shooting a few pictures here and there. Watch that stuff - that's poison oak, said Steve. I wondered how close someone had to be to get bitten by the useless plant. As darkness fell, we headed for dinner at Cole's Chop House. This is a fabulous restaurant in revitalized old downtown Napa. This two-level grill-chop house serves excellent food in very spacious surroundings at reasonable prices - and the place was booming. Of course, we ended up bringing along plenty of wine. The memorable wines of the evening were the '98 LM Syrah from Steve and Carole, and an '86 Domaine Tempier brought by Everett. Cole's Chop House is highly recommended.
Friday, March 12, 2004 - Napa Valley
Selected Tasting Notes:
...from tank...
2003 Chimney Rock Sauvignon Blanc - Estate. (currently going through cold stabilization - tank fermented) Mostly grapefruit aromas and flavors, with a lighter melon and pear quality. Full and rich mouthfeel, crisp and balanced, with nice long fruit-driven finish.
2003 Chimney Rock Rose of Cabernet Franc - Estate. (currently going through cold stabilization - barrel fermented) Made as a saignee, this rose is nice and dry with a lovely floral-scented quality, and lots of fruit throughout.
...from barrel...
2003 Chimney Rock Cabernet Sauvignon Reserve (valley floor). Effusive nose of cassis and spice. Nice rich mouthfeel, with lots of cassis, and just a hint of toast. Very nice ripeness, balance and finish.
2003 Chimney Rock Cabernet Sauvignon Reserve. Largely tight in the nose, with a light cassis aroma. very concentrated, with lots of fruit and spice, excellent balance and moderate tannins.
2003 Chimney Rock Cabernet Sauvignon (neighbor's block). Nose of cassis, mint, eucalyptus, and clove. Smooth mouthfeel, lots of fruit, excellent balance.
Doug Fletcher
2002 Chimney Rock Cabernet Sauvignon (neighbor's block). Slightly tannic mouthfeel, very nice cherry and pomegranate flavors.
2002 Chimney Rock Cabernet Sauvignon (SLD blend). Beautiful nose of cassis and dark cherry, with a light mocha edge. Smooth, silky and rich in mouthfeel, with an excellent balance and a very long finish.
2002 Chimney Rock "Elevage". Beautiful nose of cocoa-dusted cassis and toast. Slightly soft mouthfeel, smooth and melange of flavors, including black cherry, dark plum, cocoa, and freshly toasted bread.
2002 Chimney Rock Cabernet Sauvignon Reserve. Nicely concentrated nose of cassis, vanilla, and sweet hardwoods. Smooth and velvety mouthfeel, with lots of dark cherry, pomegranate, dark chocolate, and toast.
...from bottle...
2002 Chimney Rock Sauvignon Blanc - Estate. Lovely nose of pear and apple, with a touch of sweet grapefruit. Richly fruity mouthfeel, with a nice crispness, and beautiful balance.
2002 Chimney Rock Rose of Cabernet Franc - Estate. Light floral notes in the mostly cherry-scented nose. Meaty mouthfeel, great balance, lots of crisp flavors, and long finish.
1999 Chimney Rock Cabernet Franc - Estate. Cassis, floral and smoky notes dominate the nose. Rich and meaty mouthfeel, with nice touches of pepper and spice throughout. Immediately tasty from first sip, this wine only gets better through the very long finish. This on's available at the tasting room only.
2001 Chimney Rock Cabernet Sauvignon - Stag's Leap District. Lovely cassis and dark cherry aromas, with an nice underlying scent of cocoa. Softly elegant on the palate, with nice fine-grained tannins, and smooth long finish.
2000 Chimney Rock Cabernet Sauvignon. Lots of black cherry and dark plummy notes, with excellent balance, and tasty long finish.
1998 Chimney Rock Cabernet Sauvignon. The mature nose has picked up some bottle bouquet to accent the cassis, sage, and corriander. Slightly soft mouthfeel, very nice flavors, and well-balanced long finish.
2000 Chimney Rock "Elevage". Beautiful, deep nose of dark cherry, pomegranate, and toasty notes. Rich and ripe on the palate, with lovely flavors, beautiful balance and long finish.
2000 Chimney Rock Cabernet Sauvignon Reserve. Gorgeous nose of cassis, mint, vanilla, and a touch of cocoa. Chewy mouthfeel, delicious flavors, with a fabulous balance and long finish.
I had been in contact with Pete Danko, public relations manager for the Terlato Wine Group, to arrange a visit with winemaker Doug Fletcher of Chimney Rock Winery. Fortunately, Pete found a time during Doug's very busy schedule for us to get together. The time spent with Doug proved to be very illuminating, and caused me think about winegrowing differently.
Chimney Rock started life as a 185-acre golf course. Founded in 1980, the new owners purchased the golf course and planted 75 acres of grapes - both red and white, producing the first vintage in 1984. Current winemaker, Doug Fletcher, was brought aboard in 1987, after having served stints at Steltzner and Martin Ray.
In the early 1990s, phylloxera decimated the original vineyards, requiring replanting - and rethinking exactly what varietals ought to be planted. Considering the the Stag's Leap reputation for red Bordeaux varietals, only Cabernet Sauvignon, Merlot, Cabernet Franc, and Petite Verdot were planted. By 1997, replanting was completed. In 2000, the Terlato Wine Group partnered with the original owners, and planted an additional 60 acres to Cabernet, bringing the total vineyard acreage to 119.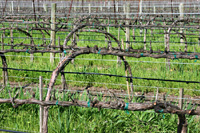 Fletcher Lyre trellising
Meanwhile, Doug Fletcher was suggesting that Chimney Rock actually look at winegrowing differently. Eschewing intervention in the winery as merely trying to fix a problem originally caused in the vineyard, Doug felt that both proper berry size and ripeness need to have been determined by verasion, or you're stuck trying to fix things retroactively in the winery. Doug looked at cell division versus cell enlargement within the fruit. He wanted to keep the cell division down in order to keep the berry size small, by encouraging the vine to stop growth early, and "set" the berry size.
Doug pointed out that his goal was to get the same crop - both weight and berry size - from each vine. This meant that he needed to "tune" not only each block, but also tune each row and each vine to its own particular need. To do this, he looked more closely at things like soil and canopy. In different soil conditions, the vine's need changes - requiring more or different spacing, and/or pruning to maintain the acceptable vine balance from row to row, and section to section. While soil, or terroir, is indeed important, Doug has found that it is not the be-all end-all of wine growing. Rather, from his observation (and tasting), it appears that achieving "vine balance" is actually the major factor in determining the final quality of a wine.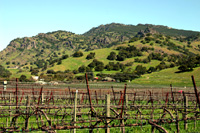 Stag's Leap
In seeking a balance in the grapes, Doug felt the ratio of fruit weight to leaf area should be constant. This meant re-examining canopy maintenance. Canopy leaves need to do two things well - convert water into sugar in the grapes, and shade the fruit from the damaging effects of the sun. How much canopy is ideal? From Doug's experience, only enough to provide shade for the fruit - or about one leaf per cluster. Too many leaves merely divert effort away from proper fruit ripening. This can get dicey, of course. Too little canopy for the fruit, is nearly as bad as too much. What was needed was a way to ideally expose all of the fruit equally.
Doug devised a trellising system that has become known as the Fletcher Lyre. He found that raising one side of the conventional lyre trellis to a level about one foot higher than the other created a more balanced sunlight exposure on the fruit. In Chimney Rock's case, this meant raising the north side of the trellis to get more sunlight exposure, and consequently a more balanced ripening process.
Interestingly, this "balance" effect has proliferated throughout the vineyard, resulting in a more consistent ripening of fruit. As testimony to this, the Reserve lots in fact do not necissarily come from specific blocks in the vineyards, but rather are made of from the more perfectly balanced fruit found in the vineyard - something that can change with each vintage.
As Doug Fletcher led us around from the vineyard through the cellars and finally to the tasting room, it struck me that despite his long experience at winegrowing, he still maintains a marvelous wonderment about it all. We're just beginning to figure things out, he said, obviously relishing each and every day he spends at his "work." And then it occured to me, that's what wine itself is all about...searching...learning...trying to figure things out - and all the while maintaining an awe for what we learn. Yes indeed, here was time well spent.
(As soon as I returned home from the trip, I found that I'd missed an email from Michelle Hunt at Rockledge. In the email, she offered to set up visits to a couple of other places that she felt might be of interest. Oh well - another time, I thought, and thanked her for the offer. Two days later, I received an invitation to the inaugural Green Valley Symposium, an event hosted by several Russian River Valley area wineries, and designed to increase awareness of the Green Valley AVA, an appellation "hidden away" in the larger and more prominent Russian River AVA. More on the Green Valley event later, but this opportunity to head north so soon again, allowed me to add the two Napa wineries suggested by Michelle. Long story short, despite the six weeks difference in time, I've added a couple of additional visits to this report.)
Tuesday, April 27, 2004 - Napa Valley
Rockledge's Michelle Hunt had contacted me the previous month about visiting a couple of other artisan wineries in the Napa Valley, Elkhorn Peak and Chameleon Cellars. Brad Harrington and I had just attended a symposium in Sonoma County and were returning to Southern California, but we decided to make a stop in Napa Valley to visit with these nice folks.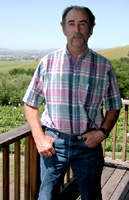 Ken Nerlove, Elkhorn Peak
Michelle had conveniently arranged for us to meet with Ken Nerlove, Jeff Popick, and Kent Rasmussen - all at one location, making this sort of a one-stop shopping trip. Our unseasonably warm California weather was continuing to hold. We arrived at Elkhorn Peak about 10:00 a.m., and the day was already starting to heat up. Arriving at Ken Nerlove's property, we introduced outselves and followed him upstairs to a nicely outfitted loft in an old converted barn. Located on a hill behind the Kirkland Ranch facility, Ken has a great view of Bay, and can actually see the Golden Gate towers on a clear day.
After introductions all around, Ken asked, how about some Chardonnay? Don't mind if I do, I said. Michelle had provided some very nice cheeses, and a cold vegetable salad. That's funny, she said, noticing that we were all carving off pieces of the Parmigiano-Reggiano and Manchego cheeses. You're not eating the soft cheeses with the Chardonnay. Yeah, we were being tacky, but for some reason, the hard cheeses were calling out to us. Probably the heat.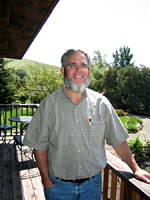 Kent Rasmussen
Grower Ken Nerlove founded Elkhorn Peak Cellars in 1991, taking over a vineyard planted in 1983 to 10 acres of Pinot Noir. Located at about 350' elevation in Napa Valley's Jamieson Canyon, it is still a part of the Napa Valley AVA, however, being at the extreme southern end of the valley, Jamieson Canyon has a marine-influenced climate very similar to Carneros - early morning fog and cool breezes. there's about 18-24 inches of topsoil here - something called the Fagen Series clay loam, that seems to nurture Pinot quite well. Originally used for cattle grazing, this area has also appeared on the radar of many of the larger wineries, who themselves are planting in Jamieson Canyon.
Selected Tasting Notes:
...from bottle...
2000 Elkhorn Peak Chardonnay - Carneros. Lots of crisp mineral notes, with a touch of apple and pineapple. Excellent mouthfeel, and surprisingly oak-free.
2000 Chameleon Barbera. Lots of smoky notes, touch of mineral, plenty of dried cherry fruit, and a nice smoothly tannic finish. Made from 65% Fiddletown and 35% Lodi fruit.
1998 Elkhorn Peak Pinot Noir - Estate. Plenty of cherry and strawberry notes in nose and mouth, with a nice mineral and earthy note. Full on the palate, yet with a nice lean balance of acids and lots of fruity flavors, and long finish.
1999 Elkhorn Peak Pinot Noir - Estate. Darker fruit than than the '98, and more to the raspberry or black cherry in tone. Lots of structure, excellent balance, long flavorful finish.
2002 Chameleon Znifandel - Napa. Very nice raspberry and boysenberry aromas and flavors, with a lots of smooth fruit, and a delicious finish. The light brambly notes made me think 'old-vine,' but the fruit was from a 7 yr-old vineyard. Go figure!
2000 Chameleon Syrah - Napa. Lots of pepper and spice perk up the blackberry fruit, and the oak is very non-intrusive here. Full bodied, very fruit-filled and delicious, with a long smooth finish. From a small vineyard off Silverado Trail.
2000 Chameleon Merlot - Napa. Mostly cassis-scented plum, with a touch of pomegranate. Full, and somewhat tannic, this Merlot could stand up to many of Napa's Cabs. From the Calistoga area.
2001 Chameleon Charbono - Napa. Lots of wild cherry and blackberry aromas and flavors. Delicious, excellent balance, and very long finish.
Ken has 10 acres of Pinot at this location, and another 10 acres just off on Hwy 12 planted in south-facing rows, mostly to Swan and Pommard clones, with a little Dijon thrown in. In starting production of the label, Ken enlisted the help of long-time valley resident Kent Rasmussen to do the winemaking. Kent makes the Elkhorn Peak and Fagen Creek labels at his own winery in St. Helena. Production is about 2,000 cases.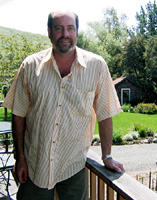 Jeff Popick
After Ken's Chardonnay, we moved on to Jeff's Barbera. Jeff Popick started Chameleon Cellars in 1995, along with two other partners, Rick Stetler and Owsley Brown. The three had all worked at Mayacamas Vineyards, where the idea for a Cal-Ital label was born. For the first five years, the wines were made at Kent Rasmussen's custom crush facility in St. Helena. But, starting with the '01 vintage, Jeff is making the wines at Moss Creek.
Buying fruit from a variety of vineyards, Jeff has come up with an eclectic mix of varietal offerings - yet he succeeds with all of them. Most of the grapes come from the Napa Valley AVA, but the Barbera is from Fiddletown, in the Sierra Foothills. Both this and the Charbono were eye-openers, and very palate-pleasing. Jeff's production is about 2,500-3,000 cases.
The sun was getting high in the sky, and our respective plane rides home were calling us to leave for Oakland. We thanked the guys for their wines, and Michelle for the cheeses and salad, and headed for the tarmac.
---
---
Copyright © 1993 - 2004, Eric Anderson -
All rights reserved
No original material may be reproduced without written consent
Mail & Comments - Eric Anderson