Vol. 8 No.2. Feb '00
Temecula

Vineyards & Wineries Visited -
Journal and tasting notes from visits to several Temecula Valley wineries.
Tasting Notes / Scores: Brief tasting impressions are included following the winery write-up. An "n/n" indicates that no notes were taken.
Fri, Feb 25, 2000
Although I've been winetasting in Temecula a couple of times in the past few years, I haven't reviewed the wines nor done a trip report since Temecula '95. So, a new visit was in definitely in order. Since that time, there have been a couple of new winery openings, as well the onslaught of a major vineyard pest. I'll get deeper into the Pierce's Disease situation at the end of the report. Left Irvine about 9:00am for points South.
Arrived at Hart Winery about 10:45am. Although there were no other tasters around, the place was humming. Led by Bill Hart, the bottling crew of part-time and volunteer help was hard at work bottling the '99 Grenache Rose. At 5,500 cases, hand-bottling is a lot of hard work. We're told that Hart will be buying or otherwise getting into a mechanised bottling line for next year. Pouring any 5 wines from a list of 10 for $3. I've been impressed in past visits with the results from Hart's concentration on Rhone varietals rather than Bordeaux varietals. The current lineup, however, seems to have swung back a bit to include two Merlots, and no Grenache, Mourvedre, etc. It appears to me that the winery's approach may be one of geographic diversification, with some of the wines on their list coming from Cucamonga (Zin) and San Diego County (Merlot). Not only was the fruit from these locations surprisingly good (the San Diego Merlot was quite nice), but they may be hedging their bets on the local fruit's exposure to Pierce's Disease. Chatted with Michelle about the wines for awhile, and headed out about 11:15.
Tasted at Hart:

1999 Grenache Rosé - Cucamonga Valley. $10. Floral, spicy nose, seemed quite Riesling and Muscat influenced. A bit thin in the mouth. Spicy mouthfeel, with a sweet, yet crisp taste and finish. Aroma/Taste: B/B

1997 Syrah - Temecula. $20. Medium dark ruby color. Nose of fleshy black cherry, plum, currant and floral and shoe polish qualities. Off-sweet black fruits, and shoe polishy palate aspects. Aroma/Taste: B+/B

1998 Merlot - Temecula. $16. Medium dark violet ruby color. Fleshy and stemmy, sweet black cherry and plum. Big, but slightly austere mouthfeel. Dry, oaky and somewhat bitter latter palate and finish. Aroma/Taste: B/B

1997 Cabernet Franc - Temecula. $22. Dark violet ruby color. Big sweet blackberry/blueberry nose, with aromas of stems and shoe polish. Slightly sweet blueberry/blackberry fruit, with a fleshy tannic mouthfeel, and very long finish. Aroma/Taste: B+/B

1996 Stonelake Merlot - San Diego Co. $24. Medium dark violet ruby color. Slightly burnished black cherry and cassis nose. Nice fleshy and fruity mouthfeel. Chewy, with softening residual tannins. Long finish. Aroma/Taste: B/B+
Arrived at Stuart Cellars at 11:20 to a quiet room. Tasting fee was $3 for 4 wines from the list of 7 (logo glass not included), with an additional $2 charge for the Zinfandel Port. Stuart Cellars is relatively new to the valley (est.1998), and has built a very attractive tasting room off the front of the winery atop a hill overlooking much of the valley. Production is currently about 6,000 cases, of mostly non-Rhone wines. Some white Rhone varieties are grown, but the reds remain to be planted. The ambience here is very nice, and the well-appointed room has many tapestries and wine accessories for sale. Our pourer, Phyllis, was both friendly and knowledgeable about the wines. The wines were generally good to very good, if a bit on the pricey side. Stuart Cellars is apparently seeking to establishing themselves as the premier vintner in the valley, and this often equates directly to price. At $42, the Zinfandel Port seems like ample illustration of this. Out at Noon, and tailgated with some bread and cheese.
Tasted at Stuart Cellars:

1997 Chardonnay - South Coast. $17. Smoky and burnished nose of butterscotch with hints of citrus. Slightly sweet initial mouthfeel, that gets citric and crisp at mid-palate, leading to a sweet-sour finish. Aroma/Taste: B/B

1997 Viognier - South Coast. $21. Smoky, citric, buttery, and almost candied nose. Soft, light and floral mouthfeel and taste. Aroma/Taste: B/B

1995 Tatria - South Coast. $28. Medium ruby color. Sweet, fleshy and slightly burnished nose. Warm fleshy mouthfeel, soft on the palate, long smooth finish. 70%CS, 15% CF, 15% Merlot. Aroma/Taste: B/B

1996 Tatria - South Coast. $28. Medium ruby garnet color. Stemmy herbaceous nose, slightly burnished. Warm stemmy mouthfeel, slightly veggie and herbal, yet tasty. 62% CS, 33% Merlot, 5% CF. Aroma/Taste: B/B

1997 Zinfandel - South Coast. $18. Medium-dark violet ruby color. Rich vanilla and cherry-induced nose reminiscent of Black Forest cake. Raspberry and black cherry fruit, chewy and slightly tannic mouthfeel. Long, slightly sweet finish. Aroma/Taste: B+/B+

1997 Zinfandel Vintage Port - South Coast. $ 42. Very dark violet ruby color. Sweet, jammy nose that was also a bit porty. Sweet mouthfeel, flavors of chocolate, raisin and plum. Smooth, if quick , exit on fruit at latter palate, with residual acids and alcohol carrying the finish.. Aroma/Taste: B/B+
On to Maurice Car'rie. Arrived at 12:15 to just a few people in the tasting room. Pouring was no charge for 6 wines from list of 7. Our pourer, Kim, had been working there for only one week, but was eager, quick and friendly. Though she was frequently called over by the room manager who was conducting her training, we were never left high and dry, so to speak. In the past, this place has been cooking - both in terms of customers and in terms of baked bread. One of the draws on the weekends is the brie-baked-in-bread. They carry the loaf all week long, but the weekend offer to heat up a loaf of fresh cheese-filled bread just makes people want to picnic. And, the front of the place is a picnic haven, with tables and chairs all around. Clever folks here - it seems everybody needs something to wash down this delicious bread. Out at 12:50.
Tasted at Maurice Car'rie:

1997 Chardonnay - Private Reserve, Temecula. $13. Very sweet fruity nose. Smoky spicy mouthfeel. Lightly fruity, with an astringent oak-tasting background. Aroma/Taste: B/B

1998 Chardonnay - Temecula. $9. Nearly colorless. Citric and grapefruit nose. Crisp light mouthfeel, light on fruit, light on flavors. Not much going on here. Aroma/Taste: B-/B-

1997 Sara Bella - Temecula. $6. Light rose color. Nose of orange, raspberry, floral and stemmy notes. Off-dry mouthfeel, lightly fruity, with residual sugar finish. Made from Gamay. Aroma/Taste: B/B

NV Cabernet Franc Rosé - Temecula. $8. Light purple rose color. Hints of dry off-sweet fruit in the nose. Fairly sweet mouthfeel and taste, with an aspirin-like finish. Aroma/Taste: B-/B

1998 White Zinfandel - California. $5. Light pink color. Neutral nose with faint hints of fruit. Somewhat fizzy on the palate, tasting more like flavored tonic water. Aroma/Taste: C/C

1997 Cabernet - Temecula. $10. Medium ruby color. Nose of black cherry, cola, vanilla and pomegranate. Off-sweet and fleshy mouthfeel. Slightly bitter stemmy finish. Aroma/Taste: B/B

NV Cody's Crush - Temecula. $8. Deep violet rose color. Stemmy, fleshy and sweet nose. floral and stemmy mouthfeel. Blend of Merlot, CS, Gamay, Zin, Muscat. Aroma/Taste: B+/B
From here we headed up the road to Keyways. Arrived at 1:05 to just a couple of people standing outside. As it turns out, they were the proprietor, Carl Key, and our pourer Debbie, killing time until the next pair of drinkers, er tasters, came along. With sort of a rustic stage-stop exterior, the inside of this tasting room is filled with eclectic novelties and a few wine accessories. An LGB train circles part of the room overhead. Tasting fee $3 for 4 wines. Chatted with Debbie and Carl a bit, and out at 1:35.
Tasted at Keyways:

1996 Sauvignon Blanc - Temecula. $9. Nose of lockeroom and lemon. Very light fruit on palate, with noticeable oak or woody components. Aroma/Taste: B-/B

1998 Chardonnay - Temecula. $11. Sweet smelling, with a nose of burnished apples. Initial residual sugar mouthfeel turns to sweet-sour fruit, with an apple/citrus tasting finish. Aroma/Taste: B/B

1998 White Zinfandel - Temecula. $7. Neutral and cardboard nose. Some fruit flavors, but mostly cardboard and toast. Aroma/Taste: B-/B-

1997 Cabernet Sauvignon - Temecula. $15. Slightly candied and burnished nose. Thin on fruit, with a sour mouthfeel, tart medium-long acid-driven finish.. Aroma/Taste: B/B-
Arrived at Wilson Creek about 1:45. This is the self-styled "...new kid on the block." Despite the fact that they've been here 3-1/2 yrs, they're actually not even open yet. It seems a series of administrative red-tape and construction snafus have conspired to substantially slow down progress of this winery's opening (Grand Opening is scheduled for August). But, you couldn't tell it from proprietor Gerry Wilson's attitude. After retiring from the business world, he decided to open Wilson Creek as a family enterprise. Enlisting son Bill as winemaker, and another as a minister, they plan to offer wine country weddings. The property is a result of a subdivision of the former Miramonte parcel. The vines are 30 yrs old, and the first vintages were made at Thornton and Maurice Car'rie. Nice two story building with large deck over the entrance. As with several places in town, this should end up being a limo stop delight. Prices listed are all "pre-opening" prices. $4 for all 5 wines on the list, and as a bonus, they were throwing in a taste of an almond flavored champagne! Almond what? Seemed really easy to turn one's nose up at, but it was quite good! Sales were so good in fact, that Gerry Wilson said they had to reorder from their Lodi supplier. I can believe it. This stuff must walk out the door. I am sooo ashamed! Out at 2:35.
Tasted at Wilson Creek:

1999 Grand Cuvee Champagne - California. $9. Light toasty and fruity nose. Crisp apple flavors, easy finish. Aroma/Taste: B/B

NV Almondage - California. $11. Here was a shocker! Don't even know why I tried this (yes, I do). Astonishingly good nose. Very flavorful without being overly sweet or cloying. Aroma/Taste: B+/B

1996 Chardonnay - Temecula. $15. Burnished and sweet buttery fruit. Fruity, tart mouthfeel, and long finish with smoky aftertaste. Aroma/Taste: B/B

1997 Chardonnay - Temecula. $15. Fruity nose of apple and pear. Some residual sugar in mouthfeel with off-sweet/tart fruit through toasty finish. Aroma/Taste: B/B+

1996 Miramonte - Temecula. $20. Slightly burnished nose of black fruits. Stemmy and peppery on the palate, with spicy finish. Blend of Grenache, Mourvedre, Syrah, Terret Noir, and Cinsault. Aroma/Taste: B/B

1996 Cabernet Sauvignon - Temecula. $20. medium ruby garnet color. Hints of veggie with red fruits and oak. Blueberry and cassis flavors, with a stemmy and slightly austere mouthfeel. Aroma/Taste: B/B
On to Mt. Palomar. Arrived at 2:40 to a lively place. Tasting fee was $3 for 6 from the list of 15 wines. Just when I think I have the lineup from this place figured out, they throw me a curve. I'd always thought the Castelletto label was Italian-only, the Rey Sol label was Rhone-only, and the Mt. Palomar label was for Bordeaux varietals. But, now they have a Castelletto Trovato using Bordeaux varietals. Go figure! Last time here, tasters were given a number and called in turn when a tasting "guide" was available. Fairly conceived concept, but poorly executed. (Reminded me of Peju Provence (link) This isn't a film or an amusement ride - I don't like to wait. Now they have apparently switched to a ticket system, where they issue each taster a card with tear-off stubs. With each taste, the pourer tears off stub. I'm not so sure that there's any connection, but these methods appear to be following just a few steps behind Callaway's tasting systems. Out at 3:25.
Tasted at Mt. Palomar:

1996 Castelletto Sangiovese - Temecula. $16. Warm spicy hot nose. Fleshy, sour/tart mouthfeel, light on fruit and finish. Aroma/Taste: B/B-

1996 Castelletto Trovato - Temecula. $22. Lightly sour and tart nose. Somewhat fruity taste with p plenty of heat and oak in finish. Blend of Merlot, CS, CF. Aroma/Taste: B/B

1996 Rey Sol Syrah - Temecula. $13. Light nose of black fruits, leather, toast and wild rice. Slightly sweet mouthfeel, with hints of pepper and a cardboard fade to finish. Aroma/Taste: B/B

1997 Rey Sol La Mediterrane - Temecula. $12. Slightly burnished and stemmy nose. Burnished, hot and peppery mouthfeel, with some residual sugar or sweet fruit coming on at the finish. Rhone blend. Aroma/Taste: B/B

1997 Mt. Palomar Meritage - Temecula. $18. Lightly floral with some perfume in the nose. Additional hints of hints of burnished fruit and a fleshy stemmy scent. Initially sweet mouthfeel, turning to sweet-sour mid-palate and a long off-sweet finish. Blend of CS, Merlot, CF. Aroma/Taste: B/B

1997 Temecula Rosé - Temecula. $12. Floral and perfume in the nose. Sweet raspberry/strawberry fruit, with lots of sweetness through finish. Very brunch-like. Aroma/Taste: B/B
Doubled back to Temecula Crest. Arrived about 3:30 to just two other people in the room. Tasting was 5 wines for $4. Gus was pouring and chatting about the state of things in the valley. The wines here seemed uniformly weak. Generally thin and tart, they need to try some other varietals and get some extraction into their wines. Friendly guy, nice tasting room with great view. All they need is some wine. Out at 4:15 a
Tasted at Temecula Crest:

1998 Cabernet Blanc - Temecula. $8. Zero color - okay maybe darker than water. Sweet, lightly fruity nose. Lots of residual sugar and fizz in mouthfeel, strawberry fruit fades through crisp sweet finish. Aroma/Taste: B/B

1996 Rancho Red - Temecula. $9. Light-medium ruby color. Cardboard and fleshy nose. Fruity mouthfeel, with a hot spicy and bitter finish. Blend of CS, Merlot, Sangiovese. Aroma/Taste: B/B

1998 Merlot - Temecula. $18. Medium ruby color. Floral and stemmy nose with a bit of cardboard. Tart and stemmy mouthfeel, with hints of green bean through long finish. Aroma/Taste: B/B-

1998 Cabernet Sauvignon - Temecula. $15. Medium ruby color. nose of green bean, green pepper, and cherry. Burnished black cherry and cola on the palate, with tart long finish. Aroma/Taste: B/B-

1997 Nebbiolo - Temecula. $18. Light medium ruby color. Toasty and smoky nose. Tart and fruity mouthfeel. Aroma/Taste: B/B-
On to last stop at Thornton. We arrived about 4:25 and seated ourselves in their wine tasting lounge, a small cozy bar with a fireplace. Options for tasting included sparkling wines (Culbertson) by the glass, a mix of 4 sparkling and still wines, and 4 reds for $8, with 5-6 oz pours. Annamarie took our orders and brought some bread and creamy goat cheese spread for munching. I tried the red selection, which is set down on a tasting sheet with descriptions of the wines (similar to brewery samples). This was definitely a relaxing visit, with no hurried pace requiring me to move quickly through each wine. Usually, I've made this my first stop in visiting Temecula wineries. I'd grab a glass of Blanc de Noir and push on with the rest of the itinerary. But, I'd recommend saving it for last, when you can relax. Out at 5:10
Tasted at Thornton:

1997 Syrah - Temecula. $20. Floral and citric nose, with burnished fruit and newsprint notes. Initially sweet mouthfeel gets a bit tart at mid-palate. Moderate finish. Aroma/Taste: B/B

1997 Cote Red - Cucamonga/Temecula. (62% Cucamonga) $20. Medium ruby garnet color. Stemmy nose of black fruits, shoe polish, ink, and cardboard. Burnished, spicy and smoky mouthfeel, almost Sangiovese or barbera-like. Blend of Syrah, Grenache, Mourvedre, Terret Noir, and Cinsault. Aroma/Taste: B/B

1996 Carignane - Cucamonga. $20. Medium ruby garnet color. Whoa! a huge mass of vanilla and chocolate bolts from the glass. Chewy Black Forest cake on the palate. 80% old vine Carignane, 14% Merlot, 6% CS. Aroma/Taste: B/B+

1996 Zinfandel - Old Vine, Cucamonga. $20. Medium-dark ruby garnet color. Shoe polishy nose of cedar, mint and V-8. Jammy off-sweet spicy peppery black fruit. Long finish. Aroma/Taste: B/B
Wrap up: Off to the Texas Lil's for some "you da cook" steaks. Very satisfactory day. Totals for the day: 8 wineries, 43 wines. Everyone was very friendly and attentive. And, out of eight wineries, we never got a pitch to join any cellar clubs!
Ramblings: the use of Cucamonga fruit (from San Bernardino County) in Temecula Valley can only mean two things. Cucamonga fruit is better than ever, and Temecula is seeking to expand in the face of a devastating vineyard pest. Both appear to be true. Granted, Cucamonga is no Napa or Dry Creek Valley. And, the fruit does indeed smell and taste different. But, a few Central Coast wineries (Firestone, Curtis) have already started using the Cucamonga fruit - and they didn't have to do it. Temecula, on the other hand, is reaching out for new sources of fruit as they attempt to ramp-up production during a reduction in usable vineyards due to Pierce's Disease. In addition to the Cucamonga fruit, interesting sources are now being found in San Diego County. We just might be on the edge of history recycling itself, and getting fruit from sources that have seemingly been dormant for a century.
Tasting fees and stemware: just about all of the wineries in Temecula, with the possible exception of Maurice Car'rie, charges a tasting fee - and rightfully so. Some might argue that since he is looking to sell wine, a vintner should pour samples of the wines at no charge. However, I prefer to pay a fee in order to sample wines with no implied obligation to make a purchase. In most cases the fee included a logo glass. Since I don't need/want any more tasting glasses, I usually refuse them with a "...thanks, but...." However, in doing so I run the risk of alienating the pouring staff - because they then have to wash the glass. While the fees themselves were close in price, the number of wines and methods of obtaining those wines differed.
Red & Green: why do they do it? Why do Temecula wineries choose to make Cabernet Sauvignon, and to a lesser extent, Merlot and Cabernet Franc? Clearly these wines nearly all end up smelling and tasting of green vegetables. So why do it? It's now been several years since the first Rhone and/or Italian varieties of grapes have been planted and harvested and varietal wines made. The Syrah, Grenache, Mourvedre, Sangiovese and to a lesser extent Viognier have all produced far better wines from this valley than has Cabernet Sauvignon. So why don't the local wineries drop the Bordeaux varietals and concentrate on the Rhone and/or Italian varietals? Unfortunately, it has come down to familiarity. It is far easier to sell the familiar names of Cabernet Sauvignon, and Merlot to visitors, than it is to sell these "foreign" varietals. I would guess that as long as Temecula's wine visitors ask for and buy Cabernet, Temecula vintners will continue to make and sell it.
Pierce's Disease: (Pierce's Disease is a bacterial infection of the grapevine that causes the foliage, the fruit, and finally the vine to die off. It was responsible for wiping out 40,000 acres of vineyards in Orange County a century ago, and there is currently no cure.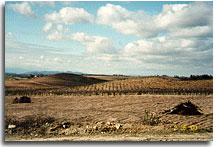 The disease has had a rapid and devastating effect on the Temecula Valley over the last two years, doing over $1.2M in damage. The widely planted Chardonnay has been the most seriously affected, but it appears all varieties may be susceptible. It is believed that an insect called the glassy-winged sharpshooter is the biggest culprit in the quick spread of the disease here. It is also thought that the proximity to large numbers of citrus groves interspersed with the vineyards in the valley is providing a breeding location for the insect.)
It appears that nearly every grower has the disease to some degree. But, by all accounts, Callaway seems to have been "bitten" by far the worst - with as much as 40-50 acres of their vineyards infected. Filsinger had several acres of pulled vines lying in heaps waiting for disposal or burning. Presumably, nobody's doing any replanting until a solution has been found. Considering the size of the problem and no "cure" on the horizon, everyone seems to be taking it in stride. One fellow just shrugged, and said he didn't have it. A pourer at another place said that she hopes something can be done, or else "...everybody will be working at Mervyns." But, the best comment was from Wilson Creek's Gerry Wilson, who agreed that his "..timing sucked" at starting up a winery in the midst of all this.
---
---
Copyright © 1993 - 2004, Eric Anderson - All rights reserved
Copyright © 1993 - 2003
All rights reserved
No original material may be reproduced without written consent
Mail - Comments
Eric Anderson