Central Coast - January 2016 - Part 1
Going into a busy holiday season last fall, I was thinking how nice it would be to have a quiet and relaxing January. But my Grape-Nutz pal Eric Anderson had other ideas… I must admit that I had a great time joining Eric and a few other friends on a Central Coast wine trip the previous January, so when he suggested doing it again, it was tough to say no.
We got a smaller group together this year – just Eric, his friend Michael, my friend Alan, and me. Both Michael and Alan had joined in for Grape-Nutz wine tours before, so they know the drill. I ended up making nearly all the winery appointments this time. While it's always fun to check out newer and lesser-known producers – and we got to our share of those – I thought this would be a great opportunity to visit some of the area's wine pioneers, specifically from Santa Barbara County. I was fortunate enough to be able to arrange visits with a number of them – those visits are in a separate Grape-Nutz report, "Pioneers of Santa Barbara County Wine."
Eric and Michael were coming from Southern California while Alan and I were driving from the Bay Area, so we decided to meet about midway again this year in Paso Robles to start our trip together. Although we were in an "El Niño" year in California (when we tend to get unusually high rainfall), the rain thus far in the season had been moderate, and the weather forecast looked unsettled but not too bad for the next few days as Alan and I started on our way south on a Friday morning. We went though a little light drizzle along the way but it had cleared by the time we were approaching Paso Robles. Alan and I were only a few miles north of town when Eric called to say that he and Michael were running about ½ hour late due to traffic they'd run into coming through Los Angeles. So we stopped to pick up lunches that Eric had ordered the day before from Paso's Red Scooter Deli – we've enjoyed their sandwiches in the past and figured they'd be a good choice for a picnic lunch out on the Westside of Paso Robles. From the deli we headed out to Adelaida Road and drove through the hills to our first destination of the day.
Friday - January 15, 2016
Tasting Notes: Current Releases

Lone Madrone 2013 Picpoul Blanc, Paso Robles. 100% Picpoul. Light yellow/straw color, this had citrus and stone fruit aromas along with hints of flowers and hazelnuts. Bright acidity with a clean finish, nice.

Lone Madrone 2013 "Points West White," Paso Robles. 49% Roussanne, 30% Picpoul, 15% Viognier, 6% Marsanne. Slightly darker color with riper melon, stone fruit, and vanilla/oak aromas. Richer mouthfeel with a creamy texture and finish.

Lone Madrone 2014 "Zin Blanco," Paso Robles. Zinfandel Rosé. Light salmon/pink, this featured bright and fresh strawberry on the nose plus notes of spice and fresh herbs. Lighter-bodied with zippy acidity and fresh finish.

Lone Madrone 2012 Barbera, Paso Robles. 100% Barbera. Medium-light purple, showing wild berry and black cherry fruit with earthy undertones. Bright and lively on the palate, with milder tannins and a lingering finish, nice.

Lone Madrone 2011 "Points West Red," Paso Robles. 33% Mourvèdre, 30% Grenache, 16% Syrah, 15% Cinsault. 6% Counoise. Medium purple color, with plummy, earthy, and herbal aromas. Lively acidity with moderate tannins – Eric mentioned that it showed more Mourvèdre on the nose and more Grenache in the mouth.

Lone Madrone 2012 Zinfandel, Bailey Ranch, Paso Robles. Medium purple color, displaying bright and brambly fruit with notes of earth and mint. Medium weight on the palate, with a lively texture and finish, nice.

Lone Madrone 2011 "Old Hat," Paso Robles. 75% Zinfandel, 25% Petite Sirah. Medium purple, this had bolder and riper aromas of boysenberry, spice, and vanilla/oak. Moderately rich mouthfeel with broad tannins on the finish – showed the Zin component much more than the Petite.

Lone Madrone 2009 "Bollo," Paso Robles. 100% Nebbiolo. Lighter garnet color, this had characteristic tar, earth, cherry, and floral elements on the nose. Medium-light bodied but with fairly big, dusty tannins on the finish – still could use more time in the cellar.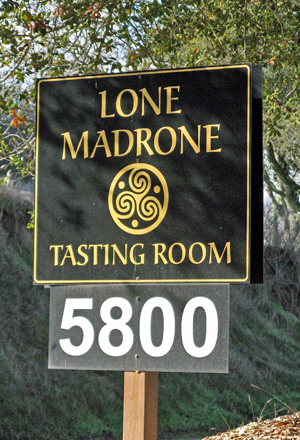 The first stop of our trip was at Lone Madrone. I hadn't visited there since 2010, and the tasting room is now at a beautiful spot along Adelaida Road in the hills of Westside Paso Robles – it had previously been at the old Sycamore Farms along Highway 46. Alan and I arrived at Lone Madrone and we were greeted right away by tasting room manager Ryan Hofmann. Lone Madrone is owned by Tablas Creek winemaker Neil Collins and his sister Jackie Meisinger – although both of them were out of town when we visited, Jackie graciously put us in touch with Ryan to lead a tasting for our group.
Founded in 1996, the winery's focus is on fruit from Westside Paso Robles vineyards, mostly within the new Willow Creek and Adelaida District AVAs. Many of the vines that Lone Madrone sources fruit from are dry-farmed and head-trained, and grown using organic farming methods. Some of the vineyard sources include Glenrose, Klau Mine, Osgood, Old Oak, and Amadeo Martinelli. Neil is originally from Bristol in England and was trained as a chef. After coming to the Paso Robles area, he worked at Wild Horse and Adelaida wineries before becoming winemaker and vineyard manager at Tablas Creek in 1998 (after spending a year at Château de Beaucastel). Neil also has a cider company, Bristols Cider, located a few miles south of Paso Robles in Atascadero. I stopped by there in early 2015 – good stuff!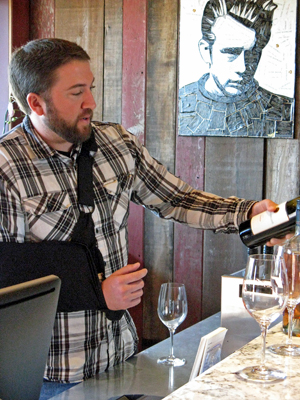 Ryan – whose arm was in a sling due to a recent snowboarding accident – told us that Lone Madrone has been in their current tasting room for about three years. It's housed in an old barn, and located right across the road from Neil's old haunt at Adelaida Cellars. Rustic yet refined, it's a large, airy space that can accommodate quite a few visitors at its two tasting counters. Most of the Lone Madrone wines are made at the Tablas Creek facility, with barrels stored at Grey Wolf Cellars. I asked Ryan whether Neil took any particularly different approaches to winemaking for Lone Madrone in comparison to his work for Tablas Creek. He said that the winemaking is similar – including native primary and malolactic fermentation, and aging in mostly older oak – and that the main difference is working with different vineyards and grape varieties. Neil is able to create some interesting blends for Lone Madrone that would not be possible with the Rhône-centric focus of Tablas Creek.
Lone Madrone produces a large number of different wines – Ryan told us there are currently about 28 separate bottlings, though the total annual production is only around 4,000 cases. The winery's white and red "Points West" blends are the largest production, at about 350 cases each, while other bottlings average about 150 cases. We noticed that a number of the wines were bottled under screwcap, and Ryan said that they will all be screwcap-finished starting with the 2014 vintage. While some of the wines are varietal, many are blends, and a number of wines feature humorous names – "Von Dog" (Tannat/Cabernet/Syrah), "Barfendel" (Zin/Petite Sirah/Barbera), and "Sweet Cheeks" (dessert Viognier).
Alan and I had already started tasting with Ryan when Eric and Michael arrived, but they quickly caught up with us. We were entertained during our tasting by the winery's friendly dog, Kenai, who brought in walnuts from outside and chomped them next to the tasting bar, leaving plenty of nut shells at our feet. We started our tasting with a crisp 2013 Picpoul, sourced from the chalky soil at Glenrose Vineyard along Peachy Canyon Road. The wine spent 10 months in stainless steel, neutral puncheons, and acacia barrels. The 2013 "Points West White" Rhône-style blend came from Glenrose and Will's Hills vineyards, and was made in neutral oak plus about 15% new Russian oak. The pleasant 2014 "Zin Blanco" is a Rosé made from direct press fruit that was picked around 20-21 brix and made in stainless steel – definitely not your typical White Zin.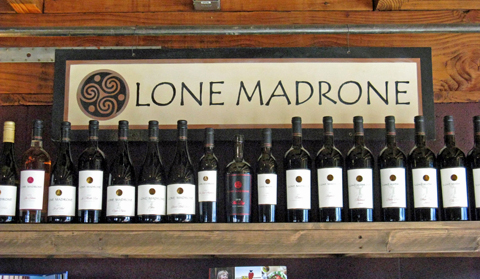 We moved on to reds, beginning with a fine rendition of Barbera, from 2012. The fruit for this came from Glenrose Vineyard and the wine spent 18 months in older oak, while the 2011 red version of "Points West" was from the same two vineyards as the white bottling. Another standout of the tasting was the 2012 Bailey Ranch Zinfandel, farmed from 25-year old head-trained, dry-farmed vines along Peachy Canyon Road. The fruit for the 2011 "Old Hat" was sourced from Osgood Vineyard, and the wine was aged for 18 months in neutral barrels plus a little new French and American oak – the name of the wine is a tribute to grower David Osgood's ever-present cowboy hat. We finished up with 2009 "Bollo," a Nebbiolo sourced from Glenrose Vineyard – this went through a 32-day maceration and was aged 3 years in new French oak puncheons and another three years in bottle prior to release.
Lone Madrone is one of those wineries that I don't visit as often as I should. Neil Collins makes some exceptional wines at Tablas Creek, but it's fascinating to see what he does for his own label. The wines we tasted seemed a touch bigger and riper than those at Tablas Creek – perhaps in part due to working with different grape varieties – but they shared great acidity across the board. Better balance of ripeness and acidity is something I've seen from more Paso-area winemakers recently, but Neil has been doing it for many years. Favorites from the tasting included the Picpoul, "Zin Blanco," Barbera, and Bailey Ranch Zinfandel. A winery such as Lone Madrone can be too easily overlooked among all the newer producers in the area, but the wines are as good as ever and the prices are reasonable for Westside Paso wines of this quality.
After our tasting at Lone Madrone, we retrieved our lunches from the car and found a picnic table out on the tasting room patio. The salad and sandwiches from Red Scooter were tasty as usual, and Kenai the winery dog seemed to agree, looking for a snack – guess he got tired of those walnuts! As we were getting ready to leave Lone Madrone after our lunch, we discussed the best route to take to our next visit, which was farther west, on Vineyard Drive. Since Eric needed to gas up his car or risk getting stranded out on the Westside of Paso Robles, he and Michael headed back to town and then took Highway 46 to Vineyard Drive, while Alan and I continued west along scenic Adelaida Road to Vineyard and turned south from there. Despite coming from different directions, we all arrived at our destination within a few minutes of one another.
Tasting Notes: Current Releases

Proulx 2014 Mission Rosé, Willow Creek Farm, Paso Robles. From 75% Mission, 15% Syrah, 5% Grenache, 4% Zinfandel, 1% Cinsault. Light salmon-pink color, with red fruit, earth, and dried herbs on the nose. Lighter weight with good acidity and a long, pleasant finish.

Proulx 2012 Zinfandel, Willow Creek Farm, Paso Robles. Medium purple, displaying bright plummy fruit, a touch of earth, and sweet oak. Medium-bodied with a fairly smooth mouthfeel and milder tannins.

Proulx 2013 "Dimples," Paso Robles. 62% Syrah, 14% Grenache, 12% Zinfandel, 4% Touriga Nacional, 4% Tinta Cão, 2% Bastardo, 2% Alicante Bouschet. Medium-dark color, this featured bolder and riper fruit with lots of spice and a bigger vanilla/oak component. Richer mouthfeel with moderate tannins on the finish.

Proulx 2012 "The Wah," Willow Creek Farm, Paso Robles. 40% Grenache, 40% Zinfandel, 20% Petite Sirah. Medium purple color, with a more earthy character and a more subtle sweet oak component in addition to black cherry and darker fruit. Moderately rich on the palate with medium tannins.

Proulx 2013 "The Wah," Willow Creek Farm, Paso Robles. 44% Zinfandel, 32% Syrah, 24% Grenache. Slightly lighter than the previous wine in both color and body but otherwise similar, this had a more structured texture in the mouth and on the finish.

Proulx 2013 "Jack Barrett," Willow Creek Farm, Paso Robles. 43% Syrah, 11% Malbec, 11% Petite Sirah, 11% Petit Verdot, 10% Grenache, 8% Cabernet Sauvignon, 2% Touriga Nacional, 2% Tinta Cão, 1% Bastardo, 1% Alicante Bouschet. Darker color, with ripe dark berry fruit, mocha, anise, and mint aromas. Big, rich mouthfeel with a grippier tannic finish.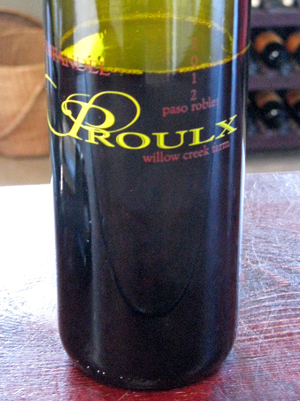 We spotted the sign for Proulx Wines along Vineyard Drive just north of Denner Vineyards, then turned onto a dirt road and headed up the hill. That road turned out to be longer than I'd expected – every time I thought we were just about to the tasting room there was another sign pointing the way farther up the hill. But we did finally arrive, and parked in front of the unassuming tasting room. This was the one stop on our Central Coast tour for which we didn't make an appointment, and it was mainly on our schedule for one reason – I wanted to taste their Rosé made from Mission grapes at their estate vineyard (I'm working on some Mission wine at Harrington Wines in San Francisco, where I work part-time).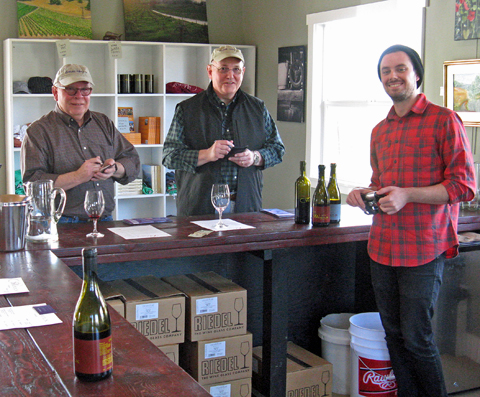 Proulx (pronounced "pru") is the winery of Kevin and Genoa Riley – the name is the maiden name of Kevin's mother. Kevin is a veteran of the Paso Robles wine scene, having worked for Sextant Wines, AJB Vineyards, and Pomar Junction among others. The winery's 18-acre Willow Creek Farm vineyard was originally planted about 65 years ago but had been neglected for many years when Genoa's parents bought the property in 1992 – they didn't even realize the vines were there. By 1997, the dry-farmed vineyard had been restored and the family began selling fruit to Peachy Canyon and other vintners. The Rileys launched the Proulx label for their estate wines in 2004, and they also produce more value-oriented bottlings (including Pinot Noir, Zinfandel, and Cabernet) under the Blackburn label.
Stepping into the tasting room, we were greeted by John, who was behind the counter. Large windows behind allowed a view of the estate vineyard. We started with the 2013 Mission Rosé, which includes some Syrah, Grenache, Zin, and Cinsault as well. The 2013 bottling we tried at the tasting room seemed a bit tired, but I was able to take home some of the 2014 vintage, which was much fresher and quite pleasant – I've provided a tasting note for that more recent release. We followed this with Zinfandel, a red blend called "Dimples" (the nickname of the Rileys' youngest son), "The Wah" (Genoa's nickname), and "Jack Barrett," named for the Rileys' two sons. Proulx produces a couple of other bottlings as well.
Considering the main reason for visiting Proulx was my interest in their Mission Rosé, I was glad that we stopped in. But I have to say that I wasn't bowled over by their reds, which seemed quite pricey. I know that a number top Westside Paso producers are charging a lot for their wines these days, but I didn't feel the Proulx reds were in that league. It's a beautiful spot, and I'd be happy to stop in again one of these days but for now there are better wines out there for the money.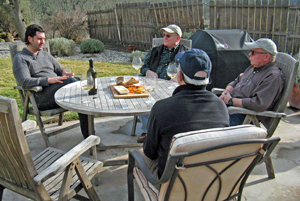 I made sure we would have some extra time before our next appointment so we could stop in for a visit to see my friends Sasha Verhage, his wife Kiara, and their two young daughters. Sasha has his own winery, Eno Wines (where I've worked part-time for a number of years), and he and his family recently moved from the Bay Area to Templeton. This was the first time I'd seen his new home, located not far from noted Westside Paso Robles producers Linne Calodo and Denner. The afternoon was sunny and we took the opportunity to sit out on the patio to talk for awhile. Sasha brought out a couple of bottles for us to enjoy – a refreshing local Ugni Blanc from Paix Sur Terre and a fascinating Côtes de Provence Rosé from Clos Cibonne, made from the little-known Tibouren grape. As we sat around the patio table, we spotted a large raptor in a nearby tree – an osprey, perhaps? Quite a sight, and it stayed there checking us out for awhile before flying off. Though it would have been fun to hang out for longer, we needed to leave for our next appointment, but Sasha let us know that he'd be able to join us for dinner that evening.
Tasting Notes: Current Releases

The Missing Leg 2014 Pinot Gris, Fossil Creek Vineyard, Paso Robles – Willow Creek. Very light straw color, featuring citrus and green apple aromas and hints of lees and spice. Medium-light bodied with a pleasant texture on the palate and crisp acidity on the finish, nice.

The Missing Leg 2012 Pinot Noir, William Caine Vineyard, San Luis Obispo County. Lighter ruby color, with riper black cherry and plum on the nose plus notes of flowers and vanilla/oak. Medium-light weight with moderate acidity and mild tannins.

The Missing Leg 2013 Pinot Noir, Righetti Vineyard, Edna Valley. Medium-light color, this displayed more intense cherry, earth, and floral aromatics. Medium-bodied with a more structured mouthfeel and a long finish, nice.

The Missing Leg 2013 Pinot Noir, Kruse Vineyard, San Luis Obispo County. Medium-light ruby, showing bolder, riper fruit on the nose plus a bigger sweet oak component. Richer texture on the palate with a lingering finish.

The Missing Leg 2013 Syrah, St. Peter of Alcantara Vineyard, Paso Robles. Medium purple color, this had ripe dark berry fruit, a touch of vanilla/oak, along with earth and spice notes. Bigger mouthfeel but with good acidity and moderate tannins – this should benefit from a few years in the cellar.

Turley 2014 Zinfandel, Turley Estate, Napa Valley (pre-release). Medium purple, with ripe cherry and plum fruit, spice, earth, and sweet oak on the nose. Smooth and seamless on the palate yet with good structure, and fine tannins on the long finish, nice.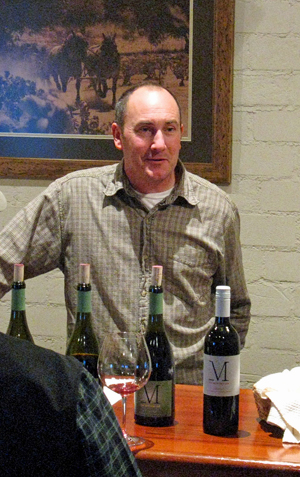 Our next stop was less than a five-minute drive away. Sasha had suggested earlier that we visit with Karl Wicka, the winemaker at Turley Wine Cellar's Templeton facility, to taste Karl's own label, The Missing Leg. Walking up to the older part of the Turley building from the parking lot brought back memories of my early wine-tasting visits to Paso Robles in the early 1990s when this was the old Pesenti Winery. Before Turley bought the facility and the adjacent 70-year old Zinfandel vineyard in 2000, Pesenti was among the last of the real old-time tasting rooms in the area. It opened at 8am (probably in a nod to that tradition, the Turley tasting room opens at 9am) and they poured tastes of their rustic and often off-dry Zins in shot glasses.
We met Karl outside his office and walked over to the overflow tasting room on the lower level of their facility. Karl is in charge of making Turley's wines for the four Paso-area vineyards that they source fruit from – Pesenti, Ueberroth, Dusi, and Amadeo Martinelli. The last of these is a new vineyard for Turley, with the 2014 vintage being their first release – it's labeled as Amadeo so as not to confuse this vineyard with the Martinelli vineyards in Sonoma County. Karl told us that Turley has purchased more Paso vineyards recently as well.
Karl and his wife Heidi established The Missing Leg in 2007, and he makes his wines at Turley. The winery name is a tribute to his father, whose favorite pub outside of London was called The Missing Leg. Karl has a degree in fruit science from Cal Poly San Luis Obispo and early on he worked a crush at the huge Mondavi Woodbridge facility in Lodi. Returning to the Central Coast, he spent nine years at Wild Horse Winery in Templeton before joining Turley in 2002. It's no surprise that the wines Karl makes for The Missing Leg are different varieties than what Turley produces, so there's no direct competition. The Missing Leg wines include Pinot Gris, Pinot Noir, and Syrah, and total production is only about 250-300 cases per year.
We started tasting with Karl, and he poured us his 2014 Pinot Gris. The fruit comes from Fossil Creek Vineyard, owned by the Dusi family. It's located right across the road from Terry Hoage's vineyard on Arbor Road – the Pinot Gris vines there were planted in the mid-1990s. A tiny production wine (harvested from just one vineyard row) and fermented in three-year old barrels, the Missing Leg Pinot Gris went through partial malolactic fermentation. The 2015 vintage is in barrel now, and Karl said he'll age it a bit longer but has used less bâtonnage than with the 2014. I noticed the new Willow Creek AVA designation on the Pinot Gris label and asked Karl whether many Paso wineries have started using the new Paso Robles appellations on their labels. He told us that some have, but those he's seen have only been for a few of the new AVAs in the western part of the overall Paso Robles AVA such as Willow Creek and Adelaida District.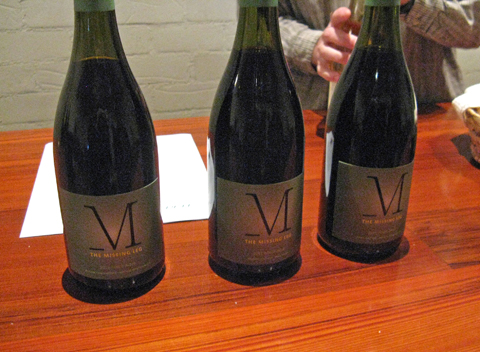 Next up were three Pinot Noirs from different vineyards, starting with the 2012 from William Caine Vineyard. Planted in 1978 with cuttings from the historic HMR Vineyard, William Caine is located across from Ueberroth Vineyard on Willow Creek Road. After providing fruit to York Mountain Winery for a number of years, the vineyard was neglected from 2003-2009, when the vines were retrained. Now dry-farmed, Karl got fruit from there in 2011 and 2012. The second Pinot was a 2013 from Righetti Vineyard in Edna Valley, planted in 2007. Karl gets mostly 115 clone from there, with a good deal of 828 in 2013 as well. The last Pinot was the 2013 from Kruse Vineyard – this is the estate vineyard of Jack Creek Cellars' Doug and Sabrina Kruse, located in the cool Templeton Gap and planted in 1997. The Missing Leg Pinots are all entirely destemmed, are cold-soaked for five days before fermentation, and they're barrel-aged for about 15 months. The William Caine and Righetti Pinots are each 25% new oak (just four barrels of each) with 50% new oak on the Kruse Pinot (only two barrels).
The final Missing Leg wine that Karl poured for us was 2013 Syrah, from St. Peter of Alcantara Vineyard in the Templeton Gap. Planted to 470 clone Syrah, this is the sixth vintage of the wine that Karl has made, but the first using Bordeaux-style bottles and screwcap closures. As with the Pinots, the fruit was destemmed, though the Syrah gets more time in barrel, two years or more.
There were a number of open Turley bottles on the tasting bar, and Karl explained that they'd just had a tasting of their upcoming 2014 releases for some wine industry folks. After we'd tasted through his Missing Leg wines, Karl asked if we'd like to try the Turley 2014 Estate Zinfandel, which he thought was the standout of the Turley tasting. Hard to pass up that offer! The wine was indeed delicious. I asked Karl about the perception I've heard from some people that Turley's style has changed in recent years, and he doesn't feel that there has been any significant change. The wines are still bold and undeniably tasty – no change in that.
It was a lot of fun tasting with Karl, and it was clear that he really enjoys branching out with his Missing Leg wines from his Turley focus of Zin. The Pinot Gris and Righetti Vineyard Pinot Noir were my favorites of The Missing Leg wines, with the Syrah not far behind – and the Turley Estate Zin was a highlight as well. Prices for The Missing Leg wines are more than reasonable, ranging from $20 to $35. Since the production for Karl's label is so tiny, the wines may be tough to find other than through the winery website, but they're worth checking out.
We drove the few miles to Paso Robles to check into our motel before venturing out for one more winery visit and then dinner. I should say motels rather than motel, since Eric and Michael stayed at the Best Western Black Oak while Alan and I stayed at the Adelaide Inn. Both on the north end of town, the two are just about next door to one another so it was nearly like staying at the same place! We didn't have a lot of time to settle in before all hopping into Eric's car and heading to downtown Paso. It was a busy Friday night and not easy finding a place to park, but we found a spot and walked the short distance to our last winery appointment of the day.

Turtle Rock Vineyards / Westberg Cellars
Tasting Notes: Current Releases

Westberg 2013 Chardonnay, Paso Robles. Light straw color, this had mild tropical fruit aromas along with a hint of flowers. Medium-light bodied, this had a lively texture and stony mineral note on the finish.

Westberg 2011 Zinfandel, Paso Robles. Medium-light color, with lots of upfront spice, plus raspberry and touches of black pepper and dried herbs. Medium-bodied with good acidity and moderate tannins.

Westberg 2013 Zinfandel, Paso Robles. Slightly darker color, showing a similar spice character to the previous wine but more intense and ripe fruit. Bolder yet lively mouthfeel with medium tannins, nice.

Turtle Rock 2012 "Willow's Cuvée," Paso Robles. 46% Grenache, 32% Mourvèdre, 22% Syrah. Medium purple, this displayed earthy and mildly funky notes at first, but revealed both red and black fruit along with spice. Medium-full bodied, finishing with chalky tannins.

Turtle Rock 2013 "Willow's Cuvée," Paso Robles. 47% Grenache, 35% Syrah, 18% Mourvèdre. Medium color, with bright raspberry and darker berry fruit, dried herbs, spice, and a touch of sweet oak. Fairly big but lively on the palate, with fine tannins on the long finish, nice.

Turtle Rock 2013 "Maturin," James Berry Vineyard, Paso Robles. 50% Syrah, 50% Mourvèdre. Medium-dark purple, featuring ripe dark fruit, chocolate, earth, and black pepper on the nose. Big and rich, with plenty of structure and a tannic finish – tasty now but this should benefit from more bottle age.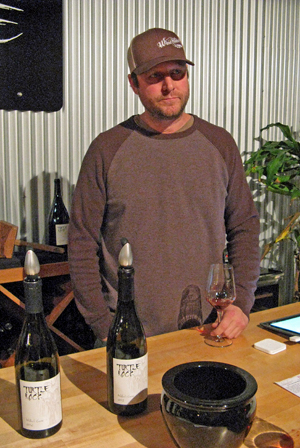 As we did during our visit to Paso Robles in January 2015, we made a stop at Paso Underground before dinner. Just a block from the city's downtown park, Paso Underground is a small but bustling tasting room that hosts four up-and-coming vintners. We'd visited Dilecta there the year before, and this year we stopped in to visit Don & Claudia Burns of Turtle Rock Vineyards and Westberg Cellars – another Sasha Verhage recommendation!
Don is a local guy – he grew up on his uncle's property on Willow Creek Road, next to Justin Smith and James Berry Vineyard. In 1991 Don's uncle, Tom Westberg, planted a four-acre vineyard at his site with mostly Zinfandel and started his own wine label (Tom also worked for Peachy Canyon and other local wineries). After studying Ag Business at Cal Poly San Luis Obispo, Don took off on an extended sailing trip before settling down for a time in Florida and working at Ruth's Chris Steakhouse, where he developed his appreciation for fine wine.
But the lure of returning to Paso Robles was always there, and after spending some harvests working with Justin Smith and his new Saxum label, Don came back to Paso for good in 2008 with Claudia and their baby girl, Willow. That same year, Don was able to revive his uncle's old wine label as well as to launch his own new Turtle Rock label. He also went to work at Saxum, where he's now an assistant winemaker. The Turtle Rock name comes from rounded calcareous rocks that look a bit like turtles and can be seen in parts of the Willow Creek area. Vineyard sources for Don's wines are all within the Willow Creek District AVA of Paso Robles. The annual production is currently about 500 cases, with a goal of expanding to around 1,500 cases. Don told us that starting this year, he will be able to make all his wine at Saxum, thanks to their new larger facility.
Don started our tasting with three wines from his Westberg label. First was a 2013 Chardonnay, sourced from Kruse Vineyard, which takes advantage of the cool marine air flowing through the Templeton Gap. We moved on to Zinfandel, tasting both the 2011 and 2013 vintages. The 2011 was sourced from Westberg and Dove Pond vineyards, and barrel-aged in 350-liter Hungarian oak. The 2013 Zin came from Kiler Grove Vineyard, and was made with about 20% whole-cluster fermentation.
We continued with two vintages of the Turtle Rock "Willow's Cuvée" GSM blend. The fruit for 2012 was from James Berry and Westberg vineyards, and fermented with 50% whole clusters for the Syrah and 100% for the Mourvèdre. Most of the Grenache was aged in concrete, while about 50% each of the Syrah and Mourvèdre were in new French oak. The 2013 "Willow's Cuvée" was sourced from James Berry, Kruse, and Kiler Grove vineyards. There was less whole-cluster fermentation used on the Syrah and Mourvèdre (which were co-fermented) but a little this time for the Grenache. As with the 2012, the Grenache was mostly concrete-aged while the other two varieties were aged in about 60% new French oak. Don told us that the "Willow's Cuvée" blend will continue to be Grenache-based, but that it may include some Tempranillo in the future.
Our last wine was a 2013 sourced entirely from James Berry Vineyard fruit, a blend of 50% each Syrah and Mourvèdre that's called "Maturin." Fermented with 50% whole clusters and aged in 50% new French oak, this was the biggest and most "Paso style" of the Turtle Rock wines. The name of the wine comes from a character in a Stephen King novel that Don and Justin Smith had read in high school – appropriately, given the name of Don's wine label, Maturin is a giant turtle.
See the Turtle of enormous girth!
On his shell he holds the earth.
His thought is slow but always kind;
He holds us all within his mind.

Turtle Rock also produces a Rosé called "Willow's Tickled Pink," which we didn't taste. And in addition to his wine projects, Don is also a partner in a small distillery called Wine Shine – one of a number of craft distilleries that have popped up in the Paso area recently. Wine Shine produces a variety of spirits, and we spotted a bottle of one on a shelf behind the Turtle Rock tasting counter – a Whiskey Manhattan (with Vermouth and bitters) called "Manhattan Project."
Just as we did last year, we had a really good time at Paso Underground on this trip. With the good things I'd heard about Don, it was great to meet him and try his wines. It was interesting to see the distinctions between the Westberg and Turtle Rock wines. The Westberg wines are more about Paso Robles' wine traditions, with Zinfandel historically being the best-known variety of the region, where the Turtle Rock wines point more toward the future – and to a large extent, the present – in the focus on Rhône grape varieties. Don's Turtle Rock wines show the influence of Justin Smith, and they seem like a fine alternative to some of the hard-to-find Saxum bottlings. My favorites of the tasting were the Westberg 2013 Zin and the Turtle Rock 2013 "Willow's Cuvée," but all the wines were enjoyable. It should be fun to see where Don takes these two labels – as well as his Wine Shine project – in the next few years.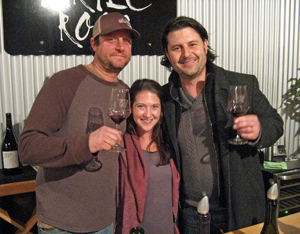 Don & Claudia Burns, Sasha Verhage
Sasha joined us at Paso Underground as we were nearing the end of our Turtle Rock tasting, and we soon started the short walk to Artisan Restaurant, just a block away. It had been a few years since I'd had dinner at Artisan, and they've moved a couple of blocks from their old spot since my last time there. The place was busy and the five of us were a seated in a booth that would fit four much more comfortably, but we still enjoyed our dinner along with a wine or two.
After saying goodbye to Sasha, we drove back to our motels – I don't know about anyone else but I crashed pretty quickly after the long day. It had been a good start to our trip, visiting several producers who were new to all of us plus revisiting another one that I hadn't been to for awhile. And seeing Sasha and his family was an added bonus to the day.

Saturday - January 16, 2016
Eric, Michael, Alan and I had a good first day of our Central Coast wine tour, visiting four wineries and tasting rooms in the Paso Robles area, and enjoying a visit with friend Sasha Verhage and his family. There had been some rain overnight but the clouds were starting to pass by as we ventured out on Saturday morning. Our first winery appointment was at 9:30am, enough time for us to walk over to the Starbucks right next to the motel to grab a coffee and a quick bite before packing up the cars and getting on the road.
Aaron Wines / Aequorea Vineyards
Tasting Notes: Current Releases & Barrel Samples

Aequorea 2014 Viognier, Spanish Springs Vineyard, San Luis Obispo County. Light straw color, with fresh pear and white peach plus hints of flowers and herbs in the background. Bright mouthfeel with vibrant acidity and a clean finish, nice.

Aequorea 2013 Riesling, Riven Rock Vineyard, San Luis Obispo County. Light color, this showed complex aromas including flowers, honey, stone fruit, orangepeel, and a light touch of characteristic petrol. Moderately rich yet lively on the palate with a long finish – very distinctive rendition of Riesling.

Aequorea 2013 Pinot Noir, Spanish Springs Vineyard, San Luis Obispo County. Medium-light ruby color, displaying pretty floral aromas along with red fruits, spice, and a touch of sweet oak. Medium-light weight in the mouth with a bright texture and lively finish, nice.

Aequorea 2013 Pinot Noir, Riven Rock Vineyard, San Luis Obispo County. Medium-light color, this featured more dark fruit character along with spice, earth, and fresh herbs. Bigger and more structured mouthfeel than the previous wine, this deserves some bottle age to show its best.

Aaron 2012 "Trespasser," Paso Robles. 69% Petite Sirah, 12% Mourvèdre, 10% Syrah, 9% Grenache. Medium-dark purple, with ripe dark fruit, spice, and an intriguing briny quality on the nose. Bold but not dense on the palate, finishing with big but fine tannins.

Aaron 2012 Petite Sirah, Paso Robles. 89% Petite Sirah, 11% Syrah. Darker color, this had ripe dark berry fruit, pepper, herbs, earth, sweet oak, and a savory component. Big and structured in the mouth, this finished with tannins that were big but not harsh – very promising but should benefit from time in the cellar.

Aaron 2013 "Sand & Stone," Paso Robles. 46% Petite Sirah, 43% Grenache, 11% Syrah. Medium-dark purple, showing brighter fruit aromas plus earth, spice, and a touch of vanilla/oak. Medium-full bodied, with fairly grippy tannins that will need time to smooth out.

Aequorea 2015 Pinot Gris, Spanish Springs Vineyard, San Luis Obispo County (barrel sample). Light straw color, with subtle stone fruit, medium body, good acidity, and a touch of tannin on the finish.

Aequorea 2015 Viognier, Spanish Springs Vineyard, San Luis Obispo County (barrel sample). This had brighter, riper fruit and richer texture along with lively acidity.

Aaron 2014 blend of 90% Grenache / 10% Petite Sirah (barrel sample). Base for "Sand & Stone" blend. Upfront fresh strawberry aromas plus spice and earth notes, nice structure with moderate tannins.

Aaron 2014 Petite Sirah (barrel sample). From the Templeton Gap area. Very dark color, slightly reductive at first, but opening up with earth, dark fruit, and savory notes, with plenty of structure and grippy tannins.

Aaron 2014 Petite Sirah (barrel sample). From vines on limestone soil, new puncheon. Very dark color, lots of ripe dark berry fruit and mocha, not as complex as the previous sample but with more refined tannins.

Aaron 2014 Syrah, Spanish Springs Vineyard (barrel sample). Will go into the "Trespasser" and "Citizen" blends. Dark color, upfront fruit along with smoke, grilled meat, and anise, big and structured.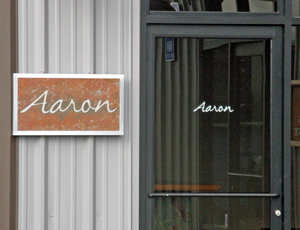 We made the short drive just south of Paso Robles to the fairly new complex of industrial metal buildings that's been dubbed "Tin City." It's become home to an increasing number of small wineries as well as other businesses, including Wine Shine distillery – it's pretty much Paso's version of the Lompoc Wine Ghetto. We pulled into the small parking area between a cluster of the buildings and walked up to our first destination of the day, Aaron Wines and Aequorea Vineyards. We were a bit early so we took a look around for a few minutes. I spotted a Europress wine press outside with a slightly altered name on the side that read "opress" – clearly the grapes are being "opressed" there!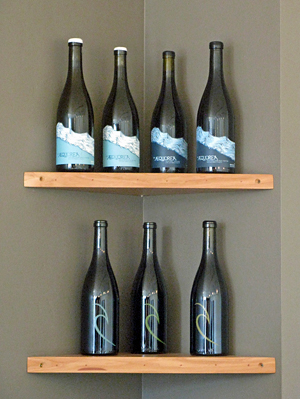 Winery proprietor Aaron Jackson walked up shortly afterwards and welcomed us into his tasting room. He'd previously poured his wines at Paso Underground and made them at Zenaida Cellars, but the new building in Tin City – which Aaron shares with Clos Solene Wines – was completed just in time for the 2015 crush. Aaron grew up in Cayucos, on the coast between Cambria and Morro Bay, and he still lives there (he's into surfing so it's a great location). He decided on a career in wine early on and earned a degree in wine & viticulture at Cal Poly San Luis Obispo. He worked for six years at the old Four Vines Winery but wanted to return to study in a different region. Aaron decided on the University of Adelaide, a choice based largely on the well-funded Australian work in wine research but also on his love of aromatic McLaren Vale Grenache. Returning to the Central Coast with a master's degree in enology, he's worked at Saxum and ONX, but aside from consulting for a few clients, he's now focusing his energy on his Aaron and Aequorea labels.
Aaron launched his eponymous label in 2002 to showcase Petite Sirah from Westside Paso fruit. He not only felt that it's a very good spot for Petite – the wines have big, rich fruit without aggressive tannins – but also liked the idea of pioneering a variety that wasn't getting much attention in the area. Up until 2010, the Aaron wines were strictly Petite Sirah, but several blends have been added to the line-up since then. The Aequorea label ("of the sea" in Latin) was established in 2012 – an effort focused on white wines and Pinots sourced from cool-climate vineyards planted on the west side of the Santa Lucia Mountains in San Luis Obispo County and close to the coast, six miles or less. Aaron noted that the Aaron label wines are blends from different vineyards, while the Aequorea wines are mostly single-vineyard bottlings. Total production between the two labels is about 2,000 cases per year.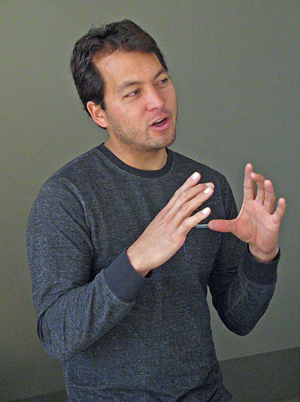 Aaron started our tasting with two of his Aequorea whites. The 2014 Viognier from Spanish Springs Vineyard was first, from a site near Pismo Beach and only about two miles from the ocean. Aaron told us that there has been some work toward creating a San Luis Obispo Coast AVA that would include Spanish Springs Vineyard and other sites that are to the west of current AVA boundaries – he called the area the "Wild West of the Central Coast." Barrel-fermented and aged in neutral oak with a little bâtonnage, Aaron said the goal of this wine was freshness, and it was certainly a fine rendition of cool-climate Viognier. None of the Aequorea whites go through malolactic fermentation. Next up was the 2013 Riesling from Riven Rock Vineyard near Cambria, about six miles from the coast. Aaron's goal for this was a German Spätlese-style Riesling, a style not seen much in California winemaking. The juice spent about six hours on the skins prior to pressing, and it underwent a cool fermentation in stainless steel. Bottle-aged for two years before release, it's just 12% alcohol with 2.7% residual sugar, and both distinctive and delicious.

We followed the whites with two 2013 Aequorea Pinot Noirs. The Pinot from Spanish Springs Vineyard is entirely from 2A clone and was fermented with about 25% stem inclusion – Aaron noted that he destems all of his fruit and adds back some stems if he feels that is warranted. The Riven Rock Vineyard Pinot is mostly from 667 clone. Aaron's vineyard blocks for Pinot at these two sites feature mostly shale soil. The Aequorea Pinots undergo native fermentation with no additions, and spend about 10-11 months in 30-35% new oak, then receive additional bottle age before release.
Moving on, we tasted three wines from the Aaron label, beginning with 2012 "Trespasser," a Petite Sirah/Mourvèdre-based blend. Next was the Aaron 2012 Petite Sirah, which includes a little Syrah. The Petite for this wine was sourced from about six vineyards, mostly with limestone soils. Barrels of the Petite Sirah are selected to create a softer, rounder wine. Finally, we tried "Sand & Stone," the first of the 2013 Aaron wines to be released – it's a nearly even blend of Petite Sirah and Grenache, along with a little Syrah. Aaron noted that the Grenache for this wine came from limestone soil at Kiler Canyon Vineyard and was aged in neutral oak (overall the wine has 25% new oak). The Aaron wines average about 15-25% stems added back at fermentation, generally on the low end with Grenache and up to 40% on Syrah and Mourvèdre. Maceration lasts about 35 days, and the wines are aged for around 22 months in up to 50% new oak, plus about an additional year of bottle age prior to release.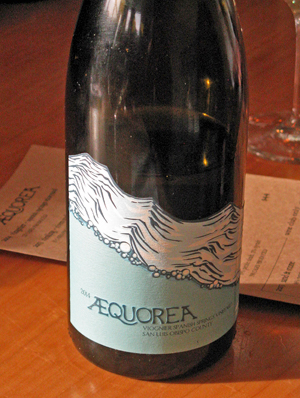 Aaron asked us whether we had time to taste a few barrels, and we never turn down that opportunity! We started out with a 2015 Pinot Gris and then a 2015 Viognier, both from Spanish Springs. Aaron told us the goal for the Pinot Gris is an Alsatian style. The vines are on sandy soil, with very low yield in 2015. The fruit was destemmed and had eight hours of skin contact before pressing, then lots of bâtonnage to help build the body of this wine. In the barrel room, we noticed a number of different-size barrels, and Aaron said that he uses standard 228-liter barriques and slightly larger 265-liter barrels for Pinot, and 300-, 350-, and 400-liter ones for Grenache, Syrah, and Petite Sirah. He showed us the thicker-stave barrels he likes to use for Grenache to help minimize oxidation through the wood, and told us that he may consider using concrete for aging Grenache.
We tried several 2014 reds from barrel – Aaron noted that the 2014s have not yet been blended but will be soon. We started with a barrel of Grenache/Petite Sirah that will form the base for the "Sand & Stone" bottling. We contrasted Petite Sirah from vines grown in limestone/clay soil and aging in an older barrel with another sample from limestone soil in a new barrel. Aaron mentioned that he likes to maintain a reductive element in his Petite Sirah to help tone down the exuberant fruit component of the wines. We finished with Syrah from Spanish Springs, which will be part of both "Trespasser" and a new Syrah/Petite blend called "Citizen."
I had a great time visiting with Aaron. Like a number of occasions over the years when Eric and I have visited a vintner for the first time, Aaron seemed a bit reserved with our small group at first, but after awhile he opened up and seemed to really enjoy our visit as much as we did. I liked the wines from both of Aaron's labels quite a bit, particularly the distinctive cool-climate bottlings from Aequorea. And although Petite Sirah has generally not been a favorite variety of mine, Aaron's renditions may make me a believer – they were more elegant and complex than I'd expected them to be. Standout wines included the Aequorea Viognier, Riesling, and Spanish Springs Pinot, and the Aaron Petite Sirah. I sensed that the other wines we tasted just needed more time in the cellar to reach that level as well. I was impressed by the clear vision that Aaron expressed for each of his wines and how he has gone about creating a line-up of bottlings that all have distinctly different character that stays true to their vineyard sources – not an easy task. While the wines are not inexpensive, they're still well below what many newer Paso-area producers are charging and they're relative bargains for the quality. Of the wineries we visited on this Central Coast trip that were new to me, Aaron and Aequorea were in the top tier – definitely worth checking out.
Our visit with Aaron Jackson was our last appointment in the Paso Robles area before heading to Santa Barbara County to continue our wine trip there. Since it looked like we had some spare time, we walked across the street to Barrelhouse Brewing Company – nothing like a good beer in the morning! We were enjoying the brews and conversation so much that we lost track of time and realized we'd better hit the road right away for our next visit in Lompoc. Our visits in Santa Barbara County (and one more stop in Paso on the way home) to be continued in Part 2 of this report…