Central Coast - January 2015 - Part 1
It was hard to believe that it had been two years since I'd made a wine trip down the Central Coast as far as Santa Barbara County. It's been one of my favorite California wine regions to visit since my first time there in 1992. As was the case on my previous trip to the area, it was my friend Jane who got the ball rolling, planning a mid-January tour through the Central Coast. We were joined by a few other Bay Area friends – Warren, Mary, and Alan – and we met up for the tour with Grape-Nutz' own Eric Anderson, who made the journey north from Southern California.
Once again, Jane put me in charge of making appointments at wineries, and I took requests from a few in our group for places they particularly wanted to visit. Because it had been awhile since I'd been able to spend time for an extended Central Coast wine trip, there were lots of new places I wanted to visit, and I was afraid I'd over-scheduled things this time. In the end it all worked out, though we all had to stay focused to keep on schedule.
Although a rainy December brought hope that our drought years in California might be ending, January was as dry as a bone. At least that meant no dealing with rain on this trip, and temperatures were milder than the last time I made a January visit to the area.
Jane, Warren, and Mary were carpooling and got a later start than the rest of us, so Alan and I (we also carpooled) made a smooth Friday morning drive from the East Bay and met Eric in downtown Paso Robles. We'd already discussed our lunch options via email and ordered sandwiches to go from Paso's Red Scooter Deli. Eric had stopped by to pick them up and was outside the deli relaxing with a cup of coffee when Alan and I arrived just after 10:30am. I hadn't seen Eric since we toured the Sonoma Coast wine region back in mid-2013, so we spent a few minutes catching up on things before heading out to our first winery of the day.
Friday - January 16, 2015
Tasting Notes: Current Releases

Brecon 2013 Viognier, Paso Robles. 89% Viognier, 8% Marsanne, 3% Roussanne. Light straw color, featuring ripe tropical fruit aromas along with hints of citrus and flowers. Moderately rich, viscous texture with good balancing acidity and a clean finish.

Brecon 2013 "Conviction," Paso Robles. 62% Marsanne, 25% Roussanne, 13% Viognier. Very light greenish-straw color, this had pear and stone fruit on the nose along with an earthy, leesy note. Rich but lively on the palate, with a long finish – should be a good candidate for some time in the cellar.

Brecon 2013 Albariño, Spanish Springs Vineyard, Central Coast. 92% Albariño, 8% Viognier. Very light greenish-straw color, with bright apple and orangepeel aromas, along with a touch of fresh herbs. Bright mouthfeel, with a fresh, crisp finish, nice.

Brecon 2013 Mourvèdre, Paso Robles. 84.5% Mourvèdre, 13% Syrah, 8.5% Petite Sirah; the Mourvèdre was sourced from Glenrose Vineyard. Medium-dark purple, showing black cherry fruit, earth, and smoke, with undertones of vanilla/oak. Medium-bodied and fairly lively, finishing with fine tannins.

Brecon 2012 "Forty Two," Paso Robles. 49% Syrah, 46% Mourvèdre, 5% Petite Sirah; the Syrah and Mourvèdre were fermented with whole clusters. Medium-dark color, this displayed upfront savory, herbal aromas, along with darker fruits, smoke, and hints of spice and black pepper. Medium-full bodied with moderate tannins – very appealing now but should age well too.

Brecon 2013 Cabernet Sauvignon / Syrah, Paso Robles. 50/50 blend of the two varieties. Dark purple, with herbal currant and plum notes along with spice and a bigger vanilla/oak component. Fairly rich texture on the palate, finishing with bigger yet refined tannins.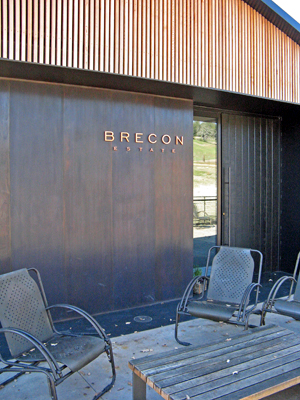 Eric had mentioned visiting Brecon Estate as a possibility for our first stop on Friday, as a friend had recommended it. We didn't make an appointment there, since with our long drives from home we weren't sure when we'd be able to arrive. As it turned out, our timing was just fine and we pulled up outside the winery, on Vineyard Drive on the Westside of Paso Robles, shortly after they'd opened their tasting room for the day.
Alan and Eric, with Damian Grindley
We recognized the main winery building – it had formerly been the home of Norman Vineyards, which moved to another location in 2012. Not far from Halter Ranch and Tablas Creek, it's located within the new Paso Robles Adelaida District AVA, considered one of the overall region's prime growing areas. Eric, Alan, and I walked up a slope to the rear of the winery and around to the new tasting room for Brecon, which opened in early 2014.
Before we'd even stepped inside, we were greeted by a very large and very friendly Great Pyrenees dog, which then led us into the tasting room. We were the first tasters of the day, and Damian Grindley, Brecon's co-owner and winemaker, welcomed us in from behind the bar. It turned out to be good timing on our part to have arrived when we did, as Damian had to take off around mid-day. Damian launched Brecon along with Australian investor Simon Hackett and their wives, Amanda and Anna. Damian himself is originally from Wales, and the Brecon name comes from Brecon Beacons National Park in Wales – the limestone caves there tie in nicely with the limestony soil on the Westside of Paso Robles. Damian has a long background in the California wine business – he had been the winemaker at nearby Calcareous Vineyard and had also made wine at Kendall-Jackson and Gallo among others.
Damian told us that the tasting room is only part of the new construction at Brecon, and that there will be more to come. Designed by the award-winning architectural firm of Aidlin Darling Design, the tasting room is modern yet warm. Damian showed us a neat feature – a large sliding door behind the bar that allows for tasting both indoors and outdoors serviced from same tasting bar. There are several pleasant seating areas outside the tasting room with views of both the estate vineyard and the surrounding area.
The Brecon Estate property is 40 acres in size, and their 29-acre vineyard has some of the oldest plantings in the Adelaida District – about 20 acres of Cabernet Sauvignon and 3½ acres of Cabernet Franc dating to 1984. The Cabernet Sauvignon has been dry-farmed for the past four years. There are also new plantings of Petit Verdot and Malbec on the sloping site. Like many vineyards in the area, the vines are planted on calcareous soil.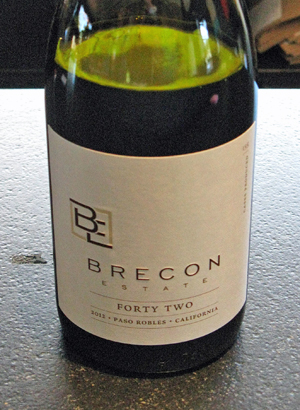 Brecon's inaugural vintage was in 2012, and wines are made from both estate and purchased fruit. We tasted six current Brecon wines with Damian, starting with 2013 Viognier, sourced from nearby La Vista Vineyard. We continued with a white Rhône blend called "Conviction," which is a new addition to Brecon's wine line-up for 2013. Damian then brought out their 2013 Albariño, probably the winery's most acclaimed wine so far. The fruit for that wine came from Spanish Springs Vineyard, only about 2.5 miles from the ocean near Pismo Beach. All of the white wines are bottled under screwcap, and Damian told us that they don't use much new oak on the whites, though they do undergo lees stirring to help give them more texture.
We moved on to the reds from there, beginning with Mourvèdre. Blended with a little Syrah and Petite Sirah, the Mourvèdre was sourced from Glenrose Vineyard along Peachy Canyon Road. Next up was "Forty Two," a Syrah / Mourvèdre-based blend that Damian told us will not be produced in every vintage. We asked the significance behind the name – for those who have read Douglas Adams' book The Hitchhikers Guide to the Galaxy, you'll know that 42 is "the answer to the ultimate question of life, the universe, and everything." Is the wine all that? You may have to try it yourself to find out! Our last wine was Cabernet Sauvignon / Syrah, which Damian told us is inspired by Penfolds Grange (though it includes much more Cab than in the Penfolds wine). Other wines that we didn't taste include Cabernet Franc, Zinfandel, and Petite Sirah.
All of the Brecon red wines undergo a cold soak, and a few go through an extended maceration as well. The Bordeaux-variety reds are aged in around 30-33% new French oak, while the Rhône-variety reds are aged in about 20-30% new oak, including some American oak (from AP John, coopered in Australia). Damian also mentioned that they use a lot of 65-gallon barrels, a bit larger than the typical 59-gallon barriques but smaller than hogsheads (about 79 gallons).
We enjoyed our visit with Damian at Brecon. We knew that he needed to take off and we appreciated that he spent a bit more time with us than I'm sure he'd planned to. The tasting room and surroundings were beautiful, and all of the wines were solid. I thought the Albariño and "Forty Two" were particular standouts, with the "Conviction" not far behind. The wines were not in the "big Paso" style that many vintners in the area have been making (with great success) – while the Brecon wines were not shy and featured plenty of fruit, they showed an elegant side that's not always seen in Paso wines. All of the red wines had very refined tannins, very drinkable right now. If you're touring Paso's Vineyard Drive area, Brecon is a new winery that's worth checking out.
After our tasting at Brecon, we retrieved our sandwiches from the cars and settled into one of the seating areas outside the tasting room. Eric had wisely chosen to get a half sandwich – I'd forgotten how large the Red Scooter sandwiches were, but since I'd skipped breakfast that morning, I had little trouble devouring my full turkey club.
Jane had called from the road to say that they were running late and were going to miss our next winery stop, which is where they'd originally planned to meet up with us. It was only a few minutes away from Brecon, so we had a chance to relax for a bit before walking back to our cars and heading out again to visit the new Epoch winery.
Tasting Notes: Tank & Barrel Samples and Current Releases

Epoch 2014 Rosé, Catapult and Paderewski Vineyards, Paso Robles (tank sample). Made in stainless steel drums and concrete, from whole-cluster pressed Syrah plus saignée from Grenache and Mourvèdre. Light salmon color, this had bright, higher-toned citrus and stone fruit aromas with floral and spice notes in the background. Juicy acidity in the mouth and a clean finish.

Epoch 2014 White, Catapult and Paderewski Vineyards, Paso Robles (tank sample). Made from 50% each Grenache Blanc (in a concrete egg) and Viognier (in stainless steel drums and a little neutral oak). Lighter yellow color, featuring apple and citrus fruit, plus lees, earth, and floral components. Medium-bodied with lively acidity and a long, crisp finish, nice.

Epoch 2013 Grenache, Paderewski Vineyard, Paso Robles (barrel sample). 100% Grenache, from 362 and Alban clones, fermented in concrete and aged in neutral oak with about 40% whole clusters, this will go into the "Sensibility" blend. Medium color, with intense aromas of fresh red and black cherry fruit, flowers, and wet stones, plus some savory/herbal notes. Lively texture, finishing with chalky tannins, should be a nice blending component and could stand on its own.

Epoch 2013 "Creativity," Paderewski Vineyard, Paso Robles (barrel sample). 100% Mourvèdre, fermented in concrete with 40% whole clusters. Medium-dark color, with earth, black cherry and plum, spice, and vanilla/oak on the nose. Medium-bodied with moderate tannins.

Epoch 2013 Syrah/Grenache/Petite Sirah, Paderewski Vineyard, Paso Robles (barrel sample). Around 40% each Syrah and Grenache, and 20% Petite Sirah, all co-fermented, tasted from new barrel. Darker color, this showed upfront coffee and spice aromas along with dark berry fruit and grilled meat notes. Richer mouthfeel with fairly grippy tannins.

Epoch 2013 "Block B," Paderewski Vineyard, Paso Robles (barrel sample). 100% Clone 174 Syrah, fermented in a t-bin with 40-50% whole clusters. Very dark color, displaying briny olive, black fruit, game, and stem/herb aromas. Big and rich, with a chewy tannic finish.

Epoch 2013 "Block B," Paderewski Vineyard, Paso Robles (barrel sample). 100% Clone 174 Syrah, fermented in a t-bin with 40-50% whole clusters, aged in amphora and then racked to neutral oak. Very dark color, this showed more earthy and floral components than the previous wine, along with dark berry fruit and spice. Broader texture on the palate, with more refined tannins. Both "Block B" samples should make fine components for the final blend.

Epoch 2013 Rosé, Catapult and Paderewski Vineyards, Paso Robles. 42% Syrah, 28% Grenache, 18% Mourvèdre, 12% Cinsault, made in stainless steel drums and concrete from whole-cluster pressed Syrah and Cinsault plus saignée from Grenache and Mourvèdre. Very light salmon color, with savory and herbal red fruit aromas. Medium-light texture with a clean finish.

Epoch 2013 White, Catapult and Paderewski Vineyards, Paso Robles. 52% Grenache Blanc, 39% Viognier, 9% Roussanne, made mostly in stainless steel drums and neutral oak, plus in concrete. Light color, featuring pear and stone fruit, herbs, and a slightly briny mineral note. Medium-bodied with a lively mouthfeel and long finish, nice.

Epoch 2009 "Estate Blend," Paderewski Vineyard, Paso Robles. 60% Syrah, 19% Grenache, 9% Tempranillo, 8% Zinfandel, 4% Mourvèdre, aged 23 months in 23% new oak. Medium-dark color, showing ripe plum, spice, dried herbs, and sweet oak on the nose, along with a touch of black pepper. Medium-full bodied with moderate tannins.

Epoch 2011 "Veracity," Paderewski Vineyard, Paso Robles. 57% Grenache, 25% Mourvèdre, 18% Syrah, aged 16 months in 25% new French oak. Medium-dark color, this had more savory, herbal aromas along with black cherry fruit, earth, and spice. Moderately rich yet very lively texture with broad tannins on the finish, nice.

Epoch 2011 "Ingenuity," Paderewski Vineyard, Paso Robles. 55% Syrah, 17% Grenache, 15% Mourvèdre, 13% Petite Sirah, fermented in concrete, stainless steel, bins, and puncheons, aged 17 months in 45% new French oak. Dark color, displaying dark fruits, earth, spice, and pepper on the nose, along with a dash of vanilla/oak. Full-bodied but not heavy, finishing with big, chewy tannins.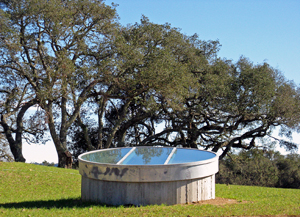 One of the skylights for the subterranean barrel and storage area below.
We drove back down Vineyard Drive and then a couple of miles west along Highway 46 before turning off on York Mountain Road. We quickly came upon a large new and modern-looking building – must be the place! After parking our cars in front of the building, we wandered inside but there was no one in sight. A long row of concrete tanks caught our attention and as we were checking them out, Epoch winemaker Jordan Fiorentini walked in and welcomed us to the winery.
Epoch was established in 2004 by Bill and Liz Armstrong, who are from the Denver area and met while studying geology at SMU. They purchased a 350-acre property off of Peachy Canyon Road that had been owned in the early 1900s by famed Polish pianist, composer, and statesman Ignacy Paderewski, and began planting 65 acres there in 2005, naming that site Paderewski Vineyard.
The following year, they bought land at a somewhat cooler site near Anderson Road, and it's now the site of Epoch's 30-acre Catapult Vineyard. Paderewski Vineyard, which features extreme slopes and calcareous soils, is planted to Viognier, Syrah, Grenache, Mourvèdre, Petite Sirah, Tempranillo and Zinfandel, plus new plantings of Picpoul Blanc and Carignan that are not yet in production. Catapult Vineyard, with less limestone and more shale, includes Grenache Blanc, Roussanne, Syrah, Grenache, Mourvèdre, and Tempranillo.
In 2010, the Armstrongs acquired the historic York Mountain Winery property, where the new winery building is located along with the Epoch tasting room a short distance away. Founded in 1882 by Andrew York, the winery was said to be the oldest continually-operating winery in California until it shut down in 2008. The old building suffered extensive damage in the December 2003 earthquake that struck the area. The Armstrongs have committed themselves to restoring the old building (really reconstructing it for the most part, from the look of things when we passed by), and they plan for it to become Epoch's new tasting room and hospitality center. And along with all the building work, Epoch is preparing a site not far from the new winery for planting a new vineyard. The vineyard will be around 20 acres, and plans are to plant it mostly to Syrah, Grenache, and Viognier this year. Unlike Epoch's other vineyards, this one is located in the small York Mountain appellation immediately west of the Paso Robles AVA.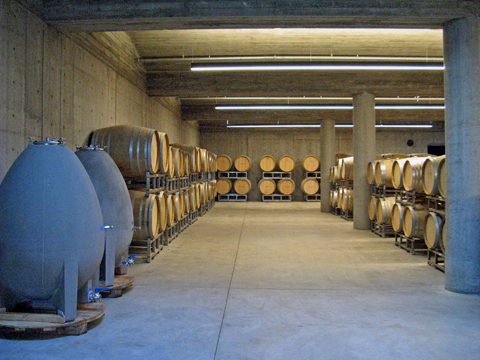 I'd met Jordan a few years earlier and visited her at the Denner facility, where the Epoch wines had been made up until last year. Jordan told us that the construction crew broke ground for the new winery in November 2013 and that they were able to move in just before harvest 2014. The building site had been the location of the historic one-room Ascension schoolhouse in 1800s and early 1900s. The design of the new building preserved all of the many oak trees on the site, and the striking steel and masonry structure looks smaller than it is since a good deal of it is underground.
Jordan had plenty of input into the design of the new winery, and she gave us a brief tour, starting with the fermentation room. There are ten concrete fermentation tanks, each about 1,000-gallon capacity, custom made by Vino Vessel. The tanks have heating and cooling coils embedded in the concrete, and Jordan told us that the slightly conical shape provides a more compressed cap during fermentation. There are also a number of stainless steel fermenters. Just outside the fermentation room is the wine lab – easily the nicest one I've ever seen! Instead of the cramped, enclosed space of most labs, the Epoch lab is housed in an airy structure with a fabulous view. We proceeded down into the barrel room, located at a lower level to allow for gravity flow. This space is underground, and features large skylights that help cut down on energy use for lighting. In addition to the barrels, there are also concrete tanks for aging and a terra-cotta amphora. This is a beautiful winery, among the nicest new ones I've seen.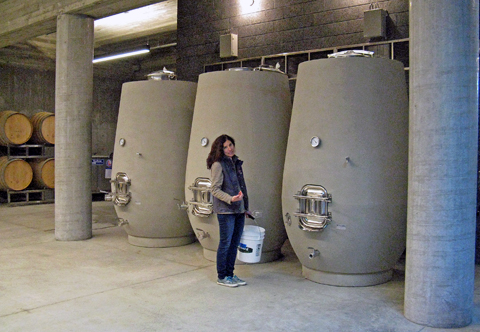 Jordan has been at Epoch since mid-2010, after working at a number of high-profile wineries including Chalk Hill in Sonoma, Araujo in Napa, and Antinori in Tuscany. Also on the Epoch winemaking team is noted Paso vintner Justin Smith, who has been a consultant since the winery's inception. The winery's first releases were from the 2007 vintage. Recent releases have included a Rhône-style white and Rosé, and a number of red blends featuring mostly Rhône grape varieties – "Authenticity," "Ingenuity," "Veracity," "Sensibility," and the "Estate Blend." There's also Zinfandel, Tempranillo, a 100% Syrah bottling called "Block B," and "Creativity" – a "winemaker's choice" wine that changes from year to year.
The Epoch wines are made entirely from estate fruit, and Jordan told us that they also sell a little fruit to other producers. As we toured the winery, Jordan pulled a number of tank and barrel samples for us to taste. We started with samples of the 2014 Rosé and 2014 White, both sourced mostly from the cooler Catapult Vineyard. The Rosé is made in stainless steel drums and concrete, and the Epoch White is fermented in concrete eggs plus stainless steel drums and a little neutral oak.

Jordan has been using more whole-cluster fermentation for the Epoch red wines in recent years, although this is a harvest-time decision and depends on the variety and vintage. In addition to fermenting in the large concrete and stainless steel tanks, some lots are fermented in smaller bins, and Jordan has also been experimenting with some amphora fermentations. She has told me in the past that she's looking for a consistency in style with many of the Epoch blends, so the percentage of different grape varieties changes from year to year in order to achieve this. And we saw in the barrel room that Jordan uses a lot of puncheons rather than the smaller barriques for aging the reds.
We headed down into the barrel room to try some 2013 barrel samples of various reds – these wines had not yet been blended, so they were still the separate initial components. First was a Grenache that will go into the Epoch "Sensibility" blend. We sampled the "Creativity," which is 100% Mourvèdre in 2013, fermented in concrete with 40% whole clusters. Jordan then pulled a sample of a Syrah / Grenache / Petite Sirah co-fermentation that will form the basis of the "Ingenuity" blend. We tasted one barrel sample of the "Block B" (always 100% Clone 174 Syrah) that was aged in an amphora before being racked into neutral oak – Jordan told us that this will ultimately be about 15% of the final blend. We were able to compare that with another sample of the same wine that had been fermented in a t-bin.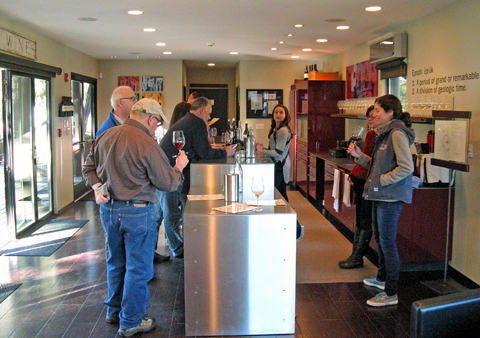 Jordan asked whether we wanted to taste a few bottled wines at the Epoch tasting room just down the hill from the winery, and even though we were starting to run a bit short on time, it was tough to pass on that offer! In an effort to save at least a little time (and a walk back up the steep road), Eric and I hopped into his car to drive to the tasting room while Alan accompanied Jordan on foot. They arrived there only a couple of minutes after Eric and I, and we proceeded with tasting the current 2013 vintage of the Epoch Rosé and White. The Rosé is made from both whole-cluster pressed and saignée fruit, and the White is a blend of mostly Grenache Blanc and Viognier. We finished with three reds – the 2009 "Estate Blend" (a GSM blend plus some Zin and Tempranillo) and 2011 Grenache-based "Veracity" and Syrah-based "Ingenuity." I particularly liked the 2011s, and Jordan told us that the Epoch wines from this cooler vintage have been favorites of hers.
This was a fun visit to Epoch. It's always a pleasure to taste wines with Jordan, and this was a great opportunity to tour the new winery with her – the facility is really stunning. I'm looking forward to checking out their new York Mountain estate vineyard once it's established. It was interesting to taste component barrel sample for upcoming wines – it provided a better understanding of what the specific parts of the blend will bring to the whole. I especially liked the Grenache barrel sample along with both "Block B" components. While Epoch's red wines have maintained a fairly consistent style in recent years, the 2011 wines demonstrated that the variations of particular vintages still show through. I liked both of the 2011 wines we tried – especially the "Veracity" – and the wines from that tricky vintage continue to show that time in the cellar will benefit them. The Rosé and White impressed me from both 2013 and 2014 – Epoch has been known more for its reds over the years but Jordan has now raised the bar with these wines. Epoch has established itself among the upper echelon of Paso Robles wineries, and one of the few in that category that has a regular tasting room – it's well worth the drive out to the beautiful York Mountain region to taste there.
Tasting Notes: Current Releases & Barrel Sample

Desparada 2013 Sauvignon Blanc, "Fragment," Santa Barbara County. 100% Sauvignon Blanc sourced from McGinley and Presqu'ile vineyards, made in amphora, stainless steel, neutral French and new Acacia barrels. Very light straw color, with citrus, fresh herbs, and flowers on the nose. Lighter-bodied with crisp acidity and a fresh finish, nice.

Desparada 2013 Chardonnay, "Wayfinder," Spanish Springs Vineyard, Edna Valley. 100% Chardonnay fermented in 67% new French oak and 33% once-used French oak. Light yellow color, this showed lots of vanilla/oak and butterscotch aromas along with pear and stone fruit and spice. Big and rich on the palate, with a long, smooth finish.

Desparada 2014 Chardonnay, "Wayfinder," Bien Nacido Vineyard, Santa Maria Valley (barrel sample). 100% Chardonnay, started fermentation in a new Gamba barrel and racked to neutral oak. Medium-light yellow, with more upfront fruit than the previous wine – stone fruit and tropical fruit – and less overt oak. Rich texture with more lively acidity than the previous wine.

Desparada 2013 Pinot Noir, "Suitor," Solomon Hills Vineyard, Santa Maria Valley. 100% Pinot Noir (50% each 115 and 667 clones), 50% whole-cluster fermented, aged in neutral oak. Medium-dark color, this was spicy and savory, with plummy fruit and earth. Medium-rich on the palate, finishing with moderate tannins.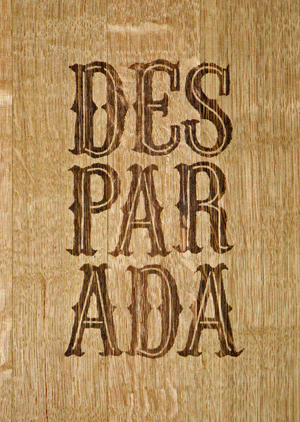 We'd barely begun our drive back east toward Highway 101 when Jane texted me that she, Warren, and Mary had arrived in the area and were already outside the location of our next appointment, at Desparada Wines. I responded (actually I had Alan respond for me – no texting while driving for me!) – that we were still 15-20 minutes away, so they should head inside anytime and get started without the rest of us. We made good time on our drive, turning south just past the 101 interchange and passing by the 80+ year-old Zinfandel vines at Benito Dusi Ranch just before arriving at Paso Robles' "Tin City." I'd visited a winery in the complex of new metal industrial-style buildings in spring 2014, but even in the short time since then it was apparent that the area had really taken off. Sort of Paso's version of the Lompoc Wine Ghetto, there are now about ten small wineries making their home there, including Aaron Wines, Clos Solene, Field Recordings, Giornata, Nicora, and Torrin among others. And there's one key thing that Tin City has over the Wine Ghetto – a brewpub!
I'd heard about Desparada before our visit but I'd never tried their wines before. I'd contacted proprietor / winemaker Vailia Esh about visiting, and although she told me that she'd be out of town, she graciously arranged for us to meet with assistant winemaker Danielle Shaw. Eric, Alan, and I stepped inside the small winery building and back into the barrel room, where Danielle was talking with Jane, Warren, and Mary. She told us that they had previously made the Desparada wines at the Herman Story facility and had only moved into their new space partway through 2014 harvest/crush – not an easy time to make a move. Danielle had started at Desparada in June 2014, and she had worked at Caliza Winery before that.
I've read a bit about Vailia and heard from a couple of other vintners about her, and I'm looking forward to meeting her the next time I'm in the area – she sounds like a fascinating personality. She was living in Toronto before coming to Paso Robles, and had worn many hats in the wine business already – importer, retailer, broker, and more. She came to the Central Coast in 2007 and lived in a trailer at a vineyard for two years, learning on the fly about viticulture and winemaking. Along the way, Vailia met Herman Story's Russell From, and the couple is now engaged. The first Desparada vintage was from 2009, with the release of a wine called "My Comforter" (now known as "Borderlands"), a blend of Bordeaux and Rhône grape varieties. Vailia has said that she was drawn to the Central Coast since it was a wine region that was still forming, that did not yet have a set identity and was more receptive to winemaking experiments.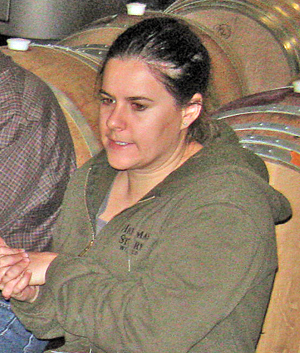 As Danielle made clear for us during our visit, Vailia is still experimenting. Her 2014 Sauvignon Blanc, sourced from Presqu'ile Vineyard in Santa Maria Valley, is being bottled in four 50-case lots for each of the four ways it was made – in amphora, stainless steel, French oak, and new acacia barrels. Danielle told us that they like acacia for their "Fragment" Sauvignon Blanc since it adds texture without the oaky character. Yet the "Wayfinder" Chardonnay is made in mostly new French oak, since Vailia loves big, rich, buttery Chardonnay. The fruit for the current 2013 "Wayfinder" came from Spanish Springs Vineyard in Edna Valley, but as of 2014, Desparada is getting Chardonnay from Bien Nacido Vineyard's I Block, some of the oldest Chard vines there. We tasted a barrel sample of that wine – still not quite finished with malolactic fermentation and showing some characteristic banana aromas from that – that started out in a new Gamba barrel (French oak coopered in Italy) and then racked to a neutral barrel. More of the 2014 Chardonnay was made in two 500-liter Bel Air puncheons.
Danielle continued our tasting with Desparada's 2013 "Suitor." This release was Desparada's first Pinot Noir, although there will not be one in 2014. One of Vailia's main interests is Cabernet Sauvignon, and several of the Desparada wines are Cabernets and blends, including "Sackcloth & Ashes" (a Bordeaux-style blend), "Borderlands" (Cabernet Sauvignon, Cabernet Franc, Grenache, and Syrah), and "Purist" (100% Cabernet Sauvignon). In the works is a program for making multi-vintage Cabernet Sauvignon blends, made using a solera system, perhaps best-known as a method for combining vintages of Sherry, though it's used elsewhere too. Danielle said that they will start out blending the Cab in a 600-liter French oak demi-muid and will expand the program from there. The first release is still a ways off, but it will be worth keeping an eye open for it.
A few 500-liter terra cotta amphorae were evident in the winery, and they've been used for the "Borealis.1.e4" Sauvignon Blanc that came out under the label's Explorer Series. An upcoming Nebbiolo, sourced from Luna Matta Vineyard, was fermented in amphora and is being aged in barrel (both newer and neutral). Danielle told us that other new wines in the pipeline include Barbera and Tempranillo.
Several of the latest Desparada bottlings have already sold out, so we were only able to taste three current releases, but along with the 2014 Chardonnay barrel sample we tried, I think that we at least started to get feel for the label's wines. Danielle was terrific in guiding us through the wines and explaining what she and Vailia are aiming for. The "Fragment" Sauvignon Blanc was my favorite of the wines we tasted but they were all highly distinctive. The spirit of experimentation is very evident at Desparada. There are lots of grape varieties and vineyard sources, plus different and novel winemaking methods – really a "no rules" kind of environment. From interviews I've read with her, Vailia does seem like a restless soul – a true "desparada," one who does not stop. It should be fascinating to see what new projects develop at Desparada in the coming years.
| | |
| --- | --- |
| | |
After we finished up our visit with Danielle at Desparada, we had some spare time and headed right across the street to Barrelhouse Brewing Company. Eric spotted a chalkboard behind the bar with a list, though he was a bit disappointed to learn that "Naked Walrus" was the name of a band set to play at the brewpub and not one of their beers…I think Eric was ready to order one. Naked Walrus IPA – you can't deny that it has possibilities! Barrelhouse offers plenty of regular and seasonal brews, and it turned out that all six of us ordered something different. While we were enjoying our beers, I spotted Amy Butler of Ranchero Cellars with a group of people at the next table and I went over to say hello. Amy introduced me to the rest of her group, which included local wine bloggers "Hoot 'n' Annie."
We finished our beers (well, most of us did…I'm not naming names but there were a couple of lightweights in our crew!) and drove the few miles north into town to check into our motel. The Melody Ranch Motel is my regular place to stay in Paso Robles. It's not the newest or fanciest place in town but it's clean, reasonably-priced, the owners are friendly, and best of all it's within easy walking distance of all the downtown Paso restaurants. We all checked in, freshened up, and grabbed some bottles of wine to bring along to our dinner, but we did have one more winery to check out first – fortunately the tasting room was right downtown, just a short walk away.
Tasting Notes: Current Releases

Dilecta 2011 "Unorthodox," Paso Robles. 100% Syrah, sourced equally from Caliza and Alta Colina vineyards, 30% whole-cluster fermented, aged in about 50% new oak. Medium-dark purple, this showed intense and ripe dark berry fruit along with smoke and spice aromas. Medium-bodied with a fairly bright texture and moderate tannins.

Dilecta 2011 "The Tiller," Paso Robles. 64% Grenache from Russell Family Vineyard and 36% Syrah from Caliza Vineyard, 60% whole-cluster fermented, aged in once-used puncheons. Medium color, with a more red-fruited profile along with savory herbal notes, spice, and touches of flowers and sweet oak. Medium weight with a lively mouthfeel and fine tannins on the finish, nice.

Dilecta 2012 "The Tiller," Paso Robles. 65% Grenache from Russell Family Vineyard (100% destemmed) and 35% Syrah from Caliza Vineyard (100% whole cluster), aged in 80% new French oak. Medium purple color, featuring upfront savory and floral aromas plus bright cherry fruit, and spice and sweet oak in support. Medium-bodied with great acidity and moderate tannins, nice.

Dilecta 2012 "Unorthodox," Paso Robles. 42% Syrah, 42% Mourvèdre, 16% Grenache, aged in about 30% new oak. Medium purple, with a more savory/herbal character than the 2011 bottling, along with black cherry, earth, and a touch of black pepper. Medium rich texture with plenty of balancing acidity and refined tannins, nice.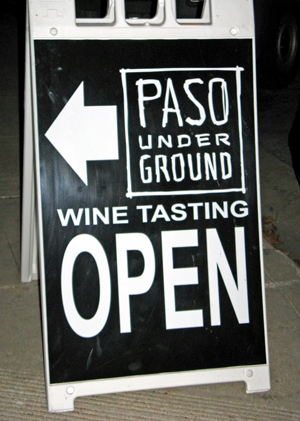 We walked across Paso Robles' downtown park toward our next wine-tasting destination. Paso Underground is a small tasting room located right behind Villa Creek Restaurant – it hosts four wineries who pour there on Friday and weekend afternoons. All four wineries there are smaller and newer ventures – Aaron/Aequorea, Dilecta, Edmond August, and Turtle Rock. It would have been ideal if we'd had time to check out a couple more of them on this visit (I've heard good things about Aaron/Aequorea and Turtle Rock in particular), but our primary focus this time was Dilecta.
Orion Stang is the man behind Dilecta. He was just finishing up a tasting with a couple of other people when we walked in, and he welcomed us over to his table. I'd met Orion briefly six or seven years ago at the Hospice du Rhône event in Paso Robles, and he's certainly come a long way since that time. Orion grew up on the Central Coast, and he credits his parents taking him along on their wine-tasting visits in the early 1990s as an influence that shaped his love of wine. He traveled to Italy in 2005, learning about Tuscan wines during his time there. After returning, he became a certified sommelier and worked at a number of fine restaurants in Southern California. It was during that time that Orion realized that he wanted to make wine himself.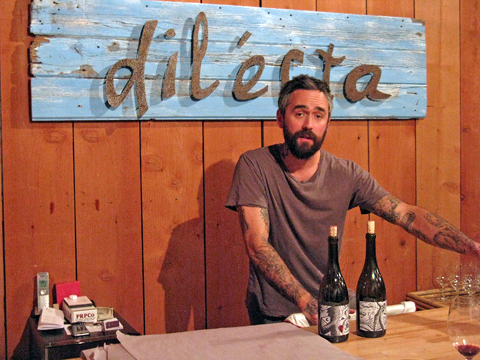 He began that part of his wine journey in 2007 with Eric Jensen at Booker Vineyard, where he started out in their tasting room and continued from there by working in their vineyard and then in their cellar, becoming the assistant winemaker there. By 2011, Orion was ready to start his own label and that became Dilecta's inaugural vintage – the name of the label means "lovely" or "loved" in Latin. He made his 2011 and 2012 wines at the Herman Story facility, and they have received some fine reviews by noted wine critics. In addition to his own label (he produced only about 250 cases of the 2012 wines), Orion is now the assistant winemaker at Law Estate Wines, working there with Scott Hawley, and he's currently making his Dilecta wines at their new facility.
Orion made just two wines in each of the first two Dilecta vintages, and he had both wines from both 2011 and 2012 available to taste at Paso Underground. We started off with the 2011 "Unorthodox," a 100% Syrah sourced from Alta Colina Vineyard near Adelaida Road and from Caliza Vineyard next door to Booker, just north of Highway 46 to the west of 101. Orion told us that this wine underwent a native fermentation and spent about 28 days on the skins. He's used some whole clusters in the fermentations of all of the Dilecta wines, with the 2011 "Unorthodox" being about 30%. Next up was the 2011 "The Tiller," a Grenache-based blend sourced from Russell Family and Caliza vineyards, and aged in once-used puncheons.
Orion moved on to his new 2012 releases, starting this time with "The Tiller," which has a nearly identical varietal blend to the 2011, with 65% Grenache and 35% Syrah. The Grenache was entirely destemmed while the Syrah was 100% whole cluster. Our final Dilecta wine was the 2012 "Unorthodox" – unlike the 2011 release, this one is a blend of 42% each Syrah and Mourvèdre with the rest being Grenache. The Syrah, from Caliza Vineyard, used 30% whole clusters in the fermentation, while the Mourvèdre, from Live Oak Vineyard, was fermented with 100% whole clusters, and the Grenache from Russell Family Vineyard was entirely destemmed. While all of the Dilecta wines are aged in a fair percentage of newer oak barrels, the oak seemed well-integrated. I can't conclude the discussion of the Dilecta wines without mentioning the distinctive labels, which Orion's mother designed.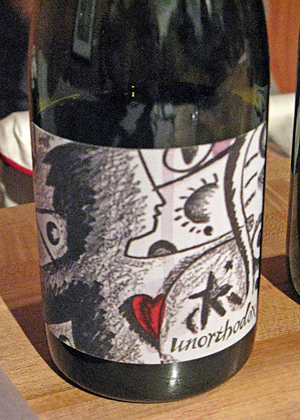 Orion plans to introduce two new wines to his line-up alongside "Unorthodox" and "The Tiller" for the 2013 vintage, although he has not yet come up with names for them. He began working with some new vineyard sources that year as well, including Shadow Canyon in the York Mountain AVA, Bien Nacido in Santa Maria Valley, Kimsey – the westernmost vineyard in Santa Barbara County's Ballard Canyon, and Glenrose, off of Peachy Canyon Road not far from Law Estate. Orion will be getting Syrah from the first three of those sites and Grenache from Glenrose. He'll be increasing his production for Dilecta to about 750 cases for the 2013 wines.
Even though we had limited time to taste the Dilecta wines with Orion, we had a fun visit with him. And in keeping with our trend of unexpectedly bumping into people we knew during our travels, we saw Law Estate Wine's general manager Oliver Esparham doing some tasting at Paso Underground while we were there. Orion is one of Paso Robles' latest rising stars, and his wines show the influence of Eric Jensen and Scott Hawley. The wines are certainly big and bold, but beautifully balanced and undeniably tasty. The 2011 releases were very good – with "The Tiller" being my favorite of the two – but I thought the 2012s were a step up from there, with the savory elements of the wine really sharing the spotlight with the ripe fruit.
Paso Underground is not the easiest place to find – a couple of young women tagged along with us after I'd overheard them having a tough time trying with to figure out how to get there – but it's well worth the effort to locate it. Hopefully the next time I'm in the area I'll have a chance to check out the other wineries pouring there, but even if you're short on time, be sure to stop in to taste the Dilecta wines with Orion.
From Paso Underground, we walked around the edge of the small downtown Park to reach Second Press Wine Bar & Eatery, our dinner destination. It's a fairly new place, and I'd had a very good dinner there in spring 2014 so I thought it was worth another visit. We all shared appetizers (including really good fried Brussel Sprouts) before our main courses arrived. I had a tasty pork tenderloin, and we all brought out the wines that we'd carried along with us. A short walk back to the motel is always welcome after a nice wine dinner, so this worked out perfectly. Overall, we'd had a fine first day of our Central Coast wine trip.