Northern California Wine Tour – May 2018 – Part 1
I attend a number of wine-tasting events every year, and sometimes mention to vintners that I'd like to visit them in the future. It hit me last year that there were an increasing number of these vintners who are located in far-flung California wine regions, making a trip to see them tougher for me to do. But I thought that there were enough places that would be interesting to visit in parts of the state where I'd never gone to check out wineries and vineyards – far northern and far southern California – that I should consider making the treks there. Most of the areas I hoped to visit are not particularly well-known as wine regions, so I thought this would be a nice opportunity to get off the beaten track and perhaps make an interesting discovery or two along the way. I worked on arranging a wine tour of each area, and my trip to Northern California wine regions was the first of the two.
My Northern California wine tour was planned as a fairly short one, just three days. The places I visited were not really in the far northern end of the state, but they were farther north than I'd been before. I've been to wineries and vineyards in the Sierra Foothills many times, but never farther north than the Placerville area of El Dorado County. So I started this tour in more northerly parts of the Sierra Foothills, starting in Placer County (two wineries) and moving north in the Foothills from there to Nevada County (three wineries) and then to Yuba County (three wineries) the following day. From there, I headed considerably farther north to very different landscapes in Tehama County (three wineries) on my final day.
Eric Anderson of Grape-Nutz was originally planning to join me for the Northern California wine tour but had to cancel shortly beforehand, so this turned into a solo expedition. I started out on Cinco de Mayo, on an overcast and fairly cool morning. From the Bay Area, I drove up Interstate 80 past Sacramento to the historic gold rush city of Auburn, the capital of Placer County. There are about 20 wineries located in the general vicinity of Auburn and the surrounding Foothill country, and they've grouped themselves along the Placer County Wine Trail. I did not make any winery appointments on my first day, and just stopped in at tasting rooms. After getting off the freeway in Auburn, I didn't have too far to drive to my first destination.
My first stop of the day was at Mt. Vernon Winery, just to the northwest of Auburn. I arrived a little before their opening time, so I took a few minutes to take a look a their estate vineyard next to the tasting room parking area. Soon the doors of the vine-covered tasting room opened and I walked in. Jeri was behind the long wooden tasting bar and welcomed me in.
The winery is owned by Jim and Lynda Taylor, and their son Ryan is the winemaker. He also consults for other local wineries and manages vineyards in the area. Mt. Vernon's estate vineyard was first planted in 1996, with seven acres of several varieties, including Zinfandel, Barbera, and Pinot Noir. They'd had Syrah planted there as well but it was pulled out not long before my visit. The winery uses estate fruit plus other fruit purchased mostly from other Placer County vineyards. The first vintage for the winery was 1999, and the tasting room (a former milk house built in 1950) opened in 2000.
Jeri started me out with tasting many of the current Mt. Vernon wines. Two of their bottlings – their white and red "BCR" wines – deserve special notice. The winery donates 12.5% of the proceeds from each purchase of these wines toward funding for breast cancer research. I learned that Mt. Vernon's wines tend to be barrel-aged for longer than at many wineries, using both French and American oak. Annual production is about 7,000 cases, the most of any winery in Placer County.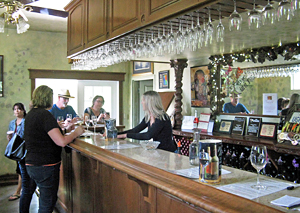 I tasted through a dozen wines with Jeri. There were several non-vintage blends as well as vintage-designated wines on the tasting menu. Though I didn't feel that any of the wines were true standouts, a few were noteworthy. One was the 2016 Estate "Zin-Berra" (67% Zinfandel, 33% Barbera) – very Zin-like in character with lots of spice and vanilla, and a moderately rich mouthfeel and finish. The NV "Zinful" was a classic old-school late-harvest Zin, a little sweet and a bit rustic, with moderate tannins. I thought two of the best wines I tasted at Mt. Vernon were two sweet wines. The 2006 Reserve Port, made from four traditional Portuguese Port varieties, featured plummy fruit along with smoke, milk chocolate, and orangepeel aromas, a rich texture, and fairly grippy finish. The 2016 Late Harvest Viognier, sourced from Cooper Vineyard in Amador County, had stone fruit and lychee scents, with a viscous mouthfeel and long, sweet finish.
Mt. Vernon Winery has a beautiful and pleasant tasting room, but I thought that most of the wines I tasted there were unremarkable. To me, they displayed the effect of too much time spent in barrel, with a couple of them showing volatile acidity and others seeming to be overly oaky, particularly several that had the distinct dill notes that some American oak barrels can give to wines. As mentioned, I felt the sweet wines were the strongest of the bunch, so if you're on the lookout for sweet wines in the Auburn area, a stop at Mt. Vernon might be just the ticket.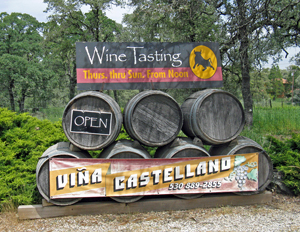 I had tasted a few wines from Viña Castellano in the past so I decided to check out their current offerings while I was in Placer County wine country. The entrance to the winery is along a scenic country road a few miles north of Mt. Vernon Winery, and I arrived at the gate right at opening time. I'd hoped that would be a nice, quiet time for a visit, but it turned out not to be the case that day. Just as the winery gate was being opened a small tour bus rolled up next to me, and it proceeded to follow me to the tasting room parking area. It carried a local ladies' wine group, and they quickly took over the space at the small tasting bar. Fortunately for me, the tasting room – which is located in a small, rock-covered wine cave – also had a number of tables, and Cassandra from Viña Castellano suggested that it might work better for me to take a seat at one of them rather than try to fight for space with the group at the bar.
The Mendez Family owns the Viña Castellano winery and estate vineyard, and the winery's focus is on wines from Spanish grape varieties. They planted their 8.5-acre estate vineyard in 1999, and varieties grown there include Verdejo, Garnacha, Monastrell, Tempranillo, Syrah, and Cabernet Franc. The site is at about 1,300-foot elevation, and the vineyard is farmed using sustainable methods. In 2004, Derek Irwin was hired as the Viña Castellano's viticulture and winemaking consultant, and the winemaking operations were moved to the property the same year. Wines are made entirely from estate-grown fruit, and red wines are typically aged from 30-36 months in French and American oak and one further year in bottle prior to release.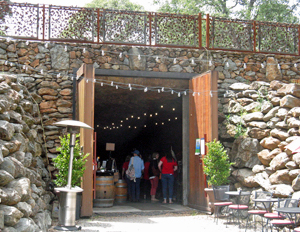 In addition to tasting wine inside the cave, guests can also enjoy one or more different sangrias, and they can order a platter that includes artisan Spanish meats and cheeses, tapenades, Marcona almonds, herbed olives, plus almonds covered with dark chocolate and sea salt.
After I'd taken a seat in the tasting room, Cassandra brought over a succession of four Viña Castellano wines for me to taste. The 2015 Rosado, made in stainless steel from Syrah and Grenache, had bright red fruit but the bottle I tasted from was somewhat oxidized (perhaps open for awhile?) and the wine had a notably short finish. The 2014 Garnacha was better, with black cherry and raspberry fruit along with spice and oak notes – this didn't seem especially true to the grape variety in character but was pleasant. Next was the 2014 Monastrell, with plummy fruit, earth and spice notes, and somewhat tart and grippy on the finish. I finished up with the 2014 Tempranillo, which had smoke and dark berry fruit aromas along with dill and spice, bigger structure and chalky tannins – this showed some potential but could use more time.
After my tasting, I took a sandwich that I'd packed in a cooler out to one of several picnic tables overlooking the vineyard – a beautiful spot for lunch in this area. I thought the Viña Castellano wines I tasted were not really up to my expectations, since I'd tried a few of them in the past that I remember liking better than these. I'd say the 2014 Tempranillo was my favorite of the bunch. As was the case with my previous stop that morning, I had the sense that the wines might have been better off with less time spent in barrel. But in light of my previous experience with wines from Viña Castellano, I'd consider stopping by the winery again if I'm in the area.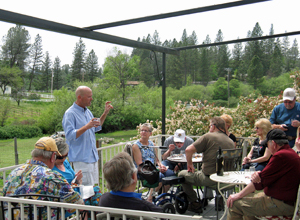 After my picnic lunch, I drove on to my second northern Sierra Foothills wine region of the day – Nevada County. About 20-25 miles north of the wineries near Auburn and at elevations ranging from a few hundred to a couple of thousand feet higher, this is a considerably different growing region. Vineyards and wineries in Nevada County are spread out over a fairly wide area but are more or less centered around the town of Grass Valley, where there are also a number of tasting rooms. I was told that there are currently over 25 wineries in Nevada County, a bit more than in Placer County to the south.
My first winery visit in the area was sort of a last-minute decision, and rather than take the more direct route north from Auburn to Grass Valley along Highway 49, I took the slightly longer – though probably just as fast if not faster – route along Interstate 80 to Colfax, where I turned north onto two-lane Highway 174. In just a few miles, I passed through the small town of Chicago Park, named for early Italian-American settlers who arrived there from Chicago, many of them planting orchards and vineyards. Just outside of town, I turned onto Mount Olive Road and soon came to Montoliva Winery. The winery name is Italian for the name of the road – a tribute to the town's early settlers as well as an apt name for this winery that specializes in wines from Italian grape varieties.
As was the case with many wineries that weekend, I found that Montoliva was holding a special event that day – in this case, not just for Cinco de Mayo but also for their wine club pickup day. Knowing that their small parking area would not be able to handle all the cars, the winery opened up a grassy, sloping area next to one of the winery buildings that provided plenty of overflow parking. I walked over to the tasting room, which was busy with visitors. Kate and Gina were behind the "L"-shaped tasting bar and welcomed me in.
Kate and Gina poured me the first of many Montoliva wines I tasted, and I also wandered out to the patio overlooking the estate vineyard, where owner/winemaker Mark Henry was pouring tastes of wines for a good-sized group enjoying the pleasant afternoon outside. Originally in the beer business in Seattle, Mark said that he got bored with making beer – he noted that making wine may be many things but boring is not one of them! He and his wife Julianne purchased the property outside of Chicago Park and Mark planted the vines there in 2000. A fan of Italian wines – particularly those from central and southern Italy – he felt that the area was well-suited to growing many grape varieties from those regions.
The five-acre estate vineyard is on a hillside situated at 2,200-foot elevation, and is planted mostly to Sangiovese (a number of clones) along with some Aglianico and a little Moscato. Mark has recently expanded the vineyard with a number of additional varieties – Negroamaro, Primitivo, Montepulciano, Teroldego, Canaiolo Nero and Aleatico. Vines are planted on dense 4x3 spacing, and no pesticides are used in the farming, with compost made from processing the grapes going back into the vineyard. There's only about 6-8 inches of mostly decomposed granite topsoil at the rocky vineyard site, with volcanic rock and soil below, something Mark feels is similar to what is found in many parts of southern Italy.
In addition to fruit from the estate vineyard, Montoliva uses fruit from a number of other vineyards in the Sierra Foothills and elsewhere. Among these other sources are Viani Vineyard in El Dorado County (Falanghina and Barbera) and Heringer Vineyard in Clarksburg (Teroldego, Nebbiolo). Mark has said that his aim is to produce wines in what he calls a rural Italian style. He favors extended macerations and 2-3 years of aging in French and Slovakian barrels for most of his reds.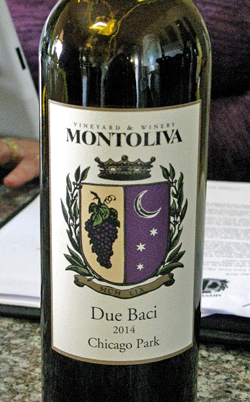 I came back into the tasting room to finish up with a few other wines, where a number of other tasters and I were entertained by the winery cat. In addition to the wines I tasted during my visit, Montoliva produces a number of other bottlings, including Dolcetto, Negroamaro, Primitivo, "Mark's Magia" (70% Primitivo, 30% Negroamaro), "Sierra Bella" (blend of Sangiovese, Nebbiolo, Teroldego, and Barbera), Late Harvest Barbera, and a Vin Santo (Barbera-based sweet wine). The winery's first vintage came in 2006, and current annual production is around 1,300-1,500 cases.
The first wine I tried was the 2015 Viani Vineyard Falanghina – Montoliva was the first California winery to release a Falanghina, a variety from the Campania region of southern Italy. Bright stone fruit and tropical fruit aromas with a touch of fresh herbs, medium-light weight on the palate with fine acidity, and a clean finish, very nice. All of the other Montoliva wines I tasted were reds, with the exception of the 2017 "Sei Ore" Rosato – made from Sangiovese grown on the estate vineyard, with 6 hours of skin contact prior to pressing. This was a bit floral, with strawberry and herb notes and a pleasant, medium-light texture.
Since I moved back and forth between the tasting room and Mark pouring wines out on the patio, I'm sure I didn't try everything in the optimal order, but since the tasting was not rushed, I don't think that mattered very much. My first Montoliva red was the 2014 Nebbiolo, with fruit sourced from Heringer Vineyard in Clarksburg – bright cherry and floral aromas, with earth/tar notes and a touch of oak, medium-light bodied with fairly big but not aggressive tannins. A young but promising Nebbiolo. The 2013 Nebbiolo was similar, maybe a touch less floral but with more of a spice component on the nose, and with a slightly grippier tannic finish. Another wine from Heringer Vineyard fruit was next, the 2014 Teroldego. Red fruit, herbs, and a smoky note, with medium-light weight and moderate tannins. Next up was a blend, the 2013 "Sinistra" – 65% Teroldego and 35% Barbera. Mark noted that the blend of these two grapes evens out the acidity of the wine. This displayed more upfront black cherry fruit than the previous wine, plus plenty of spice and herbal undertones, with a lively mouthfeel and finish.
My next wine was the 2014 Aglianico, sourced from estate fruit plus some from Amador County. Earthy dark berry fruit, licorice and spice, with just a hint of oak in the background, this showed great structure with a firm tannic finish – good now but deserves some time in the cellar. The 2014 "Due Baci" was a blend of 75% Sangiovese and 25% Aglianico that's all from the estate vineyard and from nearby vineyards in the Chicago Park area. Featuring juicy upfront black cherry fruit with undertones of earth and herbs, this had lively acidity and moderate tannins – very tasty. I moved along to the 2013 Estate Sangiovese, from the estate vineyard – this showed earthy aromas with cherry and spice in support, with good structure and a slightly tangy finish. My final wine at Montoliva was the 2014 Viani Vineyard Barbera, with fruit-forward cherry aromas along with spice, dried herb, and earth notes, fine acidity and moderate tannins.
I'm very glad that I decided to stop at Montoliva Winery, unquestionably the highlight of my first day of northern Sierra Foothills wine tasting. Kate and Gina in the tasting room were both friendly and knowledgeable, and Mark did a great job of engaging his audience out on the patio. The wines were good across the board, with some real standouts – my favorites were the 2015 Falanghina, 2014 Nebbiolo, 2013 "Sinistra," 2014 Aglianico, and 2014 "Due Baci." Although the Montoliva reds receive a fair amount of barrel aging, it seemed to work much better for them than for many of the wines at other producers I visited that day.
I'd say that Mark made a wise decision in planting and working with Italian grape varieties – not only does that help set his wines apart from other producers in the region but the area seems well-suited to growing these varieties as well. He specifically sought out a place to plant Italian varieties and felt that the soil and climate in the Chicago Park area were what he was looking for – as he put it, "I selected the region, the region didn't select me." If you're looking for a place to taste some very good wines in the Nevada County wine region, I'd highly recommend a visit to Montoliva.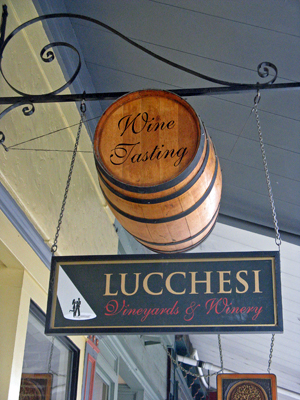 I'd asked a few friends for suggestions of Nevada County wineries to visit, since I'd had very limited experience with any of them, and one friend suggested Lucchesi. Their actual winery and vineyard are located a little ways off the highway to the south of Grass Valley but they also have a tasting room right along the main street of town. Normally I'd opt for a winery and vineyard location, but since I thought I might be pressed for time that afternoon, I decided to stop at the tasting room since it was less of a detour from my route. There was a fair amount of traffic as I drove into Grass Valley, as there were Cinco de Mayo events going on in town. One of those – a classic car and hot rod show right on the main street of town – was just wrapping up when I arrived there. I soon spotted the Lucchesi tasting room and walked inside, where Linda Clough, who owns the winery along with her husband Mario, welcomed me in.
The winery name comes from Mario's original family name of Lucchesi. Mario and Linda planted their 20-acre estate vineyard, located between Grass Valley and Chicago Park, in 2000 – it's planted to eight grape varieties on a terraced southwestern slope. Their winery was completed in 2002, and Matt Wentz is the vineyard manager and winemaker for Lucchesi. Wines are made from both estate-grown and purchased fruit.
As I probably should have anticipated, Cinco de Mayo might not have been the best time to visit the downtown Grass Valley tasting room of Lucchesi, as there was a good-sized and somewhat raucous crowd there. I took a seat at the long wooden tasting bar, where I was able to talk a bit with Linda. It was a bit tough to hold much of a conversation, with the noisy crowd as well as with a guitar player – there to entertain the tasting room guests – who decided to take a seat right next to me. I have to say, the guitar player was pretty good and even managed a surprisingly convincing Neil Young vocal impression on "Harvest Moon"!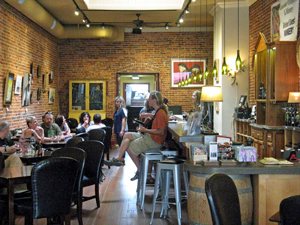 Linda poured me six wines, and none of them particularly hit the mark for me but four of them were still deserving of some notes. The 2016 Cabernet Franc, aged in 50% new French and Hungarian oak, featured bright upfront berry fruit plus plenty of spice and an herbal note in the background, with good acidity and moderate tannins. The 2016 Zinfandel was fairly light in color, and had spicy and peppery aromas with raspberry fruit and fine tannins. Next was the 2016 Tempranillo, which displayed plummy fruit and stony mineral notes along with smoke and earth notes, lively acidity, and a grippy tannic finish. The 2015 Cabernet Sauvignon had lots of upfront spice on the nose, with plum and darker berry fruit, good structure, and firm tannins with chalky mineral undertones. Other Lucchesi wines include Sauvignon Blanc, Pinot Grigio, Chardonnay, Sangiovese, Merlot, Petite Sirah, Syrah, red blends, plus sparkling and Port-style wines.
The Lucchesi tasting room was clearly a popular spot to be on the day I visited, though I felt the wines came up a bit short. The ones I noted above were not bad but mostly unremarkable, though the 2016 Tempranillo – my favorite of the wines I tasted – was quite nice. If you happen to be in the town of Grass Valley, the Lucchesi tasting room has lots of old-time character and may be worth a visit, especially if you're checking out the other wine tasting rooms right there in town as well.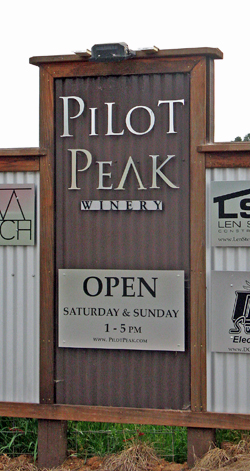 I wanted to make one more winery stop in Nevada County on the first day of my Northern California wine tour, and I decided to drive a few miles west of Grass Valley to the region known as Penn Valley. I'd heard of several wineries using fruit from vineyards in Penn Valley so this seemed like a good time to take a quick look through the area. I headed west from Grass Valley on Highway 20, then turned south and drove through beautiful fields, pastures, and tree-studded hillsides. At around 1,400 feet, Penn Valley is at a considerably lower elevation than the vineyards in the Chicago Park area southeast of Grass Valley. My final stop of the day was at Pilot Peak Winery, located on a hillside on the west side of the valley. When I arrived a little after 4pm, they were starting to wind down a Cinco de Mayo celebration, which featured several wine-tasting stations spread out on two terraced patio levels, with a band playing on a lower level and a food truck out front.
I got started at the first tasting table on a covered terrace outside the winery. It turned out that this table was manned by Len Stevens, one of the winery owners. He and his wife Nancy along with friends Lynn and Jacque Wilson established Pilot Peak in 2004. They have a small estate hillside vineyard not far from the winery, growing mostly Sauvignon Blanc plus some Mourvèdre. They supplement this with fruit they purchase from other vineyards, mostly within a 10-mile radius of their winery. Lynn is the Pilot Peak winemaker.
Although I was able to enjoy the Cinco de Mayo event at Pilot Peak, I did miss out on their usual weekend "comparative tasting." This includes a complimentary small appetizer plate and a flight of wines to taste at your own pace while sitting at one of the patio tables. In addition to their Pilot Peak label wines, the winery also produces several "drink now" wines under the Peak-A-Boo label as well as their "ZaMORE" wine that's sold in a container designed so that customers can come back for a refill.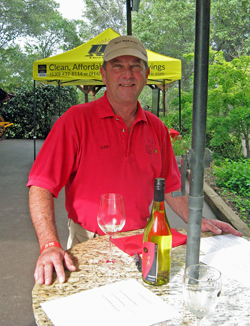 After tasting a sparkling wine and a couple of whites with Len, I made my way to the various tasting tables on the patios. Overall, I tasted 10 wines at Pilot Peak and a few of these were noteworthy. The 2016 Sauvignon Blanc, made entirely in stainless steel with no malolactic fermentation, showed mildly floral aromas along with stone fruit and green apple notes, medium acidity, and a clean finish. The Peak-A-Boo 2010 "LiVedo" is a Barbera-based blend that also includes Cabernet Franc, Petit Verdot, and a little Petite Sirah – this had lots of upfront black cherry fruit and spice, along with notes of dill and vanilla, with a fairly rich texture and moderate tannins. The NV "ZaMORE" – a blend of Tempranillo, Barbera, Cabernet Franc, and Primitivo – was a solid everyday red with spicy dark berry fruit. The 2014 Syrah was smoky and plummy with hints of pepper and spice, finishing with firm tannins. My favorite was the 2013 Tempranillo, showing plenty of pepper plus a stony mineral component, along with darker fruit, smoke, and vanilla on the nose, bright acidity and a chalky tannic finish.
The Cinco de Mayo event at Pilot Peak was an enjoyable way to conclude the wine-tasting part of my first day on the road. Len was a great host and the atmosphere at the winery was a lot of fun. I thought wines were a bit inconsistent but the better ones were very pleasant – my favorite was the 2013 Tempranillo with the 2016 Sauvignon Blanc close behind. I felt the overall quality of the wines was a step up from several of the other producers I visited that day, and I'd say that Pilot Peak is worth a stop if you're in the Penn Valley area.
I chose the location for my Saturday night stay based on its proximity to my first Sunday morning appointment, so I had close to an hour's drive west and then north through beautiful Sierra Foothills scenery after my last winery visit of the day in Penn Valley. The small town of Brownsville in Yuba County has one motel and only one café open after 6pm (fortunately right next to the motel), so my choices were limited but I made the best of it. Brownsville Motel is a small, older place that could use some loving care, and new owners are in the process of giving it some. Pretty bare-bones, but quiet and comfortable. Next door is the Brownsville Station Café, another place with new ownership and with surprisingly good food for such a small, out-of-the-way town. I ordered the roast pork, which came with a nice mushroom gravy that had sautéed fresh mushrooms, plus roasted new potatoes with rosemary, and green beans with bits of bacon. The portion was huge, more than I could finish and really enough to split among two people. It also came with a green salad, which was excellent, way better than I'd expected for a place that's pretty much in the middle of nowhere. Amazingly, the price for all this was only $13, a great value! Not gourmet dining by any means but a solid and tasty meal without spending a lot.
The first day of my Northern California wine tour was full of hits and misses, and honestly…more misses than hits. I've run into similar issues before in areas such as these – relative backwaters for California wine – where small producers develop strong local followings that buy up their wines year after year but by doing so, don't provide much incentive to improve them. I found a number of the wines during this day's tastings to be marked by a good deal more oak than I prefer, and in some cases perhaps a questionable choice of the type of barrels used. But judging by the number of people at several of these wineries, the wines are very popular among the local crowd – and each winery did have at least one or two wines that I enjoyed. Montoliva was the exception to the other wineries I visited on Saturday and was easily my favorite of them – very nice wines, and head and shoulders above the other four wineries of the day. I'd say that Pilot Peak was my second favorite of the day's visits. It was interesting that my favorite wine at three of the places I visited was a Tempranillo – perhaps more wineries in Placer and Nevada counties might try working with Spanish (and Italian) grape varieties. I had more familiarity with the producers I would be visiting on the next day so my hopes were up for a better overall experience.