Vol. 12 No. 5 - November '04
Part 2 of 3 - Journal and tasting notes from visits to several California wineries and vineyards.
Napa Valley
Wednesday, November 3, 2004
Up early, I grabbed some coffee and a croissant in Healdsburg, and headed out of town for the trek east over to Napa Valley to start day three. The easiest way to Howell Mountain from Healdsburg was to take Mark West Springs Road over the Mayacamas to Calistoga and head south. The first stop was going to be on Howell Mountain, then back to St. Helena (Spring Mountain, actually), then back to Calistoga, Oakville, Yountville, and Napa in that order. With six visits scheduled, the day was going to be very challenging - I just had no idea how challenging. What's that they say about the 'best laid plans.' I had the last several stops planned for the south end of the valley, so that at the end of the day, I could leave from Napa to an overnight stop in Paso Robles, before continuing on to Santa Maria for Thursday's schedule.
We had a 9:00 appointment at Outpost winery on Howell Mountain to meet with winemaker Thomas Brown. Our main reason for visiting with Thomas Brown was to test drive the Pinot Noir from his new label, Rivers Marie. Eric Lundblad had suggested we contact him for a visit, and I wrote Thomas an email to set it up. Since he consults or serves as winemaker for several wineries in both Napa and Sonoma Counties, we had some options for visit locations. However, since I'd fully packed our Sonoma schedule, we opted to see Thomas on Wednesday, which meant Napa Valley. So, the timing of our visit took us to Outpost winery, on Howell Mountain. Driving up the winding road to Angwin, we arrived at the Outpost property in a light drizzling rain.
We found Thomas inside the winery with a crew doing some crushing. After introduction, he led us over to an adjacent house, and into the kitchen. Make youself at home, he said. Almost by accident I wandered over to the sliding door. Looks like a great view, I said. Go out onto the deck if you want to see a view, urged Thomas. Vineyards sloped away from the house both to the north and to the west.
Founded by Terry and Juli Pringle, the Outpost winery and vineyards are situated at 2200 feet up on Howell Mountain. Purchased from Bob Lamborn of Lamborn Family Vineyards in 1997, the Zinfandel vines here are 20 years old. Outpost debuted a 400 case production from the 1998 vintage. Now owned by Frank and Kathy Dotzler, Ehren Jordan made the first wines, but now plays a consultant role to winemaker Thomas Brown. As it turns out, Jordan and Brown go back a bit - with Thomas being Ehren's first assistant while at Turley (or, actually the third employee, as Thomas puts it). After Turley's purchase of the Pesenti winery and vineyards in Paso Robles, Thomas was sent down to ramp up production. It wasn't long after that Thomas struck out on his own. In addition to the Outpost Zins and Petite Sirah, Thomas is also making the Schrader Cabs, taking over the w/m duties in 2000 from John Kongsgaard. Were this not enough, he's also making Chardonnay, Pinot Noir, Merlot and Syrah for Nicholson Ranch.
Selected Tasting Notes:
...from bottle...
2002 Rivers Marie Pinot Noir - Summa Vnyd (young vines), Sonoma Coast. Due to be released in Spring '05, this isthe first crop from a 4th leaf section. Wonderful black cherry, with just a touch of wild strawberry. Excellent balance, with cherry and light earthy notes, and long slightly crisp finish. 50% new oak.
2002 Rivers Marie Pinot Noir - Summa Vnyd (old vines), Sonoma Coast. Beautifully rich nose, plush on the palate, with a light meaty taste, and smooth long finish. 100% new oak. From 1/2 ton/acre yields.
2002 Outpost Zinfandel - Howell Mtn. Loads of fruit and splashes of pepper come through in the nose and mouth of this wine. Smooth and sweet on the palate, with nicely balanced finish.
2002 Schrader Cabernet Sauvignon - To-Kalon Vnyd. Nose of cassis, toast, and a touch of vanilla. Rich and smooth, fine-grained tannins, exceptionally balanced, lush long finish. Beautiful!
2002 Outpost Petite Sirah - Howell Mtn (Park Muscataine cuttings). India ink in color. Slightly sweet dark fuit, black olive and spice in the nose. Huge mouthfeel, yet amazingly smooth and rich, with long balanced finish.
Thomas first took us through his two Rivers Marie Pinots - one each from both the older and newer blocks of Summa Vineyards. Located on Taylor Lane in Occidental, this vineyard was a favorite of Williams Selyem - although they didn't always release a Summa bottling. Thomas' wines were both fabulous - of the two, I give the 'old vines' the edge - due mainly to its smoothness and richness.
Since we were in the Napa neighborhood, Thomas had also brought out an Outpost Zin, a Schrader Cab, and an Outpost Petite Sirah - which came from the vineyard just to the north of the house.
These were all impressive wines, and it seemed interesting to me, that in this age of specialization, Thomas not only likes working a very wide range of varietals, but he also appears quite good at it too. I wondered why. It turns out that he feels working with different grapes helps him maintain a sharper focus on each individual variety. I certainly coudn't argue with that, as the proof was certainly in the glass.
We thanked Thomas for his time and headed for our next stop. The drizzling rain had stopped, and the day was off to a great start. So far we were on-time, and we hoped to keep it that way. From here, we headed over to Spring Mountain to visit one of the pioneering wineries of the Napa Valley.
A visit to Stony Hill had been suggested to me by Marti LaPlante, someone I'd met at the Green Valley Symposium. Although I recognized the Stony Hill name, I really didn't know much about them, and decided to check out their website. I was surprised to find they only made white wines. White wines only, I kept repeating to myself while furrowing my brow. Well, now there's something you don't see every day - someone who only makes white wine? With a Napa Valley address, how could it be that a winery was not making a Cabernet, I wondered. I was intrigued.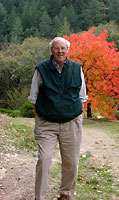 Peter McCrea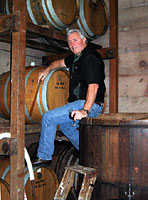 Mike Chelini
We drove across the valley through St. Helena and up Spring Mountain Road into the Mayacamas. Left turn, through a gate, and we arrived at Stony Hill, pulling into the McCrea's driveway and up the hill to the house. The drive up Spring Mountain Road was beautiful, and the scenery looked fabulous from this vantage point. Peter McCrea came out to meet us, introducing us to his wife Willinda and their winemaker Mike Chelini. We stood there for a bit, chatting and admiring the grounds. The rain had stopped falling, and the sky was alternately filled with grey clouds and blue skies, giving different effects to the vineyards and surrounding countryside.
Peter's parents, Fred and Eleanor McCrea originally bought a 160-acre ranch on Spring Mountain in 1943. Vineyard planting began in 1947, using mainly Chardonnay vines, with lesser amounts of White Riesling, Gewurztraminer, and a small amount of Semillon. The average elevation of 600 feet make it an ideal location for growing Chardonnay grapes, up and away from the heat of the valley floor. The winery was built in 1952, which amazingly made it the first new winery built in the Napa Valley after Prohibition. The first vintage of Chardonnay was also produced that same year.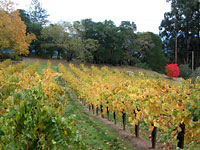 Peter suggested we walk down to the winery and try some wines. Leading us out onto to the back patio, it was like looking at yet another Sunset Magazine pictorial shot. From here, we could see a pool and grounds, as well as an older winery building, just off to the right. Shall we taste some wine, Peter suggested. After admiring the lovely carved doors, Mike led us inside the winery. Aside from the doors, the building didn't look 50+ years old from the outside. But once inside, the the facility took on more of an aged look. At first glance, I assumed that the many large older barrels I saw were there merely for show and tell. But, I was quite surprised to hear that the older cooperage is in fact still used each year. Given the absence of new oak and the lack of malolactic fermentation, I figured these wines would show fruit, fruit, and more fruit. And, after Mike pulled several barrel samples for us, and it was indeed obvious - these wines were loaded with pure Chardonnay fruit! So, Mike, where's the red wine, I asked kiddingly. Oh, we do have some Syrah in barrel. Syrah, I said in astonishment, where'd you get that? Oh, we have a 1/2 acre, he said nonchalantly. Very nice stuff - and I notice they keep this to themselves.
Selected Tasting Notes:
...from bottle...
2003 Stony Hill Gewurztraminer - Estate. Nose of dried spiced lemon and orange peel. Dry and lightly spicy on the palate, with nearly perfect balance.
2003 Stony Hill Riesling - Estate. Crisp and fruity, with a hint of floral and light spices. Lightly crisp on the palate; very Kabinett-like.
2002 Stony Hill Chardonnay 50th Anniversary - Estate. Loads of apple-like fruit, very smooth across the palate, with a lightly crisp finish.
2001 Stony Hill Chardonnay - Estate. Somewhat toastier than the younger 50th anniversary, the time in bottle has certainly added something here, and the result is a gorgeous silky mouthfeel.
2000 Stony Hill Semillon de Soleil - Napa Valley. Fresh and flowery, with a nice hint of caramel in the nose. Sauternes-like in mouthfeel, nice viscosity, smooth long finish. Made by drying the fruit in the sun for up to seven days before crushing.
With old vine Chardonnay and over 50 years of tradition, longevity seems to be the watchword here at Stony Hill. Apparently, the vineyard crew's family has been here for twenty or more years. And, in these days of roving top-gun winemakers, Mike Chelini seems to be setting a record of his own. He arrived at Stony Hill in 1971, and since 1977, has been the winemaker at Stony Hill - the only winemaker!
After some barrel sampling, Peter suggested we take a look at the vineyards. We strolled up the road by several old vine plantings, and finally made our way back to the house. Shall we get some lunch, he asked, as we walked back toward the house. Willinda invited us to help ourselves to a lovely buffet lunch she'd prepared. Peter and Mike put out several bottles of wine at lunch, and we were able to try the entire Stony Hill lineup - with lunch. We had an incredible time, talking about wine, food, and life.
Needless to say, we were really enjoying our visit. Unfortunately, our schedule was now falling woefully behind. I glanced at my watch, and excused myself for a moment to call ahead to our next stop, to let them know what was undoubtedly obvious - we were running late. Saying goodbye to Peter and Willinda, we thanked them both for their generous hospitality. We also thanked Mike for leading us through some very nice wines, and headed off for Calistoga at flank speed.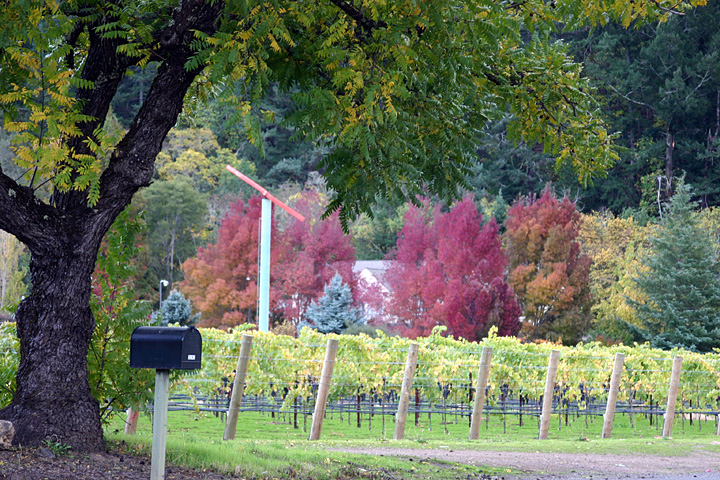 Vineyard and color - Calistoga
Selected Tasting Notes:
...from bottle...
2002 Zahtila Zinfandel - Russian River. Nose of boysenberry and dried blackberry. Very nice balance, good mouthfeel, slightly tart on the back end. Fruit source: Deloach.
2002 Zahtila Zinfandel - Sonoma County. Nose of boysenberry compote, with a nice old vine smoothness on the palate, and slightly sweet finish. Fruit source: Dry Creek old vines.
2000 Zahtila Cabernet Sauvignon - Napa Valley. Lots of cassis and dried cherry aromas in the nose. Full bodied, very nice balance, long finish. Fruit source: Vincent Arroyo. 850 cases.
2001 Zahtila Cabernet Sauvignon - Napa Valley, Beckstoffer Georges III. Beautiful cassis-infused nose of toast and mocha. Rich and full on the palate, beautiful balance, and smooth long finish. 425 cases.
After trying the Zahtila Beckstoffer Cab at a local tasting several months back, I decided to add this winery to my schedule. I emailed Laura Zahtila and arranged a convenient time to meet. When I called ahead from Stony Hill to apologize for our delay, I could tell that I was causing her some inconvenience. It sounded as if our late arrival would make our visit coincide with another group. On the surface, this didn't necessarily seem like a bad thing, but I did feel badly for missing our appointed time, and offered to postpone the visit to another time in the future. But, Laura said to come ahead to the tasting room - that she'd work us in.

After a brief drive down the mountain, we headed through St. Helena and up Silverado Trail to Calistoga to meet with Laura Zahtila, owner of Zahtila Vineyards. Unfortunately, we were now running an hour behind schedule. Walking into the tasting room, we could see that it was probably Laura who was working the room. Sheepishly, I led our party past some other patrons, down to the back end of the tasting bar. Hi, would you like to try some wine, she asked. Sure would - are you Laura, I asked back. Yes, I am, she nodded. Well, I'm your one-hour-late appointment, and I'd like to apologize once again. Well, these things happen - hope you don't mind trying the wines here. Not at all, I said. Ordinarily, I'd start asking questions about the winery and vineyards. But, we'd already missed out on what she may have planned for a tour, so it seemed more prudent to quietly sample the wines here in the tasting room.
A little about the Zahtila property: the vineyard was originally planted in 1976 by the Traulsen family. A frequent visitor to the Napa Valley, Laura Zahtila decided to resign her position with Cisco Systems to try her hand at being a vintner, and bought the Traulsen property in 1999.
This was a good stop, albeit a short one. The wines were all very good here, and I highly recommend a visit. Just be sure to arrive on time if you make an appointment. On the downside, it was an opportunity lost. But, on the upside, it did put us back closer to our original schedule.
In planning the Napa Valley visits, I solicited some suggestions from some people in the business, as well some of my travel group from the Bay Area. Alan Rath had suggested I take a look at Detert Family Vineyards. As soon as I heard they had a older Cabernet Franc vineyard, I was hooked.
I emailed Tom Garrett, who along with his brother John and Bill Cover own Detert Family Vineyards. In addition to his own label, Tom also works with Heidi Barrett at the Revana facility on Hwy 29, so we agreed to meet there to try the Detert lineup. Later on, Tom called to say that he needed to leave a day earlier than expected for a trip out of town. We tried to connect in Santa Rosa, where they make their wine, but both my Sonoma days were filled up. Then Tom offered that his brother John might be able to meet us instead, and put me in touch with John. We agreed to meet at the family house in Oakville, a stone's throw the To-Kalon Vineyard. In fact there is some other notable real estate nearby, and Detert is in close proximity to places like Harlan, Paradigm, and Far Niente.
Selected Tasting Notes:
...from bottle...
2002 Detert Cabernet Franc - Oakville. Nose of chocolate-covered cherries and a touch of herb and toast. Chewy mouthfeel, with a beautiful silkiness throughout.
2002 Detert Cabernet Sauvignon - Oakville. Huge dusted cherry and cocoa nose. Full and rich on the palate, chewy body, excellent balance and long smooth finish.
Driving down Silverado Trail, we turned west down Oakville Crossroads. Next, I had to make the dreaded dart across traffic - crossing Hwy 29 and continuing straight toward the Mayacamas. Continue past the 'Do Not Enter' signs, John had told me, and keep going straight up the driveway at the end of the road.
We continued up the vineyard-lined road past the 'stay out' signs, to an immaculate-looking farmhouse. Knocking on the side porch door, we hoped we were in the right place. John, I asked. Yep, come on in, he said, glad you guys made it. It was a beautiful old house - inside and out.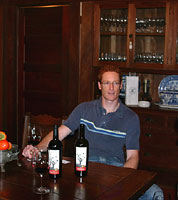 John Garrett
Inside, John was pouring a Cab and Cab Franc. He told us that the family had been growing Cabernet Franc in Oakville for four generations. The vineyards were planted in 1949, and purchased by Tom and John's great-grandmother Detert in 1953. There are currently 19 acres planted - predominantly Cabernet Franc. A majority of the vineyard was replanted in the '70s and '80s, and the Cabernet Franc has been used over the years for the Mondavi Reserve Cab, as well as the Opus One blend (until the Opus vineyards came on line).
After Tom gained experience with the likes of Turley, Joseph Phelps, and Mondavi, the family decided it was time to make their own wine. Detert has made a Cabernet Franc since 2000, but 2002 is the first year for a Cabernet Sauvignon, and there are two bottlings. One is made of fruit from the Detert and Horton vineyards, the other a single-vineyard bottling of Horton old vine fruit. Adjacent to the estate Cab Franc vineyards, the Horton vineyard is owned by another a great aunt, Gabriele Horton, and was part of the original Detert property. This too had been a component of the Robert Mondavi Reserve Cabernet for many years.
It was getting to be late afternoon, and the sky was darkening with clouds again. We thanked John for the visit and the tasting, and continued to move along with the rest of our scheduled visits.
Selected Tasting Notes:
...from bottle...
2002 Hill Family Pinot Noir - Carneros. Nose of cherries, cherries, and more cherries, with a nice vanilla note in the background. Very flavorful, and slightly grippy on the palate, with lots of structure. From the Napa side of Carneros, and a vnyd planted in 1997.
2001 Hill Family Origin - Napa Valley. Plenty of dusted cassis, black cherry and vanilla in the nose. Rich, smooth and lush on the palate, chewy body, lovely balance and smooth long finish. (Will not be made in '02 vintage.)
2001 Hill Family Merlot - Napa Valley, Beau Terre Vnyd. Wow! Lots of cassis, dark plum, and cherry in the nose. Rich and full on the palate, delicious fruit, excellent balance,long fruit-filled finish. Excellent Merlot! (Made from lots created by Bill Balentine and Gove Celio, and finished by Allison Green.)
I was familiar with Hill Family Estate, but hadn't tasted any of their wines. So, when Michelle Hunt suggested we pay them a visit, I was quick to add them to the schedule. I first met Michelle last year at a visit to Rockledge. Since she works in the wine business and lives in the Napa Valley, she has some very keen insight on the Valley.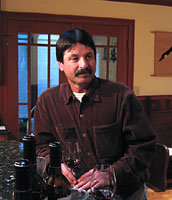 Doug Hill
A light rain had started to fall as we pulled up to Doug Hill's house in Yountville. Doug welcomed us in, and showed us inside and over to the kitchen bar/counter of his spacious yet cozy house. To digress a bit, I recall when I first started wine touring (probably 20 years ago), the chances of visiting someone in their own house was really not not that unusual. Not everyone had - nor even wanted a tasting room. Pretty soon, larger and fancier tasting rooms started springing up, and it became more rare to pay a visit to someone's house. Being invited into people's home over the past three days, it suddenly it occured to me - I'd come full circle.
Doug chatted with us about how he and his family had been long-time growers - first in Sonoma County, and finally in Napa Valley, where he works directly with people like Michael Havens and others. Doug established several 30 year leases on vineyards, and farms a total of about 900 acres in the Valley. He planted the Sacrashe Vineyard in Rutherford, the source of fruit for Delectus and Kathryn Hall Cabernets.
The Hill Family is now starting to make their own wines, along with the help of local consultant Allison Green. Doug made slightly under 1,200 cases in '02, bottling a Bordeaux-blend named Origin, a Merlot, and a And, still wanting to remain small, Hill Family's production is 1,500 cases for the '03 vintage, with about 1,800 cases for '04.
Even though it was getting late, we still had one more stop to make. We thanked Doug, and leaving Yountville in a light rain, we headed south to Napa for our last stop of the day.
Our last visit was going to be with Jocelyn & Lonen wines - and another stop suggested by Michelle Hunt. I'd sampled a few of their wines at the 2004 Family Winemakers of California last June, and they were all very nice. They had also gotten some accolades from the wine press last year with a high scoring Cabernet from Krupp Vineyard, and I was very interested in tasting more of their wines.
Selected Tasting Notes:
...from bottle...
2002 Jocelyn Chardonnay - Russian River Valley. Fascinating nose of floral and fruit aromas. Slightly sweet in mouthfeel, lots of body, very nice balance and a nice crisp finish. Wente clone from Bohn Vnyd located near Kistler.
2001 Jocelyn Cabernet Sauvignon - Napa Valley. Nose of cassis and dried herbs. Moderately full mouthfeel - more claret-like, with very nice balance and smooth finish. A blend of fruit sourced from Mt. Veeder and Pritchard Hill
2002 Jocelyn Cabernet Sauvignon - Mount Veeder. Nose of cherry cordial with a light chocolate note. Slightly bright fruit, full and rich in body, excellent balance with fine-grained tannins, and long finish.
2001 Lonen Cabernet Sauvignon - Krupp Vnyd. Nose of cherries jubilee with a light mocha and toast. Smooth yet gripping mouthfeel, slightly sweet-sour fruit, delicious throughout.
2002 Lonen Cabernet Sauvignon - Krupp Bros Vnyd. Dark cherry nose that shows more herbaceous qualitites than the previous wine. A bit tight in mouthfeel, less herbed in taste than smell, tasty, with nice long finish.
2002 Lonen Cabernet Sauvignon - Santa Cruz Mtns, Susan's Vnyd. Very nice earthy and slightly herbed notes to the big dark fruit. A bit rustic in overall mouthfeel, nice balance, and long smooth finish.
There was a light drizzle falling as we drove into Napa and over to the Curtis house. Had it not been dark, we'd have met at the Laird winery, where the wines are made by Josh Krupp. The rain had stopped - at least momentarily, as we went up to the door. The recently completed house still showed signs of the family moving in, and I hoped I wasn't intruding. Meeting in a lovely formal dining room, Jocelyn Pack led us through the six wines, and we chatted about the family's move to Napa and its goals.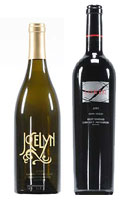 The winery is owned by Lon and Susan Curtis, who, along with daughter Jocelyn Pack began production with the 2000 vintage. Originally from Boise, Lon and Susan moved to California in 1984. As their own interest in fine wine blossomed, they planted an 1,100 vine vineyard in the backyard of their Saratoga home. Lon left the high tech industry in the late 90s in order to learn more about winemaking and start the winery, and the couple purchased some property in the hills on the east side of the valley on Soda Canyon Road, about 4 miles off of Silverado Trail. Until their own vineyards came on line, they set about looking for fruit. In a nice twist of fate, they had read an article about Jan Krupp's Stagecoach Vineyards, which just happened to be a few miles up Soda Canyon Road from their own property. It turned out that Krupp suppplied fruit to several of their favorite labels: Altamura, Cain Cellars, Cardinale, Atalon, Stag's Leap Wine Cellars, and Paul Hobbs, among others. Approaching Krupp, they were able to establish long term contracts with for some top fruit from both the Krupp and Stagecoach Vineyards. For a white varietal, the family source Chardonnay from the Russian River Valley. Thus far, Lonen/Jocelyn have produced two fabulous of Russian River Chardonnay, 2000 & 2001, as well as a 2001 Russian River Valley Zinfandel Port. With production numbers still under 1,000 cases, the winery plans to grow slowly to around 4,000 cases. The labels come from the names of their daughter and son. The Lonen label will be devoted to Bordeaux style red wines and the Jocelyn will be dedicated to the burgundy style wines, and/or other projects.
It was getting late, and the rain had now begun in earnest. We thanked Jocelyn and her family for their kind hospitality, and wished them well. I needed to get to Paso Robles for a night's sleep, then off to Santa Maria Thursday morning to do some barrel sampling at Arcadian. Stopping for gas just outside of Napa, I spotted a Starbucks. I figured a Vente Latte and a scone would help get me where I needed to go. The rain continued, heavy at times, all the way south. I finally arrived in Paso about 11:00, pretty much exhausted from just too much fun over the last four days.
---
---
Copyright © 1993 - 2005, Eric Anderson -
All rights reserved
No original material may be reproduced without written consent
Mail & Comments - Eric Anderson