Vol. 12 No. 5 - November '04
Part 1 of 3 - Journal and tasting notes from visits to several California wineries and vineyards.
Acknowledgements
Once again, I decided to travel around Northern California with some folks from the Bay Area. The northern group included: Bob Summers, Ken Zinns, Alan Rath, Eric Lundblad, and Everett Bandman. Meanwhile, on the Central Coast, Ken Zinns and Al Osterheld were aboard for the ride. Thanks to everyone for your participation, and especially to Bob Summers for bringing wines and making a lunch for all of us to share. Those of you who couldn't make it this time out, really missed a great road trip.

My intention was to spend a couple of days in the Sonoma Coast & Russian River area gathering material for a journal and pictorial essay, and then try to cram in six visits in Napa Valley, followed by two days Santa Barbara County. I contacted several wineries, winemakers and growers to start setting things up, and this determined which days worked best for either Napa or Sonoma. From there, it was all a matter of fitting in each of the pieces for their respective appellations.

Barrel Tasting: one of the most instructive ways to sample wine is also one that causes more than a little angst among winemakers. The wines being sampled from barrel haven't finished developing yet. Therefore, winemakers are often concerned the wines may be misjudged or unappreciated by tasters during this growth stage. Since the tasting notes in this report contain many barrel samples, please note that my impressions relate only to the wine at its current stage of development.

SONOMA COUNTY: Thanks to the many winemakers and winegrowers for their hospitality. Adam Lee and Mike Officer were more than happy to pop bungs and corks for us. A special thanks to David Hirsch for his generous hospitality, and to the Peays for making us feel so welcome. Thanks also to Rick and Diana DuNah for their warmth and generosity, and to Renae and Bruce Perry for inviting us into their home. To Dan Goldfield, thanks for your patience, and for the crazy ride. Finally, thanks to Bryan Dempsey at Mirepoix for making our reservation work so well.

NAPA VALLEY: In addition to the many winemakers who opened their doors to us, a very special thanks to Peter and Willinda McCrea of Stony Hill. Their warmth and hospitality had to be the highlight of the entire trip. Also, many thanks to Thomas Brown, and to Tom & John Garrett of Detert, and Doug Hill of Hill Family, and to Jocelyn Pack of Jocelyn & Lonen for welcoming us into their homes.

SANTA BARBARA COUNTY: Thanks to the many growers and producers who entertained and instructed us. And thanks to Barry Rossum for the barrel tour at Arcadian, as well as setting up a terrific dinner at the Ballard Inn. A special thanks to Chrystal and Steve Clifton and the Honea's for the tour of Honea Vnyd, as well as the followup tasting in Lompoc. Also, thanks to Kris Curran for coming back to barrel taste us on the Sea Smoke Pinots. Thanks also to Dave Corey for his tour of Alta Mesa Vnyd. And finally, a big than you to Karen Steinwachs for her assistance in setting up so many of the SB appointments.
Sunday, October 31, 2004 - Russian River Valley
Heading up a day early, Bob Summers and I had arranged to attend what the promoters hoped would be the first annual 'Pinot on the River' festival, being held at the Retreat Resort and Spa in Guerneville. It seemed like the perfect start to what I expected would be a fabulous week-long trip. It had been raining the week before, but today was nice and sunny and just a little warm - as perfect as it gets!
There was an excellent group of wineries pouring at Sunday's event. I ran into Greg Walter, one of the sponsors, and editor/publisher of the Pinot Report, an excellent monthy newsletter giving in-depth coverage of...you guessed it, Pinot Noir. I was also able to spend time chatting with many of the winemakers and growers, including brothers Nick and Andy Peay, and Vanessa Wong, of Peay Vineyards. We were going to be visiting the Peay Vineyards tomorrow as the last stop of the day - trying to time it so we'd be there just before sunset. I mentioned to Nick that we'd be coming from Hirsch Vineyards, and asked what time we ought to leave Hirsch to get to his place before sunset. Well, there's a shortcut that cuts about 20 minutes off the drive, but I don't think David wants people using it, so I can't really tell you about it, Nick said, apparently serious. But, maybe David will tell you, he suggested. We've been there many times, he said (Vanessa made the last few vintages of Hirsch's own bottlings), and either way, the drive's beautiful. I filed this little tidbit away for future reference.
Winding up the tasting in the late afternoon, I headed off toward Healdsburg, stopping once for a photo opp. Backing the car into a small closed access road off River Road, I stepped out and walked over to a fence to shoot a few pictures. As it turns out, I should have stayed in the car. As I was returning to the car, I noticed my shoe felt funny - like something was stuck to the bottom of it. Besides the leaves and dirt, I'd managed to step into a pile of dog poop - from some obscenely large canine (at least I hoped it was a dog). You've got to love the countryside - pick-up after your dog rules obviously don't apply out here! Scraping most of it off, I put my shoes in the back, and drove barefoot back to town. To paraphrase the old saying, 'no good photo opp goes unpunished.'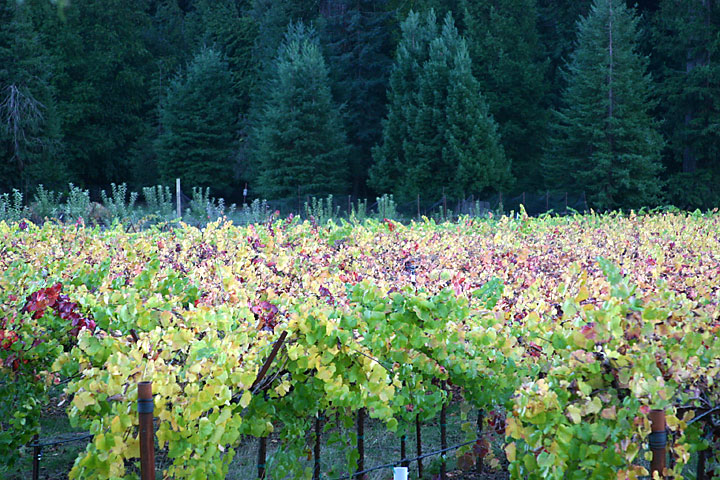 Surrealistic colors light a vineyard at sundown - River Road, east of Guerneville
After checking into our motel rooms in Healdburg, Bob and I struck out for dinner. First stop, the Bear Republic, a nice brew pub located downtown. It looked like they were going to be closing early due to the holiday (Halloween), but we fast-talked one of the bar ladies into setting up beer/ale samplers for each of us. There were 9 or 10 beers available, and at up 8% alcohol each, we were glad to have been spitting out wine earlier in the day. The Hop Rod Rye was great!
For dinner that evening, Bob had suggested we check out Willi's Seafood and Raw Bar a day in advance of our scheduled Monday dinner with the rest of our traveling buddies. The place was great. There were lots of smaller portions on the menu, and we were able to order several dishes that paired well with the wines we brought (1997 Sine Qua Non "The Complicator" Pinot Noir, a 1997 Ch. de Beaucastel Blanc). Especially satisfying were the Crispy Calamari, the BBQ'D Bacon Wrapped Scallops, and the Hanger Steak.
Monday, November 1, 2004 - Santa Rosa, Sonoma Coast
Up early, Bob and I first drove over to Copain to pick up his recent allocation. Since Carlisle is also based out of this facility, we'd be coming right back here to meet with Mike Officer, after kicking some barrels at Siduri. We headed over to meet with Adam Lee, where Ken, Eric, and Alan joined us.
Selected Tasting Notes:
...from barrel...
2004 Siduri Pinot Noir - Ewald. Lots of sweet and sour cherry aromas. Rich, balanced mouthfeel, long finish. Historically, Dehlinger has pulled fruit from this property.
2004 Siduri Pinot Noir - Olivet Grange. New barrel. Touches of espresso accent the dark fruit. Full and chewy palate, grepey flavors, very long finish.
2004 Siduri Pinot Noir - Garys. 5c rootstalk. Seemed a bit one-dimensional in nose and mouthfeel, moderate extraction.
2004 Siduri Pinot Noir - Garys'. 3309 rootstalk. Richer in mouthfeel, with a touch of citric quality in the mouthfeel.
2004 Siduri Pinot Noir - Keefer. Rich in nose and mouth, with lots of black cherry throughout. Light sweet-sour quality on the palate, bit tart on finish.
2004 Siduri Pinot Noir - Rosella's. Pommard clone. Sweet black cherry nose. Rich and chewy mouthfeel, and long finish.
2004 Siduri Pinot Noir - Cargasacchi. Slightly minerally and brooding in nose and mouth, with dark fruit, loam and a touch of herb. Very chewy on the palate, long lingering finish.
2004 Siduri Pinot Noir - Clos Pepe. Slightly bright in nose and mouth, with a dense streak of sweet earth or loam throughout. From 3/ton/acre - up for .67 ton in '03.
2004 Siduri Pinot Noir - Pisoni. Hermano section. Lots of black cherry and wild cherry on the nose. Rich and sweet on the palate, with beautiful balance and finish.
2004 Siduri Pinot Noir - Hirsch. Somewhat leaner than the previous wines, the cool climate comes through in the acids and more to the raspberry flavor profile. Light notes of earth and leaf, very good balance, long finish.
...from bottle...
2003 Siduri Pinot Noir - Willamette Vly. Very light extraction, yet surprisingly flavorful. Touches of sweet earth, dark and light cherry fruit throughout, nice balance and long finish.
2003 Siduri Pinot Noir - Shaw, Mtn, Willamette Vly. Fleshy, though still a bit tight. Hints of earth and wild flowers, with bing and black cherry, nice balance and finish, complimented by the sweet oak.
2003 Siduri Pinot Noir - Russian River Valley. Nice blend of black and red fruit, with touches of coffee and strawberry predominating. Lightly sweet on the palate, with nice balance and a gripping finish.
2003 Siduri Pinot Noir - Santa Lucia Highlands. Lots of cake spices compliment the black cherry nose. Somewhat rich and chewy, nice balance and finish.
2003 Siduri Pinot Noir - Olivet Grange. Roasted coffee and earthy scents compliment the cherry and wild strawberry fruit. Excellent balance, with light oak noted on finish.
2003 Siduri Pinot Noir - Pisoni. Lots of black cherry, clove and cinnamon in the nose. Rich, slightly sweet on palate, very nice balance, beautiful chewy finish.
2003 Siduri Pinot Noir - Cargasacchi. Dark, brooding and slightly earthy. Dark cherry and blackberry flavors, beautiful balance and weight on the palate, huge long finish.
2003 Siduri Pinot Noir - Keefer. Lots of black cherry and strawberry compote. Rich and ripe on the palate, absolutely delicious.
2003 Siduri Pinot Noir - Clos Pepe. Very focused, excellent balance, surprisingly big at mid-palate, seamless finish.
Arguably, Adam and Dianna Lee of Santa Rosa-based Siduri Wines are the most widely traveled winemakers in these parts. Each year, they will trek the nearly 1,000 miles between their northernmost (Oregon) and southernmost (Santa Barbara Co.) vineyard sources, incessantly checking the condition of the fruit prior to harvest. Despite the rigor of this sort of schedule, they seem to love it, and are quick to tell you why.
By concentrating on just one varietal for their Siduri label, says Adam, they are able to express the terroir of each of the various vineyards they work with - in order to make the best example of Pinot Noir from that particular vineyard.
Originally from Texas, the Lees have been making wine since 1994, moving from the Lambert Bridge facility to their own digs in 1998. As Adam walked us around the barrel room - which has been substantially enlarged since the last time I was here (3/02), I noticed that there actually seemed to be some room to move around now.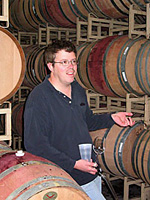 Adam Lee
When we got to the Cargasacchi barrel, I recounted how I'd never heard of the vineyard before tasting it here back in '02 (the wine was the '01). Adam then related a funny story about Peter Cargasacchi. It seems that Adam and Dianna, along with her parents were having dinner with Peter some time back. At some point, one of them asked Peter about some scratches or injury he had, at which point Peter started spinning one of his wild yarns - this time about fighting off a cougar or bobcat. (Peter always makes this believable with a serious expression.) According to Adam, Dianna's dad (apparently a big strapping guy) got very wide-eyed in admiration, taking an instant liking to Peter. Adam was certain he knew exactly what his father-in-law was thinking - now THIS is the guy my daughter should have married! We all had a big laugh, and went on to relate a few more Cargasacchisms.
We tasted through 10 barrels, which would be more than enough for most people. But, Adam wasn't finished just yet, and he continued to haul out bottle after bottle, as we continued to chat about the '04 harvest and various vineyards. This year, Adam and Diana Lee are able to make about 17 different bottlings. However, depending upon their barrel selections, some of the wines may end up in blends, cutting back the number of bottlings. The Lees use very little whole cluster fermentation. They also use about 60% new oak, and don't innoculate for ML. It should be mentioned that none of the '04 barrel samples had gone through ML yet.
Selected Tasting Notes:
...from barrel...
2004 Carlisle Zinfandel - Mounts Vnyd, Dry Creek. Planted 1954. Big and fruit-driven, with gobs of boysenberry and spice throughout.
2004 Carlisle Zinfandel - Darrels's Vnyd, RRV. Formerly Papera Vnyd - planted 1934. More "Zin-like" than the Mounts, with a spicier edge, and touches of raspberry. Slightly brighter in mouthfeel. Free-run juice.
2004 Carlisle Zinfandel - Rossi Ranch Vnyd, Sonoma Valley. Planted 1910. Very concentrated in nose and mouth. Slightly sweet-sour in flavor, with plenty of lip-sticking tannins, and a big chewy finish. Dry farmed. Vnyd was picked 4 times to get equal ripeness.
2004 Carlisle Zinfandel - Carlisle Vnyd, RRV. From .84 tons/acre. Dry farmed. Lots of spicy dark fruit, sweet-sour flavors, big and chewy mouthfeel.
2004 Carlisle Two Acres - RRV. 87% Mourvedre, with field-blend balance of Petite, Valdigue, Alicante, Mondeuse. Lots of coffee-scented black and red fruit in the nose. Earthy and rich in mouthfeel, chewy texture, plush long finish.
2003 Carlisle Zinfandel - Riebli Ranch, Sonoma Co. Planted 1910. About 6% Petite. Very nice boysenberry and blackberry fruit in the nose, lovely core of fruit on the palate, and nice balance and finish.
2003 Carlisle Zinfandel - Fava Bros Vnyd, RRV. Lots of boysenberry and blackberry in the nose. Smooth mouthfeel, and a bit more to the raspberry flavor, with nice balance and finish. Really nice!
2003 Carlisle Zinfandel - Teldeschi Vnyd, Dry Creek. Nose of spicy wild cherry and raspberry, with a dollop of boysenberry. Smooth and very tasty.
2003 Carlisle Zinfandel - Feeny Ranch Vnyd, RRV. (located off Laguna Rd) Very spicy, with just a touch of eucalyptus to the big cherry fruit. Slightly sweet mouthfeel, smooth, spicy and well-balanced.
2003 Carlisle Syrah - Knight's Valley. Nose of black fruit, minerals, meat, and a shot of espresso. Lots of blackberry, with just a touch of blueberry and bacon on the palate. Very nice.
2003 Carlisle Syrah - Bennett Valley. (near Matanzas Creek) 1st crop from this 3rd leaf vnyd. Nose of black fruit, coffee, and chocolate. Smooth and rich mouthfeel, lots of black fruit, moderate spice, very nice balance and long finish.
...from bottle...
1999 Carlisle Syrah - Sonoma County. Nose of blackberry, vanilla, and sage. Earthy blackberry flavors, good balance and finish.
We left Adam Lee to the business at hand, and drove back to Copain's facility to meet with Mike Officer, proprietor of Carlisle Wine Cellars.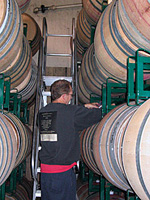 Mike Officer
Mike Officer's story isn't too atypical: 1) wine geek thinks he can make wine and does so, starting off in a "garage" setting; 2) wine geek succeeds beyond wildest expectations; 3) wine geek turns professional and never looks back. In Mike and wife Kendall's case, after making 300 cases in 1997, the Officers turned the corner to "professional" in 1998, focusing on vineyard-designated Zinfandels, along with a few Rhone varietals thrown in for good measure. By 1998, they had decided they needed to plant or buy a vineyard - something to hedge against increasing fruit prices. What they found was the Pelletti Ranch. The property with it's 70 yr-old vines was for sale, and they jumped on it. Renamed the Carlisle Vineyard, it produces some of the most delectable wines Mike makes.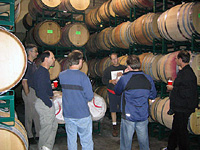 L to R: Eric Lundblad, Alan Rath, Ken Zinns, Mike Officer, Phil Ezell, Bob Summers
We found Mike back in a small corner of this huge facility, just hanging with his barrels. Most of the group knew Mike already, so introductions weren't that necessary. So, what would you guys like to try, Mike asked. How about some of the '04s - how was the harvest, one of us asked. Well, they've only been in barrel a short time, Mike cautioned us. It's okay, we assured him with smiles, we're seasoned pros. Besides, you need to use us as test subjects. Mike generously pulled from several barrels, describing why he'd use a particular vineyard - what it brought to the wine, etc. Finally, Bob had brought along a bottle of Mike's '99 Syrah for all of us to try with Mike. I used to poo-poo bringing a bottle of wine to have with the winemaker. Somehow, it seemed like carrying sand to the beach - afterall, THEY already have wine! But, I think Bob's right on the money, this is a very nice touch to share a bottle of the vintner's juice with him/her. Thanks, Bob.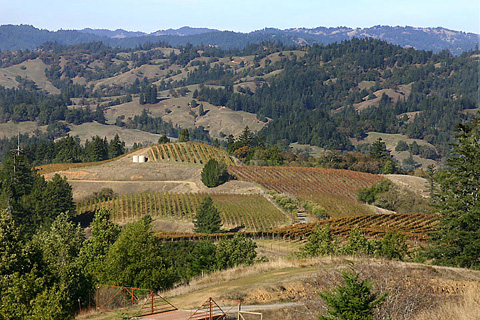 Hilltop blocks at Hirsch Vineyards - looking northeast
At Andy Peay's urging, I had called David Hirsch of Hirsch Vineyards to see if he'd be open to having a group of wine guys drop by. Hirsch was now making his own wine, Andy said, and might be interested in having people come by. So, I gave David a call, and he was indeed open to a visit. We firmed things up, and I told him we'd be there about 1:00. I was downright giddy about the prospect of visiting ground-zero for Sonoma Coast Pinot Noir.
Leaving Santa Rosa about Noon, we headed for the Hirsch Vineyards, located near Cazadero on the coast. I passed some driving instructions on to the two other drivers (Ken and Alan) so that we all knew the way (either to get there, or to get lost).
The roads weaved all through the beautiful remote countryside. I had the distinct feeling that in the dark, this would be an especially difficult drive. We weren't that many miles away from civilization as the crow flies, yet there was also the feeling that it would be a long way to town to pick up a quart of milk.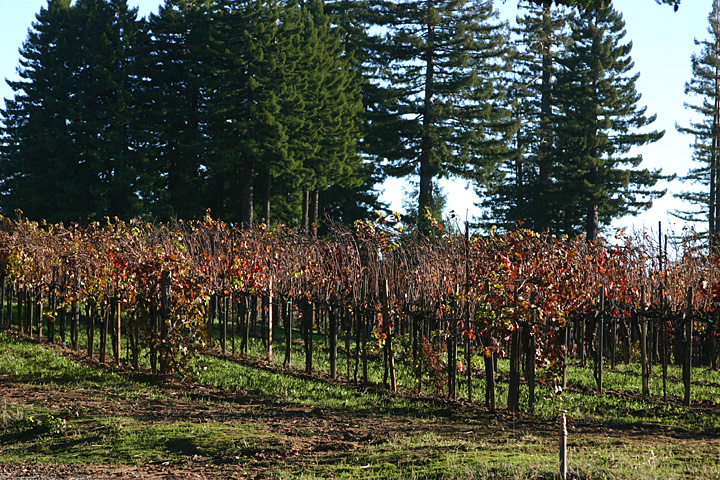 Hirsch Vineyards
I had figured it was about an hour's drive from Santa Rosa, and was pretty close, arriving shortly after 1:00. Driving through several vineyards as we approached our destination, our cars had gotten a bit strung out during the drive. We weren't in sight of each other as Bob and I approached what appeared to be a new winery building on a hill ringed by vineyards. We briefly looked about for some sort of activity, but could see none, and continued on down the road. David's written instructions and map indicated where the house was, so I assumed we'd be meeting him there. Continuing on down the road to the house, we pulled over and parked off to the side and got out to stretch our legs. There didn't seem to be anybody about.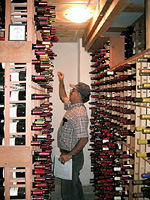 David Hirsch
Shortly, a large pickup truck came ambling down the road toward us - it was David Hirsch. We introduced ourselves. Yeah, I heard you guys drive by up at the winery, but you didn't stop. I thought maybe we'd meet up there. Sure, let's go back up there, I said. Are there more guys with you, he asked. Yes, we've got two more cars - three more guys out there somewhere. Well, since you're here, he said - while we're waiting for them, why don't you come on in and I'll show you around. Maybe I'll grab a few bottles from the cellar as well. Cellar? ...bottles? Sounded good to us!
Inviting us to come inside, David showed us the view from his back deck, and then had us follow him around the back to his cellar. David mentioned that he'd been working to more effectively seal it off, because banana slugs had gotten into the cellar and chewed a few labels - they apparently like to get high on the glue. We chatted while he got his inventory list and proceeded to pull a few bottles. Bob mentioned that he'd brought along a Littori Hirsch to try as well, but that didn't seem to slow David's enthusiasm, as he went through the cellar picking out some of this and that to take back up to the winery. David also loves to collect Maderia, we found out. Meanwhile, Ken and Eric Lundblad had driven on down to the house, and were apparently searching for us. No sooner had Eric found us in the cellar, David declared, okay we've got a pretty good assortment, let's go back up to the winery. We're right behind you, we all said.
Selected Tasting Notes:
...from bottle...
1997 Kistler Chardonnay - Hirsch Vnyd, Sonoma Coast. Nose of tropical fruit, with a touch of citrus and coffee. Full and rich, yet with a nice crispness throughout. Very nice!
1989 Sea Ridge Pinot Noir - Hirsch Vnyd, Sonoma Coast. Lots of color still left, though now getting a bit amber, and the nose had a nice earthy quality to it. The mouthfeel had gotten a bit tart with age, but still had a vibrant strawberry flavor, and wasn't at all ready to fade away.
1997 Littorai Pinot Noir - Hirsch Vnyd, Sonoma Coast. Lots of black cherry and earth in the nose. With alternating sweet and sour, it was as though the sun and fog was playing hide and seek with warm and cold flavors. Still a bit tight, and in want of more age.
2000 Scherrer Pinot Noir - Hirsch Vnyd, Sonoma Coast. Lovely floral scents in the cherry nose. Earthy, and gets a bit puckery with tannins toward the long finish.
2000 Whitethorn Pinot Noir - Hirsch Vnyd, Sonoma Coast. A 'wow' nose here, with floral, herb and bright fruit. Deliciously balanced, plenty of fruit and lingering finish. A blend of 2 to 1 Pommard to Mt. Eden clones.
2002 Patricia Green Pinot Noir - Hirsch Vnyd, Sonoma Coast. Lots of sweet cherry, and light scent of earth in the nose. Lighter body and extraction, but nice sweet flavors on the palate, very good balance and long finish. Mt. Eden clone.
2002 Hirsch Pinot Noir - Hirsch Vnyd, Sonoma Coast. Moderate extraction, beautiful nose of wildflowers and pure cherry. Delicious fruit, excellent balance, and long finish. Made by Vanessa Wong. (David told us he borrowed the Williams Selyem recipie blend of fruit for the '02.)
We found Alan, back up at the winery walking the grounds shooting video. David led us into an office inside the winery to set up bottles. Bob had made some sandwiches (grilled boneless chicken thigh meat with Chinese five spice and Portobello slices sauteed in butter and Pinot Noir), and we started cracking open bottles, pouring wine, and sitting around the table asking questions and swapping stories and sipping Hirsch Vineyard wines. He told us some of his favorites over the past several vintages, and we were able to try the Sea Ridge and Whitethorn as examples.
Interestingly, David likes his Pinot more rustic, rather than lush. Somehow, that seemed to fit exactly with the surroundings. Just a few miles from the ocean, these rugged ridgelines are alternately foggy, sunny, and windswept, which produces a long growing season and some nice pure fruit. Hirsch is on the second ridgeline in, with slightly more altitude than the first (Flowers' location). Here and there, vineyards are placed at levels above the fogline. The fact that the rocky soils vary so much on the ridges, means that the vineyard blocks can be almost haphazardly placed. It also accounts for much of the area looking like some giant patchwork quilt of vineyards from the air.
These coastal ridgetops also have an impressive history - in fact, you have to drive through Marcassin just to get to Hirsch. Originally a sheep ranch owned by George Charles (Lee Martinelli's father-in-law), the Hirsch property covers 1,100 acres, and is currently planted to 44 acres of Pinot and just 2-1/2 of Chardonnay, with more under development. The Pinot vines are split 55% Pommard, and 45% Mt. Eden from the old Martin Ray winery in Saratoga (now Mt. Eden). The oldest vines are about 25 years old, but the majority of the vineyard was planted in 1990. As with many other growers, David's now selling fruit by the acre, rather than by the ton. What with the crop thinning he was doing, he thought is was "self amputation" to sell by the ton. Through most of the '90s, he was getting slightly over 2 tons/acre, but the last few years were down to 1.8 tons/acre.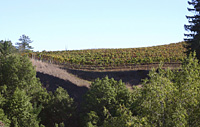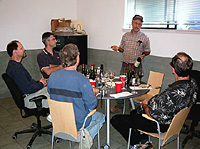 Current and past producers of Hirsch-designated Pinot Noir have included: Littorai, Kistler, Siduri, Williams Selyem, Failla, Scherrer, Patricia Green, and a few others. Now, David is making wines under his own label as well. We asked David what prompted him to start making his own wine - I mean, why not just stay a grower. Well, David said, he wanted to use the wine from each vintage as a reference point - something that would tell him how the vineyard itself is performing - it's assets and it's liabilities. He went on to explain that it just wasn't possible to use the existing wines made by others using Hirsch fruit as any kind of yardstick, principally because winemakers each have their own stylistic approaches - plus, they potentially employ different methods of winemaking during different vintages. In short, without making one's own wine, David felt, you just can't keep track of things, and he wants his wine program to "be a mirror of the vineyard."
I eyed my wristwatch - it was getting near time to leave if we to make it to the Peay's vineyard before dusk. We thanked David profusely for his time and generousity, and started to make our way to our cars. Why don't you take the back road, he said, you'll get there a lot sooner. You have a back road, I asked, trying to sound surprised. Yeah, just go down the road there, he said pointing straight ahead, turn at the stump and then at the fork and you'll end up at the Fort Ross school - turn right there. It'll save you 20 minutes. And we were off, literally in a cloud of dust, and headed for Peay Vineyard.
It seemed like we'd gone miles without seeing anyone else (not that there was room for anyone to pass), and as the road narrowed and we dropped into a hollow, I thought sure I'd missed a turn somewhere. A couple of times, the trail looked nearly abandoned, only to round the corner and find the road much more hospitable. As soon as we came upon the Fort Ross school, we were onto asphalt. It seemed funny - from all that dirt road to lots of SUVs picking up their kids. It was a fantastic drive - heading down a dirt road that descended through the woods, then finally onto asphalt, and all the way to Hwy 1 - just yards away from waves crashing on the rocky coastline. What a gorgeous drive!
From Sea Ranch on the coast, we headed east toward Annapolis. The coastal ridges here seem more heavily wooded, but that's most probably due to the deforestation by man and fire of the Cazadero area where Hirsch was. We finally arrived at Peay Vineyards close to 4:30, and after entering through the gate, we pulled down the road to an equipment shed to shoot a few pictures of the place before the light changed. We probably still had 20-30 minutes before the sun disappeared over the western ridge.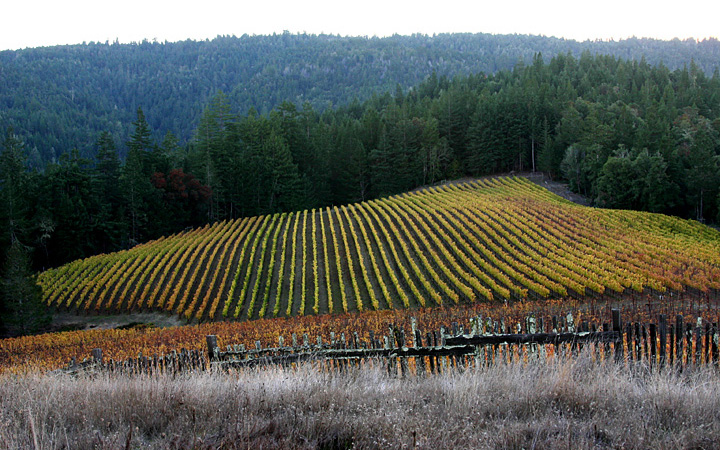 Peay Vineyards
After shooting a few pictures from this vantage point, we headed up to the house. Andy and Nick met us outside. Sorry we're late, I said. I told you you'd be late, said Andy. Everything takes longer out here. Nodding, I agreed, and, after driving the roads of the Sonoma Coast, I could now see why. Andy showed us our relative position on a map, also illustrating the Peay property layout. We stepped out onto the front deck to take in the beautiful surroundings. The Peay property sits on a small hilltop, offering a commanding view. The other ridges to the south and west, give it a comfy feel. How about a little vineyard tour, Nick said. We'd love it, everybody said, and off we went.
A lot of vineyards are beautiful - some are even gorgeous. This one's drop-dead gorgeous. Of course, the Fall colors didn't hurt, either. Nick uses vertical shoot-positioned trellising and 4x8 spacing for the Pinot; bilateral cordon for the Syrah. He explained how the fine silty loam soil drains free of winter water by about August, requiring some irrigation late in the growing cycle to avoid vine shut-down.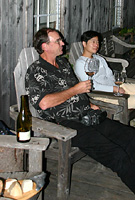 Porch time: Bob Summers; Vanessa Wong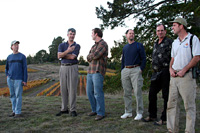 L to R: Ken Zinns, Eric Lundblad, Andy Peay, Alan Rath, Bob Summers, Nick Peay
After touring the vineyard, and taking full advantage of the remaining sunlight for photos, we retired back to the front deck of the house to try a little Peay Viognier with bread and cheese, taking in the breathtaking sunset over the surrounding hillsides. It was easy to see why the Peay's loved this place. The charming old house gets most of its use on weekends.
Nick had already worked for a few wineries when he approached Andy about making their own wine. Andy, whose background had been financial, liked the idea and the two of them decided that in order to be masters of their own destiny, they needed to own the fruit source. They knew they wanted a cool climate location, somewhere on the Sonoma Coast, and a former sheep ranch came on the market at the right price. The Peays bought the 280 acre property (including a 90 year-old farmhouse) in 1996 and began planting two years later. Meanwhile, after stints in Bordeaux and Burgundy, Vanessa started in California with Franciscan, ultimately moving over to Peter Michael. Nick and Vanessa married in 2002.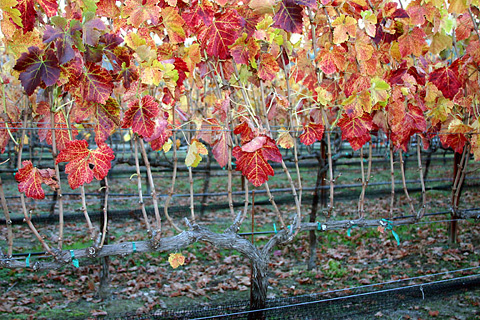 In 1998, the Peays began planting the first 30 acres, followed with an additional 18 acres in 2001. The vineyards now include Pinot Noir, Syrah and Chardonnay, as an acre of Viognier, and minuscule amounts of Roussanne and Marsanne. When it came to Pinot clones, Nick selected a mixture of Mt. Eden, Swan, 115, 667, and Pommard to create what he calls a "pallette of flavors." With their 'if we grow it, they will come' approach, the family has indeed found a ready market for their fruit, selling to the likes of Edmunds St. John, Williams-Selyem, Renard, and Patz and Hall - as well as making their own wine, over in Cloverdale. The first vintage of their own label was 2001, at 1,600 cases. Total production will probably not exceed 5,000 cases.
We had a 7:00 dinner reservation back at Willi's in Healdsburg, so we needed to leave for town. We walked out the back door where the cars were parked. It was pitch black. Thankfully, there were some ingeniously placed reflectors to help us as we backed out and away from the house. In nothing flat (about 1:15), we were in Healdsburg, and ready for dinner. Nick and Vanessa were going to stay on the ranch, but Andy was able to join us for dinner, and would just stay in town at Vanessa's previous house. We delved deeper into some of the same dishes as the night before. Wines included: '03, Rochioli Sauvignon Blanc, '02 and '03 Peay Roussanne/Marsanne, '01 Renard Peay Vnyd Syrah.

Tuesday, November 2, 2004 - Sonoma County
Up early, to head down through Santa Rosa and out to Sebastopol. Everett Bandman was joining me today (yesterday's group rejoined their day jobs - which were then in progress), and he and I were going to meet in Windsor, near the site of this evening's dinner. Unfortunately, Everett got caught up in traffic, so we arranged to meet at our first stop of the day, Kosta Brown.
Speaking of dinner, I wanted to arrange a 6:30 dinner Tuesday evening at Mirepoix restaurant in Windsor. It's a very small place - something like 24 seats, but has excellent food and service, and is very wine-friendly. Besides whoever might be travelling with us on Tuesday, I also invited Al and Virginia Rago, Pete and Barbara Marsh, and Kurt Beitler - making it something of a reunion of our Spring trip. Unfortunately, I hesitated making the reservation until I had a final count of those attending.
If he who hesitates is lost, I certainly was feeling 'out in left field' when I called 10 days beforehand and spoke to Bryan Dempsey, the general manager. We won't be able to seat you all together, she said, and not at all until 8:00 or later. Oh no, I thought to myself, while I tried to think of something to say. I accepted the later time, and was verbally trying to figure out how to split-up the table assignments. Between that and the wheels turning in my head, Bryan could imagine that I was turning on a BBQ spit and finally said, listen, come at 6:30, we'll just work it out. I'm sure there was an audible sigh on my part, as I thanked her for whatever she could do. I decided to somehow thank or make it up to Bryan by finding a bottle of wine that she liked. I contacted one of our dinner guests for a recco, and my hunt was on to find an SQN Pinot. I called a local friend to ask if he knew of a source, and he volunteered his own bottle - for a price! He insisted that his full price was to buy him lunch, and our deal was sealed.
In setting up the day's itinerary, I had an open spot at 10:30 and had been trying to fill it with someone in the Santa Rosa-Sebastopol area. I'd left a message for Rick and Diane DuNah to see if they'd be available, but hadn't heard back. Meanwhile, I'd also left a message for Ed Kurtzman to see if he'd be able to pour us some August West (Ed makes his own August West line as well as the Freeman label at the Kosta Browne winery - so it was potential one-stop shopping). Well, as luck would have it, both my messages were returned with a "sure," so now I had dueling appointments, and we did fall well behind schedule during the day.
Selected Tasting Notes:
...from bottle...
2002 Kosta Browne Pinot Noir - Cohn Vnyd, Russian River Valley. From 40 yr-old vines on a hilltop out near the end of the AVA. Lots of black cherry, with just a touch of raspberry in the nose. Black cherry and strawberry compote in flavors, with excellent balance and long finish.
2002 Kosta Browne Pinot Noir - Sonoma Coast. Clones 667, 115 and Pommard. Two-vineyard blend: 2/3 Carinalli Vnyd, 1/3 Kanzler which is planted entirely to the Pommard clone. Nice earthy/forest floor scents add to the black cherry and spice in the nose. Lovely on the palate - very showy and deliciously. Excellent balance, long finish.
2002 Kosta Browne Pinot Noir - Kanzler Vnyd, Sonoma Coast. Nose of black cherry and blackberry, with a touch of dark olive. Big and chewy mouthfeel, lots of dark fruit, very long finish.
...from barrel...
2004 Kosta Browne Pinot Noir - Amber Ridge (Darien Vnyd), Russian River . Very fruit-driven, lightly sweet nose - a little less so on the palate. Bright cherry and strawberry flavors, long finish.
2004 Kosta Browne Pinot Noir - Cohn Vnyd. Beautiful nose of dark fruit, with a touch of bing cherry. Very nice balance and mouthfeel.
2004 Kosta Browne Pinot Noir - Kanzler Vnyd. Wow! Nose of dark cherry, touch of earth. Big and juicy on the palate, long chewy finish.
2004 Kosta Browne Pinot Noir - La Franchi Vnyd. 828 clone. Big, slightly sweet, with lots of red and black fruit.
2004 Kosta Browne Pinot Noir - La Franchi Vnyd. 777 clone. Sweet, lighter red fruit with light earthy scents in the nose. Smooth and clingy finish.
I called Everett on his cell phone to see how he was progressing through traffic. Things were looking better, he said, so we were both on schedule for arrival at Kosta Browne at 9:30. Navigating my way over the back roads west of Sebastopol to Montgomery Road. I followed the road south for a mile or so looking for some signage, but didn't find any. After doubling back, I found a sign pointing to a dirt road which led through the trees to the Kosta-Brown winery. The sign is visible to those heading north - fortunately, the same direction Everett was heading, and he pulled in at nearly the same time.
Dan Kosta and Michael Browne have been making wine since 1997, in a small facility near Sebastopol. Both have food industry backgrounds, Dan as a somelier, Mike as a chef, and met while working at the John Ash restaurant in Healdsburg. The wine world was an easy segue for them.
From the parking area in front of the winery, I could see Dan was standing alongside an upturned barrel that was serving as the wine bar. A box of crackers was open and a couple of bottles were out - he was open for business. Dan introduced me to his business partner, Michael Browne. How about some Pinot, said Dan. Well, okay if that's all you have, I replied with a grin. While Dan was pouring, Michael went over to a big wall map to point out the locations of their vineyard sources. It was a perfect illustration of how the two have selected a nice variety of prime fruit from Sonoma County.
Since starting in '97 with just 1 barrel of wine, Dan and Michael have certainly come a long way. Kosta Browne made 2200 cases in '02, but will be at about 4000 cases for '04. Pinot Noir is king here, and they've been steadily increasing their production of by adding additional fruit sources (look out Adam Lee). In '02, the pair had 4 Pinots, '03 it was 7 Pinots, and for '04 it will be 10 different Pinot sources.
Selected Tasting Notes:
...from bottle...
2003 August West Pinot Noir - Rosella's Vnyd, Santa Lucia Highlands. 184 cases. Beautiful sweet dark cherry nose. Slightly sweet fruit on the palate, smooth soft tannins, tasty finish.
...from barrel...
2004 August West Syrah - Rosella's Vnyd, Santa Lucia Highlands. 40 cases. Plenty of dark berry and stone fruit, with just a touch of floral qualities.
Ed Kurtzman arrived just as we were winding up things with Dan and Michael, so we moved on to our second course - August West. Here, like to try some '03 Rosella's Pinot, Ed asked. Of course, we'd love to Ed.
The August West label is a partnership between Ed, Gary Franscioni, and Howard Graham. Ed Kurtzman started making Pinot Noir in 1994, at Bernardus Winery, in Monterey County. From there it was on to Chalone for a few years, then on to Testarossa as the winemaker for the 1999-2002 vintages. Gary Franscioni's own Rosella's Vineyard in the Santa Lucia Highlands, provides a major source of fruit to Ed, including seven clones of Pinot Noir, and two clones of Syrah. In addition to Rosella's Vineyard and Garys' Vineyard, Gary continues with his own wine label, Roar. Ed's other partner, Howard Graham, located the site for his own Graham Family Vineyard in 2001, in the heart of the Russian River Valley, in a small sub-appellation called Green Valley, between Forestville, Sebastopol and Graton. In the spring of 2002, he began planting Pinot Noir clones 667, 777, 828, Swan and Calera. This should be a very successful venture.
Selected Tasting Notes:
...from bottle...
2001 DuNah Chardonnay - Dedee's Vnyd, Sonoma Coast. Lots of tropical aromas and flavors, with a nice crisp bite at the finish. Great balance, very long finish.
2001 DuNah Chardonnay - Sapphire Hill Vnyd, Russian River Valley. More subtle than the DeDee's version - almost more Burgundian. Very nice balance and melding of flavors, long smooth finish.
2002 DuNah Pinot Noir - Sangiacomo Vnyd, Sonoma Coast. Beautiful dark cherry and raspberry nose, with a touch of earthy cinnamon. Rich and chewy mouthfeel, excellent balance, smooth long finish.
...from barrel...
2004 DuNah Chardonnay - Dedee's Vnyd, Sonoma Coast. Tropical - more to the pineapple in nose and taste. Crisp and balanced finish.
2003 DuNah Pinot Noir - Blocks1, 2, 4. Due to be bottled in November. Slightly tight, with dark cherry and spice in the nose, and toasty on th epalate.
2003 DuNah Pinot Noir - Blocks4, 6, 2. Very fruit-driven, and less tight than previous sample. Excellent balance, long spiced finish.
2004 DuNah Pinot Noir - Blocks1, 2, 4. "First pick" from these blocks. Tons of fruit, very macerated in nose and mouthfeel, clingy long finish. Very nice!
2003 DuNah "red blend" Carignane - Mendocino - Very nice red and black fruit, very good balance, delicious finish.
Cruising down Blucher Valley Road, we were trying to find the mailbox which marked the road up to the house at DuNah Vineyards. After a few miscues, we finally found the right driveway, and headed up to the house. Driving through the gate we were met by Diane DuNah. Go ahead and park over there, and we'll take a walk around the property. So, Rick and Diane led the way, as we walked around the house. (Their beautiful house is encircled by vineyard and forest.)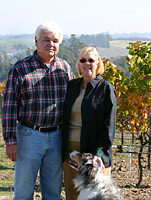 Rick and Diane DuNah
After 25 years, Rick and Diane DuNah retired from their electronic component manufacturing company. Well, what do we do now, they apparently asked each other. With their love of the land, they decided on a vineyard, and in 1998 planted 10 acres on their 44 acre property.
The DuNah vineyard is located in Sonoma County, south of the town of Sebastopol, in the Sonoma Coast Appellation. However, the newly proposed Russian River AVA may ultimately include them. With a 600 foot hilltop elevation, they have a great view of the countryside, and can usually see Mount Diablo, 55 miles to the southeast, as well as the Geysers 35 miles to the north.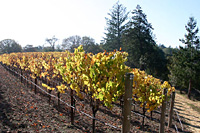 Behind the house, looking north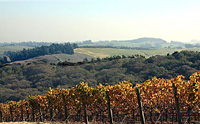 View from the front of the house
The vineyard is planted with 3 Dijon clones of Pinot Noir and 2 of Chardonnay. Vertical shoot positioning is used with 4-5 foot vine spacing on 8 foot rows. Typical Russian River and Sonoma Coast Appellation climate is prevalent with the morning fog below, temperate days, afternoon Pacific Ocean coastal breezes, and cool evenings. Sonoma County sandy-clay-loam Goldridge soil covers the vineyard site with a layer of sandstone several feet beneath. Crop yields are about 3.5 tons/acre.
The winery was established in 2000, and the inaugural vintage was produced in 2001 with purchased fruit. The 2003 vintage marks the begining of DuNah using their own estate grown fruit. Previously, estate Pinot Noir fruit was purchased by Flowers Vineyard and Winery. Winemaking methods include: minimal pressing, wild yeast primary and malolactic fermentations, French oak, frequent lies stirring, and minimal rackings, followed by unfined and unfiltered bottling. Production is about 1,200 cases of Pinot, and about 400 cases of Chardonnay per year. The wines are made by Greg La Follette, at a facility in Sebastopol, where Greg also makes the Tandem label. Recently, Greg also took over the winemaking reins at DeLoach.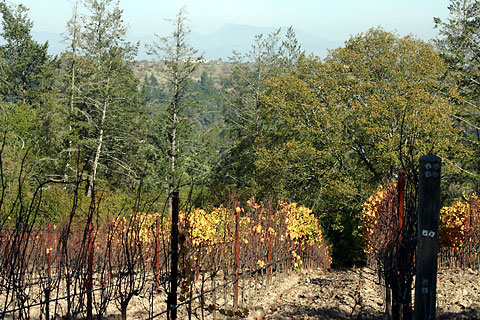 Vineyard merges into forest
After walking around the property and circling the house, we arrived back at a covered side porch, located just off a service room that included a small kitchen. I've prepared a light lunch for us, said Diane. What a perfect cap to the visit - sitting down with our generous hosts to some lunch and a few of their wines. Two DuNah Chardonnays and a Pinot were almost enough to keep us there for the afternoon, but we still needed to get over to the Tandem facility to try a few DuNah barrel samples. Greg LaFollette was originally suppose to join us, but couldn't make it. So, Rick and Diane had asked that some samples be pulled to try some of the '03 and '04 vintage wines.
We were now running more than a little bit late, so I called ahead to Dutton-Goldfield to start alibing our late arrival. I called the office and left a message for Dan Goldfield, explaining that we were running late, but that we'd be there ASAP. We thanked the DuNahs for their kindness and hospitality, and headed out to meet Dan.
Selected Tasting Notes:
...from barrel...
2004 Dutton-Goldfield Chardonnay - Wente Clone. Light citrus aromas in the nose. Lush, yet crisp on the palate, Nice grip to the finish.
2004 Dutton-Goldfield Chardonnay - Rued Vnyd. More to the lemon side of things, yet has a nice floral scent. Nice feel on the palate, excellent balance and long finish.
2004 Dutton-Goldfield Pinot Noir - Freestone. 115 and 2A clones. Obvious cherry and strawberry fruit, yet somewhat tight in the nose. A bit lean and hard on the palate, there seems to be plenty of fruit - just narrow focus.
2004 Dutton-Goldfield Pinot Noir - Galante Vnyd. 667 clone. Very nice floral-infused cherry nose. Meaty and rich on the palate, delicious long finish. Making 64 cases this vintage.
2004 Dutton-Goldfield Pinot Noir - McDougall Vnyd. Still a bit reduced, with an odd beet-like scent in nose. Good mouthfeel, though a bit odd in flavor profile.
2004 Dutton-Goldfield Pinot Noir - Marin Co. From a vnyd near Pt. Reyes. Nice structure, dark and wild fruit, balanced with lots of acids leading to crisp finish.
2004 Dutton-Goldfield Zinfandel - Morelli Lane. Beautiful, almost aged raspberry and boysenberry nose. Plush on the palate, spicy long finish.
2004 Dutton-Goldfield Syrah - Galante Vnyd. (From tank) Grapey, filled with fruit, a bit high-toned and bright.
2003 Dutton-Goldfield Syrah - Galante Vnyd. Light floral scent to the dark fruit, spice, and hint of anise. Nice balance of fruit and acid, long smooth finish.
...from bottle...
2002 Dutton-Goldfield Zinfandel - Morelli Lane. Gorgeous boysenberry and spice in the nose. Surprisingly smooth, very tasty, nice balance and finish.
I had previously met Dan Goldfield at the Green Valley Symposium, this past April. I was impressed with his wines, and wanted to see and hear more about Dutton-Goldfield. When I made the appointment through Dan's office, I was asked what I'd like to see and do. I mentioned that I'd be doing a photojournal of Sonoma County, but would also like to taste some of his wines.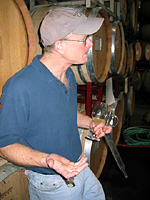 Dan Goldfield
No problem, she said. How about if we start at the vineyard, and wind up at the winery, she asked. Sounds great to me, I said. Rather than meet at the Dutton Ranch, we were asked to meet Dan at Balletto Vineyards, at their winemaking facility on Occidental Road in Santa Rosa. Luckily, it turned out to be five minutes away from where we were. Arriving at the winery, we tried the front office, and were told that Dan was around the corner in the back of the building.
Showing ourselves in, I could hear Dan talking on the phone to someone about a shipment. Waiting for him to finish the conversation, I'd hoped he wouldn't be too upset at our late arrival. Hi, Dan, geez, I apologize, I guess we're more than a little late. Yes, you sure are, Dan said, but it couldn't have happened at a better time. It was apparent that he had some issues to solve, and our tardiness had unwittingly given him extra some time to do so. But, I still wanted to explain that I'd made an attempt to reach him: I'd called and left a message at your office saying that we were running behind, did you get that? No, that number is over at the Dutton facility and there might not be anyone in the office right now. Feeling as though I was making things worse, I offered that we could put this off until another time. No, no, it's alright - it just shorts us a little on time is all, he said. I was beginning to feel a little better about the situation, and Dan was very accommodating. He led us back into the winery (they make Dutton-Goldfield here at Balletto) to try some barrel samples, and we chatted about his methods and wine background. These wines are all about balance and crispness. Full on fruit, yet never plodding on the palate.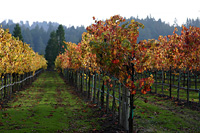 Morelli Lane Vnyd
Steve Dutton and Dan Goldfield decided to launch their own winery in 1998. Steve is the fifth-generation of the family to live in the area, and began working with his father, Warren, when he was only five years old. Moving full time into the family business in 1987, Steve is now responsible for farming not only the original family vineyard, but also over sixty additional plots of some of the finest Chardonnay, Pinot Noir, Syrah and Zinfandel in the Russian River Valley and Sonoma Coast appellations.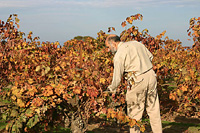 Everett Bandman
Meanwhile, Philadelphia native Dan Goldfield made his way to California in 1980 to do chemistry research at UC Berkeley. But, his passion for wine led him to enter UC Davis to study winemaking. He finished his M.S. in Enology in 1987, while working at Robert Mondavi. Soon thereafter, Dan joined Schramsberg as associate winemaker. In 1990, Dan was recruited to be Winemaker at La Crema Winery, where Pinot Noir and Chardonnay were the main focus. In 1993, Jess Jackson purchased La Crema, and a year later Jackson asked Dan to develop a new winery, Hartford Court, to focus specifically on cold-climate Pinot Noir and Chardonnay from western Sonoma County. Between 1990 and 1998, Dan did that very thing, frequently working with Steve Dutton on a number of new vineyards in the colder areas of the Sonoma Coast appellation. His winemaking at La Crema and Hartford Court attracted a number of assistant winemakers who would go on to continue the cold-climate winemaking movement at Flowers, Willliams-Selyem, Hartford Court, La Crema and Alderbrook.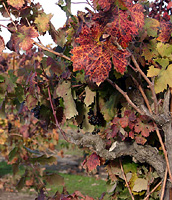 Second crop of old vine Zinfandel - Morelli Lane
Well, want to go see some vineyards, he asked. You bet, we replied. Tell you what, follow me over to Dutton Ranch, and we'll leave your cars and I'll drive. Let's head up to Morelli Lane Vineyard, and I'll bring along a bottle of the Morelli Lane Zin, he said. Isn't that quite a ways out, I asked, trying to be sensitive to both his time as well as focusing on ours. Naw, not the way I drive, he said, we'll be there right away. Grabbing a bottle and some wine glasses, Dan jumped into his M3 Beemer and we followed him over to Dutton Ranch, then piled into his car and headed out to Morelli Lane.
Dan bobbed and weaved through the light traffic, and a short Grand Prix ride later we arrived at the picturesque vineyard. Driving through the gate and slowly past the house on the property, and around back to a storage shed. Hey, who lives in the house, I asked, half expecting him to tell me it was empty, or the vineyard manager lived there. Well, we rented it to a fellow who's in the restaurant business. Really, I asked, it's a rental? Yeah, when Steve or we buy a property that has a house on it, we rent it out, rather than tear down the house. It's kind of nice that way; we get to keep the historical perspective of the property and the area. Great idea, I thought. Who wouldn't want to live in vineyard.
The whole property is deer fenced, so Dan led us through the shed and another gate into the vineyard. Cracking open the bottle of Zin, Dan poured us each a few ounces and we walked and talked our way around the old head-trained vines. It was beautiful out there in the vineyard, but we still had places to go and people to see. Well, I guess we better go - we've got to get you back, said Dan. Back into the Beemer we climbed, and we raced down to Dutton Ranch to get our cars, and off we went. Whoa, what's this! The Dehlinger farm house basking in the glow of the late afternoon sun. Photo opp!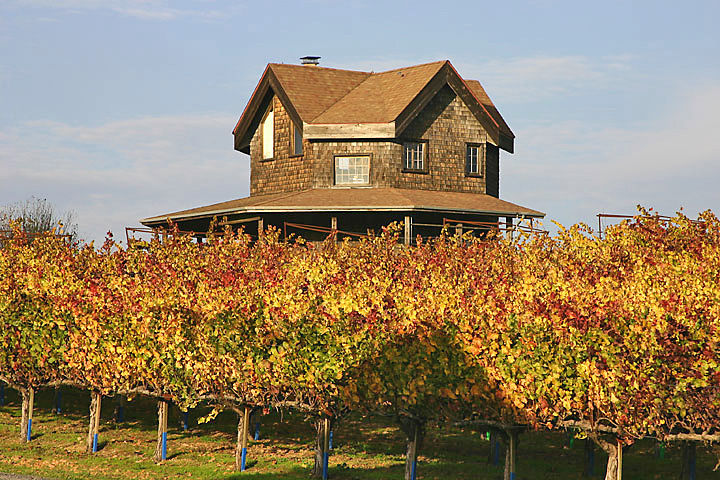 We'd be driving right by the town of Windsor, so I though maybe we ought to drop off my gift for Bryan Dempsey at Mirepoix, plus Everett could leave his car there, and we'd travel together out to the Perry's on Westside Road. We parked our cars a block behind the restaurant, and grabbed the bottle of wine. As we approached Mirepoix, who should come out of the back door but Bryan. The timing couldn't have been more perfect. I asked her to please accept this for any trouble I may have caused her in getting our party seated. She was very thankful.
Selected Tasting Notes:
...from bottle...
2002 Papapietro-Perry Pinot Noir - Russian River Valley. Classis RRV nose of strawberry, cola, and a touch of earth and vanilla. Full of juicy fruit, excellent balance, and seamless long finish.
2002 Papapietro-Perry Pinot Noir - Peters Vnyd, Sonoma Coast. Darker in fruit than the RRV bottling, and a little more more to the Dr. Pepper than cola scent. Rich black cherry on the palate, long nearly chewy finish.
It was approaching dark when we finally arrived at Bruce and Renae Perry's house on Westside Road. Renae had called me to be sure we were still coming, and I assured her we were, bemoaning the fact that we seemed to be continuously lagging behind in our schedule. Well, the turnoff to our place comes up kind of fast - look for the ghosts hanging from the tree. Ordinarily, that would be alarming, but it was the day after Halloween. Sure enough, there were some cleverly-made ghosts dangling from a tree just as their drive came up. Arriving at the house, Renae came out to meet us, and showed us inside. We gathered around the fireplace, and Bruce brought out glasses and poured us some Pinot. I first met Renae at the '03 Family Winemakers tasting, and then met Bruce and Ben at the Pinot on the River tasting this past weekend. So, how'd you folks get into winemaking, I asked. And, Renae and Bruce gave us a quick synopsis.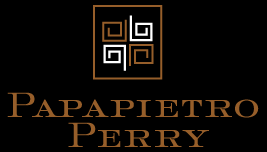 The Perrys and Ben Papapietro formed Papapietro-Perry winery after Bruce retired from the San Francisco Newspaper Agency. Ben had started his own garage winery in in 1980. A few years later Bruce joined Ben in his winemaking ventures, and by 1990, Ben and Bruce found consistent vineyard sources for their homemade Pinot Noir. As part of their love of Pinot Noir, as well as refining their skills with the fruit, the pair had also been working harvest and crush for a number of years. Where? Oh, just at their friend, Bert Williams' winery. Ben had known Bert Williams for some time, in fact, he was helping Bert make "garage" wine back in the '70s.
Ben and Bruce finally went commercial in 1998, producing 75 cases of Pinot Noir. Prior to this, Renae Perry was working as a software product marketing exec for a high-tech company in the Bay Area, and it didn't take much encouragement for her to trade the urban life for rural Sonoma County. Renae manages the marketing and sales for the winery, along with other business operations.
A little Pinot Noir, a cozy fire, it was easy and relaxing. What a fitting end to the tour of Sonoma County. We did need to get to our dinner reservation though, so we complimented Bruce and Renae on their wines, thanked them for their hospitality, and hoped we hadn't interrupted their evening too much. No, no, not at all. We don't have a tasting room, so this is it - other than festivals and tastings, it's our only chance to have people taste our wines. Here was yet another nice couple in the wine business. I tell you, there must be something in the wine.
As I mentioned, we'd arranged dinner that evening at Mirepoix restaurant in Windsor. In a way, this was sort of a reunion of folks from the March '04 tour. Joining us were: Al and Virginia Rago (Que Syrah Vnyd), Pete and Barbara Marsh (Marsh Vnyd), and Kurt Beitler (Belle Glos). I preferred to think of it as two wine guys (Everett and I) crashing a meeting of the Occidental Growers Conference. Lots of very nice wines, including Pinots from Dehlinger, Bonaccorsi, and Belle Glos, a Caymus Special Select Cab, an Eric Texier CDP, and a Domaine de Gachon, St. Joseph.
Speaking of Pete Marsh, shortly after returning home, I received this very nice overhead shot of the Marsh Vineyard. That's one lovely acre of Pinot Noir.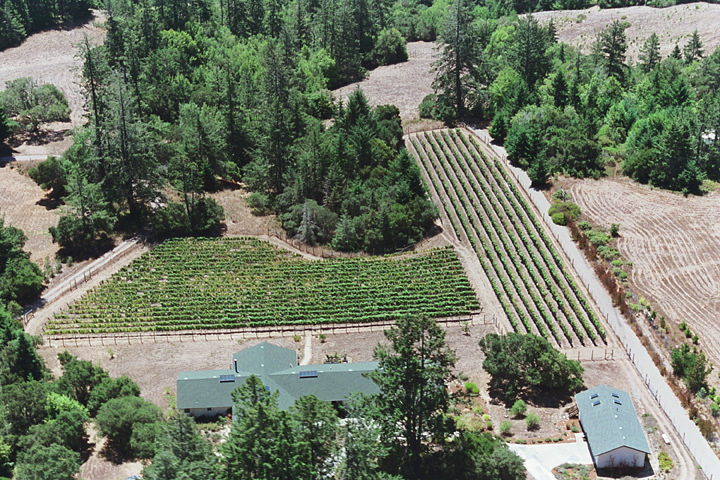 Marsh Vineyard - Sonoma Coast
(photo: courtesy of K. Beitler)
And, were this not enough, Virginia Rago sent me a great shot of Occidental's Taylor Lane and its vineyards. Impressive real estate in this neighborhood. The Red Car section is the one previously leased by Kistler.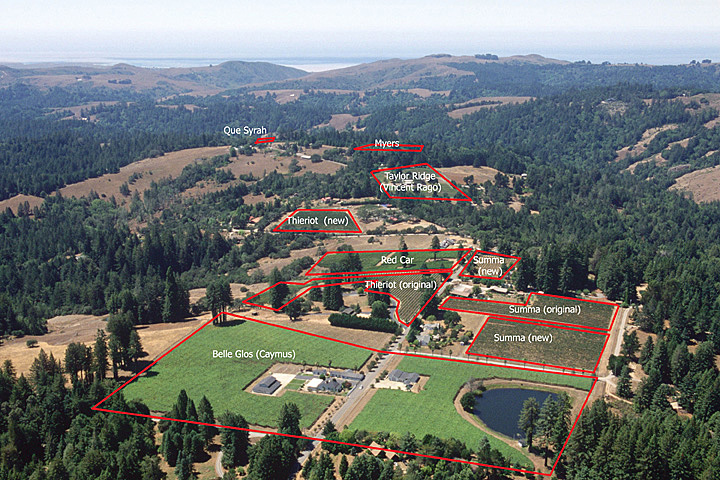 Aerial view of several Taylor Lane vineyards - Occidental, Sonoma Coast
(photo: courtesy of K. Beitler)
The next installment, with the working title "See Eric Run," will cover a breakneck one-day six-visit schedule in the Napa Valley.
---
---
Copyright © 1993 - 2005, Eric Anderson -
All rights reserved
No original material may be reproduced without written consent
Mail & Comments - Eric Anderson