Vol. 12 No.5 - November '04
Part 3 of 3 - Journal and tasting notes from visits to several California wineries and vineyards.
Santa Barbara County
Thursday, November 4, 2004 - Santa Barbara County
Up early for the drive down to Santa Maria and the first stop of the day. Ken Zinns and Al Osterheld were joining me for the next couple of days on the Central Coast. Ken had stayed in Paso last night as well, and we'd arranged to meet in downtown Paso at 7:30 at a place called Dining with Andre for some coffee and pastry before we left town. Unfortunately, when we arrived they didn't have any coffee ready...or any fresh pastry, for that matter! Ken and I looked at each other quizzically. As it turns out, Andre doesn't open until 7:30 (which seemed kind of late to me). But, we waited for the coffee to brew, and made do with some day old pastry.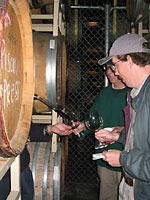 Al Osterheld (foreground) and Ken Zinns sampling some Pinot
A light rain had started to fall as we drove the 45 minutes down to Santa Maria and over to the Central Coast Wine Services (CCWS). Arcadian has a great location just inside loading dock on the west side of the building. Although I'd been here just a couple of months before (9/04), Joe Davis and his crew were busy with crush, so we didn't have the opportunity to do any barrel tasting - though Joe did one better by opening a whole slew of bottles for us! So, when I started setting up this trip, I called Joe to see if he'd be around. Unfortunately, he was scheduled to be out of town, but he did arrange for Barry Rossum to taste us through several barrels. I'd met Barry last February when we both worked a Garretson bottling run, and had run into him again at the Clos Pepe BBQ, and he was looking forward to seeing us.
Selected Tasting Notes:
...from barrel...
2003 Arcadian Chardonnay - Santa Lucia Highlands. (Montrachet yeast.) Lost of tropical qualities, with a touch of lemonade.
2003 Arcadian Chardonnay - Santa Lucia Highlands. (3709 yeast.) Lemon and pineapple pie, with just a touch of tartness on the finish.
2003 Arcadian Pinot Noir - Molenoff Vnyd, Russian River. Clone 115. Nose of strawberry and Kirsch. Fuller than expected in mouthfeel, with a nice sweet-sour taste.
2003 Arcadian Pinot Noir - Santa Lucia Highlands. Gamay clone. Regrafted from Chardonnay in '99, very earthy scent and flavors.
2003 Arcadian Pinot Noir - Santa Lucia Highlands. Gamay clone. Harvested from a split canopy section, this one's sweeter and slightly richer in mouthfeel.
2003 Arcadian Pinot Noir - Santa Lucia Highlands. Gamay clone. From a bilateral cordon section, this one's balanced even a bit better that the previous two. Lots of earthy scents and flavors.
2003 Arcadian Pinot Noir - Gold Coast. Martinelli Clone. Floral and earthy, with a pretty biong cherry and strawberry flavor.
2003 Arcadian Pinot Noir - Rio Vista Vnyd, Santa Rita Hills. Clone 115. Big front end to this wine, stern backbone in the middle, with a tapered finish.
2003 Arcadian Pinot Noir - Fiddlestix Vnyd, SRH. Clone 113. Nose of earth, cherry, and sexy floral scents. Big in mouthfeel, nicely balanced, picks up more acids on the back end.
2003 Arcadian Pinot Noir - Rio Vista Vnyd, SRH. Clone 667. Lots of juicy sweet fruit in the nose and mouth. Nice on its own, but some 115 ought to move this up a notch.
2003 Arcadian Pinot Noir - Rio Vista Vnyd, SRH. Clone 2A. Rich dark cherry nose with a surprising amount of coffee scents. Nice aromatics and front end flavors, the wine seems to fall off a bit on the back end.
2003 Arcadian Pinot Noir - Fiddlestix, SRH. Clone 4. Earthy bing cherry, with touches of forest floor and wet stone. Grippy mouthfeel, nice fruit and balance, but back end seems to fall off a bit.
2003 Arcadian Pinot Noir - Dierberg Vnyd, Santa Maria Valley. Clone 5. Nose of strawberry, rare meat, and cherry. Medium-full mouthfeel, very tasty and well balanced. Very nice.
2003 Arcadian Pinot Noir - Dierberg Vnyd, Santa Maria Valley. Clone 31. Initially reticent dark cherry in the nose, that gets much stronger with swirling. Very good mouthfeel, nice strawberry flavors at mid-palate, turnign to bing cherry at back end.
2003 Arcadian Pinot Noir - Dierberg Vnyd, Santa Maria Valley. Clone 13. Earthy, big on fruit with lots of strawberry and cherry and a sweet-sour quality. Picks up a bit more acid on back end.
2003 Arcadian Pinot Noir - Dierberg Vnyd , Santa Maria Valley. Clone 115. Whole cluster fermentation. Big and rich on mouthfeel, exceptional balance or flavors and acids, long gripping finish.
2003 Arcadian Pinot Noir - Pisoni Vnyd, Santa Lucia Highlands. Pisoni clone. Powerful, yet amazingly subtle in its changes in scent and flavor. One moment it's all about the big fruit, the next, it's all about the complexity of sweet-sour flavors.
2003 Arcadian Syrah - Star Lane Vnyd, Santa Ynez Valley. Estrella clone. Nose of black fruit and licorice. Rich on the palate, very well-balanced, smooth finish.
2003 Arcadian Syrah - Westerly Vnyd, Santa Ynez Valley. Clone 877. Similar to Star Lane, but with much more floral aromatics, and more blueberry in flavor.
2003 Arcadian Syrah - Stolpman Vnyd, Santa Ynez Valley. Clone 7.Nose and flavor of dark chocolate covered black cherries. A wine to curl up to on a cloudy day.
2003 Arcadian Syrah - Evans Ranch (Gainey), SRH. Estrella clone. Blackberry scents and flavors. Younger or cooler climate in profile, there was more of an edginess to the slightly tart mouthfeel.
2003 Arcadian Syrah Max Cuvee - Santa Ynez Valley. A blend of all of the above Syrahs. Dark cherry and floral in nose, with a smooth yet grippy mouthfeel.
Ken and I met up with Al at Arcadian, and the three of us wandered inside the huge facility to find Barry. Although Barry's retired, you'd never know it - he's a bundle of energy, and has been working with Joe for several months now. Joe had given Barry a whole list of wines to go through for our tasting, along with the stats about the barrels, etc., so it we were able to move along though them pretty quickly.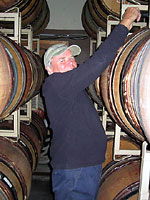 Barry Rossum grabbing another barrel sample
It was very interesting to taste through these barrels - tasting what was basically a 'spice rack' of smells and flavors, knowing that Joe would eventually add a little of this clone with a bit of that clone to achieve his final blend. Some of the clones, for instance, tasted big up front or were all about the aromatics, yet seemed to be a bit abbreviated in flavor or mouthfeel on the back end of the wine. Blending these clones with other clones from the same vineyard would fill out these wines. In any event, it seemed obvious to me that Joe's newer vintages would match or exceed the quality levels of previous vintages.
I've covered Joe Davis' philosophy about winemaking before, but to recap: Joe says that he likes to pick earlier than most other Pinot producers, hand sorts, and uses anywhere from 40%-100% stems. The whole cluster fruit is placed in open-top fermenters, covered in dry ice to retard fermentation, and cold soaked for two days. He stays with authentic Burgundian methods, like foot treading (pigeage), in making his Pinot, and the wine finishes fermentation in mostly new Fançois Frères barrels, staying in oak for upwards of 18 months, and undergoing no racking. The Chardonnays are aged 15 months on lees, and hand-stirred about every two weeks. By using consistent winemaking methods, Joe is able to create wines whose only differences are the sources of their fruit.
Barry was aware that I'd tried to arrange an additional visit with someone at CCWS for mid-morning, before moving on to the Santa Ynez Valley. Had I been successful at lining up something, he asked. Nope, I told him, we hadn't been able to hook up with a particular small producer at the facility, and then a tentative agreement to meet with Frank Ostini from Hitching Post fell through when Frank had a family emergency. Finally, we took a shot at arranging something with Tim Spear of Clos Mimi. Unfortunately though, he was only available in the afternoon. However, at the last minute, we'd been presented another option - Tantara winery, located in the nearby Bien Nacido Vnyd. So, we'd lined up Tantara, Foxen and Carhartt for the balance of the day.
Hey, would it be okay if I tagged along, Barry asked. Of course, come on along, I said, the more the merrier. We'd all be getting together for dinner that evening, and Barry had made a reservation at the Ballard Inn - where he also manages a small tasting bar (did I mention Barry's a busy guy).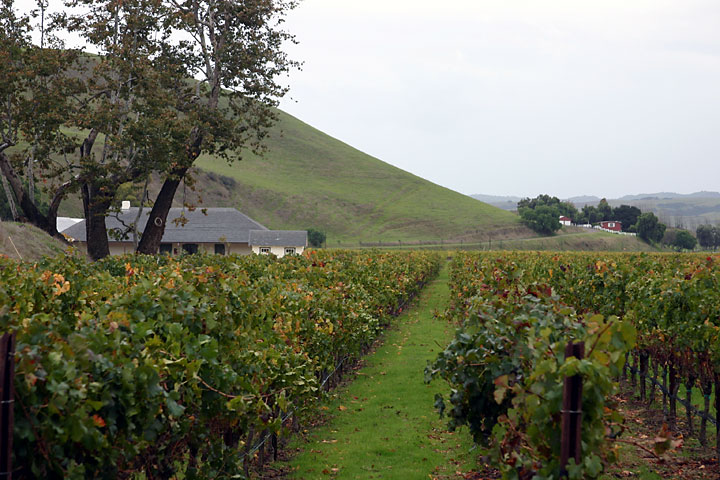 'The Adobe' - Bien Nacido Vineyards, looking southwest
Leaving the westside of Santa Maria, we headed due east out of town and into the Santa Maria Valley AVA, finally arriving at the Bien Nacido vineyard about 30 minures later. A light rain was still falling as we drove in past the gate, parallel to the Santa Maria River, into a box canyon and over to the winery that's been home to Tantara Winery since 2002. Winemaker Jeff Fink wasn't going to be available to meet with us, but he'd arranged for us to visit with assistant winemaker, Scott Anker.
Selected Tasting Notes:
...from barrel...
2003 Tantara Pinot Noir - G Block, Bien Nacido Vnyd. Clone 115. Nose of earth and strawberry. Lots of sweet notes, loamy full mouthfeel, bit of a short finish.
2003 Tantara Pinot Noir - Block 1, Bien Nacido Vnyd. Mt. Eden clone. Beautiful noseMasses of bing and black cherry, full and rich on the palate with just a touch of tobacco.
2003 Tantara Pinot Noir - Garys' Vnyd, Santa Lucia Highlands. Strawberry and light cherry notes, touch of earth, off-sweet fruit, very nice balance, and long finish.
...from bottle...
2002 Tantara Chardonnay - Dierberg Vnyd, Santa Maria Valley. Nose of citrusy and tropical fruit, with trace of candied lemon peel. Similar profile in mouthfeel, with additional notes of pink grapefruit.
2002 Tantara Pinot Noir - Solomon Hills, Santa Maria Valley. Clones 115 and 2A. Wow!Lots of depth and richness, touch of earth to the bright red fruit, great balance and long finish.
2002 Tantara Pinot Noir - Adobe section, Bien Nacido Vnyd. Peppery and slightly floral, we were told this was a blend of specific organic blocks. Sweet in mouthfeel, with a slightly sweet aftertaste, lots of cherry - less so strawberry.
2002 Tantara Pinot Noir - Garys' Vnyd, Santa Lucia Highlands. Sweet dark cherry cola, very seductive at mid-palate, with more earthiness apparent through latter palate.
Established in 1997, Tantara was formed by long time friends Bill Cates and Jeff Fink to produce vineyard designated Pinot Noir and Chardonnay from Central Coast vineyards such as Bien Nacido, Talley, Pisoni, Gary's, Laetitia and Dierberg. The label's name was derived from a horse owned by Bill Cates some years ago.
In addition to leasing the two acres of Bien Nacido G Block Pinot Noir, Tantara planted ten acres of Pinot and two acres of Syrah in 1999, bringing their total to about fourteen acres. The new plantings will come on-line in 2005, and will make up their estate bottling. Current production for '03 is about 3,000 cases, with '04 expected to be 5,000 cases, where Tantara intends to cap production. Clonal varieties include: Wadenswil 2a, Dijon 115, 667, and 777, Pommard and Mt. Eden.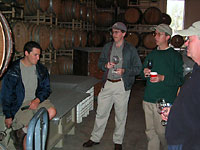 (l to r) Scott Anker, Al Osterheld, Ken Zinns, Barry Rossum
The Pinot Noir is hand sorted and de-stemmed, then fermented in open top vats using both native and prepared yeasts. Scott says they do a tiny bit of whole cluster, but not much. After primary fermentation, the wine is pressed and put into French oak to finish ML. The wine is then racked and left undisturbed until assembled and bottled, unfined and unfiltered. The Chardonnay is whole cluster pressed, the juice settled then put into French oak, and both primary and malolactic fermentation take place in barrel. The lees are stirred occasionally until ML is completed, then the wine rests sur-lie for 10 - 12 months until bottled.
We found Scott inside the small office adjacent to the winery and introduced ourselves. After chatting for awhile, Scott led us over to the winery and we started out with a few barrels, talking about styles of pinot and the Bien Nacido Vineyard. Most people know the name of this world-renowned vineyard, yet I was surprised to hear that the Miller family first planted vines here back in 1970 - 35 years ago! then we headed back to the office to try some finished wines. I remembered that I had some smoked mozzarella in the car, and brought it in so we were able to have a light lunch of sorts with our wine.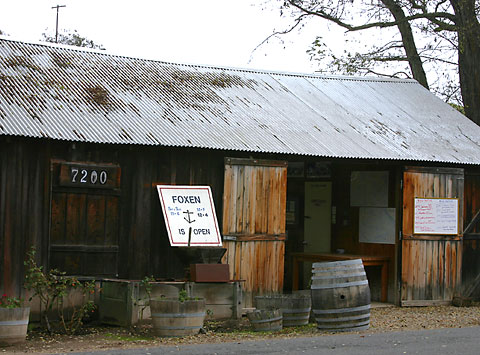 Foxen's rustic tasting room
Leaving Tantara and Bien Nacido Vineyard behind, we picked up Foxen Canyon Road and continued into the Santa Ynez Valley for a visit to Foxen winery. It's an easy place to miss, if you're flying too fast down Foxen Canyon Road, you could drive right by it and not have noticed that it was a tasting room or winery.
A previous old blacksmith shop serves as Foxen's tasting room, and is perched literally right next to the raod. If you're cruising through Santa Ynez Valley and you want to see the anthesis of a tasting room - look no further. Foxen is the first name that pops up, if you're looking for "rustic." In fact, during a recent PBS documentary about wine, actor John Cleese referred to it tongue-in-cheek as 'a shed in the Australian outback.' Well, we're not in Australia, but he has a point. In this valley, only Sanford's tasting room can hold a candle to Foxen's quaint digs. Quaint or not, they've been turning out some marvelous wines since 1987.
We found Bill Wathen tending to some duties inside the tasting room, and re-introduced ourselves. I'd first met Bill and his fellow proprietor Dick Dore (a relative of Benjamin Foxen) on a visit many years ago, and had always meant to do more of an in-depth tasting of their program, but somehow never got around to it. So, I was very much looking forward to this opportunity.
Selected Tasting Notes:
...from barrel...
2003 Foxen Pinot Noir - Julia's Vnyd. Pommard clone. Spicy dark cherry in nose and mouth. Slight wild cherry quality to the taste, soft, rich and balanced, this vineyard delivers with the "drink me now" style of Pinot. About $30.
2003 Foxen Pinot Noir - Bien Nacido Vnyd. Pommard clones. From some 1.25 tn/ac yields from Block 8. Big, rich and more earthy than the Julia's, lots of fruit and a crisper finish. About $40.
2003 Foxen Pinot Noir - Sea Smoke Vnyd. Clones 115, 667, 777. Besides Sea Smoke, the only winery doing a bottling of this vineyard's fruit is Foxen - owing to their participation in arranging the deal. This '03 represents Foxen's 3rd vintage with this fruit. Big, rich and chewy, this is a real mouthfull of wine. Built along the lines of a Southing on steroids, it'll turn your head about bigger-than-life Pinots. About $60.
2003 Foxen Zinfandel - Rancho Arroyo Grande. Tons of peppery and spicy boysenberry fruit. Rich in mouthfeel, very nicely balanced, long finish. As far as I know, this the first Foxen Zin.
2003 Foxen Merlot - Carhartt Vnyd. From a vineyard near Solvang, the location belies just how nice and ripe a SYV Merlot can be. Bill loves this vineyard, and encouraged the Carhartts to start making their own wine with the fruit. Rather than plummy tones, it's all about cassis, black cherry, and very chewy in mouthfeel and gripping in finish. Not at all soft, this Cabernet in style - a steak of a Merlot.
2003 Foxen Cabernet Sauvignon - Vogelzang Vnyd. Puillac clone. From a source further east in the valley, the heat out this was completely knocks out the potential "green" quality of the variety grown elsewhere in the valley. Rich smooth cassis flavors, touch of toast and vanilla, excellent balance, smooth long finish.
2003 Foxen Syrah - Tinaquaic. Fascinating Beaucastel-like gamey blackberry, with accents of barnyard and a touch of asphalt. Big and chewy mouthfeel, surprisingly smooth and sweet in mouthfeel.
2003 Foxen Syrah - Williamson-Dore. From a location near Bridlewood. Smoother, slightly softer and less feral, with lots of blackbery and a touch of licorice.
2003 Foxen Jean Marie - Williamson-Dore. Very nice blend of Grenache, Syrah and Mourvedre. Lots of dark fruit, punched up by the raspberry in the Granache. Rich and chewy mouthfeel, long flavorful finish.
...from bottle...
2003 Foxen Chenin Blanc - Old Vine. From vines planted in 1966, this is some of the better Chenin Blanc to be found in California. Crisp mouthfeel, with dollops of pear and pineapple. Wonderful!
2003 Foxen Chardonnay - Tinaquaic. Wente clone. Nice crisp sweetness to nose and mouth, with moderate body and lots of flavor and polish.
2002 Foxen Volpino - . Mostly Sangiovese, with about 25% Merlot. Interesting melding of flavors - dried dark cherry-strawberry, spicy and a bit plummy, smooth finish.
2002 Foxen Sangiovese Dominique. Fuller in body and texture than the Volpino, with nice scents of clove and vanilla accenting the dark spicy cherry. Gripping in mouthfeel, long finish. No, you won't mistake it for Brunello , but it's damn good.
Bill worked at Chalone from 1978-82, before beginning the Foxen venture with Dick Dore in 1987. He does do a little whole cluster fermentation, and uses about 60% new Fançois Frères cooperage on his Pinot Noir. Production here is somewhere between 10,000-15,000 cases.
So, what would you like to taste, asked Bill. Everything, I said with a wry smile, not wanting to miss out on anything. How about we start with some barrel tasting, I asked. Sure, let's go try a few barrels. While Bill grabbed a thief and some glasses, I scanned the inside of the tasting room. Lots of kitchy memorabilia here. Both Dick and Bill went to Catholic schools, so there were a few "nun" dolls and jokes about. I was also reminded about Foxen's fabulous T-shirts. The first one I recall from several years back had a whole list of adjectives quoted from critic Robert Parker's writeups listed down the back of the shirt: "Profound," "Audacious," "Decadent,"... "In your face," with Parker's credit at the bottom of the list. But, my favorite has always been, "If you don't know Foxen, you don't know Dick (or Bill)."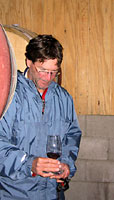 Bill Wathen
I was still chuckling to myself when Bill came back. Okay, here are some glasses, let's get some wine, he said, leading us over to the old barn just out back that served as the winery and barrel room. We tried samples of Pinot Noir, a Zinfandel, and a Merlot. Hey, do you want to try some Rhones, he asked. Definitely, we all replied. Okay, let's go over to the "Rhone shed," he said, leading us across to the other side of the property and another small wooden building near the roadside. The rain was now coming down a little harder, as we tried to huddle inside the barrel-filled room.
Back to the tasting room, Bill took us through the finished wines, and we chatted about the Foxen name. The sea anchor on the Foxen label is a tribute to Dick's great-great grandfather, William Benjamin Foxen, who was a ship's commander in the Royal Navy. After a broken mast landed him unexpectedly on the Central California coast in 1837, he was welcomed by the Mexican governor and decided to put down roots, falling in love and marrying the Governor's daughter. Together they had 14 children and left a large estate including the Foxen vineyards.
So, where are you guys going next, Bill asked. Well, we have a 3:00 visit scheduled with Mike and Brooke Carhartt. Oh, they're great - we buy our Merlot from them...and they're making some nice wines themselves now, too, he added. I told Bill that I didn't have a street address for them - did he happen to know it. Oh, I don't know, but you can't miss it. Just go down Alamo Pintado and look for the dead crawler out front. 'Dead crawler,' I repeated slightly aloud, with what must've been a blank expression on my face. Bill noticed that I didn't get it. Yeah, a little tractor that's not working any more, he said. I smiled, feeling just a bit dumber than when I arrived (yes, that was possible). As it turned out, I also should have been listening longer, as Bill explained where to make the turns after the dead crawler.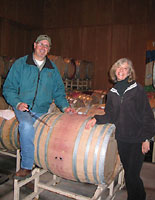 Mike and Brooke Carhartt
I'd met Mike and Brooke Carhartt at one of the Wine Cask tastings a year or two ago, and Mike suggested I pay them a visit and see the vineyard. Barry was ambivalent, should he head home to change clothes and pick up his wife for dinner, or follow us over to the Carhartts. Since he hadn't met Mike Carhartt yet, he decided to push the envelope and followed us over to Alamo Pintado Road, in Solvang. The light rain continued as we headed out for Carhartt Vineyards, following Foxen Cyn Rd.
We played follow the leader at a pretty quick clip down Foxen Canyon Road and into the rural outskirts of Solvang. Dead crawler...dead crawler, I kept muttering to myself, as ww worked our way down Alamo Pintado Road. Okay, we found the crawler just where Bill said it would be, and turned up the road. Unfortunately, I couldn't recall how far he'd told us to go up the road before turning, so we just continued to follow each other to the end of the road and the top of the hill. From here it was choice of three driveways. Fabulous view of the surrounding vineyards from this vantage point. I figured one of these spreads had to belong to Mike and Brooke, so I made a call to them, hoping they could guide me further, but no one answered and I had to leave a message. Since we'd driven past LinCourt winery on the way up the road, Barry volunteered to go back down and ask them if they happened to know where the Carhartt's lived. He was down the hill and back up in just a few minutes,and it turned out we'd passed their turnoff on the way up the hill.
Selected Tasting Notes:
...from barrel...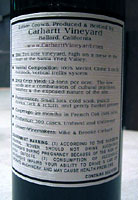 The Carhartt's use their back label for some useful information
2003 Carhartt Merlot - Estate. Very Bordeaux-like in profile, with nice plummy cassis fruit, but also more than a little grip throughout the mouthfeel.
2003 Carhartt Syrah - Estate. Surprisingly smooth, this wine hasn't developed the tannins as yet, and the pure blackberry fruit shines right through.
...from bottle...
2002 Carhartt Merlot - Estate. Very polished, with a beautiful vanilla and toast accent to the dark cherry scent. Rich on the palate, chewy mouthfeel, long smooth finish.
2002 Carhartt Syrah - Estate. In contrast to the barrel sample, this wine was huge and powerful, with gripping tannins, and licorice-accented bright fruit-filled finish.
Doubling back and finally pulling onto the Carhartt property, we parked our cars near a barn and stable and I looked around for a familiar face. Barry was headed up to one of the houses on the property, just as my cell phone rang. It was Brooke Carhartt. We were actually still talking to each other as Barry approached the house. It seemed a bit surreal, watching Barry approach the house just as Brooke was asking me if I was the guy walking toward her. Brooke led us over to the barn that serves as their winery and barrel room, explaining that Mike was out on a delivery, but would be right back.
In the meantime, Brooke led us over to their winery and barrel room in a converted barn on th eproperty. She told us about their operation, and started us on some barrel sampling. Mike joined us soon thereafter, and we continued to sample a couple of barrels, and chat while we tried some finished wines. The rain was coming down harder now, and unfortunately, the mud was going to prevent us from taking a drive or walk through the vineyards, which are span up the hill behind the house and barn.
The Carhartt Vineyard and Winery is located on the historic Rancho Santa Ynez, where Mike Carhartt's family has raised cattle, and horses since the early 1900's. The ten-acre Carhartt Vineyard (6 acres Merlot, 4 acres Syrah) was planted in 1996, and sits high on a mesa with maximum sun exposure suited to Rhône and Bordeaux varietals. The cool mornings become hot, sunny afternoons that remain warm through the rest of the day. The growing season often stretching into late October. Although they originally intended to only sell the grapes to local wineries, Brooke and Mike decided to vinify small amounts of their grapes for their own label and produced two barrels of wine in 1998.
The clock was ticking, and Barry needed to make his exit, heading back up to Arroyo Grande to change clothes and pick up his wife. Meanwhile, Al, Ken and I stayed on a bit longer, leaving enough time to check into our motel and change for dinner. Meeting Barry a little early at the Ballard Inn, we wanted to try some of the wines at the Inn's tasting bar - which Barry happened to manage (did I mention he's a busy guy?). He has some nice wines available, and a visit there is highly recommended.
Dinner that evening was fabulous! Barry had made reservations for us at the Ballard Inn, and Chef Budi Kazali brought his considerable talent to bear on several excellent dishes, including my own seared ahi - which tasted absolutely incredible with each of the Pinots on the table. Our crew for the day was joined by Barry's wife, Darlene, Dave and Becky Corey, and Tim Spear. Wines poured included: 1999 Littorai Hirsch, 2002 Failla Hirsch, 2001 Loring Garys, 2000 Brewer Clifton Rozak Ranch, 2001 Laetitia Les Galets, 1998 Martinore Pierce's Elbow - Williamette Valley, 2002 Harrington Hirsch, 1999 Arcadian Pisoni, 2002 Red Car Amour Fou, 2002 Core Elevation Sensation, 2002 Core Hard Core.

Friday, November 5, 2004 - Santa Barbara County
Up early for our trek over to Honea Vineyards. There were lots of clouds in the sky, but it had stopped raining. We decided to take one car, and after a stop for coffee, pastry and some bottled water, we were off - driving over to Honea Vineyard to meet with Chrystal Clifton of Palmina wines. From here, plans had us heading over to the Lompoc "ghetto," a light industrial center at the eastern edge of the city that housed a large number of the valley's winemaking operations. (While we're on the subject, I want to help the city fathers out by explaining that this is pronounced "Lom-poke." Just in case you disagree with the phonetics here, remember that local names frequently are pronounced in an historically way - sometimes not bending to convention. Okay, now back to wine.)
After the vineyard visit, our schedule for the day was going to be heady - first, we'd meet with Steve and Chrystal Clifton to taste some of their Palmina wines, followed by a visit to Rick Longoria, some barrel sampling of Worx vineyards, a visit with Chad Melville at his Samsara project, and still try to fit Peter Cargasacchi in somewhere during the day. Then, Barry mentioned that he'd arranged a visit with Sea Smoke for this morning and wanted us to join him. Well, the day just got a little more complex at that point. But, you'll never hear me say, "oh, I'm sorry, we just don't have enough time to fit you in." Needless to say, this is the root all of my potential scheduling problems.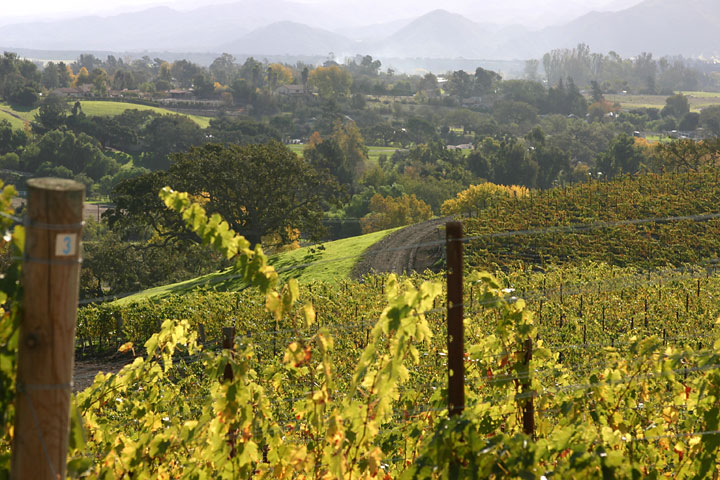 Rolling contours of Honea Vineyards
Arriving about 9:00am at Honea Vineyards off Alamo Pintado Road, we drove up to the house. Chrystal Clifton, along with Milt Honea and his wife Marilyn came out the meet us. By mutual arrangement, this vineyard will be the future fruit source for the majority, if not all of Palmina's Italian varietal bottlings. The rain had thankfully stopped and the ground seemed firm enough, so it looked as though we'd be able to drive up to the vineyard. How much time do you have, Chrystal asked. Well, we were asked if wanted to meet the Sea Smoke folks at 10:30 over in Lompoc, I mentioned. (It turned out we were actually supposed to be there at 10:00.) I'd spoken to Chrystal the day before, and we'd discussed how we might best handle the vineyard visit and the subsequent visit to their winery in Lompoc. We decided to try just a couple of wines at the vineyard, and do the majority of the tasting at the winery.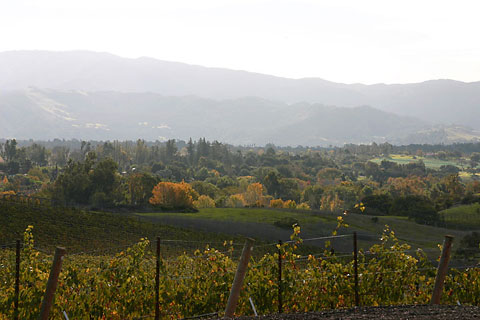 View across the valley east to the San Rafael Range
Well, I guess we'd better get going if we're going to keep you on schedule, both Chrystal and Milt agreed. We followed Milt's truck up a road through the vineyard and up a hill to a pergola at the top. The view was magnificent, with the fast-moving clouds creating some beautifully colored effects in the vineyard. Milt told us a little about himself and the property. He had spent 40 years of managing companies, and wanted an active retirement. He and Marilyn decided to grow grapes and made it a family enterprise, with three children and ten grandchildren. Purchased in 2002, the Honea Vineyards consists of 40 acres, from the road up the hill behind the property to the west.
Twenty acres have been planted in grapes and two in olive trees. The first plantings occurred in the summer of 2003, and the first harvest is expected this year (2005). Italian varieties selected by and for Steve and Chrystal Clifton's all-Italian label, Palmina, include whites: Arneis, Muscat Canelli, Pinot Grigio, Tocai Friulano, along with reds: Lagrein, Dolcetto, Barbera, Nebbiolo, and Sangiovese. In addition to the Italian varieties, a small acreage of Merlot had been planted several years ago by previous owners was retained.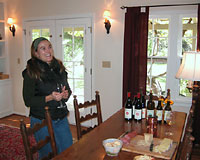 Chrystal Clifton
Milt's acknowledged unusual choice of Italian varietals came not just from his appreciation for all things Italian, but it turns out he also really wanted to grow 'something different' in the valley, rather than the 'same old thing.' Development and production of the vineyard were managed by Jeff Newton and Larry Finkle, and Steve Clifton's involvement from the outset made it sort of a 'dream team.' They use a vertical shoot positioning trellis system, and vines are spaced four feet apart with six feet between rows, giving a plant density of 1,815 vines per acre. The canopy is trained to allow good air flow and sun exposure, and plans call for modest to low yields of fruit, controlled by moisture retention, shoot and leaf thinning, and fruit dropping.
Driving back down from the hill, we took a look at the recently completed winery building, which had been tucked into a conveniently deep swale (almost a valley) in the land. Currently, case goods are stored here as well as serving as the drying rack location. Ultimately, they'll be putting in a cut-and-cover cave, as well as pulling permits for a winery. Want to taste some wine, Chrystal asked. Sure, I said while glancing at my watch, we'd love to. (I was a little worried about meeting Barry at Sea Smoke at the appointed time, but I figured he was going to be there anyway and they would hopefully just go on without us.)
Selected Tasting Notes:
...from bottle...
2003 Palmina Pinot Grigio - Ashley's Vnyd, SRH. Medium to full body, light lemon and lime flavors, with an amazing smoothness.
2003 Palmina Malvasia Bianca - Larner Vnyd, SYV. Very floral almost a gardenia scent to the background. Crisp sweet lemon and honeyed flavors, moderately chewy finish.
2003 Palmina Bianca - SBC. A blend of 35% Traminer, 30% Sauvignon Blanc, 15% Tocai Friulano, 15% Malvasia Bianca and 5% Pinot Grigio. Lightly floral, delicious, and the sauv blanc comes through adding some gooseberry to th eblend. Has just the right balance and crispness, with a hint of sweetness on the back end.
We followed Milt back to the house and inside where Chrystal had set up three "Friuli super whites" for tasting, accompanied by a couple of cheeses. 'God, I love the smell of wine in the morning.' Everything was delicious, and we could've easily stayed another hour. But by about 10:15 or so, I felt we needed to make our way to Lompoc to hook up with Barry -- hoping we wouldn't be too late. We thanked Milt and Marilyn for opening their home to us, and thanked Chrystal apologetically for rushing away. Okay, we'll see you at Noon, she said. Yes, Noon at the winery, I promised, as we piled into the car and headed for Lompoc at warp speed.
Speeding along 246, I thought about our current itinerary for the rest of the day: ...let's see...there were visits with Sea Smoke, Palmina, Longoria, Samsara, Worx, ...I had to find Sashi Moorman, and still call Peter Cargasacchi.... It all seemed kind of daunting. It was yet another classic case of too many wineries and not enough time. The only saving grace was that the Lompoc "Ghetto" was basically one-stop shopping - with everybody located within a one block radius.
We pulled into the Ghetto parking lot and rushed over to the Sea Smoke location. Kris Curran seemed to be concluding her morning tasting. Sorry, too late, I'm just finishing up with these guys, said Kris, with a semi-serious smile. Barry told us that Kris was taking her crew out to lunch to celebrate the end of harvest, so it looked like our window of opportunity had closed. Tell you what, she offered, if you come back around 3:30 we can barrel sample some stuff then. That'd be great, Kris, we'll be here - and on time, I promised. As Kris started rounding up her crew, I took the time to introduce myself to her assistant winewmaker, Don Schroeder. Don is Peter Work's stepson, and makes the Worx wines here at the Ghetto as well. I'd asked Peter about tasting some barrel samples on this visit, and he put me in touch with Don. We agreed to meet back at Sea Smoke after we were done with the rest of our visits, and he'd take us across the alley to the other building where he makes the Worx wines. Phew! It was going to be a long day.
Well, with time to kill before our Noon appointment with the Cliftons, I figured it wouldn't hurt to see if one of our afternoon visits was interested in meeting us earlier -- I mean, since we happened to be in the neighborhood. But, we couldn't find any takers - everyone had pretty much budgeted their time for the day accordingly. So, Al, Ken and I decided to go grab something to eat or drink. Ken remembered a coffee house in town (Lompoc), so we drove over for some coffee and scones and just kicked back for a bit (can't remember the last time I did this - I'm usually rushing from one place to another).
Selected Tasting Notes:
2003 Palmina Alisos - Alisos Vnyd. Blend of 76% Sangiovese, 24% Merlot. Big lush and rich in mouthfeel. Dried cherry, light raspberry and a touch of anise in the nose.
2003 Palmina Barbera - Alisos Vnyd. 1st crop of this vineyard, after Steve asked the owners to graft over some Chardonnay to Barbera. Dark sweet fruit, with touches of herb and Kirsch-soaked pipe tobacco. Big and chewy mouthfeel, but fabulous balance and taste. Very nice!
2002 Palmina Barbera - Bien Nacido Vnyd. More tradition than the Alisos Vnyd bottling, with brighter fruit, and a toastier - almost Parmesan quality in the nose. Rich and higher-toned in mouthfeel, with a nice earthy quality to the finish.
2003 Palmina Barbera - Bien Nacido Vnyd. Froma a section of 17 yr old vines. Lots of dark cherry custard, rich creamy mouthfeel, excellent balance, and a light grip of tannins on t e back end. Beautiful!
2002 Palmina Nebbiolo - Stolpman Vnyd. From a section of 10 yr old vines. Nose of sweet black cherry and blackberry, with a lightly cocoa-dusted quality to the dark fruit, and amazingly smooth fine-grained finish.
2002 Palmina Barbera - Rancho Sisquoc Vnyd. Planted in '98 - 1st crop from this vineyard. Light vanilla and clove accents to the dark fruit, with a nice round mouthfeel and long finish.
2002 Palmina Savoia - SBC. A blend of 50% Nebbiolo (Stolpman), 30% Barbera (Bien Nacido), and 20% Syrah (Alisos). Very seductive nose of dark cherry, with light chocolate and cake spices in the background, big, yet smooth and round, with lovely fine-grained tannins and long finish. The assembled wine sits in barrel for an additional year.
2003 Alder Grenache - Alisos Vnyd. 1st crop from this vineyard. Bright fruit with floral accent in the nose. Lots of raspberry flavors throughout,and a little peppery through the finish - no doubt aided by the 7% Syrah.
2002 Alder Syrah - Alisos Vnyd. Nose of dark berry, with an edge of sweet herb and tobacco. Slight anise accent to the blackberry fruit, very smooth and well balanced.
2004 Palmina Dolcetto - Moro Vnyd. From a vnyd off 246 in the Santa Rita Hills AVA. Huge fruit throughout, slightly bright raspberry and bing cherry, with a light sweetness from mid to later palate.
2004 Palmina Pinot Grigio - Bien Nacido Vnyd. Light apple and pear notes accent the lemon meringue quality. Crisp and delicious.
2002 Palmina Malvasia - Bien Nacido Vnyd. Dried to 40 degrees brix (17%) in a Vin-Santo style by spreading them out on a drying table over 7 weeks. Scents of poached peach and apricot. Chewy mouthfeel,lovely texture and silky finish.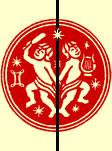 Arriving back at the 'Ghetto' at Noon, we found Steve and Chrystal Clifton chatting with Greg Brewer (Palmina and Brewer-Clifton are conveniently located right next door to each other). Welcome back, said Chrystal - let's try some Palmina wines, said Steve. Standing amidst lots of fermenting bins, we chatted about the Palmina label and Steve and Chrystal's Italian wine venture.
Steve produced the first Palmina wines in the basement of his home in 1995. Steve started in the wine business at the Rancho Sisquoc tasting room. Slowly, he began to perform cellar tasks and finally worked his way up to Assistant Winemaker under Stephan Bedford (now of the Bedford–Thompson winery). Over the next few years Steve spent time at Beckmen and Brander perfecting his craft, and finally rounded out his marketing and sales experience from 1995 to 1998 managing the Wine Cask retail store in Santa Barbara. Steve met Greg Brewer in 1995 and the two formed a partnership producing Brewer-Clifton wines, solely dedicated to vineyard-designated Chardonnay and Pinot Noir from the Santa Rita Hills. Brewer-Clifton's first release began with the wines produced from the 1996 vintage.
Although Steve's interest in Burgundian varietals is unwavering, he came to love Italian grape varietals while working in restaurants, and visiting Italy. Wanting to start a separate venture for Italian varietal wines, Steve started the Palmina label. In 2000, Chrystal Seals joined Palmina and has been working with Steve through all facets of the business. It was a natural match, with Chrystal educated at the University of Bologna and fluent in Italian, her ability to work with wine producers in Italy has also given the label much insight in forming Palmina's philosophy and style. Steve and Chrystal were married in Italy in 2004.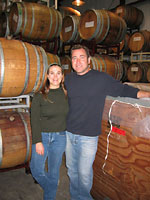 Chrystal and Steve Clifton
Steve performs extended maceration (up to 30+ days), and finishes the wine in barrel innoculating for ML. Cooperage is a combination of Slovenian and French oak. Interestingly, Italian winemakers seem to prefer Slovenian oak, and much of the oak used by Palmina is from Gamba, and coopered in Italy. Palmina's production is about 3200 cases, going to 4000 cases in '04. Once the fruit at Honea Vineyards comes on line, production will move to 8000 cases annually.
Two nicer people than Steve and Chrystal, I've never met. They are both very excited about their venture, and more than happy to share their enthusiasm and wines with others. And, as if two winery ventures not sufficient, Steve is also involved in Alder, a joint venture devoted to Rhône varietals with David Goldmuntz and Jon Stern. The name is taken from the English translation of Alisos, the source of fruit for these wines. We were also able to taste a Grenache and Syrah from this label.
Selected Tasting Notes:
...from barrel...
2004 Longoria Chardonnay - Sweeney Cyn Vnyd, SRH. Still going through ML, but plenty of rich, lemon meringue pie in the nose. Picked at 24.5 brix.
2004 Longoria Chardonnay - . Rick also did a small lot in a 55 gal stainless steel drum to see where it would go. Slightly sweeter in mouthfeel that the Chard above, pure lightly floral citron and lemon peel.
2004 Longoria Pinot Noir - Fe Ciega Vnyd, SRH. Clones 115, 667. This and the rest of the Pinots were an early pick this year - due to extreme heat spike during harvest. Coffee and rose petal accent the black and bing cherry in the nose. Ripe and rich on the palate, well-balanced, and nice long finish. Picked at 25 brix.
2004 Longoria Pinot Noir - Mt. Carmel Vnyd, SRH. Mt. Eden clone. Slightly reduced nose, but plenty of dark sweet fruit here. Nice now, it'll be interesting to see how this develops. Picked at 26 brix.
2004 Longoria Syrah - Alisos Vnyd, SYV. Fabulous! Plenty of dark berry, spicy and peppery in mouthfeel, excellent balance and smooth long finish.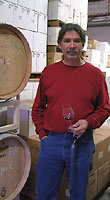 Rick Longoria
Leaving Palmina, we walked the 40 or so paces over to Rick Longoria's place. I hadn't tasted any of Rick's new wines since March '04, so I was looking forward to seeing how things were doing.
Rick Longoria has been in the Santa Barbara County wine scene for nearly 30 years, working at places like Firestone and J. Carey Cellars, and finally at Gainey, where he became winemaker in 1985. Beginning in 1982, Rick made 500 cases of Chardonnay and Pinot Noir from Santa Maria valley vineyards under his own label. The success of his own label (owned by he and wife Diana) prompted him to leave Gainey in 1997 to concentrate exclusively on Richard Longoria Wines.
Rick's a super easy-going guy, which translates to his outlook and approach to winemaking. He's 'old school' but never sits on his laurels. Preferring to let the fruit show itself in each of his wines, Rick's methods are truly non-interventionist. He destems and hand sorts all fruit, and uses about 1/3 new oak, including several new big barrels, or Puncheons, along with some larger wooden tanks. Rick likes bigger barrels for Chardonnays, feeling it brings out the best in the varietal (which he says can be rather bland), without over oaking.
Looking to leverage his available supply of fruit, Rick told us how he'd originally bought and planted a nearly 8 acre property in the Santa Rita Hills 1998, doing so on "blind faith." He decided this would be a wonderful name for the vineyard. Unfortunately, the name was already in use. So, his solution was to translate "blind faith" to Spanish, or Fe Ciega. Current production is about 5,000 cases, with plans to add maybe another 1,000 cases.
Selected Tasting Notes:
...from barrel...
2003 Samsara Syrah - Larner Vnyd, SYV. Clone 383. Co-fermented with 8% Malvasia. Fascinating noise of orange blossom and licorice spice up the largely present blackberry and tar. Native yeast and 40% new oak contribute to a lively palate feel and wild game flavor.
2003 Samsara Syrah - Purisima Vnyd, SYV. Concentrating more on leather and tobacco scents,the luscious nose paves the way for the bright blackberry fruit and grippy mouthfeel.
From Longoria, it was a short walk over to see Chad Melville's new operation, Samsara. As most people know, Chad and bother Brent Melville are the sons of Ron Melville, owner of Melville Vineyards and Winery. Brent is primarily a vineyard guy, but Chad loves the winemaking aspects. So, rather than just hang his reputation on the family namesake winery, Chad decided he wanted to make wine on his own. Thus was born the Samsara label.
To digress a bit, I was fascinated by the name. The Samsara website tells us that the name is based on the Sanskrit for the eternal cycle of life; the world we live in now; one of passion, oneness, harmony. Interestingly, I found that in Buddhism, samsara is the process of coming into being as a differentiated, separate and separative human being. And, in Hinduism, samsara is the endless cycle of birth and death to which all beings are subject. Even more interesting is that the opposite of samsara is nirvana, the "natural" state marked by complete illumination and liberation from all worldly characteristics or conditions. So, what's in a name?
Okay, back to wine. For 2002 and 2003, Chad is making two syrahs, one from Purisima Mountain Vineyard (Beckmen) and another from Larner Vineyard, both located in the Santa Ynez Valley. Both wines are very nice, especially the '03 Larner, wheich he co-fermented with 8% Malvasia - very unusual. I also took this opportunity to ask Chad about the Melville Estate Syrah and whether the family had yanked out all the Syrah from the vineyard near the winery, and if the new Cat Canyon Vineyard was supposed to replace it. Chad explained that they'd regrafted 6 of 18 acres from Syrah over to Pinot Noir. The plan was to increase the Pinot plantings at the Estate vineyard, and Verna's Vineyard (Cat Cyn) would more than cover the loss of Syrah acreage. Made sense to me, and having tried the Verna's at the 2004 Wine Cask Futures tasting, it seemed like a wise decision.
Selected Tasting Notes:
...from barrel...
2003 Sea Smoke Pinot Noir - Block Q. Clone 667. Nose of earthy dark cherry, and a bit of spice. Meaty black cherry flavors, very full and rich on the palate, long smooth finish. 80% new oak, but wears it well.
2003 Sea Smoke Pinot Noir - Block U. Blend of 6 different clones. Light floral scent to the bing cherry and earth, seems "cooler" than the Blk Q, and slightly sweet in mouthfeel, with good balance from front to mid palate, yet seems to fade a bit at the back end.
2003 Sea Smoke Pinot Noir. Grafter over from Mt. Eden to clone 459. Nose of rose petal and cherry. The fruit seems a bit more burnished and caramel-like, with a definite earthy streak, slightly sweet on the palate, with a smooth yet gripping tannins.
2003 Sea Smoke Pinot Noir. Clone 115. Lightly sweet dark cherry nose. Off-sweet mouthfeel, smooth, full and rich, with excellent balance and long finish. Very nice!
2003 Sea Smoke Pinot Noir. Clone 2A. The bing cherry, strawberry and rose stem nose had me thinking Sonoma Coast. Wonderful mouthfeel, silky and rich, with very fine-grained tannins.
2004 Sea Smoke Pinot Noir. Clone 2A. From the same vines as the '03 above. Bing cherry and wild strawberry nose. Beautiful nose! Silky on the palate, with a touch more toast and grip on the finish.
2003 Sea Smoke Pinot Noir. Clone 2A, from section next to Mt. Carmel. Nose of bing and dark cherry. Juicy on the palate, with medium-full body and very nice balance.
2004 Sea Smoke Pinot Noir. Clone 113. Ripe cherry, strawberry, and pomegranate in the nose. Obviously young in mouthfeel, yet surprisingly fruit-forward and smooth.
2004 Sea Smoke Pinot Noir. Clone 667. Big blousey nose of floral scents and dark sweet cherry. Smooth and rich on the palate, and throughout the long finish.
2004 Sea Smoke Pinot Noir. Pressings. Froma very light press, and used as the topping wine. A bit sweet, and very gripping on the palate.
2004 Curran Grenache Blanc. Nose of lemon and citron. Crisp on the palate, with lots of chewy texture, and very long tasty finish.
From Chad's place, we doubled back to Sea Smoke which is actually right across the alley from Palmina (I told you 'The Lompoc Ghetto' was literally one-stop shopping).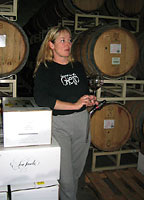 Kris Curran
A few years ago, local talent Kris Curran was asked to start up a winery for Koehler, located near Fess Parker in the Santa Ynez Valley. In short order, she moved to Sea Smoke, after being handpicked by Bob Davids to handle the winemaking tasks for a new winery - Sea Smoke, anmed for the marine fog that rolls in during the evening.
Owned by Bob Davids, Sea Smoke began life in 1999, and focuses only on Pinot Noir, producing three different bottlings: the Botella, the Southing and the top of the line Ten, a reserve blend of the best fruit from the ten clones planted. Lots of new oak is used here, and Sea Smoke tries to match the cooperage with the clone.
On its 300 acre property, Sea Smoke has 100 acres of vineyards planted in 25 different blocks with unilateral cane trellising. The vineyards are perched on south-facing hillsides above the Santa Ynez River, and literall look down on Sanford's La Rinconada and Sanford & Benedict Vineyards, as well as Fiddlestix Vineyard.
In 2004, Kris added a new assistant winemaker, Don Schroeder, who also brings a wealth of local experience to the winemaking team. Don began at Babcock Vineyards during the harvest of 2000. He quickly was made cellarmaster, and in March of 2002 was offered the seasonal dual position of assistant winemaker and assistant vineyard manager at Rideau Vineyards. From there, Don went to Lucas & Lewellen and was given the opportunity to work with more than 15 varietals in his capacity as winery crew manager. In addition to Sea Smoke, Don also handles the winemaking chores for his parents' winery, Worx Vineyards, a small vineyard property in the Santa Rita Hills owned by Peter and Rebecca Work.
Finishing our Sea Smoke tasting about 5:15 or so, it was a simple matter to wander across the alley to where Don Schroeder makes the Worx Vineyards wines (now Ampelos). Since Worx output is small, they sub-lease space from another winery (Presidio) and don't actually have a key to the premises. Given the time of day, there might be some difficulty gaining access, so Don went over to find out. No problem.
Selected Tasting Notes:
...from barrel...
2003 Worx Pinot Noir - Fiddlestix Vnyd. Clone 115. From a neutral barrel. Dark fruit, earth and dark olive in the nose. Chewy mouthfeel, very nice balance and long finish.
2003 Worx Pinot Noir - Fiddlestix Vnyd. Clone 667. Slightly burnished dark fruit, bit of ripe sweetness and earth on the palate, and long smooth finish.
2003 Worx Syrah - Evans Ranch Vnyd, SRH. Nose of blackberry and blueberry, with a nice smoky tar-licorice scent. Young mouthfeel, gripping tannins, fruit-filled finish.
2003 Worx Grenache - Harrison Vnyd. Tablas clone. 1st crop from a vineyard on Ballard Cyn. Black raspberry nose, terrific mouthfeel with smooth fine-grained tannin, excellent balance and long finish.
2003 Worx Rose of Syrah. Surprisingly light in color. Slightly sweet and meaty in nose and mouthfeel. Nice flavors, balance and finish.
2003 Worx Syrah - Westerly Vnyd. Slightly reduced nose of black fruit, tar, asphalt, and a bit of barnyard. Bright flavors, and crisp mouthfeel, moderately tannic, with a nice chocolatey taste to the finish.
2004 Worx Grenache - Harrison Vnyd. Hadn't finished ML as yet, but this was very extractedwith loads of dark raspberry. Full and rich mouthfeel, with substantial grip on the finish.
I'd visited the vineyards back in September, but hadn't had a chance to taste any of the wine at the time (9/04 visit). Fortunately, I was headed back this way, and although Peter and Rebecca were out of the country, they had me contact their son who coincidentally was the assistant winemaker at Sea Smoke. Worx Vineyards are located in the Santa Rita Hills AVA in a corridor that connects the Santa Rosa Road valley with the 246 valley. The first blocks were planted in 2001 with Pinot Noir (115 and Pommard clones), Syrah (Estrella and 99 clones) and a little Viognier - a total of 15 acres. These blocks provided the first crop for the 2004 harvest. In 2004, Worx Vineyards were expanded with 10 more acres - Pinot Noir (2A, 667, 777 and 828 clones), Syrah (383 and 470 clones) and more Viognier. As an experiment the newer Pinot Noir sections have 2-4% Pinot Grigio interplanted. These grapes will be ready for the 2006 harvest. In addition to their own use, the fruit has been made available in small batches to other Santa Barbara County winemakers, including Bruno D'Alfonso, Ken Brown, Craig Jaffurs and Chad Melville.
Finally finishing up about 6:00 or so, we were all exhausted. We thanked Don for all the time he spent with us, and hoped he wouldn't have to stay too late closing down Sea Smoke and could head home at a reasonable hour. Meanwhile, we headed back into Buellton to change for dinner and meet up with John Tomasso and Peter Cargasacchi at Brothers restaurant in Los Olivos. We got a nice table in the back of the side room. We'd each brought a few bottles with us, so we tried to get a break on the corkage. No dice. In fact, according to both John and Peter's past experience, Brothers steadfastly refuses to give any breaks on corkage to anybody - winemakers included! The meal was good, and the corkage at $12 bottle was, I suppose, reasonable if not actually favorable. Wines for the night included: 2003 Brewer-Clifton Pinot Noir Cargasacchi, 1998 Graillot Crozes-Hermitage, 1999 Ojai Syrah Roll Ranch, 1999 Linne Calodo Bone Rock, 1998 Linne Calodo James Berry Vineyard (GSM 5/90/5), 2003 Eno Syrah (barrel blend), 2002 Point Concepcion Pinot Noir Salisipuedes, 2002 Point Concepcion Syrah Temperance.
Saturday, November 6, 2004 - Santa Barbara County
Ken had spoken to Dave Corey previously about visiting the source for his Core Winery fruit, the Alta Mesa vineyard in eastern Santa Barbara County. Up early for a jaunt out to Alta Mesa vineyard. This vineyard is out in the far reaches of northeastern Santa Barbara County. Dave met us at the junction of Hwys 1 and 166 just north of Santa Maria. Since we were all going our separate ways after the visit, we followed him in a caravan of cars.
We headed east out Hwy 166 past Cuyama to Hwy 33, and then turned south to Ventucopa on the eastern edge of the county line. Here, on the backside of the San Rafael range was a series of pistachio groves and vineyards. It's nearly desert-like out that way, so irrigation is a must. Although I'd already looked at the approximate location on a map, I was still surprised that it took us well over an hour to get to the vineyard.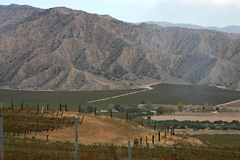 View Eastward from Alta Mesa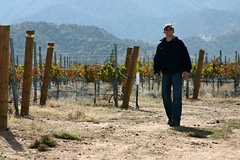 Dave Corey
Finally, we arrived at the top of the mesa. From here, it was a nice view to the east and south. This is the source of fruit for David and Becky Corey's Core Wine. Dave had previously worked for Cambria (KJ) in the vineyards, and shad worked several harvests at CCWS. The Alta Mesa and adjacent vineyards are owned by Barnwood, and Dave noticed that they weren't selling th efruit to anybody, and asked if he could buy it. The result was a long-term lease on 17 acres of vines here (9 acres of Grenache and 8.5 acres of Mourvedre). Dave uses most of himself, but does sell some to others, such as SQN. We didn't bring any wine to taste (major oversight on our collective parts), but then we'd certainly had our share over the past week. This vineyard presented such a strong contrast to others we'd visited during the week. It was serene and beautiful, and we must've spent a couple of hours just walking through it. We thanked Dave for bringing us out to see this fascinating vineyard, out on the far reaches of Santa Barbara County.
This was the final visit of a very long, non-stop trip. From here, Ken headed to Santa Barbara via the scenic route, Al headed north, and I headed south and east to pick up the I-5 near Frazier Park just south of the Grapevine. My thanks again to all of those winemakers, winegrowers, and winelovers who made this trip so enjoyable.
Cheers!
---
---
Copyright © 1993 - 2005, Eric Anderson -
All rights reserved
No original material may be reproduced without written consent
Mail & Comments - Eric Anderson