Vol. 21, No.1.1
West Sonoma Coast - June 2013 - Day 1
Camera gear...check. Tasting note cards...check. Maps...naw, I got this. Well, not really. You're going to need maps AND a GPS to stay on track in this part of California - the West Sonoma Coast.
Michael and I took the "scenic" route from SoCal (101 north from Paso Robles), arriving on Sunday evening. We were looking forward to a nice three-day tour through the Sonoma Coast. The local Sonoma County coastal weather called for light rain today, with showers from a larger system coming in tomorrow. Ken drove in from the Bay Area, meeting us in Sebastopol, where we left amid what we hoped would just be a morning drizzle. From here, Hirsch is about 43 miles away. But, with the winding roads in this part of the county, we knew that would translate to a 90 minute drive. And yes, that's less than 30mph average.


Day 1 - Monday, June 24, 2013
Hirsch Winery & Vineyards - by Eric Anderson

I'd arranged for us to meet at 9:30am with Ross Cobb, Hirsch's winemaker, and Jasmine Hirsch, David Hirsch's daughter and the head of marketing for Hirsch Winery & Vineyards. Prior to Hirsch, Ross had worked at Ferrari-Carano, Williams Selyem, Flowers, and Keller Estate. He's also winemaker for his family-owned Coastlands Vineyards - aptly named Cobb Wines. His first vintage at Cobb was 2001. Conveniently, he is able to make the wines for both labels here at Hirsch, along with a couple of other side projects he's gotten into. If the Coastlands name seems familiar, Williams Selyem produces vineyard-designate bottlings of both Hirsch and Coastlands.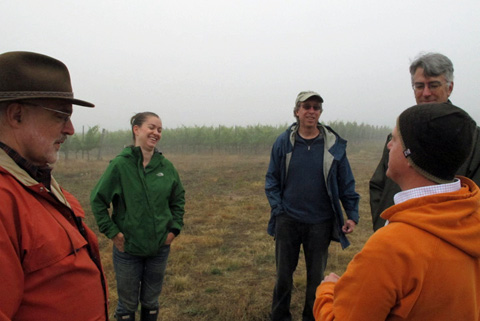 l to r: Paul Homchick, Jasmine Hirsch, Ken Zinns, Eric Lundblad, Ross Cobb
The drive up into the hills provoked some past memories. There is a five-mile unpaved section of Bohan-Dillon Road that is filled with ruts, bumps, and various dead branches littering the way. I'd always done this in an SUV or high ground clearance car. Unfortunately, Michael's Mercedes has a low ground clearance - something that quickly became all too clear. OTOH, I guess we could've taken my Prius!
Upon arriving, I noticed a silver VW GTI parked out in front of the winery. It looked the same year as mine, and I wondered how this low-slung car made it over that unpaved section. Later, we found out it belonged to Ross, and that after a few busted oil pans, he installed a metal skid plate under the car. Brilliant!
Even though our grape-nutz crew members were coming from different parts of the Bay Area, our group seemed to amazingly arrive simultaneously at the Hirsch winery. Of course, this turned out to be purely accidental. Apparently, Paul Homchick and Eric Lundblad had stopped in Petaluma for croissants - of which, they neglected to bring additional croissants along to share (as in, "did you bring gum for everyone?").
It was now drizzling a bit heavier as we huddled together outside the winery, located in the higher part of the vineyard. At Block 15 (planted to Pommard, Swan, Calera, some own-rooted) we examined the vineyard map, while listening to Jasmine and Ross explain the exposition of vineyards across the hilltops - which were now taking on an ethereal look with the low clouds and a light fog. David Hirsch (whom we'd met on our Fall 2004 trip) was not able to join us this time, but both Jasmine and Ross have an incredible wine knowledge base in general, and both in particular seemed to know nearly everything there was to know about the vineyard, its plantings, and its genesis.
The hilltop property, located variously 2 miles or less inland from the ocean, is five miles up a dirt road on a ridge overlooking the Pacific at Fort Ross. At the time, David Hirsch had a somewhat altruistic view of what he wanted to do - let the forest reclaim the land. Loggers had clear-cut the area for timber at least once in the last century. And, this ignominy was soon followed by sheep-herding, which further denuded the already scarred land. The deep soils and composted earth of the coastal rain forest had washed down into the creeks, leaving thin soils over a sandstone-based assemblage of heavy clays, intermixed with sandy loams and clay loams. David felt grapes would be a viable crop to make the land whole again. He then found that Pinot Noir had an affinity for the region and its climate of wet winters and dry summers.
Tasting Notes: Current & Previous Releases

Hirsch 2011 Chardonnay, Sonoma Coast. Old Wente/Robert Young clone. Creamy acidity on full ML. One racking, then bottled 1 or 2 mos later. All whole cluster press, but no skin contact except during pressing. Barrel and some stainless steel fermentation. Sits on lees. Between 0-10% whole cluster fermentation on native yeasts. Nearly all estate fruit, but not Estate in 2011 - will be in 2012. Whole cluster is not a given here. They have to look at the vintage and what the fruit looks like. Beautiful and delicate mouthfeel, with touches of lemon and lime. Lovely finish with nice acids. About 70% Estate fruit. Beautiful!
Hirsch 2011 Pinot Noir "Bohan Dillon," Estate, Sonoma Coast. Huge aromatics; come across as young vine. Native yeasts; slightly underfilled on the palate; a bit acidic and granular in mouthfeel. 30% Estate fruit, and 10% whole cluster, which is not at all evident. On the lighter end of PN.
Hirsch 2010 Pinot Noir "San Andreas," Estate, Sonoma Coast. Deep and dark nose. Anywhere from 0-30% normally on this wine, but none here in 2010. (Turns out the 2010 vintage was ALL destemmed fruit.) Yet, earthy and intense on the palate; perfect acids, very long finish. Fruit from 29 different parcels included in this blend, figuring to about 60/40 of old/new vine fruit. Very nice!
Hirsch 2010 Pinot Noir "West Ridge," Estate, Sonoma Coast. A blend of Pommard, Wadenswil, and Swan clones from blocks 8, 7, and 6, and four different soil types. Much redder in fruit profile. Very integrated nose and mouthfeel, with a really nice finish. 12.8% alcohol. Gorgeous wine!
Hirsch 2010 Pinot Noir "Reserve," Estate, Sonoma Coast. Loaded with black fruit. A blend of Pommard, Wadenswil, Mount Eden and Swan clones from blocks 8, 7, and 6, along with 5, and 4.More masculine in construct, with very nice acids and a big and juicy finish. Sort of a micro San Andreas in total feel. 100% fruit from older vines.
Harrington 2002 Pinot Noir, Hirsch Vnyd, Sonoma Coast. Block 9 and 7, and maybe 11. Probably Mount Eden clone based. This old-vine wine Showing some age, and gives lots of mature strawberry fruit, and heirloom beet and mushroom. Fascinating scent of whole cluster, but was all destemmed fruit.
Cobb 2006 Pinot Noir, Coastlands Vnyd (Estate), Sonoma Coast. Slightly botrytised in the nose, with a sweet sense throughout. Aromas of a wine older than its years. Mouthfeel mirrored much of this, but the wine did seem fresher on the palate.
Hirsch 2005 Pinot Noir, Estate, Sonoma Coast. Very nice aromatics, with a compote of both red and black fruit. A touch grapey in flavor on the back end. This was a tough year, and picking was done early, with many of the prime vineyards were combined into this blend.
Cobb 2012 Pinot Noir, Coastlands Vnyd (Estate), Sonoma Coast (Barrel Sample). Combination of Jackson, Wadenswil, and Martini closes. 25% whole cluster press. Nice and spicy, with plenty of nice fruit throughout.
Cobb 2012 Pinot Noir, "Diane Cobb Block," Coastlands Vnyd (Estate), Sonoma Coast (Barrel Sample). Jackson clone, own-rooted and planted in 1989. 40% whole cluster. Scent of Bay Laurel accents the dark cherry fruit in the nose. Really nice mouthfeel - great texture, with a decicided Burgundian off-sweet taste.
Cobb 2012 Pinot Noir, Emmaline Vnyd, Sonoma Coast (Barrel Sample). Vnyd is located west of Sebastopol, at an elevation of 800 feet, with a southwest exposure. Usually more fog and shade. Goldridge sandy loam soils are planted to two Dijon clones (115 and 777), and produce about two tons/acre. The combination of clone and aspect deliver relatively low levels of alcohol - 12.8% in this case. Almost a baked bread scent, along with rose petal and cherry. Very nice mouthfeel, and long seamless finish.
Cobb 2012 Pinot Noir, Rice-Spivak Vnyd (Estate), Sonoma Coast (Barrel Sample). A 6-acre vineyard with Goldridge sandy loam laced with an unusual amount of volcanic ash. Northern exposure, and Dijon and Swan clones. More masculine and spicy in aroma and taste, and has a decided acid bent to the long finish.
Hirsch 2012 Pinot Noir, "Block 8" (Estate), Sonoma Coast (Barrel Sample). All Pommard clone, from 1 yr-old barrel. Slightly sweet/tart in aroma and taste, with delicious textures and long finish. IMHO, this ought to be bottled separately.


This first vineyard (dubbed the Old Vineyard) was planted in 1980 to one acre of the pommard clone of Pinot Noir, along with two acres of Riesling. Subsequently, David tasted some Pinot while consulting with Jeffrey Patterson, the owner and winemaker of Mount Eden Vineyards, in Saratoga at the foot of the Santa Cruz Mountains. David became enamored with what he tasted. He wanted cuttings from Mount Eden, and despite Jeffrey's protestations about the clone being hard to farm and producing low yields, David prevailed. He budded the Riesling over to Mount Eden in 1989. And he then used cuttings from the Old Vineyard to plant block 7 in 1990. Problems with leaf roll virus soon began to appear in Block 7. So, David then made a proper selection from the Block 7 cuttings to reduce its inherent problems, and this was used for subsequent plantings. It was the first vineyard planted to premium Pinot Noir in the Fort Ross/Seaview area, which gave credence to David being frequently referred to as a pioneer of the region.
He wasn't alone up there, either. These coastal ridge tops have an impressive history - in fact, you have to drive through Marcassin just to get to Hirsch. Other neighbors include Martinelli and Hellenthal, with McDougal just across to the next ridges. Back in '04, I recall David describing the time he first saw a light coming from the opposing hilltop at night. 'There goes the neighborhood,' he said to himself.
From 1990 to 1994, thirty-two acres were planted to these clones, and these successor plantings have had far less issues. So much so, that when Jeffrey visited a few years ago, he was blown away with how well the vines were doing. (Ironically, Jeffrey has since torn out all of his Mount Eden plantings.) David suspects he may have the largest plantings of the original Mount Eden cultivar, which makes up the majority of their West Ridge bottling, along with Swan and Pommard. They've been keeping it separate since 2009. Block 7, as it turns out, involved an other interesting epiphany. All of the own-rooted vines had a lesser degree of mortality.
New methods of site mapping and soil analysis led to some changes, and there has been a large difference in planting density between the old and new plantings. David stayed with the same trellising system - vertical shoot positioning (VSP) - but narrowed the tractor rows on the steep hillsides. Keep in mind that Hirsch Vineyards is a veritable patch-work-quilt of blocks - a hilltop here; a hilltop there. Because of the many non-contiguous vineyard sites, field and block design resulted in planting blocks based mostly on the water retention quality of the soil. Different rootstock was tried for each of the nine soil types.
In 1995 the 114, Swan, and 777 clones were planted on nine more acres. Also, 2-1/2 acres of chardonnay were planted in 1994, on a 40% slope. The oldest vines are now almost 35 years old, but the majority of the vineyard was planted in 1990.
Originally a sheep ranch owned by George Charles (Lee Martinelli's father-in-law), the Hirsch property covers nearly 1,200 acres. Hirsch does have wells, a spring and a reservoir. And, everything has irrigation, but they try to dry farm. It allegedly doesn't rain here is the summer - despite it raining as we speak. Twenty-five acres of closely spaced vines were planted in 2002 and 2003. Of the almost 1,200 acres, 70 acres are planted about - 4 of which is chardonnay, and the rest pinot.
David had always relished tasting the Hirsch wines made by other winemakers. But, he felt to really get a feel for the vineyard's true potential, he would need to see what the blocks and clones would produce without the hand of various winemakers influencing the outcome. Thus, the winery was built in 2002-03 for the express purpose of fulfilling David's desire "...to mirror the vineyard's production;" to produce a wine that always reflected what the vineyard blocks had to offer. It's a purist way of thinking, something that seems to come naturally.
Rainfall, mostly from October to April, is abundant at an average annual eighty inches. The summer climate is dry, desert-like. The annual climate is also more than a little erratic, with wide swings in moisture, temperature, storms, and wind. At 1500' the Pacific Ocean is visible three miles to the southwest through the redwoods and firs that dot the slopes and meadows. The rolling hills with varying slopes fan out in all directions of the compass and at all angles from level to forty percent incline. This means that vine 'A' may be in well drained sandstone that holds little water, and conducive to slow growth and even ripening, but vine 'B', a few yards away, is in a high magnesium, heavy clay that has very high water retention and consequently grows a vine with high vegetative vigor and uneven ripening.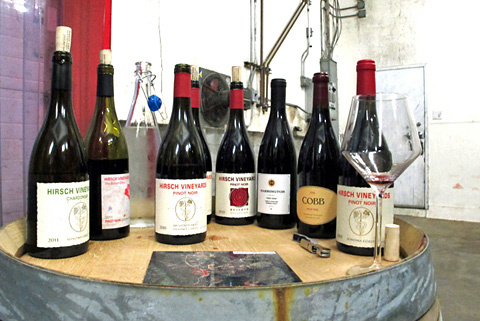 As with many other growers, David's now selling fruit by the acre, rather than by the ton. What with the crop thinning he was doing, he thought it was "self amputation" to sell by the ton. Through most of the '90s, he was getting slightly over 2 tons/acre, but the last few years were down to 1.8 tons/acre. By 2000 he realized that much could be improved upon in the design and planting of the vineyards in order to produce better and more fruit on a consistent basis.
Given the wet weather, it was fair to assume we weren't going to be doing any walking in the vineyard. Besides the obvious mud issue, many growers don't want a herd of 200lb humans compressing the earth between the rows.
So, we retired to the winery for some tasting, where Ross and Jasmine took us through the wines they'd selected to pour, as well as the wines we brought. Brought wines, you ask? Yep. Actually, we find it both instructive and fun to bring "coals to Newcastle," or "sand to beach," as we say in So Cal. What did we bring? A 2005 Hirsch Estate Pinot, a 2002 Harrington Hirsch Vnyd Pinot, and a 2006 Cobb Coastlands Pinot - the latter partially to bust Ross' chops, but really more to hear his thoughts about how he made his 5th vintage.
Actually, one of primary the benefits of making personal visits such as these is the opportunity to get our geek on. Given there are usually two or more commercial winemakers among the grape-nutz crew, the depth and range of questions our group will ask (and the answers we get) usually end up being highly informative, and thus monumentally satisfying. For instance, we had a short discussion about infections of Brettanomyces (Brett) in wine. This genus of yeast confers a funky, sweaty, horse blanket quality to wine - both in aroma and in taste. Some wineries are rife with the stuff, and once a bloom appears in the winery, it is very difficult to completely eradicate. Making things more difficult, the sensory threshold varies by individual. Most people hate it and consider it a flaw. Yet, there are some fans who feel it contributes an interesting quality to the wine - if present in very small doses. Ross explained that some of his previous employers had Brett - in spades. And that due to his experience at eliminating it, he has become affectionately known as the "Brett Doctor," a somewhat dubious term - but one he was quite proud of. It turns out, in their attempt to rid themselves of Brett, many wineries will buy nearly all-new barrels - an very expensive proposition. Then, when a new barrel is mysteriously found to have Brett, they mistakenly claim it was inherent in the barrel. "Misinformation," explained Ross. The yeast, which is still present in the winery, is attracted to the new barrel because the sugars in the new wood is a food source. The only way to rid themselves of it completely is to wash the barrels during cycles using ozone water. Voila!
Current and past producers of Hirsch vineyard-designated Pinot Noirs have included: Littorai, Kistler, Siduri, Williams Selyem, Failla, Scherrer, Patricia Green, and a few others. By this time they had reached the limits of useful feedback about farming from the wineries buying the fruit. This, almost by itself, led to the decision to build the winery on site. Vanessa Wong was the first Hirsch winemaker for the 2002-03 vintages, followed by Mark Doherty from 2004-09. Ross came aboard in 2009, after the '09s were already in barrel. Production is up to 5,500-6,000 cases, and Hirsch has several bottlings now: and East Ridge, West Ridge, and a Reserve, which is something of a barrel selection from all the lots to, as Jasmine put it, "show you all of Hirsch, in a single glass." Ross says that as he barrels down both the East Ridge and West Ridge separately, while he keeps in mind which barrels he may want to blend into the Reserve.
It was now getting close to Noon, and we needed to let these folks get on with their day. I had the impression that Ross needed to leave by 11:00, but somehow we have that innate ability to keep the fun conversation going with other wine people. (Or, at least we thought we did until Day 3.) Our next stop was going to be Peay Vineyards, north of here, and up near Annapolis - otherwise known as the far reaches of Sonoma County. We were going to look for a lunch stop on the way to Peay, and Ross and Jasmine suggested we stop at Stewarts Point, on Hwy 1. So, we said our goodbyes and took off in just a bit more rain to our next stop.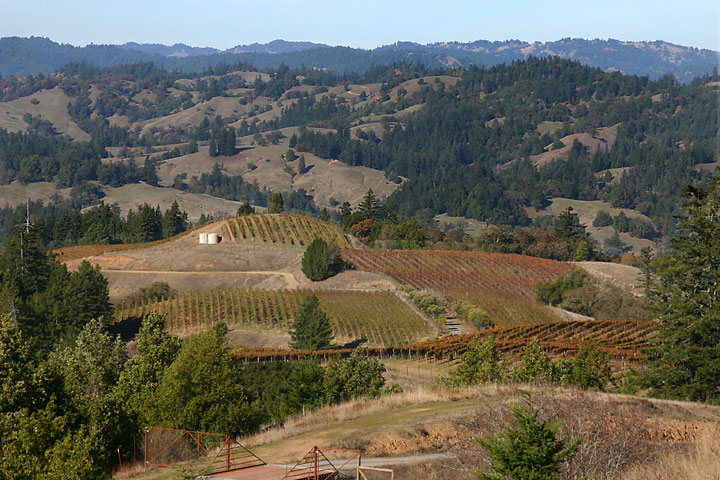 Fall, at Hirsch Vineyards
The Stewarts Point General Store was a perfect stop. The light rain had stopped, and the weather-worn General Store looked nice and moody - just like something out of Hitchcock's The Birds, although we were a little further north from Bodega Bay, and 20 miles west of Healdsburg. Only 20 miles? Yes, but getting to and from there is no easy matter!
This family owned business has been "in the family" since it's establishment in 1868 just after the Civil War. It is a General Store of the old fashioned kind and the front porch is one of the best places in the vicinity to learn what is going on in the area. The nearby one room school house is typical of similar buildings that were in use all through the area during the late nineteenth and early twentieth centuries, and were located in areas where the children from the surrounding farms could walk to school.
It wasn't particularly busy inside, and we each ordered up sandwiches (although Paul had to order something the guy couldn't make), and sat there with our sandwiches and bottles of beer enjoying the relaxing pace of day#1. Once sated, we piled into our respective cars and headed off to Peay, still about 1/2 hour away.


Peay Vineyards - by Eric Anderson


For me, a visit to the Peay Vineyards is beyond delight! If any vineyard could be more about the people and the vines, I just can't imagine it. And, were that not enough, IMHO this is one of the top 2-3 most photogenic vineyards in California. We were scheduled to meet with Nick Peay, who together with brother Andy and Nick's wife Vanessa are together the brains, brawn and talent behind Peay Vineyards. We spent some quality time with Nick, Andy and Vanessa back in November 2004 on our trek through the Sonoma Coast. And, while we've seen and visited with each of them since that time, we were all looking forward to seeing them again.
We arrived to find Nick Peay (pronounced "Pay") cutting up cheese and charcuterie inside the kitchen of their 90+ yr-old house. Nick had a few wines for us to try, and of course we'd brought a few ourselves. But, before partaking, we needed to take the requisite tour of the grounds and vineyard. So after a little splash of Chardonnay into our glasses, and we were off for a walkabout. The back-story here, while not untypical for many winery/vineyard startups, is still quite interesting.
With a degree from Bowdoin College in hand, Nick Peay was a guy on a mission. Hoping to dodge his parents' wish that he go to law school, while also apparently channeling Horace Greeley, Nick set off for California to see if he could catch the wine-bug while working for a winery. Who knows, he thought, maybe he'd even end up pursuing life as a chef. But, after working crush at Schramsberg in 1988, the hook was apparently set, and Nick took his first full-time wine position with Bill Smith, at La Jota Vineyards. It was fortuitous - no, not because he discovered cabernet. It was because the most crucial thing Nick learned from Bill, was the logical importance of controlling one's grape source.
If his intention really was to someday grow his own grapes to make his own wine, Nick felt it was in his best interest to go through the graduate enology program at U.C. Davis. And so, in between schooling, Nick continued working at several wineries, including Schramsberg, La Jota, and Newton, and finally as assistant winemaker at Storrs in the Santa Cruz Mountains from 1994-97. Now, he thought, who else can involve in this craziness?
Tasting Notes: Current & Previous Releases

Peay 2011 Chardonnay, Sonoma Coast. Lovely nose of apple and light citrus. Nice, juicy flavors, elegant in mouthfeel, and very nice balance.
Peay 2011 Pinot Noir - Savoy Vnyd, Anderson Valley. Nose of dark berry, with some touches of earth and mushroom. Full and rich on the palate, with very nice balance and long finish.
Peay 2011 Pinot Noir "Pomarium," Estate, Sonoma Coast. Lovely nose of red and black fruit. Elegant in mouthfeel, with fine-grained tannins and very nice balance.
Peay 2003 Pinot Noir Estate, Sonoma Coast. Reputed to be a tough year due to temperatures. Ripe-fruited nose, touches of tea. Fully resolved mouthfeel, with ripe dark berry flavors, and a kind of dried plum flavor at the finish.
Peay 2003 Syrah Estate, Sonoma Coast. Loaded with black fruit and pepper in the nose. Additional hints of fennel, and smoked meats. Beautiful texture - maybe a bit riper than my style, but very nice indeed. (This was the last vintage made as an estate cuvee. Going forward, two separate lots were created, Les Titans and La Bruma.)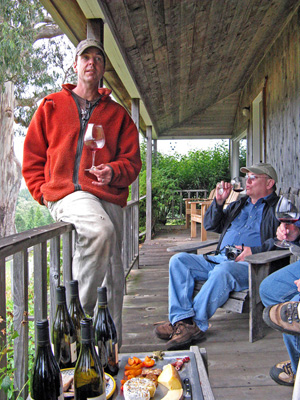 Well, over a bottle of Château Beaucastel and a rack of lamb, Nick approached his brother Andy about making his dream, become their dream. He was glad to find that Andy was interested in joining forces to acquire their own vineyard and produce their own wine. In fact, Andy especially liked the idea that the two of them could be masters of their own destiny. All they needed to do was to establish a fruit source.
Andy, too, had an interesting background. He had received his BA from Dartmouth College in 1992 and, after graduation, spent a few years on Wall Street as a financial analyst. After he and Nick decided to go into the wine business together, Andy enrolled in the OIV Wine Marketing Summer Session at UC Davis, and continued to pursue his interest in wine by working the 1995 harvest at Cain Vineyards in Napa. By this time, Andy was just as hooked as Nick, and moved to San Francisco to learn more about the retail end of wine by working at The Jug Shop. Andy also received an MBA from the Haas School of Business at UC Berkeley, while continuing through the process of looking for a potential vineyard site.
The brothers knew they wanted a cool climate location, somewhere on the Sonoma Coast. A former sheep ranch near Annapolis came on the market at just the right price, and, cool climate is what they got. The Peays bought the 280 acre property (including a 90 year-old farmhouse) in 1996 and began planting the first 30 acres two years later. The vineyard sits on a hilltop, located in the far northwestern corner of Sonoma County approximately 4 miles from the Pacific Ocean near Sea Ranch. They have a partially obstructed path formed by the Wheatfield Fork of the Gualala River that allows for some fog and plenty of cool air penetration.
While the young vines matured, Nick worked the harvest for Flowers in 1998 and 1999 and for Coldstream Hills in Australia in the Spring of 1999. Meanwhile, after a couple of stints in Bordeaux and Burgundy, Vanessa Wong started working in California with Franciscan, berfore moving over to Peter Michael, and then on to Hirsch for a year or so. When Vanessa joined the brothers in 2001, all the pieces fell in to place. Andy would handle the business end of things, while Nick would concentrate on winegrowing and help Vanessa in the cellar. Nick and Vanessa married in 2002.
As with the Russian River and the Petaluma Gap, fog is the defining factor keeping things cool during the growing season. Here, a little bit of fog/cooling is good, as it moderates the temperatures. But, too much can increase the likelihood of fruit spoilage due to mold and mildew or may lead to too little heat to ripen grapes. No fog at all could be a problem resulting in a short growing season which is less ideal for high quality grapes. In fact, they cross their fingers hoping that the fruit will ripen before rains start in late October/early November. And, in some years, getting it ripe has definitely been a challenge for them.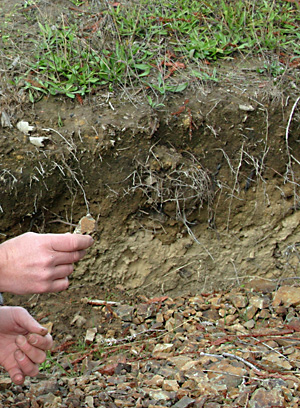 The vineyard is part of an uplifted sea bed that was pushed up around 7-8 million years ago. There are scallop shells and nautilus fossils in the soils. Millions of years of decaying forests have increased the pH of the soil, so it is fairly neutral and composed of a fine, silty, sandy loam, with a modicum of clay interspersed in the subsoils. It is high in inorganic matter and low in most nutrients. This low nutrient content allows them to control the health and vigor of the vine, maintaining a small but healthy fruit load as well as keeping vigor in check. The altitude also works well temperature-wise, in that it provides better the sun exposure to the fruit.
There is a high winter rainfall here, and the soils are well saturated at the beginning of the growing season. There is no water table here as there are in most bottom lands. Thus, water for the vines depends on the ability of the roots to penetrate the soil deeply, and to follow the water as it recedes deeper into the ground. Root penetration goes down to the first 4 or 5 feet of soil. By August, irrigation is necessary to maintain the right level of stress on the vineyard. Too much stress, and the plant will shut down completely. Too much irrigation, and the grapes will have diluted juice.
The decision to farm organically was decided early on, and the Peays have continued to do so for the past 8 years. That said, they're not 'certified organic,' and they're not dogmatic about it either. For instance, if they see that something is threatening the vineyard – and there was no organic alternative – they would do whatever was deemed necessary to save the vineyard.

The Peays also employ eight full-time workers in the vineyard. Almost everything is done by hand, although they use tractors for spraying, hauling fruit, undervine tilling, and the like. They are proud to know that their workers touch each vine over 13 times per year. Having their own "crew" is as rare as it is expensive, but the care and attention they give the vineyard translates directly to the wine. They also use bio-diesel in the tractors, and power vineyard operations and the winery via solar panel arrays.
Nick uses a vertical shoot-positioned trellis, supporting a head trained bilateral cane pruned system. The Syrah is on a bilateral cordon. This allows plenty of direct, dappled sunshine, still kept cool by ocean breezes. Spacing is intermediate to semi-close, which allows the narrow-width tractors to navigate the seven and eight feet spacing between rows on some of the steep hillside slopes. Spacing between plants begins at three feet. After the vines are established, they no longer till the soil between the rows, and utilize cross-slope farming to minimize erosion. The idea, as Nick puts it, is "to keep the hilltop on top of the hill, and out of the ravine."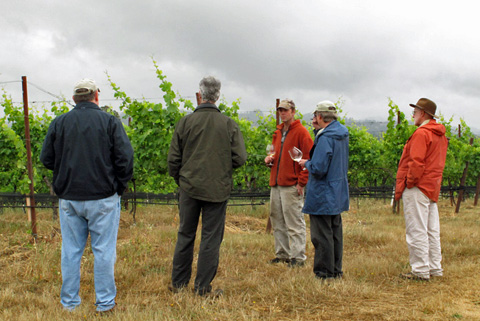 l to r: Michael Poston, Eric Lundblad, Nick Peay, Ken Zinns, and Paul Homchick
The clones (they're actually called "cultivars") and rootstock have been extensively evaluated at Peay over the years. The large number of clones enables them to blend for complexity, or to bottle separately in order to express an area's unique profile. The chosen clones produce smaller berries and clusters, yet they they still conduct what is known as "green harvest," or dropping crop to keep yields low to achieve fruit intensity. Despite the long growing season, and due to the cool climate, they need a less-than-heavy crop load to ensure ripeness. Yields are obviously going to be very low, with less than one ton per acre over 3 of the last 7 years, averaging around 1.5 tons/acre.
The Peays now grow 35 acres of pinot noir, which is split into 20-25 separate blocks - based on clonal selection (13 and counting), aspect, elevation (600-775 feet) and various other factors. Nick's process is to pick them individually and vinify 20-25 separate lots each vintage. The three estate blends (Ama, Pomarium and Scallop Shelf) are each a combination of 5-6 clones and blocks and do not represent a specific area of the vineyard, but instead are 3 expressions of pinot noir from the vineyard. The blends are basically made "blind," without knowledge of what clones are in which wine. This keeps them focused on making the best expression of that blend without other considerations. Any barrels that do not go into one of the estate cuvee wines are blended with wines made from neighboring vineyards to make the Sonoma Coast AVA cuvee. That process is also done blind, and any remaining barrels are then declassified and bottled as the Cep Pinot Noir.
Our walk through the vineyard was great. Nothing like a little hike to ring your bell and let you know you're out of shape! (It was probably from carrying that glass of Chardonnay around.) It was a gorgeous day - cool, a bit overcast with some sun peeking through, and after the short vineyard tour, we went back to the inviting front porch of their 90-year old house to partake of Nick's wine selections - as well as the wines we brought to share. Frankly, aside from the misting rain, this took me back almost 9 years to our last lengthy visit.
Altogether, we had a great day - and, we managed to stay on time! Paul needed to be back in the City, and was not going to be able to join us for dinner. So, on the long, long, long, way back to Sebastapol (that's why they call this the "Extreme Sonoma Coast"), we discussed our dining options. K&L's restaurant in Sebastapol was closed on Mondays, as were a few other places. So, we opted for a repeat visit to the place Michael and I had gone on Sunday evening - the French Garden Bistro. Unfortunately, the service and to some extent the food were not up to the previous night's level. After waiting 45 minutes for our meals, at least they comped us the beers.
Additional Photos from Monday
Row 1 - Hirsch Winery & Vineyards
Row 2 - Peay Vineyards