Vol. 21, No.1.3
West Sonoma Coast - June 2013 - Day 3


Recap of Day 2 -
Well, just as predicted, we did have some showers for most of the day. Ken had offered to be the driver for today, and our first destination was Baker Lane - about 4 miles away. Rain was light to moderate, and we weren't sure we'd get any vineyard time in today either.
Ken had arranged for us to meet with Stephen Singer, owner and winemaker of Baker Lane Vineyards. We met Stephen outside his property, and walked through a courtyard toward the house just as it started to rain harder. The view outside wasn't much to write about, but as we walked into the living area of his beautiful contemporary house, there was an gorgeous view of his and several others' vineyards out through floor-to-ceiling glass. Alan Rath soon joined us, and after donning ponchos or grabbing umbrellas, we actually did go out into the vineyard, where Stephen described the lay of the land, and his vineyard's genesis. Then, it was back to the house for a tasting of his current releases.
Departing Baker Lane, we headed for the Boheme tasting room in Occidental to meet up with owner-winemaker Kurt Beitler. Kurt also farms several of the local vineyards, and all of the vineyards he makes wine from. After our tasting, we all went a couple of doors down the block to the Union Hotel cafe for some rib-sticking lunch.
From here, we drove to Punchdown Cellars, a custom crush facility in Santa Rosa to meet with John Raytek, owner-winemaker for Ceritas. John took us through many of his wines, including his current releases and some tank and barrel samples. Great visit, and really great wines!
Altogether, we had a great day. That evening, Alan headed back home, so Ken, Michael and I opted for dinner at Peter Lowell's in Sebastapol. Meanwhile, we were looking forward to Day 3.
Day 3 - Wednesday, June 26, 2013
We were now into Day three, with just the barest drizzle to contend with. Thankfully, it only sprinkled a bit through the morning. The afternoon was sunny, and even a bit hot and humid - at least by comparison. Michael was up for doing the driving again (hopefully no off-roads this time), and Ken met us again at our hotel in Sebastapol. Then, we were off to our first visit - Littorai, which was close by.
I arranged a visit with Littorai, and was hoping that Ted Lemon would be able to join us. Arriving slightly early (you always want to be early if you can), we looked around a bit until Assistant winemaker John Wilson came out to meet us. John led us on a full tour of the property - from vineyards to all of the organic features they've employed, including the big composting area. Along the way, he described the early careers of both Ted and Heidi Lemon, and the genesis of the Littorai property. (Littorai is plural of the Latin noun Litor, which means "the coasts.")
Tasting Notes: Current Releases

Littorai 2011 Chardonnay - Sonoma Coast. From a blend of vineyards, with the backbone largely from The Tributary Vnyd, northwest of Occidental. 100% whole cluster, and all free-run juice. Lovely nose of lime, lemon, and citron, with firm mouthfeel and a Chablis-like finish.

Littorai 2011 Chardonnay - Mays Canyon Vnyd, Sonoma Coast. Even more Chablis-like, with pronounced mineral and floral qualities. A little more lush and elegant, with nice long finish.

Littorai 2011 Pinot Noir - Savoy Vnyd, Anderson Valley. This vnyd was previously owned by Rich Savoy, but now by Cliff Lede. 18% whole cluster over 4 separate fermentations. Nice bing cherry and cranberry fruit in the nose and on the palate. A fascinating wine, and given the change in ownership, it is uncertain there will future bottlings from this vineyard.

Littorai 2011 Pinot Noir - Roman Vnyd, Anderson Valley. Fully destemmed fruit. Clones 828, 115, Calera, and 777. Beautiful nose of dark cherry. Fleshier in mouthfeel.

Littorai 2011 Pinot Noir - Cerise Vnyd, Anderson Valley. Serpentine soils. 15% whole cluster. Nose of black and red fruit. Large-framed with a beautiful mouthfeel and big spicy finish.
Littorai 2011 Pinot Noir - Platt Vnyd, Sonoma Coast. 3% whole cluster. Fascinating aromatics - lots of earthy, animale scents, ans well as savory spices in both nose and mouth. Great acids on finish.

Littorai 2011 Pinot Noir - Mays Canyon Vnyd, Sonoma Coast. 28% whole cluster. Terrific nose and mouthfeel, with an initial whole cluster scent that integrates well with the fruit on the long slightly earthy finish.

Littorai 2004 Pinot Noir - Summa Vnyd, Sonoma Coast. Dry farmed. Seems a bit ripe stewed in the nose - not surprising, considering the heat of the vintage, but this seems to fad/blow off and becomes very enjoyabel with time.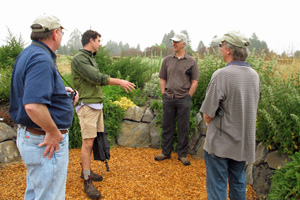 l to r: Michael Poston, John Wilson, Eric Lundblad, Ken Zinns
Littorai Wines is a small, family owned and operated winery producing vineyard designated Chardonnay and Pinot Noir from the coastal mountains of Sonoma and Mendocino Counties. The brand was founded in 1993 by Heidi and Ted Lemon. Ted began his career by receiving an Enology degree from the Université de Dijon in 1981.
Thereafter, he was fortunate to work at many of the prestigious estates in Burgundy, including: Domaine Georges Roumier, Domaine Bruno Clair, Domaine Parent, Domaine De Villaine, Domaine Delorme and Domaine Dujac. Ted was also the first American ever selected as winemaker and vineyard manager of a Burgundian estate, Domaine Guy Roulot in Meursault, and he remained in Burgundy through 1984. Since 1984, Ted has been a partner with the owners of Domaine Dujac in Druid Wine Company, which distributes Domaine Dujac wines internationally and produces wines from Puligny Montrachet and Meursault under its own label.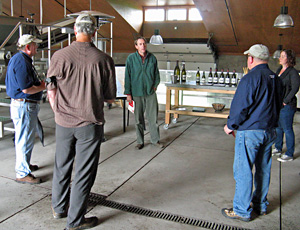 l to r: Michael Poston, Eric Lundblad, Ted Lemon, Eric Anderson, and Yohannah Burmeister
Upon returning to the United States, Ted became the founding winemaker of Chateau Woltner on Howell Mountain, which coincidentally had an interesting 'French Connection,' to digress just a bit. (The Woltner estate was established in 1877 by two Frenchmen, Jean Brun and W.J. Chaix who were among the first to plant vineyards up on Howell Mountain instead of on the Napa Valley floor. It was California's thirteenth registered winery, and the wines labeled as Nouveau Medoc Vineyard. The old stone winery was built in 1886. The estate was bought in 1980 by Francis and Françoise DeWavrin. Françoise DeWavrin (née Woltner) is the granddaughter of Fréderic Otto Woltner whose Château La Mission Haut-Brion rose in reputation under his and the management of his sons Fernand and Henri. The DeWavrins ran La Mission for a number of years after the death of the Woltner brothers in 1974 until the estate was sold in 1983, and the DeWavrins concentrated on the Howell Mountain estate, renamed Chateau Woltner, producing their first vintage in 1985, and operational until 2000 before its sale and merge into Ladera Vineyards.)
After leaving Chateau Woltner, Ted became a consultant to a number of wineries, including: Franciscan Estates, Clos Pegase, Green and Red Vineyard, Reverie, Howell Mountain Vineyards, Black Sears Estate, Archery Summit Winery in Oregon, Burn Cottage Vineyard in New Zealand and many more, all the while fully intending to plant his own vineyard and build a winery.
Heidi's own path to farming started with a year living and working in Germany after college, a MA in ESL (English as a Second Language) was followed by work at Domaine Chandon, Robert Pecota Winery, Robert Long Vineyards and Stag's Leap Wine Cellars. In 1992, The Lemons spent months traveling the vineyards of the west coast from Seattle to Santa Barbara, looking for the best growing conditions for Pinot Noir and Chardonnay, finally deciding to focus on what they refer to as the "true" north coast of California. They founded Littorai in 1993.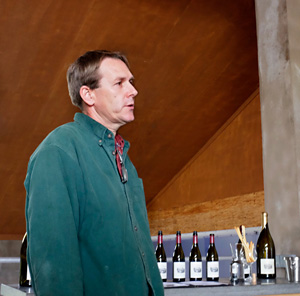 Ted Lemon
In 2003, the Lemons purchased a 30-acre property in the Sebastapol area, about 7 miles from Bodega Bay and one ridgeline further in from the Freestone area. Here they planted their estate Pivot (pronounced Pivot, not Peev-oh) Vineyard in 2004. They completed construction of the winery in July 2008, just in time for harvest. The decision to farm biodynamically wasn't immediate, but grew very quickly, as Ted would wonder, 'what does the forest know, that the farmer doesn't.' In other words, how is the forest able to matain itself without the intervention of man.
Ted was not originally interested in growing wine in the Sebastapol area, and was focused more on fruit from the Occidental area and Anderson Valley. But after a series of tastings with Ken and Akiko Freeman of wines grown on Goldridge soils, he became a convert. So, when this former apple orchard came on the market, Ted liked the hillside and its aspect to the sun, and the deal was done. The Goldridge loam soil here is 8" deep, with marine-origin sandstone below that. Ted's "conversion" to wines from the Goldridge soil was the "pivotal" reason for buying the property. Hence the name Pivot Vineyard.
The 30-acre Estate contains 3-acres of vineyards (with 6 different clones), 14-acres of hay fields, and 10-acres of riparian area that are maintained to balance out pest pressures. This all translates to creating a native habitat for bees and wasps, with a few gardens of things like native sages, anise, yarrow and salvia that attract predacious insects such as lady bugs and dragonflys to help reduce the emergence of aphids and mites. They don't cultivate a cover crop annually between rows. But, will occasionally disc-in a legume seed mix. The whole purpose is to create conditions where the vines can take care of themselves (back to 'what does the forest know'). No spraying of pesticides, fungicides, or herbicides is done (though they will use sulpher to combat mildew). Instead, they work with plants like stingling nettle, German camomile, and horsetail that can combat those things.
They also spread compost intensively, even injecting compost tea into the irrigation lines in order to increase the biomass of the soil. The remnants of hedging the canopy do remain in the vineyard, but prunings are packed out for use in the compost pile. Taking the cuttings from Pivot, Thieriot, Haven, and Roman vineyards, as well as stems and skins left over from fermentation, Littorai will build a compost pile each year to create soil nutrients. The pile is relocated each year, because the soil underneath becomes very fertile. It's also fully netted, to keep the free-roaming chickens from scratching their way into the pile looking for worms.
Although there is a well on the property, their aim is to dry farm the Pivot Vineyard. To that end, they have been backing off irrigation steadily each year. Of course, given the current drought throughout California, they have had to manage this quite carefully. For instance, they've not had any significant rain since New Year's Eve 2012, and are currently at 85% average water retention. The vines in Pivot are now 9 years old, and last year they needed to irrigate only once. Root penetration is now down to 4-5 feet.
The row spacing is meter x 7 ft. Dropping crop is paramount to maintaining a balance in the crop-load, discouraging bunching, and allowing the clusters room for air flow. John told us that based on crop estimates, last year the Pivot vineyard would set to 6.3 tons/acre. After thinning, it was brought down to 2.8 tons/acre. No wonder growers want to break down and cry, seeing all that fruit on the ground - although, sometimes it can end up in a really, really nice Rosé. ;-)
Littorai has also planted a 7-row "experimental section" in the vineyard to follow both plant vigor and fruit set of combinations not currently planted. They've spaced this out so that every 10-20 vines is a different combination of Pinot and Chardonnay clones on various rootstalks, all identified with metal tags (e.g. 943/3309).
They are currently farming fruit from four going on five vineyards in Anderson Valley and eight Pinot Noir vineyards in the Sonoma Coast. Current production is where they want it, at about 4,500 cases, and they now make 17 different wines. Of the 12 vineyards they work with, Littorai farms 3 of them. They own Pivot and Haven, and they lease Thieriot and Roman. Ted had started working with the Mays Canyon Chardonnay fruit in 1993. It used to always be designated as Russian River AVA, but this was changed to Sonoma Coast AVA beginning with the 2011 vintage.
They harvest the vineyard block by block, but don't want to pick too small a section at a time, because they want to avoid smaller fermentations, and/or fermenting in bins. That said, they've done as many as 70 different fermentations in a vintage. The Lemons believe firmly in low yields and careful site and vine selection, in order to have the wine be a reflection of the vineyard and not the cellar (winemaker). This carries out to things like not using additives, such as cultured yeasts, cultured bacteria, acidification, enzymes etc. This ultimately translates to eschewing most technologies as the route to great wines, rather than hands-on farming and working with their various terroirs. They also feel their winegrowing is "profoundly French and profoundly Burgundian," especially since Ted learned the trade from such eminent winemakers as Jacques Seysses, Aubert De Villaine and Jean Marie Roumier.
After the extensive tour of the property, John led us back to the winery for some tasting, introducing us to Yohannah Burmeister, who would be handling the tasting. Yohannah had excellent wine knowledge in general, and especially of the Littorai vineyards - their locations and soil conditions. We tasted through two Chardonnays and five Pinot Noirs - all 2011s, which seemed a bit early to be trying, but we never say no to our hosts. We also brought a bottle along with us - a Littorai 2004 Summa Pinot. Toward the end of the tasting, Ted was able to join us and chat a bit the property and his wines. One burning question I had for Ted was why would he leave Burgundy, once he was entrenched in what seemed like an ideal situation. The answer wasn't as simple as I'd have thought. Ted had ample reasons that I have to admit I hadn't even thought about, and gave me whole new perspective of what I'd have otherwise thought would be his dream job. Suffice it to say, Ted's very happy with where he is and what he's doing.
We had a great tour and tasting - both fun and informative. Ted had to go check out some vineyards, and it was now time for lunch. So, we headed into Graton to the Willow Wood Cafe, across the street from Underwood's. We even managed to bring in our half-empty bottle of '04 Summa, that we hadn't finished at the winery, to enjoy with our meal. This really is a tough life!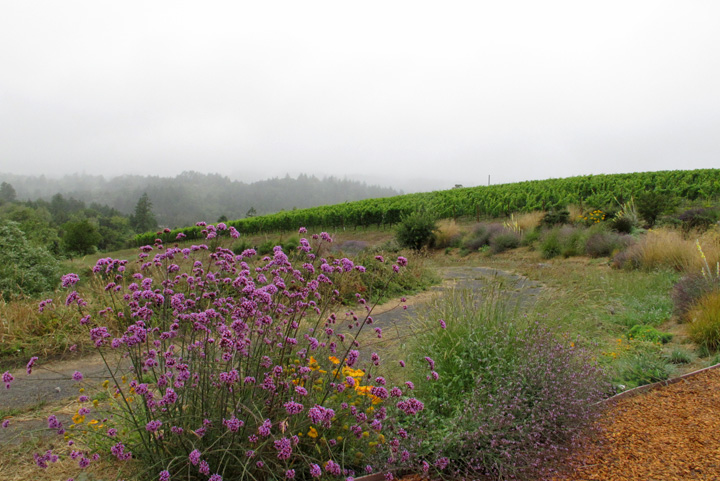 Littorai's Pivot Vineyard
Red Car Wine Company - by Ken Zinns
After finishing up our lunch, it was only about a two-minute drive to our appointment at Red Car Wine Company. The tasting room and winery are housed in a large metal building which was formerly a tractor salesroom at the corner of Graton Road and Highway 116. We all stepped inside, where we were welcomed by Erin, who was behind the large tasting bar. It's a fun tasting room, full of little touches that will grab your interest while you're taking a break from trying the wines. After a few moments, owner/winemaker Carroll Kemp came out from the winery portion of the building to greet us.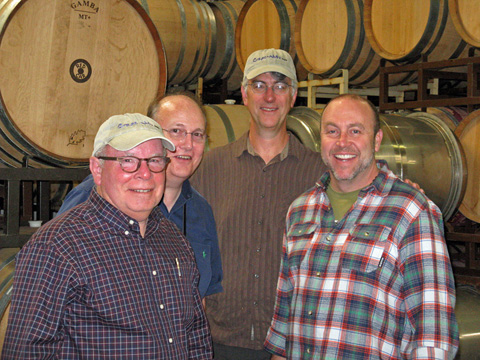 I've written about Red Car before, as I had stopped at the tasting room in August 2011, but this was the first time I'd visited Carroll there and had an opportunity to talk with him in greater depth than the times I'd seen him at various tasting events. Carroll grew up in Arkansas and worked in the film industry in Los Angeles for a number of years. Starting to get tired of working in that business, he and his colleague Mark Estrin started making wine as a hobby. Carroll told us that he worked during crush at Central Coast Wine Services in Santa Maria in 1999 and that got him hooked on winemaking in a big way. Noted Syrah producer Joey Tensley sold Carroll and Mark a ton of Colson Canyon Vineyard Syrah fruit the following year, and they made the wine at Carroll's house. They founded Red Car in 2000, naming the company for the red electric trolley cars that ran throughout Los Angeles up until the early 1960s. Richard Crowell joined Carroll and Mark soon afterwards.
Carroll and Mark started making their wine in Santa Barbara County and sourcing fruit from the Central Coast, but as early as 2002-03 they began planning to move north. 2004 was a key year for Red Car – Carroll and Mark felt secure enough in their new venture to make the winery a full-time commitment, and they purchased a property for a vineyard on the Sonoma Coast, in a remote area above Fort Ross. Carroll told us that he had driven to Flowers Winery – on a ridge near Hirsch Vineyard – to pick up some barrels, and immediately was taken with that area. The Red Car Estate Vineyard is on a 123-acre property a few miles farther north, at about 1,100-foot elevation along King Ridge Road. Sadly, Mark passed away in 2005, but Carroll – with Richard's assistance – has continued the evolution of the Red Car vineyard and wines.
About 8½ acres were planted at the Estate Vineyard in 2005, with more recent planting increasing the vineyard to about 14 acres – 8½ acres of Pinot Noir (777, 828, and Calera clones), 3 acres of Syrah (383, 877, and Alban clones), and 2½ acres of Chardonnay. The planting uses dense vine spacing and the vineyard blocks are planted to separate clones. Carroll said that he feels the choice of clones is more important for younger vines – as they mature they adapt to their specific place and clonal distinctions become less important. Red Car also leases 12-acre Hagan Vineyard, and farms it as another estate vineyard. It's situated on prime property, along Taylor Lane west of Occidental, with neighbors including famed Summa and Thieriot vineyards. Partly planted by Carroll's friend Mark Tarlov (who co-founded Evening Land Vineyards), Hagan includes 10½ acres of Pinot Noir and 1½ acres of Chardonnay.
Tasting Notes: Current Releases & Barrel Samples

Red Car 2011 Chardonnay, Sonoma Coast. Sourced from 55% Weeks, 23% Ritchie, 12% Hawk Hill, and 10% Zephyr Farms vineyards, mostly Old Wente clone, picked at 22 brix, made in 10% new oak, 13.5 alc. Very light yellow-straw color, with lemon, fresh herbs, and touches of lees and flowers. Bright mouthfeel with zingy acidity and a clean, crisp finish, nice lighter-bodied Chardonnay.
Red Car 2011 Pinot Noir, Sonoma Coast. Sourced from six vineyards, including 14% from Red Car Estate. Clones include Jackson 16, Pommard, 828, and Swan. 10% stem inclusion, aged in 20% new oak, 13.7 alc. Light ruby color, with herbal, forest floor aromas upfront followed by cranberry and strawberry fruit, flowers, and a slight iron/mineral note. In the mouth, this medium-bodied Pinot showed darker fruit flavors and plenty of acidity, finishing with moderate tannins.
Red Car Estate 2011 Pinot Noir, Estate Vineyard, Fort Ross-Seaview.Only the second vineyard designate Pinot release from the Estate Vineyard. From Calera, 777, and 828 clones, picked at 22.7 brix, 10% stem inclusion, aged in 29% new oak. Medium-light ruby color, with aromas of forest floor and bright red fruits, orangepeel, and herbs. Medium weight with juicy acidity and a slightly chalky/minerally texture, this finished with firm tannins. Already a very attractive young Pinot, this should only get better with time in the cellar.
Red Car 2010 Pinot Noir, "The Aphorist," Bartolomei Vineyard, Sonoma Coast.From a vineyard northwest of Forestville, with mostly Jackson 16 clone along with 113. Medium-light color, this displayed slightly funky and earthy notes, though they mostly blew off to reveal raspberry and black cherry, dried herbs, and a touch of spice. Bigger and richer on the palate than the previous Pinots, but retaining very good acidity, with medium tannins on the finish.
Red Car 2011 Pinot Noir, "Heaven & Earth," Bohemian Station, Sonoma Coast.FromCalera, 828, and Pommard clones, 13% stem inclusion, aged in 35% new oak, 13.7% alc. Slightly darker ruby color, with plum and black cherry fruit, earth, a bigger spice component, and floral plus stony/mineral notes. Medium-bodied and structured, this had a long finish chalky tannins – this shows good potential but will take some time to develop.
Red Car 2012 Pinot Noir, Doc's Ranch Vineyard, Sonoma Coast (barrel sample).100% Swan clone, from vines planted in 1999. Medium-light ruby color, this was not fruit-forward, more herbal with some mushroom/earth notes along with a darker fruit profile. Medium weight on the palate with a richer texture and a firm tannic structure and finish.
Red Car 2011 Chardonnay, Ritchie Vineyard, Sonoma Coast. From Old Wente clone vines planted nearly 40 years ago, fermented in 35% new oak, 13.8% alc. Light yellow color, this featured bright lemon and nectarine aromas plus undertones of flowers, spice, and sweet oak. Medium-bodied with a creamy texture with lively acidity and a long finish, nice balance of brightness and richness.
Red Car Estate 2011 Syrah, Estate Vineyard, Fort Ross-Seaview (barrel sample). To be bottled the week following our tasting. Mostly Alban clone with a little 383. Dark color, this displayed a savory character, with smoked meat, black olives, and herbs, along with black fruits, with hints of white pepper and spice. Medium weight, this had lively acidity and great structure, with grippy, youthful tannins on the long, fresh finish, a terrific cool-climate Syrah.
Red Car 2008 Syrah, Sonoma Coast. Sourced from two vineyards, 14.6% alc. Medium-dark purple, with dark berry fruit, smoked meat, black pepper, spice, and a touch of vanilla/oak. More full-bodied, rich and bold, with chewy tannins on the finish.
The last Central Coast fruit used in a Red Car wine was from the 2007 vintage, and the first crush in their present Graton facility came in 2010. The winery has now settled into its identity as a true Sonoma Coast producer, and Carroll told us that he wants to source fruit exclusively from vineyards west of Highway 116, which runs through Sebastopol and Forestville. The wines are currently sourced from a number of vineyards, including Bohemian Station (about 4½ acres on a south-facing hillside north of Occidental), Bartolomei (northwest of Forestville, planted largely to the little-known Jackson 16 Pinot clone), Doc's Ranch (the old Marsh Vineyard property west of Occidental, planted entirely to Swan Pinot clone), and Platt (between Freestone and Bodega). There are other vineyard sources too – Zephyr Farms, Ritchie, Falstaff, and more. Ulises Valdez worked with Red Car after their move to Sonoma County, while Greg Adams – another highly-regarded vineyard manager – is now their viticultural consultant.
Carroll told us that buying the Red Car Estate Vineyard property was a turning point for the winery, and from that point on it has become increasingly more about the vineyard than the winemaking. He said that the names of the wines have been evolving from the old labeling that emphasized brand and marketing to new labeling that emphasizes vineyard and place. For example, the Platt Vineyard Pinot Noirs have been known as "Dreamland," those from Bartolomei Vineyard have been labeled "The Aphorist," and "Heaven & Earth" has been the name for the Bohemian Station Pinots. These proprietary names will be phased out to place more importance on the vineyard designations. In addition, recent wines have begun to include lots of technical wine data on the back labels – great for wine geeks!
Winemaking has evolved to become less interventionist, with native yeast fermentations, no additions other than SO2, and less new oak – Carroll said that most barrels are at least three years old. Chardonnays are kept in new oak for only about one month, then racked into older barrels. Puncheons are used for aging Syrah. Any winemaker will tell you that the most critical single decision they make is when to pick the grapes, and this is another key change in Red Car's style from previous years. Earlier wines had flirted with 15% alcohol (and even more), and even as recently as the 2008 vintage I thought that several Red Car wines seemed to be on the riper side. This is no longer the case, though – I don't believe any of the wines we tasted during our visit were even over 14% alcohol. Of course vintage variations will affect when fruit is picked, but Carroll told us that his ideal target brix for harvest is around 21.5-22 for Chardonnay and Syrah, and 22.5-23 for Pinot Noir. Carroll said that he is aiming for good acidity in the Red Car wines, and he feels "Pinot ages on acidity." He also told us that he favors aromatics over body in his wines. He uses stems in some of the fermentations but destems all the fruit and adds some stems back rather than fermenting whole clusters.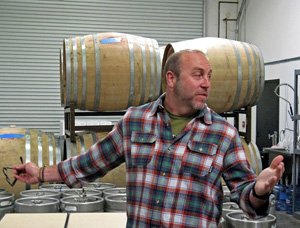 Our group tasted with Carroll in the tasting room while we talked about Red Car's vineyards and wines, and in addition to the wines already open in the tasting room, Carroll got us a couple of other wines he wanted us to try, along with a couple of barrel samples. At one point he brought out a Chardonnay for us to try between the Pinots and Syrahs – hey, we're pros, but don't try that at home! Since Red Car's move to the Sonoma Coast, I've felt that their Syrahs have been especially distinctive, among the best from the region. Carroll feels that regionalism eventually will take hold for California Syrah and that the wines will no longer be lumped into a large, undifferentiated group the way they are too often looked at today. After our tasting, we took a short look at the winery/barrel room behind the tasting room – a pretty basic, utilitarian winery space, nothing fancy at all.
In addition to the wines tasted during our visit with Carroll, I had the opportunity to taste a few more Red Car wines at the recent West of West Wine Festival in Sebastopol. I thought the 2011 Platt Vineyard Pinot Noir and especially the 2010 Estate Syrah were standouts there. Besides Chardonnay, Pinot, and Syrah, Red Car also produces a Roussanne (from Bennett Valley) and a Pinot Noir Rosé. Total annual production is now at about 6,000 cases.
We had an enjoyable time with Carroll at Red Car. I've found that some people tend to dismiss Red Car based on experiences with their earlier, riper Central Coast wines. But whatever you may have thought of those wines, you owe it to yourself to try their recent bottlings – they're nothing like the wines made from Central Coast fruit in past years, and they're very true to their cool-climate Sonoma Coast fruit sources. In the overall spectrum of West Sonoma Coast wines, I think Red Car strikes a middle ground between some of the leaner, higher-acid wines from some producers and the bigger, bolder bottlings from others. That's not to say that the wines don't show fine acidity or intense aromas and flavors – they display both and do a good job of balancing all of the components. Both the Pinot Noir and Syrah that we tasted from the Red Car Estate Vineyard in the Fort Ross/Seaview area were particular standouts. I've mentioned in the past that I see Red Car's recent Sonoma Coast period as something of a second incarnation of the winery, and in my view they're continuing to head in a great direction.

Joseph Phelps Vineyards / Freestone - by Ken Zinns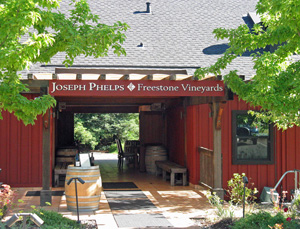 It was getting to be late afternoon by the time we left Red Car, our final winery appointment of the trip, but we still had enough time to drop into a local tasting room. After batting around a few ideas, I made an executive decision and we headed out to the Joseph Phelps tasting room at their Freestone Vineyards location. I had tasted a few of the Chardonnays and Pinots from Joseph Phelps Freestone Vineyards in the past couple of years and liked them, so I'd tried to arrange an appointment there for our Sonoma Coast tour with Mitzi Inglis, the winery's public relations & marketing manager, whom I'd met at several tasting events. Mitzi told me that Justin Ennis, Joseph Phelps' assistant winemaker who heads up the winemaking team at Freestone, was unavailable since he was getting wines ready for bottling, but I mentioned to her that we might still try to stop by sometime during our tour of the area if we had time.

We made the drive from Graton and arrived at the Joseph Phelps Freestone Vineyards Guest Center a little before 4:30. The facility is very nice – rustic enough to fit in among the scattered agricultural buildings in the area but welcoming and comfortable. It's located just off the junction of Bodega Highway and Bohemian Highway, outside the tiny hamlet of Freestone – right about where the landscape starts to become more distinctly "coastal" in appearance. The Guest Center has a tasting bar front and center, but also features some seated tasted areas, and Michael, the two Erics, and I were led into a separate room off of the main space. We sat around a large wooden table and were soon greeted by Philippe Gresset, one of the wine educators at Joseph Phelps' Freestone facility.
Tasting Notes: Current Releases

Fogdog 2011 Chardonnay, Sonoma Coast. Sourced from the Freestone estate vineyards and from Dutton Ranch Mill Station Vineyard, aged for 8 months in 2-3 year-old French oak. Medium-light yellow color, this was fruit-forward with lots of stone fruit and tropical fruit on the nose, plus touches of flowers, spice, and oak. Medium-light bodied with some citrus and cream notes in the mouth, followed by a lively but somewhat short finish.
Joseph Phelps 2010 Chardonnay, Freestone Vineyards, Sonoma Coast. All barrel-fermented, aged on the lees for 14 months in 55% new French oak, no regular stirring, 13.5% alc. Medium-light yellow/gold color, with riper pear and stone fruit aromas, plus spice and a bigger vanilla/oak component. Rich, creamy mouthfeel but retaining good acidity, this had a fairly smooth finish.
Joseph Phelps 2010 Pinot Noir, Freestone Vineyards, Sonoma Coast. Sourced from 51% Quarter Moon Vineyard and 49% Pastorale Vineyard. aged for 15 months in 55% new French oak, 13.5% alc. Medium-light ruby color, with slightly tart black cherry, flowers, dried herbs, lots of spice, and undertones of sweet oak. Medium weight in the mouth, with a lively texture and milder but chalky tannins, nice.
Joseph Phelps 2010 Cabernet Sauvignon, Napa Valley. 92% Cabernet Sauvignon, 6% Merlot, 2% Petit Verdot, all estate fruit, aged 18 months in 45% new French and American oak. Dark color, with upfront ripe currant and plum fruit, tobacco, spice, and vanilla/oak aromas. Full-bodied and bold on the palate, with firm, chewy tannins on the finish.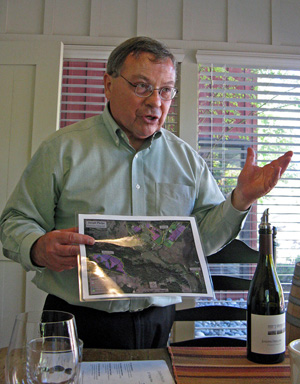 Philippe told us a bit about the background of the Freestone property. Joseph Phelps founded the winery in Napa Valley in 1973. He started out to make Cabernet Sauvignon, and also produced Syrah starting in 1974 – he was an early proponent of Rhône varieties in California. The Joseph Phelps "Insignia" Cabernet-based Bordeaux-style blend – also first produced in 1974 – continues to be one of Napa Valley's benchmark red wines. The winery produced a Chardonnay, but Joseph didn't feel that Napa Valley Chardonnay fruit gave him what he was looking for, so he searched for a new cooler-climate vineyard location.
Joseph Phelps purchased the property in Freestone in 1999, and began planting both Chardonnay and Pinot Noir in 2000, with plantings continuing in phases through 2007. The first bottling from the new estate vineyard was a "Fogdog" Pinot Noir from the 2004 vintage, and the first wine under their Freestone label was a 2005 estate Pinot. A three-level gravity-flow winery was completed on the property in time for the 2007 crush, and the Guest Center was added the following year. Earlier wines were just labeled as "Freestone", but starting with the 2009 bottlings, they have been labeled as "Joseph Phelps" with the designation of Freestone Vineyards. Joseph stepped away from day-to-day management of the winery in 2005 and his son Bill now heads up the winery team.
The 200-acre Freestone property stretches from 5 to 8 miles from the ocean, with the vineyards sited in spots that are better-protected from the fog than some surrounding areas. This led to the name for Joseph Phelps' "Fogdog" label for their more fruit-forward and value-oriented wines made from Sonoma Coast fruit – a fogdog being defined as a bright spot of sunlight that breaks through the fog. Diurnal temperature swings at the vineyards are known to reach 45 degrees.
About 100 acres are currently planted on the Joseph Phelps Freestone property, split into two vineyard sites – Pastorale is on the east side of Bohemian Highway (which continues north to Occidental), while Quarter Moon is on the west side, closest to the coast. Both are hillside sites with Goldridge sandy loam soil, and the winemaking facility is located at Pastorale Vineyard. Pastorale includes about 35 acres of Pinot and 21 acres of Chardonnay, while Quarter Moon's 41 acres are entirely planted to Pinot Noir. The winery also leases and farms nearby six-acre Ferguson Vineyard as an estate property. Farming at the estate vineyards in Freestone is biodynamic, and Philippe Pessereau is Joseph Phelps' director of vineyard operations.
Joseph Phelps currently produces seven wines sourced from its Freestone Vineyards fruit. There is a Chardonnay and a Pinot Noir under the Fogdog label – the Chardonnay includes some non-estate fruit from the nearby Dutton property. All of the other wines are from 100% estate-grown fruit – a Freestone Vineyards Chardonnay and Pinot, plus single-vineyard designate Chard and Pinot from Pastorale Vineyard and Pinot from Quarter Moon Vineyard.
Philippe proceeded to taste us on four Joseph Phelps wines – the 2011 Fogdog Chardonnay, 2010 Freestone Vineyards Chard and Pinot, and 2010 Napa Valley Cabernet Sauvignon. These were the four current tasting room offerings, and of course since we dropped in without any special advance arrangements, we could not have expected anything more – though in fact the time and attention that Philippe spent on us that afternoon was far more than I expected under the circumstances.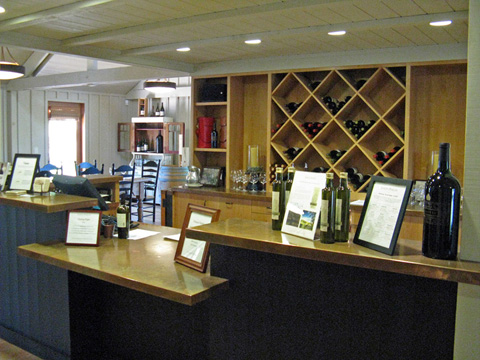 I should mention that I subsequently tasted some additional Joseph Phelps Freestone wines at the West of West Wine Festival in Sebastopol in early August that I thought were a step above what we sampled at the tasting room in late June. Both the 2011 Freestone Vineyards Chardonnay and Pinot Noir showed brighter fruit and better-integrated oak than the 2010 releases. And the 2010 Quarter Moon Vineyard Pinot Noir (made with 50% whole-cluster fermentation) was a particular standout, more complex and ageworthy than the basic 2010 Freestone Pinot bottling.
Philippe was an engaging and entertaining host, and I appreciated that he and the Joseph Phelps Freestone staff took such good care of our group considering it was late in the day and we stopped by with no advance notice. Of the four wines we tasted with Philippe, I particularly liked the two reds. The style of the Freestone Vineyards designate wines tends to favor more new French oak than at many of the other places we visited on our West Sonoma Coast tour, but both the Chardonnay and the Pinot stood up to the oak well. The fruit in these wines (and of the wines I tasted at West of West) showed plenty of ripe character along with very good acidity, and with the alcohol being well below 14% – a fine display of the cool-climate Joseph Phelps Freestone vineyard location.
We'd already discussed dinner plans earlier in the day, so no last-minute decisions to make this time! We drove back to "downtown" Graton – about one block long – where we stopped for dinner at Underwood Bar & Bistro, a restaurant we were all familiar with, and one of my favorite places to eat in this part of Sonoma County. Under the same ownership as Willow Wood Café directly across Graton Road, both places are prime locations to spot local vintners, though we didn't run into any at dinner. For dinner, Underwood has both a tapas menu and a regular one. Although it's more upscale than Willow Wood, Underwood is still a great choice for a casual meal – their burgers and fries are terrific, and the Moroccan lamb sandwich on their lunch menu is a favorite too. Our dinner at Underwood marked the end of our three-day West Sonoma Coast tour, so we said our goodbyes afterwards. From there, Eric Anderson and Michael made the short trip back to Sebastopol for one more night there before heading back to Southern California, and Eric Lundblad and I drove back to the East Bay.


Additional Photos from Wednesday
Littorai Vineyard

Epilogue and Conclusions -
Our tour of the West Sonoma Coast was a lot of fun, and we gained new insights into the area and its wines. The trip included return visits to some producers we hadn't seen in many years (2004 visits to Hirsch and Peay and with Kurt Beitler of Bohème), a couple of others we'd only paid shorter visits to in the past (Littorai and Red Car), and some producers I'd encountered at tastings in recent years (Baker Lane, Ceritas, and Joseph Phelps-Freestone) but had never visited at all.
I'd been impressed by the wines from this part of the Sonoma Coast over the years, and felt that they have been getting even better. On the whole, the wines are fairly distinct from their better-known cousins in the Russian River Valley, and from wines sourced from the Petaluma Gap as well. Of course, Russian River Valley has a longer and more distinguished history with wine than does the West Sonoma Coast, and the generally riper and fleshier wines from Russian River Valley have become more familiar to consumers – few would argue that they are the de facto standard for Sonoma County Chardonnay and Pinot Noir.
Some have seen the leaner, less fruit-forward, and higher-acid character of many West Sonoma Coast wines as a detriment, while others look on these wines in a much more favorable light. Of course there's plenty of room in the wine world for many styles and for wines from many areas, and it's a matter of personal taste, matches with various foods, and other reasons to prefer a particular type of wine for a given occasion. But our West Sonoma Coast tour confirmed my feeling that the best wines from this region can compete with those from anywhere. In the hands of good vintners, the cool-climate vineyard origins of these wines shows clearly and can be a very positive attribute.
Even from the particularly cool 2011 California growing year, I think that many wines from the West Sonoma Coast are going to be outstanding. Talking with vintners on our tour confirmed that it was a struggle to get grapes ripe in many of the coolest vineyard sites that year, but they managed to do a fine job with what nature gave them. While I think that 2011 wines from cool-climate sources don't have the upfront appeal that you'd find from warmer vintages or sites, they show great potential that will just take a bit longer to reveal itself in those wines – it's starting to do so even now.
One of my goals in this West Sonoma Coast tour was to explore the various sub-regions that have been identified in the area – Annapolis, Fort Ross/Seaview, Occidental, Freestone, Green Valley, and the Sebastopol Hills. Do these areas really produce wines that are distinctly different from one another? I did find differences in the geography, climate, and overall appearance of these sub-regions, but I have to say that I didn't discover as much uniqueness in their respective wines as I found similarities running throughout the wines of the West Sonoma Coast. More experience with the wines from these sub-regions might reveal subtle differences, but I suspect that many of the vineyards may still be too young to really show those subtleties of terroir. I'm also not sure how much the vineyard soils contribute to the wines' similarities and differences, and since many types of soil are widely-distributed throughout the area, this might have a notable impact. Perhaps as the vines mature over the coming years, the distinctions between the wines of these West Sonoma Coast sub-regions will become more clear (at least to me), but for now, I'm happy to enjoy the many fine wines from throughout the area.
It's always great to embark on one of these wine tours with Eric Anderson and the rest of the Grape-Nutz crew, and this West Sonoma Coast tour was no exception. I enjoyed meeting Eric's friend Michael and hope he had a good time with our crazy bunch of wine geeks. We tasted some outstanding wines from all of the vintners we visited, and had some fun experiences in spite of (and in some cases due to) the unexpected late-June rains. As always, thanks to everyone that we visited for being so generous with their time and their wine!
Ken