Central Coast - January 2015 - Part 5
All of us had enjoyed our weekend in Santa Barbara wine country. Arriving from the Paso Robles area after our Friday visit there, we'd spent Saturday afternoon, Sunday, and Monday mostly in the Santa Ynez Valley area, along with a couple of trips farther west to the Santa Rita Hills and Lompoc. We'd enjoyed some delicious meals along with tasting plenty of good wines. The weather had been perfect all weekend, and Monday morning looked just as good.
We all had to get up early on this final day of our Central Coast wine tour. Eric wanted to start his drive back home in the morning to beat the afternoon rush hour traffic through Los Angeles, and the rest of us had a few other things on the agenda for the day, so an early start was called for. Jane and Warren needed to make a stop in Monterey on their way to the Bay Area later in the day, so Mary rode with Alan and me on our way back. We had enough leftovers at the Solvang timeshare to put together a quick and tasty breakfast before cleaning up, packing, and checking out. We were able to arrange a 9am winery visit that morning to accommodate our schedules, and fortunately it was only about a 10-minute drive to reach our destination.
Tuesday - January 20, 2015
Buttonwood Farm Winery & Vineyard
Tasting Notes: Current Releases

Buttonwood 2014 Sauvignon Blanc, "Zingy," Estate, Santa Ynez Valley. Harvested early and cold-fermented in stainless steel with no ML. Very light greenish straw color, this displayed bright grapefruit aromas with touches of stone fruit, flowers and fresh herbs. Juicy acidity with a fresh, crisp finish, nice.

Buttonwood 2013 Sauvignon Blanc, "Signature Blend," Estate, Santa Ynez Valley. 92% Sauvignon Blanc made in stainless steel, 8% Sémillon, barrel-fermented. Light straw color, with citrus and stone fruit, herbs, and a slight leesy/earthy note. Lively mouthfeel with a rounder texture than the "Zingy" and a smooth finish.

Buttonwood 2012 "Devin," Estate, Santa Ynez Valley. 67% Sauvignon Blanc, 33% Sémillon, all barrel-fermented. Light straw color, showing melon, fig, and spice on the nose plus vanilla and butterscotch undertones. Creamier texture but with plenty of balancing acidity and a long, tasty finish, nice.

Buttonwood 2013 Grenache Blanc, Estate, Santa Ynez Valley. Made in mostly stainless steel with some neutral oak. Light straw color, this had ripe apple aromas along with hints of stone fruit, herbs, and flowers. Medium-bodied with a fairly round mouthfeel and clean finish.

Buttonwood 2014 Syrah Rosé, Estate, Santa Ynez Valley. 100% Syrah farmed for Rosé, some whole-cluster pressed with some destemmed first, all made in stainless steel. Light pink color, featuring strawberry and watermelon, herbs, and a slight floral note. Bright, juicy texture with a crisp finish, nice.

Buttonwood 2012 Malbec, Estate, Santa Ynez Valley. 100% Malbec. Dark purple color, with intense dark fruit, tobacco/dried herb, flowers, and a touch of pepper on the nose. Medium-full bodied, with good structure and big but refined tannins, nice.

Buttonwood 2009 Cabernet Sauvignon, Estate, Santa Ynez Valley. 100% Cabernet Sauvignon, aged in about 30% new oak. Medium-dark color, this showed aromas of riper plummy fruit, earth, and herbs, along with undertones of vanilla/oak. Big and structured, with a grippy tannic finish.

Buttonwood 2010 "Trevin," Estate, Santa Ynez Valley. 49% Merlot, 27% Cabernet Franc, 19% Cabernet Sauvignon, 5% Malbec, aged about three years in barrel and one in bottle prior to release. Medium-dark purple, displaying upfront tobacco/dried herbs, plus plum and currant fruit, spice, and a touch of sweet oak. Medium-full bodied with a lively texture and firm tannins – needs more cellar time but should develop nicely.
Tasted at Hitching Post dinner on 1/19
Buttonwood 2011 Cabernet Franc, Estate, Santa Ynez Valley. Aged in 25% new Belair French oak barrels. I didn't take formal notes on this wine tasted at Hitching Post, but here are some general impressions. This had a similar character to other Buttonwood Cab Francs I've tasted but it was definitely on the leaner side, with the herbal character out in front of the fruit – I liked it but it may not be everyone's cup of tea.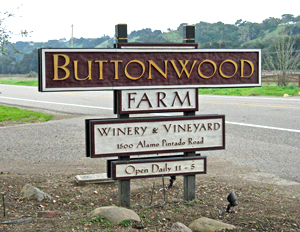 We headed north on Alamo Pintado Road once again, and we turned onto the driveway of Buttonwood Farm. Both Eric and I had been to the winery building before, so we know how to get there – along a dirt road and up along a bluff to a hilly mesa above the bed of Alamo Pintado creek. We parked alongside the winery building, and Buttonwood winemaker Karen Steinwachs came out to greet us. I'd been unsure when I'd asked her by email a couple of weeks before our visit whether we could meet her early that morning, and her response was "Ha! 9am – middle of the day"! Some winemakers do start early…not all of them, though.
Buttonwood Farm is not just a winery and vineyard but a real working farm. They raise animals, grow flowers, and tend orchards in addition to growing winegrapes. The 106-acre property was purchased in the 1960s by Betty Williams, who passed away in 2011 at 92 years old. Betty's son-in-law Bret Davenport now runs the business, while her daughter, artist Seyburn Zorthian, designs the distinctive wine label artwork. Betty Williams began growing organic vegetables in the late 1960s, long before organic farming became popular.
Betty Williams had the Buttonwood Farm vineyard planted in 1983 by Michael Benedict, and it now has 39 acres of vines. Karen told us that Michael Benedict grew the original Riesling and Cabernet Sauvignon budwood for Sanford and Benedict Vineyard at Buttonwood. Varieties currently planted include Sauvignon Blanc, Semillon, Grenache Blanc, Merlot, Cabernet Sauvignon, Cabernet Franc, Malbec, Syrah, and Grenache, and Karen told us that she'd like to add some Chenin Blanc.
The hilly vineyard – up on the mesa next to the winery – is situated on rocky and sandy alluvial soil and is farmed using mostly organic methods, although it's not certified. All the vines there started out as own-rooted – though some have been grafted over to different grape varieties through the years – and they're all cane-pruned. Karen credits Buttonwood's longtime vineyard manager, Armando Zepeda, for the fruit quality there – he's been there since the vineyard was first planted over 30 years ago. She also gives credit to viticulturist Francisco Ramirez and soil expert Stan Kadota – they both also work with Brewer-Clifton and Pence Ranch. Cover crops in the vineyard include sweet pea, barley, and fava beans. Karen mentioned that with the dry weather over the past few years, the crew has found more critters visiting the vineyard – not only deer and coyotes, but bobcats, mountain lions, and even badgers. Nearly all the estate fruit goes into the Buttonwood wines, and aside from their Chardonnay and Pinot Noir (from Hibbits Ranch on the western edge of Sta. Rita Hills near Lompoc), all of Buttonwood's wines are made from their estate vineyard fruit.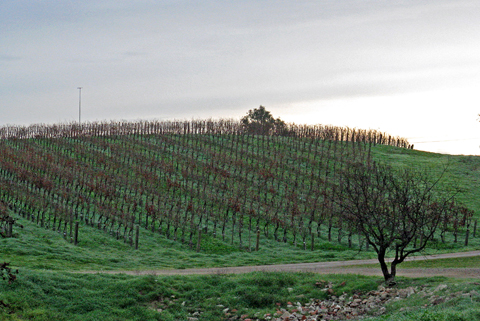 I first met Karen about 10-12 years ago when she was the assistant winemaker at Fiddlehead, working there with Kathy Joseph. She has a degree in business management and spent about 20 years in high-tech business. Her first winery job was with Norm Yost, then the winemaker at Foley Estates. After a few years at Foley and a few more at Fiddlehead, Karen joined Buttonwood as their winemaker in 2007. She also has her own label, Seagrape Wine Company, making Chardonnay and Pinot Noir from Sta. Rita Hills fruit. The original Buttonwood winery building was completed in 1989, and further additions have been built over the years. They have a small bottling line at the facility, which sounds like it's a great help when it's working and a headache for Karen when it's not. The winery makes around 8,000 cases per year, with Sauvignon Blanc being the biggest production.
We followed Karen into the Buttonwood barrel room, where she had eight bottles of their current releases set on top of a barrel – four whites, a Rosé, and three reds. She had also brought a bottle of 2011 Cabernet Franc to our dinner at Hitching Post the previous evening – although I didn't write detailed tasting notes for that wine, I've included it in the "Tasting Notes" box and added some general impressions.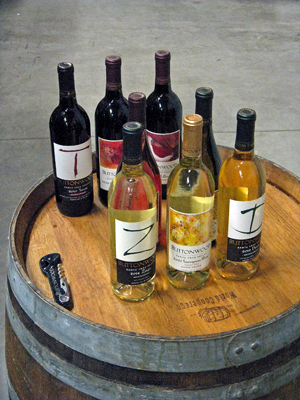 Buttonwood produces three Sauvignon Blanc-based wines, plus a wine club-only Sauvignon Musqué clonal bottling. Karen started us out on their new 2014 "Zingy," the lightest and brightest of the three, made entirely in stainless steel with no malolactic fermentation. It's almost always the first fruit picked in the vineyard each harvest, and Karen initially thought that it would always come from one particular vineyard block, but now there are five blocks where the fruit for "Zingy" can come from. Karen looks for more forward aromatics from the "Zingy." She feels the 2014 is a little softer than some other vintages, but still has that characteristic "zingy" acidity. The next wine was the 2013 Sauvignon Blanc "Signature Blend," which includes mostly Sauvignon Blanc made in stainless steel along with a little barrel-fermented (including a small amount of new oak) Sémillon. Malolactic fermentation is stopped for the Sauvignon Blanc component of the "Signature Blend" but the Sémillon is allowed to proceed through as far as it will go. The 2012 "Devin" is 67% Sauvignon Blanc and 33% Sémillon, all barrel-fermented separately and blended later. Using about 25% new Damy barrels, this wine is made more for cellaring than Buttonwood's other Sauvignon Blanc bottlings.
Karen opened a 2013 Grenache Blanc for us next. She first made a Buttonwood Grenache Blanc in 2009, and she's added more of the variety to the vineyard since then. She told us that it's picked on the late side, and that the vineyard crew has to do a lot of green drop to balance the crop load on the vines. She also said that the berries can sunburn easily just like Grenache Noir. This wine is usually made mostly in stainless steel with some neutral oak but 2014 was all neutral oak. As I've heard from several other vintners, Karen noted that the Grenache Blanc is quite orange in color when first pressed but the color drops out with some time. Another brand-new release is the 2014 Syrah Rosé – Buttonwood's has been one of my favorites since Karen took over the winemaking there. They farm a block of Syrah vines for higher cropload specifically for Rosé, and it's picked at about 19 brix. Some is foot-stomped whole-cluster fruit while some is destemmed, and it's kept on the skins for about 48 hours, then put in the press overnight to contribute a little carbonic fermentation. The fruit is then pressed to stainless steel and cold-fermented with no malolactic fermentation, and bottled early. The wine has been selling well and Karen has been making a bit more of it.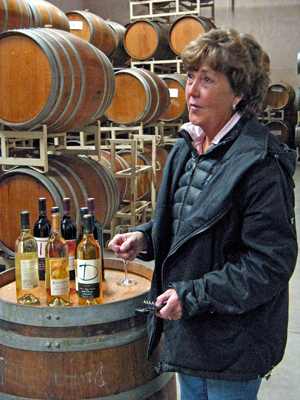 I mentioned the 2011 Cabernet Franc that Karen brought to our Hitching Post dinner. She told us there that she'd recently had a 1999 Longoria Cabernet Franc made from Buttonwood fruit and she thought it was remarkably good, so she's encouraged about the longevity of the wines she's been making. She uses hogsheads and puncheons as well as barriques for aging the Cab Franc, and particularly likes Bel Air barrels for it. She said that the 2011 is the leanest vintage of Cab Franc that she's made – it was a tough vintage with an early frost, an unusually cool growing season, and two late frosts. It was picked late that year, on 11/11/11. Karen has described it as "a wine for "Franc-o-philes", and it did seem to draw a divergence of opinion during our dinner, though it's a style I enjoy a great deal. After all, what's Cab Franc without some green aromas?

At the winery, the first red we tasted was the 2012 Malbec. Karen first made one at Buttonwood in 2009. She said that it grows well there and ripens early – Karen told us that she usually decides on when to pick at the vineyard based on pH more than on brix. She's had some Syrah grafted over to Malbec, as it's been selling well. Currently, Karen uses an average of about 20-25% new oak on red wines. While tasting the next wine, the 2009 Cabernet Sauvignon, we discussed the move toward creating a new Los Olivos District AVA within Santa Ynez Valley between Happy Canyon and Sta. Rita Hills, as Buttonwood Farm would be right in the middle of the new appellation if it's approved. Our last wine was the 2010 "Trevin" (three vine) blend, which changes each vintage. Karen noted that the 2010 actually has four vines rather than three, with the addition of 5% Malbec to the basic blend of Cabernet Sauvignon, Cabernet Franc, and Merlot. The wine is aged for about three years in barrel and one more in bottle prior to release.
Visiting Karen at Buttonwood is always enjoyable. She's affable, humorous, and seems to have a way of making her winery guests feel at ease. Karen joked with us that some people think of Buttonwood as the "Blanc and Franc" winery, since Sauvignon Blanc and Cabernet Franc are their best-known varieties. And although those remain two of their strongest, there are plenty of others that are noteworthy. The 2014 Syrah Rosé was one of my favorites at our tasting, as was the 2012 Malbec. And I'm not leaving out the Blanc and Franc – other favorites included the 2014 "Zingy" and 2012 "Devin," and I enjoyed the 2011 Cab Franc that Karen opened the previous evening at the Hitching Post as well. Buttonwood is another one of those "under-the-radar" wineries that deserves more attention from serious wine lovers than it seems to get. There's no question that Karen has raised the quality bar for the Buttonwood wines since she's been on board there, and stopping at their tasting room should be a no-brainer for anyone touring Santa Ynez Valley wine country.
Tasting Notes: Current Releases

Turchi 2011 Primitivo, Paso Robles. Sourced from Hearthstone Vineyard. Medium purple color, this had ripe and higher-toned plum fruit and spice. Medium-bodied with moderate tannins.

Turchi 2011 Sangiovese, Hallauer Vineyard, Santa Ynez Valley. Medium-light color, with brighter cherry aromas along with spice and earth notes. Medium weight with a lively mouthfeel and finish, quite pleasant.

Core 2010 Carignane, Contra Costa County. Medium color, featuring bright red fruits, spice, earth, black pepper, and sweet oak. Medium-bodied with a lively texture and fine tannins, nice.

Core 2012 Syrah, Orchid Hill Vineyard, Paso Robles. Some whole-cluster fermentation and a little co-fermented Viognier. Medium color, this showed a more herbal and earthy profile plus dark berry fruit and spice. Richer mouthfeel, finishing with firmer tannins.

Core 2009 "Hard Core," Santa Barbara County. 37% Mourvèdre, 31% Tempranillo, 26% Cabernet Sauvignon, 5% Syrah, 1% Grenache. Medium purple, with higher-toned plum and herb aromas, and earth and sweet oak in the background. More structured on the palate, with fairly grippy tannins.

Core 2010 "Elevation Sensation," California. 59% Grenache, 23% Carignane, 11% Syrah, 7% Mourvèdre, with most of the Grenache and Mourvèdre from Alta Mesa Vineyard. Medium color, displaying black cherry, earth, black pepper, and dried herbs on the nose. Medium-bodied with a lively texture and a chalky mineral component on the finish, nice.

Core 2010 "Cuvée Cowbell," California. 62% Carignane, 38% Sangiovese. Medium purple color, this was less fruit-forward with earthy, smoky, and herbal aromas upfront, plus plum and blueberry fruit in support. Medium weight with good structure, a peppery component came out on the firmly tannic finish.

Core 2009 "50/50," Santa Barbara County. 50% each Cabernet Sauvignon and Cabernet Franc, sourced from Santa Barbara Highlands Vineyard. Medium garnet-purple color, this had higher-toned plum, spice, and herb notes. Bold but lively, finishing with big but fine tannins.

Core 2008 "Incubus," Santa Barbara County. 53% Grenache, 47% Mourvèdre, all sourced from Alta Mesa Vineyard, about 20% whole-cluster fermentation, extended aging in 100% new French oak. Medium purple color, showing ripe black cherry fruit, spice, and hints of brown sugar on the nose. Big and rich, with a touch of sweetness on the long, smooth finish – very distinctive.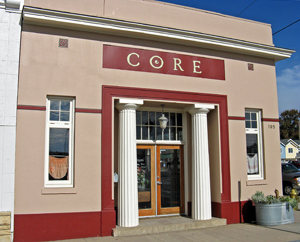 We said goodbye to Eric as we left Buttonwood – he was driving back home to Southern California while the rest of us were heading north from Santa Ynez Valley. At least that was the plan. We were going to visit Dave and Becky Corey of Core Wine Company in Orcutt, just south of Santa Maria, and Jane and Warren needed to make a short stop on the way so we split up near Los Olivos. I completely spaced out getting back onto Highway 101 – no doubt yakking about something or other in the car – and turned south rather than north. Oops! Realizing there would be no place to get off the freeway to turn around until getting to Buellton, about eight miles south, I figured at that point we might as well take the "scenic route" to Orcutt rather than backtracking. So after a call to Dave to let him know we'd be a bit late, we proceeded west from Buellton to Lompoc and then north along Highway 1 to Orcutt. It was a nice drive, though we arrived at the Core tasting room in "Old Town" Orcutt about a half-hour after we'd planned.
Dave and his wife Becky established the Core label in 2001, after both being in the wine business for a number of years. Dave has degrees in biology and in entomology and plant physiology, while Becky earned a degree in agricultural business with a focus on marketing. Dave worked for Cambria and Kendall-Jackson before forming his own viticultural business in 1999, helping to promote sustainable farming. Becky worked at Byron and Laetitia, and formed a consulting business specializing in winery hospitality and visitor programs. Once Dave and Becky launched Core, they transitioned into making it a full-time commitment. They've also started some additional labels, all with the participation of family members. Core focuses mainly on Rhône varieties, Kuyam features Bordeaux-style blends plus other varieties, and Turchi makes mostly single-varietal wines – Dave said that Turchi will transition to a Cabernet-only label. There had been a fourth label (C³) for Tempranillo-based wines, but 2008 was the last vintage for it. Total production averages around 7-8,000 cases per year.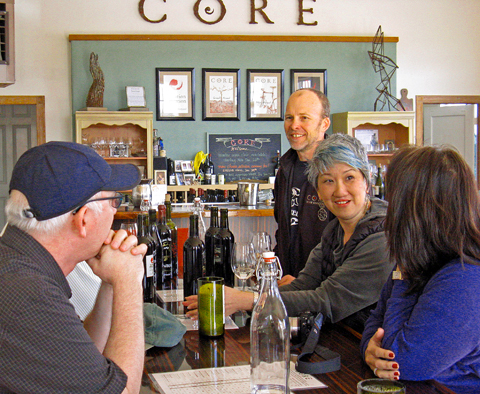 I'd first met Dave and Becky back in 2003 or 2004, when their early releases were starting to make a splash among fans of California Rhône-style wines. For a number of years, they had made the wines at the huge Central Coast Wine Services facility in Santa Maria, but in 2010 they moved their production to the smaller Santa Maria Vintners' Park not far away. They moved into their new Orcutt tasting room in 2014, just a few blocks west of their old one. The new place is in an impressive 1920 building that was originally a bank. It's a larger and airier space than their old tasting room, and there's plenty of room on the walls for displays of work by local artists and photographers. Speaking of local artists, Becky is the one behind the striking label designs for the Core family of wines.
Dave originally worked with just Rhône varieties for his early wines, but as noted above, he's branched out into many others since that time. Varieties that he's worked with include Viognier, Grenache Blanc, Marsanne, Roussanne, Syrah, Grenache, Mourvèdre, Cinsault, Carignane, Primitivo, Sangiovese, Tempranillo, Cabernet Sauvignon, Cabernet Franc, Merlot, and Malbec – quite a list! He's worked with a number of vineyards including Camp 4 and Rodney's vineyards in Santa Ynez Valley, Laetitia Vineyard in Arroyo Grande, and French Camp in the Paso Robles area, though he may be best-known for his work with fruit from the high-elevation sites of Alta Mesa and Santa Barbara Highlands in far eastern Santa Barbara County. Dave himself farmed Alta Mesa Vineyard through the 2008 vintage.
Dave's winemaking has featured some wines with long barrel-aging, with four years or more for some of them. Most cooperage is French and Hungarian oak, though Dave has used some American oak on a few varieties. A number of the wines have been aged in larger-format cooperage – 350-liter, 500-liter, 600-liter barrels and larger wood tanks. Dave said that he's aiming to hold wines for release (often three years or more) until they are ready for consumers to drink – at that point they're ready to go, although they can be cellared for longer as well.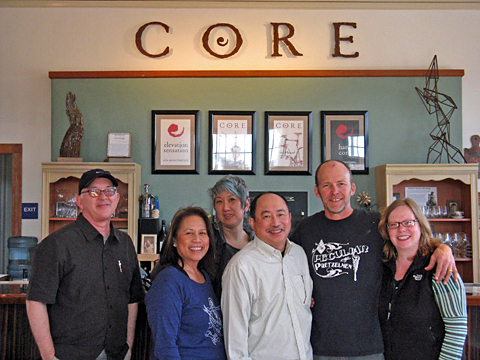 Alan, Mary, Jane, Warren, Dave, and Becky
Jane and Warren were already at the Core tasting room when Alan, Mary, and I arrived, and Dave welcomed us in. Becky joined us there a short time later. Dave proceeded to pour us tastes of some of his latest Turchi and Core wines, starting with two from Turchi. First up was the 2011 Primitivo, sourced from Hearthstone Vineyard near Tablas Creek on the Westside of Paso Robles. We followed that with a 2011 Sangiovese from Hallauer Vineyard, located near Buttonwood in Santa Ynez Valley. It's Turchi's first Sangiovese, made with a little whole-cluster fermentation and aged in larger format French and Hungarian barrels. Dave told us that he's been branching out more from Santa Barbara County vineyards, which had been the main fruit source for most of the wines in the past.
Switching to wines under the Core label, the 2010 Carignane was a good example of Dave expanding his vineyard sources – this fruit came from own-rooted vines in Contra Costa County. Some of this fruit also went into the Core "Elevation Sensation" and "Cuvée Kellen" bottlings. The 2012 Orchid Hill Syrah was sourced from a Paso Robles site in the Templeton Gap area. This had some whole-cluster fermentation and a little Viognier co-fermentation – some additional Syrah fruit from the vineyard went into the "Hard Core" bottling.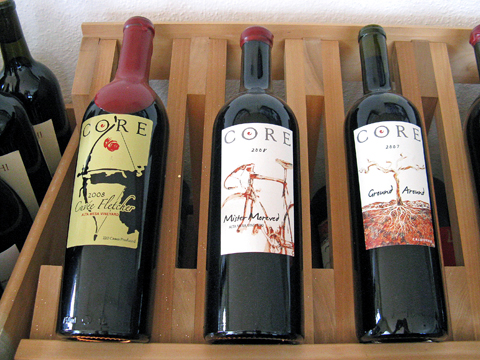 We continued with five more Core wines. We began with the 2009 "Hard Core" blend of Mourvèdre, Tempranillo, Cabernet Sauvignon, Syrah, and Grenache. Next was the 2010 "Elevation Sensation," which includes Grenache, Carignane, Syrah, and Mourvèdre. The Mourvèdre and some Grenache for "Elevation Sensation" came from Alta Mesa Vineyard, Syrah and more Grenache were from the Westside of Paso Robles, with Carignane from Contra Costa. Our last three wines were new blends for Core – 2010 "Cuvée Cowbell (Carignane and Sangiovese), 2009 "50/50" (Cabernet Sauvignon / Cabernet Franc blend from Santa Barbara Highlands fruit), and 2008 "Incubus" (Grenache and Mourvèdre from Alta Mesa Vineyard). The "Incubus" is a good example of Dave's extended barrel-aging program – the wine was aged in a new Sirugue barrel and a new Meyrieux barrel for over six years, and racked only once prior to preparing for bottling.
It's always good to stop in and check out Dave's wines when I'm in the area. On my last few visits, I've tasted with either Dave or Becky, so it was great that they were both able to be there this time. Their new tasting room in Orcutt is a nice upgrade from their old space. Dave's winemaking has changed somewhat over the years, with more recent wines tending to be more structured. Holding them back for a few years seems like it's been a good idea from the consumer's standpoint, allowing the wines to develop more in bottle before releasing them. Overall, I thought that this was the best group of wines I've tasted from Core and Turchi for a few years. Favorites included the 2011 Turchi Sangiovese, 2010 Core Carignane, and 2010 Core "Elevation Sensation." Adding new grape varieties and new vineyard sources into the mix seems like it's been a positive move for Dave, and it will be interesting to follow future releases of the wines. The Core tasting room is a little out of the way, but a visit there in Old Town Orcutt – especially if you include a meal at the nearby Far Western Tavern – is worth the short detour.
It was a short walk from the Core tasting room in Orcutt to our lunch destination, the Far Western Tavern. A longtime landmark at its original location in the town of Guadalupe, a few miles to the north, the Far Western Tavern has been considered one of the prime spots to eat Santa Maria-style barbecue, one of California's best-known regional culinary traditions. The restaurant moved to Orcutt in 2012. The food was very good – I had steak tacos – and everyone enjoyed their meals there. The only downside was that even though the place was not that busy, service was on the leisurely side and we were already running late by that point. But since there was little we could do about it, we didn't let that detract from our lunch. I'd certainly go back to the Far Western Tavern – as long as I'm not in a hurry.
Jane and Warren took off after lunch for their drive to Monterey, while Alan, Mary, and I continued to one last winery appointment in Atascadero, about 10 miles south of Paso Robles. We contacted the vintners there to let them know we were running late, and fortunately that was not a problem for them. And fortunately I didn't make any wrong turns on the road this time, so we arrived in Atascadero just when we'd expected.
Tasting Notes: Tank and Barrel Samples

Halcyon 2014 Cabernet Franc Rosé, Velo Vineyard, Paso Robles (tank sample). Very light salmon-orange color, with bright and fresh strawberry fruit, herbs, and a touch of black pepper. Medium-light bodied with vibrant acidity and a clean, crisp finish, nice.

Halcyon 2014 Cabernet Franc, Velo Vineyard, Paso Robles (barrel sample). Medium purple color, this featured aromas of plum and black cherry, lots of spice, and touches of flowers, herbs, and pepper. Medium weight on the palate, this had a lively texture and a chalky mineral note on the finish, nice.




The final winery visit of our Central Coast road trip was with Tyler Elwell and Kim Schultz of Halcyon Wines. Halcyon is a brand-new label, and has not yet released a wine, but I'd heard they were making Cabernet Franc and thought it might be interesting to check out what they're doing. They're making their wine in a warehouse-like building just off El Camino Real in Atascadero, and right across a parking lot from Bristols Cider House – a project of Tablas Creek and Lone Madrone winemaker Neil Collins. Tyler and Kim came out to greet us, and then we followed them inside to a small barrel room.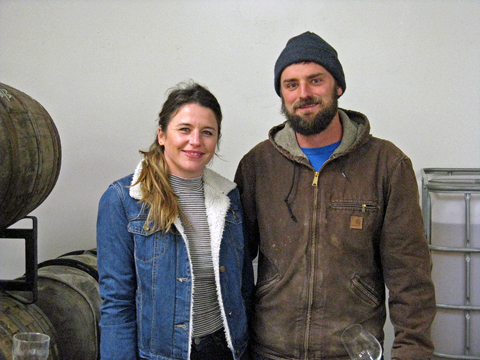 Tyler and Kim told us a little about themselves before tasting us on their new wines. Tyler has degree in history, and taught English in South Korea for a time. He then caught the wine bug and worked at Whitcraft Winery and at Santa Barbara Winery – he told us that drinking Whitcraft wines is what got him seriously interested in making his own wine. After living in Barcelona for a couple of years, he returned to California, working first at a custom crush facility and then at Lone Madrone and at Tablas Creek, where he is now their cellarmaster. In talking with Tyler, it turned out that he knows a friend of mine, David Teixeira, who I met while we both worked for Sasha Verhage at Eno Wines in Berkeley and who now has his own Lusu Cellars label there. Kim grew up in Napa and has her own consulting business, specializing in social media marketing. Tyler and Kim founded Halcyon in 2014.
Halcyon's inaugural 2014 vintage will include three wines, all made from Cabernet Franc sourced from Velo Vineyard on the Westside of Paso Robles (Tablas Creek sources Syrah from there for their Patelin de Tablas bottling). The first wine we tasted, a Rosé, will be the first one that Halcyon will release – scheduled to be bottled in early March. Tyler and Kim told us that their Rosé is inspired by the wines of Provence, and that they're aiming for a bright, crisp style. The fruit was picked two weeks before the rest of their Cab Franc, and about 90% of that was whole-cluster pressed. The fruit was fermented with native yeast and made entirely in stainless steel. They picked all the fruit for their wines themselves – about 4.5 tons total with about 0.8 tons going into the Rosé. Tyler and Kim have done everything themselves so far – manageable for such a small producer, but still a lot of work!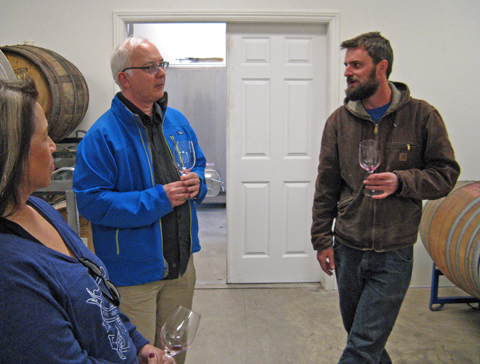 When they bottle their still Rosé in March, Tyler and Kim will also start working on the sparkling version of their Cabernet Franc Rosé. It will be made by the traditional, labor-intensive, and time-consuming Méthode Champenoise. The next step will be to take their base Rosé wine (high-acid and low-alcohol) and add sugar and yeast, then bottle the wine and seal it with crown caps. They expect it will take up to 12 months of aging en tirage before riddling and disgorging. Tyler said they plan to use crown caps for the finished bottles as well. They've never made a sparkling wine before so it will be an experiment for them, but they love drinking sparklers so they want to give it a try.
We walked across the room to the Halcyon barrels where their red Cabernet Franc is aging. The fruit for this wine was picked at about 22.8 brix and fermented with native yeast using 25% whole clusters. The wine is aging in three-year old Billon barrels, and Tyler and Kim will probably bottle it late this year. They told us that they plan to remain small-production in the near future. They will continue to get Cab Franc this year, and they may add a white variety – they told me they particularly like Chenin Blanc, Sauvignon Blanc (Sancerre-style is a favorite), and Albariño.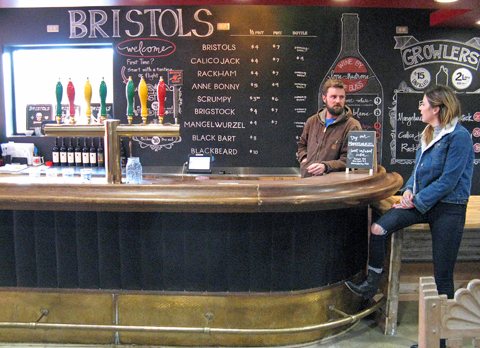 As we were getting ready to take off, Tyler and Kim asked us whether we'd like to walk across to Bristols Cider House to taste a few of Neil Collins' ciders there. Hard to pass up that offer! The interior has a pub-like feel to it (Neil is originally from England), and there are about eight different ciders on tap there. They make the ciders right onsite. Tyler gave us tastes of four of the ciders currently on tap – Mangelwurtzel (made from apples and beets), Rackham (100% Braeburn apples, dry-hopped), Anne Bonny (100% Granny Smith apples, aged in bourbon barrels), and Original Bristols (made from a blend of apples in an off-dry style). They were all good, and very distinct from one another – the Mangelwurtzel really did have some beet flavor to it.
This was a fun way to conclude our Central Coast wine tour. It's exciting to visit a small new winery before they've even released their first wines. And it's even better when the wines are as promising as the two Halcyon wines that we tasted with Tyler and Kim. Both the Rosé and red versions of their Cabernet Franc were noteworthy, and it will be interesting to taste their sparkling version once it's bottled. I'm a fan of Cab Franc and I'm encouraged by the renewed interest in this variety in California. Tyler and Kim are doing a fine job with their wines so far, and it will be worth following their new venture.
Driving back to the Bay Area with Alan and Mary was uneventful, and rush hour traffic had even died down by the time we got back there. From start to finish this was a smooth trip. I've found that early in the year is usually a good time to tour wine country – wineries don't tend to be too crowded, vintners are often around and they're generally not so busy that they can't squeeze in a visit.
Among the newer things we encountered along the Central Coast were the recently-created AVAs in Paso Robles and in Santa Barbara County. Eleven new AVAs within the larger Paso Robles appellation were formally approved in September 2014. Only a few of these new areas are well-known outside the local region – mainly Templeton Gap, Willow Creek, and Adelaida districts – and many have yet to distinguish themselves as being a consistent fruit source for high-quality, distinctive wine. In Santa Barbara County, areas already noted as being the source of quality wines have had AVAs created one at a time – Sta. Rita Hills, Happy Canyon, and Ballard Canyon. Los Olivos District looks like a probable future AVA and perhaps portions of Los Alamos Valley as well. The difference in approach between Paso Robles and Santa Barbara County is striking, and I do feel that not every grape-growing area that can be made into an AVA should be made into an AVA – something that's true of plenty of wine regions.
Other things that stood out during our journey included the undeniable spirit of experimentation that is thriving along the Central Coast as in few other California wine regions. We came across a solera-based Cabernet program and an amphora-fermented Nebbiolo, wines undergoing four-month long macerations, and a unique approach to making sparkling wine, not to mention a number of interesting and unexpected blends. A sense of cooperation and sharing among vintners seems stronger in this region too. It's what makes places like the Lompoc Wine Ghetto and Paso Robles' Tin City work so well, and nowhere was it more evident than at the new Buellton Bodegas wine coop.
I always enjoy visiting Central Coast wineries, but this was the best time I've had there in awhile. Part of it was due to the fun group of people in our wine-touring group, and I'm sure part was because I was happy to be back in the area (particularly Santa Barbara County) after being away from there for too long. Of course it was a blast to see so many people during our travels who I hadn't seen in some time, and terrific to meet a bunch of new people who I hope to visit again before too long. And as usual, we enjoyed some great food along the way – we were rarely disappointed wherever we went.
We managed to visit most of the wineries I'd wanted to during our five days along the Central Coast. We mixed some old favorites together with up-and-coming producers and a few ventures that were barely off the ground. Given that mix, I felt that the high standard of wines we tasted throughout our journey was remarkable – even from places we knew little about in advance – with plenty of standout bottlings and barrel samples. I'm looking forward to my next visit through the area, and hope that it's sooner rather than later. As always, thanks to everyone that we visited for being so generous with their time and their wine!