Central Coast - January 2015 - Part 2
Our first day of wine touring along the Central Coast had been a good one. Jane, Warren, and Mary had gotten a later start on Friday than planned and missed the first two winery visits of the day, but Eric, Alan, and I managed to get in four stops at Paso Robles-area wineries and tasting rooms. And we all still had time to pop into a brewpub for a late-afternoon beer!

We didn't have a winery appointment until 10am on Saturday morning, so most of us had a chance to venture out separately in search of coffee and a light breakfast before hitting the road. We would be heading south to Santa Barbara County after our morning wine visit, so we packed up our cars and took off shortly before 10am.
Saturday - January 17, 2015
Tasting Notes: Tank Samples

Paix Sur Terre 2014 Ugni Blanc, Kiler Grove Vineyard, Paso Robles (tank sample). Made in 75% stainless steel drums and 25% neutral oak. Very light straw color, this displayed lemon/citrus and orangepeel aromas along with some fresh herb and wet stone/mineral notes. Medium-light bodied with juicy acidity and a clean finish, nice.

Paix Sur Terre 2013 "Songs of its Own," Glenrose Vineyard, Paso Robles (tank sample). 55% Grenache, 30% Mourvèdre, 12% Syrah, 3% Counoise, 50% whole-cluster fermented, aged in neutral oak. Medium purple color, with black cherry and darker berry fruit, earth, and touches of roasted meat and herbs. Medium-bodied with a stony mineral character in the mouth, finishing with chalky tannins.

Paix Sur Terre 2013 "The Other One," Glenrose Vineyard, Paso Robles (tank sample). 100% Mourvèdre, 100% whole-cluster fermented, aged in 15% new oak for three months, then racked to all neutral oak. Medium color, with fresh black cherry fruit, earth, flowers, and lots of savory herb notes on the nose. Medium weight with a lively, tingly mouthfeel, and moderate tannins, nice.

Paix Sur Terre 2013 "Either Side of the Hill," Glenrose Vineyard, Paso Robles (tank sample). 70% Syrah, 30% Mourvèdre, Syrah entirely destemmed, aged in 25% new oak. Dark color, featuring black fruits, coffee, grilled meat, plus touches of earth and flowers. Medium-full bodied with lively acidity and fine, tingly tannins on the finish, nice.

Paix Sur Terre 2013 "Comes a Time," Alta Colina Vineyard, Paso Robles (tank sample). 100% Mourvèdre, 100% destemmed, aged in 20% new oak. Medium-dark purple, this showed gamy and herbal character along with riper plum fruit, earth, and spice. Fairly rich mouthfeel, finishing with bigger, chewier tannins – clearly needs time but distinctive and intriguing.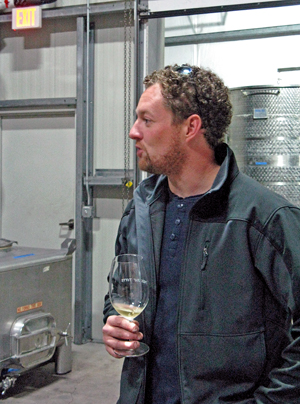 It wasn't a long drive to our first stop of the day, right along Highway 46 and just a couple of miles west of 101. We pulled into the parking area of Grey Wolf Cellars, where we were scheduled to meet Ryan Pease of Paix Sur Terre. I'd traveled down the coast as far as Paso Robles a few times in the past couple of years and several people had told me that I had to try the Paix Sur Terre wines. I had not really had the chance to do that before, so this trip presented the perfect opportunity. We parked in front of the Grey Wolf tasting room and didn't spot anyone around. While the rest of the group occupied themselves playing with several of the winery dogs, I explored farther back toward what looked like the winery when Ryan popped out from the large metal building to greet me. I went back to collect the rest of the group and we all stepped inside the winery with Ryan.
Ryan and his wife Nicole launched Paix Sur Terre with the 2010 vintage. We'd arrived at a good time to taste his upcoming releases, as they were all in tank and ready to be bottled the following day. While he was pulling the first wine sample for us to try, he began to tell us about his background. Like many in our group, Ryan is from the San Francisco Bay Area, originally from Lafayette just across the hills from Oakland and Berkeley. He'd studied finance in college and told us that he and Nicole used to buy wines from Trader Joe's, which turned out to be an inexpensive way for them to learn about wines from many regions, both in California and Europe. Getting further into exploring wine, Mourvèdre from Bandol – especially those from Domaine Tempier – became a favorite of both Ryan and Nicole.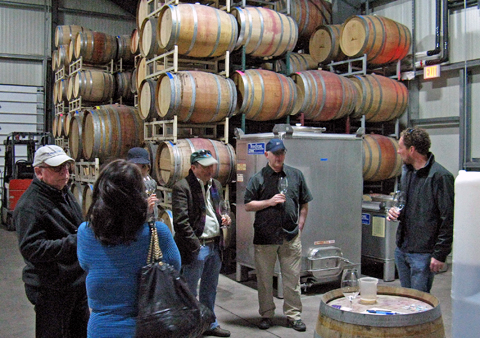 After earning his degree from Cal Poly in San Luis Obispo, Ryan started out in the local wine business working with Matt Trevisan of Linne Calodo in 2007. He began in the tasting room but, eager to get hands-on experience with growing grapes and making wine, he volunteered to help during the 2007 crush.
Ryan credits Matt with helping him learn the ropes of winemaking there, and notes how Matt allowed him to figure out many things on his own, much as Matt told him he'd done when he was first learning to make wine. Ryan moved on to work for a time at Epoch before returning for a second stint at Linne Calodo. Since Paix Sur Terre is not yet a full-time endeavor, Ryan has been the assistant winemaker at both Grey Wolf and Lone Madrone since 2012, while Nicole is the operations manager for McPrice Myers / Barrel 27.
The winery name (pronounced "Pay Su Terr") is French for "Peace on Earth"…though in this case it could also be "Pease on Earth"! From their initial 144-case release of 2010 wines, production is now up to about 700 cases, and Ryan sees a target of around 1,000 cases per year. Paix Sur Terre has just a single release of their wines each year, coming in the spring – the wines we tasted were just released in mid-February. The wines released to date have received critical acclaim, with the 2012 "Either Side of the Hill" bottling being named among last year's Top 100 West Coast Wines by Jon Bonné of the San Francisco Chronicle.
Producing top-quality Mourvèdre has been a goal for Paix Sur Terre from the start, but there is more to the winery than that. Ryan started out our tasting with a white wine from a variety that normally gets little respect. Ugni Blanc (or Trebbiano, as it's known in Italy) is known for being used in blends or distilled into brandy, and farmed more for quantity than quality. Stand-alone varietal bottlings often don't generate much interest, lively but simple. But Ryan's version showed us what can result when that variety is planted at a good site and farmed with an eye to quality. The fruit was sourced from a one-acre block at Kiler Grove Vineyard on the Westside of Paso, rooted in the limestone soil at the top of the vineyard's hill. Picked at just under 22 brix in 2014, the fruit was whole-cluster pressed and the wine was made in mostly stainless steel barrels along with some neutral oak, and with malolactic fermentation blocked. This is certainly a benchmark Ugni Blanc in California. Ryan told us that there is a small percentage of Grenache Blanc in the 2014 Ugni Blanc, and that he has a varietal Grenache Blanc in the works. He's also planning to get some Picpoul from Glenrose Vineyard for a varietal bottling.

"Songs of Its Own" wine label
We moved on to taste the four 2013 reds from Paix Sur Terre, beginning with the "Songs of its Own" blend. This is a Grenache-based blend that also includes a good percentage of Mourvèdre as well as some Syrah and Counoise, all sourced from Glenrose Vineyard along Peachy Canyon Road. Planted in 1994 at over 1,500-foot elevation, Glenrose features the most dramatic terraces of any vineyard in the area, carved into the chalky white hillside rock. The Syrah, Grenache, and Counoise were co-fermented with 50% whole clusters, and the entire blend was aged in neutral oak. Ryan ferments all the reds in small lots, in macrobins.
As Ryan gave us samples of his 2013 "The Other One," he told us that he considers it his flagship wine, a barrel selection of 100% Mourvèdre grown on the Glenrose Vineyard terraces, meant to showcase the vineyard's terroir. The vines are about 16 years old, with both Beaucastel clone and Tablas clone. Ryan mentioned that the upper terraces at Glenrose are almost entirely limestone, and that the vines grown there contribute more fruit character to the wine, while the lower terraces have more sandstone and provide more of the wine's structure. He's thinking that he may make separate bottlings for each of the two vineyard sections in the future. The fruit was fermented entirely with whole clusters, and a portion of the wine was aged in new French oak for just three months, then racked to neutral barrels.
Next was the 2013 "Either Side of the Hill," a Syrah-based blend from Glenrose. Sourced from 19-year old Shiraz Clone 7 vines, the fruit was completely destemmed, then aged in 25% new oak and blended with a barrel of Mourvèdre. The last Paix Sur Terre we wine tasted was the 2013 "Comes a Time," 100% Mourvèdre from Alta Colina Vineyard off of Adelaida Road. Planted in 2005, the vineyard elevation ranges as high as 1,800 feet, and the soil at there is different from that at Glenrose – Alta Colina is siliceous shale rather than the calcareous soil at Glenrose. Ryan also pointed out that Alta Colina is now dry-farmed. Unlike the Glenrose Mourvèdre, this fruit was entirely destemmed prior to fermentation, and the wine was aged in 20% new French oak.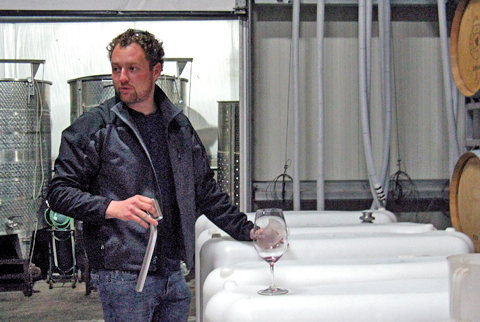 I asked Ryan whether any of the Mourvèdre he gets is grown on head-trained vines, as I've increasingly seen that rather than trellised vines for Grenache. He said that all the Mourvèdre is trellised, as these vines don't do as well as Grenache when they're head-trained – the fruit tends to become too heavy and can pull down the vine.
Ryan and Nicole may consider buying some Westside Paso Robles land to plant their own vineyard sometime in the future, but for now they'll continue to purchase fruit from some of the area's most noted growers. Ryan and Nicole do virtually all the work themselves for Paix Sur Terre, and with their small production, that should be able to continue. One thing they did not do for their wines is to create the artwork the colorful and distinctive labels – they're by Ryan's longtime friend, artist Jon Blythe.
Paix Sur Terre is one of the few California wineries to showcase Mourvèdre, and there's no doubt that this helps set them apart. But regardless of that varietal focus, Ryan is making some top-notch wines. The Ugni Blanc was a real eye-opener as far as the potential of that variety in the right hands. And the reds were terrific across the board – although they're all very young and will benefit from bottle age, they were already showing great complexity and distinctiveness. The two renditions of 100% Mourvèdre were stunning in how they well they displayed two different sides of that variety. I found a fresh, tingly sensation on the finish that showed through on all the reds. These are still fairly big wines, but Ryan told us that he's been picking his fruit earlier and that all of his 2014 reds will be under 15% alcohol – not always an easy thing to do in the Paso Robles area. He said that he feels the style of his wines are something of a cross between those of Linne Calodo and Tablas Creek, with both fruit and minerality, and that seems like a good description.
During our visit with Ryan, he used the words "purity" and "essence" a number of times when talking about what he's aiming for in his Paix Sur Terre wines. He said that his "job is to be a shepherd rather than a manipulator." I was highly impressed by the wines we tasted, and Paix Sur Terre could easily be Paso Robles' next "breakout" winery.
Since we were going to continue to Santa Barbara County in the afternoon, I suggested making our lunch stop at Hush Harbor Bakery in Atascadero, a few miles down Highway 101. Their breads, pastries, and quiches are excellent, their croissants might be the best anywhere along the Central Coast – and they make delicious sandwiches too. Eric and Warren followed me, as the location is not obvious from the street, tucked away in the corner of a non-descript strip mall along El Camino Real. Learning my lesson from the day before, I ordered a half sandwich this time (remembering that Hush Harbor's sandwiches are very generously sized and come with a salad or side dish). The half turkey grinder and cole slaw (with a spicy dressing) fit the bill perfectly. Ready for the rest of our journey south, we hit the road again.
Tasting Notes: Tank & Barrel Samples and Current Releases

Badge 2014 Chardonnay, White Hills Vineyard, Santa Barbara County (tank sample). Made entirely in stainless steel with no malolactic fermentation. Light yellow color, very fruit forward, with fresh stone fruit and tropical fruit aromas plus a touch of fresh herbs. Medium-light bodied with good acidity and a clean finish.

D'Alfonso-Curran 2013 Chardonnay, White Hills Vineyard, Santa Barbara County (barrel sample). Made in 100% new French oak with full malolactic fermentation. Slightly lighter color, this had ripe apple and pear on the nose along with buttery and toasty notes. Rich, creamy texture, with a long, smooth finish.

D'Alfonso-Curran 2013 Chenin Blanc, White Hills Vineyard, Santa Barbara County. Light greenish-straw color, this displayed lots of upfront peach and apricot aromas along with a slight floral note. Medium-light weight and lively on the palate with a crisp finish, nice.

Curran 2013 Grenache Blanc, Santa Ynez Valley. Very light straw color, showing plenty of spice along with ripe stone fruit and apple, along with a touch of fresh herbs. A bit more viscous feel than the Chenin Blanc, this had good acidity and a tasty finish, nice.

Curran 2010 Grenache Blanc, Santa Ynez Valley. Light straw color, with the distinctive Grenache Blanc petrol aroma along with apply fruit. Richer, smoother mouthfeel and finish than the previous wine.

Curran 2013 Grenache Rosé, Santa Ynez Valley. Made from Grenache Gris. Very light salmon-pink color, with subtle red fruit on the nose plus touches of spice and earth. Medium-light weight with good acidity, finishing with a slight chalky tannic bite.

D'Alfonso-Curran 2012 Pinot Noir, Rancho La Viña, Sta. Rita Hills (barrel sample). Entirely from 115 clone, from a new Remond barrel. Medium color, this showed black cherry, spice, earth, vanilla/oak, and a stony mineral note. Medium-bodied with a lively texture and refined tannins – young but has potential.

D'Alfonso-Curran 2010 Pinot Noir, Rancho La Viña, Sta. Rita Hills (barrel sample). Entirely from 115 clone, from a new Remond barrel, to be bottled soon. Slightly lighter garnet color, featuring higher-toned cherry fruit, lots of spice, earth, with sweet oak in the background. Lively mouthfeel with a moderately tannic finish.

Curran 2009 Syrah, Black Oak Vineyard, Santa Barbara County (tank sample). Dark color, with grilled meat, dark fruit, spice, and vanilla/oak on the nose. Medium-full bodied, finishing with fairly grippy tannins.




It was a beautiful day for a Central Coast drive. Highway 101 follows inland valleys for the most part, but it runs along the coast for a few miles near Pismo Beach, offering great views of the oceanside. After continuing south into Santa Barbara County and through Santa Maria Valley, we turned off the highway at Buellton and followed scenic Santa Rosa Road west through the southern part of the Sta. Rita Hills AVA. We finally spotted the small sign marking the driveway leading to D'Alfonso-Curran Wines, and made our way to the rear of the winery building, where we parked. Eric had arrived a few minutes earlier, as both Warren and I needed to stop for gas along the way south.
As is often the case when visiting the husband-and-wife team of Bruno D'Alfonso and Kris Curran, the first one to greet us outside the winery was one of their three friendly German Shepherds – Breaker, Badge, and Scout. Bruno and Kris welcomed us into the large metal building that they share with Arcadian Winery. Eric already had a glass of Chardonnay in his hand – hey, no fair getting a head start on the rest of us! Bruno and Kris actually have four labels under the D'Alfonso-Curran umbrella: the Di Bruno label was started in 1995 and features wines from Italian grape varieties; Badge, established in 2003 and focusing on Chardonnay and Pinot Noir; Curran was launched in 1997 and offers mostly Spanish varieties along with a few other wines; and the D'Alfonso-Curran label, founded in 2006, is for their top-of-the-line vineyard designated wines, mainly Chardonnay and Pinot Noir.
Kris grew up in Santa Ynez Valley and has loved animals all her life, leading her to earn a degree in animal science from Cal Poly San Luis Obispo, originally intending to become a veterinarian. Bruno had also attended Cal Poly, where his degree was in soil science. It wasn't long before each of them realized that making wine was in their future. They took different paths – Kris getting her enology degree at Cal State Fresno while Bruno earned his enology degree at UC Davis. Kris returned to Santa Barbara County, becoming the assistant winemaker at Cambria before moving on to positions as winemaker at Koehler, Sea Smoke, and Foley. Bruno's first winery job was at Edna Valley Vineyard, where he worked with famed winemaker Richard Graff. After a few years there, he became the winemaker at Sanford Winery, working there with Richard Sanford for over 20 years.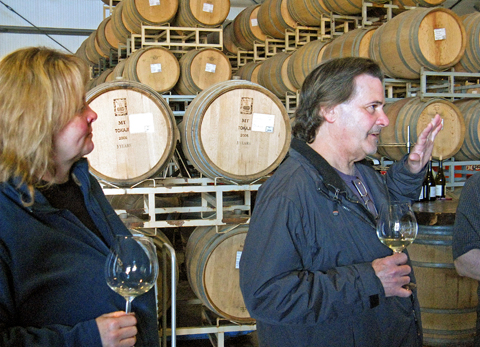 Kris Curran and Bruno D'Alfonso
With both Kris and Bruno having started their own labels over the years, it seemed a natural for them to join forces with D'Alfonso-Curran. And with their many years of working with local growers, it's no surprise that they are able to source fruit from some of Santa Barbara County's finest vineyards, including Rancho La Viña, Rancho Las Hermanas, Sanford and Benedict, Sierra Madre, Stolpman, Tierra Alta, and White Hills among others.
Jane, Warren, and Mary finally arrived, and with our entire group now at the winery, Bruno gave us all tank samples of a 2014 Chardonnay. He told us that this wine was made entirely in stainless steel, with no malolactic fermentation. This will ultimately become the Badge "Blue Steel" Chardonnay. Bruno wanted to give us a comparison with the complete flipside of that first wine, a sample of 2013 Chardonnay that was barrel-fermented and aged in 100% new French oak – this will be a D'Alfonso-Curran bottling. Both Chardonnays came from White Hills Vineyard at the cool western end of Los Alamos Valley not far from the small town of Casmalia – Kris and Bruno also source Chenin Blanc, Pinot Blanc, and Gewürztraminer from there. Bruno said that all their Chardonnay fruit from this vineyard comes in at the same time, and he and Kris decide then which portions of the fruit will go into which program. They noted that they barrel-age their wines longer than most producers do, as they feel it integrates the oak better in the finished wines.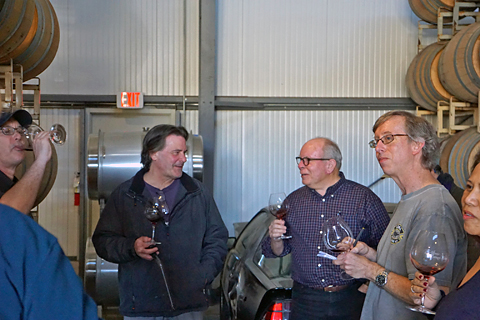 photo: Jane Naito
We moved on to taste some bottled white wines with Kris and Bruno, beginning with their 2013 D'Alfonso-Curran Chenin Blanc from White Hills Vineyard. Made in stainless steel with no malolactic fermentation, this is a small-production bottling – and a very tasty one. Next was the 2013 Curran Grenache Blanc. Kris started making Grenache Blanc in 2003, and her early vintages really put that variety on the map in California – and in turn, the Grenache Blanc's popularity helped raise the profile of the Curran label. The fruit sources have changed somewhat over the years, and Kris told us that the 2013 fruit came from Tierra Alta Vineyard in Ballard Canyon plus Zaca Mesa and La Presa vineyards in different parts of Santa Ynez Valley. Bruno wanted to show us how the Grenache Blanc ages, and he opened a bottle of the 2010 vintage for us – it showed the petrol-like aromatics that often develop in Grenache Blanc with bottle age, not unlike a Riesling. We tasted one more bottled wine, a 2013 Grenache Gris, which is officially labeled as Grenache Rosé since Grenache Gris is not yet recognized by the TTB.
We continued our tasting with a couple of Pinot Noir barrel samples, a 2012 and 2010, each from Rancho La Viña in Sta. Rita Hills, and each from a new Remond barrel. The 2010 will be bottled soon, while the 2012 will remain in barrel for a couple more years – a good example of the longer barrel-aging that Kris and Bruno give their wines. Our last wine was a tank sample of 2009 Syrah from Black Oak Vineyard, which will be bottled shortly.
As we tasted through the wines, Kris and Bruno talked about some of their winemaking methods and their thoughts about various wine-related subjects. If you've ever talked with them, you know that they are never reluctant to share their opinions, especially Bruno! They talked about some of the things they do to be environmentally-friendly, including recycling water at the winery. But they mentioned that they have not found any major distinction in the quality of fruit they get from vineyards that are farmed biodynamically or organically over those that practice sustainable but non-organic farming. Bruno is well-known for his dislike of making red wines using whole-cluster fermentation (due to effects on aroma, color, and pH), so all of their fruit is completely destemmed. Bruno remarked that they make their wines in a scientifically-sound way, as science is a strong part of both of their backgrounds, and he feels that some others don't focus on some of the same details in the cellar that help keep the D'Alfonso-Curran wines clean. They use crossflow filtration on their wines prior to bottling – as many wineries do these days – but they are strongly opposed to the use of Velcorin – a somewhat controversial substance that a number of other producers use to remove potential spoilage organisms such as brettanomyces before bottling. They've also been using Diam agglomerated corks for their wines, looking for greater consistency from bottle to bottle than is possible with natural cork closures.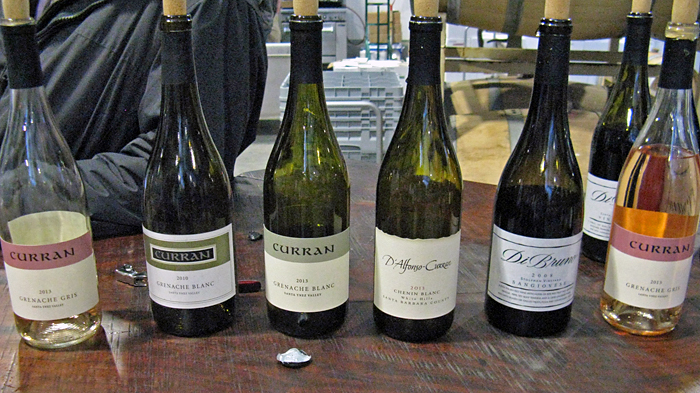 It's always fun to visit Kris and Bruno, both for the wines and the lively discussions – they're two of the most upfront people you'll find in the Santa Barbara County wine business. It's become more fashionable in recent years for some vintners to position themselves as "hands-off" winemakers, though the reality is that not all of them are really as hands-off as they'd like you to believe. Kris and Bruno have never tried to disguise what they do – they make a good case that limiting intervention in the winery only goes so far – and in the end, making consistently good wines matters to them more than winemaking ideology. We tasted a solid group of wines with Kris and Bruno. Overall, I preferred the whites to the reds – it was fascinating to taste the two Chardonnay samples in succession, and the 2013 Chenin Blanc and Grenache Blanc bottlings were favorites during our tasting. Among the reds, I particularly liked the 2012 Pinot barrel sample, and it should be interesting to try this wine once it's released in a few years. Kris and Bruno have both earned reputations as being among Santa Barbara County's top winemakers, and they're continuing to produce wines that deserve attention.
Tasting Notes: Current Releases, Pre-releases, and Library Wines

Liquid Farm 2013 Rosé, Vogelzang Vineyard, Happy Canyon of Santa Barbara. From 95% Mourvèdre and 5% Grenache, made in neutral oak. Light salmon color, this showed red fruits, fresh herbs, and notes of flowers, spice, and earth. Medium-light weight, with zippy acidity and a fresh finish, nice.

Liquid Farm 2013 Chardonnay, "White Hill," Sta. Rita Hills. From Bentrock, Rita's Crown, Zotovich, Kessler-Haak, Clos Pepe, Rancho Esperanza, and Radian vineyards, made in 90% neutral oak and 10% stainless steel. Very light straw color, with bright citrus fruit, touches of lees, earth, and spice. Medium-light bodied and lively, with a clean finish.

Liquid Farm 2012 Chardonnay, "Golden Slope," Sta. Rita Hills. Tasted from a magnum. From Rita's Crown, Bent Rock, Clos Pepe, Zotovich, and Kessler-Haak vineyards, made in 82% neutral and 18% new oak. Slightly deeper color, with more intense apple and pear aromas, spice, and a touch of vanilla/oak. Richer mouthfeel but with good balancing acidity, and a stony mineral note on the long finish, nice.

Liquid Farm 2013 Chardonnay, "Golden Slope," Sta. Rita Hills (pre-release). Recently-bottled, sourced from a variety of Sta. Rita Hills vineyards, made in 82% neutral and 18% new oak. Light straw color, this was less fruit-forward, with lees, spice, and earth components more upfront and apply fruit and sweet oak in support. Medium weight on the palate with a lively texture and smooth finish – still very young and should develop well in the bottle.

Liquid Farm 2011 Chardonnay, "Four," Sta. Rita Hills. From 75% Clos Pepe and 25% Rita's Crown vineyards, made in 25% new oak. Medium-light yellow color, showing a more earthy character along with pear, spice, vanilla/oak, and a slightly nutty note. Richer, creamier texture, with a smooth finish.

Liquid Farm 2013 Chardonnay, "La Hermana," Santa Maria Valley. From Bien Nacido, Dierberg, and Maldonado vineyards, made entirely in neutral oak. Fairly light color, showing a more citrus fruit profile, plus earth, fresh herbs, and a slightly floral touch. Medium-bodied and lively, with a stony mineral note on the long finish, nice.

Liquid Farm 2013 Chardonnay, "Bien Bien," Bien Nacido Vineyard, Santa Maria Valley (pre-release). From 40-year old own-rooted vines at Bien Nacido Vineyard, made in about 30% new oak. Medium-light color, with more upfront vanilla/oak on the nose, ripe apple and pear fruit, and earth. Fairly rich and creamy on the palate, this had a citrusy and slightly chalky finish – very distinctive.



We needed to drive back along Santa Rosa Road and then up into the heart of Santa Ynez Valley for our last wine visit of the day. We were heading to the home of Nikki and Jeff Nelson, proprietors of Liquid Farm, a rising star of California Chardonnay. I'd tasted the Liquid Farm wines at a Sta. Rita Hills tasting in San Francisco in 2013 and was impressed. Nikki and Jeff hold a pop-up tasting at their place about once a month, and we were fortunate enough to be able to take advantage of it. Located about midway between Los Olivos and Santa Ynez, the house has a large front lawn that provided a perfect spot for the informal tasting. We'd coordinated to meet there with a few other people, and we were joined by friends Traci (also visiting from the Bay Area) and John Tomasso (from nearby Buellton). John also introduced us to his brother Lucas and to Amy Dixon, of The Baker's Table artisan bakery in Santa Ynez. There were a number of other people tasting there in the late afternoon, and a couple of the Nelsons' dogs provided entertainment.
Nikki and Jeff are longtime Chardonnay lovers, but they found themselves drawn more to Old World wines that displayed less alcohol, more acidity, and more earth and mineral character than most of what they found from California – Nikki has cited the wines of Chablis, Beaune, and Macon as being inspirations. Both Nikki and Jeff have long backgrounds in the wine business. Nikki, who has a degree in wine and viticulture with a focus on wine business from Cal Poly San Luis Obispo, worked for Henry Wine Group (a noted fine wine distributor) following college. She and Jeff met while she was working there – he worked for over 20 years in Southern California sales and marketing for various Champagne and Burgundy producers.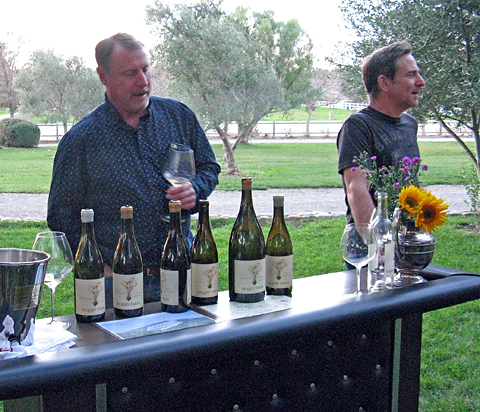 right: Jeff Nelson
In 2009, Nikki and Jeff decided to establish their own label to create the type of Chardonnay they enjoyed, and they picked Sta. Rita Hills as the place to source fruit for these wines, due to its cool climate and distinctive soils, particularly the white diatomaceous soil found in many sites throughout the appellation. They started out with just four barrels, producing two wines, both sourced from Kessler-Haak Vineyard (where Nikki and Jeff were married in 2011). Those two wines were the "White Hill," which they felt had a more mineral-driven character reminiscent of Chablis, and "Golden Slope," which reminded them more of Meursault from Burgundy's Côte-d'Or. They chose the winery name since they feel that at its core, producing wine is creating liquid from farming. And the labels help tell the story that what is below ground can impact the character of grapevines and other plants as much as what happens above ground.
From those first four barrels of wine through 2012, the Liquid Farm winemaking was guided by the consulting team of Dragonette Cellars, particularly Brandon Sparks-Gillis. Jeff had met Brandon and John Dragonette some years earlier, and Nikki and Jeff credit Brandon with helping them get their own project off the ground. In 2011, they added their only non-Chardonnay wine to the line-up (at least to date), a Mourvèdre-based Rosé sourced from the warmer Happy Canyon AVA and inspired by Bandol. They also expanded their Chardonnay offerings that year with their "Four" bottling, named for a number of important "fours" in their lives, including those original four barrels that launched their winery. In 2013 they added two Santa Maria Valley Chardonnays to the mix with the "La Hermana" and "Bien Bien" bottlings. Annual production has grown from that original 100 cases to around 4,000 cases now, but there are no current plans to expand much more beyond that.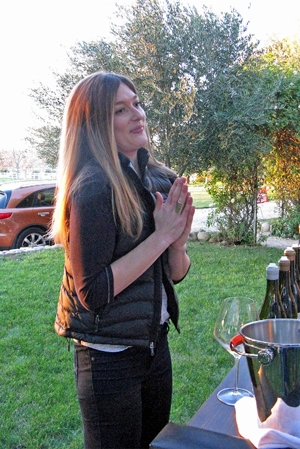 Just days before harvest began in 2013, Liquid Farm moved their winemaking operation from its original location in Lompoc to the Buellton Wine Center, known informally as Buellton Bodegas. The Dragonette crew also stepped back in 2013, and Liquid Farm transitioned to a new winemaker in James Sparks, who had worked on the Liquid Farm wines at Dragonette from the start. After working his way up at Dragonette since 2009, becoming Liquid Farm's winemaker seemed a natural move. In addition, Nikki shifted to working on Liquid Farm full-time in 2011 and Jeff followed suit in 2014, and they plan to become more hands-on in the winemaking process. As of the beginning of this year, Nikki and Jeff are living at their house in Santa Ynez Valley full-time, after years of traveling back and forth and staying with friends in the area (with plenty of stays at the Embassy Suites in Lompoc in the first couple of years).
The Liquid Farm winemaking is straightforward, with a goal of minimal intervention. Fruit is picked early to retain acidity, pressed, and barrel-fermented using predominantly native yeast. Malolactic fermentation is also left to proceed naturally. Most barrels are older oak – 70% or more for the wines released to date. The "White Hill" bottling also includes a small percentage (10-20%) of Chardonnay made in stainless steel.
Nikki and Jeff were quite busy mingling with their guests at their tasting, so their friend Mike was behind the small tasting bar that was set up on the lawn (and in keeping with spotting people we knew throughout our wine tour, we saw Mike the following day at the Avant wine bar in Buellton). Nikki told us that James Sparks would have been there that afternoon but he and his wife had just had their first baby a couple of days earlier. We started off with the 2013 Rosé – now sold out at the winery, with the new 2014 vintage bottled shortly after our visit and released by late February. Though Liquid Farm is known for their Chardonnays, their Rosé, made mostly from Mourvèdre with a small percentage of Grenache, has been a standout.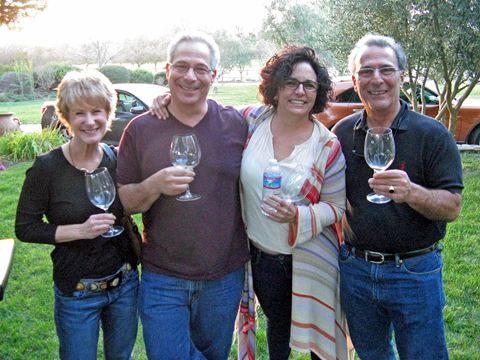 l to r: Traci Kriss Michaelson, John Tomasso, Amy George Dixon, and Lucas Tomasso
We went on the Chardonnays from there, beginning with the 2013 "White Hill," the leanest of the Liquid Farm Chards. We got a preview of the soon-to-be-released 2013 "Golden Slope" as well as a taste of the sold-out 2012 vintage from magnum (that mag, along with a couple of other bottles poured that afternoon, came from Nikki and Jeff's personal wine library). The 2012 "Four" is also sold out, but Mike had a bottle of the inaugural 2011 "Four" for us to taste. The 2013 vintage of "Four" will be released – mostly to the Liquid Farm wine club – later this year. We finished up with the two new Santa Maria Valley Chardonnay bottlings. The 2013 "La Hermana" is named for being the sister to Liquid Farm's Sta. Rita Hills bottlings, while the 2013 "Bien Bien" (sourced from 40-year old vines at Bien Nacido Vineyard) was another sneak preview.
Liquid Farm got Chardonnay fruit from a couple of additional Sta. Rita Hills vineyards in 2014 – 3D Ranch (a source for Brewer-Clifton, it's located between Lafond and Ampelos vineyards), and La Rinconada, planted by Richard Sanford in 1997. And in a departure for the winery, 2014 also marked their first year working with Pinot Noir – they got small amounts from Radian and Huber vineyards in Sta. Rita Hills.
We ended our visit to Liquid Farm by watching a spectacular Santa Ynez Valley sunset. Even though it was getting a bit chilly with the sun dipping below the horizon, everyone stayed to snap photos, then turned around a few moments later to shoot more of them as the color of the clouds above the western horizon just kept getting more intense.
We all had a great time at the Liquid Farm pop-up tasting. It was an informal, relaxing way to try their current wines – and some past releases as well – and it was nice to meet Nikki and Jeff. They were being good hosts and making sure they talked with everyone at their tasting, and since they were so busy, I didn't have as much time to talk with them as I would have liked – hopefully I'll be able to do that on a future visit. In just a few short years, Liquid Farm's wines have become some of Santa Barbara County's benchmark Chardonnays. Tasting through their bottlings, it was clear that they've succeeded in bringing out the earthy and minerally elements that they've aimed for, while not sacrificing fruit and maintaining a fine balance between richness and acidity in all the wines. The 2013 "White Hill," 2012 "Golden Slope," and 2013 "La Hermana" were my favorites among the Liquid Farm Chardonnays, and their Mourvèdre-based Rosé was also excellent. For lovers of California Chardonnay with a lighter touch, Liquid Farm should be one of your "go to" wineries.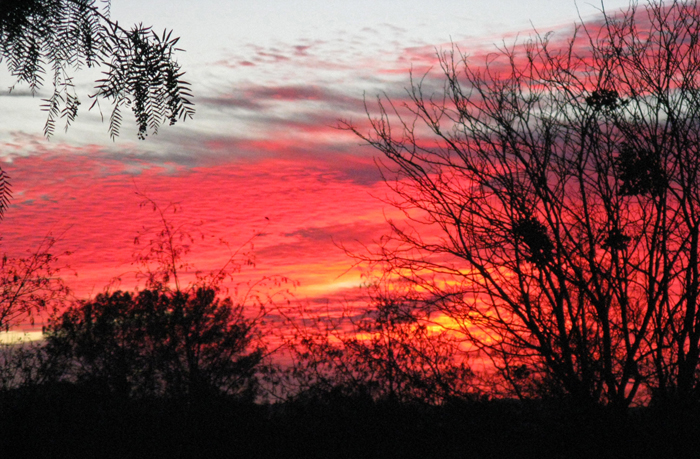 Reason #243 that people move to California
We'd originally planned to have dinner at the Ballard Inn on Sunday evening but had a last-minute change of plans and called to see if they could take us for dinner after our visit to Liquid Farm. Being a busy Saturday, they did not have space in their main dining room but had a few tables outside on the front porch – since it wasn't especially cold and they told us they had outdoor heaters, we decided to go for it. It was a very short drive from our Liquid Farm tasting, and we arrived at the Ballard Inn in just a few minutes.
We were joined for dinner by Mary's niece Marisa and Marisa's boyfriend Trent, who's from the area. Dining outside that evening turned out to be very pleasant, and it was no doubt a quieter spot than in the main dining room. The Ballard Inn Restaurant has remained my favorite dining destination in Santa Barbara wine country for many years, and the food (from Chef Budi Kazali) and service continue to be excellent. Although I've had the dish before, I couldn't resist going back to the pan-seared duck breast with sweet potato purée and balsamic reduction. I highly recommend dining at the Ballard Inn if you're visiting the area.
After dinner, we headed the few miles south into Solvang, where Jane had booked us into two units at a timeshare facility in town. We had stayed there a few times before, and it's a nice alternative to a staying in a motel, especially when we're touring wineries in the area for a few days. We all turned in early, since we had another full day of wine-tasting ahead of us the next day.