Napa and Sonoma Visits - January 2020 - Part 1
I've been visiting Napa and Sonoma wine country around New Year's for quite awhile. This year I decided to do things a little differently, and planned three days of wine touring with Eric Anderson – the head Grape-Nutz nut himself – and his friend and Grape-Nutz veteran Michael Poston. We'd hoped to join up with a couple of other wine friends but that didn't end up working out. Eric, Michael, and I coordinated our schedules and decided on an early January wine tour.
We contacted vintners to arrange appointments for our visits – Eric was in charge of Napa visits while I worked on ones for Sonoma. As it turned out, a couple of Napa visits – including my annual trip up Mount Veeder to Lagier Meredith – fell through, so we ended up with a Sonoma-heavy schedule. The eight wineries we arranged to visit are relatively new – most of them started up within the past 10-12 years, and the others are less than 20 years old. And while we were familiar with all of the wineries where we'd made appointments, there were only one or two that we'd ever made in-depth visits to before. We thought we'd left enough time in our schedule to drop in at a few other places but we only managed one drop-in tasting stop along the way.
January tends to be a relatively slow month in wine country, and since we hoped to avoid even January crowds as much as possible, we planned our wine tour for mid-week. Eric and Michael drove up from Southern California on a Monday and stayed in the northern part of Santa Rosa while they were in the area. The first day of winery visits was the following day, which was mostly overcast with unsettled weather, and there was a little rain as I drove from Oakland that morning. I met Eric and Michael at their hotel and we all headed out on the road in Michael's car. Our first stop of the day was not far away, just a few miles north in Windsor.
Tuesday - January 7, 2020
The first visit of our wine tour was on Tuesday morning, at Two Shepherds winery in Windsor. The facility is located in a small industrial park that's nicknamed "Artisan Alley" – it includes other vintners, a distiller, cider producer, and a beer taproom/café. Eric, Michael, and I walked in the front door of the unassuming spot and we were welcomed by Two Shepherds winemaker and co-owner William Allen. Also on hand was William's cellarmaster Julia Chrisco, who's been working there since August 2019. I'd spoken with William at a number of tasting events going back to 2012, but this was my first visit with him at his winery. The space is a pretty typical small urban winery, filled with barrels, tanks, winemaking equipment, a forklift, and little else – all business and no frills. William pointed out various things to us in the production space while he told us about his background and about the winery.
William was born and raised in Bermuda, and his background is in tech work. He'd been a home brewer and had enjoyed wine for a number of years – mostly Napa Cabs in those earlier days – but he told us that it was a late-1990s visit to Sonoma County got him more serious about wine. For awhile he wrote a wine blog called Simple Hedonisms, though he has not been active in that for some time. More importantly, he began making small batches of wine at home but realized that he couldn't really do what he wanted with wine unless he started working with larger lots and making it at a commercial scale. His first time working a harvest and crush came in 2009, and the following year he launched the Two Shepherds label with about 175 cases of wine made from Rhône grape varieties. William's original idea of the winery was to focus exclusively on Rhône-style wines from Russian River Valley fruit, but he has branched out to other growing areas and other varieties since then. His partner, Karen Daenen, joined him in 2015 – both she and William still have their dayjobs, William in software sales and design and Karen as head of consumer research at Jackson Family Wines. Since the winery moved into its current space in 2015, production has increased a good deal and is currently about 3,200 cases per year. Most wine is sold direct to consumer but distribution channels are becoming a more significant part of sales as production grows.
William told us about the Two Shepherds name for the label. It started as a reference to his two Australian Shepherd dogs (their current ones are Arya and Austin), but it's more than that. It also helps to convey the idea of being the "shepherd of the grape" – guiding it from the vine to the glass – and "shepherd of the palate" – helping to guide consumers toward the more old-world style that William prefers for his wines. Both William and Karen are animal lovers, and the wine labels display black and white silhouettes of different animals – most labels show two sheep but you'll also find their two goats Chabi and Chou, their cat Wiley, and their two miniature donkeys Dolce and Sofia. William currently makes about 12-15 different wines each vintage, most of these in fairly small lots. Some wines are released on the early side while others may be aged in the bottle for several years before release. William works with a number of growers – all using organic farming methods – and he looks for growers with whom he can develop long-term contract relationships. He typically works with particular rows or blocks of vines in each vineyard, allowing him to specify yields and vineyard practices. In addition to these growers, Two Shepherds now has its own estate vineyard near the small town of Fulton, a little north of Santa Rosa in Russian River Valley. The vineyard is about one acre in size, with high-density plantings of Grenache Noir and Grenache Gris – the first commercial harvest of Grenache Noir came in 2019.
White grapes are all destemmed prior to pressing, with the juice typically spending two to four hours on the skins. In a few cases, William will make a skin-fermented white that will be on the skins for about five days. He presses the white wines straight to barrel and does not stir the lees. There's never any new oak used in the winery – all of the barrels are at least four years old, including some puncheons. Reds are fermented in smaller bins, generally with a percentage of whole clusters, before pressing to barrel. All fermentations take place without inoculation, and the winemaking can be described as minimal intervention, with no additions other than a little sulfur. William told us that he's considering canning some of his wines – maybe a rosé and light red – as this has become a growing part of the artisan wine market.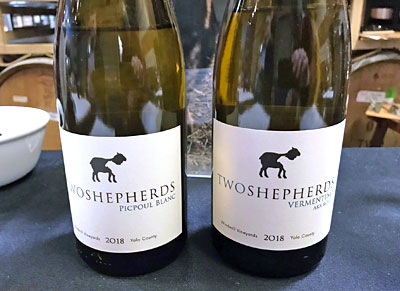 We walked over to the simple tasting counter set up near the front of the winery, where William poured some of his current wines for us. We started with two whites, both of which were fermented and aged in 50% each stainless steel and neutral puncheons. The 2018 Windmill Vineyard Picpoul came from an organically-farmed site in the Dunnigan Hills region of Yolo County, east and over the mountains from northern Napa Valley. Noted vintner Steve Matthiasson consulted in developing the vineyard, which has decomposed rocks and alluvial soil and a high diurnal temperature shift. The Picpoul was bright and lemony with some floral undertones, and had a pleasant texture and finish. We continued with the 2018 Windmill Vineyard Vermentino, which displayed more of an apple/pear aromatic profile along with fresh herbs and earth notes, medium-light weight with a lively mouthfeel and fresh finish – very nice. When I asked William a question about the Vermentino, he turned the bottle around and showed us the back label with all the technical information I could want – a wine geek's delight!
We continued with two skin-fermented whites – the fruit for both of these wines was destemmed and then fermented on the skins for five days prior to pressing. First William poured us the 2018 Fanucchi Vineyard Trousseau Gris – the vineyard has the only planting of this grape variety in California, and the wine was aged for six months in neutral oak. Very light orange in color, this had floral and earthy aromas plus an orangepeel note, medium body with a slight tannic grip on the finish. Julia pulled a barrel sample of 2019 Glen Oaks Ranch Ramato-style Pinot Gris for us to taste – this will probably be bottled soon. Slightly darker bronze color than the previous wine, very floral on the nose with bright stone fruit and red berry undertones, and a great texture and slightly chalky finish.
Moving on to reds, William poured us the 2013 "Pastoral Rouge," a blend of 50% Syrah, 33% Grenache, and 17% Mourvèdre. The Syrah and Grenache were sourced from Saralee's Vineyard, and the Mourvèdre came from Windsor Oaks Vineyard, all in Russian River Valley. This wine was bottled in 2014 but held back for release. Earthy and a bit savory/smoky, with bright black cherry and plum plus iron aromas, medium weight on the palate with a moderately tannic finish. We followed this with the 2016 Hopkins Vineyard Pinot Meunier, a variety that was added to the Two Shepherds line-up in 2015. The wine is a rarity in California, as nearly all the fruit from this grape variety goes into sparkling wine. The fruit was entirely destemmed, and the wine featured floral and earthy aromas along with hints of tea leaf and spice, and a lively texture and finish. The Pinot Meunier label depicts two goats, which William and Karen bought from the family of the grape grower.
We finished our tasting with the 2016 Trimble Vineyard Carignan, with fruit from 45-year old head-trained and dry-farmed vines in Mendocino County and fermented entirely with whole clusters. Earthy and a bit rustic with black cherry and darker berry fruit – classic old-vine Carignan aromas – with medium body and firm tannins. Other Two Shepherds wines that we didn't taste on this occasion include the "Pastoral Blanc" white Rhône-style blend, "Centime" skin-fermented Grenache Blanc (from Catie's Corner Vineyard in Russian River Valley), Carbonic Carignan, Mourvèdre, Grenache Noir, Syrah/Mourvèdre, and Cinsault (from 135-year old dry-farmed vines at Bechthold Vineyard in Lodi).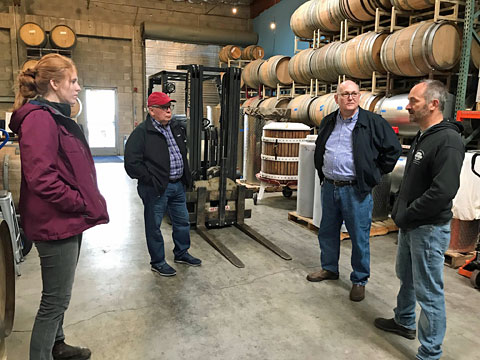 Our visit with William and Julia at Two Shepherds was a fine way to start off our three-day wine tour of Sonoma and Napa. They were both great hosts – low-key and friendly. It was good to spend some time learning more about William's winemaking, and it was exciting to hear about the new Two Shepherds Vineyard. The current wines were strong across the board – I thought the 2018 Vermentino was a particular standout, and the 2018 Trousseau Gris, 2013 "Pastoral Rouge," 2016 Pinot Meunier, and 2019 Pinot Gris tank sample were other favorites. All of the wines showed great acidity, with a good balance of fruit and savory qualities – generally a more subtle style than many producers in California. And while William started out making only Rhône-style wines – and is still probably best-known for those – his non-Rhône wines are just as good. I've been tasting the Two Shepherds wines for a number of years and I think these current releases are their best yet. It's definitely worth checking out Two Shepherds if you're visiting wineries in Sonoma County.

Although our Tuesday afternoon Napa plans fell through, we decided to drive through the hills from Windsor to Napa Valley and have lunch at Gott's Roadside in St. Helena. Formerly known as Taylor's Refresher – the old sign is still out front – this is a landmark roadside burger place along Highway 29. Although there are a number of other items on the menu, burgers are what Gott's is best-known for, and we all ordered different ones. I got the Wisconsin Burger, with mushrooms, bacon, cheddar cheese, and BBQ sauce – very tasty. There's a good wine and beer selection too, and I got a draft Russian River Brewing Pliny the Elder to go with my burger – that really hit the spot!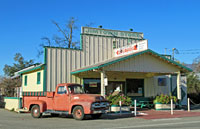 Before our trip, Michael had requested that we find time to stop at the Jimtown Store in Alexander Valley. As we didn't have any pressing plans for early afternoon, we thought it would be a good time to drive there and take a last look at the place, which had closed for good only about a week before our visit. Another landmark institution – a small and slightly quirky country store and café – it fell victim to the loss of business due to several recent wildfires in the area, the latest of which was in October 2019 and came close to burning down the store. We hadn't heard about any plans for what might happen to the building, so this was a good opportunity to take a look at it as it was.
Along our drive on Highway 128 from Napa Valley to the Jimtown Store, we'd passed by Soda Rock Winery in Alexander Valley and noticed the stone façade of their old winery building, about all that was left of that structure after it was lost to the October 2019 wildfire. We decided that it would be nice to drop into their tasting room on our way back to Napa to show our support for them, and we made that our next stop.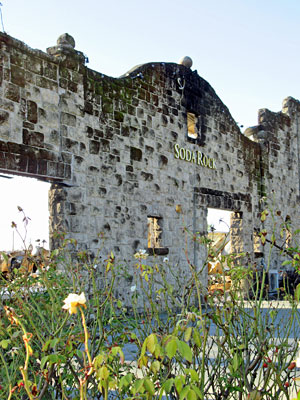 Unlike the other wineries we visited on our Napa and Sonoma tour, this one has a long history. There was a general store built in 1869 at the location of Soda Rock, and the first winery at the site – Meeks Winery – was established in the early years of the twentieth century. That winery closed due to Prohibition, but on its repeal, Soda Rock Winery began business. The winery has gone through several owners over the years and has been dormant a few times, most recently before current owners Ken and Diane Wilson purchased the property in 2000. When they re-opened the winery in 2010, Soda Rock become part of Wilson Artisan Wines, which also includes Wilson Winery, Mazzocco Sonoma, DeLorimier, Matrix, Pezzi King, St. Anne's Crossing, Jaxon Keys, Greenwood Ridge, and Rockpile Vineyards.
The Soda Rock property was not in the best of shape when the Wilsons bought it, and it took them years to restore the older buildings there. Sadly, the main winery building was destroyed during the Kincade fire in late October 2019 – only the old stone façade still remains as of early 2020, but the Wilsons are determined to rebuild. One thing that survived the fire is "Lord Snort" – the 40-foot long metal sculpture of a wild boar that was originally made for the 2016 Burning Man event and is mounted on a base that can be revolved.
Soda Rock makes a number of wines, though their specialties are Bordeaux-variety reds and Zinfandel. Winemaker Antoine Favero was born in the Champagne region of France and came with his family to Sonoma County when he was growing up. Red wines are fermented with native yeast and aged in French oak.
Eric, Michael, and I walked over to admire Lord Snort for a few minutes before heading into a rustic old wooden barn where tastings are now being held. This building is only a stone's throw from the main winery structure that burned down, so it's remarkable that it survived the recent fire. The barn was built in 1904 and was part of the old Meeks Winery. There's a long wood tasting bar inside the old barn, and you can see plenty of daylight coming from between the wooden boards along some of the exterior walls. We started our tasting of Soda Rock wines with the 2018 Sauvignon Blanc, with fruit sourced from Mendocino County. The wine had a very light color, with citrus, stone fruit, and spice aromas and a fairly smooth texture on the palate and finish.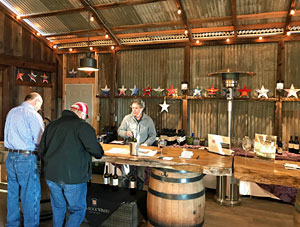 We moved along to three Cabernet Sauvignon-based wines, beginning with the 2015 "Mercantile" Cabernet Sauvignon – this is a blend of 76% Cabernet Sauvignon, 15% Grenache, and 9% Malbec. Black cherry and plum fruit plus sweet and smoky oak on the nose, with medium body and a fairly tannic finish. Next was the 2015 "Twisted Rail" Cabernet Sauvignon, from a vineyard near Cloverdale and including 3% Cabernet Franc and 2% Malbec. This showed more classic Cabernet aromas, with black currant, tobacco, and herbs, undertones of vanilla/oak and spice, medium weight and firm tannins – I think we all much preferred this wine to the "Mercantile" bottling. We followed this with the 2017 "Boar d'Eaux," which includes 86% Cabernet Sauvignon, 9% Malbec, and 5% Primitivo – this displayed aromas of black cherry and darker berry fruit, spice, and vanilla, with a stony mineral note, more full mouthfeel, and broad tannins.
We finished up our tasting at Soda Rock with the 2017 "Wentworth" Zinfandel. Named for the owner of the original 1869 general store on the site, this is 85% Zinfandel, 10% Primitivo, and 5% Petite Sirah. Ripe raspberry and plum fruit, spice, vanilla and mocha on the nose, with medium weight and tannins. Other Soda Rock wines that we didn't taste on our visit include Chardonnay, another Sauvignon Blanc, a French Colombard-based white blend, Cabernet Franc, Merlot, Petit Verdot, Primitivo, other Zinfandel and Cabernet Sauvignon bottlings, and other red blends.
Although I'd passed by Soda Rock many times while traveling through Alexander Valley, this was my first visit there. Overall the wines we tasted didn't strike me as real standouts (and displayed a bit more new oak than I typically prefer), though I did like the 2015 "Twisted Rail" Cabernet Sauvignon in particular. Since the winery makes a lot of other bottlings that we didn't try on this occasion, I'd be interested in checking out more of them sometime. I do suggest stopping in at Soda Rock if you happen to be in the area, to help support the owners' effort to rebuild the historic winery building – and if you go, be sure to say hi to Lord Snort!
We drove back through the hills to Napa Valley after visiting Soda Rock. Although we didn't have any winery appointments that afternoon, we thought we might drop in at a tasting room somewhere, but we just took things easy and didn't make any more winery stops that day. We did meet up late in the afternoon with Carole Meredith of Lagier Meredith Vineyard just off Highway 29 – although it didn't work out to visit Carole and Steve Lagier at their vineyard, she graciously met us and handed off some wine that some friends and I had ordered.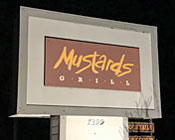 After talking with Carole for a short while, we headed a couple of miles farther south along Highway 29 for dinner, at Mustards Grill. Another Napa Valley institution, we'd all been there a number of times before and it's always been a comfortable spot for dinner – a perfect Napa combination of a place that's classy yet informal. The dinner menu features a very good variety of dishes, and there's an extensive wine list. I ordered one of the daily specials – rabbit confit pasta with porcini and tomato sauce. I have to say that it wasn't one of the best meals I've had at Mustards – I found the dish rather bland. Eric and Michael were much happier with their dinners, so I think it was just a matter of my not ordering the right dish on this occasion. The Anderson Valley Brewing Boont Amber Ale was good, though! Considering all the memorable meals I've enjoyed at Mustards in the past, I won't let this one time deter me from returning.
It was about an hour's drive back to Santa Rosa from Mustards, and I was glad that Michael was driving. He dropped me off at my car, outside the place where both he and Eric were staying, and I made short drive south to the motel where I stayed during our wine tour, The Sandman in Santa Rosa. It's an older place that's been nicely renovated, and my room was comfortable, clean, and fairly quiet. A basic continental breakfast was included in the room price, which is always a nice feature. Overall a pleasant and well-run place, and I'd be happy to stay there again.
We'd had a fairly easy first day of our wine tour, with only two winery visits though with a good deal of driving – thanks to Michael for taking the wheel on this day!