Napa and Sonoma Visits - January 2020 - Part 3
Thursday morning started off with clear skies for a change, as Eric, Michael, and I prepared for the final day of our three-day Napa and Sonoma wine tour. This day would be entirely in Sonoma County, so that cut down on driving quite a bit compared with our first two days. Michael drove on this day, and he and Eric swung by my motel to pick me up. The first wine appointment of the day was in the Kenwood area of Sonoma Valley, and we headed eastward through Santa Rosa and joined Highway 12, following it to our destination just a short distance from the highway.
Thursday - January 9, 2020
We had an easy drive from Santa Rosa to Kenwood, and pulled into the parking area of the MacLaren Cottage off of Adobe Canyon Road. The MacLaren Cottage is the new tasting facility for Steve and Heather Law's MacLaren wines – they moved out of their old Sonoma Plaza tasting room in 2019. Steve was ready for us when we arrived, and he welcomed us into the cottage – a renovated old farm building adjacent to Steve and Heather's home. I'd first met them in early 2014 at a Rhone Rangers tasting event, and I was immediately impressed with the cool-climate Syrahs that they poured that day. I've visited Steve a couple of times since then, but it had been a few years so this seemed like a good time to catch up with him and taste his latest wines.
Steve is originally from Scotland, and he retains his charming accent. The winery name comes from the Scottish Clan MacLaren, of which the Law family is a part. Steve's background is in the electronics field – some years ago, his company relocated him to work in southern France, and during his ten years there he took a liking to many French wines, particularly the Syrahs of the northern Rhône Valley. After relocating once again for business to California, Steve got to know Michael Talty at Talty Winery in Dry Creek Valley. Michael offered Steve the opportunity to work during crush in 2005-2006 – Steve told us that Michael didn't really expect him to show up on the first day and was surprised when he did! Steve also began taking a number of UC Davis Extension winemaking courses, and by 2007 he was producing his own wine, four barrels of Syrah. MacLaren has grown from that initial vintage to 1,200-1,400 cases per year – mostly sold direct to consumer – and the label became Steve's full-time job in 2011. The wines were made at the Talty facility through 2015, and Steve moved the production into his own winery space on 8th Street in Sonoma the following year.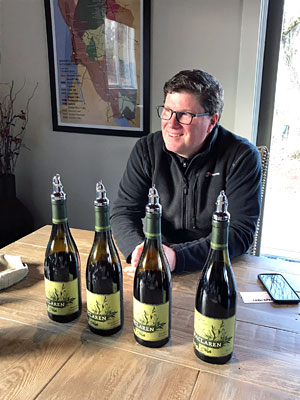 MacLaren has specialized in small lots of Syrah from cool-climate vineyards – mainly from Russian River Valley and Bennett Valley – and although Steve has since branched out to a few other grape varieties, Syrah remains what the winery is best-known for. He noted that Syrah vineyard sources can be tough to find in these cooler growing regions, but that they typically provide flavors to develop in the fruit without the higher sugar levels found in warmer-climate fruit. Most of the MacLaren Syrahs range from 13% to 14% alcohol and have been known to dip below 13% on occasion. MacLaren added Sauvignon Blanc to their wine line-up in 2012, Pinot Noir in 2013, Syrah Rosé in 2014, and Viognier in 2016. Steve mentioned that he switched to DIAM corks beginning in 2017. These "technical" corks, made from natural cork particles, are being seen in more and more high-quality wines, to help provide more consistent bottle aging and to virtually eliminate the possibility of cork taint.
The MacLaren Cottage interior is a bright and pleasant space, and includes a kitchen as well as the tasting area. We took seats around a table in the tasting area, and Steve talked with us about his winemaking inspirations and goals. Having spent a decade experiencing the combination of wine and food in southern France, it's no surprise that Steve seeks to craft his wines in a food-friendly style. Steve mentioned two particular northern Rhône vintners, Yves Cuilleron and François Villard, who have been inspirations and have now become friends – in fact, Steve collaborated with Cuilleron to make a Côte-Rôtie style Syrah in 2017. Steve told us that he particularly likes Syrahs from the Saint-Joseph appellation of the northern Rhône. He aims to retain bright acidity in all of his wines, and he also works to manage Syrah's sometimes-aggressive tannins. All of the reds are fermented with native yeast and both reds and whites are aged in neutral French oak – Steve wants to avoid new oak influence in the wines.
Steve brought out a dish of cheese and dry salami to pair with the wines we would be tasting, and he pointed out specific cheeses that would go particularly well with certain wines – I'd have to say he was spot on in his selections! He told us that his new tasting arrangement at the MacLaren Cottage is by appointment only, and that it's been quite busy. He's been happy that the customers who have come in to taste there have generally been very knowledgeable about wine.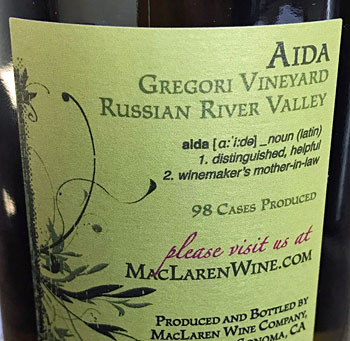 Steve started us off with two white wines – he told us that he picks the fruit for both based on acidity, and stirs the lees in the barrel to add texture. Steve prefers barrel fermentation and aging for his whites rather than stainless steel, as he feels the texture gained from the neutral barrels allows for the higher acidity to integrate into the wine without standing out. The first wine was the 2018 "Lee's" Sauvignon Blanc, made for Steve's mother Lee, and inspired by wines of the Loire Valley – the fruit comes from a vineyard in the southern part of Dry Creek Valley. The wine displayed citrus, fresh herbs, and floral aromas, with a round mouthfeel balanced by lively acidity and a crisp finish. Next was the 2018 "Aida" Viognier – this wine is named for Steve's mother-in-law and aims for a Condrieu style. The vineyard source is from a cool site for Viognier outside of Graton, with 17-year old vines. Quite floral on the nose, along with citrus and stone fruit, vibrant acidity plus medium body and a long, fresh finish.
We moved on to reds, and Steve poured three Syrahs, with vineyard sources in order from the least to the most sun on the vines. All but one of the MacLaren Syrahs are single-vineyard designates, and there's a considerable variance in pick dates at different vineyards. The 2016 Atoosa's Vineyard Syrah, from a site west of Santa Rosa in Russian River Valley, is always the last fruit picked. This featured floral and dark berry fruit aromas, with notes of spice, white pepper, and smoked meat, medium weight with a lively mouthfeel and fine tannins – already approachable but a good candidate for some time in the cellar too. Steve said that the vineyard has changed hands and that the name may change but that he expects that he'll still be able to get fruit from there. He thinks of this wine as his "fish Syrah" since it can work with salmon and similar fish.
Steve next poured for us the 2016 Samantha's Vineyard Syrah – the steep hillside vineyard was planted around 2000 and is located on Limerick Lane in northern Russian River Valley. Steve noted that he typically picks the fruit here 3-4 weeks earlier than at Atoosa's Vineyard. Unfortunately 2017 will be the last vintage, as the vines have developed red blotch virus. The wine was peppery and floral, with blackberry, spice, and earth, a fuller texture on the palate than the Atoosa's bottling with more grip on the finish. We tasted one more Syrah, the 2016 Moaveni Vineyard Syrah from Bennett Valley. Planted to the 470 clone of Syrah on a steep slope, the site is somewhat warmer than the others and it's in more of a "California style" than first two Syrahs. This wine did indeed display more upfront ripe dark berry fruit with a bigger spice component, plus hints of pepper and herbs, a rounder mouthfeel with fine acidity and moderate tannins.
Our final MacLaren wine was the 2016 "Heather" Pinot Noir, named for Steve's wife and inspired by the wines of Côte de Beaune. Sourced from Steiner Ranch in southern Bennett Valley, this includes Pommard, 115, and 667 Pinot clones. Showing black cherry and red fruit, flowers, spice, tea leaf, and earth aromas, this had a lovely silky texture and finish.
I mentioned that there is one MacLaren Syrah that's not from a single vineyard, the "Drouthy Neebors" Syrah – the name means "thirsty neighbors" in the old Scots language. This is a barrel selection, with wine club members helping to choose the blend, and it's available to wine club members only. In addition to that one, other wines we didn't taste on this visit include "Kenzie" Rosé and Timbervine Ranch Syrah. Steve told us that he's no longer getting the Timbervine Ranch fruit but is now getting Syrah from Greywacke Vineyard in the western Russian River Valley.
As we finished our tasting with Steve, he pointed out the small vineyard, only 1/2 acre in size, that's adjacent to the cottage and house. Named Boar's Rock, the vineyard has dry-farmed Sangiovese vines that were planted in 1993, and Steve harvested about 3/4 ton last fall. He doesn't think he wants to continue growing Sangiovese there, though, and the vines may be grafted to Viognier.
Our visit with Steve at the MacLaren Cottage was one of the highlights of our Sonoma and Napa wine tour. Steve is always a pleasure to taste with – he's serious about his wines yet has a delightful sense of humor. Steve's Syrahs remain at the heart of the MacLaren wine line-up, while his more recent non-Syrah wines were outstanding as well. Cool-climate fruit really defines all of these wines, and they show that you don't need super-ripe fruit (or lots of new oak) to make delicious wines in California. The wines all had terrific acidity and will be very food-friendly, and the different Syrah bottlings showed great distinctiveness between the vineyards. These are already approachable yet should develop nicely with additional bottle age. All of the wines were excellent, and particular favorites included the 2018 "Aida" Viognier, * 2016 Atoosa's Vineyard Syrah, 2016 Samantha's Vineyard Syrah, and 2016 "Heather" Pinot Noir. An appointment to taste with Steve at the MacLaren Cottage is highly recommended.

Since both of our Thursday afternoon wine appointments were in Windsor, Eric, Michael, and I decided to have lunch at the new Windsor location of Russian River Brewing. It's much larger than the downtown Santa Rosa location, with plenty of parking. The brewpub has a fun, informal atmosphere, and though the menu is not extensive, it includes the types of dishes that you'd expect from a good brewpub. I ordered the Russian River Burger – ground chuck and brisket, cheddar cheese, bacon, arugula, and fries. It was a good-sized burger and very tasty, and the fries were excellent and plentiful. Of course there are loads of beer options, and I had their Pliny the Elder IPA – hard to go wrong with that! There's a gift shop adjacent to the pub, with shirts, caps, and other Russian River Brewing logo items along with a number of bottled beers for sale. Tours of the brewery are available too. Since we weren't rushed to get to our first afternoon appointment, we were able to enjoy a leisurely lunch. Overall this was a pleasant experience with good food and service, and I'm sure I'll be back again.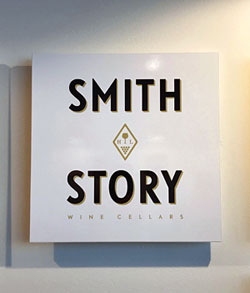 After our relaxing lunch, we had two scheduled afternoon wine appointments – conveniently, both were in the same custom crush facility, located barely a stone's throw from Russian River Brewing. Grand Cru Custom Crush in Windsor is a new and very up-to-date winemaking facility that includes several rooms that can be booked for tastings. We were there to taste the wines of Smith Story Wine Cellars, a fairly new producer with an interesting story – I suppose it's the Smith Story story! We were welcomed by the winery's director of hospitality, Will Kinney – we already knew that owners Eric Story and his wife Alison (Ali) Smith Story would not be able to get there until a bit later. Will led us to one of the Grand Cru tasting rooms, a nice space for hosting a small group of visitors – I should mention that in addition to this tasting room, Smith Story has another one located in Philo in Anderson Valley. I'd only met Eric and Ali once before, at a tasting of Anderson Valley wines in 2017, and I was intrigued by both their wines and their story.
The beginnings of Smith Story Wine Cellars go back to 2003, when both Eric and Ali were working at K&L Wines in San Francisco. Ali is originally from Texas, with a background in radio and television, and she developed the TexaCali Wine Company, a sales and marketing firm for small wineries and importers. After moving to California, she worked in marketing at K&L – Eric also worked there, and he became a buyer, focusing on wines from Germany, Loire, Alsace, Austria, and Greece. It took a few years, but eventually Eric and Ali started dating, and in 2013 they eloped on the Big Island of Hawaii. That same year they launched their winery, and since they had little capital to get it going, they used a Kickstarter campaign to help fund the winery startup – probably the first time that a winery had been crowdfunded. The winery logo features a border of a Hawaiian wedding lei, and the "H" and "L" in the logo stand for the names of their two retrievers, Henley and Lakota, that they had when they met back in 2003.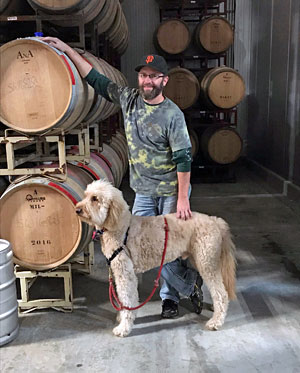 A key thing to know about Eric and Ali is how much they love dogs, and you'll rarely see them without their beloved goldendoodle, Lord Sandwich. They've made many connections to customers through this, and in fact it was through a goldendoodle connection that Will first got in touch with Eric and Ali. They also started a non-profit program called Socks for Sandwich – not socks for their dog, but for those in need. They've had about 40,000 pairs of socks donated to date.
The first vintage for Smith Story was in 2014, and the winery's focus is Sauvignon Blanc, Anderson Valley Pinot Noir, and Bordeaux-variety reds. Another focus is that they work only with family farmers – they're currently working with nine growers, and have worked with as many as 16. Eric makes the wines, while noted Sonoma County vintner Katy Wilson is the consulting winemaker. An interesting part of the Smith Story wine line-up is a pair of wines made in Germany. Eric had worked for a time at a winery there, and through his Eric Story Selections, he now imports a Riesling and a Rosé of Pinot Noir from the Rheingau region exclusively for Smith Story. Total wine production is about 4,000 cases per year, with the Sauvignon Blanc being the largest production at around 1,600 cases. Eric and Ali moved their production to the Grand Cru facility shortly after it opened in 2017. Winemaking is low-intervention, and they don't add anything other than minimal sulfur.
Will, who's been working with Smith Story for about 18 months, started us out on tasting a couple of white wines. Fruit for the whites is all sorted and then whole-cluster pressed. The 2018 Sauvignon Blanc was made in stainless steel with fruit sourced from three vineyards in Knights Valley, Sonoma Mountain, and Russian River Valley. Lots of grapefruit and floral aromas, with medium-light weight on the palate, bright acidity, and a fresh finish. Will told us that Sauvignon Blanc was the first variety that Eric and Ali decided they wanted to make when they started their winery. The 2016 Dutton Ranch Chardonnay fruit came from Mill Station Vineyard, a cool, foggy site farmed by Dutton family in western Russian River Valley. The wine was fermented and aged in about 20% new oak, and went partially through malolactic fermentation. This showed pear and spice on the nose, with a hints of lemonpeel and earth, medium-bodied with a lively texture and finish.
It was just about when we finished tasting the Chardonnay that Eric and Ali arrived, along with Lord Sandwich of course. They're in the middle of moving to Anderson Valley, so it was great that they could spare some time to see us at Grand Cru. We took a break from the tasting room so that Eric and Ali could give us a quick tour of the facility – it looks to be very well set up for custom crush clients.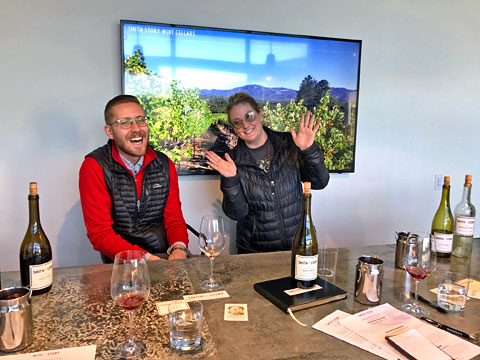 Back at the tasting room, Eric and Ali poured us two Pinot Noirs, both from Anderson Valley. They'd made a few Pinots from Sonoma County fruit in the past, but since 2016 they've all been sourced from Anderson Valley. All Pinot fruit is sorted and destemmed at the winery, and the wines are typically aged in about 25% new French oak. First was the 2017 Helluva Vineyard Pinot Noir, from a site next to a creek in the Boonville area that's shaded from afternoon sun by the nearby mountains. From 100% Pommard clone, this had very light ruby color plus subtle aromas of red fruit, tea leaf, and spice that opened up with more air in the glass, with medium-light body and good structure, finishing with fine tannins. The 2016 Nash Mill Vineyard Pinot Noir has a special connection to Smith Story, as Eric helped plant the vineyard in the Deep End of Anderson Valley in the early 2000s. From Pommard 5, 115, and 667 clones, this was barrel-aged for about 18 months. The wine featured more upfront black cherry and plum fruit than the Helluva bottling along with a floral quality, hints of tea leaf and earth, and a bigger texture on the palate along with more noticeable tannins on the finish.
Our final wine was the 2016 Pickberry Vineyard Cabernet Sauvignon, from a site on Sonoma Mountain with vines that are around 25 years old. There's about 20% Merlot from same vineyard blended in, and the wine was aged in older French oak barrels. Very pure black currant fruit plus spice, herbs, and pepper notes, medium-full bodied with a lively mouthfeel and moderate tannins.
Other Smith Story wines that we didn't taste during our visit include Thorn Ridge Vineyard Pinot Noir, "The Boonies" Pinot Noir (from Anderson Valley), Merlot, and Cabernet Franc, plus "Lord Sandwich Blanc" and "Lord Sandwich Red" blends. There's also the Riesling and Rosé of Pinot Noir from Rheingau in Germany. Eric and Ali mentioned that they would like to add a Pinot Blanc to the line-up and hope to find the right vineyard source for that soon.
Our visit with Eric, Ali, Will – and Lord Sandwich! – was an enjoyable one. They all have outgoing personalities and their enthusiasm about the wines was obvious. The current Smith Story wines seem to find a good balance between being either too ripe or too lean and acidic. All of the wines were nice, and I thought the 2018 Sauvignon Blanc and 2017 Helluva Vineyard Pinot Noir were particular standouts. The 2016 Nash Mill Vineyard Pinot Noir was also quite good, and both Pinots showed a distinct Anderson Valley character. Arranging a visit at Grand Cru in Windsor – or stopping by their regular tasting room in Anderson Valley – will be a fun and worthwhile experience.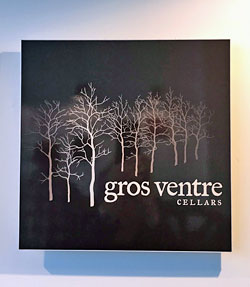 The final visit of our three-day Sonoma and Napa wine tour was just a few steps down the hall at the Grand Cru custom crush facility in Windsor, with Chris Pittenger of Gros Ventre Cellars. I'd first met Chris at a West Sonoma Coast wine tasting in 2012 and I felt that the Pinot Noirs that he poured there were among the standout wines of the day. I've tasted his wines at other events over the years and visited him a few years ago when he was making his wines in El Dorado County, and I thought this would be a great opportunity to see him again now that he's returned to Sonoma County.
Chris grew up in Southern California, and he started out working in wine shops and restaurants in Colorado and Wyoming before moving to the production side of wine. He's been with famed wineries including Robert Biale, Torbreck, Kim Crawford, Williams Selyem, and Marcassin. In 2007, Chris made a move to El Dorado County in the Sierra Foothills to become the winemaker for a new Rhône specialist producer, Skinner Vineyards – Chris' work there has led them to become one of the most highly-regarded wineries in the region. In 2009, Chris and his wife Sarah launched the Gros Ventre label – the name was inspired by two things. Chris and Sarah first met in 2003 near the Gros Ventre River in Jackson Hole, Wyoming, and later, as they were looking for a name for their label, Sarah was pregnant with their first child – Gros Ventre (French for "big belly") was Chris' playful nickname for her during that time. The initial 2009 Gros Ventre wines were made at what's now the Punchdown Cellars facility in Santa Rosa, while from the following year through 2017 they were made at Skinner. In 2018, Chris left Skinner to take the position of winemaker at Limerick Lane Wines in Russian River Valley, and he moved the Gros Ventre production to Grand Cru that year.
Gros Ventre started out with an exclusive focus on Pinot Noir from the West Sonoma Coast, Russian River Valley, and Anderson Valley, and that's still a key part of their wine program but no longer the only wines that Chris makes for the label. Starting in 2016, he began to make Gros Ventre wines using some of the vineyard sources he'd become familiar with during his time in El Dorado County, using varieties including Gamay Noir, Vermentino, and Fiano. Chris told us that Gros Ventre started with only 300 cases for their inaugural 2009 vintage, and they're now making about 1,800 cases per year, with 12 different wines. About 1/3 of the total production is the "High Country Red" blend and another 1/3 consists of the various small-production Pinot Noirs, with the balance being whites, rosé, and Gamay Noir.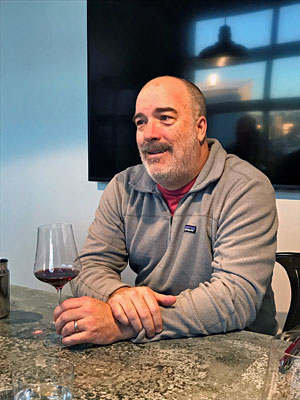 Chris works with well-regarded growers who farm their vineyards using sustainable methods, and many of the vineyards are farmed organically or biodynamically. Particularly for the Pinot vineyards, the sites are in cool-climate locations. Chris typically decides how to treat the fruit at the winery once it gets to the crushpad. He doesn't follow any pre-determined recipes for the wines and makes decisions – including whole-cluster inclusion for reds – based on vintage, vineyard, clone, and other factors. Fruit is fermented using native yeast, and wines are aged in mostly older barrels. Chris mentioned that he doesn't force white wines to finish malolactic fermentation – some may finish completely and some may not. It's an advantage for Chris that he works mainly with many small lots of fruit, giving him more flexibility in how he can deal with each individual lot.
We started our tasting with the 2018 Chenin Blanc, from an organically-farmed vineyard in the Merritt Island AVA. Though this particular appellation itself is little-known, it's part of the larger Clarksburg AVA, one of California's best-known growing regions for Chenin Blanc. He was introduced to the vineyard through the grower's son, whom he worked with at Williams Selyem in 2005. Picked at less than 21 brix, this finished at just 12.7% alcohol. The wine displayed green apple and citrus aromas with hints of flowers and spice, medium-light weight with vibrant acidity and a fresh finish. Chris poured us one more white wine, the 2018 "High Country White," a blend of 28% Grenache Blanc, 24% Picpoul, 24% Chenin Blanc, 21% Vermentino, 2% Fiano, and 1% Arneis, with fruit mostly from two high-elevation vineyards in El Dorado County plus Chenin Blanc from Clarksburg. Another wine that came in at under 13% alcohol, this was aged in stainless steel and older oak. Citrus combined with stone fruit on the nose, plus notes of flowers and fresh herbs, with a broader mouthfeel than the Chenin Blanc along with fine acidity and a lively finish.
We followed with our first Gros Ventre red, 2018 Gamay Noir, grown in the decomposed granite soil of Barsotti Vineyard, located northeast of Placerville in El Dorado County. Chris said that this has some whole-cluster fermentation and was aged entirely in neutral oak. Wild berry and earth aromas with herbal and stony mineral notes, this had good structure with moderate tannins on the tangy finish. Chris next poured us the 2018 "High Country Red," a blend of 55% Pinot Noir and 45% Gamay Noir, aged in older barrels. The Gamay comes from Barsotti Vineyard while the Pinot comes from vineyard sites in El Dorado County, Anderson Valley, and the Sonoma Coast. Plum and raspberry fruit plus earth, herbs, and spice on the nose, with medium body and a similar tangy finish to the Gamay Noir.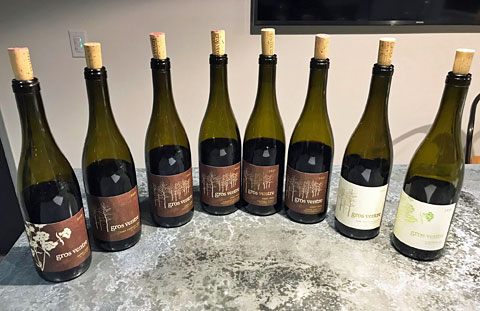 Chris had four of his Pinot Noir bottlings for us to taste, and he began with the 2017 Sonoma Coast Pinot Noir, with fruit sourced from several vineyards, made entirely from free-run wine, and aged in about 20% new French oak. Lots of upfront spice aromas along with black cherry fruit and undertones of vanilla/oak, medium weight with milder tannins. Next was the 2017 Baranoff Vineyard Pinot Noir, from a site near Sebastopol in heart of Russian River Valley that's farmed by Paul Sloan of Small Vines Viticulture. It's a cool and windy site planted in the mid-1990s to seven Pinot clones with high-density 4x3 vine spacing. I thought this was a step up from the first Pinot, with black cherry and plum fruit, tea leaf, orangepeel, and earth on the nose, a more structured mouthfeel, and moderate yet fine tannins on the finish.
Our next wine was the 2017 Campbell Ranch Pinot Noir, from a vineyard at about 750-foot elevation in the Annapolis area of the West Sonoma Coast. Made from 115 and 777 clones, the wine was aged in 25% new French oak. Chris first got fruit from this site in 2011 and he's been working with it ever since. This wine featured a more savory profile than the first two Pinots, along with focused black cherry and raspberry fruit, tea leaf, and spice, both elegance and structure on the palate, and a firm yet lively finish – delicious already but will benefit from time in the cellar. Our final Gros Ventre wine was the 2017 Cerise Vineyard Pinot Noir, from a hillside site high above Anderson Valley, made from Pommard, 115, and 667 clones, and aged in just 13% new French oak. Chris has worked with this site since his first vintage in 2009 but 2018 will be his last there due to vineyard ownership changes. Wonderful aromatics, showing a distinctly stony mineral quality plus dried herbs, spice, and red fruit, with a taut, structured mouthfeel and firmly tannic finish – this has lots of promise but deserves time to develop further.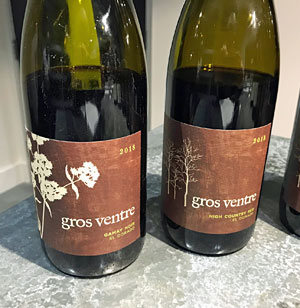 I asked Chris what he feels are the main differences between Pinot Noir from the Sonoma Coast and Russian
River Valley. He said that Sonoma Coast fruit tends to provide more purity and intensity, while Russian River Valley fruit generally provides a broader texture to the wine. In addition to the appellation and single-vineyard Pinots, Chris also makes a Pinot Noir bottling called "First Born" that's a blend of select barrels in each vintage. He told us that he's adding a new Pinot vineyard near Occidental and he's looking for other potential sites too.
In addition to the wines we tasted with Chris, other Gros Ventre wines include "Alto Paese" (an Italian-style white blend), Vermentino, Fiano, a Pinot/Gamay rosé, El Dorado Pinot Noir, and the "First Born" Pinot Noir. Chris is also planning a future North Coast Pinot Noir bottling that will include fruit from both Sonoma County and Anderson Valley.
We had a good time tasting with Chris – he's got a very low-key personality that seems to be reflected in his wines. The whites both had terrific acidity while the reds had fine structure and texture – great balance and restraint. Most of the reds showed a nice combination of fruit and savory qualities. The single-vineyard Pinots in particular displayed beautiful aromatics and showed great distinctiveness between the vineyard sources. My favorites of the tasting included the 2018 Chenin Blanc, 2018 Gamay Noir, 2017 Campbell Ranch Pinot Noir, and 2017 Cerise Vineyard Pinot Noir – the two Pinots in particular were standouts. If you haven't tried the Gros Ventre wines, you owe it to yourself to check them out soon.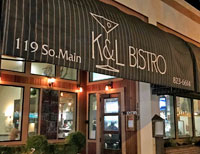 Eric, Michael, and I headed a few miles west to Sebastopol for dinner at K&L Bistro. I've been there a few times before – as had Eric and Michael – and we'd all had very good meals. The menu and wine list are very good, and service is always excellent. Unfortunately, we seem to have gone there on an off day this time. I ordered the duck confit, served with lentils and frisée – the duck was overcooked and rather dry, the lentils were not great either, and there was hardly any frisée. Eric and Michael mentioned that they felt their dishes were overcooked as well. They were out of the beer I ordered too, though the Barrel Brothers "Naughty Hops" IPA that I ended up getting was nice enough. All in all, a disappointing meal at a place where I've come to expect better. Hopefully it was just a bad night at K&L Bistro, so I'm sure I'll be back.
We headed back to Santa Rosa, where Eric and Michael dropped me off at my motel. Since they were going to drive back to Southern California the following morning and I needed to get an early start in the morning to drive back to the East Bay, I said goodbye to them in the motel parking lot. Always fun to travel with Eric and Michael on these Grape-Nutz tours!

This was a good, if brief, tour of relatively new producers in Sonoma and Napa wine country. I thought it was a great sign that several of them (Two Shepherds, MacLaren, and Gros Ventre) have branched out from their initial specialties to make a more varied line-up of wines that are strong across the board. Several others (Dakota Shy, Detert, Freeman) continue on the path of their original wine focus with great results. The two newest producers we visited (Smith Story, Raft) have chosen to work with a somewhat broader variety of wines from the start, and both are doing a fine job with all of their wines.

Many of the vintners we visited are on the low-intervention side of winemaking, and this was another good lesson that low-intervention done right requires a great deal of care, but the payoff in the resulting wines can be well worth it. Regardless of winemaking methods, we tried a lot of very good wines (and heard a lot of fun stories!) during our tastings with vintners, and we found standouts from all of those with whom we arranged visits. As always, thanks to everyone that we visited for being so generous with their time and their wine!