Napa and Sonoma Visits - January 2020 - Part 2
Eric, Michael, and I had enjoyed a good start on the first day of our three-day Napa and Sonoma wine tour, and we prepared for our second day – a Wednesday with similar overcast and sometimes drizzly weather as the previous day. I volunteered to drive this time, and I picked up Eric and Michael. We drove from Santa Rosa to Napa Valley, headed through the Calistoga area and then cut eastward across the valley to Silverado Trail. We followed that road for a few miles until we turned off to our first winery appointment of the day.
Wednesday - January 8, 2020
The front gate was open when we arrived at Dakota Shy, just off of Silverado Trail, and we drove in and parked in front of the winery. We'd barely gotten out of the car when winery founder and partner Todd Newman came out from the tasting room to greet us. The winery is relatively new but has already made a splash. Eric had met Todd before and we were able to get an appointment to taste with him. Todd led us into the tasting room – modern yet with rustic touches that made it feel welcoming and unpretentious. Although Eric was already familiar with the winery, it was new to both Michael and me, and Todd talked with us about the background of both the winery and himself.
Todd is originally from North Dakota, and comes from a farming family. He told us that he'd thought about opening a high-end gastropub with a brewer friend in Minneapolis, but when the opportunity arose in 2003 for him to move to Napa Valley and work at a Michelin-starred restaurant – Martini House in St. Helena – he jumped at it. During his time there, Todd was able to make a lot of key contacts with well-known local vintners. One of those he met was Tom Garrett, a noted winemaker whose family has been farming their vineyard within the boundaries of the historic To-Kalon Vineyard since the 1950s. Tom hired Todd to work in the cellar at Revana Family Vineyard – Todd's first winery experience – where he worked with Heidi Peterson Barrett among others. The long hours of learning to make wine served Todd well, but he found that interacting with customers as part of the business was a better fit for him, and he eventually became the director of Revana's national sales program. In 2008, Todd partnered with Tom to launch the Dakota Shy label.
The focus of Dakota Shy from the start has been Cabernet Sauvignon, and their first release was from the 2012 vintage. Todd told us that he wanted to build the new Dakota Shy project from the ground up. He feels that the first ten years of the winery are laying their foundations, and they're now getting ready for the next step. The property where the winery is located was purchased in 2013, and the winery was completed in 2017 – earlier vintages were made at Hourglass and Hunnicutt. As it turned out, the new facility was opened shortly before the devastating 2017 wine country fires, which came very close to the winery. The added construction expenses of installing a large water tank, fire sprinklers for the roof, and a generator paid off in helping to save the new building. What about the winery name? Todd said that friends used to call him "Dakota" and he said he was somewhat timid and unsure of himself early on – it also helps convey the idea of strength with humility.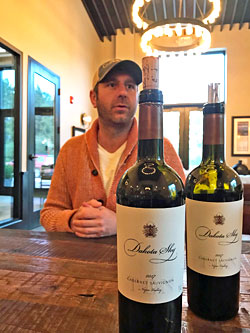 Nearly all of the Dakota Shy wines are sold direct to consumer, and with winery sales and marketing being a major role for Todd, it's no surprise that he's often on the road for sales trips, so we were fortunate in being able to catch up with him on this occasion. We were doubly fortunate to have Tom at the winery at the same time, as he and his winemaking staff were tasting 2019 wines in barrel the morning of our visit. Although he was busy with that while we talked and tasted with Todd, Tom was able to sit down with us afterwards and taste us on wines from his own Detert label. Dakota Shy is currently working with 16 vineyards throughout Napa Valley, and Todd said that they may look to buy a property to plant an estate vineyard. There are seven Cabernet-based bottlings, and total annual production is around 4,500 cases.
Todd had three wines for us to taste, beginning with the 2017 "TEN" Cabernet Sauvignon – "TEN" are Todd's initials. This is 95% Cabernet Sauvignon and 5% Cabernet Franc, with fruit sourced from Rutherford, Calistoga, and Stags Leap District vineyards. The wine spent 18 months in barrel, with 70% new French oak – most of the Dakota Shy wines are aged in about 70-85% new oak, and they use a number of different coopers and toast levels in their barrel program. The "TEN" featured black cherry and currant aromas, with earth, spice, and dried herb notes plus well-integrated oak undertones, medium weight with a remarkably silky mouthfeel, and fine tannins on the finish. This wine is surprisingly approachable already, yet has good structure for aging. Todd told us that the "TEN" bottling is priced at less than $100 but is meant to compete with Napa Cabernets in the $150-175 price range – he noted that selling direct to consumer allows them to price wines for less than they would be able to if they had to go through distribution channels. He pointed out that the winery is not looking to do fancy packaging for their wines, in keeping with the "Dakota Shy" idea of humble strength.
Todd had two barrel samples for us to taste as well, beginning with 2018 Napa Valley Cabernet Sauvignon. This is sourced from hillside vineyards, and includes about 5% Petit Verdot. Very youthful, with lots of upfront black currant and darker berry fruit along with tobacco, earth, and mocha on the nose, a moderately rich yet still-lively texture, and a stony mineral note along with firm tannins on the finish. One more barrel sample was the 2018 Moulds Family Vineyard Cabernet Sauvignon, sourced from a site in the Oak Knoll District. This displayed a more plummy fruit profile plus an herbal character with hints of earth, smoke, spice, and pepper, a more structured mouthfeel and nicely-integrated tannins. The wine opened up with more air to reveal some intriguing minerally components. As we tasted, Todd spoke of some of the winery's goals for their wines, for example creating wines that evoke emotions and wines with the textures of "liquid silk and ninja tannins."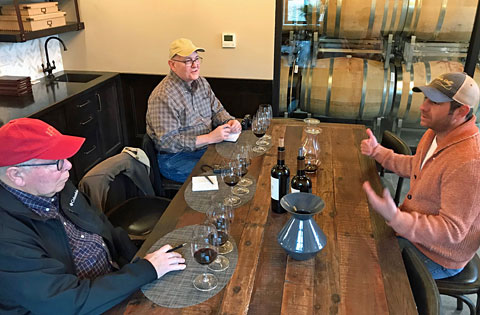 In addition to the wines we tasted with Todd, other Dakota Shy bottlings include several other Cabernet Sauvignon and Cabernet Franc bottlings, Rosé of Cabernet Sauvignon, and "McKenna's" Sauvignon Blanc. Some of these are available only to wine club members. The Napa Valley Cabernet Sauvignon and the "TEN" are Dakota Shy's two largest-production wines.
We enjoyed our visit with Todd quite a bit. It was easy to see that he's well-suited to being the winery's main connection with consumers, and we learned a lot from him in a short time. I'd never tasted the Dakota Shy wines before and was impressed. I thought all three that we tried showed great integration of oak, fine balance, and surprisingly tame tannins. Texturally they're more subtle than many Napa Valley Cabs and I felt that this was a positive aspect of the wines – while I wouldn't call them "old-school" Napa Cabs, they're definitely not in the very ripe and bold style seen in recent years. The current 2017 "TEN" Cabernet Sauvignon was a particular favorite of the wines we tasted. I preferred the 2018 Napa Valley Cabernet Sauvignon of the two barrel samples, though both were obviously very young and will develop nicely for many years. I'd certainly recommend arranging a tasting at Dakota Shy if you're visiting Napa Valley wineries.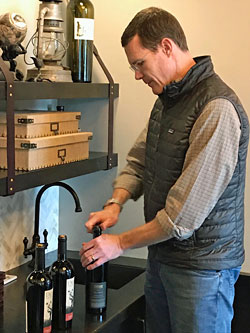 After we finished up our visit and tasting with Todd Newman of Dakota Shy, winemaker Tom Garrett joined us in the tasting room. Eric had been able to get in contact with Tom, whom he'd met in the past, and fortunately Tom had some time to spend with us that morning and to taste us on his Detert Family Vineyards wines. Always good to get a "two-fer"!
Tom grew up in Santa Rosa, and his family has a long connection with Napa Valley. His great-grandfather and great-grandmother, Richard and Hedwig Detert, came to the US from Germany in the early 1900s and arrived in California in 1926 to manage various properties owned by Richard's uncle William Detert. After Richard passed away in 1951, Hedwig sold their Guenoc Ranch property and purchased 50 acres of the famed To-Kalon Vineyard in the Oakville area in 1954 from the estate of previous owner Martin Stelling. Hedwig renamed this property the "Detert Vineyard," and the family has farmed the vines there ever since. A large portion of their site had been planted with Cabernet Franc in 1949, the oldest planting of that variety in Napa Valley. Today, two branches of the Detert family share the vineyard – Tom's part has mostly Cabernet Franc along with some Cabernet Sauvignon, while the part farmed by his cousins the MacDonald family is entirely Cabernet Sauvignon. Tom's family farms about 18 acres of vines there, on gravelly alluvial soil at the base of the Mayacamas Mountains.
Early on, Robert Mondavi purchased the fruit when he was still at Charles Krug Winery, and Tom's grandfather Gunther continued to sell fruit to Robert when he launched his own winery in 1966 – fruit from the Detert Vineyard has gone into Opus One bottlings as well. The family sold all of the Detert Vineyard fruit each year until 2000, when the first commercial vintage of Detert wine was produced, though about 60% of the Detert Vineyard fruit still goes to Robert Mondavi Winery. That 2000 vintage was from just one ton of Cabernet Franc, and the production of the Detert wines remains small, with a total of only about 700 cases made per year.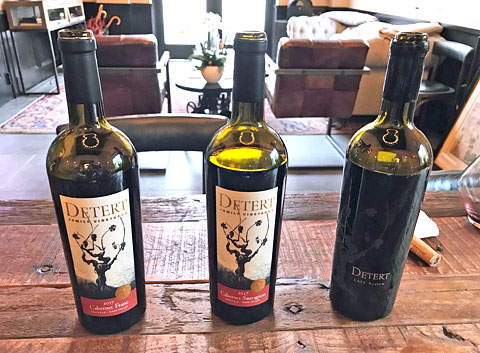 All fruit for the Detert wines comes from the estate vineyard, which is divided into three distinct blocks. Because of declining yields, the 1949 Cabernet Franc vines in the seven-acre East Block had to be replanted in 1979, but the budwood came from the original vines – this is now recognized at the Detert clone of Cabernet Franc. The ten-acre West Block has Cabernet Franc vines that were replanted in 2015, plus additional Cab Franc and Cabernet Sauvignon planted at that time. From 2000 to 2009, all of the Cab Franc from the East and West blocks was blended together, but beginning in 2009 a small amount of wine from East Block fruit has been bottled separately. The one-acre South Block is planted entirely to Cabernet Sauvignon – older vines there were replanted in 1997 with Clone 4 Cabernet. The first varietal Detert Cabernet Sauvignon bottling came in 2002.
Although Tom's family was involved in growing winegrapes – and he'd helped his family make small lots of Cabernet Franc at home – he originally studied in college to become a doctor, then switched to English literature. But Tom eventually gravitated toward wine, and he became the tasting coordinator for Wine Spectator magazine in the 1990s. He left that position in 1999 to become a cellar hand at Turley Wine Cellars, where he worked with Ehren Jordan and Thomas Brown. Since then, he's also worked at Joseph Phelps, Robert Mondavi, and at Revana Family Vineyards, where he worked with Heidi Peterson Barrett. Tom left his winemaking position at Revana in 2013 to focus full-time on Detert and on Dakota Shy, the only labels he currently makes wine for. Tom is one of three partners in Detert – he's joined by his brother John and cousin Bill Cover. Mike Wolf is the vineyard manager and the estate vines are farmed using organic methods. Beginning in 2017, the Detert wines have been made at the new Dakota Shy winery, which Tom helped to design.
We tasted three pre-release wines with Tom – the first two will be released in March 2020, while the last one will be released in September. While the Detert wines are not always 100% varietal, Tom noted that the 2017 bottlings are. Tom started us out with the 2017 Cabernet Franc. This combined savory and herbal aromas with plum and currant fruit, plus notes of earth and spice with undertones of mocha, medium weight on the palate with a surprisingly silky texture and fine tannins. We followed the Cab Franc with the 2017 Cabernet Sauvignon – a bit darker fruit profile than the previous wine along with spice, dried herbs, a stony mineral note, and hints of vanilla/oak, with a bigger texture and grippier tannins on the finish.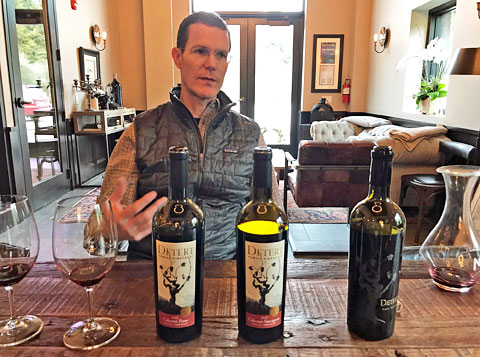 As we tasted, Tom talked with us about his picking decisions for Cabernet Franc. His goal is bright, fresh, "snappy" fruit, and he's looking for shifts in tannin and in acid/sugar balance as the fruit develops on the vines. He told us that he wants refinement and purity in the Detert wines, as well as freshness and energy. We asked him about differences in his winemaking between the Detert and Dakota Shy wines, and he told us that the winemaking style is very similar between the two, with a bit less new oak used in aging the Detert wines.
We finished our tasting with the 2017 "East Block" Cabernet Franc. This displayed more intense aromatics of black currant and darker fruit, along with earth, savory herbs, and a bit more spice than the previous two wines, with good structure and a lively mouthfeel, finishing with youthful tannins. Aside from a small amount of Cabernet Franc Rosé in some years, the three bottlings we tasted with Tom are the only ones that Detert produces.
It was a treat to be able to taste the three upcoming Detert wine releases with Tom. He was very low-key and relaxed in talking about his vineyard and wines, and Eric, Michael, and I really enjoyed all of the wines that Tom poured for us. In comparison with the Dakota Shy wines we'd tasted earlier that morning, I thought the Detert wines displayed somewhat more structure and texture, and though the tannins were a bit more obvious they were not at all aggressive – I'd describe the Detert wines as approachable yet very ageable. It was tough to pick a favorite among the three pre-release wines we tasted with Tom, but I'd have to say that the 2017 "East Block" Cabernet Franc was a particular standout, with the regular 2017 Cabernet Franc bottling close behind. These are all very distinctive wines, and I'd highly recommend arranging a visit to Detert next time you're in Napa Valley.
I'd made lunch reservations at Rutherford Grill, just a few minutes' drive from the Dakota Shy facility, but we were running late. I called to let the restaurant know and was told that they would only hold the reservation for 15 minutes but that they shouldn't have any trouble getting us a table if we were later than that. We ended up being about 25 minutes late but sure enough, we were seated right away in a nice booth. By that point, the timing for getting to our first afternoon wine appointment was a little tight, but the service at the restaurant was very efficient and friendly. I ordered a grilled chicken salad, with local greens, sliced grilled chicken, tortilla strips, and a honey-lime vinaigrette and peanut sauce – really delicious. Our food came out quickly and we finished our meal in about 45 minutes without feeling rushed at all. Although it's been open for many years, this was my first time at Rutherford Grill, and I was certainly impressed with everything about it.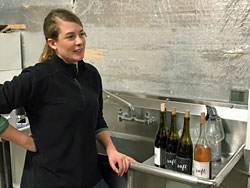 We drove from Napa Valley back to Sonoma County, and headed to the northern part of Santa Rosa, parking outside of the Punchdown Cellars custom crush facility. I'd made an appointment to visit there with owner/winemaker Jennifer Reichardt of Raft Wines, and she was right in the lobby to greet us when we arrived. I'd met Jennifer in the summer of 2018 at a tasting of her wines at the Oakland Yard wine shop, not too far from where I live. I was impressed with her wines then – especially since the 2016 vintage had been the first for Raft – and I thought this would be a good opportunity to try her latest wines. Jennifer led us back into the production facility, where she had brought a few bottles of her current releases for us to taste.
Jennifer comes from a farming background. Her family runs Sonoma County Poultry, a well-known business with roots that stretch back several generations, and which now supplies Liberty Ducks to many fine restaurants throughout the San Francisco Bay Area and beyond. The Raft name is related to the Liberty Ducks business – raft is the term for a group of waterfowl. There are even duck feet depicted on the wine labels and corks! Jennifer still works on the operations side of Sonoma County Poultry and wants to continue working both there and on her own wine business.
Jennifer traveled in Europe after graduating from college with a degree in Sociology in 2010, and she worked at a bed & breakfast in France. After returning to California and working with her family's business, she did more traveling, this time to New Zealand. Jennifer told us that she met a woman there who had worked a harvest at a local winery and recommended it to her. It didn't take long for her to get hooked on winery work, and after returning again to Sonoma County, Jennifer worked harvest for several highly-regarded producers, including BR Cohn, Littorai, and Ceritas, starting in 2011. On top of that, she also found the time to work during harvest in Chile and Australia! During this time, she also passed two levels of sommelier exams, and although she learned a lot about wine while studying for the exams, she found that what she enjoyed most of all was working at the wineries. Jennifer launched her Raft label with 300 cases of wine from the 2016 vintage – she increased that to about 500 cases in 2017 and has now grown to around 1,000 cases per year. She mentioned that she's better able to manage her time between winery work and Liberty Duck now that she has her own label than she was while working for other vintners.
Jennifer made nine wines from the 2018 vintage, and will have ten for 2019. Sangiovese and Syrah bottlings are the largest-production, with around 150-200 cases, while the others are smaller lots. There are releases in the spring and fall each year, and when we visited Jennifer was starting to prepare for bottling in March, for wines to be released in April. She noted that she uses clear glass bottles for all of her spring releases, with green glass for fall. The bottles are lighter weight, labels use recycled paper, and the cork material is derived from sustainable and recyclable sugarcane. In addition, all of the vineyards that Jennifer works with are organically-farmed.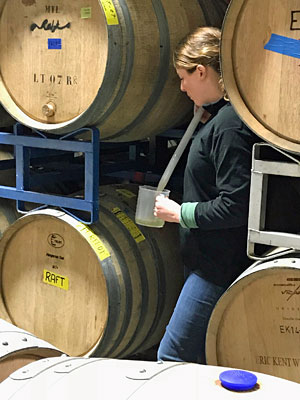 Vineyard sources for the Raft wines range from the Sierra Foothills to Sonoma and Mendocino counties, and to date, all of the wines have been labeled as single-vineyard designates. Most of the wines are made from Rhône grape varieties – Jennifer mentioned that she likes working with these since they blend so well together – along with a few Italian varieties. There has been an Italian-style wine in each of the spring and fall wine releases so far. Jennifer told us that she's open to making wine from other grape varieties too. Some of the fruit is fermented in small tanks and some in bins – Jennifer told us that this often depends on logistics at the facility during the busy crush season. She avoids adding water or acid to her fermentations, and sulfur additions to the wines are minimal. Wines are aged in neutral barrels and they're all unfined and unfiltered. The Raft whites and rosé all go entirely through malolactic fermentation.
It was quite chilly in the Punchdown Cellars barrel room – fortunately we'd prepared for that but still had to zip up our jackets! Before we started in with tasting five current Raft wines, Jennifer offered to have us try some barrel and tank samples of wines that she was planning to bottle in March. First off was a barrel sample of 2019 Viognier – the fruit came from Love Ranch, at 1,300-foot elevation in the southern Sierra Foothills, and this will go into the "Jonquille" Viognier bottling. Floral and bright citrus aromas with hints of stone fruit and a saline note, this had a pleasant texture and a crisp, fresh finish. Jennifer said that she's made this wine before in a combination of neutral oak and stainless steel, but the 2019 has been made entirely in older barrels.
Jennifer then climbed up a couple of barrels to pull a sample of 2018 Grenache Blanc from a higher-altitude site near Camino in El Dorado County. Climbing the barrels was a bit tough for her as she tore her ACL at the end of crush last fall and she'll have surgery after her March bottling date, but she managed just fine. The wine had a slight salmon-orange tinge, and displayed higher-toned stone fruit and fresh herbs on the nose, medium-light weight with a tangy finish. We also tasted a tank sample of 2019 Picpoul, also from El Dorado County. This was whole-cluster pressed, fermented in neutral oak and stainless steel, then aged entirely in tank. Bright lemon fruit with floral undertones, this had a vibrant mouthfeel and clean, zippy finish.
Moving on to bottled wines, Jennifer poured us the 2018 "Fleur Pour Ma Mère" Trails End Vineyard Rosé. The vineyard source for this Grenache rosé is located in Mendocino County's Potter Valley, and the name of the wine – which translates to "A flower for my mother" – is a tribute to Jennifer's mother, an avid gardener who passed away in 2019. Jennifer told us that stirred the lees on this wine during primary fermentation to add texture. Very light salmon color, this featured floral, red fruit and citrus aromas, with a lively texture and finish.
We next tasted two lighter red wines, beginning with 2018 Nesseré Vineyard Sangiovese, from a vineyard in the far northern Sierra Foothills in Butte County, not far from Chico. Jennifer told us that her idea for this wine was to make an affordable light red – an everyday "pizza/pasta wine." This featured intense red cherry fruit along with earth and spice notes, a bright mouthfeel and a stony mineral quality on the finish. We followed that with the 2018 Narrow Gate Vineyard Grenache, with fruit sourced from a biodynamically-farmed site in El Dorado County and fermented with 25% whole clusters. Floral and herbal red fruit, with medium-light weight on the palate and moderate tannins.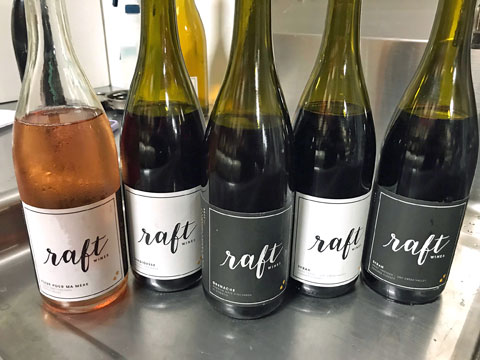 Jennifer finished our tasting with two Syrahs, both from Dry Creek Valley. The 2018 Weed Farm Syrah comes from a vineyard that is not sprayed at all during the growing season. This displayed slightly higher-toned dark berry fruit with earthy, herbal, and black olive notes, plenty of acidity, and a firm tannic finish. The 2018 Grist Vineyard Syrah is from a higher-elevation site near the top of Bradford Mountain – showing more upfront blackberry fruit along with a floral character, with hints of pepper and spice, this had a bolder texture and grippier tannins. Though the two Syrah vineyards are only a few miles from one another, Jennifer noted that they are very different, and the wines reflected that. The Weed Farm bottling was in more of a northern Rhône style while the Grist Vineyard Syrah – as Jennifer put it – is a "love letter to California." Both of these wines were fermented with some stems that Jennifer had dried and returned to the fermentation vessels.
In addition to the wines we tasted with Jennifer, other Raft wines include "Cavaillon" skin-fermented Viognier, Counoise, and "Antonella" northern Italian red blend. The upcoming Grenache Blanc and Picpoul bottlings will be the first of each for the label. Another future release that Jennifer mentioned to us will be Primitivo from Fox Hill Vineyard, which she got in 2019.
We had a really fun visit with Jennifer – she has an enthusiasm that I often see from younger vintners but there was a true joy to her presentation of the wines that really stood out. I enjoyed all of her wines – the 2019 Viognier barrel sample and 2019 Picpoul tank sample should be standouts, while the 2018 Nesseré Vineyard Sangiovese and 2018 Weed Farm Syrah were my favorites of the current releases. All of the Raft wines are surprisingly approachable for being so young, and the fine acidity and balance means they should all be very food-friendly. Jennifer mentioned the idea of community during our visit and I certainly got the feeling that building and maintaining a community is an important part of her approach, both with her family's Sonoma County Poultry / Liberty Ducks business and with Raft Wines. Raft is one of the more noteworthy new labels I've come across in the past couple of years, and their wines are definitely worth checking out.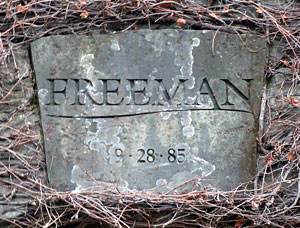 We took the back way from the northern edge of Santa Rosa to our next appointment at Freeman Winery outside of Sebastopol, and surprise – the GPS didn't take us on any narrow unpaved roads as it did on our recent Sierra Foothills trip! We didn't have any problem at all in getting to the winery and we parked outside. It was only a moment before winemaker and co-owner Akiko Freeman came out to welcome us. I'd spoken with Akiko a number of times at various tasting events over the years, and I'd stopped by the winery in the past (though not for many years) but I'd never arranged a tasting of the Freeman wines there before.
As we stood outside, Akiko told us a little about the property and the structures there. Located within the Green Valley of Russian River Valley AVA, the property was originally three acres, and the large barn on the site had been used by a previous owner as a winery, so it had already been permitted for that use. The property went through one more owner before Ken and Akiko Freeman purchased it in 2001. They added a wine cave a couple of years later, dug into the hillside behind the barn. Akiko pointed out the keystone above the cave entrance, with "Freeman 9·28·85" carved into it – that's the date that Ken and Akiko met, and she told us the story of that chance meeting.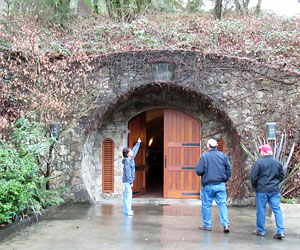 Ken is originally from Scarsdale, New York, and he was working on Martha's Vineyard after college when friends asked if he'd like to join them to go sailing along the Atlantic Coast. They began their sailing trip but soon had to turn back due to Hurricane Gloria – as it turned out, the group ended up going to a keg party hosted by some other friends. Akiko was a college exchange student from Tokyo and happened to have been invited by friends to the same party. Having arrived in the US only recently, she wasn't familiar with the idea of a keg party, so she came attired in a beautiful formal dress – Ken couldn't help but notice her!
Among other things, wine was a common interest of both Akiko and Ken, particularly the wines of Burgundy. Over the years, Ken, who went on to become a private equity banker, developed an interest in having a winery. Akiko and Ken began looking at potential winery properties in the late 1990s, and when the small site outside of Sebastopol became available, they wasted no time in buying it. They later were able to purchase an adjacent eight-acre property that had been an old apple orchard, and they planted vines there in 2006 – Akiko and Ken named it Gloria Vineyard for the hurricane that brought them together. Not long after that, they bought a 14-acre former sheep ranch and planted that in 2007 – this is Yu-ki Vineyard, at about 1,000-foot elevation near Occidental. The name means "giant tree," for the redwood forest surrounding the hillside vineyard. Akiko mentioned that it's also the name of her nephew, whom she hopes may take over the winery someday. She also said that she and Ken may consider buying property for another vineyard in Anderson Valley. The two current estate vineyards are farmed using organic methods and are planted almost entirely to Pinot Noir. They include a number of different Pinot clones – both Dijon clones and California heritage selections such as Swan, Calera, and Mt. Eden are planted. Akiko told us that a new West Sonoma Coast AVA is expected to be approved soon – the process has taken five years – and that the Yu-ki Vineyard will be within that new AVA.
The focus of Freeman from the start has been Chardonnay and Pinot Noir, and the first vintage was from 2002. Akiko mentioned that these first wines were released in 2004, right when the movie "Sideways" created more interest in Pinot Noir, and those wines sold out quickly – fortunate timing! Noted winemaker Ed Kurtzman has been part of the Freeman team from the start, and worked closely with Akiko. Akiko has been making the wines since 2010, while Ed has stayed on in a consulting role. During our visit to the winery, Akiko introduced us to her assistant winemaker Bobby Kloetzer, who came on board in 2017. The winemaking style can be described as minimalist and light-handed – Akiko's goal is to emphasize the terroir and vintage in the wines.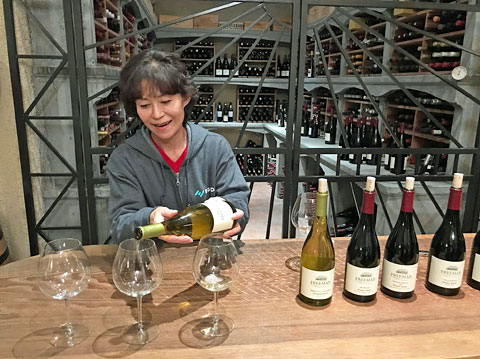 We followed Akiko into the wine cave to taste some of the Freeman wines with her there. The caves are about 6,000 square feet in size and can fit up to 500 barrels – there are currently about 300 barrels inside. A handsome and sturdy wooden slab set on top of wine barrels serves as a tasting counter at the central part of the caves. We started with two Chardonnays – these are entirely barrel-fermented and go completely through malolactic fermentation. Akiko began our tasting with the 2017 "Ryo-Fu" Chardonnay, with fruit sourced mainly from Heintz Vineyard. The name of the wine means "cool breeze," which Akiko said is appropriate given the vineyard sites. Chardonnay clones 4 and Rued went into this wine, which was made in about 10% new French oak. Floral and stone fruit aromas with a hint of fresh herbs and undertones of vanilla/oak, lively texture and a stony mineral note on the long finish. Next was the 2017 Hawk Hill Vineyard Chardonnay, from a very cool site near Freestone. Made in about 6% new oak, the Chardonnay fruit is clone 5. This displayed more of a citrus and pear character on the nose, along with spice, earth, and a minerally quality, with vibrant acidity and crisp, fresh finish.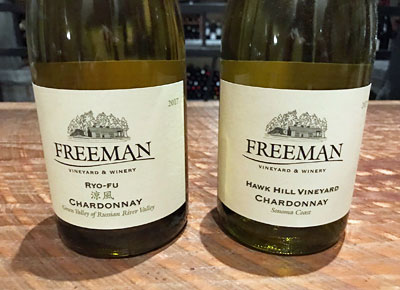 We moved on to Pinot Noirs – Freeman typically makes 150 to 180 barrels of Pinot Noir each vintage, with wines from different vineyards and clones fermented and aged separately until they're ready to blend. Akiko started us with the 2017 KR Ranch Pinot Noir. This used to be labeled as Keefer Ranch, but since management of the property changed hands a few years ago, Freeman came up with a new designation for the vineyard name. Akiko told us that they've worked with the same blocks of this vineyard from the start, and that the fruit is an even split between clones 23 and 777. The wine featured intense rose floral aromas plus black cherry fruit and a touch of spice, medium-light weight with a silky texture and lively finish. We followed this with the 2017 Gloria Estate Pinot Noir, made from Swan, Calera, Pommard, and 115 clones. Akiko told us that she particularly likes the Swan clone from here for floral aromatics and Calera for structure. Fresh herbs, orangepeel, and black cherry and darker fruit on the nose plus hints of spice and vanilla, this had a broader mouthfeel than the previous wine, finishing with fine tannins. Both the KR Ranch and Gloria Estate Pinot bottlings are aged in about 30% new French oak.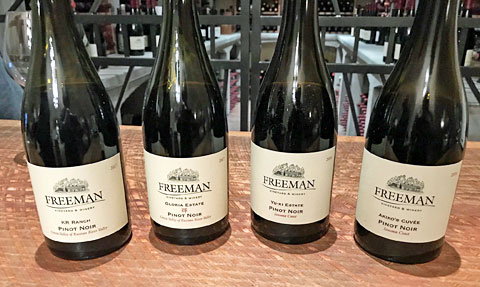 We concluded our tasting with two Pinots from the 2016 vintage. Akiko poured us the 2016 Yu-ki Estate Pinot Noir, which includes 23, 667, 2A, 114, and 828 clones, and was aged in about 12% new French oak. She told us that she also uses some 828 clone Pinot from Yu-ki for a direct-press rosé. This Pinot showed a darker fruit profile than the first two along with a more savory character, plus tea leaf and floral notes, a more structure on the palate and finish. Our final wine was the 2016 "Akiko's Cuvée" Pinot Noir – this is a barrel selection that's been made every year since Freeman's inaugural 2002 vintage. Akiko and her winemaking staff each create a blend and they taste them all to determine a favorite – Akiko's own blend usually wins! The 2016 vintage is a blend from five vineyards, and was aged in about 45% new French oak. This displayed similar floral aromatics to the KR Ranch bottling along with black cherry, spice, and dried herbs along with undertones of vanilla/oak, medium body with a silky mouthfeel and fine tannins on the long finish. As with all of the Freeman Pinots we tasted, the oak was present but subtle, and didn't stand out.
Other Freeman wines that we didn't taste on this visit include Russian River Valley Pinot Noir and Sonoma Coast Pinot Noir. The winery has started to release a few new vintage Chardonnays and Pinot Noirs – of particular interest is the 2018 "Ryo-Fu" Chardonnay, which includes some of the first Chardonnay fruit harvested from Yu-ki Vineyard. Total annual production for the Freeman wines is about 6,000 cases.
Our tasting with Akiko at Freeman was one of the most memorable of our Sonoma and Napa wine visits. Akiko was a charming host with a subtle sense of humor, and the story of her path to where she is now was a fascinating one. It's always fun to taste inside of a wine cave, and the Freeman cave was quite nice – while clearly designed for function rather than for show, it was still a very comfortable place for a tasting. The wines all displayed a light and elegant style, with great aromatics, texture, and balance. All of the wines we tried were excellent, and I felt that the 2017 "Ryo-Fu" Chardonnay, 2017 Hawk Hill Vineyard Chardonnay, 2017 KR Ranch Pinot Noir, and 2016 "Akiko's Cuvée Pinot Noir were particular standouts.Overall, the Freeman wines were some of the best California Chardonnays and Pinot Noirs I've tried in awhile, and a tasting there should be high on your list of winery visits in Sonoma County.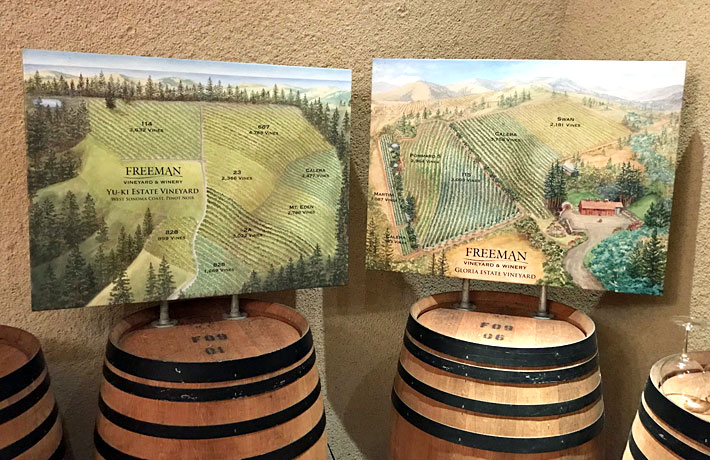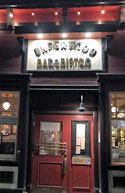 Eric had made dinner reservations at Underwood Bar & Bistro in the small town of Graton, a couple of miles north of Sebastopol. I've been to Underwood a number of times over the years and it's become my favorite place to eat in this part of Sonoma County. The interior is elegant yet rustic and informal, though it sometimes can get rather loud. I ordered one of the daily specials, pan-roasted salmon with celery root and potato purée, hedgehog mushrooms, broccoli di ciccio, pancetta, and kale salsa verde. This was really delicious – all the flavors worked well together and the generous piece of salmon was cooked perfectly. I had a Russian River Brewing Blind Pig IPA with my meal – always a reliable choice from this local brewery. This ended up being my favorite dinner of our short wine tour, and I'd highly recommend lunch or dinner at Underwood.
A half-hour drive from Graton brought us back our accommodations to Santa Rosa, and we wrapped up the second day of our Napa and Sonoma wine tour.