Lodi and West Sacramento Wine Visits, May 2022 – Part 1
It had been over two years since I'd put together a wine tour for Grape-Nutz, but by spring 2022 I was ready to give it a shot. I had made lists of a few possible areas to tour, and the Lodi wine region was the choice for this one. I checked in with a few wine friends about coming along, and though several were unable to make it, Grape-Nutz founder Eric Anderson was able to join in – always great to have Eric along on these trips.
There were a few reasons for choosing Lodi for this first wine tour in awhile. I'd already been in contact with a couple of vintners there in the first part of 2020 about arranging a visit with them, but of course it wasn't possible at that time. This would be my first time visiting Lodi wineries in nearly five years – and it would be about 14 years for Eric, since we toured the area for a Grape-Nutz write-up in spring 2008. A lot has changed in Lodi during those 14 years, and although I'd kept up with things there a little bit, I knew there were many things I'd missed, so this would be an opportunity to catch up on some of them.
Lodi can get pretty hot during the summer months, so Eric and I figured that going there in the springtime would work better, and we arranged a number of wine visits over three days in the second half of May, from a Thursday through Saturday. As a bonus to our Lodi visits, we were able to schedule visits with some urban vintners in West Sacramento, not too far away.
It might be useful here to provide a brief introduction to Lodi and its history related to wine.
Introduction to Lodi

Lodi is located between the cities of Sacramento and Stockton in California's vast Central Valley. One of the things that makes the area distinctive is its proximity to the San Joaquin River delta directly to the west. This location helps give the Lodi region one of the wider diurnal temperature swings of any California winegrowing region, thanks to cool winds from the delta in the late afternoons and evenings. The landscape in the Mokelumne River part of Lodi that we visited is typical California Central Valley – flat, flat, flat. With this wide-open landscape, many vineyards are very large, considerably bigger than in the hilly coastal or foothill regions. The soil in that area is mostly deep sandy granitic loam, with more red volcanic gravelly soil in the Clements Hills part of Lodi a few miles east.
Mokelumne River, Clements Hills…I should explain these designations. The Lodi American Viticultural Area (AVA) was approved by the Federal Government in 1986. More recently, grower/vintner Markus Bokisch began to explore creating a number of smaller AVAs within the broader Lodi appellation, as a way of distinguishing fruit grown in the different areas. Eventually seven AVAs were approved in 2006: Mokelumne River, Clements Hills, Jahant, Borden Ranch, Cosumnes River, Alta Mesa, and Sloughhouse. I have to admit that I was initially unsure about the value of these "sub-AVAs" but I've come to see how different they really are from one another and how their creation was a positive move for the overall Lodi wine region as well as for the smaller regions within it.
The Lodi area has been farmed since the mid-1800s. Early on, grain farming was notable while by the later nineteenth century, Lodi was famed for its watermelons. Both table grapes and wine grapes have been grown there since the 1850s. The Flame Tokay grape (not related to similarly-named varieties from Europe) was once synonymous with Lodi grapes. Used mostly for table grapes but also for jug and fortified wines, the variety fell out of favor and only a few old head-trained Tokay vineyards remain in the area today. Of other grape varieties, Zinfandel has enjoyed the most success in Lodi over the years, and it is old-vine Zin that has had the biggest part in putting Lodi back on the wine map. There are a tremendous number of other varieties grown in the area as well, many of which are not commonly seen in California – in particular, Spanish and Portuguese varieties seem to thrive there. Today, Lodi grows a large percentage of California winegrapes, though much of the fruit goes to big outfits such as Gallo and Constellation and goes into fairly generic inexpensive blends. What's less-known is that Lodi fruit is also blended into higher-quality wines from well-known vintners in Napa, Sonoma, and other parts of the state.
One way that the Lodi wine region is setting itself apart is through the creation and adoption of The Lodi Rules for Sustainable Winegrowing – typically just called the Lodi Rules. First published in 2006, this program was California's first third-party certified sustainable growing program for winegrapes. It includes a comprehensive and rigorous set of guidelines that address not just the overall health of the vineyard and its ecosystem but also promote wider issues of biodiversity, soil, air, and water quality, as well as employee safety and well-being. The goal is to implement the Lodi Rules throughout the region, and it's being adopted by more and more growers every year.
One of the biggest challenges facing Lodi growers has been maintaining grape prices. Following Prohibition and for some years afterwards, wine cooperatives were common in the area, but these had only a mixed record of success. It's often been difficult for growers to obtain good prices, particularly when selling to the very large wineries – with consolidation in the wine business, there are fewer of these large wineries to compete for the fruit. For this reason, many Lodi growers have started their own wineries, where they have the potential of earning considerably more by making their own wine rather than by just selling their fruit. This has caused an explosion in the number of Lodi wineries in recent years. There are now over 80 wineries in the Lodi region, up from only about 10 of them around 20 years ago. The quality of Lodi wines has continued to improve, and recognition and acclaim for the region has been growing.
Since Eric was coming from Southern California, he drove up to Lodi on a Wednesday, the day before we started our wine visits. I drove from Oakland on Thursday morning – it was getting pretty warm as I headed toward Lodi, and the weather forecast was for temperatures in the upper 80s that afternoon, hot but not too bad. I stopped to fill up on gas at the Flying J truck stop near the freeway exit for Lodi, as the price there was about 60 cents cheaper than most gas in Oakland. From there, I drove into town and met Eric at the motel where we were both staying. As it was too early for me to check in to my room, I stashed a few things from my car in Eric's room until we returned there later in the day. I figured that I'd drive on this first day of our wine tour, so Eric hopped in my car and we headed north of town and across the Mokelumne River to our first appointment of the day.
Our first winery visit of this trip was with winemaker Ryan Sherman of Fields Family Wines. The small winery and adjacent estate vineyard are located a little north of the city of Lodi. I'd tried some Fields Family wines at various tasting events and had met Ryan once or twice at those. Each time I'd tasted the wines I was impressed with them, so I was looking forward to this visit. After passing by the winery driveway twice, Eric and I finally found it and parked in a shady spot near the tasting room. We saw that the door at the side of the winery was open so we walked in, and Ryan welcomed us. He gave us a quick tour of the small facility and then told us about the background of Fields Family Wines.
Ryan's family is from California's Central Valley, and he's lived in Lodi since he was a kid. His father is in the construction business, while his mother is in real estate – Ryan eventually followed in her footsteps and his "day job" is as a realtor. Ryan told us that winery owner Russ Fields, who's an attorney, is from an Italian family in Stockton, and as in many Italian-American families, his grandfather used to make a little wine at home. Russ became interested in continuing that tradition, and in 2005 Ryan helped Russ find a vineyard property, where Russ built a house and the winery. The vineyard already had Syrah planted, and had been one of the earlier certified organic vineyards in the area. The fruit had been sold to a neighbor, but Ryan said that the vines were in poor condition when Russ bought the property so a lot of work had to be done to rehabilitate the vineyard in the first few years.
While work on the estate vineyard was progressing, Russ talked Ryan into making a little Zinfandel for him from a small vineyard that Ryan owned. Ryan told us that this initial attempt at winemaking, in a single six-gallon carboy, didn't turn out very well, but it was a start! As with so many winemakers at smaller wineries, Ryan is self-taught, so he used this early wine as a lesson. Russ and Ryan started entering their home wines in competitions and soon began to be awarded medals for the quality. They established Fields Family Wines in 2008, and their first estate Syrah came from the 2009 vintage. Their tasting room opened the following year, though they were only producing a few hundred cases at that time. Fields Family is still fairly small-production, making only 1,200-1,600 cases per year – no doubt part of why Russ and Ryan keep their day jobs! Nearly all of their wine is sold direct to consumers through their tasting room and wine club, with some to restaurants. Ryan told us that they've been successful getting their wines into some of the top restaurants in Las Vegas.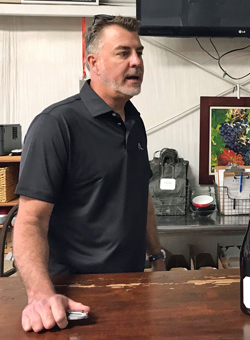 In addition to the Syrah vines in the Fields Family estate vineyard – planted about 30 years ago – they've added Grenache Blanc, Vermentino, Tempranillo, and Mourvèdre there. They also buy fruit from a number of local growers, including old-vine Zinfandel from highly-regarded Stampede and Kirschenmann vineyards. Ryan mentioned that they've recently started working with old-vine Carignane from 80+ year old Nicolini Ranch in Lodi. He noted that they've been working with most vineyards they source fruit from for at least 6-7 years – they've developed good relationships with the growers to be able to bring in fruit the way they want it. Ryan told us that he generally looks to pick between 22-23 brix but this can vary depending on the grape variety, vineyard, and vintage.
Over the years, Ryan has moved to less and less intervention in the Fields Family winemaking, and it's now very minimal. Wines go through native primary and malolactic fermentation, with whites fermented in stainless steel tanks and reds in half-ton macrobins. Most wines are aged entirely in neutral French oak, though Ryan uses a little new French oak on a few reds. He described his winemaking as reductive, meaning the wines see little oxygen during élevage (the progression of wines between fermentation and bottling) and generally need time to show their best, which is why most of the wines are given more time in bottle before they're released than at many wineries.
Ryan led Eric and me to the simple wood tasting counter set on barrels along one side of the winery space, and he poured us a selection of his wines. He started us off with the 2021 Bechthold Vineyard Cinsault – this had been in bottle for only about two months and not yet released. This famed vineyard has the oldest Cinsault vines in the country and possibly in the world. Ryan uses whole-cluster semi-carbonic fermentation on this Cinsault to give it extra freshness and lift, and it's only 12.5% alcohol – quite low for this region. The wine was a bright, lighter red with red fruit and herb aromas, vibrant acidity, and a fresh finish. Next was another pre-release wine, the 2021 "Sans Souci". The name of the wine translates to "carefree", and the blend in this vintage is Bechthold Vineyard Cinsault, Estate Syrah, and Estate Mourvèdre. This is another whole-cluster semi-carbonic fermented wine – it displayed both red and black fruits with earth and iron undertones, lively texture, and chalky but fine tannins on the long finish.
Ryan next poured us a couple of very different Zinfandels. First was the 2017 Stampede Vineyard Zinfandel, sourced from vines planted in the 1920s-1940s in sandy granitic soil, and aged in older French oak – bold and bright berry and spice aromas, medium-full mouthfeel, with a fairly firm tannic finish. We followed that with the 2019 Kirschenmann Vineyard Zinfandel, from a vineyard planted in 1915 that's now owned by Tegan Passalacqua. This was quite different from the Stampede bottling, with pretty floral notes plus red berry fruit, with a bright, juicy texture and finish and milder tannins.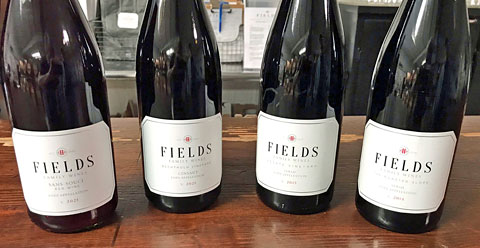 Syrahs from Fields Family were the wines that really grabbed me when I'd first tasted them some years ago, since the Lodi wine region is not known for Syrah, and these were particularly good ones. Ryan poured three Syrahs for Eric and me, starting with their current 2017 Estate Syrah. It's fermented with about 20% whole clusters and aged in 25% new French oak. This showed an herbal character along with plum and darker fruit plus floral undertones, with a lively mouthfeel and moderate tannins. Ryan opened a couple of older vintages for us to compare and to see how his Syrahs develop with additional bottle age. The 2015 Estate Syrah was the first of these, and this had both darker color and a darker fruit profile than the 2017 vintage, plus savory and earthy notes, and firmer tannins, still quite youthful. The 2014 "Roasted Slope" Syrah also came from the estate vineyard, and given the name it was not surprising to learn that it was co-fermented with 9% Viognier in the style of the Côte-Rôtie Syrahs from the Rhône Valley. This was another savory wine, with floral notes, bright texture, and milder tannins than the first two Syrahs.
We finished up our tasting with Ryan with two more current releases. The 2017 Lot 13 Vineyard Tempranillo was aged entirely in neutral oak. Lots of spice, black cherry and plum fruit, earth, and a pleasant smoky note, this had a big yet lively mouthfeel and a grippy tannic finish. The 2017 "Vin du Sol" is a blend of about 60% Syrah and 40% Mourvèdre, aiming for a southern Rhône style wine. This featured bright aromas of plum and darker berry fruit, spice, with black olive and herb notes, medium body, and fine tannins.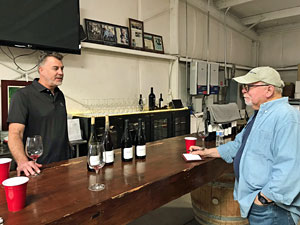 In addition to the wines we tasted with Ryan, Fields Family also produces a number of bottlings including Grenache Blanc, Vermentino, a new blend of those two varieties called "Elysian Fields", a rosé, Petite Sirah, a new estate Tempranillo, and a blend called "Big Red". They also make a couple of wines sourced from outside the Lodi area – a Sonoma Pinot Noir and a Mount Veeder Cabernet Sauvignon. As we were tasting, Eric commented on the classic, clean look of the Fields Family labels. In addition to these wines, there's also a second-label wine called "Vicious Delicious" – the 2018 vintage of this is a blend of Tempranillo, Syrah, and Petite Sirah.
Our visit with Ryan at Fields Family Wines was a great way for Eric and me to start out our tour of Lodi wineries. Ryan was an outgoing and enthusiastic host – he had so much interesting information to give us on the vineyards and wines that I could barely jot down notes fast enough to keep up with him! I really enjoyed every wine we tasted so it was tough to pick out favorites, but I thought the 2021 Bechthold Vineyard Cinsault, 2019 Kirschenmann Vineyard Zinfandel, 2015 Estate Syrah, and 2017 Lot 13 Vineyard Tempranillo were particular highlights. Fields Family Wines is one of the newer Lodi producers that have been changing the perception of the region's wines, and I highly recommend checking out their wines and visiting them if you're in the area.
Sandlands Vineyards / Turley Wine Cellars

Eric and I headed back on the road and over to the east side of Highway 99, and it wasn't long before we arrived in the tiny town of Victor, where we were scheduled to meet vintner Tegan Passalacqua. I'd met him at a few tastings and have really enjoyed the wines I've tried from his Sandlands Vineyards label. We'd been in touch in early 2020 about my coming to visit him in Lodi, but that had to be put on hold – by this spring, I figured that I'd waited long enough and was able to arrange a visit for Eric and me. We turned up a small street in Victor and parked across from a modest house, walked over, and I knocked on the door. It wasn't Tegan who opened the door, but Adam Saake, the winemaker for his own small label who Eric and I were scheduled to meet with a couple of days later – Eric and I learned from Adam that he'd worked with Tegan, which I hadn't known. And once inside the house, Adam introduced us to Nick Guantone, the co-owner and head chef at Guantonio's restaurant in Lodi. In addition to his winemaking, Adam is also a server there. Both Adam and Nick were there to join in for the tasting with Tegan. There will be more about both Adam and Guantonio's later in this write-up.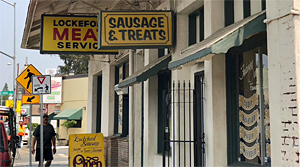 Tegan had been in the back of the house but soon came out and welcomed us. He told us that he's been renovating the home – slowly, as his busy schedule allows. As it was mid-day, he was cooking up some sausages for us from nearby Lockeford Meats and Sausage. Everyone there told Eric and me how good their sausages are (they were right!) and they noted that customers line up in the mornings to buy from the shop. As we proceeded to the table to sit down, Tegan showed us a couple of large soil maps on the living room wall of his house showing the Lodi region, and he pointed out some of the very unusual types of sandy loam soil found there. These soils are formed from eroded quartz and granite washed down from the Sierra Nevada by the Mokelumne River and deposited in the Lodi area. There's also underlying limestone in some areas.
Tegan is originally from Napa Valley, and started in the wine industry as a lab technician there before joining Turley Wine Cellars in 2003. Tegan worked at Turley in both the vineyards and the cellar, and managed to find the time for additional experience working in New Zealand, in the northern Rhône Valley, and in Swartland, South Africa. He succeeded Ehren Jordan as the head winemaker and vineyard manager at Turley in 2013. Tegan and his wife Olivia (who also works in the wine business) and their two sons live in Napa Valley, though he's often on the road in his role as vineyard manager, so the small house in Victor is well-located as a base for him to visit sites around Lodi and in Amador County. In all, Tegan manages the farming for about 100 acres of vineyards in the Lodi and Amador regions and another 100 acres in Napa and Sonoma.
In addition to Tegan's work with Turley, he and Olivia have their own wine project, Sandlands. The label was launched with the 2010 vintage. The focus of Sandlands is on what might be called California heritage vineyards and grape varieties. Most of the vineyards Tegan sources from for Sandlands are older ones, some farmed by the same families for generations, and located in out-of-the-way wine regions that don't generally garner a lot of acclaim. Many of these sites feature vines that are head-trained, own-rooted, and dry-farmed – things that were once the norm in California vineyards but are not often seen today. He works mainly with grape varieties that were once common in the state but lost popularity (and acreage) over the years, some of which are only now beginning to make a comeback. I should mention that he's one of the founders of the non-profit Historic Vineyard Society, dedicated to identifying the many old vineyards of California and preserving them for the future.
One of these old, nearly-forgotten vineyards is one that Tegan purchased in 2012, and that he named Kirschenmann Vineyard for the longtime owners. It's located not far from Victor, and has the Mokelumne River region's characteristic deep sandy soil (good for own-rooted vines) and also has some limestone beneath it. Kirschenmann contains mostly own-rooted, head-trained, dry-farmed Zinfandel vines planted in 1915. Tegan has added small plantings of other varieties there in recent years, including Chenin Blanc and Cinsault. He told us that he's recently purchased two properties near the town of Volcano in Amador County, and plans to plant vineyards there.
Tegan brought out the Lockeford sausages – three different kinds – and we all enjoyed them with salad plus green beans and some very nice crusty bread. As we all began to dig in to the food, we also started tasting over 20 wines Tegan had opened for us to try, mostly Sandlands 2019 bottlings plus a few Turley wines sourced from Lodi vineyards. He told us that he was excited about this tasting as he doesn't often open such an array of his wines.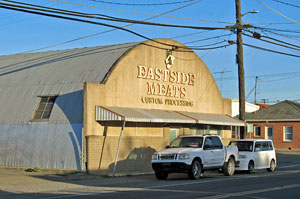 As Eric and I went through the wines with Tegan, Adam, and Nick, we learned about the wines and winemaking for Sandlands. Tegan said he plans to release 21 different bottlings from 2021 vintage, with about 3,000 cases total. The wines are currently made at the Turley facilities in both St. Helena and in Amador's Shenandoah Valley, though Tegan bought a building in "downtown" Victor a few years ago that he plans to make into a winery for Sandlands. Basically an old corrugated steel Quonset hut with the "Eastside Meats" signage still on it, this is another project that's moving along slowly for Tegan, and it sounds like it could still be awhile before the building is ready for use as the Sandlands winery.
Tegan does not inoculate for fermentations on the Sandlands wines, letting them ferment with native yeast. He also uses no new oak on these wines, and barrels range from three to seven years old. White wines are typically in barrel for about 15 months and around 11 months for reds. Whites are all whole-cluster pressed, and reds are fermented with whole clusters except for Zinfandel, which is destemmed. As we tasted through the wines, I asked Tegan why he uses an "e" at the end of Carignane when it seems like more and more vintners spell it without the "e" – he said that it's the traditional spelling in California and he wants to remain true to that. The same is true with the "l" in Cinsault and it's similar for his use of Mataro rather than Mourvèdre on the Sandlands labels.
Sandlands wines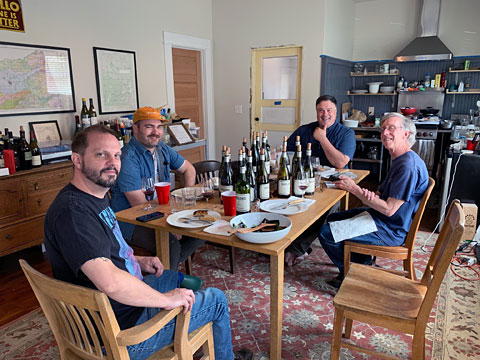 (l to r) Adam, Nick, Tegan, Ken
We tasted a lot of wines with Tegan and moved through them pretty quickly, so my notes were a bit brief but hopefully enough to convey my impressions. We started with four white wines – three different Chenin Blancs and one blend that's predominantly Chenin. Tegan gained a particular love of this grape variety while working in South Africa, one of the places that's become particularly acclaimed for its Chenin Blancs. First was the 2019 Lodi Chenin Blanc, sourced from Kirschenmann Vineyard – this had stone fruit and pear aromas with stony mineral notes, a juicy texture on the palate, and a long finish. We followed this with the 2019 California White Table Wine, which is 67% Lodi Chenin Blanc and 33% Napa Sémillon. This showed more of a citrus character with a touch of honey, a bit bigger mouthfeel, with nice texture on the finish. Two more varietal Chenins followed – the 2019 Amador County Chenin Blanc came from head-trained, dry-farmed vines at Story Vineyard, and displayed pear and citrus notes, medium weight with fine acidity, and a chalky mineral character on the finish. The 2019 Napa Valley Chenin Blanc, from old vines at Casa Nuestra Vineyard near St. Helena, featured bright stone fruit aromas with stony mineral undertones, a broader yet still lively texture, and long finish.
Three lighter red wines were next, starting with the 2019 Amador County Mission from vines planted in the 1850s at Deaver Ranch, probably the oldest surviving commercial winegrape vines in California. I always have a hard time conveying the very distinctive Mission character, but this wine showed it perfectly, with red fruit, spice, earth, and fresh herbs, and more grip on the finish than you'd expect from such a light red wine. The 2019 Lodi Cinsault came from Cinsault vines at Bechthold Vineyard dating from 1886, the oldest in the country if not the world – bright red fruit, spice, and floral notes, with a juicy texture and vibrant finish. Fruit for the 2019 Sonoma County Trousseau was sourced from Bohan Vineyard on the West Sonoma Coast, at 1,600-foot elevation less than two miles from the ocean. This had a very light color, with a savory herbal nose along with spice, red fruit, and a touch of pepper, with a moderately tannic finish.
Four Carignanes and Carignane blends followed. The 2019 Lodi Carignane came from vines planted around 1900 by Joseph Spenker, one of Lodi's iconic early winegrape growers – upfront dark berry fruit, with spice, earth, and black pepper in support, medium-bodied with a long finish. Next was the 2019 Contra Costa County Carignane, from 1920s vines at Del Barba Vineyard, another fruit-forward wine with bright and spicy plummy fruit with pepper undertones, bigger texture and firmer tannins. The 2019 Lodi Red Table Wine is a blend of 1/3 each Bechthold Cinsault, Spenker Carignane, Kirschenmann Zinfandel – this featured floral red and black fruits aromas, dried herbs, and a vibrant mouthfeel and finish. Another red blend, the 2019 Contra Costa County Red Table Wine is 65% Carignane and 35% Mataro. More fruit-forward than the previous wine, it had plenty of savory herbal character along with earth, olives, and plummy fruit, fine acidity and a lively finish.
The wines just kept coming! Tegan had us taste the 2019 Santa Clara County Grenache next, from Besson Vineyard, planted in 1910 – bright red berry fruit along with earth and floral notes, medium weight with moderately tannins. The 2019 Lodi Zinfandel, from Kirschenmann Vineyard, includes a little Carignane and Cinsault. This had intense raspberry and boysenberry aromas with earth, flowers, and dried herbs in support, good structure and fine tannins. We compared Mataro from own-rooted, head trained, dry-farmed vines grown in two different regions. The 1922 vines at Del Barba Vineyard were the source of the 2019 Contra Costa County Mataro – it displayed bright black cherry and plum fruit and earth aromas, with a lively texture and moderate tannins. We followed that with the 2019 San Benito County Mataro, from vines planted in 1923 at Enz Vineyard. Showing a deeper and darker fruit profile with iron, earth, and spice notes, this had a fuller and more structured mouthfeel and grippier tannic finish.
We had two more Sandlands wines at the afternoon tasting, a couple of Syrahs. The 2019 Santa Lucia Highlands Syrah was from Soberanes Vineyard – herbal and floral plum and darker fruit plus undertones of pepper and spice, with plenty of structure and grip. The 2020 Santa Barbara County Syrah is the first bottling of this wine for Sandlands. From Bien Nacido Vineyard, it's 75% X Block and 25% Z Block fruit, and it was fermented entirely with whole clusters. Darker color than the previous Syrah, with dark berry fruit, spice, and iron with gamy and herbal notes, full mouthfeel with big but fine tannins on the finish.
I also need to mention one additional wine that Tegan opened for Eric and me that evening when we had dinner together at Guantonio's – the 2020 Angelica. Made with fruit from the 1850s Mission vines at Deaver Ranch in Shenandoah Valley, the grapes were pressed right away and did not spend time on skins, and the wine was fortified to about 18% alcohol. Angelica may be the oldest style of wine made in California, dating back 200 years or more. It was a lighter style of Angelica than some that I've tried, and although I didn't take any notes on this one, I certainly recall that I enjoyed it!
Turley wines

But wait, we were not yet finished with the afternoon tasting! Tegan brought out four Turley wines for us to try, all from Lodi fruit. As with the Sandlands wines, these were all fermented with native yeast. Tegan noted that the Turley reds are typically bottled a little earlier than Sandlands, and comparing the wines from the two labels, the Turley wines tend to be the bigger and riper of the two. The Turley 2019 Bechthold Vineyard Cinsault was fermented with whole clusters and aged in older French oak. It featured red cherry fruit, herbs, and floral notes, medium-bodied with a pleasant texture and slightly chalky tannins on the finish. The Turley 2019 Kirschenmann Vineyard Zinfandel came from three separate picks at the vineyard, and the wine was aged in 20% new oak. Bright and intense black cherry fruit, dried herb, spice, and a touch of oak in the background, with fine structure and moderate tannins.
Next was the Turley 2019 Steacy Ranch Zinfandel. From a site right next to Kirschenmann, this has eight acres planted in 1907 and includes a little Grenache, Syrah, and Mission in vineyard that also went into this wine. This displayed a darker fruit profile than the previous two Zins plus a bigger spice component, fuller body, and more grip on the finish. We finished the afternoon tasting with Tegan with the Turley 2019 Dogtown Vineyard Zinfandel – from the Clements Hills AVA in the eastern part of Lodi, the own-rooted, dry-farmed vines there were planted in 1944. Lots of spice along with ripe red fruit, earth, dried herbs, and undertones of oak, with great texture and fine tannins.
With that, we were done with our tasting of Sandlands and Turley wines with Tegan, Adam, and Nick. Tegan had arranged for us to stop in at St. Amant Winery afterwards, so Eric and I hopped back in my car and drove to St. Amant, not far away. After cleaning up a bit from lunch, Tegan joined us there a few minutes later, though Adam and Nick had to head to Guantonio's to get ready to open for dinner at the restaurant.
Wow, this was quite an experience! An informal tasting of so many wines – plus a delicious lunch – with a fun group of people. It was great to meet Adam and Nick, and Tegan was super-generous to open all those bottles for us – they ranged from really good to outstanding. Picking highlights from such a strong bunch of wines was tough, but my favorites among the Sandlands wines included the 2019 Amador County Chenin Blanc, 2019 Napa Valley Chenin Blanc, 2019 Amador County Mission, 2019 Lodi Cinsault, 2019 Lodi Red Table Wine, 2019 Lodi Zinfandel, 2019 San Benito County Mataro, and 2020 Santa Barbara County Syrah. Among the Turley wines, I thought the 2019 Bechthold Vineyard Cinsault and 2019 Kirschenmann Vineyard Zinfandel were particular standouts. Tegan is doing a remarkable job in both the vineyard and the winery, and he's got to be among the top vintners in California right now. I know that both Eric and I felt privileged that we were able to take part in this rare and memorable tasting.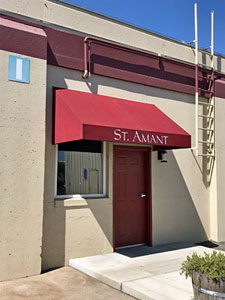 Eric and I made the short drive from Tegan Passalacqua's house in Victor to St. Amant Winery, and Tegan joined us there a little while afterwards. I'd visited St. Amant several times before, as I've enjoyed their wines as well as the low-key tasting experience there. St. Amant's winery and tasting room are located in a small portion of the enormous old Guild Wines building on the east side of Lodi, built in the 1930s. This had been the blending, aging, and bottling plant for a group of co-operative producers called the Wine Growers Guild. In the mid-1900s, Guild Wines was one of the largest wine brands in the country.
St. Amant's co-owner and winemaker Stuart Spencer greeted Eric and me at the unassuming doorway into their tasting room and we stepped inside. I noticed immediately that the tasting room had been expanded, and was now about twice as large as before – Stuart told us that they enlarged it in 2020 by taking over an adjacent part of the winery space. Stuart's mother Barbara joined us a moment later – she manages the tasting room along with taking care of other winery matters so she's often there. The winery is named for her – St. Amant is her maiden name.
St. Amant was founded by Tim and Barbara Spencer. The Spencers had planted a 43-acre vineyard in 1972 on their property in the Jackson Valley area of Amador County, about 30 miles northeast of Lodi. This was originally planted to around 30 acres of Zinfandel and Sauvignon Blanc, which they sold to local wineries. In 1979 they grafted two acres of their Zin vines over to five Portuguese grape varieties – Touriga (both Nacional and Franca), Tinta Cão, Alvarelhão, Bastardo, and Souzão. Now expanded to 43 acres, a few other varieties have been added, including Verdelho, Tempranillo, Syrah, and Cabernet Sauvignon. The Spencers launched St. Amant Winery in 1979, and one of their specialties from the start has been Port-style wines sourced from the Portuguese-variety grapes at their vineyard. After making their wines at several facilities, the Spencers moved their winery to Lodi in 1996, though much of the fruit for the St. Amant wines continues to be sourced from their Amador vineyard, which was replanted in the 1990s due to phylloxera. Tim Spencer passed away in 2006 and Stuart took over the winemaking, after working with his father for many years in the family's vineyard and in the cellar. The winery continues to be run by Barbara and Stuart.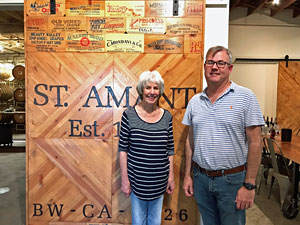 In addition to making wines from their Amador vineyard fruit, the Spencers began working with fruit from Lodi – mainly Zinfandel and Barbera – in 1992. Their best-known Lodi vineyard source is Mohr-Fry Ranch, farmed by the father and son team of Jerry and Bruce Fry. They have nine blocks of head-trained own-rooted old-vine Zinfandel, and St. Amant works with several of these blocks, the youngest vines there having been planted nearly 80 years ago. The oldest block is called Marian's Vineyard, planted in 1901 and named after Jerry Fry's mother. The Spencers started making their Marian's Vineyard Old Vine Zinfandel from Mohr-Fry Ranch in 1999.
Also in 1999, Stuart began working with the Lodi Winegrape Commission, and he's one of the key people who has helped bring much greater attention and acclaim to Lodi as a wine region. He's currently the Executive Director of the organization, and he's been a great spokesperson for the area over the years. One of the most innovative programs that Stuart helped launch as a member of the organization is The Lodi Rules for Sustainable Winegrowing – typically just called Lodi Rules. This was California's first systematic set of sustainable winegrowing standards, and it's since been used as a model for other similar standards. More information on the Lodi Rules program is in the introduction to this write-up.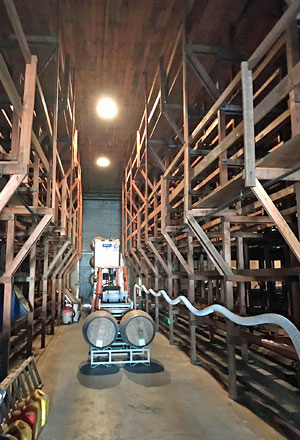 Stuart had set up a long table for us in the tasting room with a number of the current St. Amant wines to taste, along with a few barrel samples. Along with Eric and Tegan, Barbara joined us as well as two other winery staff members, Nathan Haberkern and Allen Norman. We started out with the 2021 "Miss Independent" Estate Verdelho, from 27-year old vines at the Spencer family's Amador County vineyard and made entirely in stainless steel with no malolactic fermentation. This had citrus and stone fruit aromas plus floral notes and herbal undertones, medium-light bodied with a vibrant finish. Stuart then poured us the 2021 Barbera Rosé, from Leventini Vineyard in Lodi. This wine was aged in both neutral oak and stainless steel – flowers and bright red fruit on the nose, nice acidity and a long finish.
Stuart next presented a group of wines representing California heritage varieties grown in Lodi. The first of these was the 2020 "Tools of the Trade" Barbera – as with the rosé, the fruit comes from Lodi's 50-year old Leventini Vineyard. This displayed lots of spice along with bright cherry fruit and earth, with medium weight on the palate and a lively finish. We followed this with four wines made from Mohr-Fry Ranch fruit. The 2020 Mohr-Fry Ranch Old Vine Zinfandel was sourced from four separate own-rooted old-vine blocks planted between 1901 and 1944, and aged for about 11 months in mostly neutral oak. This may be St. Amant's best-known wine, and it's their largest-production bottling. With upfront spice and ripe boysenberry fruit with dried herbs in the background, this was fairly full-bodied with youthful tannins.
Though it came from one of the same vineyard blocks as the previous Zin, the 2020 Lodi Native Marian's Vineyard Old Vine Zinfandel was quite a contrast. This was sourced entirely from the 1901 planting, fermented with native yeast, and aged in entirely neutral barrels. It's part of the Lodi Native program that several vintners participate in to highlight some of Lodi's historic old Zinfandel vineyards – the wines from this program are made in a low-intervention style to help emphasize each distinct vineyard. This was a bit more subdued but displayed great complex aromas, with raspberry, lots of spice, black pepper, and earth, a livelier texture, and fine tannins on the finish. Stuart told us that in recent years he's been letting more of the St. Amant wines go through native fermentations and aging more of them in neutral oak.
(l to r) Eric, Tegan, Barbara, Nathan, Allen, Stuart
We continued with two more wines sourced from Mohr-Fry Ranch, with a couple of varieties that, like Zinfandel, have been in California vineyards since the 1800s. The 2020 Mohr-Fry Ranch Alicante Bouschet came from a block first planted in 1922 and replaced in 2012 – very dark color, with intense dark berry fruit and spice, richer and more structured mouthfeel, and grippy tannins. The 2018 Mohr-Fry Ranch Petite Sirah came from vines planted in the 1990s, with ripe dark fruit, touches of mocha and earth, full-bodied with big but not harsh tannins.
Our next four wines all came from the Spencer family's vineyard in Amador County, and all were made from Iberian grape varieties. Stuart told us that his father started making St. Amant's first Portuguese-variety table wines in the 1980s, though several of these varieties were not made as table wines until 10-12 years ago – before that the fruit was used exclusively for their Port-style wines. The first of these wines that we tasted was the 2020 "The Little Bastardo" Estate Trousseau – although it may be best-known in California under its French name, the variety is called Bastardo in Portugal. This was originally planted at the family's vineyard in 1980 – due to phylloxera, it was replanted in 1995 with budwood from UC Davis. The first St. Amant Trousseau table wine was from the 2012 vintage. The "Little Bastardo" featured bright red fruit, flowers, and spice aromas with a lively texture and finish.
Next up was the 2020 Estate Souzão, another traditional Port variety that St. Amant first made as a table wine in 2010. Dark and dense, with dark berry fruit and earth on the nose, full-bodied but with great acidity and a firm tannic finish. The 2020 Estate Touriga was made from the Touriga Nacional grape variety – it was floral, with red and black fruits and a touch of spice, with great texture on the palate and fine tannins. We finished this group of wines with the 2019 "The Road Less Traveled" Estate Tempranillo – the first St. Amant Tempranillo table wine came in 2001. This one showed dried herbs, earth, and ripe dark berry fruit, a big and structured mouthfeel and fairly grippy tannins.
Stuart took us back to Lodi fruit with one more table wine, the 2020 Lloyd Martel Vineyard Cabernet Sauvignon. The grower is a longtime family friend of the Spencers, and his Cab vineyard is one of the oldest in Lodi. It displayed ripe plum and black currant fruit with undertones of smoky, spicy oak, this had a big but lively mouthfeel and finish.
We finished our tasting with some of St. Amant's fine fortified wines, all with fruit sourced from the Spencers' Amador vineyard. There were barrel samples of four of them, which Tegan was especially looking forward to trying. The first of these was a 2016 Fortified Estate Verdelho, which Stuart told us he made in a Madeira style – this had upfront nutty aromas with a lively mouthfeel. We contrasted that with a 2005 Fortified Estate Verdelho – this featured even more intense nutty aromas and a bigger yet still lively texture on the palate. We went on to two vintages of a different fortified wine – both Port-style wines made from the single Bastardo grape variety rather than being blends of the different Port varieties as in most of the St. Amant Ports. First was the 2015 Estate Bastardo Port, with nutty, sweet brown sugar and raisin notes and a rich texture. The 2012 Estate Bastardo Port had a big spice component to go with a nutty caramel character, with good structure and a long finish. Stuart may bottle a couple of these fortified wines in 2023.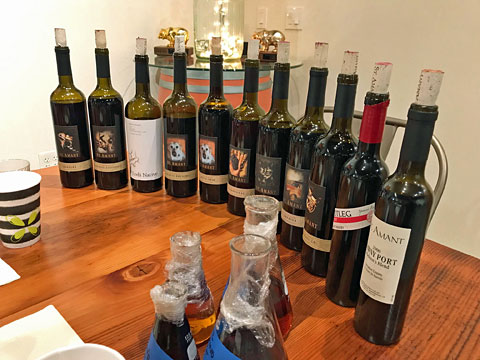 Two bottled Ports concluded our tasting at St. Amant. A special wine, the 2000 "Madison's Blend" Estate Tawny Port was made by Stuart and his father Tim shortly after Stuart's oldest daughter was born. The wine was left untouched and allowed to oxidize in barrels for 21 years before being bottled in September 2021. This featured complex nutty, plummy aromas along with brown sugar and spice, a fairly big but fresh character on the palate and firm tannins on the long finish. Our final St. Amant wine was the 2019 Estate "Bootleg Port", which includes six traditional Port varieties – Tinta Cão, Tinta Roriz, Touriga Nacional, Touriga Franca, Souzão, and Bastardo. With dark chocolate and plum aromas, this had a rich texture and long smooth finish.
St. Amant currently makes about 20 different bottlings, with a total annual production of around 7,000 cases. Some of the bottlings we didn't taste on this visit include the "Speakeasy Red" blend, another bottling of Marian's Old Vine Zinfandel, Estate Syrah, and Vintage Port.
I always enjoy visiting Stuart and Barbara at St. Amant Winery, and this time was no exception. They're both very gracious hosts, and my tasting experiences there consistently have been among my most memorable in Lodi. I feel like the St. Amant wines do a nice job of expressing the bolder fruit that you'd expect from both Lodi and Amador, but they're always in balance. Stuart poured us so many good wines at this tasting, and my favorites included the 2021 "Miss Independent" Estate Verdelho, 2020 Lodi Native Marian's Vineyard Old Vine Zinfandel, 2020 "The Little Bastardo" Estate Trousseau, and 2000 "Madison's Blend" Estate Tawny Port. Of the barrel samples, I particularly liked the 2005 Fortified Estate Verdelho and 2012 Estate Bastardo Port. St. Amant is one of the wineries in Lodi that I've come to consider a "must" for visiting when in the area.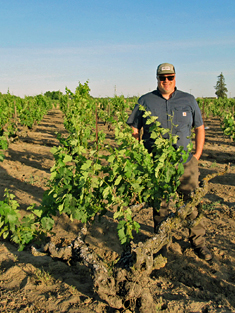 Tegan at Kirschenmann Vineyard
After we'd finished our visit to St. Amant Winery, Eric and I returned to Tegan's house in Victor to meet him there again. He'd told us that he would give us a tour of some of the older Lodi vineyards in his pickup truck, and we were looking forward to that. Tegan had gotten back a few minutes earlier and was clearing out enough space in the cab for Eric and me to sit in his truck – like many people, he uses it as his mobile office so there was a lot of stuff inside. After a few minutes we climbed into the truck, and away we went. Much like our tasting with Tegan earlier that afternoon, the tour of vineyards was fast-paced but lots of fun.
Tegan knows the Lodi area's vineyards as well as anyone, and he's extremely knowledgeable about their history and of course about the vines and the soil. My notes during this fascinating tour are almost non-existent, as it's not easy to write notes in a moving truck on dirt roads! I'm not sure whether the list of vineyards below is in the correct order of our quick drive-by visits though I think it's at least fairly close. Bechthold and Kirschenmann were the only two vineyards where we stopped to get out and take a closer look.
A number of the old vineyards we saw are located within a large oxbow of the Mokelumne River that's just north of Victor. Of the portions of the Lodi wine region that we saw on this brief tour, it has the deepest, sandiest soil. The soil at Kirschenmann definitely had a lighter and more chalky appearance than other vineyards we saw. Tegan drove us north into the Borden Ranch AVA, where I'd never been before. A hilly area like Clements Hills just to the south, Borden Ranch has much different soil from any other part of Lodi that I'd seen – more volcanic in origin, it's noticeably redder and stonier. We ultimately got out into the Clements Hills AVA near the town of Lockeford, and then back to Tegan's house.
Here are vineyards I noted that we saw while riding with Tegan – I may well be missing a couple of others. All are in the Mokelumne River AVA unless otherwise indicated, with the original year of planting indicated.
Schmiedt Ranch – Zinfandel planted 1918
Bechthold Vineyard – Cinsault planted 1886
Rauser Ranch – Carignane planted 1906 and Zin from mid-1910s
Stampede Vineyard – Zinfandel planted late 1920s
Vista Luna Vineyard – Iberian and other varieties, Borden Ranch AVA, planted 2008
Mokelumne Glen Vineyard – German and Austrian varieties planted mid-1990s
Bokisch Las Cerezas Vineyard – Spanish varieties, planted 1999
Kirschenmann Vineyard – Zinfandel planted 1915
Spenker Vineyard – Carignane planted around 1900
Dogtown Vineyard – Zinfandel planted 1944, Clements Hills AVA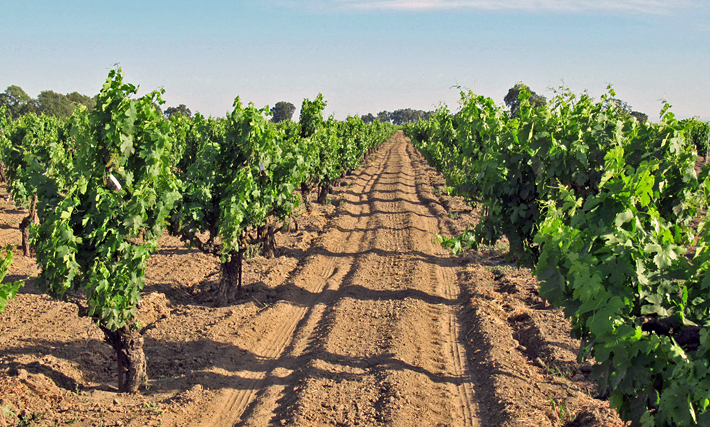 The soils at Bechthold Vineyard
One more thing of note that Tegan pointed out to Eric and me was the pre-prohibition brick building with grape-themed terra-cotta ornamentation near Victor that was once one of the Roma Wines facilities. Said to be the largest winery in the country by the 1940s, Roma had a dozen production facilities in California. The brand faded and was sold around 1970 but it had quite a heyday!
What a great time – as if our marathon tasting at Tegan's house and our visit with Stuart at St. Amant earlier that afternoon weren't enough, this was the icing on the cake, a memorable tour of some of Lodi's most historic vineyards. Seeing so many beautiful old vines – plus a few more highly-regarded recent plantings – with a tour guide as knowledgeable and entertaining as Tegan was certainly one of the highlights of our wine trip.
After we returned with Tegan to his house in Victor, Eric and I headed back to the motel in Lodi before dinner, since I still needed to check in there. That didn't take long, and soon we were on our way to dinner with Tegan at Guantonio's Wood-Fired in Lodi. I've mentioned that we met restaurant co-owner Nick Guantone at Tegan's house earlier in the day, as well as vintner Adam Saake, who's a server at the restaurant. When Eric and I arrived there, Tegan had already staked out a table in their covered outdoor dining area and we joined him there. Since it was getting toward the end of Guantonio's dining hours, he'd already put in an order for us. We were soon joined at the table by Dr. Stephanie Bolton of the Lodi Winegrape Commission – she's the Research & Education Director as well as the Lodi Rules Sustainable Winegrowing Director for the organization. Tegan had brought a few wines along for us to share at dinner – several of the Sandlands wines he'd opened that day plus a few others.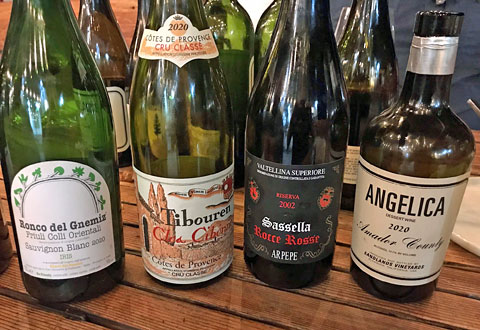 Family-owned Guantonio's specialty is pizza from their wood-fired oven, and they also have a nice selection of "Not Pizza" small plates. The menu changes frequently depending on the season and what's available from local farmers. We enjoyed several small plate starters, and my favorites included Hana Acre spring lettuces and Badger flame beets with pistachios, herbs, and croutons, and another dish with wild Sierra Nevada morels with Rancho Gordo marcella beans and Hana Acre leeks – both outstanding! Three pizzas followed – my favorites of these were Guantonio's classic pepperoni and also the "Biancoverde", with garlic crema, Double 8 burrata, fresh basil, grana and pecorino. Tegan ordered up a round of vanilla soft serve for us to finish up the meal, and he asked for a "moat" around it so we could fill that with some of the Sandlands 2020 Angelica that he'd brought…well, we didn't get the moats in our dishes, but it was delicious anyway!
After dinner, Eric and I headed back to the Days Inn & Suites in Lodi where we both stayed. The location is convenient, near the freeway but not so close that it was noisy, and not far from downtown. My mid-sized room was comfortable and clean, with plenty of outlets for charging phones and other devices, a good-sized TV with lots of channels, and a larger-than-usual mini-fridge with a separate freezer compartment, a nice amenity. The included breakfast was a "grab and go" one – I suppose that's not unusual right now – and neither Eric nor I thought much of it so we ended up opting to go elsewhere for light breakfasts. I thought it was a very good place to stay for the price, and I'd be happy to stay there again.
This was a great start to our Lodi wine tour, with some excellent tastings and a fun whirlwind tour of some of the area's old vineyards, and capped off by a terrific dinner.