Lodi and West Sacramento Wine Visits, May 2022 – Part 3
Eric and I had a great time on the first two days of our wine tour, visiting quite a range of Lodi vintners and tasting a lot of very good wine. For Day 3, I threw in a change of pace to our schedule by including visits to a some urban wineries in West Sacramento, about a 45-minute drive north, and then finishing up back in Lodi.
When we'd visited vintner Sue Tipton at Acquiesce the previous day, she'd given us a tip for a good place for coffee and a light breakfast, so we gave it a try. Ruby's Bakery & Café is located on the western edge of Lodi's downtown area, and when Eric and I pulled up to park just up the street shortly before their opening time, we saw that there was already a line of customers waiting outside the door – always a good sign. Fortunately for us, the line wasn't too long and it moved quickly, so we were able to order in just a few minutes. The coffee was good but what really sets Ruby's apart are the wide assortment of croissants and pastries, cookies, pies, breads, and other baked goods – very fresh, as the staff was bringing out new trays of them all the time while we were there. I had a delicious cranberry-orange scone with my coffee. Ruby's has a bright, light-filled space, with some tables and window counter seating – overall a nice vibe there and friendly service.

I drove on this third day of our wine tour, and it was an easy drive up to West Sacramento – since it was a Saturday, we were able to avoid weekday rush hour traffic in that area. West Sacramento is a separate city, across the Sacramento River from the state capital. It's more of an industrial city than Sacramento, and also is home to the area's major port, accessed via a deep water ship channel. In recent years, part of West Sacramento has become home to a number of craft breweries and several wineries, and I'd made appointments to visit two of those.
Eric and I pulled into a small industrial park in West Sacramento, and found the door for Baker Family Wines, our first visit for the day. This is the winery of former major league baseball star – and current manager – Dusty Baker and his family. I'd met Baker Family winemaker Chik Brenneman when their wines were made on Treasure Island in San Francisco Bay – I helped bottle their wines on a few occasions, and even met Dusty there once. The winery moved to West Sacramento in 2019, as the location is more convenient for both Chik and Dusty. I was curious to see their new place, so I got in touch with Chik and was able to arrange a visit. After Eric and I walked into their tasting room – we were visiting before official tasting room hours – we initially had a little difficulty finding Chik, but eventually located him in the adjacent winery office, and he welcomed us in.
Chik has a long background in wine. After receiving a master's degree in viticulture and enology from UC Davis in 1998, he worked for Amador Foothill Winery and Easton / Terre Rouge in Shenandoah Valley, and later at Woodbridge by Robert Mondavi in Lodi. In 2006 he went to work at the UC Davis Department of Viticulture & Enology, heading up their in-house winery – he retired from there in 2019 to focus on the Baker Family wines.
Chik and Dusty met at Woodbridge while Chik was there and Dusty was a consumer brand ambassador for the wine label. Dusty, whose family lived in the Sacramento area when he was a teen, owns property near Granite Bay in Placer County in the Sierra Foothills, and he asked Chik to consult when he was planning to plant a vineyard there. In 2007 "Dusty's Vineyard" was planted, with just over 120 vines on about 1 acre, all 877 clone Syrah. Chik continued working with Dusty, making wine from his vineyard once it produced its first crop in 2010. Though the small production was initially intended for friends and family, the quality was so good that Dusty became interested in starting a commercial winery with Chik as the winemaker. He was initially hesitant, but eventually they formed a partnership for the wine business, and later brought in Hank Aaron (a longtime friend of Dusty's) and friends Thomas and Joyce Moorehead. The winery was established in 2012, and the wines were first made at the Treasure Island Wines facility in 2013.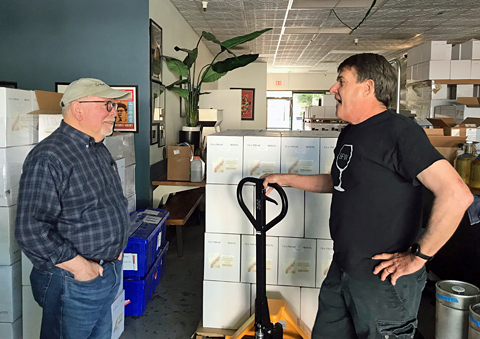 The Baker Family Wines production facility and tasting room opened in late 2019 in West Sacramento. Chik noted that the city was easy to work with as far as securing the necessary approvals. Tastings were initially held in a corner of the main winery space, but they later moved their tasting room into an adjacent space. Baker Family shares the tasting room space with Bike Dog Brewing, a craft brewery that's located in the same industrial park. Chik told Eric and me that the winery managed to do well while Covid restrictions were in place due to their growing wine club, and that they also became a destination for urban wine tasting in the area, holding outdoor tastings and sales in a parking lot adjacent to winery space.
Chik led us into the production space of the winery – like many other smaller wineries I've seen, it's a little cramped but laid out to be very functional. Chik told us that, other than inoculating fruit with selected yeast strains for fermentation, the winemaking for Baker Family wines is low-intervention. White wines are all fermented in jacketed, temperature-controlled stainless steel tanks for 2-3 weeks, and most are aged in stainless steel for about 3-4 months before bottling. They're aged on light lees but with no stirring, and they don't go through malolactic fermentation. Reds are all fermented in small bins and aged entirely in French oak, with mostly older barrels.
We all headed back into the tasting room, where Chik had set out some of the winery's current releases for Eric and me to taste at a table. He started us with the 2019 Sierra Foothills Proprietary White – sourced from Shenandoah Valley, this is 85% Sémillon and 15% Sauvignon Blanc. Chik noted that the 2016-2018 vintages of the Proprietary White were entirely Sémillon, and that it was his wife Polly who urged him to add Sauvignon Blanc for a blend. This one displayed bright citrus fruit, spice, and a touch of fresh herbs, with medium body and a long clean finish. The 2021 Lodi Proprietary White was next, with a blend of 60% Sémillon and 40% Sauvignon Blanc – this showed a more herbal character along with the citrus aromas plus a floral note, with lively texture and finish finish.
We followed these two blends with a couple of 100% Sauvignon Blancs. The 2021 Capay Valley Sauvignon Blanc is from a new vineyard source for the winery, in the hills to the northwest of Sacramento. With citrus, fresh herbs, spice, and a leesy note, it had medium-light weight on the palate and a crisp finish. The 2021 California Sauvignon Blanc was sourced mostly from Capay Valley fruit plus some from Lodi, and aged both in barrel and stainless steel. Chik described this wine as being in a "Fumé Blanc" style. This featured bright stone fruit and citrus aromas along with a waxy note and a touch of vanilla, with more body and richer finish than the previous wine. We tasted one more white wine, the 2020 Yolo County Albariño. Chik told us that this is from a Portuguese clone of the variety that he had planted in 2009 at the 3.5-acre vineyard at UC Davis. Displaying floral aromas along with stone fruit and tropical fruit, spice, and a saline quality, this had medium weight with fine acidity on the palate and finish.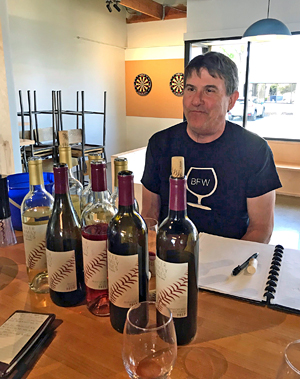 We moved on to a couple of Pinot Noir wines, starting with the 2021 Santa Lucia Highlands Pinot Noir Rosé – the fruit was sourced from Paraiso Vineyard. Made by whole-cluster press and fermented cold, this had strawberry, rhubarb, and floral notes, medium-light body with a lively mouthfeel and finish. Chik noted that they're also using some of the fruit from this vineyard for sparkling wine. Next was the 2020 Russian River Valley Pinot Noir, sourced from Campana Ranch near Windsor, with Pommard, 115, and 667 clones – this was the second vintage of Pinot from this vineyard for Baker Family. It had upfront aromas of black cherry and spice, with savory herbal and tea leaf notes and undertones of vanilla, good structure and a long, lively finish with fine tannins. Chik told us that the different clones for the 2020 wine were blended upfront and aged together, but that he kept them separate in 2021 for blending later. He also made a separate blend of the 2020 Pinot Noir for the Corti Brothers label, called "Moorehead Reserve".
We finished our tasting at Baker Family Wines with two bigger reds. The fruit for the 2018 Sierra Foothills Zinfandel was sourced from organically-farmed Cedarville Vineyard in Fair Play – Chik mentioned that they'd started getting Zin fruit from there in 2016. This displayed bright red fruit, lots of spice and notes of black pepper and earth, with a medium-full mouthfeel and a long finish with moderate tannins. Our final wine was the 2017 Russian River Valley "Walkoff Red" – a blend of 53% Zinfandel and 47% Syrah from the Chalk Hill region, the wine featured ripe darker berry fruit, spice, earth, and mocha, with a mouthfilling texture and fine tannins on the finish.
Chik told us that the winery's current annual production is around 1,200 cases, with about 85-90% of that sold direct-to-consumer through the tasting room and wine club. They sell some through distribution, to Corti Brothers market and a few others, and make some wine – like the Pinot Noir mentioned above – for the Corti Brothers label. Their largest-production wine is the Proprietary Red blend, with the next-largest being the Sierra Foothills Zinfandel. Another Baker Family bottling is their "Hammerin' Hank" Cabernet Sauvignon, named for baseball great and winery partner Hank Aaron. And what about the Syrah from Dusty's Vineyard? There's very little of this special wine to go around – typically only two barrels are made each year. I have to mention the clever and distinctive design of the Baker Family wine labels, depicting the bright red seam of a baseball – Dusty's daughter Natosha created the design.
Eric and I really enjoyed visiting with Chik at Baker Family Wines. He has an amiable and easy-going personality and it was a pleasure talking with him. Working with a number of grape varieties from very different growing regions, Chik has done a very nice job with all of them. The wines all displayed great balance – not too lean, not too big, not too oaky or tannic, and all very tasty. My favorites of the wines we tried included the 2021 Lodi Proprietary White, 2020 Yolo County Albariño, 2020 Russian River Valley Pinot Noir, and 2018 Sierra Foothills Zinfandel. The Baker Family wines are well worth checking out, and if you're in the Sacramento area and looking for something a little different to do, a visit to their tasting room would be a fine choice.
Haarmeyer Wine Cellars / Commune Regional Wines / Perch Wine Company
Eric and I headed out to our next winery destination at Haarmeyer Wine Cellars, only a short distance away in West Sacramento. But despite GPS and our looking out for the address, we had some difficulty finding the location. After passing where we figured it should have been a couple of times, I called Adam Saake, one of the vintners we were scheduled to visit there, and he came out to the curb and guided us to the right driveway. As it turned out, there was indeed an address sign in front of the small unassuming wood building but it had been hidden by a vehicle parked in front of it. Set back from street in an industrial area, surrounded by larger facilities of various types, it was no wonder that Eric and I had missed spotting the winery at first.
We followed Adam – who we'd met a couple of days earlier – into the winery, where we were welcomed in by Craig Haarmeyer. Craig introduced us to Tyler Stacy – like Adam, Tyler is a young vintner making wine at the facility and just getting his own label off the ground. It was actually Adam who had arranged this visit to the Haarmeyer winery, as I'd contacted him first about trying his new wines and he coordinated things with Craig and Tyler. I'd never met Craig before and had only had a couple of his wines, but they definitely impressed me, so this was a great opportunity to learn more about him and try a few more of his wines.
One of the first things that Craig told Eric and me was that the building – which had originally been an upholstery shop – had been Charles Myers' Harbor Winery. I'd known that was the case but had forgotten, so it was a bonus to visit this facility that has a larger place in California wine history than its modest appearance would suggest. Myers had been a home winemaker, and in the mid-1960s he made a Zinfandel from old vines at Deaver Ranch in Amador County's Shenandoah Valley – there was little interest in that fruit then, so it was available to home winemakers. To make a long story short, Myers and his Deaver Ranch Zinfandels played a large part in putting Amador County wine country on the map. Myers founded Harbor Winery in 1972 and produced some legendary Deaver Ranch Zinfandels in the following years. He passed away in 2015, and Craig leased the building from the Myers family the following year. Craig graciously opened a bottle of one of Charles Myers' wines to start off our visit, the Harbor Winery 1989 Livermore Valley Sémillon. A wonderful older Sémillon – a bit oxidized and nutty, with fig, spice, and savory notes, great texture and a lively finish. Craig noted that it was one of the best bottles of this wine that he'd opened in awhile.
Haarmeyer Wine Cellar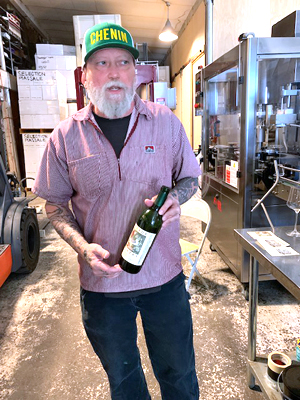 As we all enjoyed tasting the Sémillon, Craig told us a bit about himself and about his winery. His family is from Sacramento, and they had opened some restaurants and a wine bar in the late 1970s, which helped spark Craig's interest in fermented beverages and foods, and he made a variety of fermented items at home during his college years. Craig's formal training was in art and he's been a painter and sculptor, and has also worked in IT consulting. By the early 1990s he was getting more interested in making wine, and he met Charles Myers and began helping him out at his winery to learn the ropes. After Myers retired from winemaking, Craig got together with a friend to launch Revolution Wines in Sacramento, where Craig started his own label – then called St. Rey – in 2008. He made the Revolution wines as well as his own there until he moved into the old Harbor Winery space in 2016 and started the Haarmeyer Wine Cellars label. Craig's family members – his wife Kelly, son Alex, and daughter Marian – are all part of the winery team.
When Craig first started making his own wines in 2008, he was looking for Spanish and Portuguese varieties, and worked with grower Ron Silva in the Lodi area. He's completely changed his focus since then, and now the Haarmeyer wines are particularly known for Chenin Blanc. He currently makes 6-7 different Chenin Blanc bottlings each vintage, including a Pét-nat sparkling wine – all of the Chenin Blanc bottlings are vineyard-designated. In addition to Chenin, other wines include old-vine Riesling from Wirz Vineyard in San Benito County, Nebbiolo from Heringer Estates in Clarksburg, and Zinfandels from Rorick Heritage Vineyard in Calaveras and from old-vine Stampede Vineyard in Lodi. Craig told us he prefers to work with old-vine, dry-farmed fruit, and with the exception of Zinfandel, the varieties he works with are lesser-known ones for California. He also works mainly with vineyards in lesser-known wine regions – nothing from Napa or Sonoma here! Being a Sacramento local, it's not surprising that he's taken a special interest in vineyards in his home region that are influenced by the cool Sacramento River delta – he's spoken over the years of "Sacramento terroir". Total annual production for the Haarmeyer wines is around 3,000 cases.
Craig's winemaking is very low-intervention. He makes picking decisions based mainly on pH – typically around 3.3 – so brix is generally on the lower side. For white wines, the typical process is foot-treading the fruit and then pressing right away in a basket press. Craig does skin-ferment around 10% of the Sutter Ranch Vineyard Chenin Blanc that's blended into the rest of the lot to make the "SRV" Chenin bottling, and he destems the Riesling and ferments it on the skins for about 10 days before pressing. After pressing, he lets the juice settle overnight, then racks it mostly into large wooden ovals where it undergoes native fermentation, with no additions. Craig likes to use larger and older wood vessels for fermentation and aging of his white wines. The wines remain on their gross lees with no further racking until bottling. Reds are typically foot-trod whole-cluster fermentations. Craig keeps the whites in barrel for about one year to gain complexity, while he bottles reds earlier to retain freshness. He told us that his wines tend to be oxidative – he uses little or no SO2 in his winemaking, and he's not opposed to letting flor yeast grow on the wine surface during aging at the winery. Craig also does solera aging for some wines, blending more recent wine each year into wine from earlier vintages.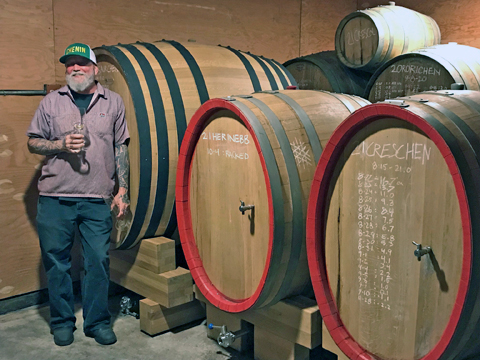 Craig led us into a smaller room in the winery where his large oval casks are located, and he sampled us on three of his 2021 Chenin Blancs. The first was the 2021 Saureel Vineyard Chenin Blanc – this is a new vineyard for Craig, from a site near Sutter's Mill in El Dorado County, with fruit picked at just 17 brix. This displayed upfront savory aromatics, with bright stone fruit in support, and a vibrant texture on the palate and finish. Next was the 2021 Wilson Farms Chenin Blanc, from the Clarksburg region in the Sacramento River delta area – this will become the "St. Rey En Foudre" bottling. Bright citrus fruit with a richer mouthfeel than the previous wine but still loads of juicy acidity and a long fresh finish. Our final cask sample was the 2021 Palmero Family Vineyard Chenin Blanc, which will become the "Cresci" bottling. Although this vineyard is within the Borden Ranch AVA that's in the northern part of the larger Lodi wine region, it's actually located in Sacramento County, unlike most of the Lodi AVA. This wine was more fruit-forward than the other two, with stone fruit and pear aromas plus a stony mineral character, with great texture and a fine chalky quality on the finish. Of course all three of these wines are still developing and won't be bottled until later this year.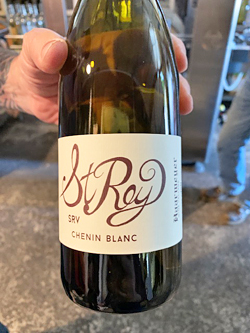 Other Chenin Blanc vineyard sources include Aparicio Vineyard near Sutter Creek in Amador County for the "Iris" bottling, and Rorick Heritage Vineyard near Murphys in Calaveras County for the "Calaveras" bottling. The vineyards are all organically-farmed. Craig told us that his winemaking for all of the Chenin Blancs is nearly identical, so the distinct differences in the finished wines are due to the different locations, vine age, and other vineyard variables.
After we headed back to the main winery space, Craig poured us his 2021 "St. Rey SRV" Sutter Ranch Vineyard Chenin Blanc, from another vineyard in the Clarksburg AVA – unlike his other wines, this one is bottled under screwcap. The winemaking for this bottling is a little different from the other Chenins in that it's aged in barrique rather than larger ovals and then bottled earlier, the first of the Haarmeyer Chenin Blancs to be released each vintage. It featured bright pear and citrus fruit, a touch of spice, plus notes of hazelnut and stony minerals, with a broad mouthfeel yet fine acidity, and a fresh, crisp finish.
As we talked with Craig, he told us that he's known Sandlands and Turley winemaker Tegan Passalacqua and his family for years, further tying together a number of the people whom Eric and I visited on this wine tour. When I asked Craig why he thought California Chenin Blanc has gained much greater attention in recent years, he chuckled for a moment and then replied that he felt it was largely due to his own wines as well as those from Sandlands. He also mentioned those from Leo Hansen's Leo Steen label and one or two others who have started making more serious Chenin Blanc over the past decade. Much of Craig's attraction to the variety comes from the fact that he loves drinking these wines – he noted in particular wines from the Loire Valley, especially Savennieres, as well as South African field blends from Sadie, Alheight, and Badenhorst. Another significant factor is that he likes the way that Chenin Blanc retains its acidity, even in warmer climates, and the way that it expresses terroir more transparently than most grape varieties.
Commune Regional Wines
When we'd finished tasting and talking with Craig, he turned things over to Tyler Stacy of Commune Regional Wines. This was a bonus for Eric and me, as we'd expected a "two-fer" visit with Craig Haarmeyer and Adam Saake, and now we were getting a "three-fer" with Tyler as well – couldn't complain about that!
Tyler grew up in Solano County, located between the Bay Area and Sacramento. He first became interested in wine when he was working in an Italian restaurant while he was in his late teens. He's been a restaurant wine director and sommelier in Sacramento, and his current day job is in wine sales. Like many sommeliers, he prefers higher-acid wines since they go well with food. Tyler has worked with winemaker Chris Pittenger when Chris was at Skinner Vineyards in the Fair Play region of El Dorado County, both on the Skinner wines and on Sonoma Coast Pinot Noir from Chris' Gros Ventre Cellars label. He's also worked at Lime Rock Wines in New Zealand's Hawke's Bay region.
Tyler told us that a goal of his new winery is to look at the broader scope of California wines to begin with, before eventually narrowing that perspective down to the single vineyard level. For now he's working to highlight the character of California county wine regions as opposed to specific vineyards or even established AVAs – and who better to learn from than Craig, who has helped champion the idea of "Sacramento terroir"? Tyler's first vintage was in 2020, and he poured us barrel samples of two of his 2021 wines that he'd put into bottles for us – the bottles both had preliminary label mock-ups.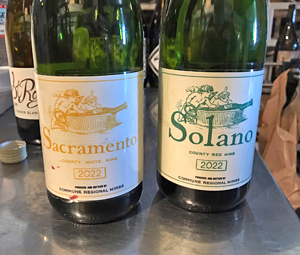 First up was the 2021 Sacramento County French Colombard, sourced from vines planted in 1981 at Palmero Family Vineyard near the town of Galt in the southern part of the county. Tyler said that he likes French Colombard since it maintains acidity well in warmer climates. The fruit was picked at about 20 brix, foot-trod and then pressed, and fermented and aged in two neutral barrels. The wine featured stone fruit, melon, and fresh herbs, with a slight saline undertones, medium weight with a vibrant texture and finish. Tyler next poured us his 2021 Solano County Syrah, from Solano County Green Valley. The vines were planted in 2010, on a rocky and steep east-facing slope with volcanic soil in the Vaca Mountains. Picked at around 23.5 brix, Tyler did a light foot-treading of the fruit. After the whole-cluster fermentation was complete, the wine was pressed into one neutral barrel. Intense purple in color, this had a very savory character, with herbs, iron, smoke, and flowers along with dark berry fruit, great acidity on the palate, and fine tannins with a stony mineral note on the finish.
The 2021 Commune Regional wines are due to be released this September, and information for ordering them will be available on the winery website.
Perch Wine Company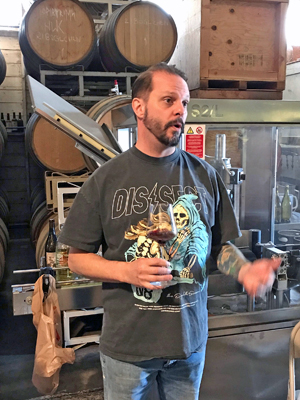 After Tyler was finished presenting his wines, it was Adam Saake's turn to tell Eric and me about his background. Adam grew up in the Sacramento area and he mentioned that he'd always been fascinated by the many species of birds he saw on his family's property – he described himself as a "bird nerd". His wine label, Perch, is a bird reference (Eric initially thought it referred to a fish!) and there's artwork depicting different birds on the distinctive bottle labels. Adam learned cooking and has worked in the restaurant business – he currently works at Guantonio's in Lodi – and he got interested in wine through that. He's worked at a number of wineries, including ones in New Zealand and Chile. In California, he told us that he's worked with Dieter Cronje at Presqu'ile Wines in Santa Barbara County, Chris Pittenger at Skinner Vineyards in El Dorado County, and Mark Fowler at Andis Wines in Amador County, whom he mentioned he considers a particular mentor. Adam then worked with Tegan Passalacqua at Turley Wine Cellars in Amador County in 2018-2019 before launching the Perch label in 2020.
Adam's focus so far has been on wines from Amador County fruit. He noted that he's looking to help change the perception of Amador wines, which have often been seen as being too ripe and using too much new oak, as well as being focused on a small number of grape varieties such as Zinfandel and Barbera. While some Amador wineries have already been moving in other directions over the past 10-15 years, Adam would like to add his winemaking voice to the conversation. He mentioned that there are many approaches to making wine from Amador County fruit, in a broad range of styles. With the variety of soil types to be found in the county, and the many small and lesser-known vineyards to work with, he feels that there's a lot of untapped potential.
Adam poured us three of his wines, starting with two Syrahs sourced from a vineyard at nearly 3,000-foot elevation, planted in early 1990s near the small town of Volcano and owned by Ken Bailey. Adam mentioned that Tegan had told him about this vineyard – it's close to Tegan's new properties near Volcano where he hopes to plant vineyards. He also told us that Bill Easton has used this vineyard as a source of Syrah fruit for Terre Rouge. He noted that both Syrahs were fermented entirely with whole clusters and spent about nine months in neutral oak. First was the 2020 Amador County Syrah – bright dark berry fruit with lots of iron and smoke in support, medium weight on the palate with lively acidity, and finishing with a savory quality and fine tannins. Adam next poured his very first wine, the 2019 Amador County Syrah. A bit tight at first, it opened up somewhat in the glass – it showed bolder fruit aromas along with floral notes, black olives, and herbs, with great acidity and firm tannins.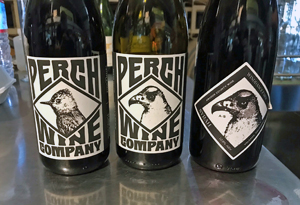 Adam had one more wine for us to try, the 2020 Amador County Zinfandel. This fruit came from Fox Creek Vineyard in Shenandoah Valley, from head-trained, own-rooted, dry-farmed vines planted around 1900. The Zin fruit is destemmed but not crushed – so fermentation is mainly whole-berry – and it's then aged in neutral oak following fermentation. This displayed bright raspberry and wild berry fruit with savory and earthy notes, medium body with juicy acidity, and fine, chalky tannins on the finish.

The 2021 Perch wines will be released this fall, mainly direct through the winery – info for this will be on the winery website. Production is tiny, with less than 200 cases for the 2021 vintage.
Our visit to the Haarmeyer Wine Cellars facility with Craig, Tyler, and Adam turned out to be one of the highlights of the entire wine trip for Eric and me. It was great fun talking with all three of these vintners. Both Tyler and Adam are enthusiastic and talented younger winemakers, and while Craig seemed a little reticent at first, after a short time he really opened up and he was fascinating to talk with. The Harbor Winery 1989 Livermore Valley Sémillon was a wonderful older wine from a historic California winery – thanks again to Craig for opening that bottle for us. The three Haarmeyer Chenin Blanc cask samples were all so different from one another, it's not easy to compare them, though I'd say my favorites were the 2021 Saureel Vineyard Chenin Blanc and the 2021 Palmero Family Vineyard Chenin Blanc. And if you don't want to wait for those wines, 2021 "St. Rey SRV" Sutter Ranch Vineyard Chenin Blanc is a fine option for earlier drinking. I was really impressed with both of Tyler's Commune Regional Wines we tasted, the 2021 Sacramento County French Colombard and the 2021 Solano County Syrah. And both of the most recent Perch bottlings from Adam were also standouts, the 2020 Amador County Syrah and 2020 Amador County Zinfandel. Really, all of the wines we tried from these three vintners was a standout, and they're all well worth seeking out.
Eric and I hadn't quite figured out what we were going to do for lunch on this day, but Craig, Adam, and Tyler solved that for us by providing a couple of boxes of steamed bao buns for everyone to enjoy during our visit with them. That was a perfect light lunch for us, especially since we were planning an early dinner that evening. Eric and I left West Sacramento – it was another easy drive from there and we arrived back in Lodi right when we'd hoped to.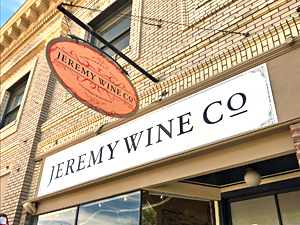 Eric and I got back to Lodi from West Sacramento for the final visit of our wine tour, at the tasting room of Jeremy Wine Company. I'd tried a nice Albariño and Tempranillo from them at a couple of tasting events about ten years earlier and it had stuck in my mind since then that I'd like to check out their tasting room on one of my visits to Lodi. One option is to taste at their winery near Lockeford, a little ways east of Lodi, but it was easier for Eric and me on this occasion to stop in at their tasting room right in downtown Lodi. I'd arranged a visit there with tasting room manager Francesca Alexander, though we could have simply walked right in for a tasting. It was a hot afternoon so we were glad to find a parking spot right around the corner from the tasting room to shorten our walk.
Jeremy Trettevik and his wife Choral established the winery about 2007. Before that he'd been involved in a number of aspects of the wine business for many years, including in the cellar and lab, in sales, and then forming a business designing wine bottle labels. The winery works with a broad range of grape varieties, with wines from Italian varieties being something of a specialty. They purchase fruit from a number of growers in Lodi and surrounding areas, and they have their own 20-acre estate vineyard near Lockeford, growing mainly Zinfandel there. Jeremy produces a wide array of wines, both single-varietal and blends, with a total annual production of about 9,000 cases.
The Jeremy tasting room is located in a handsome older building in Lodi's quaint downtown, which was busy with people shopping and strolling on this Saturday afternoon. The tasting room storefront along the street is not that large, and the tasting bar just inside is in a relatively small space, so I was glad when we were greeted and then led to a sizable rear patio that had plenty of shade for the tables there. Eric and I were started with the 2021 Dry Rosé, made from 90% Grenache plus 10% Barbera from Lodi – this had red fruit aromas with a mild floral touch, medium-light weight on the palate with moderate acidity. The tasting staff then brought us a list of currently-available Jeremy wines plus a menu of four tasting flights for each of us to choose from. Each of the four – Easy Sippin', Red, Italian, and Sweet – featured three selected wines. Eric chose the Red flight while I picked the Italian one.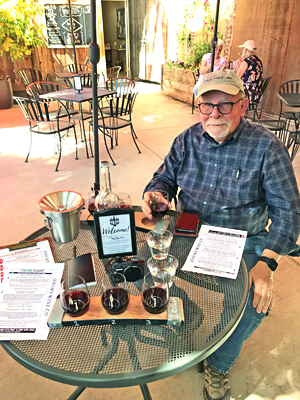 Within just a couple of minutes, a server brought out our wine flights along with water and a small dump bucket. Each of the wines was clearly identified and we were given a sheet with information about them all. My first wine from the Italian flight was the 2019 Noma Vineyard Barbera, from a vineyard in the southern part of Lodi planted in 1978. The wine was aged for nearly two years in both French and American oak. This displayed red cherry fruit, spice, lots of vanilla, and a touch of dark chocolate on the nose, with good acidity and a lively finish. Next was the NV "The Understudy Blend", with 75% Amador Primitivo and 25% Lodi Zinfandel. The components are from different vintages, as the Zinfandel was aged for 16 months and the Primitivo for over 40 months. It had upfront aromas of ripe plum and darker berry fruit plus vanilla and lots of spice, this was medium-full bodied with firm tannins. My final wine of the flight was the 2019 Aglianico – from Lodi fruit and aged 26 months in barrel, this is the first Aglianico release from Jeremy. This featured bold dark berry fruit, earth, and spice aromas, with a mouthfilling texture and a grippy tannic finish.
[Eric here. For tasting, I selected the "Red Flight," of 3 - 2oz pours. Delivered on a piece of barrel stave, were three stemless glasses, countersunk into the wood. Nice presentation! The first wine was the NV Choral Blend v4, a blend of 50% Barbera, 30% Zinfandel, and 20% Merlot. The Barbera is sourced from the Noma Vineyard; the Zin is from the Perrin Vineyard, and the Merlot is from the Smith Vineyard. The nose of the Choral was off-sweet, yet to the riper side of things. Good fruit and somewhat chewy in mouthfeel, with a moderately brief finish. Next up was the 2018 Lodi Budbreak Blend. It's basically a Bordeaux blend of 47% Cab Sauv, 34% Merlot, 17% Petit Verdot, and 2% Malbec. The Cabernet definitely comes through on the nose. Ripe, but not excessively so, very chewy in mouthfeel, with nice long finish. Last up was the NV Winemakers Blend v5. Fascinating blend of 31% Cab Sauv, 38% Zinfandel, 19% Tempranillo, and 12% Petite Sirah. Interestingly, the Cabernet here also stands out in the nose, and is probably accented a bit by the Tempranillo. Again, ripe - but not overly so, with a nice fruit-filled center and long finish. FWIW, the wines were served at "room temperature," although it should be noted that this was a very warm day, and we were seated outside. IMHO, serving these wines at a lower temperature would have reduced the immediate sense of ripeness.]
This was a very relaxing tasting experience, since Eric and I could go at our own pace. The staff was very efficient and attentive, checking in with us from time to time and refilling our water regularly. And though Francesca was busy with tasting room visitors on this Saturday afternoon, she came out to talk with us a couple of times as well. Although they didn't have their Albariño or Tempranillo available when we visited, we still were able to sample a good selection of the Jeremy wines. Of the wines I tasted, my favorite was the 2019 Aglianico. This was a pleasant way to finish our tour of wineries and tasting rooms. If you're in downtown Lodi and looking to taste some wines there, a visit to the Jeremy tasting room would be a worthwhile choice.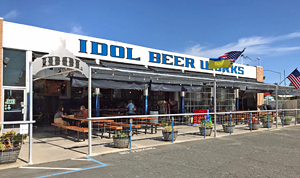 Eric and I planned an early dinner, and figured that Guantonio's was so good the previous two evenings, why not go there again? Adam Saake had told us to arrive right around their opening time at 5pm and he would try to save us a table. We still had time after our visit to the Jeremy tasting room, and it turned out that Idol Beer Works – a brewery that Elyse Perry of Bokisch had recommended – was only a couple of blocks from there. A cold beer or two is often just the thing after a day of wine-tasting, particularly on a hot afternoon as this one was. Eric and I each had a couple of their brews, which were very good and really hit the spot. And although it didn't dawn on me until later, I realized that "Idol" is Lodi spelled backwards – pretty clever!
After relaxing for awhile at the brewery, Eric and I headed back to Guantonio's for dinner, and just as he'd said, Adam had a table for us. We were pleasantly surprised to be seated at a table right next to Fields Family winemaker Ryan Sherman and his wife. I've learned that it's a good sign for a restaurant when you see vintners dining there regularly. Since Eric and I had pizzas the previous two evenings, we decided to just share a number of the small plates at Guantonio's this time. Along with a couple that we'd enjoyed there before, we had the marinated olives with citrus, garlic, and herbs, and also the chickpea hummus with olive oil and flat bread (made from pizza dough) – both really good. I should note that Guantonio's has a great wine and beer selection displayed on shelves located right by their entry, and you can pick what you want there. Local wines are well-represented, but there's a broader selection including wines from hard-to-find small California producers, mainly on the low-intervention to natural end of the spectrum. A couple of people mentioned to us that this more or less serves as a local wine shop since surprisingly Lodi doesn't really have a dedicated wine shop, and the wine and beer prices at Guantonio's are more than reasonable.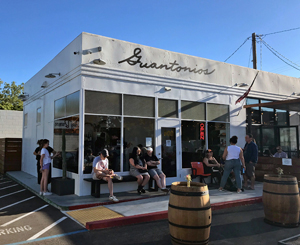 Eric and I were both driving home on Sunday, and since neither of us felt like having a big farewell breakfast that morning we went back to Ruby's Bakery & Café for coffee, croissants, and scones before saying goodbye to each other and heading our separate ways. It was a quick and easy drive home for me, and Eric also arrived back home in good time a bit later that day.
Much is new in Lodi since the most recent multi-day Grape-Nutz wine tour there back in 2008. Of the Lodi wineries we visited on this year's tour, only a few of them were even around when we visited in 2008, and none of the West Sacramento wineries we visited were in existence back then. For better or worse, many people associate a certain style of wine with Lodi – big and ripe, with higher alcohol and lower acidity, often aged in a lot of new American oak, maybe with a touch of residual sugar, definitely red and quite likely Zinfandel. To be sure, there are many Lodi wines that fit that generalization – and some in that style certainly can be tasty – but many of the vintners we visited and wines we tasted on this trip presented clear evidence that there are new directions, new approaches that are being explored successfully. From working with other grape varieties (whites as well as reds) to finding vineyards and farming regimens that can accommodate picking fruit earlier to different ways of making wines once they're in the cellar – all of these things are starting to change how Lodi wines are perceived.
Eric and I visited a range of Lodi producers, from those working in a more "traditional" Lodi style to others that are successfully finding ways to produce full-flavored and complex wines with lower alcohol and less oak influence. While I have my own preferences in wine, there's nothing inherently wrong with any of these approaches, and the wines from just about all of the producers that we visited are undeniably popular with their customers. I feel like it's an exciting time for wines from the Lodi region, for both newer and more established producers. I think a lot of the wines coming from Lodi 10 years from now will be quite different from those being made there today, just as so many of the wines we tasted on this brief wine tour were quite different from what we found in 2008.
The West Sacramento producers that we visited are a very different group from those in Lodi. As with nearly all urban wineries, they have just about no estate vineyards to speak of, so they're free to source fruit from wherever they like. Amador, Lodi, and Clarksburg – three wine regions not far from these small urban wineries – are natural sources for them, but not the only ones. Not being tied to a piece of land as so many are in Lodi potentially can be either a positive or a negative, and I think the producers we visited have used it to their benefit. Being in an urban winery and not having the expense of owning and farming a vineyard also makes it much easier for new vintners to start up their own labels and pursue their own winemaking goals, as we saw in our West Sacramento visits.
This was a very enjoyable three-day wine tour, and the overall quality of wines that Eric and I tasted along the way was very high. Both established and newer vintners are making wines that are challenging preconceptions and pushing winemaking in exciting directions in both Lodi and West Sacramento. As always, thanks to everyone that we visited for being so generous with their time and their wine!